Volkswagen Transporter van review (2022)
Something for everyone from VW's popular medium van
PROS
Wide range of models
Holds its value very well
Lots of safety systems
Comfortable to drive
Strong engines
CONS
Lack of covered storage space in cab
Costs more than most rivals
Noisy inside
Short service intervals
Unimpressive on-paper mpg
Summary
This 2022 VW Transporter review covers the T6 and T6.1 versions of this popular medium van, originally launched in 2015 then updated with a major facelift (known as the Transporter 6.1) in 2019.
And while this sixth-generation model is closely related to the previous VW Transporter T5 under the skin, significant gains have been made in the areas of running costs, driver comfort and safety.
In late 2020, Volkswagen also finally launched the e-Transporter electric van in the UK. Built by specialist converter ABT e-Line, you can read all about this in our separate VW e-Transporter review.
What's new for the Volkswagen Transporter?
The most recent news for the VW Transporter is the introduction of a new range-topping Sportline model. This is one sexy-looking van, with GTI-inspired looks, more tech than any other Transporter and the most powerful 204hp TDI turbodiesel engine. Read more about it in our separate Transporter Sportline review.
Volkswagen has also recently annouced T-Sport20 styling packs as accessories for other models.
What is the VW Transporter?
This is Volkswagen Commercial Vehicles' most popular model, by a considerable margin. It's typically the second-bestselling medium van in the UK, and comes in a huge range of variants.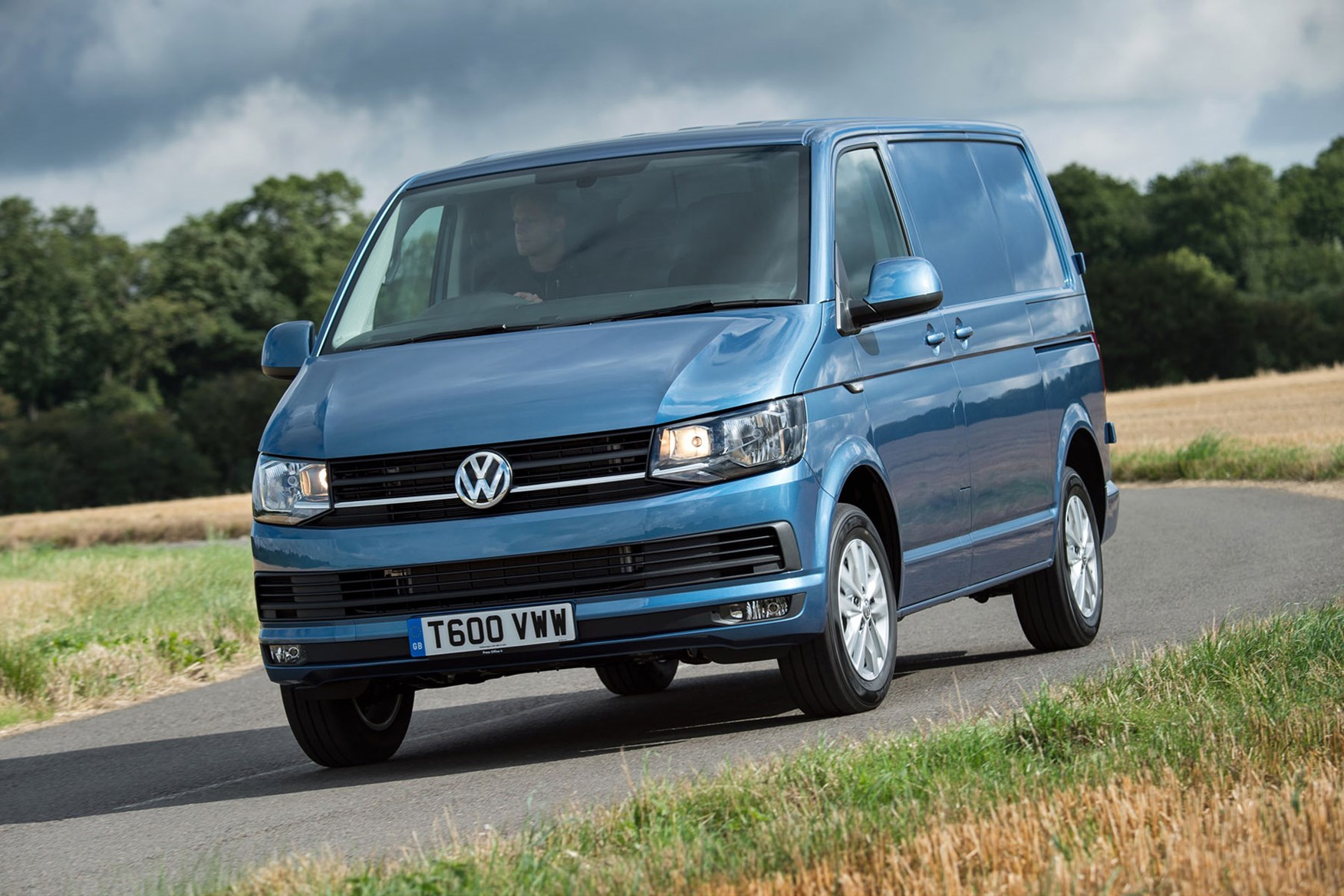 The Transporter also routinely scores very highly in the annual FN50 van fleet reliability survey. It continues to have an image and reputation that few rivals in the medium van sector can match, and attracts both business and lifestyle users.
For more on this van's backstory, check out our feature on the 70-year history of the VW Transporter.
What is the VW Transporter 6.1?
The T6.1 facelift was launched internationally in 2019, but only began reaching UK customers in early 2020. We have now driven several variants on British roads.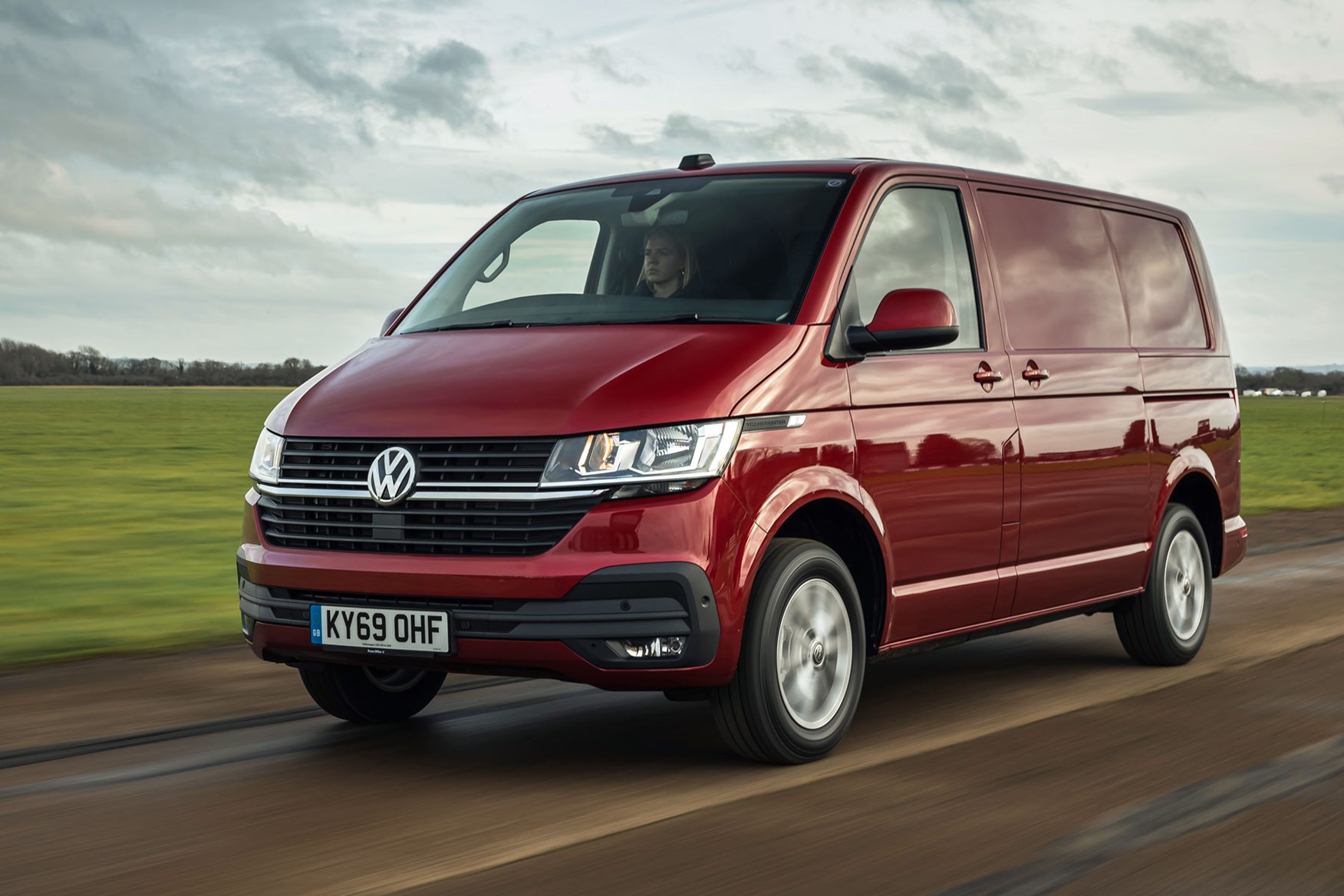 The Transporter 6.1 facelift is easily recognised by its sharper front-end styling, which features larger grille openings, narrower headlights, and an increased emphasis on horizontal lines.
You'll also note there's a model name badge on the front wings next to the new headlights now. All these design changes are intended to make the van look more 'premium'.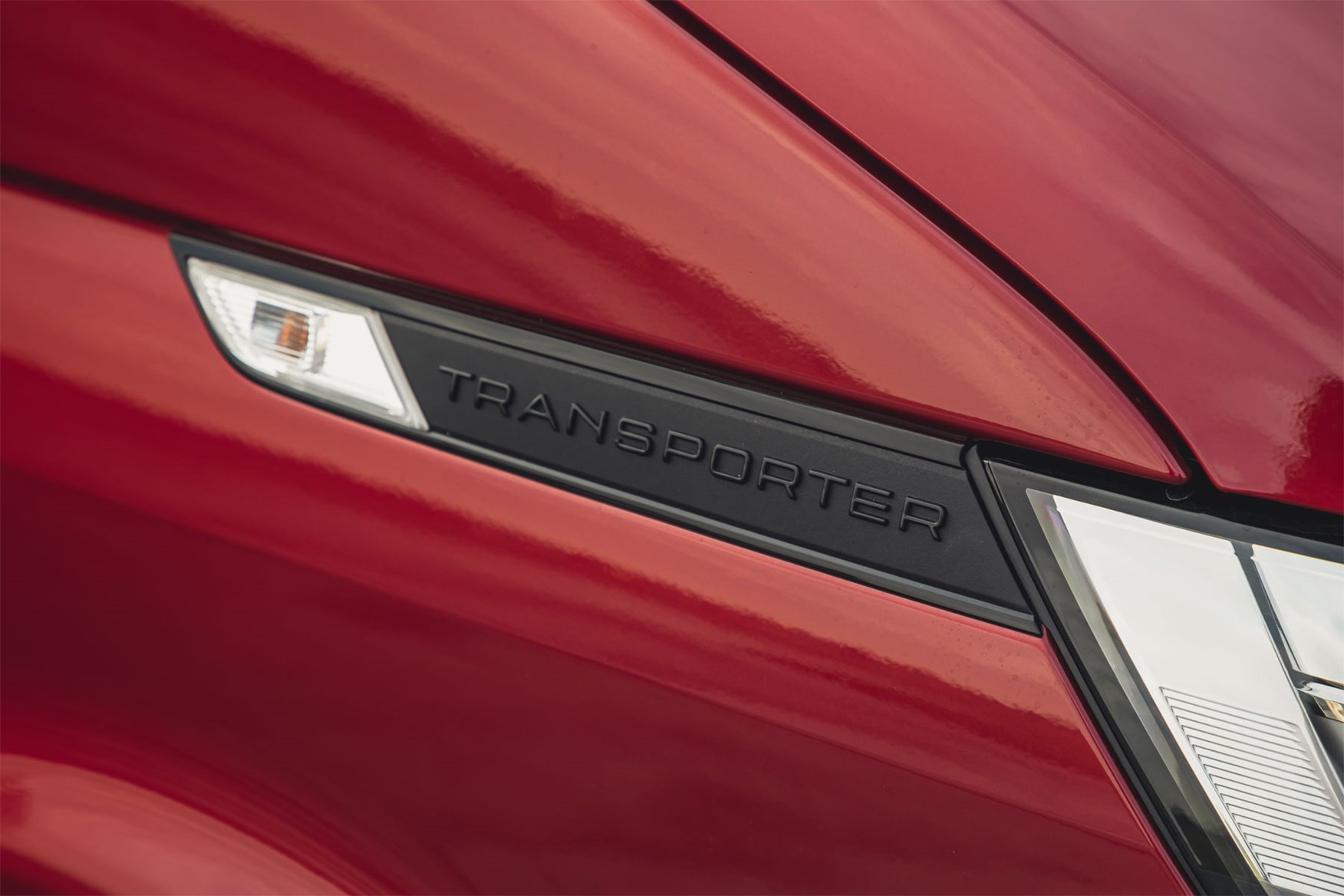 Meanwhile, a completely redesigned dashboard is supposed to make it feel more like a car inside, supported by improvements to the driving experience and the option to add VW's very latest multimedia infotainment systems, which run on touchscreens up to 9.2 inches across.
Mechanical changes include new electromechanical power steering, a number of new safety systems, and a revised set of engines, all of which meet Euro 6D-Temp emissions regulations (also known as Euro 6.2).
The most desirable medium van?
For at least the past two decades, the VW Transporter has been the most desirable van in the medium van class, with the premium price tag and strong secondhand values to match.
This desirability continues with the T6 and T6.1, which combine the solid and reputable underpinnings of the previous-generation Transporter with some of the latest driver aids and safety systems from the Volkswagen passenger car division.
VW Transporter rivals
The Ford Transit Custom and the Mercedes-Benz Vito - the Ford sells in simply enormous numbers, while the Vito is the only other mid-size van with a premium German image.
Medium van buyers should also consider the Renault Trafic / Fiat Talento / Nissan NV300 family, as well as the closely related Citroen Dispatch / Peugeot Expert / Toyota Proace / Vauxhall Vivaro ranges, which have the newest underpinnings on the market (though not necessarily the best).
Few of these competitors provide the breadth of choice the VW Transporter offers, however.
Lots of choice from the VW Transporter
The available array of model combinations is almost dazzling, but with such variety there is almost certainly a Transporter to suit your needs.
As well as the standard panel van, it comes as a Kombi with two rows of seats (but no bulkhead on T6 models; T6.1 can have a bulkhead), Shuttle minibus and a chassis cab for conversions; it also forms the basis of the Caravelle people carrier and the California campervan.
At launch, the T6 was available in two bodylengths, three roof heights and four nominal gross vehicle weights (2.6 tonnes to 3.2 tonnes), providing payloads from around 700kg to over 1,300kg.
However, in early 2018, the Medium roof height was dropped from the UK range (due to lack of interest from buyers); this means only Low and High roof Transporters were available to buy new from this point on.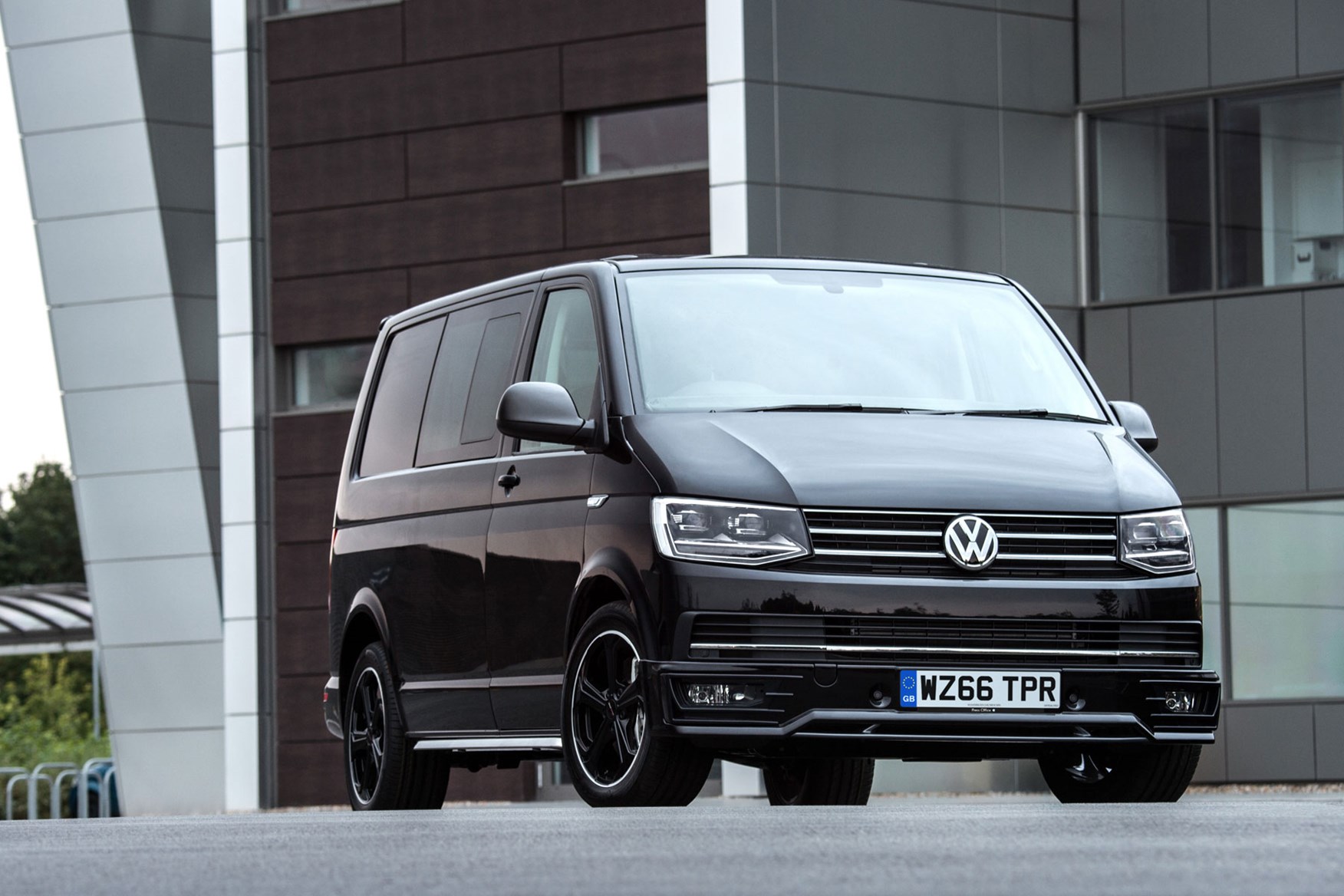 As for trim levels, the T6 initially launched with three: Startline, Trendline and Highline. The high-spec, high-cost T6 Sportline was added in late 2016 (pictured above), with an Edition model following in 2017 featuring snazzy graphics, LED headlights and sat-nav as standard.
For the T6.1 facelift, VW has reduced the trim choice slightly, with just Startline and Highline offered initially, no mid-spec Trendline coming at all and Sportline following in 2021. This reflects the way the UK market is divided between buyers who want a basic van and those (typically owner-operators) who want something as luxurious and car-like as possible.
Manual and automatic gearboxes are available, plus both front-wheel drive and 4Motion four-wheel drive.
VW Transporter engines
VW's well-respected 2.0-litre TDI turbodiesel engines power the majority of Transporters, offering a wide choice of outputs from 84hp right up to 204hp.
In mid-2017, VW added a choice of two new 2.0-litre TSI turbo petrol engines to the Transporter range. A unique offering in the medium van sector in the UK, these were aimed at buyers concerned about diesel emissions, those who do shorter journeys, or those who simply prefer smooth petrol performance.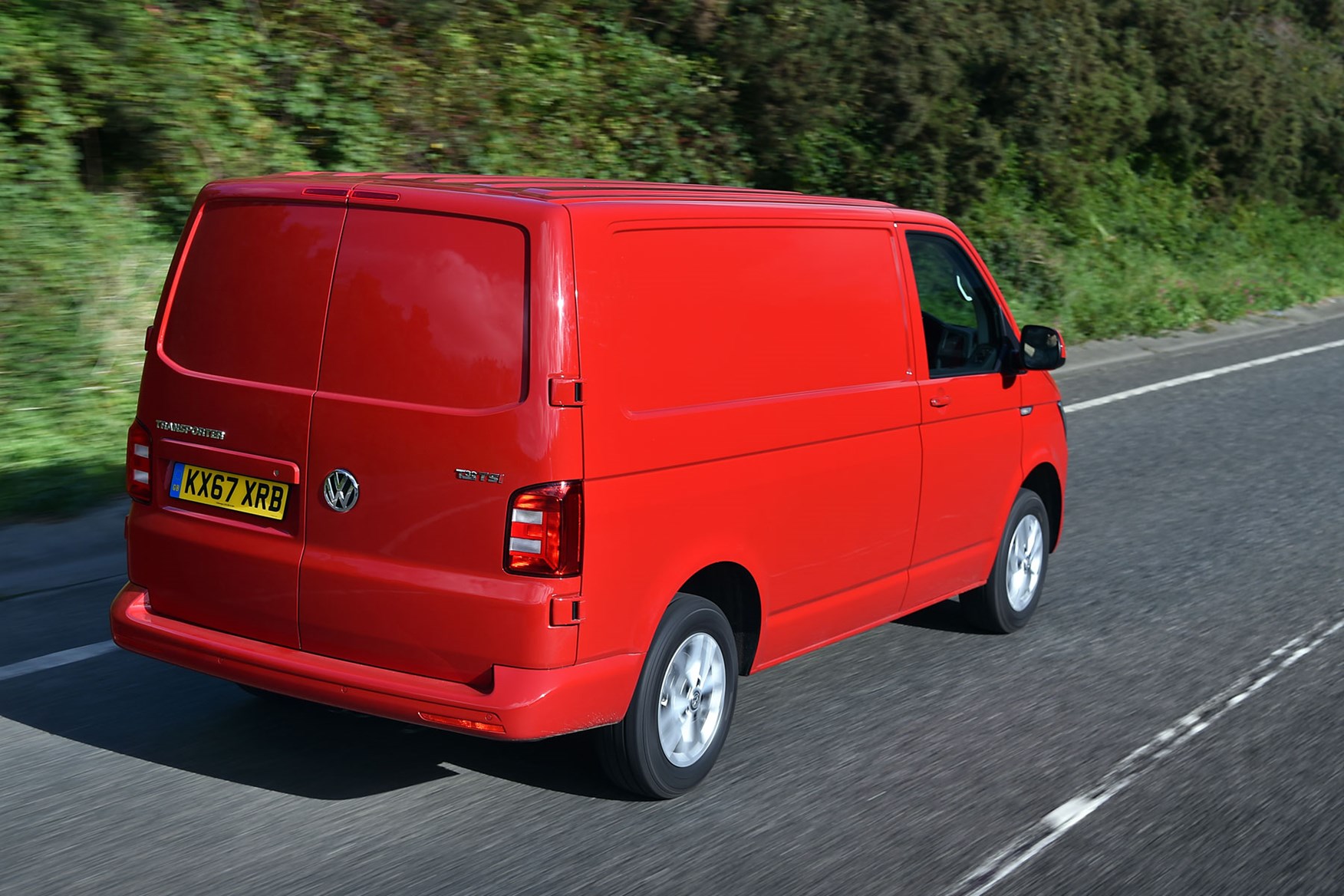 We ran a top-spec 204hp TSI turbo petrol as a long-term test van here at Parkers, and it left everyone who drove it gobsmacked by its performance - if not its fuel economy.
However, the petrol Transporters were shortlived, and not only were they discontinued from the UK pricelist in autumn 2018, VW has chosen not to continue with any petrol-engined models in the revised 6.1 range.
---

Verdict: is the VW Transporter any good?
With its appealing combination of image, practicality and choice, the VW Transporter is a van that should always be in the running for your money, and the Transporter 6.1 facelift has only made an already great van even better.
No, it isn't cheap. But if you're planning to use finance this may actually work in your favour - since it also holds its value really well, monthly payments can prove surprisingly affordable. VW claims that total life costs are among the best in the medium van marketplace.
The Transporter is a great all-rounder - perhaps only bettered in this respect by the Ford Transit Custom, and even then many buyers may prefer the VW's design, driving experience and safety credentials.
We voted it runner up in the 2020 and 2021 Parkers Medium Van of the Year Award.
Keep reading for our full VW Transporter review, or see our dedicated VW Transporter dimensions page for details of the load area, payload and sizing.
Skip to our full verdict on...
Range of 2.0-litre TDI engines provide plenty of power and torque
Comfortable driving experience that's getting ever closer to matching a car
Improved steering and refinement for T6.1 facelift models
Though the Transporter has never been a bad van to drive, the 6.1 facelift of 2019 has brought a number of improvements. We've sampled every engine available in the latest range, and driven the updated van around town and on the motorway at home in the UK and abroad.
If you're trying to find out what the electric version is like to drive, however, you'll need to check out our separate VW e-Transporter review.
VW Transporter 6.1 engines
The T6.1 is only available with 2.0-litre TDI turbodiesel engines. Revised versions of the motor fitted in the pre-facelift T6 models, these now meet the latest Euro 6D-Temp emissions regulations, and offer the following choice of power outputs:
90hp / 220Nm (single turbo)
110hp / 250Nm (single turbo)
150hp / 340Nm (single turbo)
199hp / 450Nm (twin turbo) - until early 2021
204hp / 450Nm (twin turbo) - from early 2021
The 90hp and 110hp motors are combined with a five-speed manual gearbox and front-wheel drive (FWD); the 150hp engine comes with a six-speed manual gearbox and front wheel drive, with the option to upgrade to a seven-speed DSG automatic or 4Motion four-wheel drive (4WD).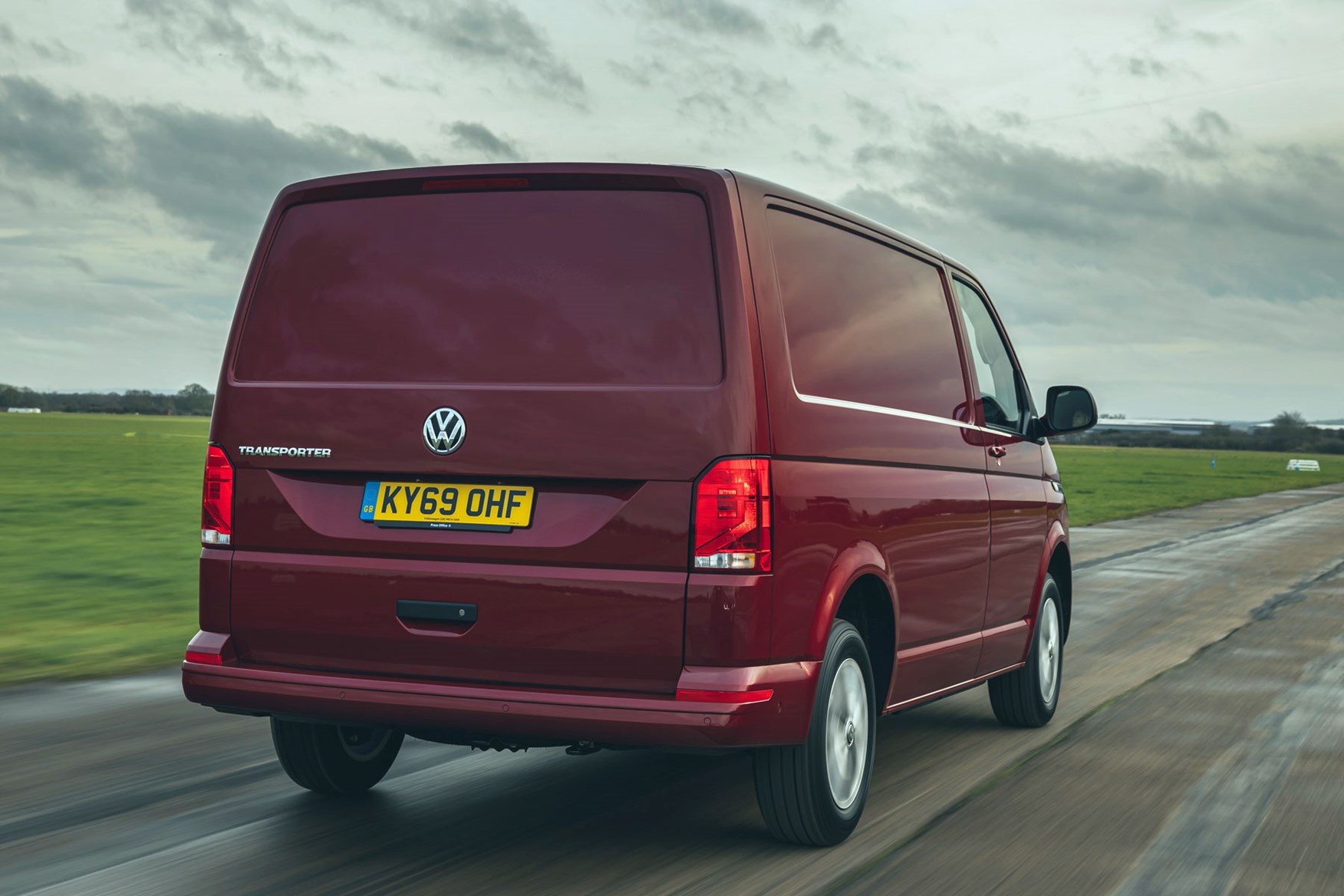 The range-topping 199hp (later 204hp) version comes with the seven-speed DSG auto and FWD as standard, with the option to go 4WD if you want the most expensive set-up possible.
The 90hp van feels adequately powerful when driven around a city centre, even when loaded, but strains much more severely than the rest of the range once you throw in a few hills and faster roads. Given the choice, we'd spend the extra on the 110hp model to ensure enough performance in these situations. 
The jump to 150hp makes a far bigger difference, though, especially as you get an extra gear in the transmission, helping to keep the engine quieter at higher speeds. The 110hp model is revving at around 2,500rpm at 70mph, and this does make it noisier, though not unbearably so.
The range-topping twin-turbo is fantastically fast for a van, and retains the Transporter's crown as the most powerful mid-size van around. The DSG automatic transmission suits its performance and its likely use as a lifestyle vehicle - this transmission is streets ahead of the conventional automatic available in the Transit Custom, for example. Even if it can be a bit abrupt at lower speeds.
VW Transporter 6.1 comfort and handling
In addition to the engines, the facelifted Transporter benefits from a completely revised steering system, which switches from traditional hydraulic power assistance to the newer electromechanical assistance - already deployed in the VW Crafter.
This new system makes the steering feel both effortless and accurate, being light and lazy at low speeds without compromising stability when going faster. It also enables some clever safety features and saves a bit of fuel, helping to reduce running costs.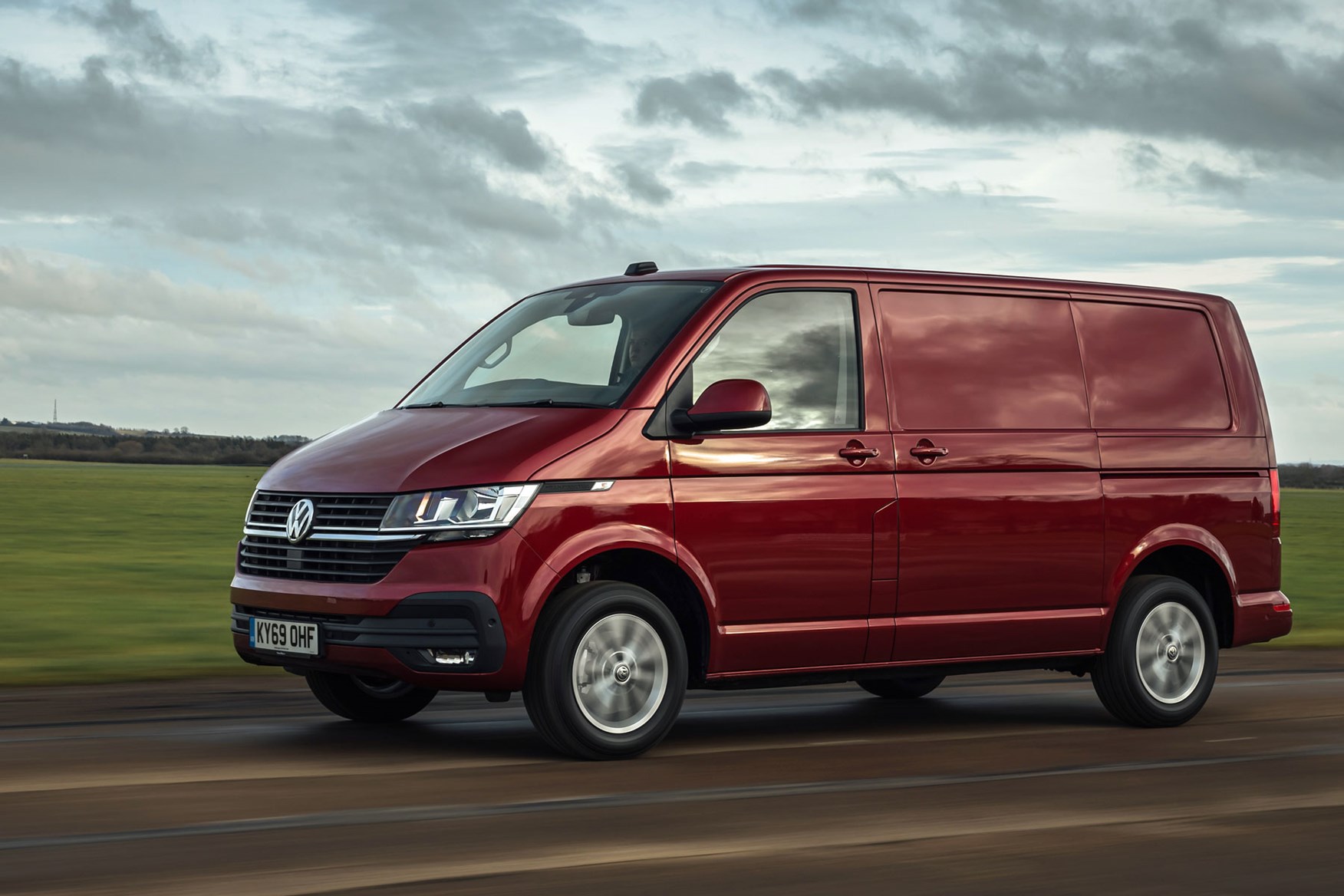 The suspension does a great job of soaking up bumps - certainly more so than the Transit Custom's - but T6.1 models we've driven in the UK still seem to suffer with that age-old Transporter problem of being rather noisy inside. These vans just don't seem to have much sound insulation, with engine, road and wind noise all being quite apparent inside.
Even so, as with its Crafter big brother, this is a very car-like van to drive now, proving to be comfortable on bumpy roads and over longer distances.
Both manual gearboxes have a positive and robust action, so no complaints there. It does seem a little tight that VW doesn't fit a six-speed transmission as standard, but presumably this helps to keep purchase costs down while making the less powerful models feel punchier at motorway speeds.
Though the 4Motion four-wheel drive system is very unobtrusive on the road, unless you regularly find yourself on slippery work sites or damp grass, the normal front-wheel drive models will do the job, and drink less fuel in the process.
VW Transporter pre-facelift engines
Prior to the T6.1 upgrade, engine power output in the VW Transporter ranged from 84hp to 204hp, depending on year; the least powerful models got five-speed manual gearboxes, with six-speed manual or seven-speed DSG automatic transmissions fitted to faster versions.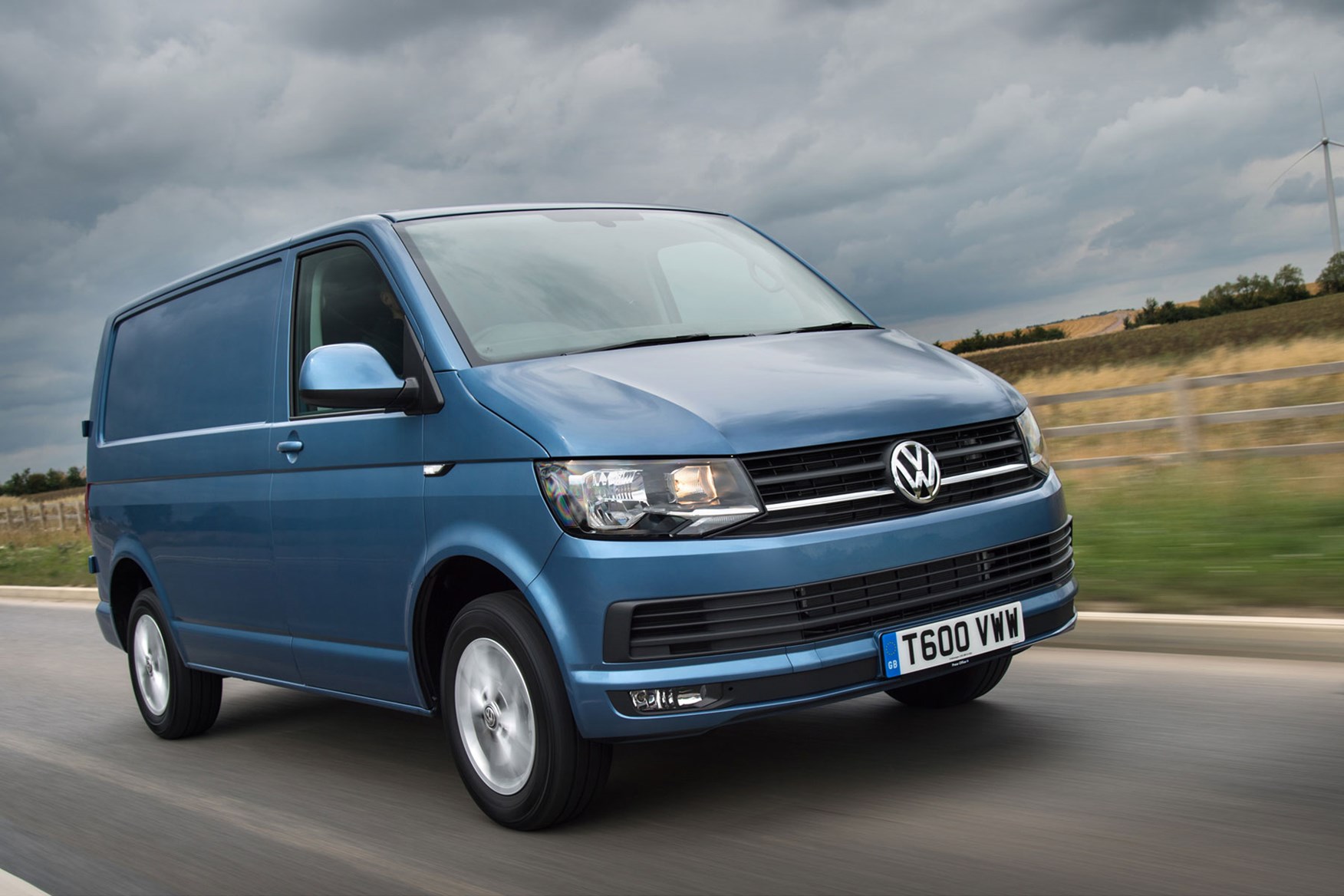 We were disappointed when we drove the 84hp engine, which is sluggish off the mark and struggles on even modest ascents. Step up to the 102hp model and there is a world of difference.
You're much better off going for more power if you can afford it, though. Even early 140hp models make light work of cruising on the motorway thanks to the addition of that sixth gear, and the 180hp version is obviously even better (although it does appear to have some long-term reliability concerns).
With the arrival of Euro 6 in 2016, the 140hp and 180hp engines were swapped for 150hp and 204hp units, giving greater performance still. The 204hp models are more powerful than any contemporary medium van rival.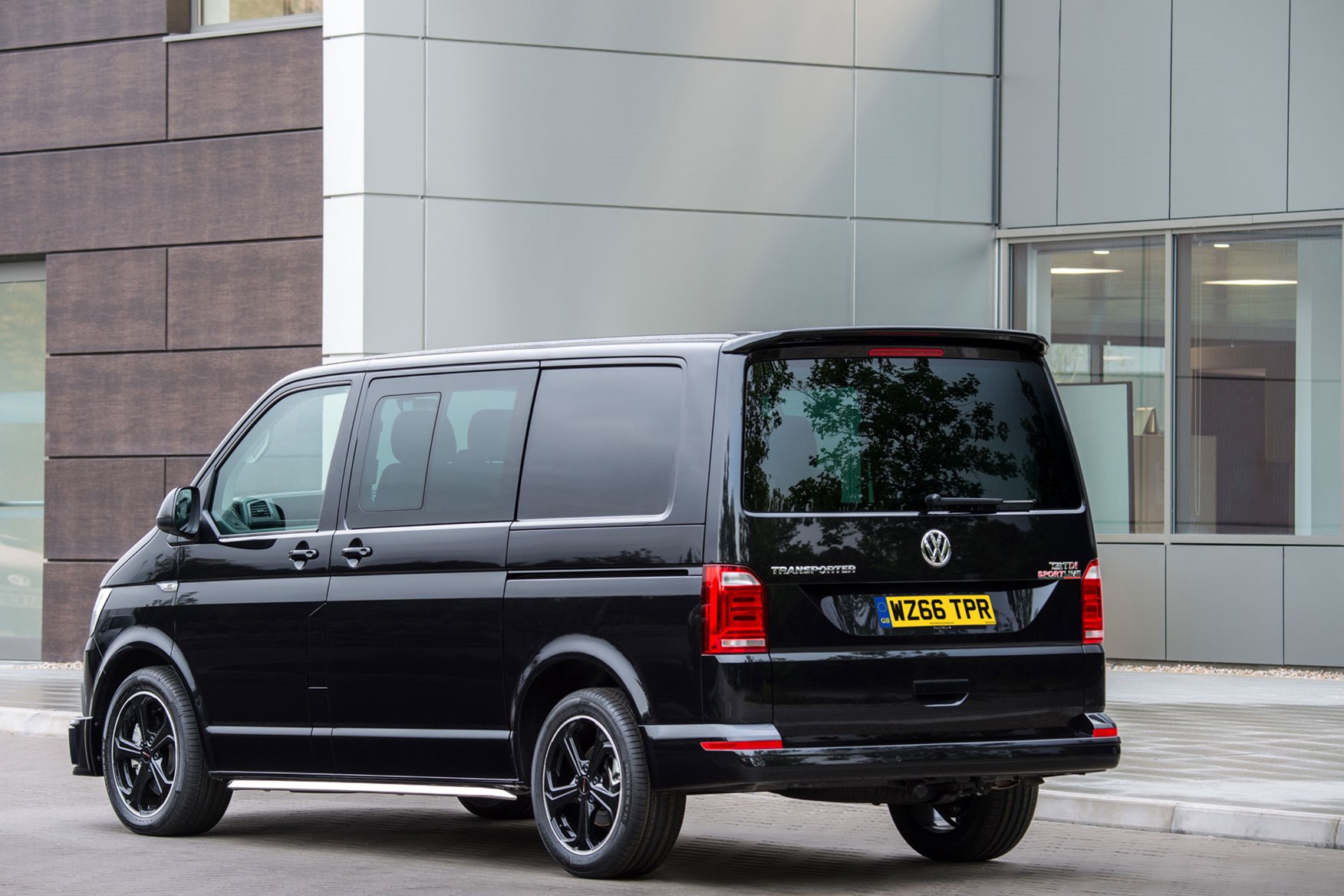 Transporters with 180hp and 204hp will do 0-62mph in less than 10 seconds, which is very good going.
Are the VW Transporter petrol engines any good?
In 2017 VW added a choice of two 2.0-litre TSI turbo petrol engines to the Transporter range, offering either 150hp or 204hp.
These are intriguing power units - while they can't match the fuel economy of their diesel equivalents, they are quieter, super-smooth and urgently enjoyable to drive. Even the 150hp model feels very fast, while the 204hp is practically a load-carrying GTI.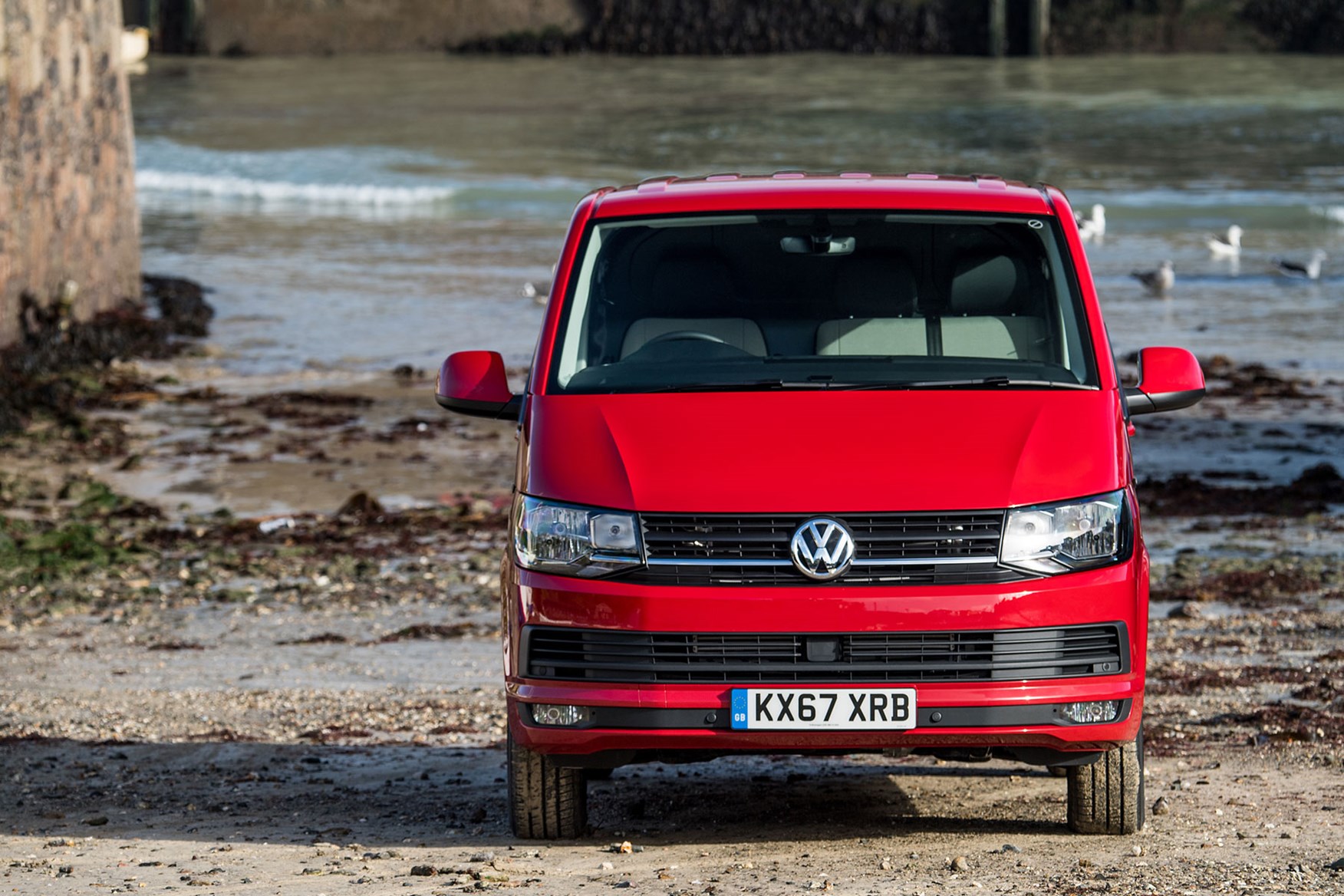 Both petrol engines suffer from a surprising amount of vibration around 1,500rpm, however - something that the optional DSG transmission available on the more powerful model ably manages to drive around.
Not for everyone, but if you're - say - a lifestyle buyer who places a greater emphasis on the driving experience than fuel economy, they are worth seeking out.
Sadly, if you do want a petrol-powered T6, you'll now have to search for a secondhand example as they were dropped from the UK pricelist in autumn 2018.
Pre-facelift comfort and handling
The previous generation T5 Transporter had become quite utilitarian by rival standards. But the T6 has always been a smooth performer on the road, if not quite as sharp as the Transit Custom or Renault Trafic family, and not quite matching the assured comfort and luxury of the fanciest Mercedes Vito models.
The steering is light, which makes it feel nimble. But you soon learn that the Transporter isn't overly keen on turning into corners quickly, feeling almost as if it is going to trip over its outside front wheel.
And despite a firm-ish ride, there is quite a bit of bodyroll, too, although the lowered suspension of the Sportline models successfully reduces this rolling around.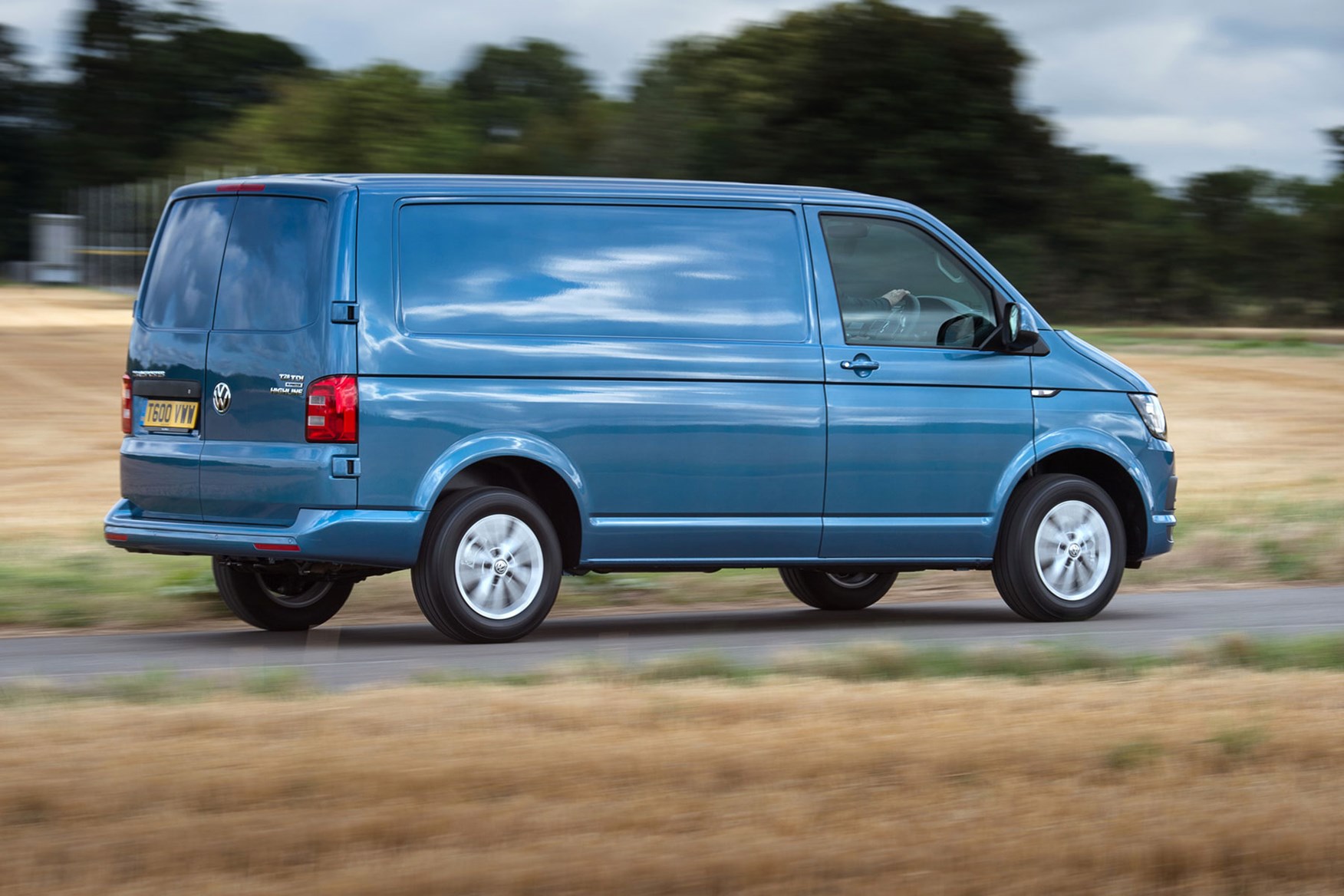 Regardless of version, once you're in the corner, clever XDS electronics deliver plenty of grip, and the more powerful engines can propel you away from roundabouts with enough speed to surprise all but the most enthusiastically driven cars.
These earlier T6 Transporters are noisy inside - especially on models without a bulkhead such as the kombi, which has a second row of seats.
Smart new dashboard design for T6.1 facelift
Lots of on-board technology - including built-in SIM card
But is it less practical than before?
While the T6 Transporter's cab has always been cleanly designed and very functional, and a welcome change from the dated and rather drab interior of the previous generation, some buyers felt it lacked the design flair of the best rivals.
Safe to say the T6.1 facelift has made a dramatic improvement in this regard, with a completely new dashboard, new seat finishes and new door cards.
Updated interior for Transporter 6.1 brings style and tech upgrade
Available with a choice of two infotainment systems in the UK - Composition Colour and Discover Media - the way the central screen is now integrated into the dashboard looks super slick.
Using the latest VW software and technology - called MIB3 - the Discover Media system comes with an 8.0-inch touchscreen, Apple CarPlay, Android Auto and a degree of customisation, thanks to the ability to assign driver profiles and the way you can shift things around within the menus to suit the way you use them.
However, it's not the fastest system to come to life when first starting the van (which is frustrating, and sometimes means the reversing camera doesn't work), and isn't always the most intuitive. Going back after you've selected the wrong menu item can be confusing, for example.
The good news is that the basic Composition Colour system now fitted as standard features a 6.5-inch screen and can mirror your smartphone, allowing you to use some apps on the move.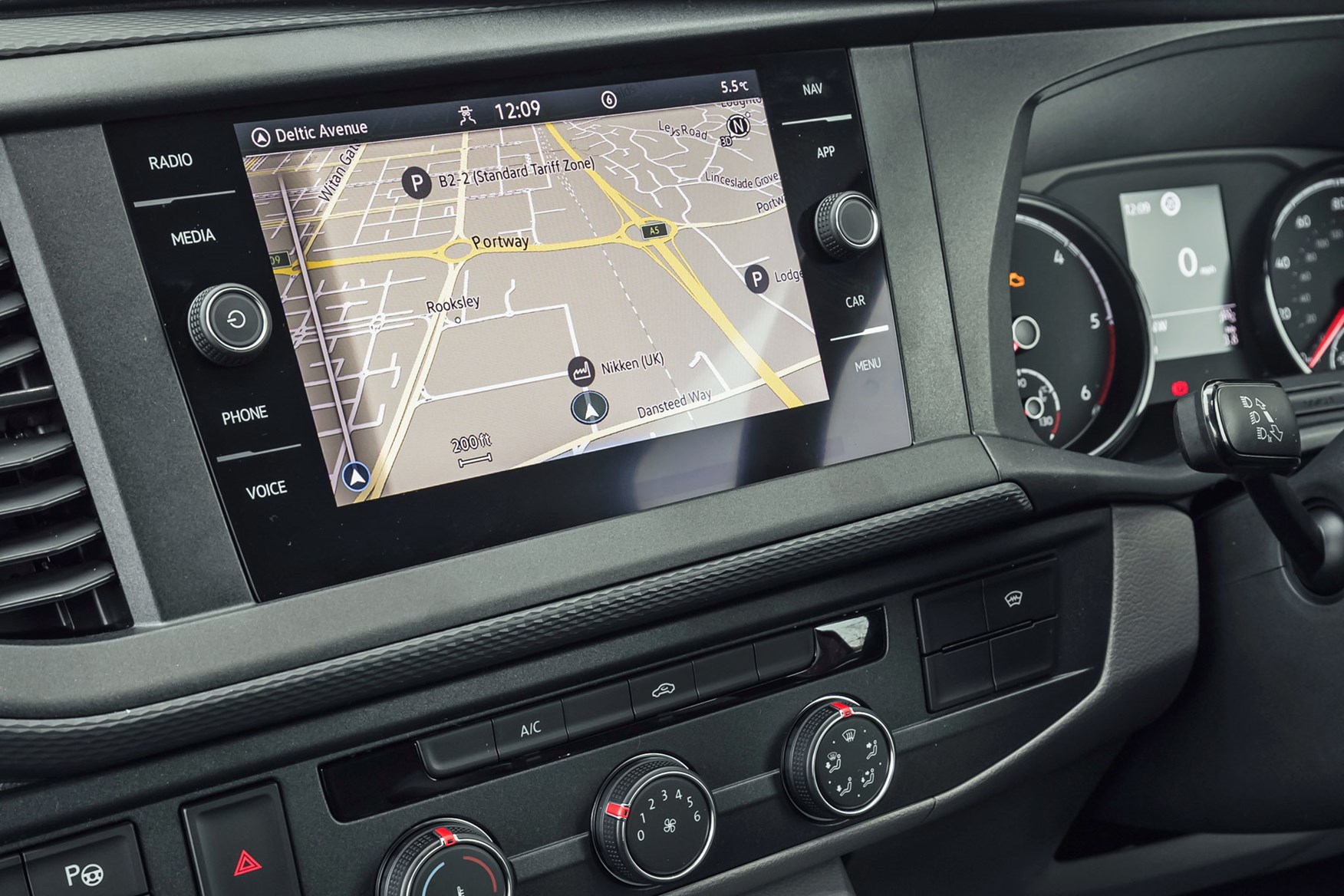 Caravelle and California buyers still get a slight tech advantage over the Transporter, as they are also available with a 9.2-inch Discover Media Pro system combined with VW's Digital Cockpit - a 10.2-inch display that replaces the conventional dials with the ability to show more information, including the sat-nav map and directions.
While this is certainly clever, we're not sure you're really missing much here. We found using the conventional sat-nav screen in the central location to be much less distracting, for example, as you don't have to look so far from the road. The standard dials are also very clear and easy to read.
Built in SIM card and Volkswagen We Connect
All Transporter 6.1 models also come with a built-in SIM card known as an eSIM, allowing you to link to the van remotely using your phone via VW's We Connect services.
At the basic level this allows you to carry out various tasks related to the vehicle's health and remind yourself where you parked it.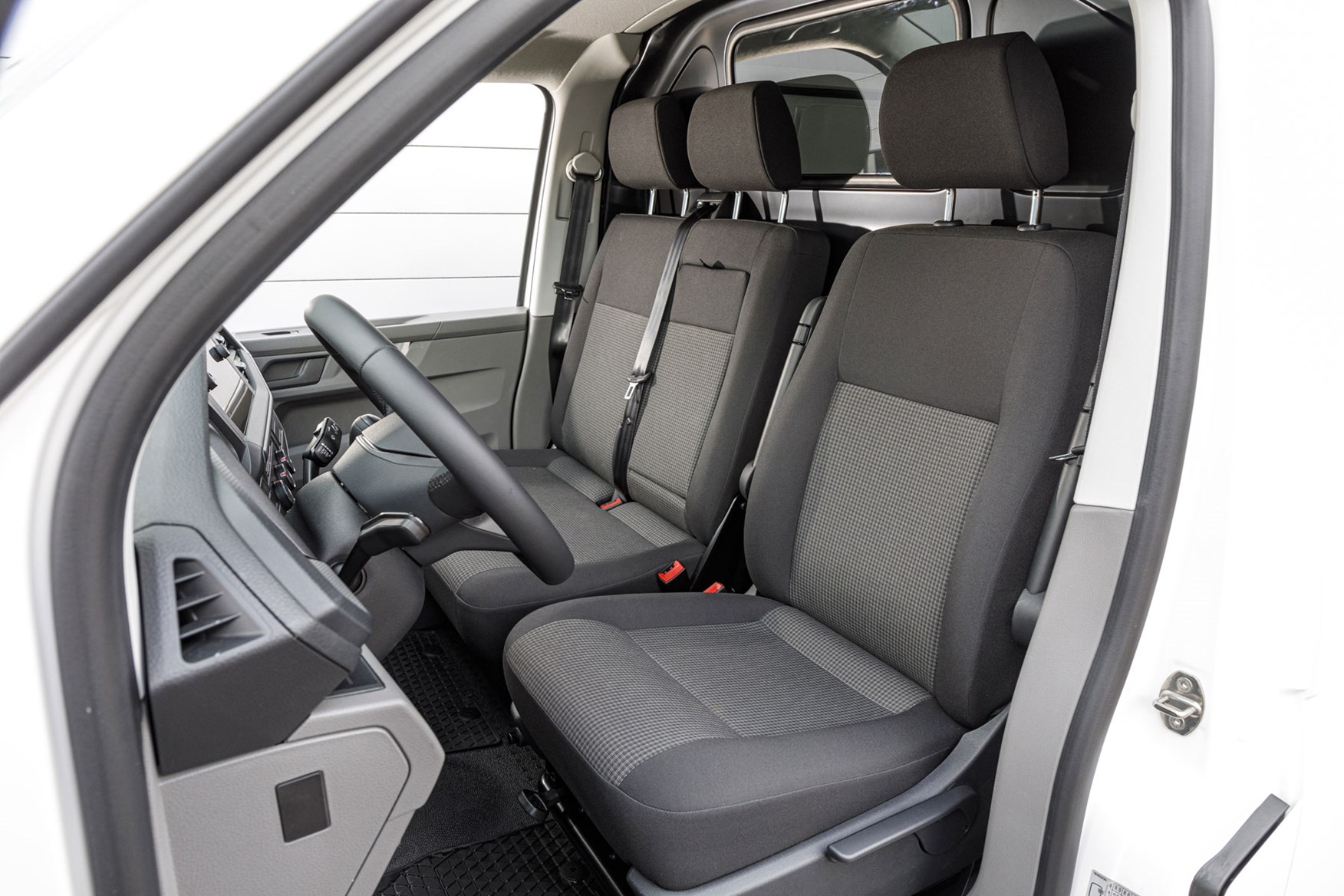 Upgrade to We Connect Plus, however, and you'll be able to remotely lock and unlock the van, set speed alerts, use additional anti-theft functions, find out about fuel stations and car parks, and use a 'Hey Volkswagen' voice control system (similar to the 'Hey Mercedes' functionality available in the Sprinter).
This isn't the most impressive voice control we've ever used, so if you think this is something important to the way you'll use the van, do make sure you try it out at the dealership.
UK Transporter buyers get a year's free subscription to We Connect Plus, but after the first 12 months you'll have to pay a fee to continue it.
There's also We Connect Fleet, which adds maintenance management tools, geofencing and a digital logbook to the service. It's intended to be particularly useful to small fleet customers (10-15 vehicles) that wouldn't otherwise bother with any fleet management software.
Less practical than before? Yes and no...
One problem with the new dashboard design is that it seems to have a reduced amount of storage compared with the previous version - and it doesn't solve the issue regarding the lack of covered storage, either. So while there are a couple of dash-top bins, they don't have lids, which means people can see what you've put in them and that stuff will likely reflect in the windscreen while you're driving.
The Transporter has half-heartedly adopted dash-wide shelf from the Crafter, too. But this, together with the need to find room for the latest exhaust gas recirculation (EGR) technology under the bonnet, has brought the dashboard closer to the passengers' knees.
If your mates are over six foot or have long legs, they may find it more cramped than the older T6 Transporter interior as a result.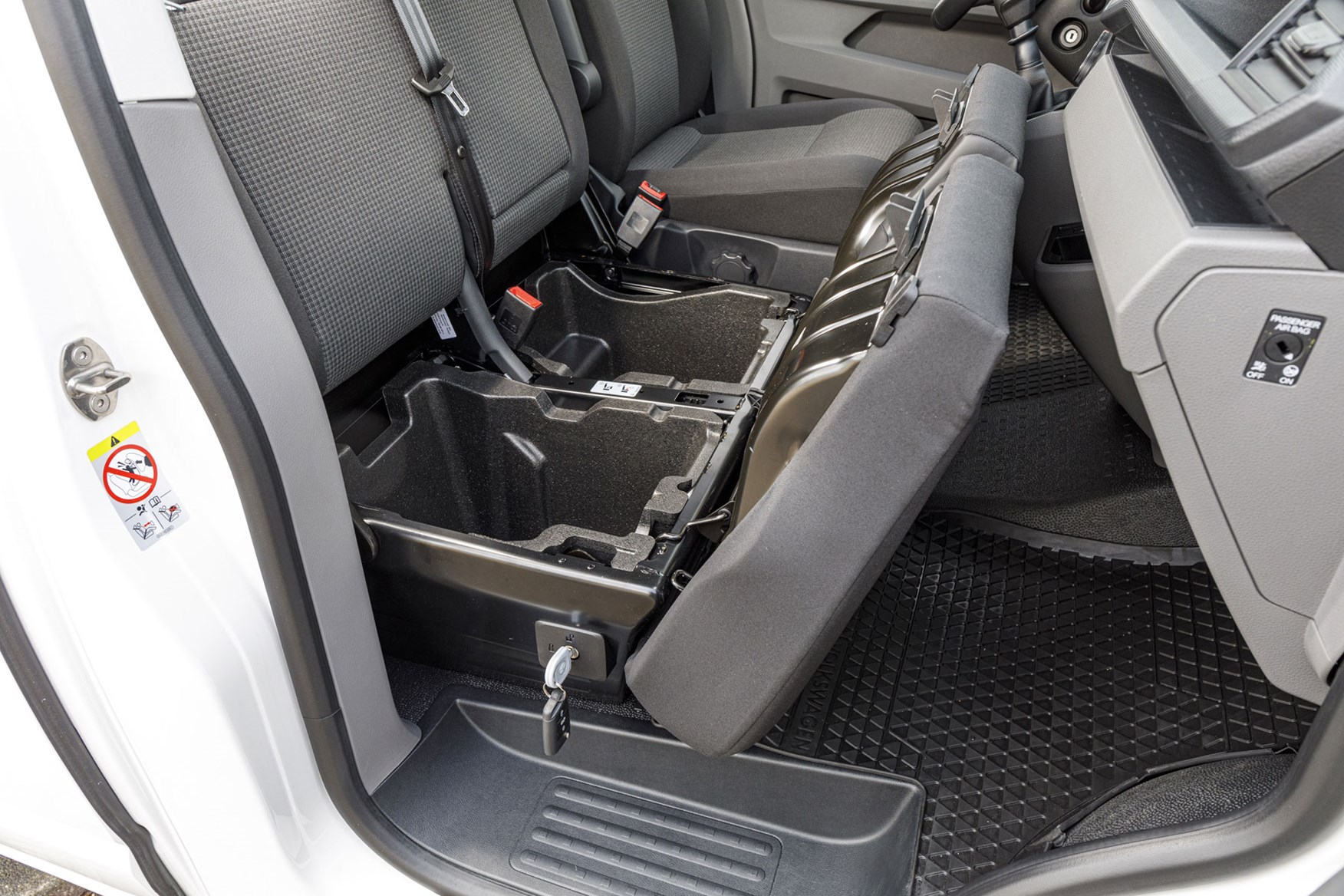 That said, VW has added the option to accommodate longer loads, thanks to the new ability to load through under the front passenger bench - a gain of 400mm.
You can also get a 230v socket for this under-seat area, situated within a locker - allowing you to secure items such as laptops while you charge them.
Pre-facelift interior and dashboard
The pre-facelift T6 interior is pictured below. As you can see, it is far less fancy than the T6.1, but to our eyes it does have an appealing practicality that suits a van.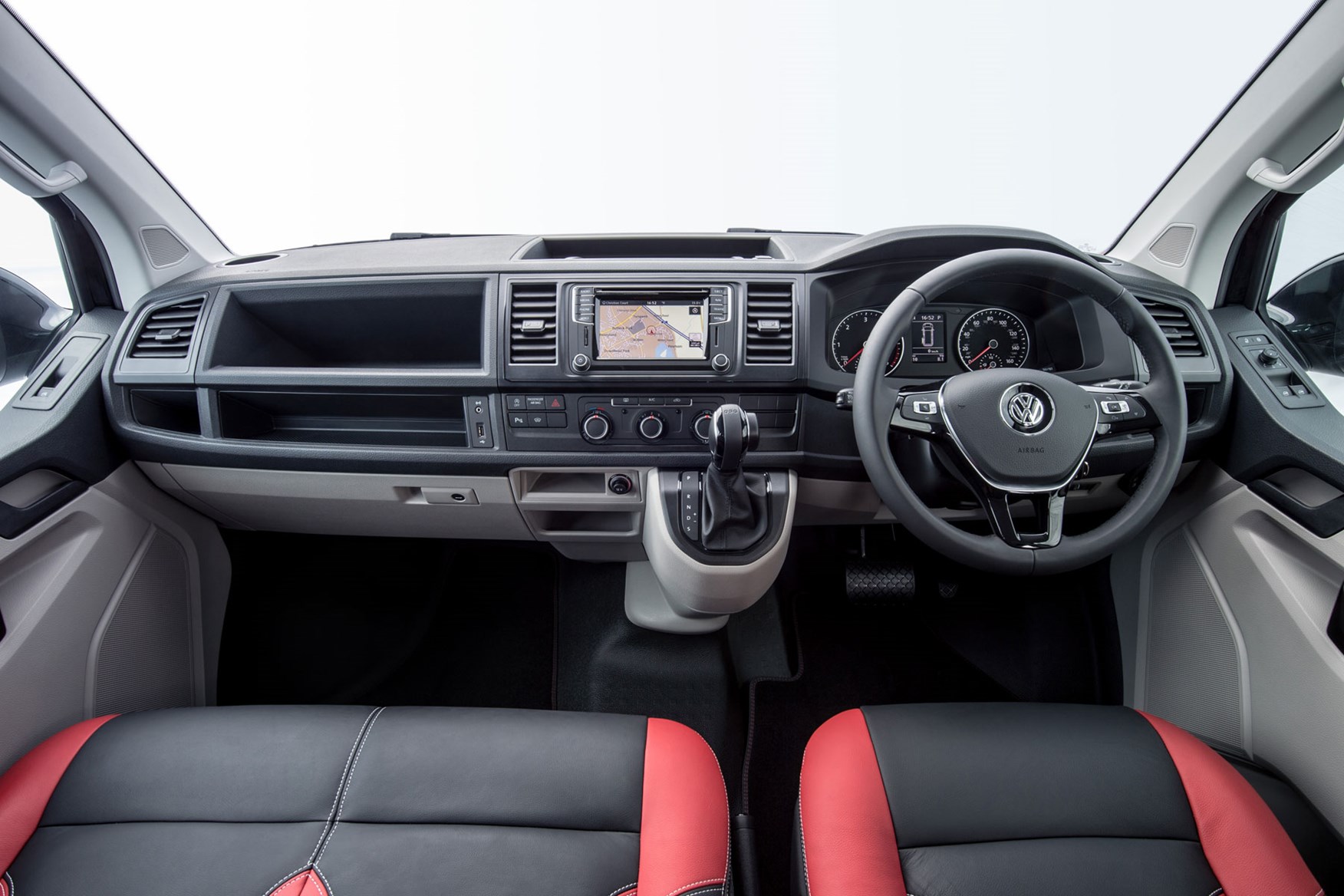 Even on the Highline models, which come with a lot of gadgets and features, the layout of the buttons and switches is methodical and sensible on the earlier dash. This is a boon over some rivals - including the Transit Custom - where secondary controls have been scattered all over the cab.
All that said, in our experience, it can be tricky to set a comfortable temperature in the cab for some reason, with the Transporter often feeling either hot or cold, with little adjustment in between.
VW Transporter long-distance comfort
On all models, the seats are made from hard-wearing upholstery and are fully adjustable for height, lumbar, reach and rake.
As first encounter, you may find the seat bases rather firm, seeming someway short of the ergonomic comfort now offered by the 2017-onwards VW Crafter.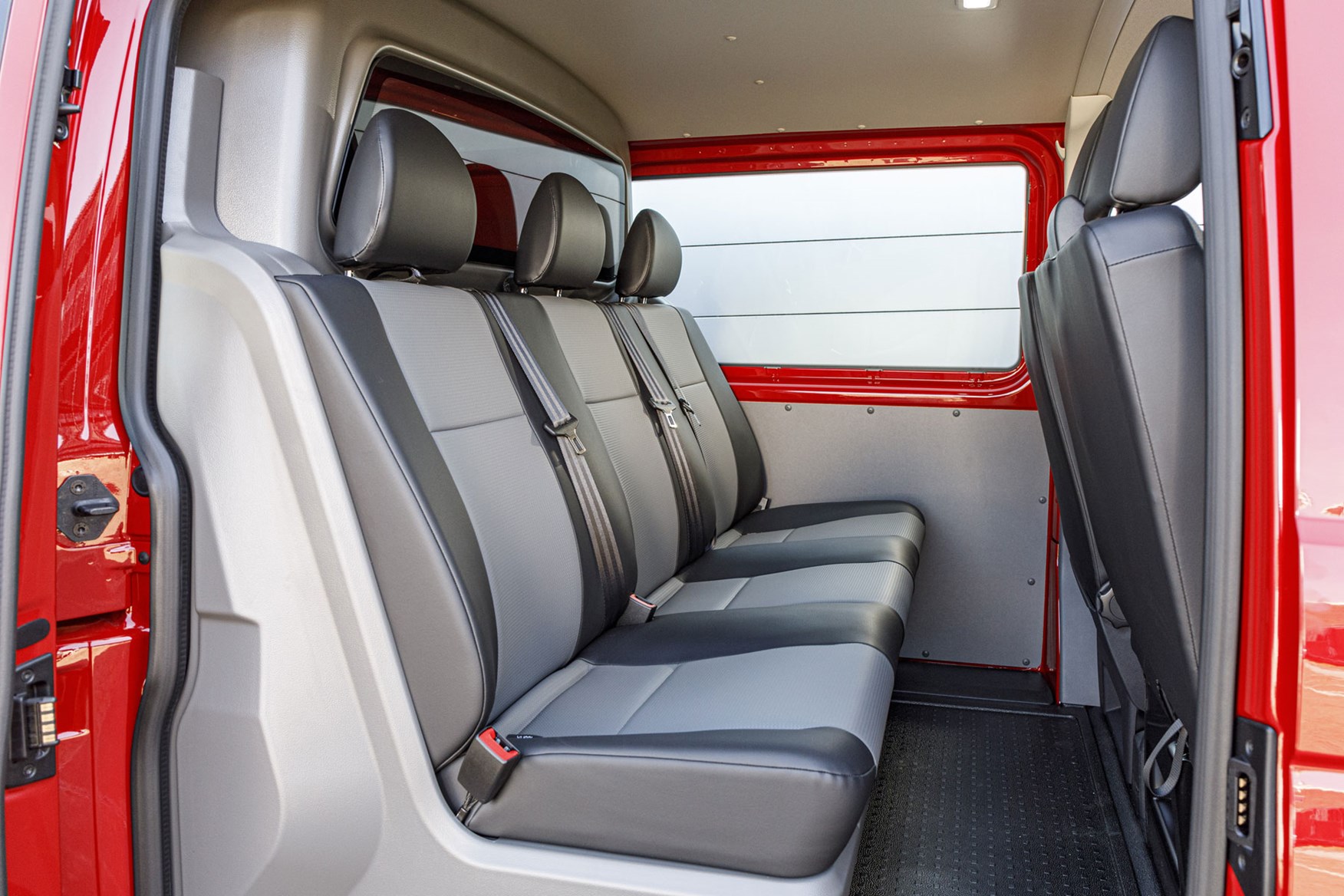 However, we've done day-long, pan-European journeys in these Transporters, and they always seem to pass without causing the driver any aches and pains. VW's seat designers do apparently know what they're doing.
Holds its value better than any other medium van
Fuel economy typically a strong point
Some trim and equipment changes for T6.1
The Volkswagen Transporter has never been a cheap van to buy new, and this model is no exception.
However, it also commands strong secondhand prices, and these residual values mean that overall ownership costs remain competitive. Which should also help keep lease and other finance rates down, reducing monthly payments.
What's more, VW has taken other measures to try and reduce running costs. As of May 2020 it even offers interest-free finance on servicing and repairs to enable you to spread payments and make things more affordable.
VW Transporter mpg
According to the official figures, the most economical version of the T6.1 at the time of writing in March 2021 is capable of a claimed 40.4mpg; this figure applies to the most efficient versions of the 90hp and 110hp vans.
Least economical Transporter delivers a claimed 29.4mpg from the least efficient 199hp model, while still available; the newer 204hp version is up to 5.5mpg more efficient, somehow.
These figures look pretty unimpressive on paper compared with the pre-facelift T6 model, which offered up to 51.4mpg, and it wasn't even in the top three vans in its sector at the time.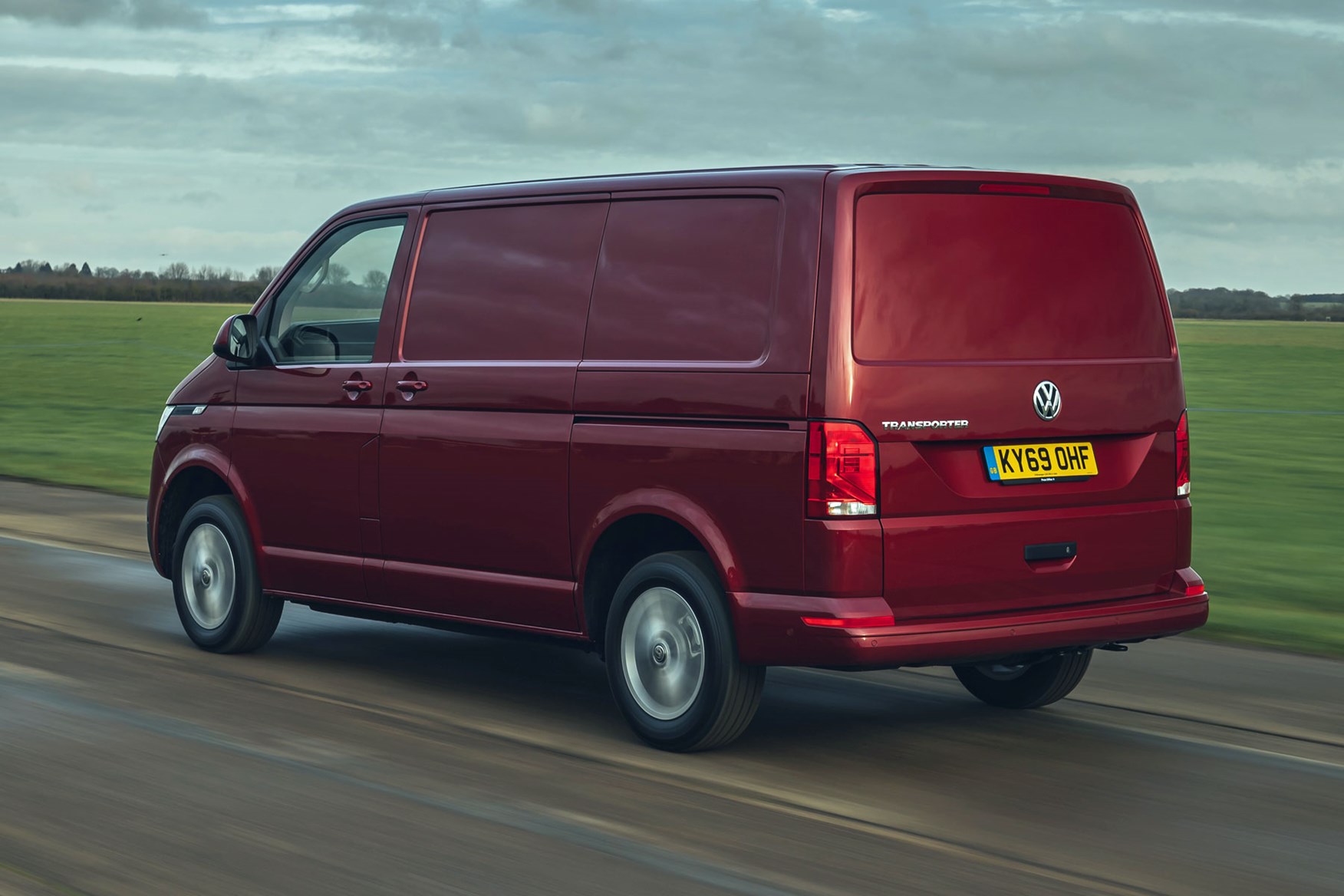 However, the fuel economy testing regime has changed to a newer, tougher WLTP standard since the T6 was launched, and it's this the T6.1 is measured against.
It's also worth noting that there are no special fuel-saving versions or measures available for the facelifted Transporter.
VW Transporter warranty and servicing info
You get a three-year, 100,000-mile warranty as standard from new, which isn't as generous as some rivals.
But the Transporter is one of the most reliable vans around, according to the FN50 fleet reliability survey, so you shouldn't need to visit the dealer too often.
As for service intervals, you can choose between a fixed or variable scheme.
Fixed intervals come every year or 10,000 miles, while the variable intervals are once every two years or 18,000 miles, or whenever the vehicle detects it needs attention.
Which is better for you will depend on how and where you drive.
VW offers a wide range of servicing plans for new and used vans to help keep costs down, including the option to spread payments over 12 or 18 months.
Plus, in March 2020 it added a new augmented reality facility to all of its Van Centres and Authorised Repairers to help solve complex and unusual problems more quickly. This should get you back on the road quicker, VW claims.
AdBlue and insurance
Euro 6 models feature a 13-litre AdBlue tank, which is not especially large, and delivers a range of between 3,720 and 5,500 miles - very much depending on driving style and use.
Be advised there is no 'limp home mode' and the engine will refuse to start once the AdBlue has completely run out, although you will have ample warning that it's getting low.
Check out mustard.co.uk for a VW Transporter insurance quote.
VW Transporter 6.1 standard equipment
UK specification for the T6.1 Transporter, which went on sale in early 2020 in Startline and Highline trims only, is as follows; for details of safety equipment see the safety section.
VW Transporter 6.1 Startline standard equipment highlights:
Composition Colour infotainment system with 6.5-inch touchscreen, DAB radio, Bluetooth and two USB connections
Volkswagen App-Connect
Electric front windows
Electric, heated door mirrors
Electromechanical power steering
Reach and rake steering wheel adjustment
Multifunction steering wheel with leather rim
LED interior lighting
Rubber floor lining in cab
Remote central locking
Load lashing rings
VW Transporter 6.1 Highline standard equipment highlights (in addition to Startline):
Body-coloured bumpers, door mirrors and door handles
Adaptive cruise control with speed limiter
Automatic headlights and wipers
Air-conditioning
Heated windscreen
Electric, heated and folding door mirrors
Front foglights with cornering function
Parking sensors front and rear
Alarm system
There are some interesting options packs for the T6.1. These include the great value Business Pack for the Startline model, which adds an alarm and air-con for a modest extra fee.
Then there's the Courier Package, which includes a 'more robust' alternator, battery and driveshafts. Make of that what you will...
VW Transporter T6 standard equipment
If shopping used, you may find this list of pre-facelift Transporter T6 standard equipment helpful.
The T6 Transporter comes in three regular trim levels: Startline, Trendline and Highline, with even the Startline offering plenty of standard kit. On top of this, however, more lifestyle-orientated versions have been added: the Sportline (from late 2016) and the Edition (from 2017).
VW Transporter T6 Startline standard equipment highlights:
5.0-inch touchscreen infotainment system with DAB radio, Bluetooth, SD card and USB connectivity
Electric front windows
Electric, heated door mirrors
Single front passenger seat
Two 12v sockets
Full-height steel bulkhead (as of June 2018; panel van only)
Half-height cargo area side lining
Sliding side door on passenger side
Black (unpainted) door mirrors, door handles and bumpers
16-inch steel wheels
In 2018, VW added a Business Pack as a great-value option designed to make T6 Startlines more useable for a modest extra fee. This includes:
Air-conditioning
Fixed, full bulkhead
Alarm
The resulting vehicle, sometimes known as the Transporter Business Edition, is intended to appeal to those looking for maximum value.
VW Transporter T6 Trendline standard equipment highlights (in addition to Startline):
Driver's armrest (and passenger armrest on Kombi models
Comfort pack (including extra sound deadening)
Cruise control
Body-coloured door mirrors and bumpers
Rear parking sensors
VW Transporter T6 Highline standard equipment highlights (in addition to Trendline):
Air-conditioning
Auto-dimming rear-view mirror
Automatic lights and wipers
Heated windscreen
Leather-trimmed multi-function steering wheel
Front foglights with cornering function
Alarm
VW Transporter T6 Edition standard equipment highlights (in addition to Highline):
150hp TDI or 204hp BiTDI engine and SWB only
Discovery Media sat-nav infotainment system with 6.33-inch touchscreen and App-Connect
Dark-tinted LED rear lights
Front and rear parking sensors plus reversing camera
High-gloss black roof and door mirrors
Power-folding door mirrors
Power-latching side door
17-inch alloy wheels (150hp) or 18-inch alloy wheels (204hp)
Edition graphics
VW Transporter T6 Sportline standard equipment highlights (in addition to Edition):
204hp BiTDI engine with DSG transmission only
Sportline front bumper
Carbonfibre door mirror housings
Lowered suspension
Sidebars with puddle lights
Rear roof spoiler
18-inch alloy wheels
Leather quilted seats in black and red
Dual front passenger seat
Sportline kombi models also feature:
Carpet flooring in cab
Comfort dashboard with wide centre console and bottle holder (which removes one of the 12v sockets
Single front passenger seat with armrests
Two-seater rear bench plus single individual seat
Always scores highly in industry reliability survey
Very few official recalls, but some reports of engine troubles
Over the previous generations, the Volkswagen Transporter has built up a reputation as a solid and reliable workhorse. This is one of the reasons the VW Transporter typically has the highest residual values in its class.
Backing up that reputation for good build quality, it consistently ranks in the top three vans in the UK for reliability in the annual FN50 fleet reliability survey.
It has also only been subject to one official recall in the UK since launch, with a small number of Transporters (235) troubled by an airbag issue.
That said, there have been consistent reports of issues with some 180hp engines, sometimes referred to as the BiTDI or Bi-Turbo, since it's one of the twin turbo versions. A professional inspection is recommended if you're considering one of these.
Less consistently there have also been reports of DSG and electrical problems.
For what it's worth, not a single thing went wrong with our T6 long-term test van over 8,000 miles of very hard driving.
Regardless, it will be some time before any problems with the T6.1 facelift emerge, as it's not due to reach dealers until March 2020.
Breakdown assistance and MOT insurance
For added peace of mind, new Transporters come with three years' (unlimited mileage) breakdown assist, which includes 24-hour call-out.
On top of this, in May 2018, VW launched a free MOT insurance scheme for qualifying vans and pickups aged up to 10 years old.
Then in May 2020, it also launched 0% finance for servicing and repairs on VW vans as well, to help customers avoid having to pay large lumps sums and encourage them to have essential servicing and repair work completed in a timely manner.
Generous level of standard safety equipment
Can be increased with a range of optional extras
Security could arguably be better
Safety is an area where the Transporter T6 has been considerably enhanced over the T5. A whole host of active systems for damage limitation or crash avoidance have been added to this version, and the T6.1 facelift goes even further.
VW Transporter standard safety equipment
Standard features on all models include ABS, electronic stability control, drive and passenger airbags, Brake Assist and Electronic Brakeforce Distribution (helping you brake harder in an emergency; most people don't brake hard enough), and a Driver Alert System (which checks to see if you're about to fall asleep at the wheel).
As of June 2017, VW was the first to make autonomous emergency braking (AEB) - known as Front Assist with City Emergency Braking - a standard feature right across its van range in the UK - including the T6 Transporter.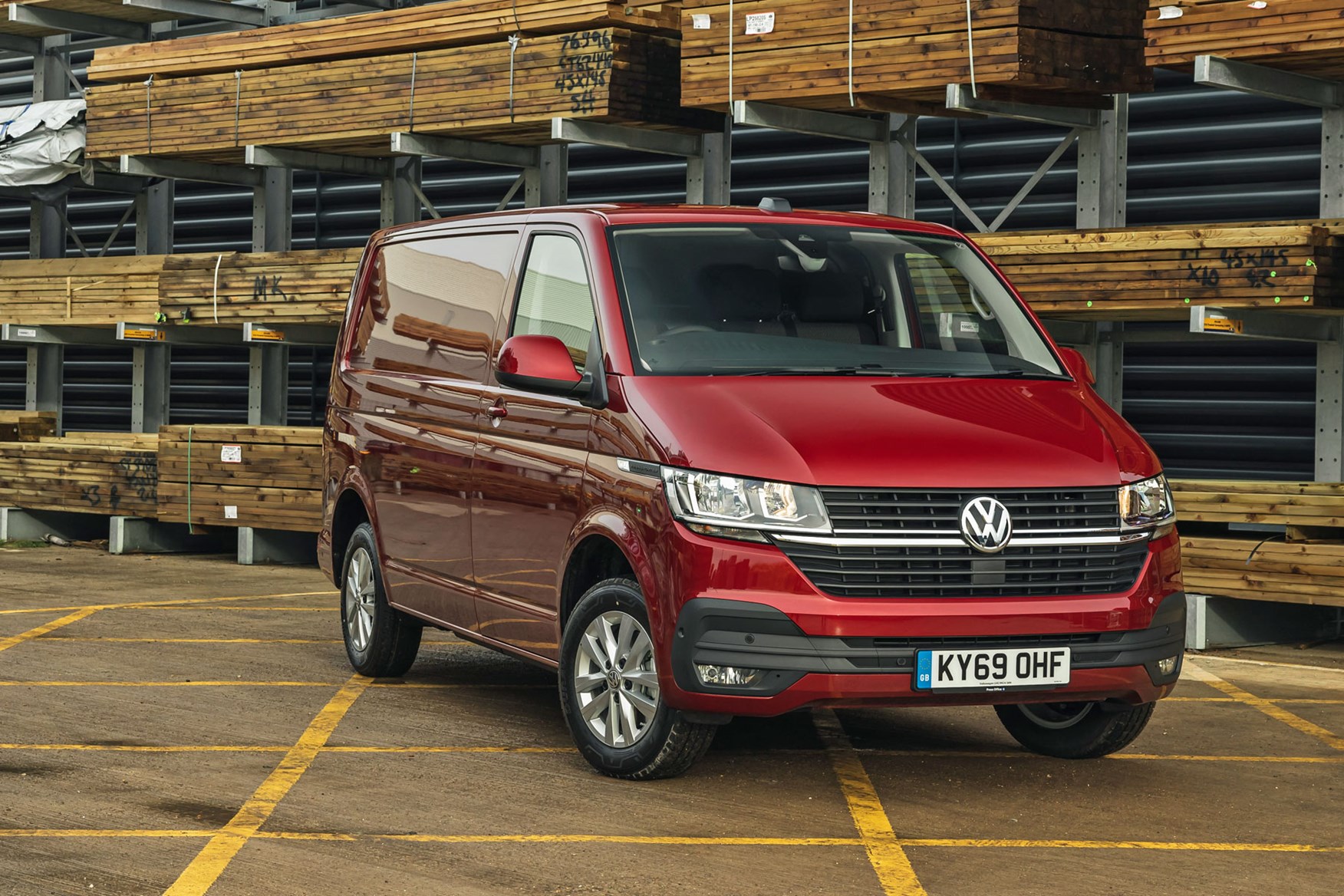 T6.1 facelift models gain crosswind assist and a 'driver steering recommendation' system as standard, too, plus an upgraded AEB system that now also detects cyclists and pedestrians as well as other vehicles.
The steering recommendation helps the driver to counteract dangerous situations and can even make 'gentle' corrections if necessary, and is only made possible by the new electromechanical power steering.
VW Transporter optional safety equipment
We know that van buyers aren't always keen to spend the extra to make their vans safer, but the Transporter has plenty of kit available to tempt you.
For example, the T6.1 can be fitted with lane keeping assist, a side protection system, adaptive cruise control, tyre pressure monitors and trailer assist.
It can also park itself, models fitted with a tailgate can have rear traffic alert, and those with sat-nav can have traffic sign recognition. 
The side protection system may well be worth the cost to reduce your accidental damage bill; it uses 12 ultrasonic sensors to spot objects all round the van and warns you if you're about to manoeuvre into them.
Euro NCAP Gold award
Euro NCAP has begun a van safety campaign, and as of December 2020 is now rating them on their available safety equipment. Among the best and worst vans for safety, the Transporter was ranked right at the top, being one of just three to receive a Gold award.
Security not so impressive?
We remain slightly disappointed with the lack of covered storage compartments within the cab area, which means valuable items have to be stowed in the glovebox to avoid exposure.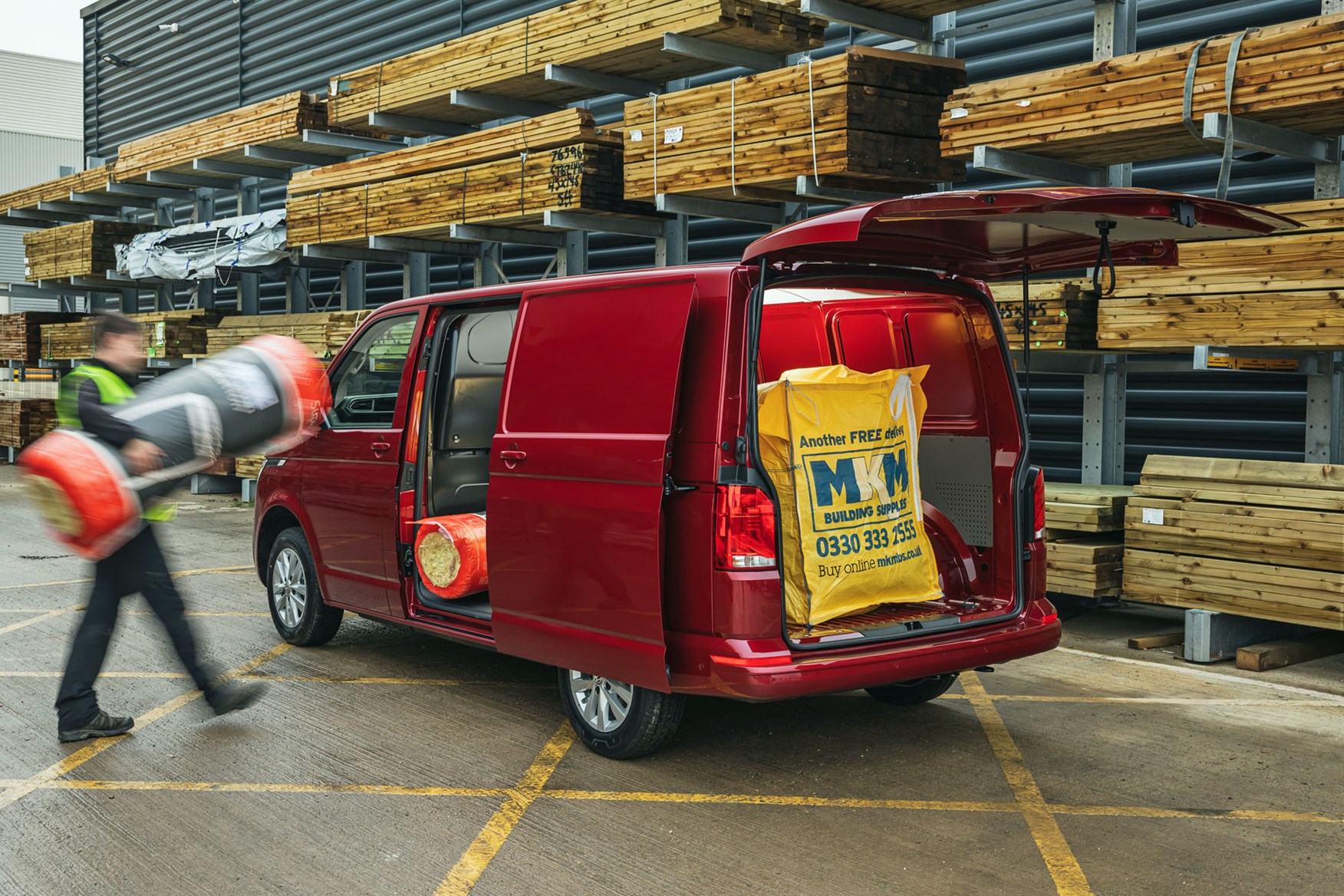 There was also no standard bulkhead between the cab and the cargo area on entry-level models up until around mid-2018, so if someone manages to break in, they have access to all areas. Similarly, an alarm system is only standard from Highline specification and above.
However, T6.1 models can be programmed with a more sophisticated locking process (allowing you to select which parts of the van are unlocked at the same time).
Meanwhile the new We Connect system works with the built-in SIM card to add further anti-theft features. These include a virtual alarm that notifies you via your smartphone if someone opens or moves the van, plus the ability to check it's locked remotely - and lock it if it isn't.
Which Volkswagen Transporter is best for me?
While the VW Transporter may not sell in such high numbers as the Ford Transit Custom, it remains a very popular choice among small and large fleets, and with individual buyers.
>> New VW Transporter vans for sale
>> Used VW Transporter vans for sale
The range is diverse, and you should find there's plenty of choice, whether you're buying new or used. In fact, it can be quite tricky to work out what's best for your needs, so here are a few pointers.
Best VW Transporter for value / standard equipment
Since you have to go all the way up to Highline in order to get air-conditioning and an alarm system as standard, arguably the best-value Transporter as of 2018 is an entry-level Startline with the Business Pack. This adds air-con and an alarm for a modest extra fee, most of which you'll get back when selling it on as it makes the van worth more secondhand.
However, though Trendline was discontinued when the facelifted T6.1 model was introduced, this is still worth seeking out if buying used as it includes cruise control and rear parking sensors as standard – both useful features in a working van.
Don't forget you can check VW Transporter used prices using our free valuations tool.
Best VW Transporter for running costs
Volkswagen has previously built a Transporter BlueMotion that is specifically optimised for maximum fuel economy. With a 102hp 2.0-litre TDI turbodiesel and only a five-speed manual gearbox, claimed fuel economy is 51.4mpg.
However, the T6 BlueMotion only comes in short-wheelbase (SWB) guise, with a relatively limited 2,700kg gross vehicle weight (GVW) and payload rating of just over 900kg. So may not be suitable for all uses.
Don't fret. All of the 2.0-litre TDI Transporters can be efficient if driven with some consideration.
The 2.0-litre TSI turbo petrols, on the other hand, are probably best left to those who value the driving experience above all else, as you'll be lucky to crack 25mpg.
Best VW Transporter for payload
The highest gross vehicle weight Transporters are labelled T32 – meaning 3,200kg – so look for this when buying used.
As GVW is the total allowed weight of the van and everything on board, smaller, lighter T32 vans – so SWB with a low roof and not much standard equipment – will carry the heaviest payloads. But they obviously also offer the least actual room for bulky items.
Check out our dedicated VW Transporter T6 weights and dimensions page for more details.
Best VW Transporter for lifestyle / image
If you've got money to burn, the Transporter Sportline is the top choice here – although not everyone will like the way it looks.
The Transporter Edition has loads of standard kit and a slightly more subtle appearance, and isn't quite as expensive, so could be worth considering.
But don't rule out the Highline, top of the regular range and comprehensively equipped for the money.
---
VW Transporter individual model reviews
Looking for more in-depth reviews of specific VW Transporter models? Then check out these following individual reviews of particularly interesting Transporter variants:
---
VW Transporter SWB 2.0 TSI 150 petrol T30 Highline review
Tested November 2017 by CJ Hubbard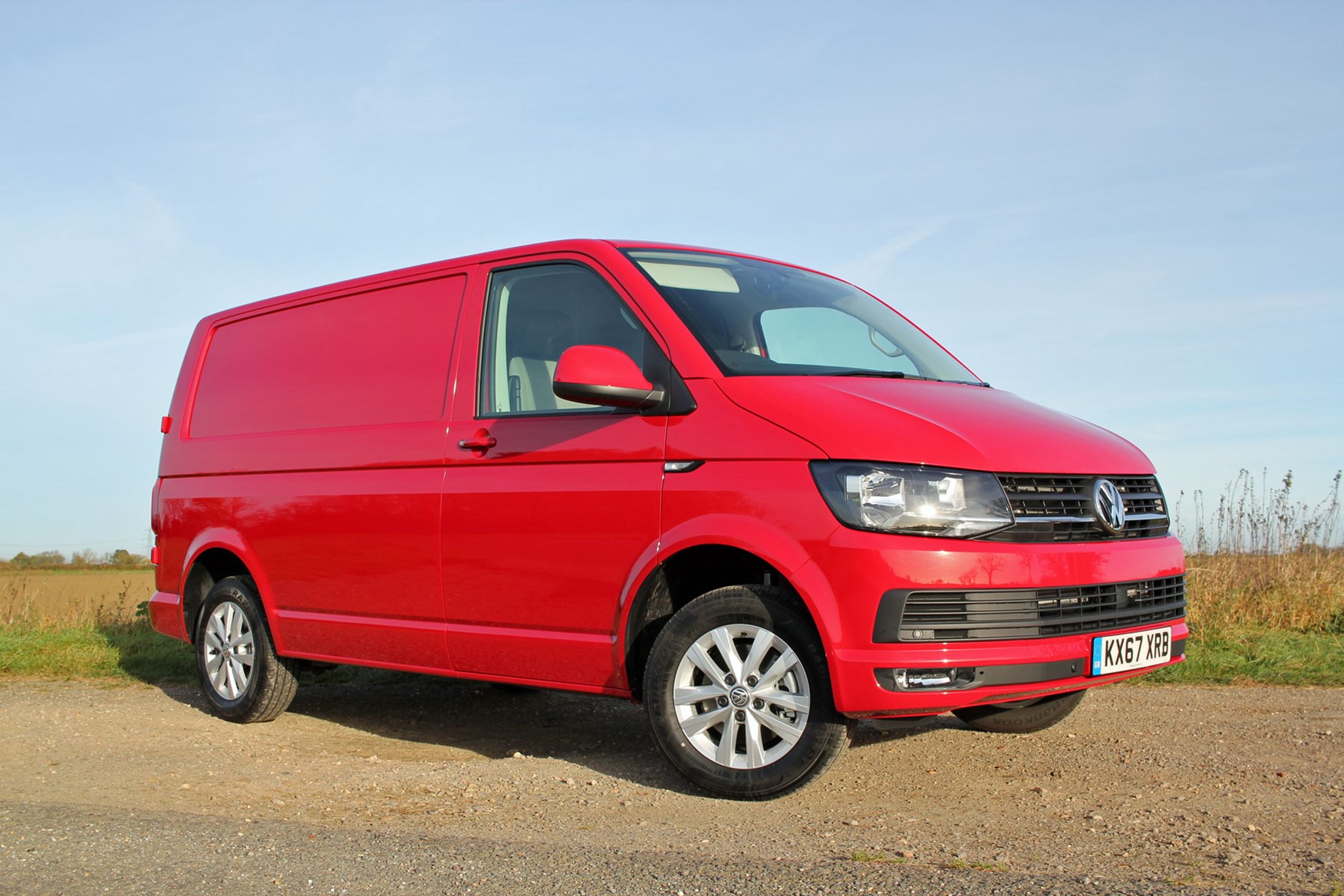 2.0 turbo petrol power for VW's medium van
150hp, 280Nm and a great driving experience
But can petrol running costs ever make sense?
Volkswagen is the only manufacturer in 2017 to offer a petrol-powered medium van for sale in the UK with its new VW Transporter TSI range.
Here we have a 150hp VW Transporter TSI Highline in for review.
Why on earth would I consider a petrol-powered VW Transporter?
Petrol power makes a certain amount of sense in smaller vans – including VW's own Caddy – due to a combination of cheaper pricing than the equivalent diesel and modern turbo technology that delivers actually pretty reasonable mpg.
However, in a mid-size van like the Transporter, the difference between the fuel economy of a TDI diesel model and a TSI petrol starts to become less of a minor inconvenience and more of a yawning chasm.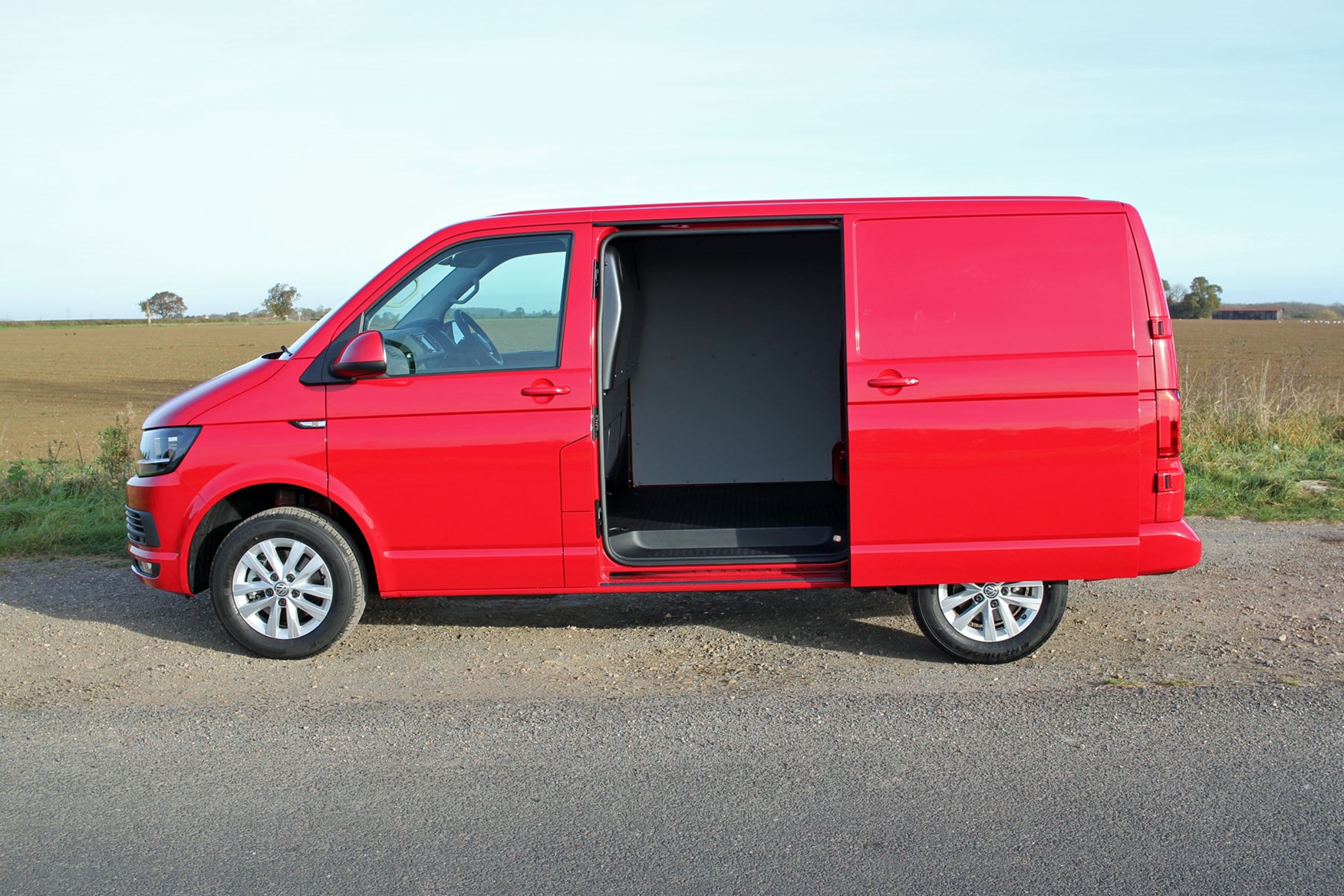 For example, the TSI we have on test here is a short-wheelbase, low roof T30 model with 150hp and 280Nm of torque, and VW claims it will return 31.0mpg in Highline specification.
The equivalent T30 TDI offers the same 150hp but 340Nm of torque, and claims 45.6mpg. That's an enormous 47% increase in efficiency, let alone the extra 80Nm of pulling power.
So seriously, why would I consider a Transporter with a petrol engine?
As well as offering a significant reduction in NOx and particulates, which are harmful to the environment and people, the petrol is some £1,600 cheaper than the diesel – excluding VAT – a difference that will pay for plenty of visits to the filling station.
On top of which, petrol tech is lighter than diesel, giving you around 30kg more payload capacity and hinting at a better driving experience. Indeed, VW reckons the Transporter TSI offers a 'sportier' driving experience, thanks to this and its revvier performance.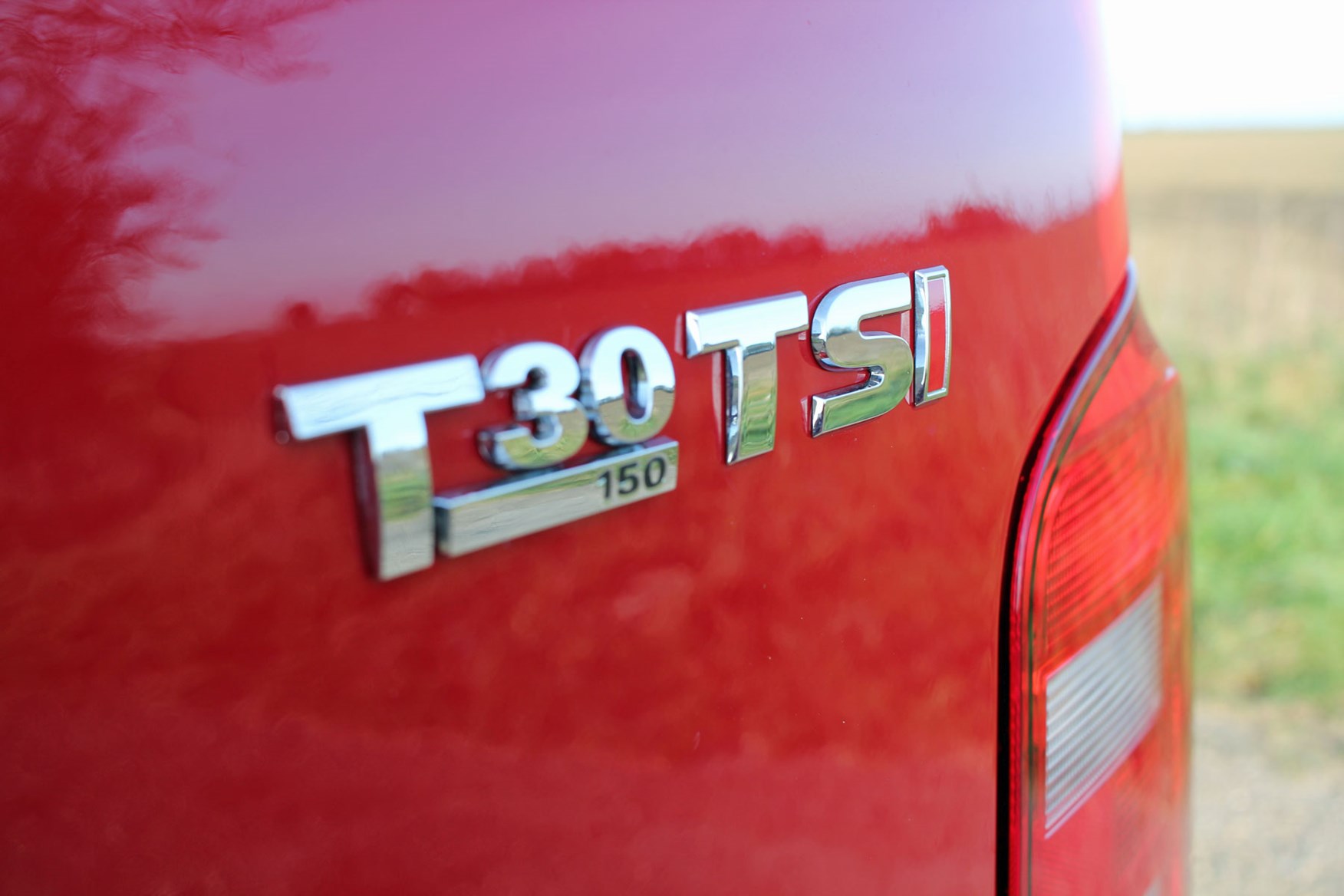 As such, it's best suited to those who mostly do shorter, local journeys where the difference in economy should be less pronounced. In this sense, diesel is absolutely still the best choice if you're regularly plugging up and down motorways, traveling long distances between jobs.
What is the Transporter TSI like to drive?
Pretty satisfying.
It's not the best handling van – the Transporter is much less keen to turn into corners than the likes of the Ford Transit Custom, Renault Trafic and Mercedes Vito, for example, though there's enough bodyroll to contend with that you're unlikely to want to go too quickly in the bends anyway.
But the 2.0-litre turbocharged petrol engine is great fun. It really does give the Transporter a lively, enthusiastic feel, with genuinely keen acceleration and a surprisingly sporty engine note. Getting between jobs will rarely be so entertaining.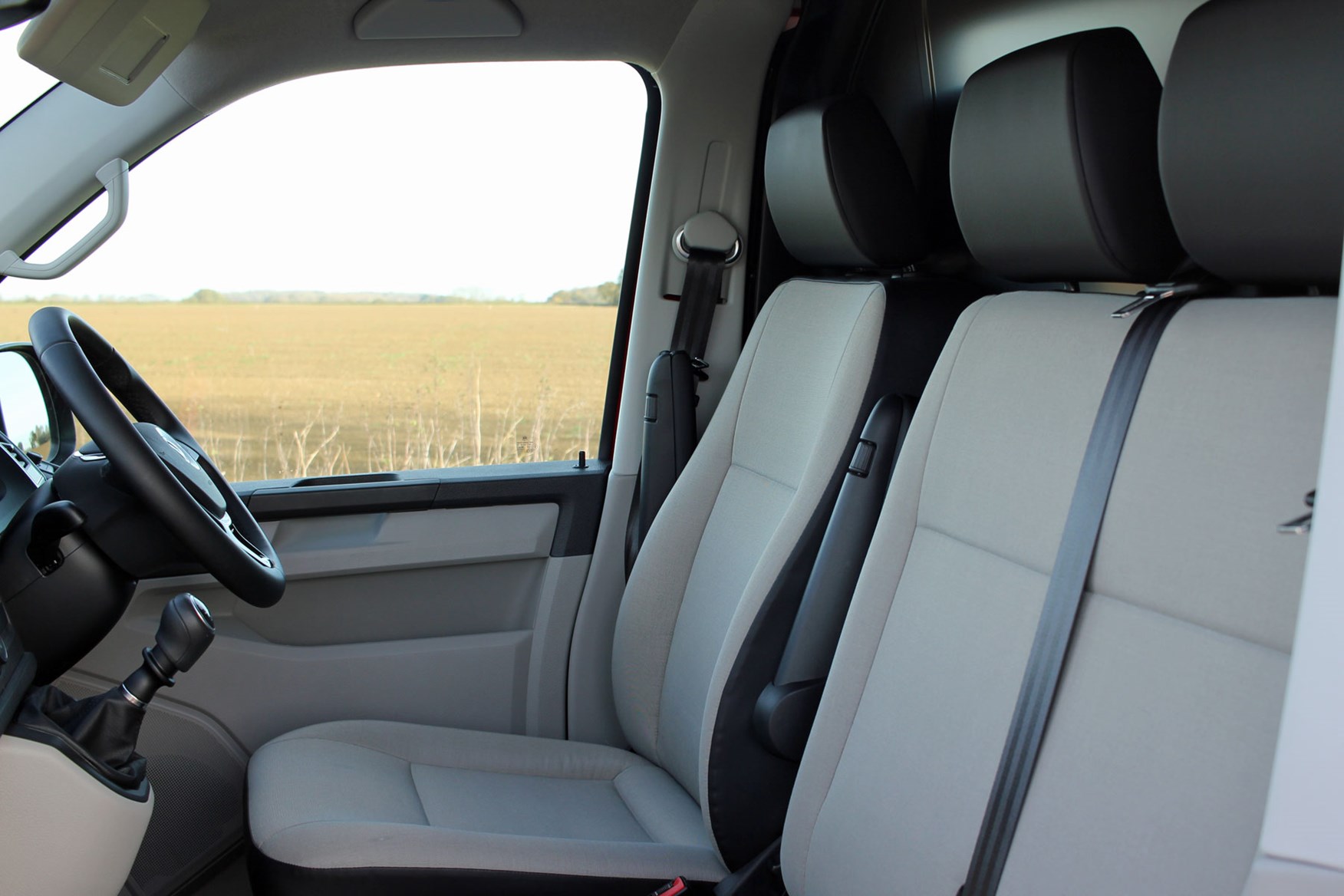 If anything, the engine is a bit too enthusiastic, as the torque seems to arrive all at once, creating quite the impression on other drivers and making it a little difficult to drive the van smoothly at lower speeds. And that's with the standard six-speed manual gearbox, rather than the optional DSG automatic.
Yet this is the entry-level 150hp version – VW also offers a 204hp 2.0-litre TSI petrol to match the range-topping 204hp TDI diesel.
Another bonus of the petrol engine is that it's quieter inside than the diesels, though there is still some strange vibration at low engine revs.
VW Transporter TSI 150 payload
As a short-wheelbase, low-roof Highline, this particular Transporter TSI 150 has an official payload rating of 1,129kg.
That sounds rather low for a modern medium van, but if this is a concern then consider a less fancy trim level – the range-topping Highline is so loaded with kit it weighs 63kg more than the basic Startline.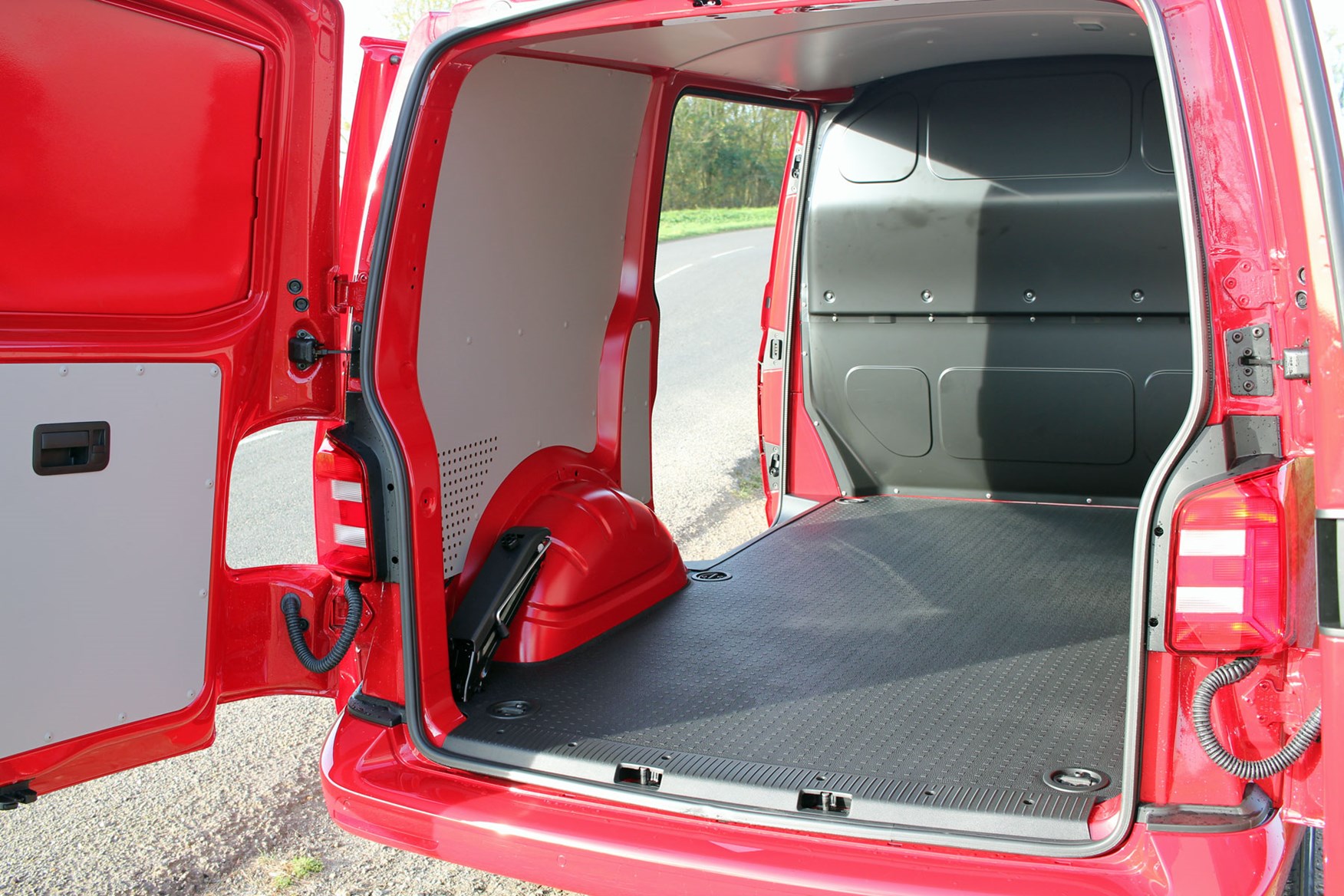 The load area of this example was very nicely finished, including optional rubber floor and full-height side lining, neither of which is terribly expensive.
VW Transporter TSI 150 costs, value and standard equipment
We've already mentioned the claimed fuel economy is 31.0mpg – which translated into real-world figures in the mid-20s during our test. So you are going to be filling up on an exceedingly regular basis.
Being a petrol there's no AdBlue tank. Taxation rates are the same as the diesel, and though NOx and particulate emissions are much lower for this van, its CO2 levels are higher (which is bad for the ozone layer).
You get a three-year, 100,000-mile warranty on the Transporter, while service intervals are every 12 months or 12,000 miles.
Be under no illusions, this will not be a cheap van to run.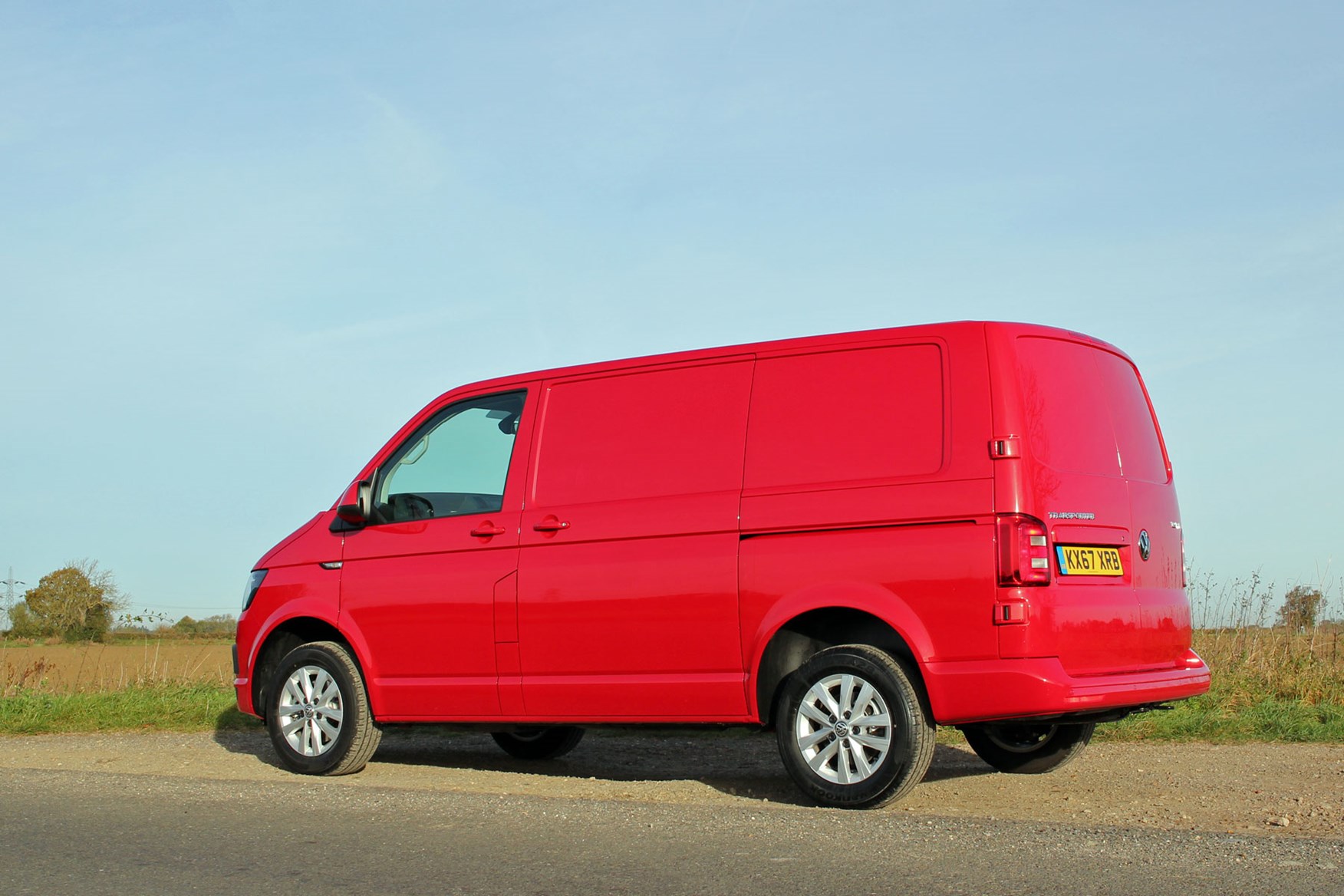 A basic list price of £25,745 (ex-VAT) isn't exactly bargain basement, either. But you do get a stack load of standard kit for your money (see the Costs and Value section of the main review above).
Should I buy a VW Transporter TSI 150?
In a lot of ways, this van makes no sense.
Yet drive it, and it's hard not to start dreaming up ways you could manage its increased running costs – there is just something so pleasant about the way it responds, the general (if not total) improvement in refinement over diesel and, yes, even the idea that the stuff coming out of the exhaust pipe is less harmful to people around you.
Realistically, you'll either need to have no running cost concerns at all, limited annual mileage requirements or be an ardent diesel hater (or petrol fancier) to choose this TSI over the TDI equivalent. But we're glad it exists, and good on VW for offering buyers the option.
---
VW Transporter SWB 2.0 BiTDI 204 diesel T32 Sportline kombi
Tested February 2017 by CJ Hubbard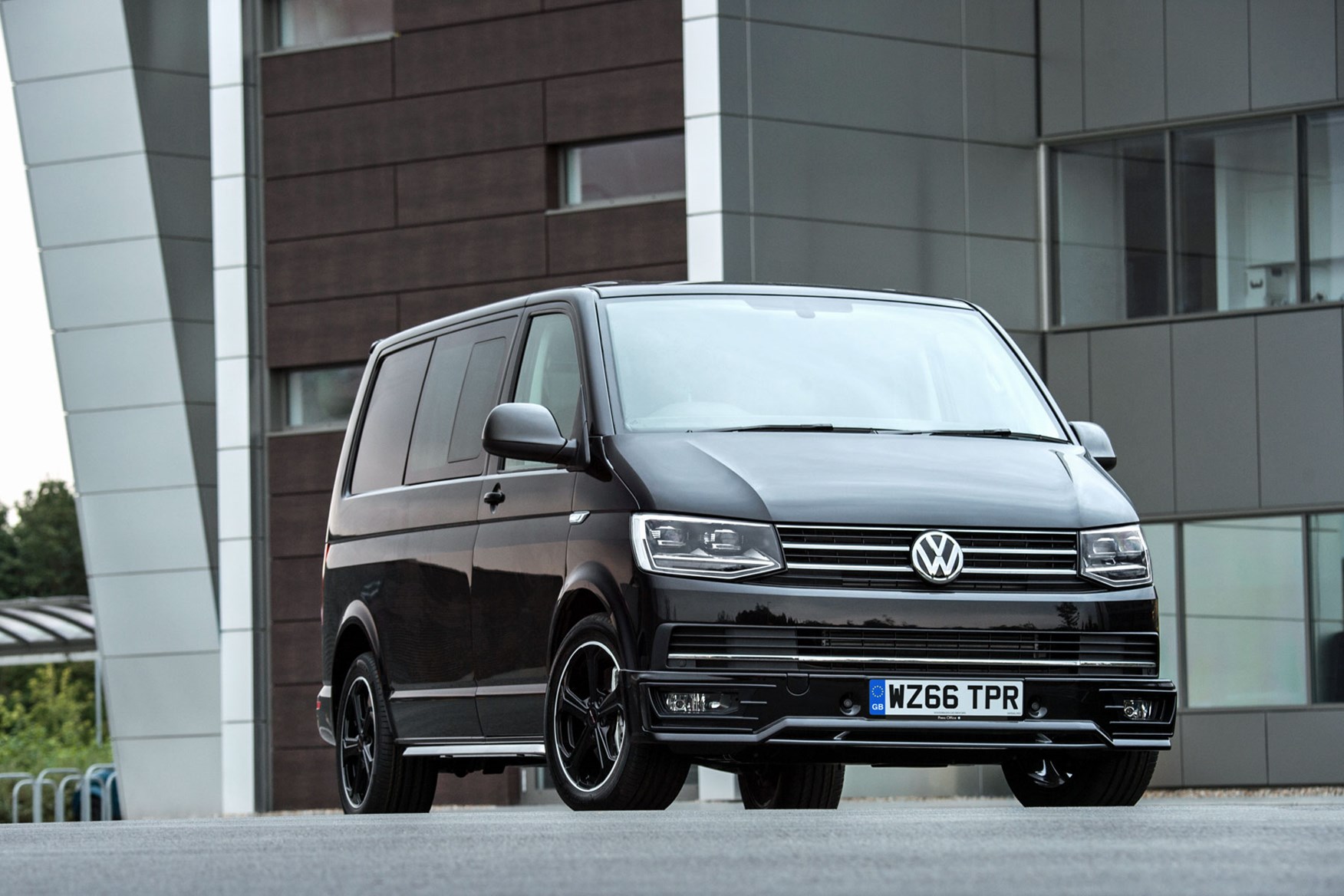 THE sportiest van currently on sale tested
Kombi version seats six, has 1,106kg payload
Unique looks, lots of kit, but costs over £37k
Looking for the ultimate sporty medium van on sale in 2017? Forget all the half-arsed Sport trims that so many manufacturers now offer, and never mind that outrageous £50,000 Ken Block version of the Ford Transit Custom – for even that only musters 170hp at best.
What you really want if speed is of the essence is this van, the Volkswagen Transporter T32 Sportline – which is available, as tested, with up to 204hp.
That's as much outright poke as you get from some hot hatches, while the accompanying 450Nm of torque makes short work of shifting any cargo – and in the case of this T32 kombi variant that includes up to five additional workmates or, more likely, your family.
At the moment, the closest any medium van rival gets to this level of potency is the top-spec Mercedes Vito, which offers 190hp and 440Nm. And the Merc, we're afraid to say, does not come with black and red leather seats with white diamond-quilted stitching…
Just make sure you're sitting down when we get to the price.
Is it a nightmare over speedbumps?
We'll admit to wincing on approach to the first ones, but the Sportline had no actual trouble clearing the speedbumps we came across – although we didn't make the attempt with a full payload.
In fact, putting that front bumper to one side, the lowered suspension doesn't really seem to have any negative impact on the Transporter at all. The ride comfort, while not as good as the likes of the Renault Trafic and Vauxhall Vivaro, remains entirely bearable.
No doubt this is helped by the Transporter's independent coil-spring rear suspension design, which includes load-sensitive shock absorbers.
How fast is the Transporter Sportline?
When fitted with this 204hp twin-turbo 2.0-litre BiTDI engine? Hilariously fast, for a van. 0-62mph takes a quoted 9.1sec, and with that great lump of torque (pulling power) arriving at just 1,400rpm, it feels even quicker.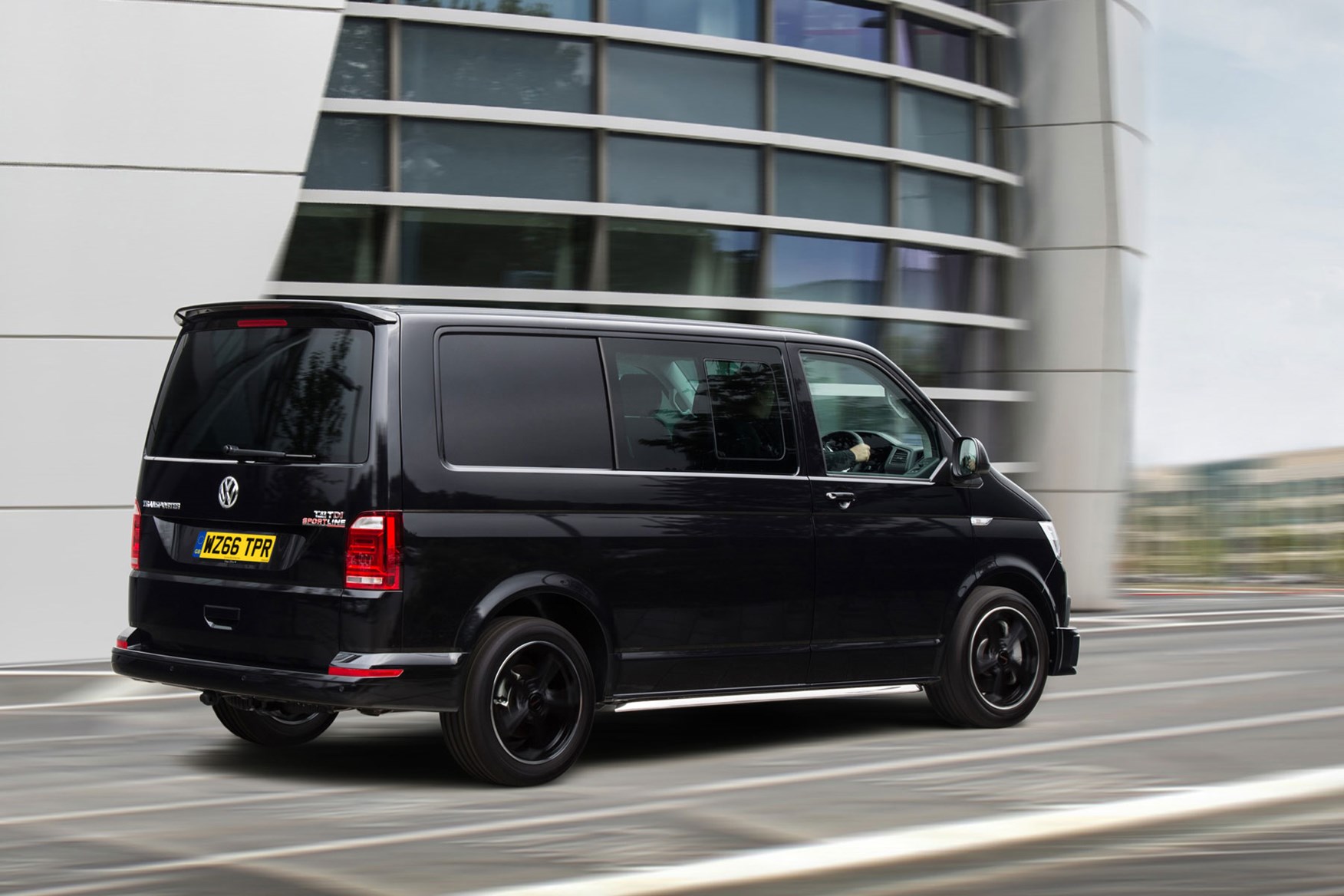 Our test van was fitted with the optional seven-speed DSG automatic transmission, which means you can simply plant your right foot and go – although this is occasionally a little slow to respond from a standstill, the Sport mode is very snappy.
Straight-line performance is compounded by that lowered suspension, which keeps the Transporter remarkably flat through the corners, allowing you to take on high-speed roundabout entries and twisty roads with confidence.
It's hard not to enjoy the looks of surprise on other motorists' faces. Rarely will they have ever seen a van move so rapidly.
Anything not so good about the driving experience?
As mentioned, it does sometimes seem like you can catch the transmission out. Which rather undermines the premium experience.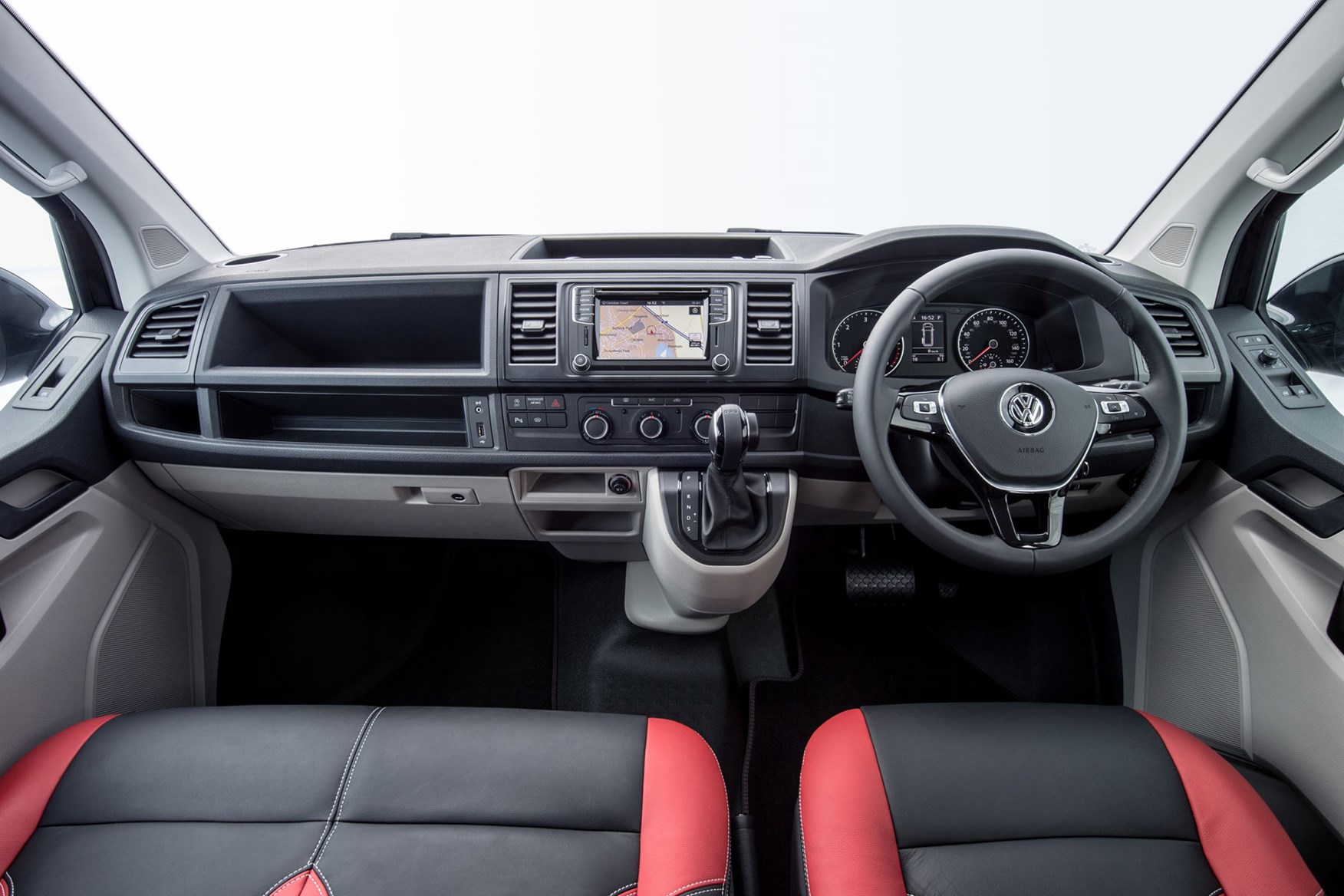 The Transporter kombi is also very noisy inside – not because of the powerful engine, rather because there's lots and lots of road noise. The large Sportline wheels and the lack of any kind of bulkhead in the kombi are presumably the major contributors to this.
What's the price of the Transporter Sportline?
As tested with the top-dog 204hp engine and kombi, the Sportline's basic ex-VAT price is an eye-watering £37,415 (at the time of writing).
Added to this, the thumping engine means you can expect higher than average running costs – claimed fuel economy is 43.5mpg for the auto (actually slightly better than the manual gearbox), while brakes and tyres will take a harder than usual hammering, too.
Does it feel worth the cost?
Well, it's certainly got visual impact – which should help your business stand out. And there's no denying how special it feels when you open the door and see those seats inside. As a lifestyle choice, this and the performance place it well ahead of any rival.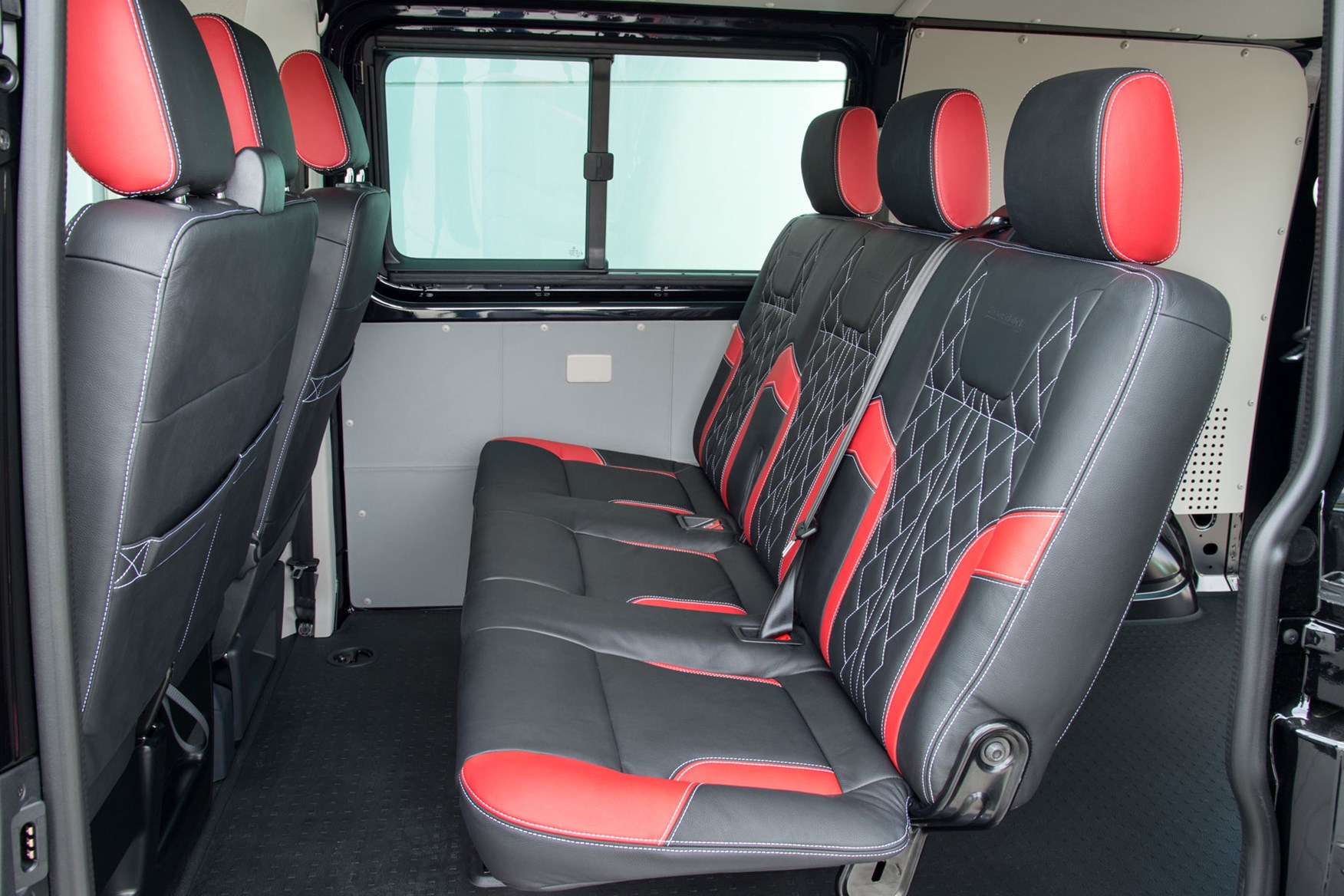 Still, the standard equipment level is great (see main review, above), and as with all Transporters, the interior is logically laid out, with loads of useful storage.
Plus there's enough room for the middle front passenger's knees, which you can't say about every medium van on the market.
Should I buy a VW Transporter Sportline?
If you like your vans super-premium, and especially if you're among the many VW enthusiasts out there (the fellow afflicted will worship you like a god), we can't think of a better choice on the market right now.
Sure, it is expensive, but the performance, the distinctive looks and the standard equipment make it easier to justify; the Sportline is available with less powerful – and therefore less expensive – engines if the show is more important to you than the go.
Similarly, the Sportline panel van is also a cheaper choice, though one which doesn't have the quite same lifestyle potential and flexibility.