Update 11: SsangYong Musso – the conclusions
December 2019
Long-term tests are quite challenging sometimes. There's a danger, without comparison, of confirmation bias, of getting too used to the car – and for me, there's also the emotional connection. Cars are such an inherent part of my life, they are more meaningful than just transport. To an extent, I believe that's something that influences most drivers' choices, even with commercial vehicles.
It's why sometimes, the technically inferior products thrive, and why advanced, novel approaches often fail if they're associated with less-appealing brands.
More than that – six months is enough time to really get attached to a car, to understand how you see yourself in it, and how it fits into the world around you and the way the world sees you.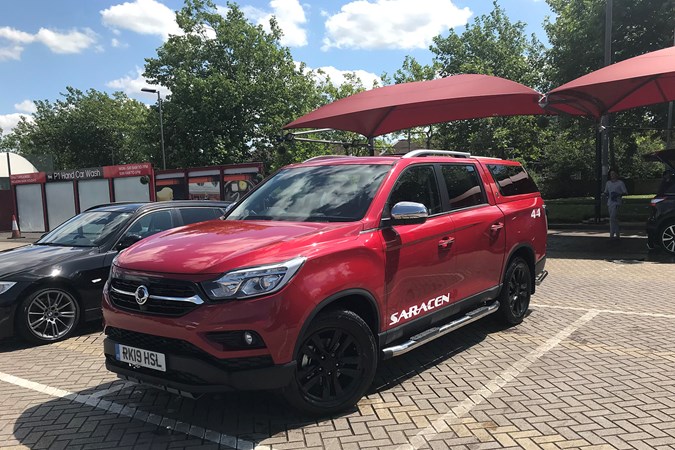 SsangYong comes with few brand associations, so the Musso's assessment comes without the shades of aspiration, popularity or lifestyle that say, a Mercedes, Ford or Volkswagen would. After six months, covering over a year's average mileage, and one service, I feel pretty confident in my verdict:
The SsangYong Musso is an excellent lifestyle/family and work pickup. It's spacious and comfortable, with excellent refinement – particularly given the lack of technical cheats like active noise cancelling. It's reasonably economical and quick, well equipped, and in my opinion – as well as those of occasional passers-by or friends and family – good looking, too.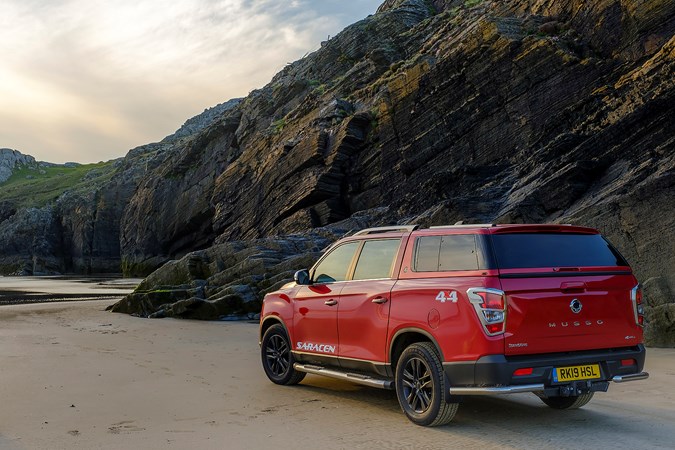 It accompanied me through some very tough life events, too, while being warm, comfortable, reliable and effortless for 10-hour round trips; I felt good being seen in it, seeing it across the carpark after a working day – the red really helped here, too. Lots of little touches, like the central-locking tailgate, large infotainment with CarPlay, and doors that move muck away from the sills before you get in made living with it a breeze compared to, say, the Fiat Fullback I had previously.
Complaints are few; the vibration under braking never fully went away – but no-one else mentioned it, and I notice my current long-term C-Class has a faint bit of it too so perhaps I'm hyper-sensitive to that kind of vibration.
The foam expanded out of the hardtop sides, but that would normally have been sorted by a dealer.
It took a while to acclimatise to the light steering – but then again, that steering proved beneficial in reduced motorway fatique and ease of driving in cities.
I genuinely miss it, a lot. It wasn't just a good vehicle that can be easily overlooked for the brand; it's a thoroughly likeable pickup and family car that actually asks you to make fewer concessions to luxury or comfort than most of its rivals. Stick a well-known badge on it, and you would probably not be able to drive anywhere without seeing one.
If you want a family or lifestyle 4×4 it should be the first double cab pickup you try.
With Ford, VW and Mercedes all dropping models that don't meet average CO2 requirements, SsangYong's had to make some adjustments. 2020 Mussos include AdBlue, with no change in performance otherwise. The long-bed Musso is also imminent, though 2020's pandemic has no doubt had an impact on when that will be.
If you want to know what the SsangYong Musso was like to live with, and how it helped form those opinions – keep reading!
Update 10: Sports Utility Vehicle
13,420 miles, November 2019
If you've read the excellent Parkers bike rack round-up you'll know that in my opinion the ultimate, money-no-object solution for transporting your two wheeled pride and joy is slung over the back of a pick-up truck. Any pick-up truck.
Not only is it the easiest method (you simply hang the front wheel over the tailgate and strap the frame down), there's also no worries about getting mud all over your interior because all the associated muck just goes in the loadbay. You can even wash your bike while it's in there and then hose the whole lot out.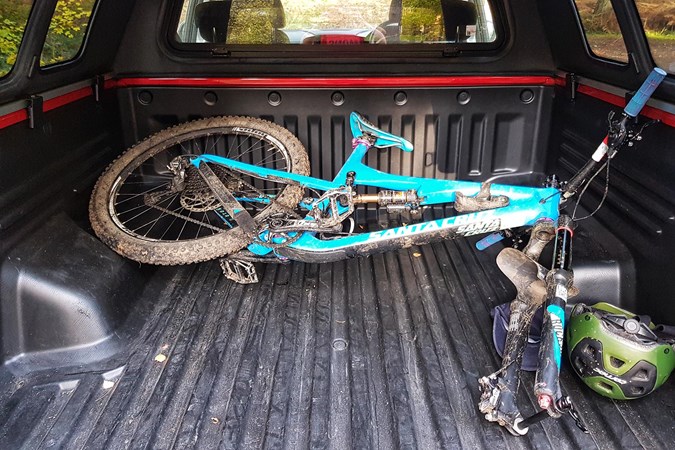 In reality it isn't the most attainable solution. Most people have a car that they can attach a roof rack or tow bar bike carrier to, but not a lot of people have a spare pick-up or the disposable income to buy one for the express purposes of transporting hobby equipment.
Neither of those things are an issue if your colleague Richard (they don't have to be called Richard) is currently running a SsangYong Musso long termer that you can borrow in exchange for a review of its bike carrying ability, though.
A review that you are now reading.
I had the Musso for just over a week and for the first couple of rides I just stored my bike in the back rather than over the tailgate as described above. That's because the Parkers Musso has an optional hard top, which makes it more useful for day-to-day stuff, but slightly dents its ability to carry bikes.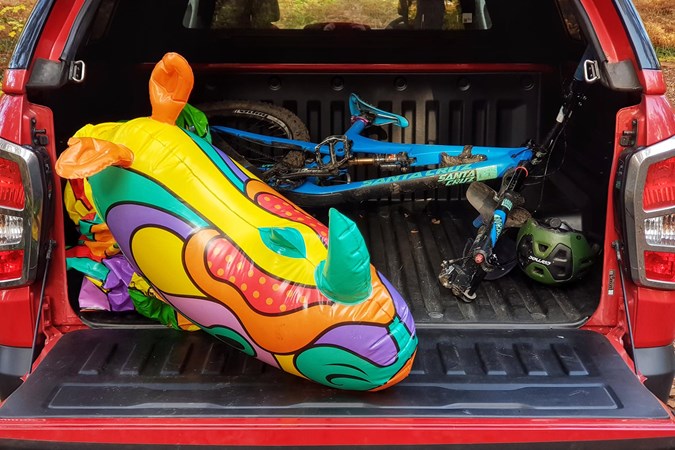 There's quite a bit of room back there (for my bike and also the Parkers boot measuring tool, inflatable Chris Lloyd the rhino) but it's not quite long enough so you still have to take the front wheel off. This is a bit annoying but not exactly the end of the world – I'd have to do this in a car.
Towards the end of the week though I'd planned to go out biking with my friend Matt, and for complicated reasons I won't bore you with, I needed to transport his bike as well as mine.
Ok, it's because he was driving down in a Honda NSX. Anyway, I reckoned putting both in the back of the Musso would result in many, many frame scrapes so decided to tailgate them.
I've transported bikes like this before (when I took a Ford Ranger to Bike Park Wales) so already had a protective pad, which attaches with three webbing straps. I had to fold this over awkwardly on the Ford's as its tailgate was too narrow, partly because it had a roll-top eating into the loadbay. Not a problem with the Musso, where it fitted perfectly.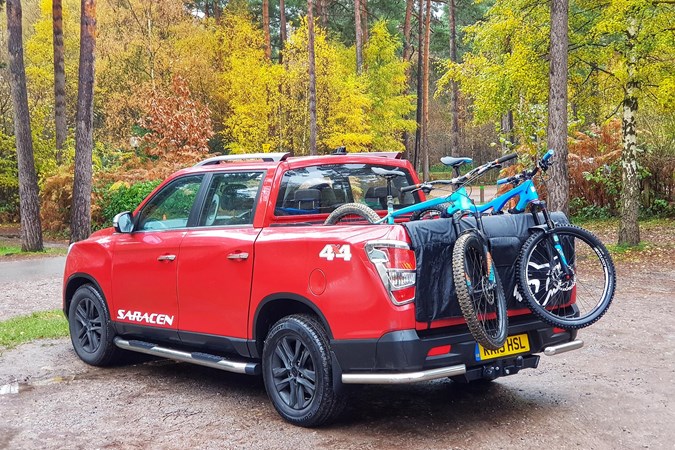 This did of course require taking the hard-top off. On the face of it this is quite a simple job, just remove six clamps with a spanner, uncouple the wiring loom and you're away. In practise it was quite tricky, not least because the foam insulation layer had bonded to both the pick-up and the top, but also because disconnecting the wires meant taking a substantial amount of the loadbay's trim apart. It's also incredible heavy and took up most of my garage.
Still, with that minor inconvenience out of the way I was free to lob (read: carefully install) both bikes and start the two hour journey to the bike park Matt and I we were visiting.
This is sometimes where the pick-up solution starts to fall apart – coarse, agricultural engines, heavy gearboxes and commercial vehicle handling forming the counter argument for the vehicle's inbuilt practicality.
Unexpectedly none of these things apply to the Musso – it's got a great, torquey engine and smooth auto 'box that makes low speed manoeuvres easy and pulling away surprisingly brisk, plus great cabin refinement for quiet motorway miles. It also rides nicely – thank the car-like coil springs in the rear for that.
The cockpit looks a bit dated compared to a car but against rough-and-ready pick-up rivals it's broadly comparable. Plus, when you get to the trailhead there's absolutely no stress about having to drive down a remote track to the car park because you've got massive ground clearance. It was, in short, the absolute dream.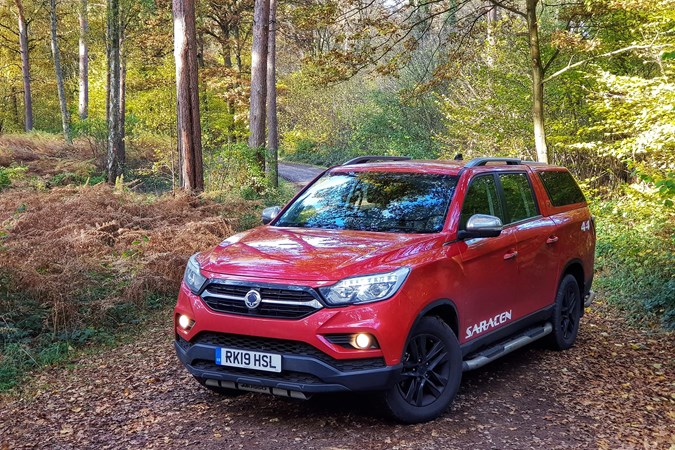 But getting back to reality for a moment, while there are a huge number of reasons why a pick-up works perfectly in this application, there is the slight issue of this type of vehicle's unused ability. It's kind of like using an articulated lorry to pick up a flat-pack from IKEA – it's just a bit over the top.
You don't need the Musso's one-tonne payload, for example, not its 3.5-tonne towing capacity, or its ability to traverse muddy ruts or sand dunes, just the odd untarmacked car park. Those things mean it's not hugely fuel efficient (compared to a car) and you never see the benefit of them.
What you really need therefore is a kind of pick-up crossover, based on a hatchback, with a metre square loadbay and front wheel drive. All the benefits of a truck with none of the unnecessary commercial capabilities.
Until Skoda starts making the Felicia Fun again, I'll happily keep borrowing Richard's Musso.
Update by Adam Binnie, New Cars Editor
Update 9: Musso milestone – first service
12,220 miles, September 2019
It's far to easy to fall into the pattern of just driving, driving, driving with a modern car. Most will now nag you mercilessly if the service interval is creeping up, but the Musso's polite nature means the reminder comes in the form of checking the service book. Confession time – the importance of 12,500 miles was already front of mind, because as it approached 7,500 I'd had a panic that it might have shorter intervals than my previous car.
A quick phonecall to Peterborough SsangYong (and Subaru) dealer M T Cars got a next-day appointment, and an opportunity to chat about their experiences of the Musso. As always, we don't tell the dealer that the car is in for review, but they sussed it out pretty quickly afterwards…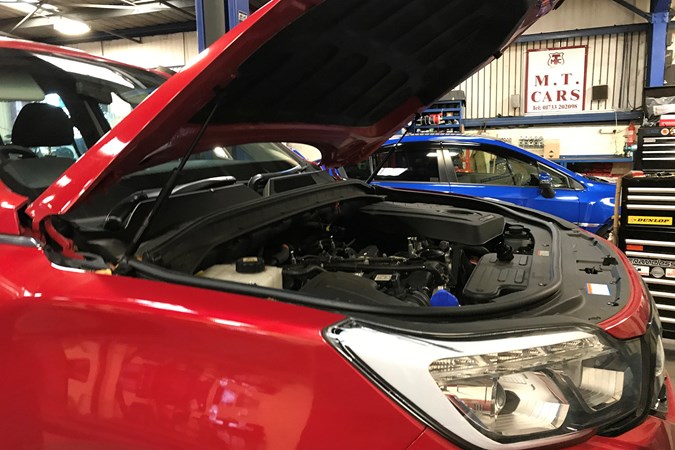 First of all, the service rate. The Musso's first service is slightly more expensive than the second, as it includes more inspection of parts and pollen/air filter replacement. Our car has had a very refined life on motorways, and had clean filters – apparently, their largely rural customer base results in filters that have worked extremely hard during the 12,500 mile interval, and are often choked with wheat chaff and dust.
At £278, including VAT, the service is competitively priced. Direct comparison is around £250 for the L200's first service, and a quote of over £400 for the same one on the Fiat Fullback.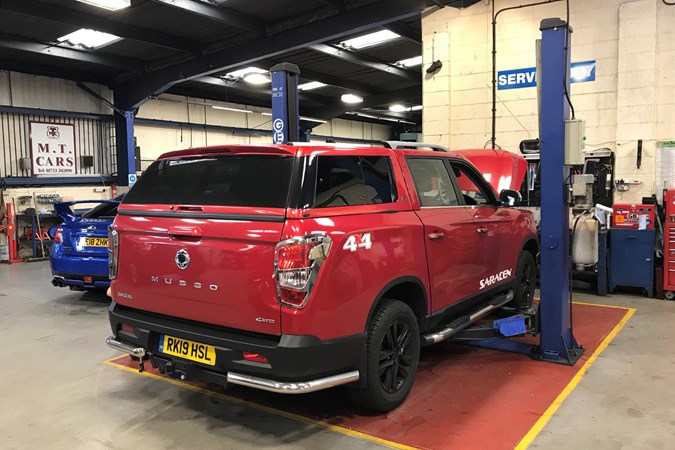 Time was also taken to check the vibration that I'd suspected was a warped disc. Turns out the wheels had lost a balance weight – but impressively, the dealer had already got a set of discs in just in case. The foam escaping from the hardtop is also covered under warranty, but we didn't have time to replace it at that stage.
Somewhat surprisingly, they report that several Musso Sports owners traded in their pickups early to get the new Musso; we also took time to discuss the modifications made to the rear suspension – a new design of spring, with a larger coil around a small one, in place of a single progressive coil.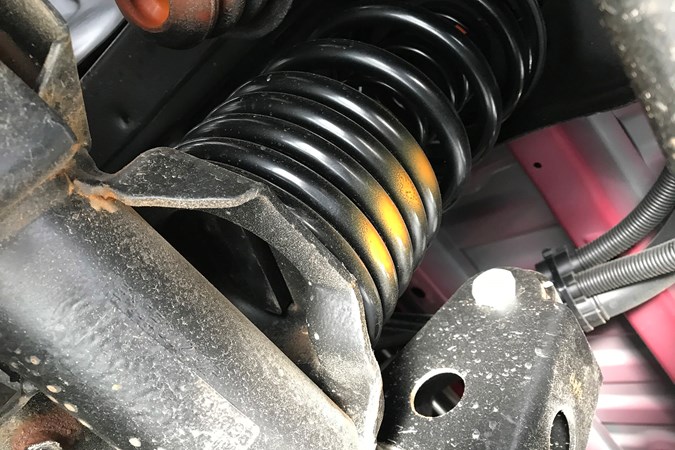 Polite, quick service and an attitude that makes many mainstream dealers look poor definitely help reinforce the 'SsangYong's strength is in the family, local dealer approach' image.
Now the Musso is ready to tackle more chaos, carrying my photographic kit as we head out to hand over the Parkers Awards.It may not have won an award, but it continues to win my respect…
Update 8: Musso vs Mitsubishi L200
10,220 miles, August 2019
For most of August, I've been without the Musso as Luke is relying on its towing prowess on a caravanning holiday – instead driving a Ford Ranger Wildtrack (the new 2.0-litre, 213hp model) and the latest Series 6 version of the Mitsubishi L200. Who said that being an automotive journalist lacks variety?
I've also said farewell to my Fiat Fullback. The only thing more emotional than the sadness at seeing it go was the rage at seeing the Mannheim driver somehow manage to set the alarm off repeatedly, then hoof it down the road seemingly locked in first gear with the handbrake on from the noise it made…
However, this does mean it's time for a comparison. The SsangYong Musso is often overlooked as a competitor by popular pickup manufacturers – and its predecessor wasn't on my shopping list when I got the Fiat. In an objective world, though, it should be taken very seriously indeed in its current form.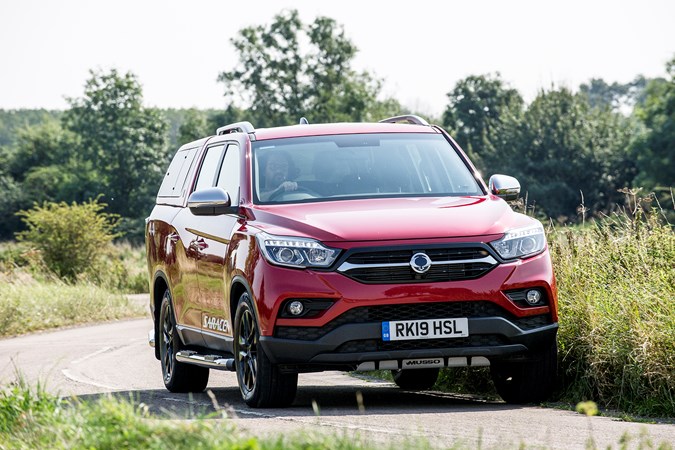 Particularly as the Musso Saracen's £27,045 CVOTR is almost £4,000 less than an L200 Barbarian, and is cheaper than the run-out model Series 5 L200 Challenger – which is, for the most part, the same as my Fullback including the 2.4-litre 181hp diesel.
Engineering – L200 vs Musso
SsangYong's decision to base their pickups on a passnger 4×4 (the previous generation Musso Sports was also based on a Rexton/Actyon) means a coil-sprung back end and disc rear brakes, and a shorter pickup bed – soon to be addressed, hopefully, albeit at the expense of that sophisticated rear suspension.
Mitsubishi uses proven, robust leaf springs and drum brakes. amd a rear suspension layout that is optimised for load carrying and towing.
SsangYong's engine is a 2.2-litre XDi unit – its own design, apparently – producing 181hp and 400-420Nm torque (figures vary depending on gearbox). Peak torque is available from 1,500rpm. Mitsubishi's new 2.3-litre variation of the 4N14 diesel produces 150hp, and peak torque of 400Nm is at 2,000rpm – which although a lower engine speed, is 30Nm down on 181hp Series 5.
Transmissions are very similar between the Series 6 L200 and Musso, both relying on a six-speed automatic. The L200 has paddles for manual override, which are very intuitive.
Four-wheel drive capability is a different matter. The L200 has a clear advantage with selectable full-time 4×4 system, whereas the Musso has part-time. Both have low-range modes. Apporach angles, ground clearance and breakover angle, plus wading depth, are also better on the Mitsubishi.
Specifications: L200 Challenger vs L200 Barbarian vs. Musso Saracen
How do the SsangYong Musso and Mitsubishi L200 perform as family cars?
As both of these are double cab pickups, they're not going to be as refinement, secure or as well equipped as the kind of car you can get for £36,000, but the sums are biased, as the BIK, purchase tax and resale value of 4×4 pickups mean they have a total cost of ownership that is akin to a car costing between £18,000 and £24,000 on most PCP schemes, and are particularly appealing to sole traders and businesses. As such, the families of pickup buyers are going to want some creature comforts.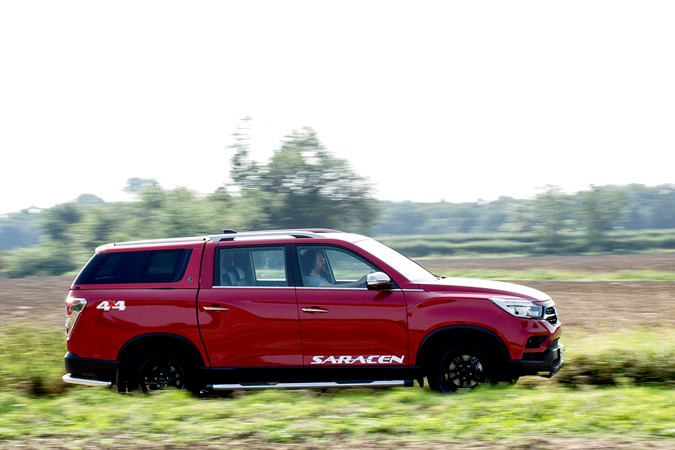 In a nutshell, the L200 feels more secure in extremely poor weather, and more nimble on fast, bendy roads. The Musso's advantages are in motorway refinement, light steering and urban environments where the flat sides and large windows make it particularly easy to place. It's also shorter, and easier to fit into typical parking spaces – though it's still very large compared with a family car with similar cabin space. The Musso's engine is smoother, more refined and better insulated, but the L200 Challenger's 181hp unit feels far more eager. Real-world fuel economy is barely worth the debate for either generation of L200 or the Musso – all are capable of returning around 33mpg when unladen and driven legally, but not particularly slowly, and all will drop accordingly when working harder. The L200 Series 6 is capable of delivering better results if you don't need to do sustained high speed driving, but it does use AdBlue – another thing to top up, albeit very easily and infrequently – and it will have to work harder for heavier loads. If you care about the environment, the Series 6 L200 is the better choice; it's been tuned to meet upcoming emissions standards (ignore the CO2 ratings, this is about the harmful NOx from diesels).
The passenger space in the Musso is appreciably wider than the L200 – with plenty of elbow room for front passengers and space for three adults on the back seat. Driver comfort is also slightly better, as the nappa leather seats of the Saracen are heated and cooled, whereas the L200 only provides heating. Both offer heated steering wheels now – previously, a unique point for the Musso. SsangYong's interior is overall, more car like, and it's very easy to live with – though Mitsubishi has improved features for rear passengers a little by adding USB ports.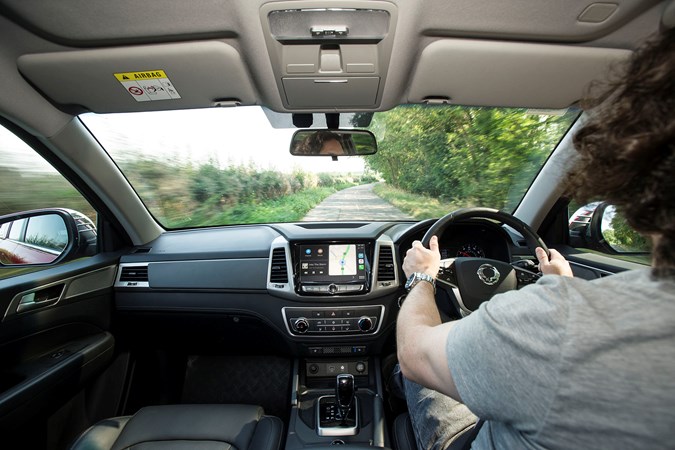 If you like big screens, the Musso's 9.2-inch TomTom-equipped infotainment system is going to win you over, but below the display there's a manual air conditioning panel – the L200 has dual-zone climate control, allowing driver and passenger to set their own temperatures. It also looks more upmarket, with digital displays instead of old-fashioned knobs. The L200 Series 6's dashboard also looks more modern, with a colour LCD display – though it shows less useful information than the Musso, which can display tyre pressures and has a little icon of a coffee cup to indicate driver fatigue.
Overall the Musso's generous space, wide rear doors, covered sills (any mud on the side is moved away from the step when you open the door, rather than risking dragging your legs across snow or dirt) and low levels of noise on the motorway make it easier to live with and more comfortable as a family car. It rides slightly better when unladen on faster A-roads, and is less stressed at motorway speeds.
You may still want the Mitsubishi for your family if you've become used to the advances made in small cars and crossovers – as long as you're prepared to accept pickup ride quality and bodyroll is rarely going to be as polished as a car.
The L200 Series 6 – at least the Barbarian X – has better safety eqipment, plus there's a proper three-point belt for the centre seat and grab handles for the front as well as the rear passengers.
It also rides very well at low speeds, and although most areas of the interior feel basic, they feel better finished than the Musso.
A Mitsubishi has real advantages for locations like North Wales or rural areas of Scotland, where bad weather and narrow, often poorly-maintained roads mean the security of full-time all-wheel drive is appreciated and a little less demanding on the driver.
For the majority of families, though, the SsangYong is likely to be the better day-to-day pickup to live with. It's better value too.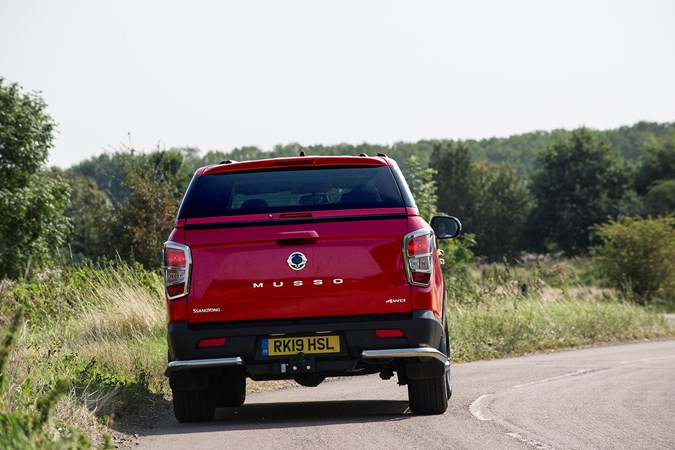 Update 7: At home in the SsangYong Musso
8,550 miles, July 2019
Very little tests a car – or driver – like major life events, such as moving home, or serious illness of distant relatives. July, therefore, has been one hell of a test. On top of a landlord wanting to renovate the house we're living in, my mother's health deteriorated rapidly; and as my family's based in Scotland, that meant the Musso got pressed into a lot of long-distance runs as we balanced packing, house-hunting and hospital visits.
Although the borders offers some beautiful, and very familiar roads, the majority of the miles have been devoured on the North-South motorway stretches any British driver will be depressingly familiar with. Typically taking five hours each way, the SsangYong's refined engine note at motorway speeds, commanding driving position and light steering all contributed to making these 600-mile round trips bearable, though better lumbar support would be appreciated after unloading large amounts of paperwork.
What could be improved on the Musso?
Now I've covered 8,000 miles in the Musso in well under six months, it seems fair to judge the build quality and see how it's all bedding in.
Could it be less thirsty?
Top of the list for many drivers has to be the fuel economy. Luke's 20mpg figures obtained when towing in the last update just don't gel with my own experience, and I wonder how an L200, Navara or D-Max would fare in the same hands.
Despite some arduous motorway driving, some heavy hauling and a confident approach to familiar country roads, the Musso's average economy rarely drops below 30mpg for me; a gentle run held back by 50mph average cameras will often yield 34mpg even with air-conditioning on.
For long-distance driving in particular, the Musso's economy is proving better than my Fiat Fullback for the same sustained speeds – but not by much; again, they both sit around the 30mpg mark in real-world driving. The difference is that the Fiat (and by extension, L200) is less settled at fast motorway speeds. It weighs less, and is less refined, though the full-time 4×4 has benefits for poor weather. The tall gearing of the SsangYong does result in frequent downshifts for long inclines, but the benefits of low rpm cruising are worth it.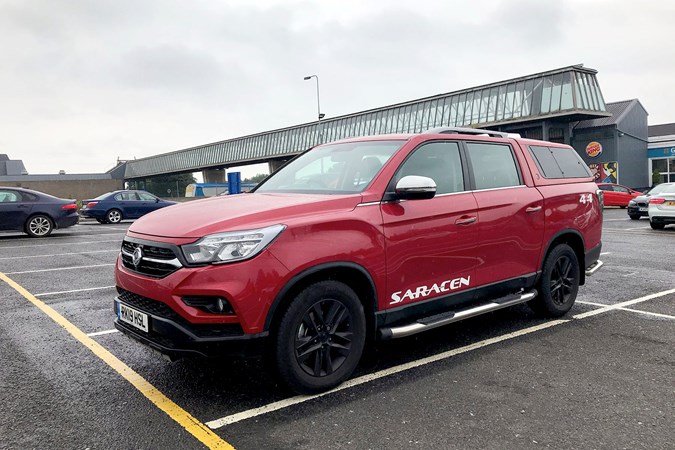 Everyone wants to spend less on fuel. In my experience, the Musso offers good fuel economy for the class and kind of vehicle it is. Stop/start and a more sophisticated gearbox would undoubtedly help improve economy, but it's not a weakness.
Could it handle better?
Roads such as the A697 through Wooler reveal that although the motorway ride and general demeanor of the SsangYong is generally good, it does suffer when confronted with a really neglected fast A-road. Too many imperfections in a bend when unladen can be quite upsetting for driver and passengers.
Fully-laden, it is more the lack of steering feel that comes through; the suspension's competent handling of load and poor surfaces, plus the Musso's overall refinement, make this SsangYong quite impressive when working hard.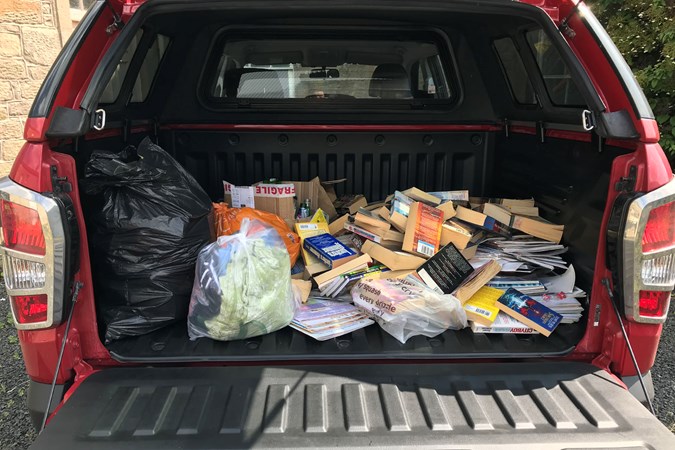 So yes, the ride and handling could be improved, but what I'd like most is a way of changing the assistance at the wheel. The Musso's steering really is remarkably light at speed; it would be nice to have an on- and off-road setting that adjusted the weight accordingly.
What about the build quality?
A couple of issues have cropped up – first of all, and mentioned before, the brake discs warped early on. This is no doubt partially down to the kind of driving that's been asked of it, with fast dual-carriageway, sudden congestion, crawling and stop-start urban traffic plus an automatic gearbox that means either holding it on the brakes against the engine, or swapping into neutral and using the handbrake for even sudden motorway queues.
Your driving style may even extend that far (I'm a fan of parking brake and neutral at red lights, rather than the sea of brake lights), but the reality of the A14 is that the Musso has probably had more than a few moments of sitting with pads clamped against hot brake discs. It's a long time since I've even had to think about this factor of driving, as modern braking materials are so good – so either it's a matter of needing better brake cooling, or higher quality materials for the discs/pads.
There's also been a weird black foamy goo escaping from the hardtop edge. Initially suspecting the top might have been removed in my absence – unlikely, as it's bolted on – the conclusion is that the immensely hot summer has caused the sealing foam to expand.
Other than that, everything else is perfect. The side steps remain solid and rust-free, the chassis (where visible) looks perfect, and everything works perfectly inside with no signs of wear. It's done very well.
Musso-spotting is about to get easier
Predictably, once out and about in a particular brand of car you tend to notice others on the roads; I've become adept at noticing older and smaller SsangYongs, like the Korando, but have only seen a couple of Mussos similar to mine – including one black one in my hometown of Kelso!
It will probably be a lot easier to spot them in the wild now, though, as SsangYong are supplying 32 to Highways England for motorway maintenance and road surveys. Modified by Birmingham specialist converters Babcock International, the liveried pickups will be hard to miss…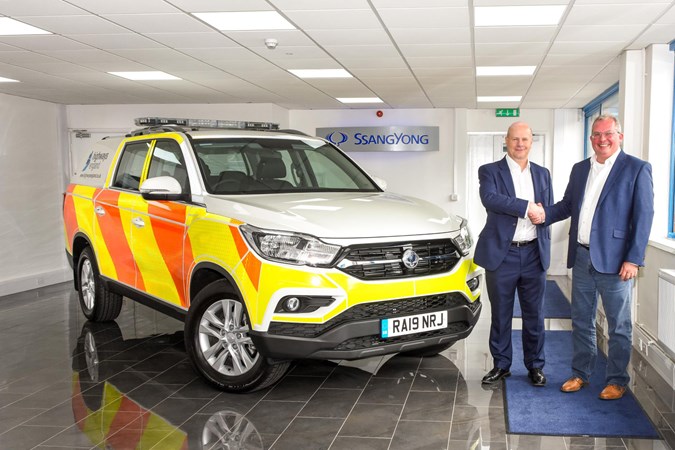 Update 6: SsangYong Musso vs caravan
6,390 miles, July 2019
A fair number of miles have been covered in the Musso, largely dealing with the Birmingham to Peterborough commute. During that time, other titles in Bauer Media have been asked if they'd like to have a go so we can get a wider range of opinions.
First up, Luke Neal – responsible for Bauer's company and fleet car titles such Fleet News – took the keys for a camping festival at the beginning of July. The Musso's impressive towing capability is tempting for anyone with a mobile home, and Luke's large classic caravan is an excellent test.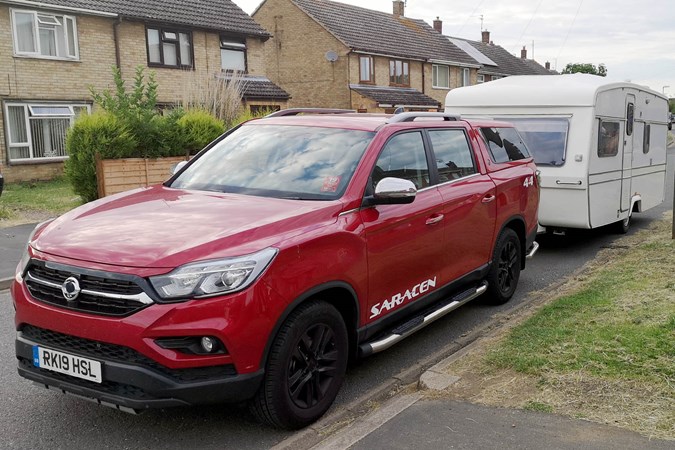 Ready to roll, the Musso and a rather substantial caravan…

Parked up and camping, the SsangYong looks entirely at home in a field full of campers. Luke's only comments about the Musso were that it towed well, and returned worse fuel economy than he'd expected with a tendency to hunt through gears, shifting up early then back down on inclines rather frequently. Working around this means using the oddly-small manual override switch.
Compared to the 26mpg when towing the over 2,000kg car and trailer combo in our fifth update, Luke got 20mpg with this caravan; not being a caravanner myself, I don't know if that's unusual or the aerodynamics of a mobile home are dramatically worse than towing a car.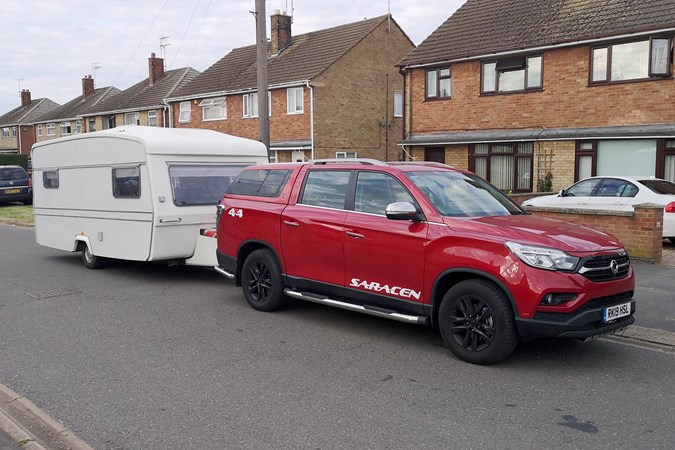 Colleague Tom Wiltshire also took the Musso for a weekend – sans mobile home – and as a self-described SsangYong Turismo apologist, I expected a positive response. However, perhaps because it looks so much like a Rexton, there was a slight air of disappointment in the feedback. Tom would have preferred more of the Rexton's luxury trim, and also found the manual override on the gearbox faintly pointless – which for the most part, it is, and fiddly too.
On the upside, it still represents good value – even if the expectations of luxury SUV trim are not met.
Update 5: SsangYong Musso vs Alfa Romeo 147 GTA
3,511 miles, April 2019
One of the strongest selling points of the SsangYong Musso is its class-leading ability to tow 3,500kg (in automatic form) and carry over a tonne at the same time. Thanks to a 6,750kg maximum authorised mass (or GTW – gross train weight – for the rest of us) the Musso should be at the top of the list for anyone looking to tow cars and move parts around.
In fact, Fuzz Townshend of Car S.O.S was an early adopter of the Musso – though I've yet to see him visiting Classic Car Weekly to ask how he's getting on with it. Fortunately there was an opportunity to test it for myself, as Modern Classics' Nathan Chadwick had an Alfa Romeo in need of assistance (is there any other kind?). Taking the roughly 1,600kg weight of the 147 GTA, plus 500kg of an Ifor Williams CT136HD twin-axle car transporter, the Musso is barely near maximum towing capacity – this is a pickup that could be used to recover another pickup comfortably.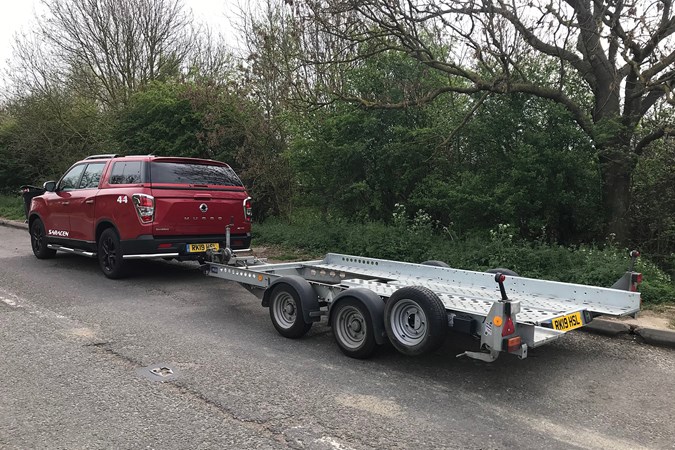 Loading the Alfa was slightly hampered by its wide track, making the tie-downs harder to fit than expected. However, once secured, the SsangYong towed the combination without fuss. 13-pin electrics link the side markers of the trailer to the daytime running lights, making it visible and safe to other road users and easy to place on the road.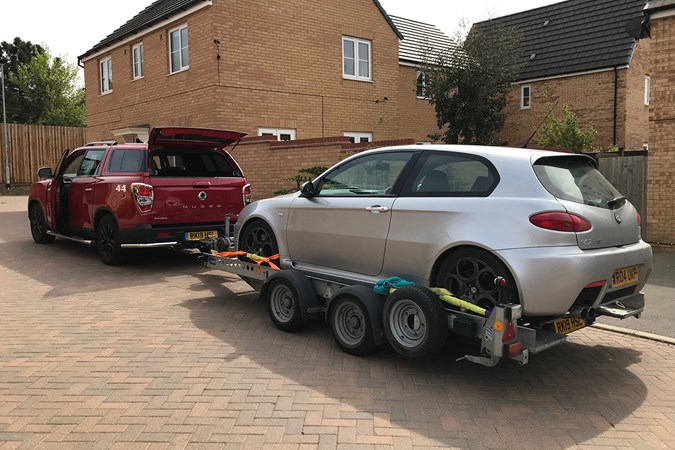 Over a relatively short run from Peterborough to Luton, the Musso averaged 26.7mpg – a hit of around 5mpg on normal driving – and stability under braking, traction and performance were all well within comfortable margins. The reversing camera, plus large mirrors, helped with placing the Alfa and trailer right outside the workshop too, rather than having to unload in a more accessible but less convenient spot.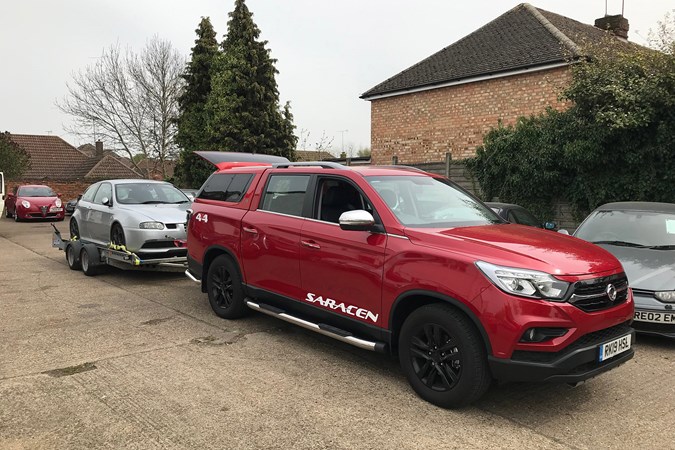 Nathan's Alfa Romeo was quickly returned to the road by specialists Autolusso, and the trailer returned to Barnwell Trailers (hire costs are surprisingly reasonable, too – in fact, hiring a trailer and towing a more thirsty classic, like a Jaguar XJS V12, could be cheaper than driving the classic car itself).
Despite the number of cars I've owned, I've generally avoiding towing. The effortless nature of the Musso and ease of loading a decent, well-designed car transporter suggests it's not the hardship it once seemed to be.
Update 4: SsangYong Musso goes to Wales
3,340 miles, April 2019
After the clocks change, it's easy to start thinking of seaside trips. Earlier in the year the Parkers team took the long-term fleet to Wales for photography and back-to-back testing of each others' cars, which introduced me to Black Rock Sands and Porthmadog.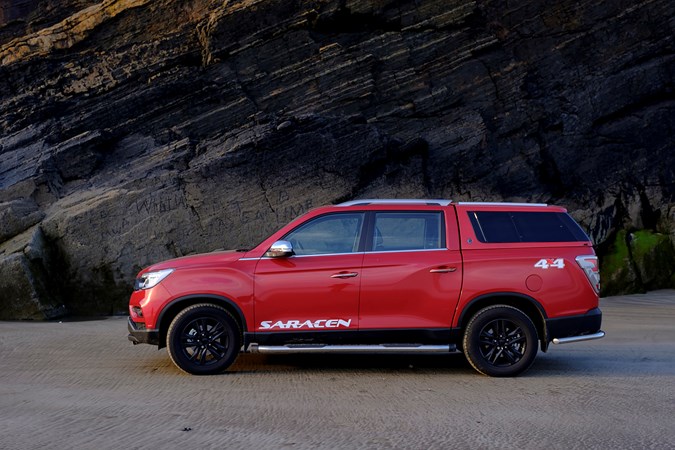 The drive up from the Midlands was yet another case of demonstrating the Musso's competence as a long-distance cruiser, though narrower Welsh roads with tourists parked to enjoy the views proved a little less comfortable. SsangYong included some clever details on the Musso's design which don't quite translate to the real-world – for example, the headlights have little peaks that on an older car – like a Rover P6, for example – would have acted as position lights for the extreme corners up front.
These peaks aren't illuminated – or particularly visible from the driver's seat unless you're very tall and sitting far forward – but the potential for a useful detail being overlooked is sad, given how many modern cars rely on these details to stand out from the crowd.
Once on the beach, the Musso's easily switched four-wheel drive system works well, though it's barely necessary. Spring weather and coastal winds mean that hiding out in the Musso's cab is preferable to spending too much time outside.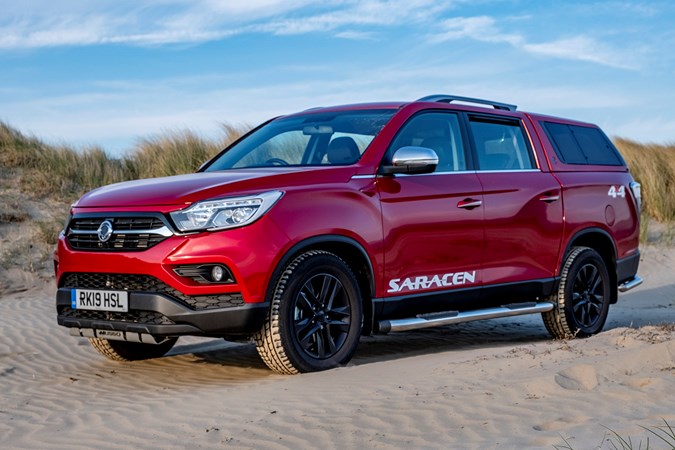 Although the Musso accepted the challenge of a tidal stretch of sand without fuss – and could probably have helped anyone who got stuck, too, were the beach not so deserted at this time of year – the motorway journey home revealed a new slight vibration under braking. It feels like the discs are warping, rather than a return to the suspension-related shudder experienced before some adjustments by SsangYong early on, and at some point we'll have to get the Musso back to the dealer to check this out. It's irritating, but probably down to the weight of vehicle and sustained, frequent motorway use.

Black Rock Sands is a great destination for drivers looking to enjoy the seaside – accessible, dramatic and surrounded by interesting towns and villages to visit for food and entertainment, it's also a boon for people who may otherwise not be able to walk up to the beach or sea. Driving the Musso up to the coastline provides a comfortable front-row view of the ocean without any worries about getting stuck!

Update 3: A really civilised pickup?
2,340 miles, April 2019
Although the Musso is still a very careful fit on the driveway – thanks to the width, some evil little low walls a previous owner of the house saw fit to install, and no front sensors or surround camera (unlike other countries' top-spec versions of the Musso, called Ultimate) – it's fitting into life remarkably well.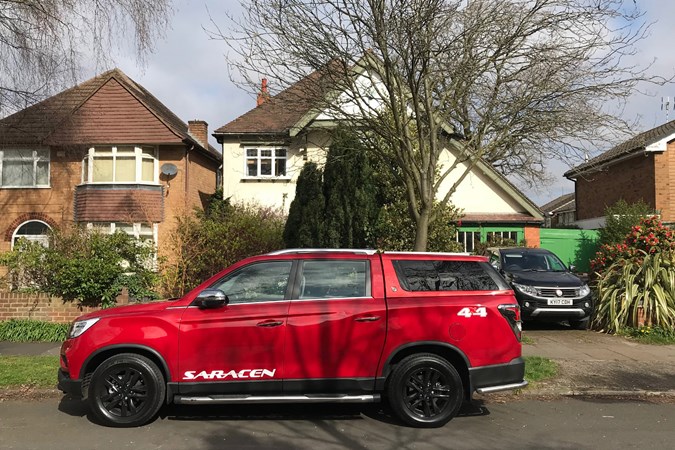 Musso: Job one – motorway commuting
About 80% of my life behind the wheel is spent on Britain's weirdly dysfunctional network of motorways and dual-carriageway A-roads, where as a dual-purpose vehicle with 4×4, the Musso is allowed to go the same speed as other cars. It's close, though, given the weight, and I wouldn't wnat to argue the technicality. If you're stuck behind a pickup and it's dawdling, be kind – it might only be two-wheel drive, or have an unladen weight over 2,040kg.
Other cars don't expect a small bright red building to be travelling at 70mph, so this can occasionally result in irritated Audi drivers choosing to ineffectually tailgate the pickup, almost totally invisible thanks to the wide body and tall sides. It's a very unstressed experience compared to driving smaller cars.
Aside from some early wobbles (see second update), the Musso's motorway prowess is worthy of some genuine luxury SUVs. Body sealing is unlike any other pickup offered in the UK, and isolates engine and road noise very effectively. There's an amount of wind noise from the roof rails and hardtop that would be more muted if the glass were thicker, I suspect (amusingly this is also the first time in a long time I've spotted a windscreen with a top-tint, nice work SsangYong – could come down a little lower, really), but then there are detailed toches like thin rubber blades on the folding mirror bracket to seal the gap, and stop that on-so-common whistle you get on door mirrors normally.
Even the fuel injectors are insulated with a layer of hard foam, which explains the reduced amount of clattering cacophony compared to other pickups.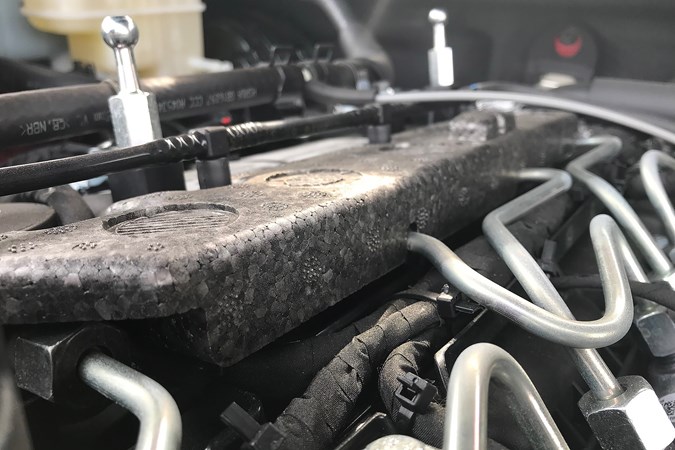 Crosswinds are perceptible, but as the speed sensitive steering remains light and a little vague staight ahead, once you've adapted to it, it's not twitchy and is easy to keep in line.at typical motorway pace without thinking about it.
The engine is turning over at 1,800rpm at a GPS-matched 70mph, thanks to the six-speed automatic, and is barely perceptible despite the remarkably subdued wind and road noise. Not only can passengers have a conversation at normal levels, the radio is entirely audible at 1/3rd volume, despite being a relatively low-powered six-speaker setup.
Lane changes are not as easy as they could be because the mirrors aren't quite as expansive as those on other pickups – what would be more useful is blind-spot monitoring, which Australian models get as standard. It's also wide – wide enough that in contraflow lanes, careless line-crossing HGVs can cause a bit of anxiety.
Driving the Musso on country roads
Here, the Musso is a mixed bag – but that's partly because of my driving, where I freely admit to enjoying driving ridiculous 4x4s at speeds more suited to family hatchbacks where safe to do so. Because the Musso is so quiet, it's capable of building up speed rather unexpectedly, and then feeling a little unwieldy in bends, where the cacophony of road noise and engine in my own Fullback gives a bit of a heads-up.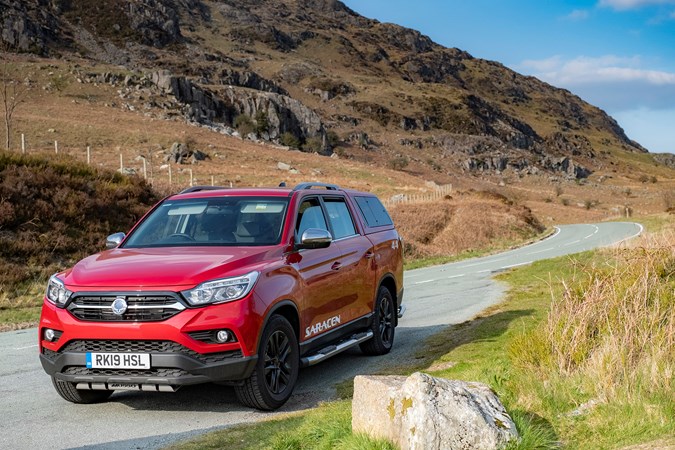 What makes judging the Musso's attitude in a corner rather difficult – at least, at first – is the light, detached steering. Combined with a sharp transition from vague straight ahead, to decent precision in bends, the amount of bodyroll from the soft suspension can lurch and feel a bit odd. After a few miles you get used to it, but a couple of the Parkers team have commented on the light vagueneness at the wheel. Having covered a decent distance in the Musso, I can say that you get used to it.
The wheels feel very much like they're staying where they should; rather better than a Navara or Ranger do when faced with mid-corner bumps, in fact – but the body movement feels 2CV-esque from the tall driver's seat. It's probably less dramatic from outside.
Calm down a bit and it's bloody good, with the same authoritative way of covering ground that lead me to compare the current Rexton to the much-loved Land Rover Discovery 4 – the last Disco with a proper chassis. The way the Musso provides isolation from bumps could be the envy of any allegedly-comfortable sports-suspension equipped executive saloon driver – or more realistically, their passengers. Rear occupants get an impressive view out – like the original Musso, the rear seats are placed high, letting those in the back enjoy landscapes rather than headrests, and the front passenger seat is wide, comfortable and matched by ample footwell space and an overall feeling of room to stretch out, rather than feeling hemmed in.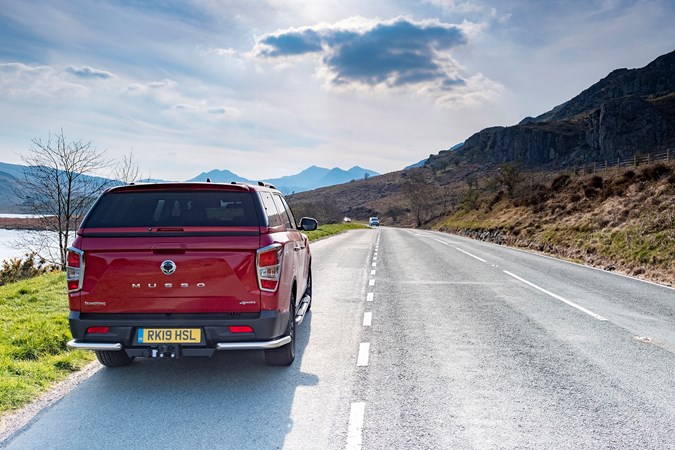 Update 2: A bit of a wobble…
937 miles, March 2019
Having familiarised myself with the Musso, shown it off to colleagues and made a note of the numberplate's happy coincidence – not often you get your initials without asking the dealer first – it's time to hit the road. We jump in and out of cars constantly, and the first drive invariably ends up coloured by the last one you were driving – in my case, a Jeep Wrangler Rubicon.
Initial impressions of rather firm suspension were soon swapped for a slight concern over vibration; a second journey out and the perception of firmness was reduced, but the wobble was definitely present. A call to SsangYong, and we got the Musso down to the technical centre to find that a balance weight had gone for a wander before delivery – rebalanced wheels, and revised steering alignment ensured the third motorway trip was free of any untoward behaviour.
Why bother telling you this? Well – anything can happen between dealer and driver, in all honesty, and it would be immensely unfair to judge the Musso without checking that unfavourable behaviour wasn't part of the design. More to the point, if you're reading this because you've just taken delivery of a Musso and have felt a similar vibration, get the dealer to check it, rather than assuming that it's just built that way.
In the meantime, the Musso's first family trip out was for a teenager's birthday dinner in the middle of Birmingham, where it quite happily tackled the neglected mess of Tysley's industrial estates with far more grace than my Fullback can manage – itself leagues ahead of any family car. We've seen the occasional VW Up trapped in the worst potholes, with the RAC abseiling down to recover the occupants, so on the occasions where you simply cannot avoid these things being able to ride it out smoothly is wonderful.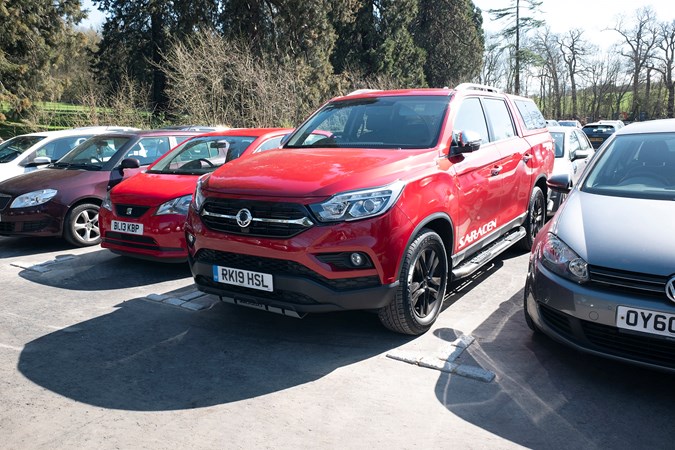 Our rear occupant couldn't shut up about the heated rear seats; the same excitement greeted the first time the Musso was back in the office and used to ferry the team from a photoshoot.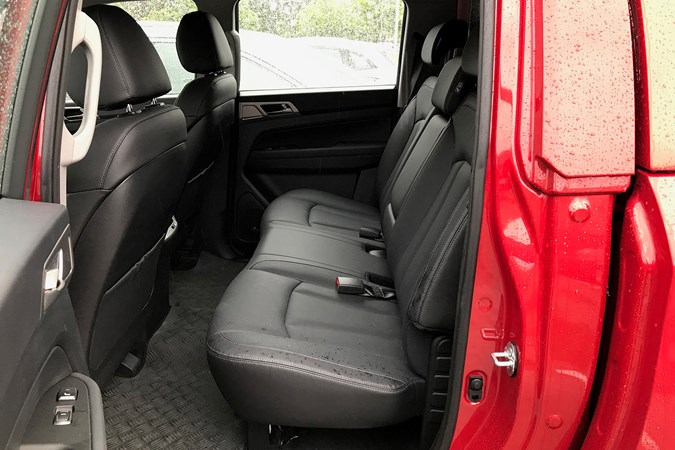 Well, nearly all the team got to enjoy it. The middle seat isn't heated. It also only has a lap belt, which caused a lot of confusion for our Gen-Y testers spared the indignity of childhood aftermarket rear seat belts.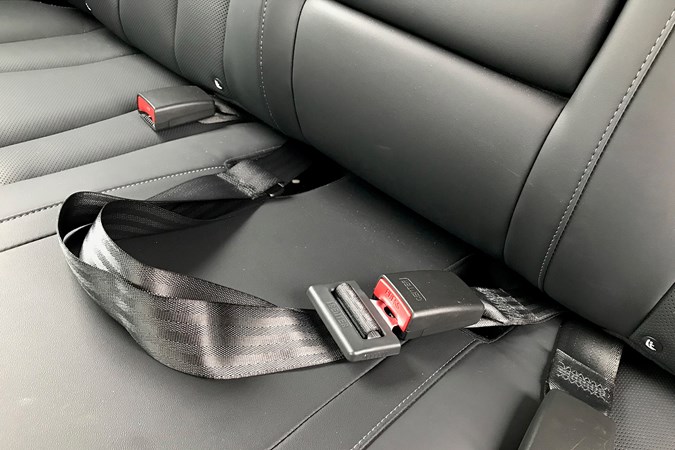 It's taking a while to get used to some quirks of the Musso, though. The LCD display on the dashboard is a lower grade than the 'Supervision' cluster of the Rexton, and this not only means fewer useful bits of information (like the seemingly indispensable digital speedometer; oh, how people mocked the '80s for their vision), what is displayed is a little confusing at times. For example, the driver alertness isn't a bold warning, like so many modern cars, but a small symbol of a cup of tea that appears next to the fuel gauge. It's a bit like watching for the bonus items on an old Nintendo Game-and-Watch.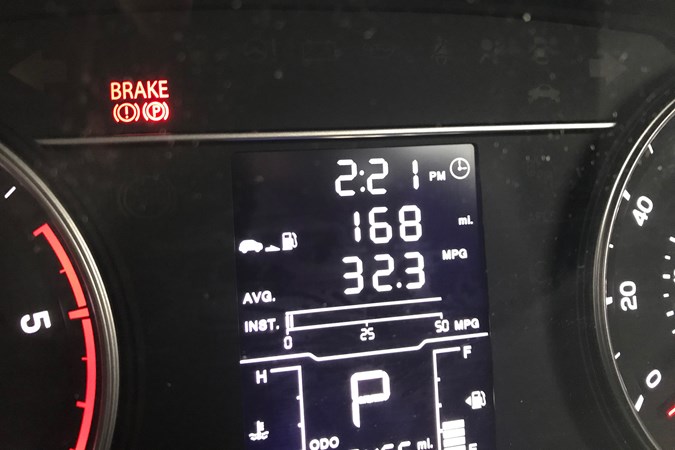 Having finally worked out that 38:38:38:38 over two lines was not, in fact, a peculiar Back to the Future style relative time display, but actually the tyre pressures, I've left it set on fuel economy. Which, so far, is sitting above 30mpg; not bad for a 2,165kg square-set truck doing motorway journeys and urban crawls.
Update 1: SsangYong comes charging in.
627 miles, March 2019
With the ebb and flow of long-term test cars resulting in my Mitsubishi Eclipse Cross 4 washing out with the Welsh tide in January, the next allocation was something of a mystery, as New Cars Editor Adam Binnie is a paragon of virtue when it comes to scheduling a blend of budget, mainstream and premium cars.
Impervious to bribes and entreaties as to the kind of vehicle you're going to test, regardless of what you might like to drive, in fact.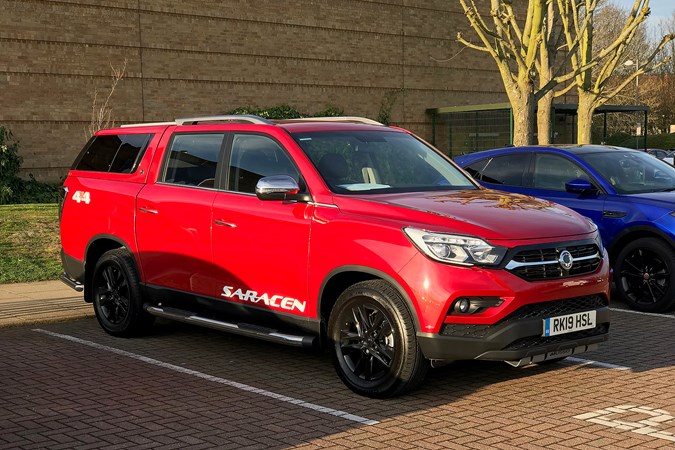 In some ways, the Mitsubishi was allocated to me to challenge my own preferences and prejudices, to be fair. My own car is a Fiat Fullback pickup, and my views on crossovers are quite strong, feeling that proper 4x4s need to be rugged beasts and family cars don't need to be on stilts to be useful.
As you can read in that report, the Eclipse Cross 4 proved very convincing, and won me over. So what would be the next preconception to be broken; a budget car for long commutes? An EV?
As the title of this piece has already revealed, it's the UK's newest brand-challenger pickup, from Korean 4×4 experts SsangYong; once told what it would be, I had the opportunity to specify the colour, trim level and kind of top it has, so have gone for the closest in cost and trim to my Fiat; a Saracen automatic. Not only can it tow more that way, I prefer autos for city and motorway driving – the British love affair with changing their own gears seems to be waning, too, as more manufacturers' ranges are dominated by efficient automatics.
If this isn't enough for my tastes, the Musso also has a quirky coincidence. I'm assured that having my initials on it is an accident, and not an attempt to influence…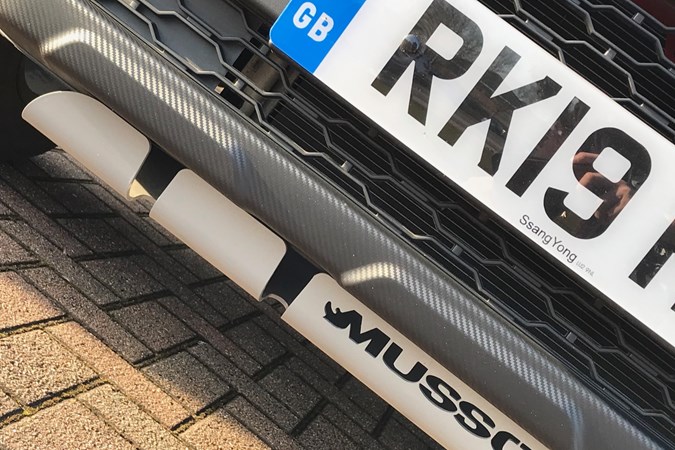 To keep things lively in photoshoots, it's Indian Red, and because not having a top on my Fullback has been really irritating, it's got the luxury hardtop with built in light, roof rails and vent windows – no matter how good the Rhino edition looks with bars and lights.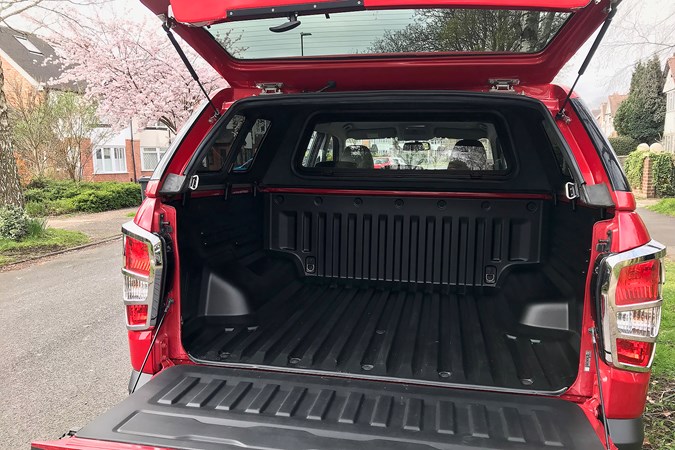 Finally, to test out that class-leading 6,750kg GTW and thus, 3,500kg towing ability, it has been fitted with a towbar. I can hear the classic car mags preparing their requests already…
Who are SsangYong, then?
This Musso may be a new model, but the brand itself has had a pretty long history in the UK if you join the dots; my first experience of SsangYong was a 1997 Musso GX220, a collaboration with Mercedes that included a 220hp 3.2-litre six-cylinder petrol engine and rather unusual SUV styling. It felt a cut above contemporary 4x4s such as the Land Rover Discovery, Isuzu Trooper/Vauxhall Monterey and Mitsubishi Shogun. And could hit 62mph in 8.5 seconds…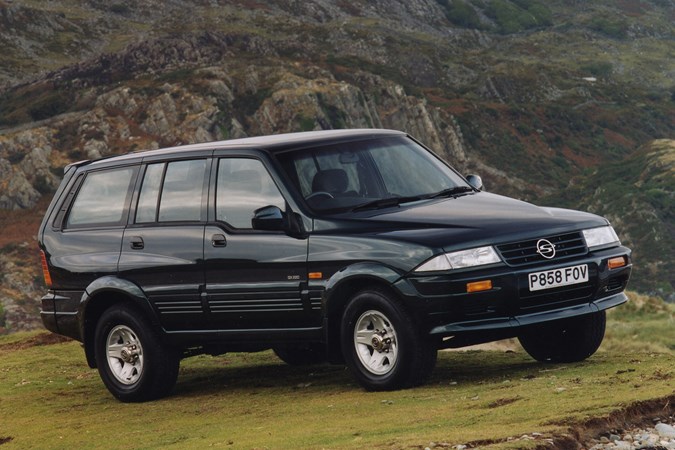 SsangYong is one of South Korea's major car manufacturers, and for a while it looked like it could have beaten Hyundai and Kia to European SUV success. In the '80s it owned British specialist car builder Panther, and this gave them access to Ken Greenley – a British designer, responsible for cars like the Panther Solo; he tore up conventions for 4x4s to create an on-trend, angular and clever large SUV decidedly ahead of the curve.
The 1994 Musso was also Mercedes-Benz's first toe in the water for the wider SUV market, excluding the decidedly agricultural (at the time) and expensive G-Wagen; SsangYong worked in partnership with the German firm, hence the Mercedes engines it used until very recently.
From this stunning debut, SsangYong's fortunes have been somewhat varied. A period owned by Daewoo, then SAIC which lead to a near-collaboration with ill-fated MG-Rover, and finally acquisition by Indian conglomerate Mahindra and Mahindra, which – like Tata's ownership of Jaguar Land Rover – so far seems to have been a very positive thing. If nothing else, the Musso's key makes the X-Class' Nissan-derived plastic pebble feel decidedly insubstantial.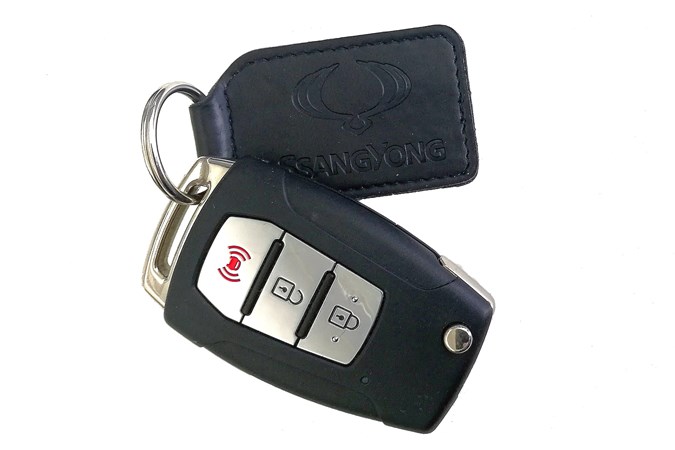 Remember the Eclipse Cross mentioned above? SsangYong's first post-Mahindra product is the Tivoli, and that has outsold its Mitsubishi rival on the global market. Challenger brands always face an uphill struggle, but for SsangYong in the UK it feels rather like a Sisyphean task. Of course, the original Rodius didn't help…
Enough rambling. What's the 2019 Musso pickup like?
It's red. I mean, it's not just red like a Ferrari, a sliver of visually-arresting contrast in the landscape. It's a wall of red that extends seemingly from the land to the sky in an almost unbroken assault on the senses. In black, you'd worry that parking it anywhere remote would result in a gathering of pre-sentient monkeys waving a bone around.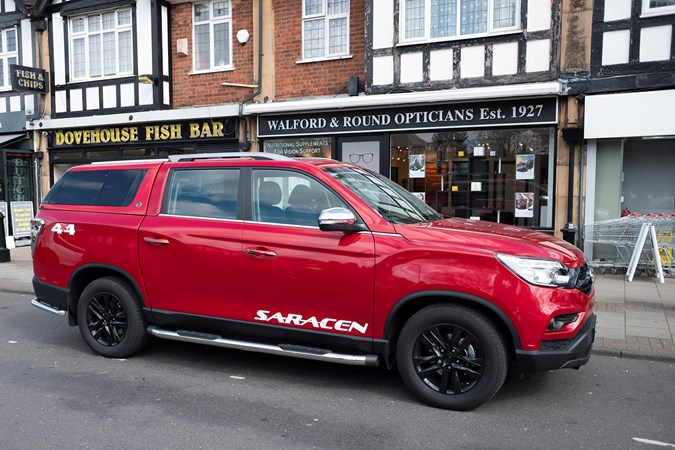 Where most pickups have a clear break between abdomen and thorax, the Musso's tightly-integrated lines so closely ape the Rexton SUV that it looks more like a rather large shutline for the door. Subtle sculpted arches look great, too – the previous Musso, nee Korando Sports was a sketchbook of loosely-related lines by comparison (though the final versions aren't bad looking at all from the front, in my opinion).
The result is a truly imposing, broad-shouldered beast that lives up to the translation of Musso – Rhino – rather well. The flat sides are functional, too – the doors extending over the sills means less mud on your legs when clambering aboard, and that may give a clue as to where SsangYong see the Musso's place in the pickup pantheon.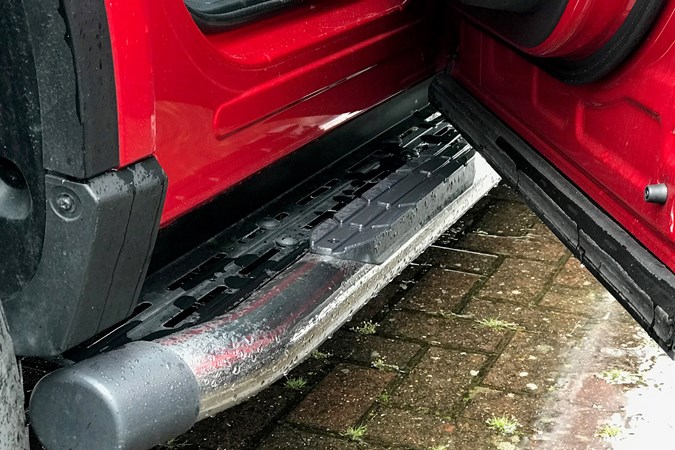 Moreso than the nearest comparable pair of vehicles – the Mitsubishi L200 and Shogun Sport – the Musso and Rexton share their passenger compartments, so the Musso's floorpan is impressively flat, the cab very wide, and the style extremely contemporary and appealing.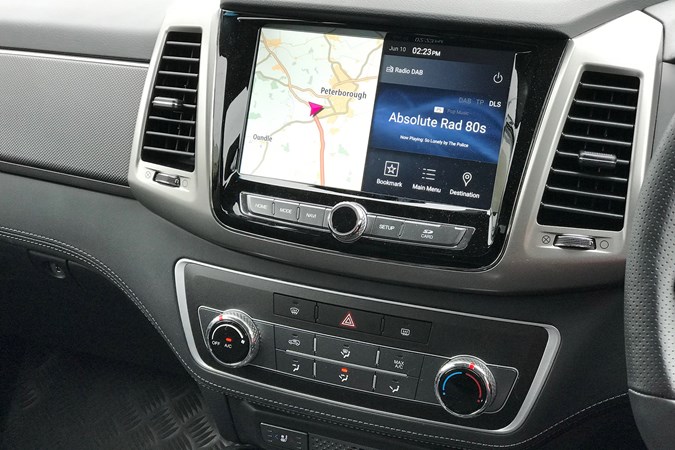 On the top-spec Saracen model the centre of the dashboard is dominated by a high-resolution 9.2-inch touchscreen with TomTom navigation; it doesn't do much else clever, though, so there are no off-road information screens, or advanced on-board connected functions – just DAB/FM radio, smartphone mirroring (Apple CarPlay and Android Auto, naturally), bluetooth handsfree and audio streaming which is also available for USB storage.
Wide, comfortable seats with electric adjustment are trimmed in Nappa leather, and feature heating front and rear, a true luxury for a sub-£30K pickup. SsangYong also has a couple of unique touches for the driver and front passenger; a heated steering wheel (not even Ford have gone this far for a pickup) and seat ventilation.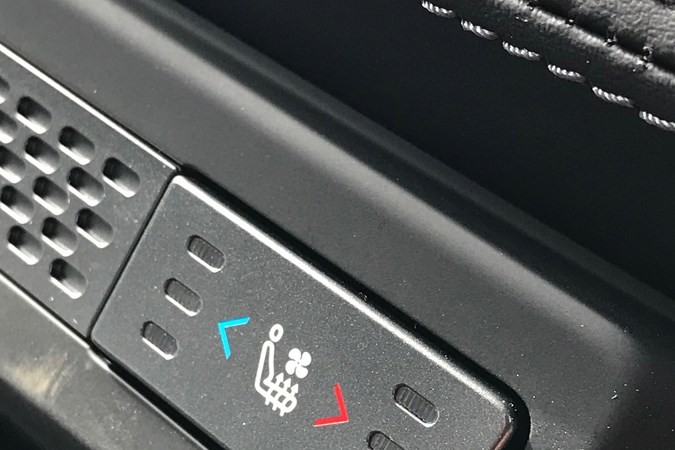 There are some chrome bits stuck on to mark the higher spec – which seem a little gratuitous, and in the case of the door handle garnish, a little too obvious and sharp-edged.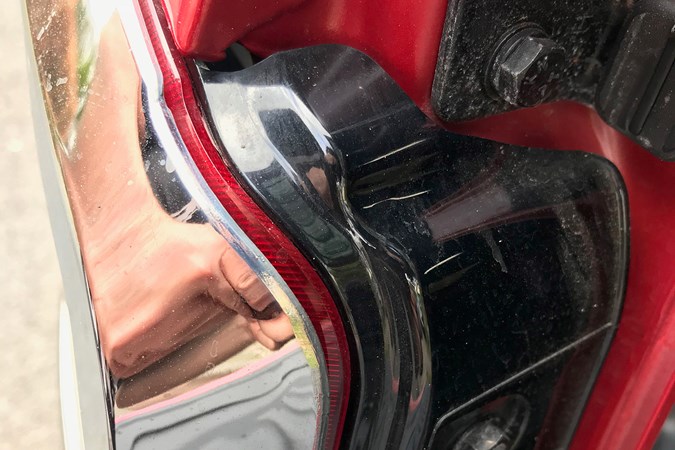 Musso security – central locking all-round
The hardtop is a good match stylistically (the paint, less so), and it's integrated with the central locking like the tailgate; a discreet touch pad unlatching the rear window when the car is unlocked. This is a real bonus to find on a pickup straight from the factory, as many (particularly at the more affordable end of the genre) don't offer any kind of locking for the back, and third-party covers can involve small keys, iced locks and inconvenient straps and hooks to secure.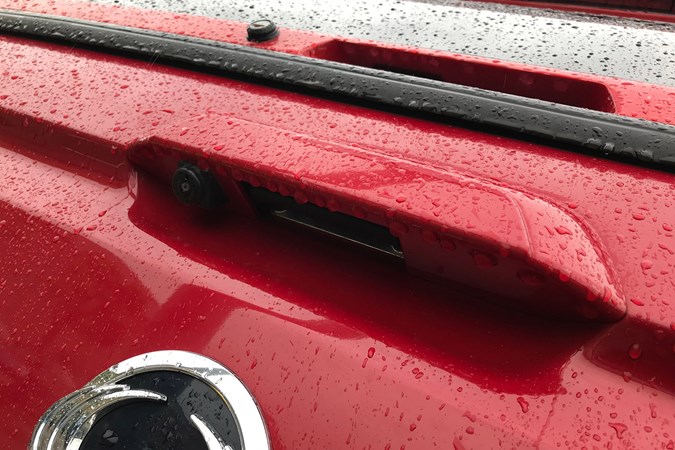 Worried it might go wrong? It's possible to open it with a key if there's an issue. That, and the fold-down forward window making cleaning the Musso's glass easy, suggest a very nicely thought out accessory well-suited to families and lifestyle buyers. The layers of glass plus heavy tint on the back do render the rear view mirror fairly useless, though.
As the Musso is about 20cm shorter than most pickups, it's a deep and wide box, but not very long front to back.
I can't wait to hit the road, frankly. The Rexton impressed in its winter 2017/18 road test, and there's a lot of it visible in the Musso.