Mitsubishi L200 review (2021)
Strong, nimble and fun - though more aggressive looks mask a gentler engine
PROS
Precise steering
Impressive fuel economy
Full-time four-wheel drive
Nimble handling
Distinctive looks
CONS
Less refined than rivals
Less powerful than rivals
Dated interior
Safety features limited to top models
No longer such great value for money
Summary
The Mitsubishi L200 is one of the most popular pickups in the world, and in the UK it accounts for a third of all Mitsubishi's sales. This 2021 Mitsubishi L200 review is for the latest version, on sale since 2019 and updated with an additional trim level in 2020.
This sixth-generation model, which Mitsubishi calls the L200 Series 6, is closely related to the previous L200 Series 5 under the skin, but comes with dramatic new looks, offers additional safety equipment and is fitted with a smaller engine.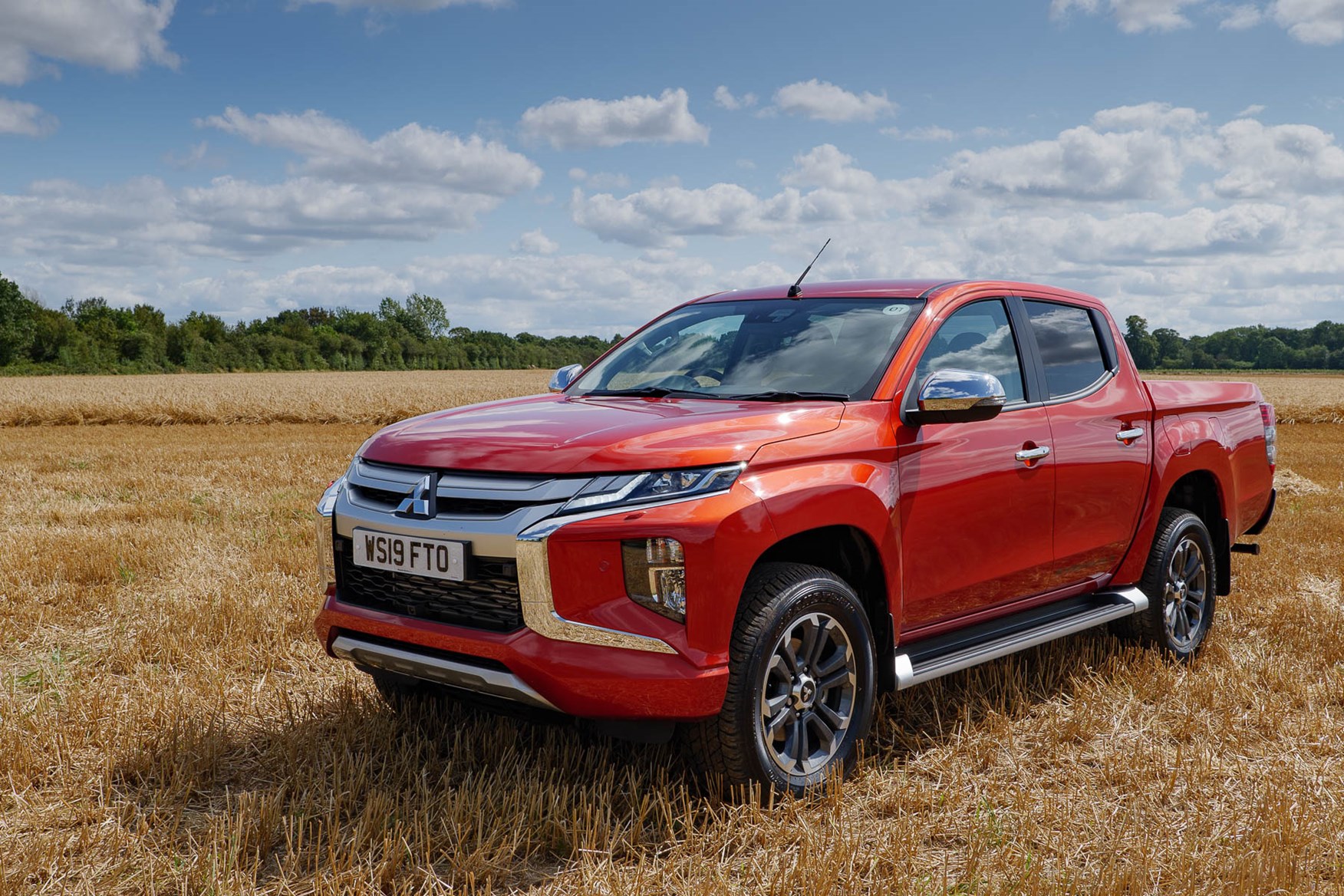 Consumer-friendly, comfort-oriented double cab models make up the bulk the range, with just the 4Life Club Cab and Double Cab now offered for purely commercial buyers. There is no longer a single cab variant.
Mistubishi set to leave the UK
Potential customers should be aware that Mitsubishi plans to exit the UK and European markets in autumn 2021. While this shouldn't effect warranty coverage, parts supply or the servicing network - all of which will be maintained by UK importer the Colt Car Company - it does mean that when this L200 is gone, there may never be another one official on sale here.
Writing in February 2021, we are already seeing some big discounts and other offers (free servicing, for example), so if you are keen on buying a new one of these, don't leave it too late. Or you may find stocks have run out.
Mitsubishi L200 Series 6 specifications and rivals
As of Januray 2020, there are five main trim levels for the Mitsubishi L200:
4Life
Trojan
Warrior
Barbarian
Barbarian X
Competing in a market that is getting crowded with well-appointed rivals, including the Ford Ranger, Nissan Navara, Toyota Hilux and Isuzu D-Max, the L200 has reasonably generous equipment levels.
The bare-bones 4Life has 16-inch steel wheels, air-conditioning, body-colour front bumper and remote keyless entry. It's the only model in the range with part-time four-wheel drive and a rear differential lock, and it's only offered with a manual gearbox. The double cab version swaps the steel wheels for alloys, and gets cruise control too.
For the rest of the range features include 18-inch alloy wheels, LED headlights, auto-dimming rear view mirror, autonomous emergency braking, lane departure warning and dual-zone climate control. You'll need a Barbarian X to get the full suite of technology, though.
Aggressive new look for sixth-generation L200
Mitsubishi's response to customer feedback is to make the L200 look more aggressive for this model, which turns out to make it look more like other Mitsubishis that feature the 'Dynamic Shield' design language as well. The angular foglights and narrow, high-mounted headlights give it a very intimidating appearance from the front.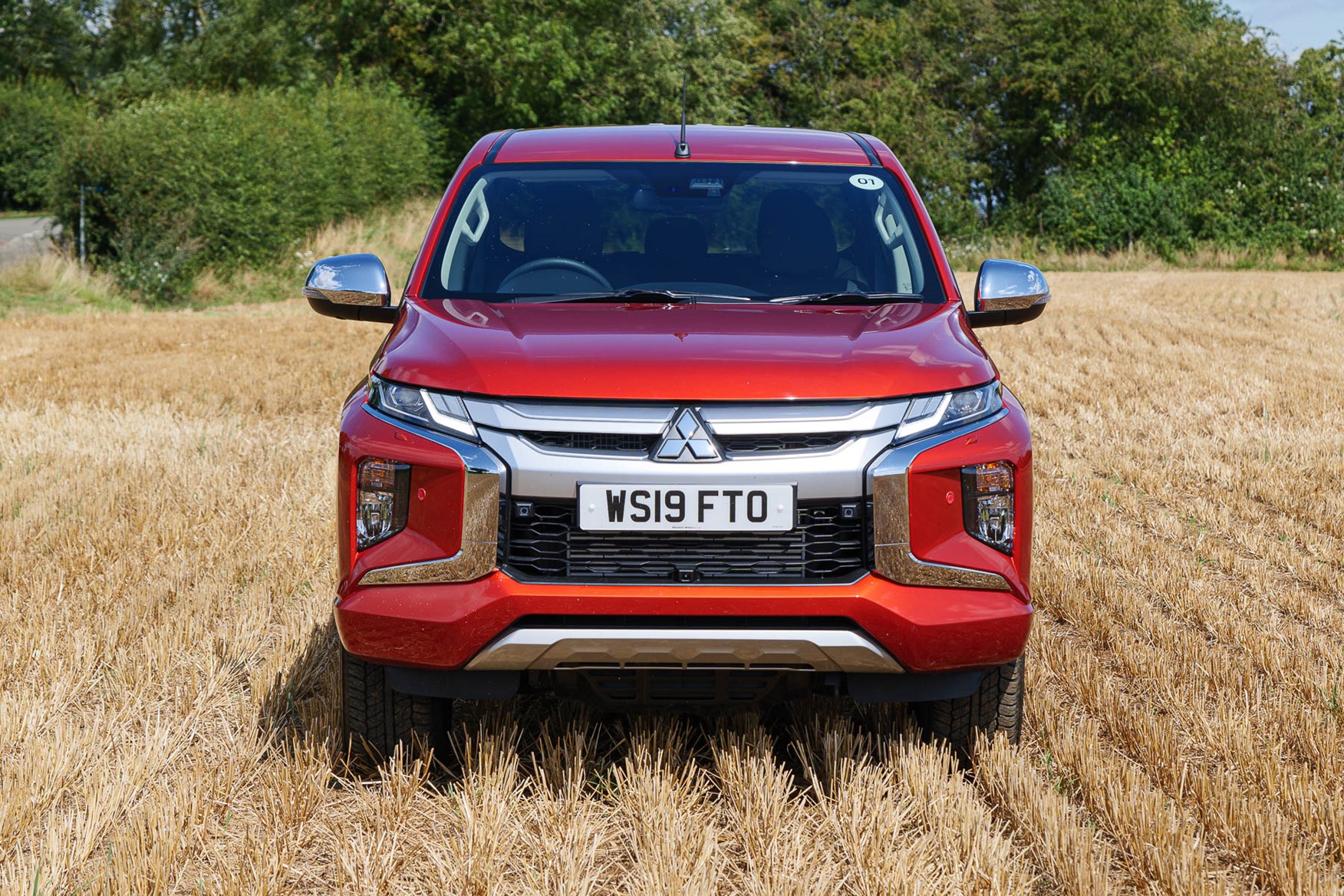 It's a successful remodelling of the Series 5 to our eyes. Yes, the body, fundamentals of the chassis and basic pickup bed are unchanged – which means your Series 5 accessories can be swapped over, thankfully – but the front and rear flanks are sculpted into large, flat arches. Theoretically this makes it easier to judge the width, but the disappearance of the sacrificial plastic arches may not be welcome by everyone – even if they did stick out.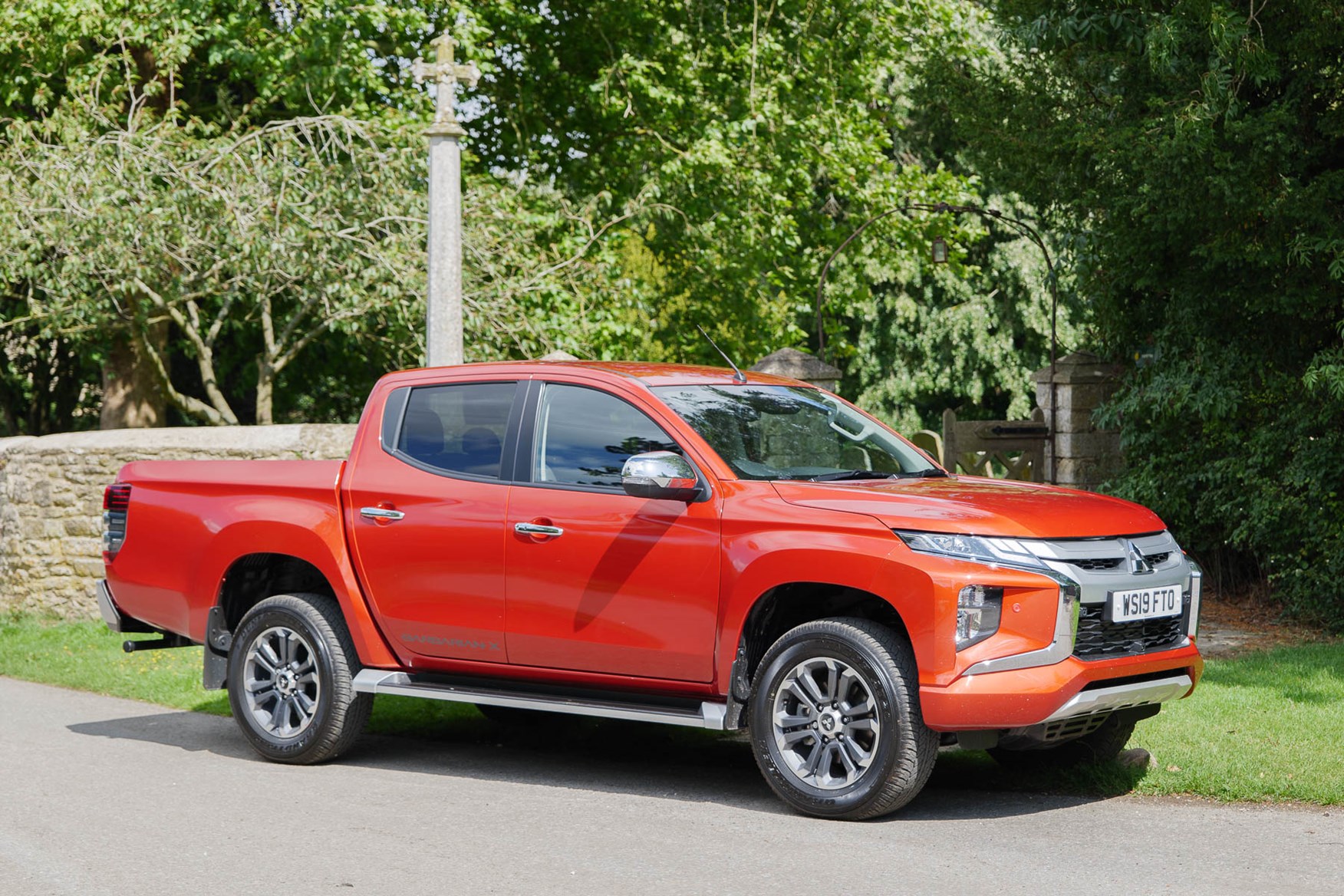 Still, as the L200's one of the narrowest pickups on the market, it can be driven with confidence off-road and through towns even if you're used to more conventionally-sized cars. The bonnet's 40mm higher, too, making it easier to place on the road.
Although weight has increased, it's still a long way from approaching the weight restriction that would limit its legal speeds to those of a van.
Still the same on the inside
Given the dramatic reworking of the exterior, you could reasonably expect the inside to be similarly refreshed, but you need the Spotters' Guide to Mitsubishi, second edition, to see where the changes are. Even the L200-derived Shogun Sport got more of a tweak than this.
The centre console has been lightly revised, gaining a new row of switches and another rendition of the Dynamic Shield around the vents, plus some leather-trim effect knee bolsters; the instruments now have a colour LCD information panel, too – though the information displayed is much the same.
Rear passengers now have grab handles on the B-pillars, and the L200's A-pillar handles for driver and passenger remain, a welcome touch often overlooked in pickups. There's also a new USB charging port and smartphone pocket for the rear passengers, though there are still no directional vents in the rear – just floor level heating.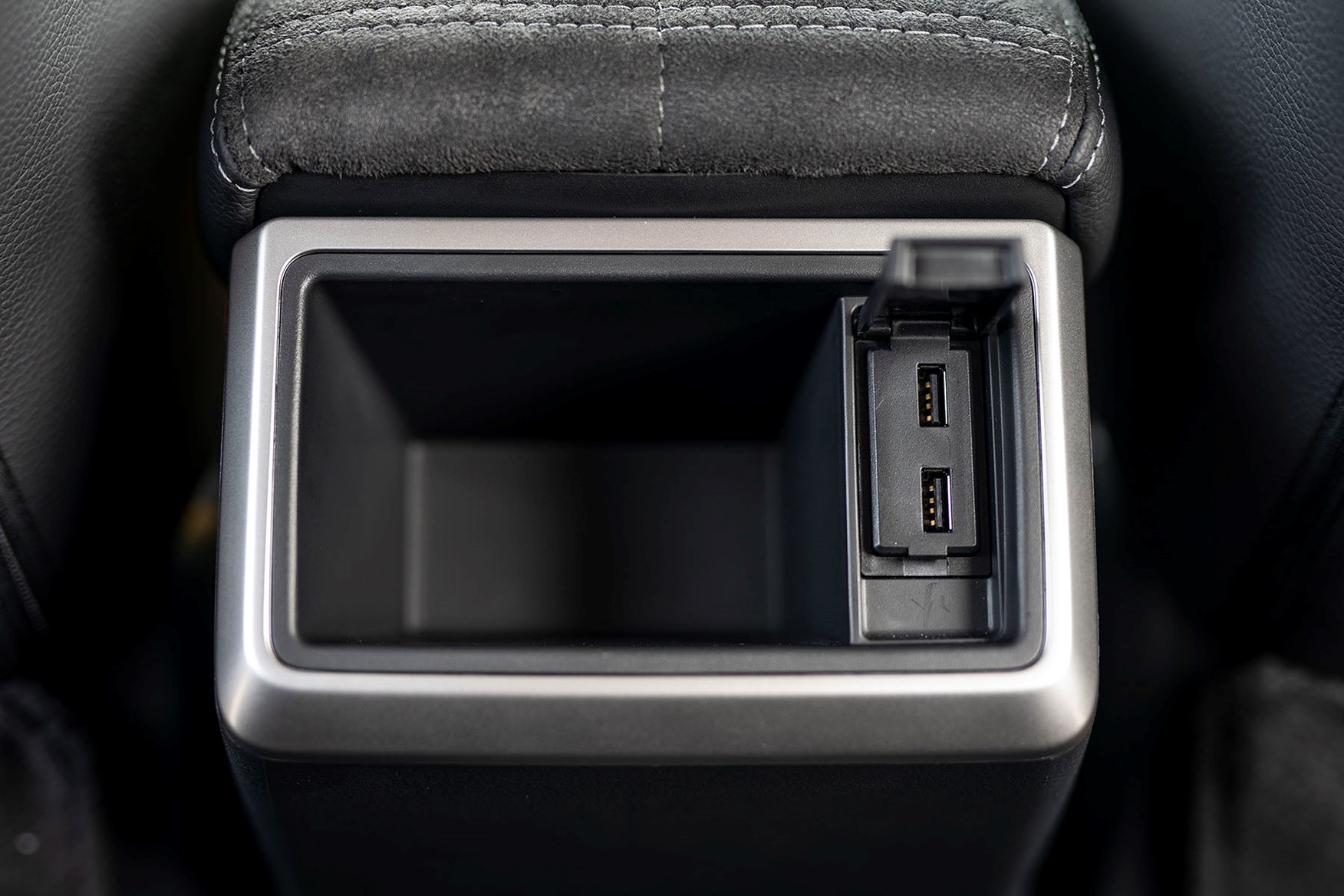 It is a very light cosmetic makeover indeed, and the result is that the L200's interior style really lags behind rivals both in looks and practicality.
A new engine for the UK
To meet the latest emissions standards, Mitsubishi offers this L200 with just one engine: a new 2.3-litre turbodiesel producing 150hp and 400Nm (from 2,000rpm). It's got an AdBlue tank large enough to last 12,000 miles between fills and stop-start technology as standard.
There's a new gearbox, too – a six-speed automatic. It retains the intuitive paddleshifters of the previous model and has a similar shift pattern, so feels familiar despite having an extra forward gear.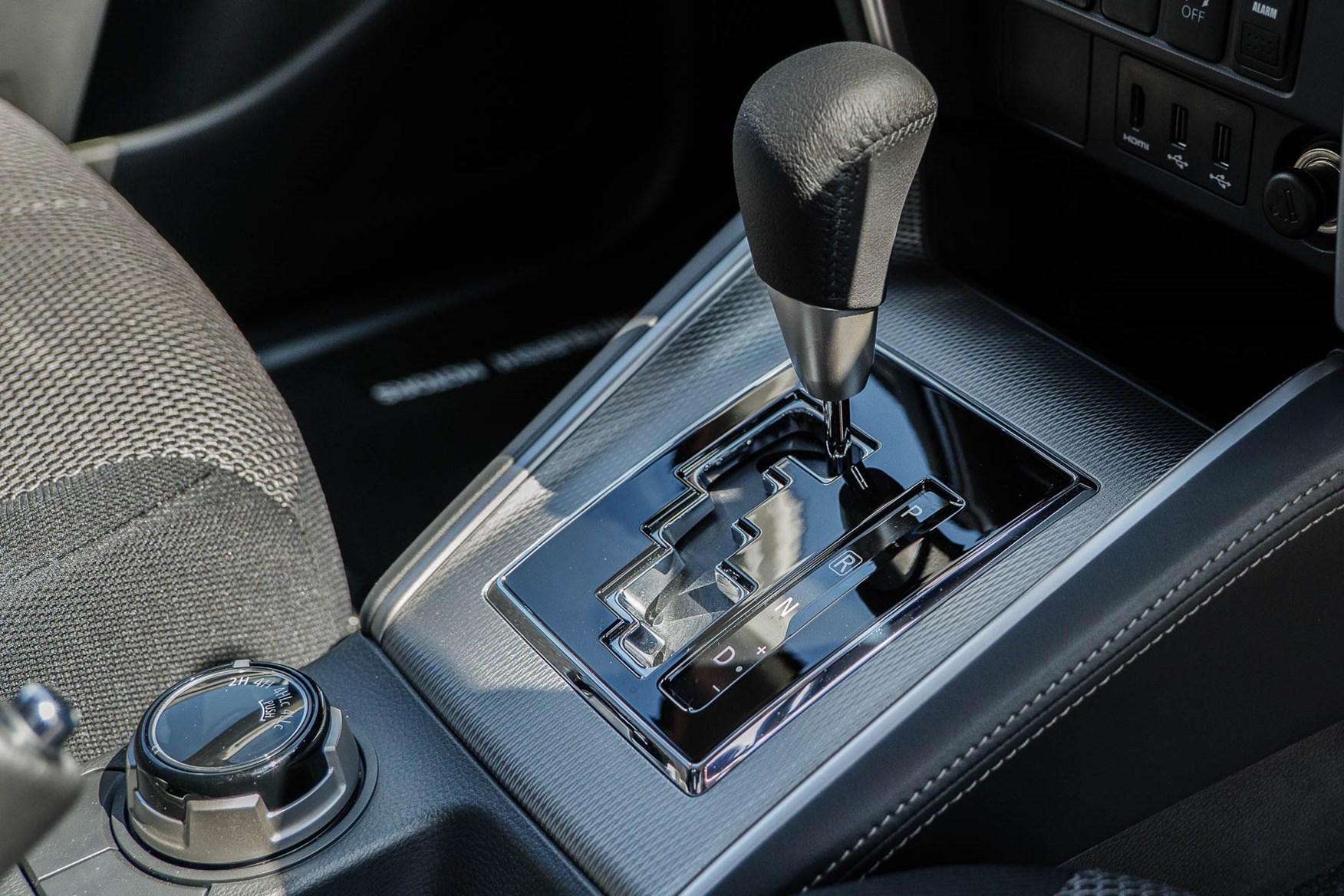 ---
Mitsubishi L200 verdict
It's one of the smallest pickups you can buy in the UK, without giving much away in terms of load area; it fits British roads and driveways better than most, and should prove easy to live with for a pickup.
Touches like 360-degree cameras and blind-spot monitoring help, which brings this Mitsubishi comes close to matching the convenience of modern cars and SUVs.
However, despite almost sporty handling and nimble manoeuvrability, the ride won't let you forget the commercial vehicle origins. Refinement is a step up from the previous generation though, and it remains one of the better pickups to drive.
It's also ready to work, with an impressive payload and impressive towing capacity. In the real world the fuel economy improvements won't go unnoticed – but neither will the loss of the 181hp engine. While the new, smaller 150hp engine feels powerful enough in isolation, the L200 is considerably outgunned by almost every rival now.
Keep reading for the full Mitsubishi L200 Series 6 review, or see our dedicated L200 dimensions page for into about payload, load bed size and towing capacity.
Skip to our full verdict on...
150hp engine a disappointment after previous 181hp version
Especially as the L200 is heavier than it used to be
Still one of the sharpest, most nimble pickups to drive
Pickups, like cars, come in all shapes and sizes – and the L200 is almost the sprightly family hatchback of the load-lugging world. It feels measurably smaller than its rivals and has impressively precise steering on the road, albeit with a lot of twirling needed to make full use of the tight turning circle.
That sporty attitude is helped by the near-unique provision of selectable all-wheel drive, which can be used on dry roads for extra traction and security as well as off-road (most pickups can only use their four-wheel drive off-road). A slight front-wheel drive bias when the 4WD is engaged reduces understeer and helps the already grippy front end feel astonishingly sharp for a tall off-road-friendly commercial vehicle.
The handling is good enough, though, that you can stay in rear-wheel drive and save fuel most of the time, knowing that in poor weather you have the option of adding some extra traction.
The L200 looks mean – but has lost some bite
The new 150hp 2.3-litre engine has to work harder, understandably. It's got 17% less power than the 181hp 2.4-litre motor found in previous-generation L200s, and it's also got 6% less peak torque. Not a great situation when the overall weight of the vehicle has gone up so it's heavier than before.
Although the 400Nm peak is achieved earlier in the rev range at just 2,000rpm, useful torque to make progress feels like it's happening much later, so it's a fussier, noisier experience than in Series 5 L200s (where 400Nm was available from 1,500rpm) when moving away or accelerating hard.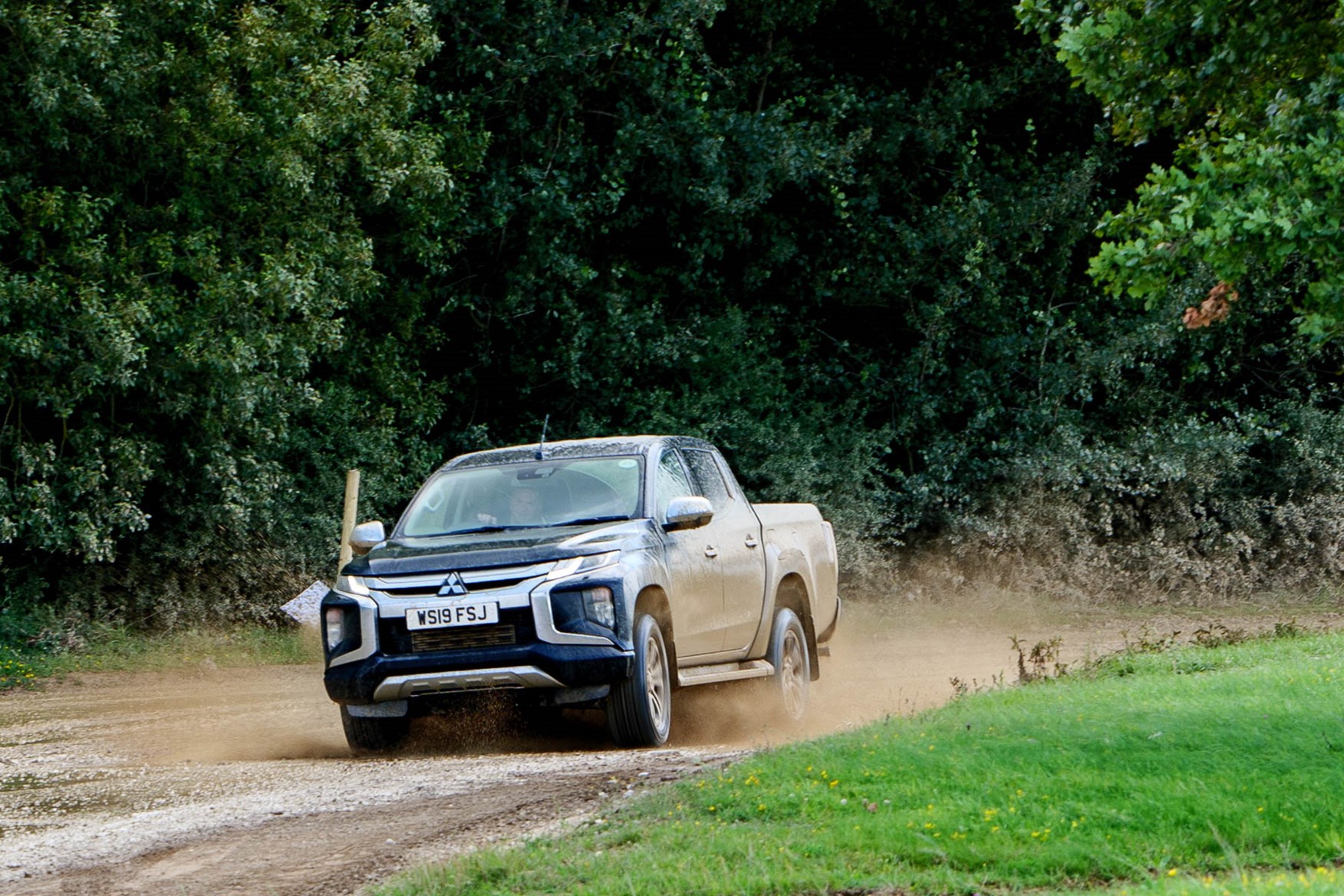 And yes, you will want to accelerate hard in the L200. It's a fun pickup to drive, and even if it does bounce a bit it generally feels planted and secure.
But the previous generation model could reach 62mph in 10.4 seconds, and while there are no official figures for the 2.3, it feels slower – and that's no surprise when you learn that the power-to-weight ratio is down a huge 25% on the heaviest models.
What's the L200 like around town?
Rural roads and town centres are a delight in pickup terms, thanks to the L200s narrow body and ability to change direction sharply. Higher-speed ruts cause a fair amount of noise and body movement, but nothing so dramatic to throw you off your line, and two-piston brake calipers with large discs up front provide easily controlled, powerful braking.
Unlike the detached sensation of some pickups, you feel so directly in control of the L200 there's little doubt about where the limits are.
Body roll is minimal for a pickup, and although passengers can be shaken by unpleasant ruts, they won't be thrown around too much in fast bends. The low-speed ride – even without a load in the back – is genuinely impressive, with good isolation of sharp bumps and few situations where the typical pickup hop at the back is encountered. This will reappear as you start to go faster, though.
Parking is easy, as long as you can find a 5.3m space. Large mirrors help judge the back, which is slightly easier to see than in the previous model thanks to squared-off tail lights.
The range-topping Barbarian X's 360-degree camera and front and rear parking sensor combination is useful, but cheaper Warrior models get a reversing camera that should be enough for most drivers. The front overhang is relatively short, but the rear does need watching in tight turns – this is usually the case with pickups.
What's the L200 like off-road?
The L200's off-road ability was already good, thanks to a set of mechanical components that are hardly changed here. But a few revisions have improved convenience and access. All models get the benefit of raised side-steps, which are flatter underneath and wider, providing improved breakover clearance, more sill protection and an easier foothold for getting into the cab.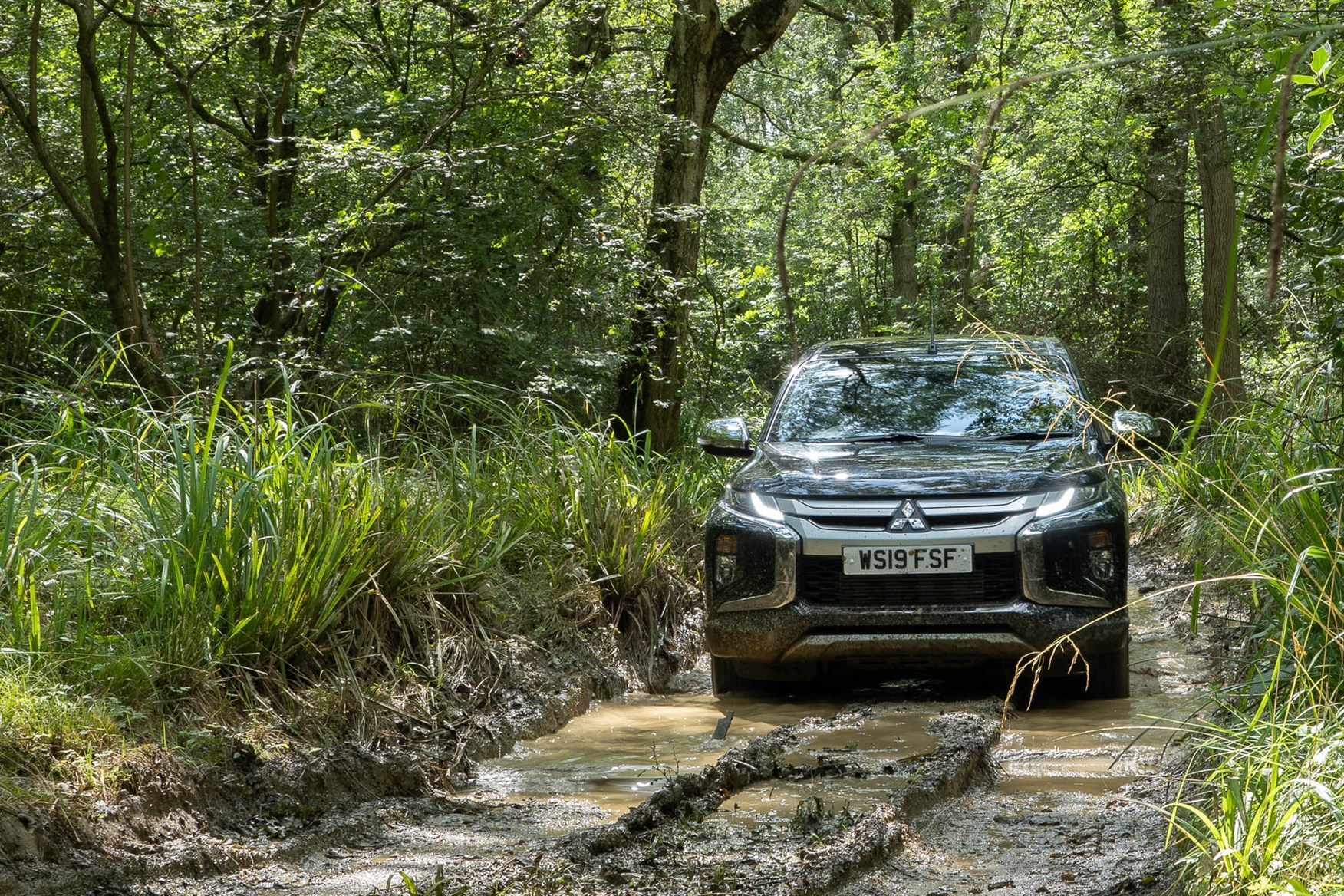 Underneath there's a solid guard at the front, and some plastic protection for the engine and gearbox, plus immensely strong chassis rails, beefy front suspension and protection for the propshaft coupling and transfer case. Even the AdBlue tank, placed right at the back, is heavily protected despite being surrounded by the under-run bar and spare wheel.
The precise, but low-geared steering has little kickback despite the on-road accuracy and is easy to hold for poor surfaces, though with so many turns from lock to lock, you can lose track of straight ahead. The paddleshifters come into their own when driving off-road, as you can keep both hands on the wheel when changing gear.
In addition to the standard low-range transmission setting, higher-specification models get hill descent control, which unusually works at driver-selected speeds up to 12mph rather than a fixed, manufacturer chosen pace, and a set of off-road modes that adjust throttle sensitivity, gearing and traction assistance for different surfaces. It's still necessary to select the appropriate diff-lock and low-range mode beforehand; the combination is very impressive.
The L200 has enough control to suit experienced off-roaders, and enough technology and capability to help novices too.
Which L200 gearbox is best?
We can't see any reason to not go for the automatic, particularly as the manual override – through gearlever or big, easy to use paddles – is so effective. Engine braking is impressive on the auto, too.
Opt for the manual gearbox, and the shift is long and ponderous – though refinement is better than it used to be.
What's the L200 like on the motorway?
Although the 2.3-litre engine works harder than the previous generation's 2.4, the six-speed auto has gearing that keeps things calm once up to cruising speed. At 40mph there's a sweet spot of road, engine and wind noise, and if you let speed build gradually the engine stays subdued.
However, if you're heavy with your right foot it's surprisingly vocal; the gearbox is quick to change, so even slight inclines will result in a drop from top gear. At 70mph, wind and road noise are good for a pickup – but not as refined as some rivals.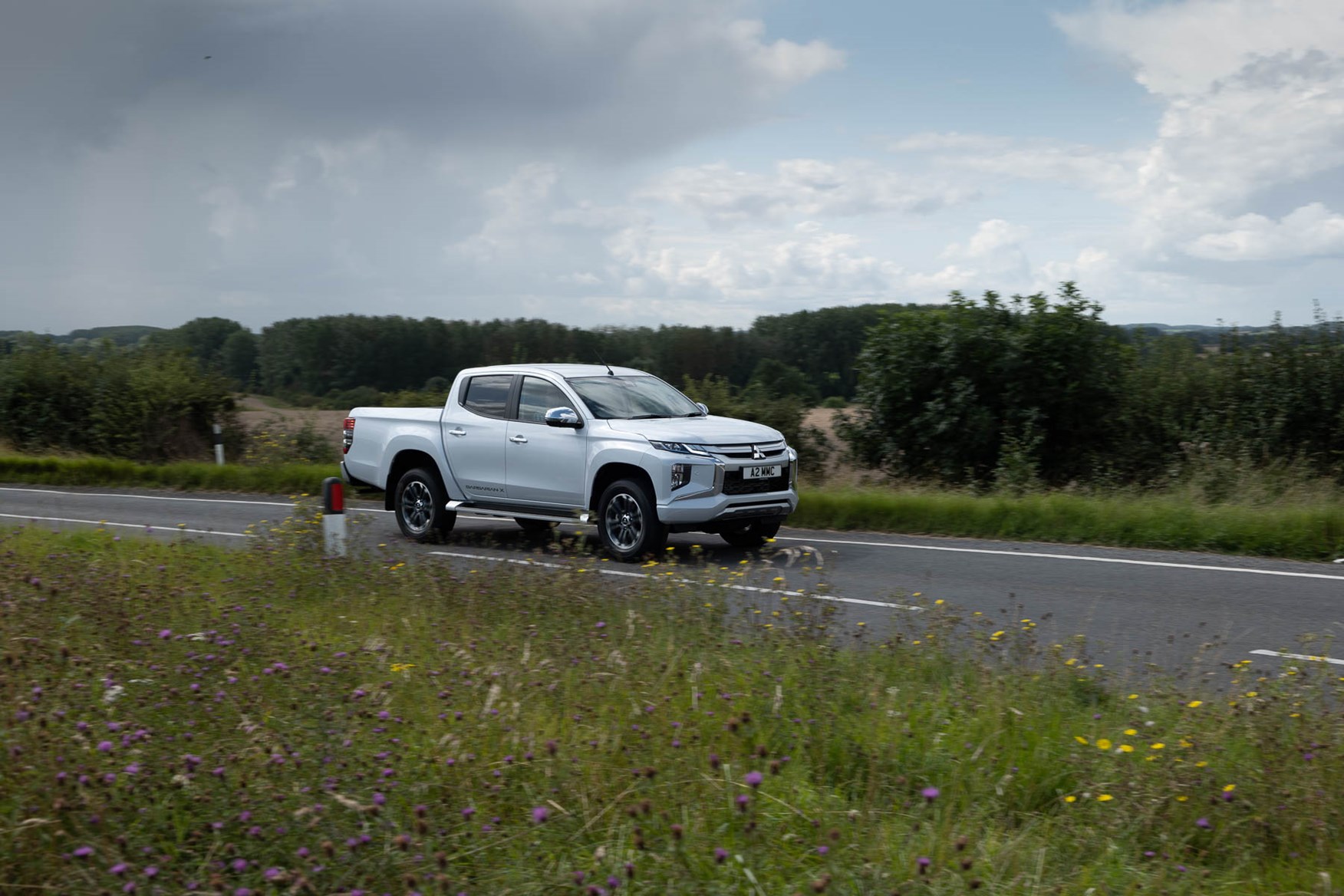 Stability is impressive, and under hard braking, the L200 is relatively composed now – previous generations couldn't mask how light the back is when unladen. On Barbarian X models, the blind-spot monitoring is effective – though the reprofiled, flatter and larger mirrors actually give a great view of the road behind.
Dull interior, barely changed from previous model
Fairly practical but not outstandingly so
Easy to get in and out
Holding back the effectiveness of the L200's sharp new look, the interior is barely changed from the previous generation.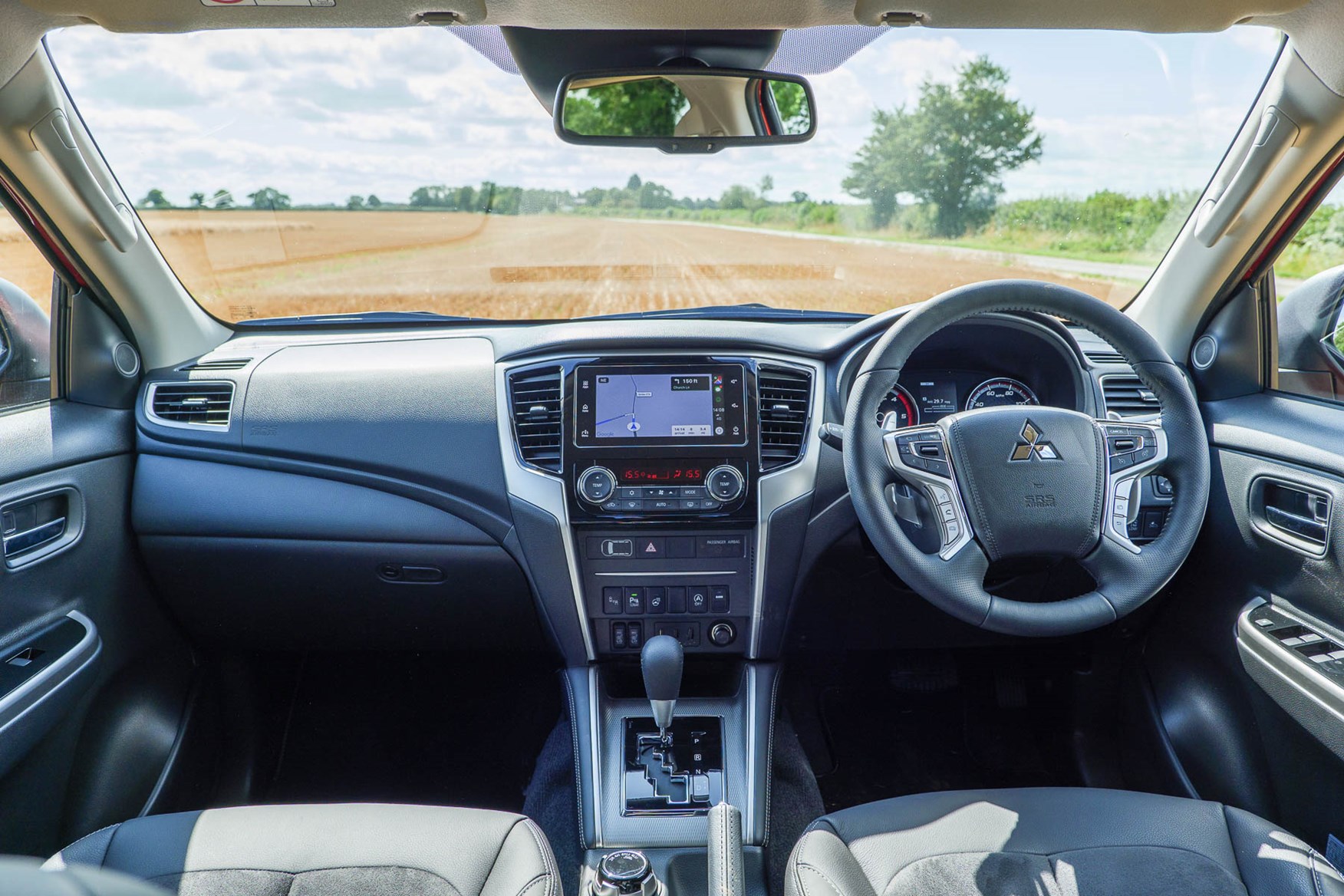 When rivals have put a lot of effort into making their dashboards functional and stylish, their materials pleasingly tactile as well as robust, Mitsubishi's expanse of grey and charcoal plastic is perfectly okay, but it's not adding anything to the experience. The rather shapeless door trims are civilised with only a patch of padded material.
What are the seats like?
The L200's seats are relatively basic – even the most expensive models get electric movement for the driver only, and it's a simple fore-aft, tilt, back and height range without lumbar or thigh adjustments. Getting a comfortable driving position isn't hard, though, and the seats are shaped well enough to suit a wide variety of bodies.
Barbarian X models get a really appealing half leather, half-suede effect trim that looks and feels good, though the heaters take a little longer to feel warm though the plush material. We wouldn't want to be responsible for cleaning it after a muddy site visit, but for lifestyle owners, it's very attractive.
Technology
Mitsubishi's Smartphone Display Audio, or SDA, infotainment system leverages your Android or Apple phone for navigation, media and phone calls using Android Auto or Apple CarPlay – which means you'll want to use one of the two front USB ports to connect, and there's a large enough space ahead of the gearlever to place the handset.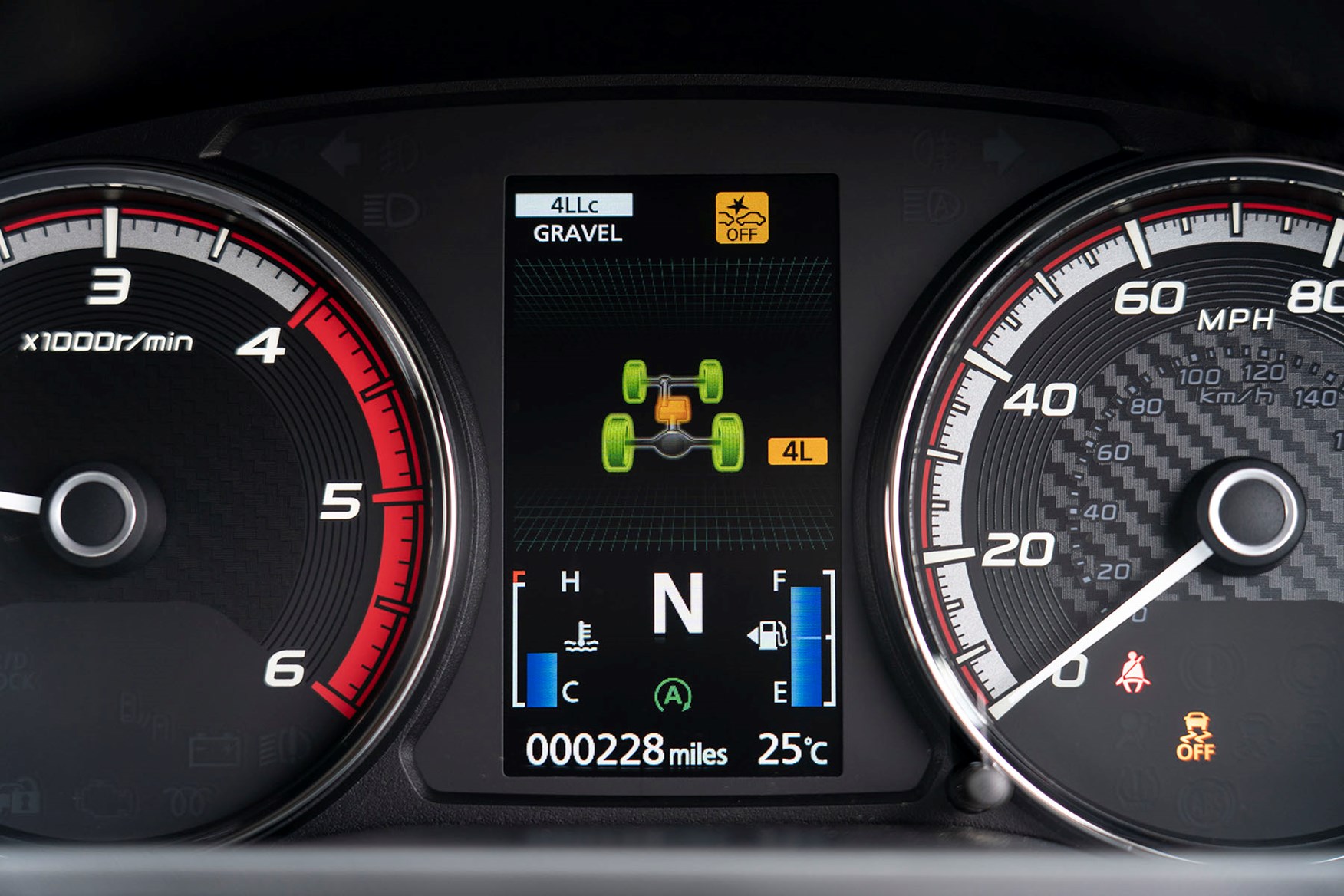 The steering wheel – similar in layout to an Outlander – is liberally covered in controls for the cameras, cruise control and audio, and it's also heated on the top-spec versions. It's also got the control to cycle through the displays on the new colour LCD trip computer between the instruments.
Practicality
Usefully-sized door bins and a large cubby between the seats, with a 12V socket lurking in the depths, make up the primary storage for front passengers. There's a reasonably sized glovebox, and two cupholders between the seats, but the relatively narrow cab limits where you can store things.
Rear passengers get map pockets, a smartphone box and cupholders in the centre armrest, plus again, generous doorbins; higher-spec models have USB charging ports for the rear as well.
Getting into the L200 is easier than most pickups, as grab handles are provided for all four doors – plus the side steps are deeper and more robust.
At the rear, the tailgate is now damped and assisted on the Barbarian and Barbarian X – lifting and securely closing with one hand is easy. How you choose to spec the back is up to you, but there are tie downs front, centre and rear. It's very basic unless you add a few accessories.
Fuel economy and running costs
Fitted equipment provides good value
Five-year warranty as standard
Here's where the upside of that 2.3-litre engine can be found.
Mitsubishi L200 mpg
Using the latest WLTP standards, Mitsubishi claims 32.1mpg for the manual gearbox, and 29.1mpg for the automatic.
This correlates to 37.2mpg and 36.2mpg, respectively, in the old NEDC testing format – not bad at all for a pickup. In the real world, unladen and with mixed heavy traffic, motorway and urban driving we think over 35mpg is entirely realistic for the automatic.
Mitsubishi L200 servicing and warranty info
Servicing is every 12,500 miles or 12 months, though Mitsubishi dealers are generally priced fairly for the level of work required.
This engine has a timing chain, which can reduce costs if correctly maintained, and the 21-litre AdBlue tank should need a refill after 12,000 miles – though it's easy enough to top up, thanks to an easily accessed filler.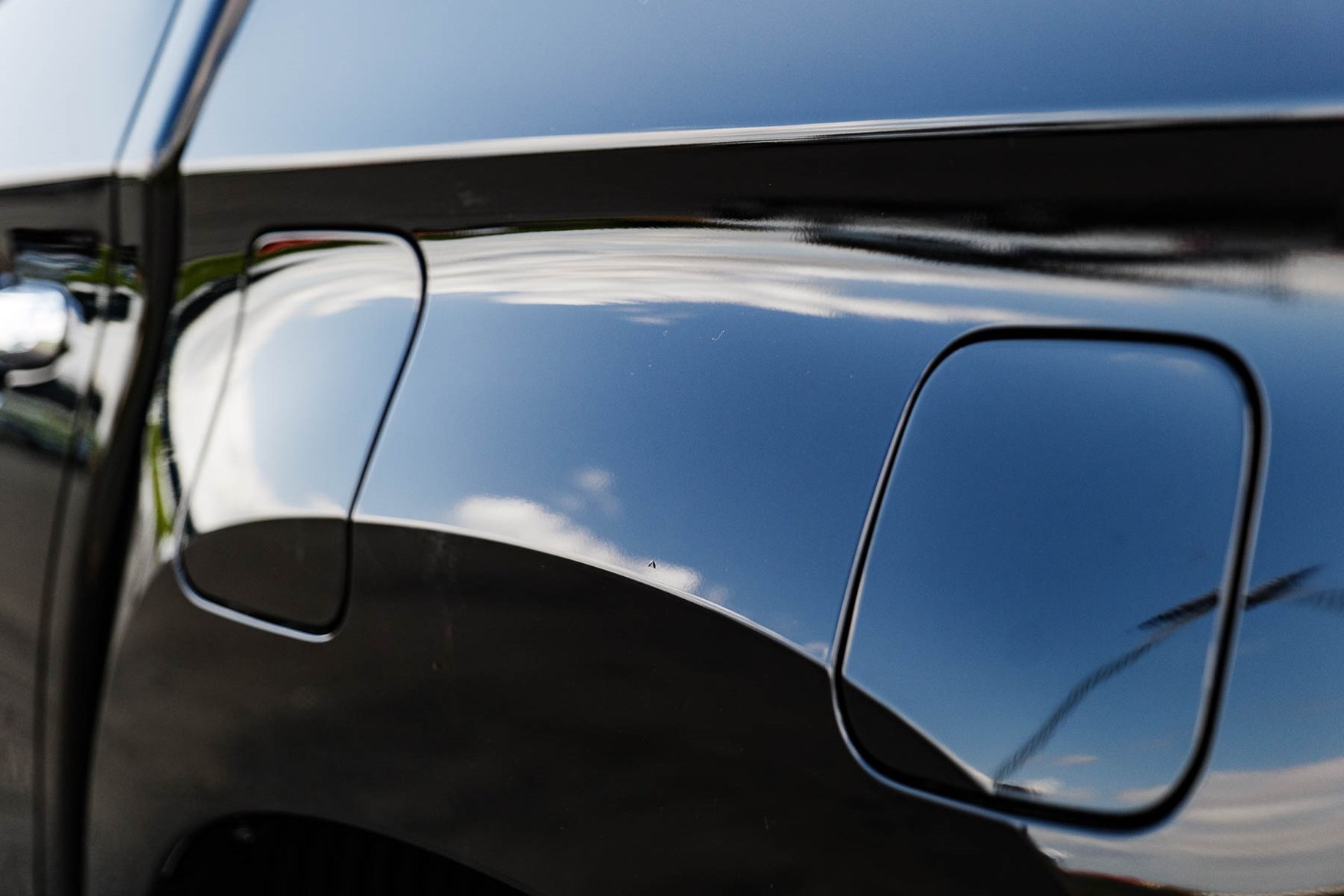 The L200 comes with a five-year, 62,500 mile warranty.
L200s are generally cheap to insure, and third-party accessory support is very good thanks to the Mitsubishi's global success.
Mitsubishi L200 specification and trim levels
The L200 is well equipped right across the range, though not quite as value-packed as it was due to increased pricing. Mitsubishi compensated for this a bit in January 2020 when it added a the Trojan trim level as the entry point to the lifestyle range. Details of all the standard equipment highlights can be found below (at time of writing in January 2020):
L200 4Life Club Cab standard equipment highlights:
Easy-select part-time four-wheel drive
Locking rear differential
Colour-keyed front bumper
16-inch steel wheels
Electric windows
Remote keyless entry
Air-conditioning
Bluetooth and USB radio
Rear-hinged rear doors
L200 4Life Double Cab standard equipement also includes the following:
16-inch alloy wheels
Cruise control with speed limiter
Electric rear windows
L200 Trojan standard equipment highlights (in addition to 4Life Double Cab):
Super-select 4WD – full-time all-wheel drive
18-inch alloy wheels
Forward Collision Mitigation
Lane Departure Warning
Automatic dual-zone climate control
DAB radio
Automatic headlights, wipers and dimming rear view mirror
Front fog lamps
Electric, heated door mirrors
L200 Warrior standard equipment highlights (in addition to Trojan):
Mitsubishi SDA touchscreen infotainment with Apple CarPlay and Android Auto
Reversing camera
LED headlights with LED day running lights
Headlamp washers
LED tail lights
Folding, heated door mirrors
Rear step bumper
Privacy glass
L200 Barbarian standard equipment highlights (in addition to Warrior):
Hill descent control
Off-road Mode
Leather upholstery with power driver's seat
Front heated seats
Tailgate damper and spring assisted closing
Mood lighting and puddle lamps with illuminated door entry guards
Rear USB ports with smartphone tray
L200 Barbarian X standard equipment highlights (in addition to Barbarian):
Barbarian X six-pack leather seats with Alston suede inserts
360-degree camera system
Blind spot warning system
Rear cross traffic alert
Ultrasonic misacceleration system
Auto high beam
LED front fog lamps
Front and rear parking sensors
Heated steering wheel
LED number plate and interior lights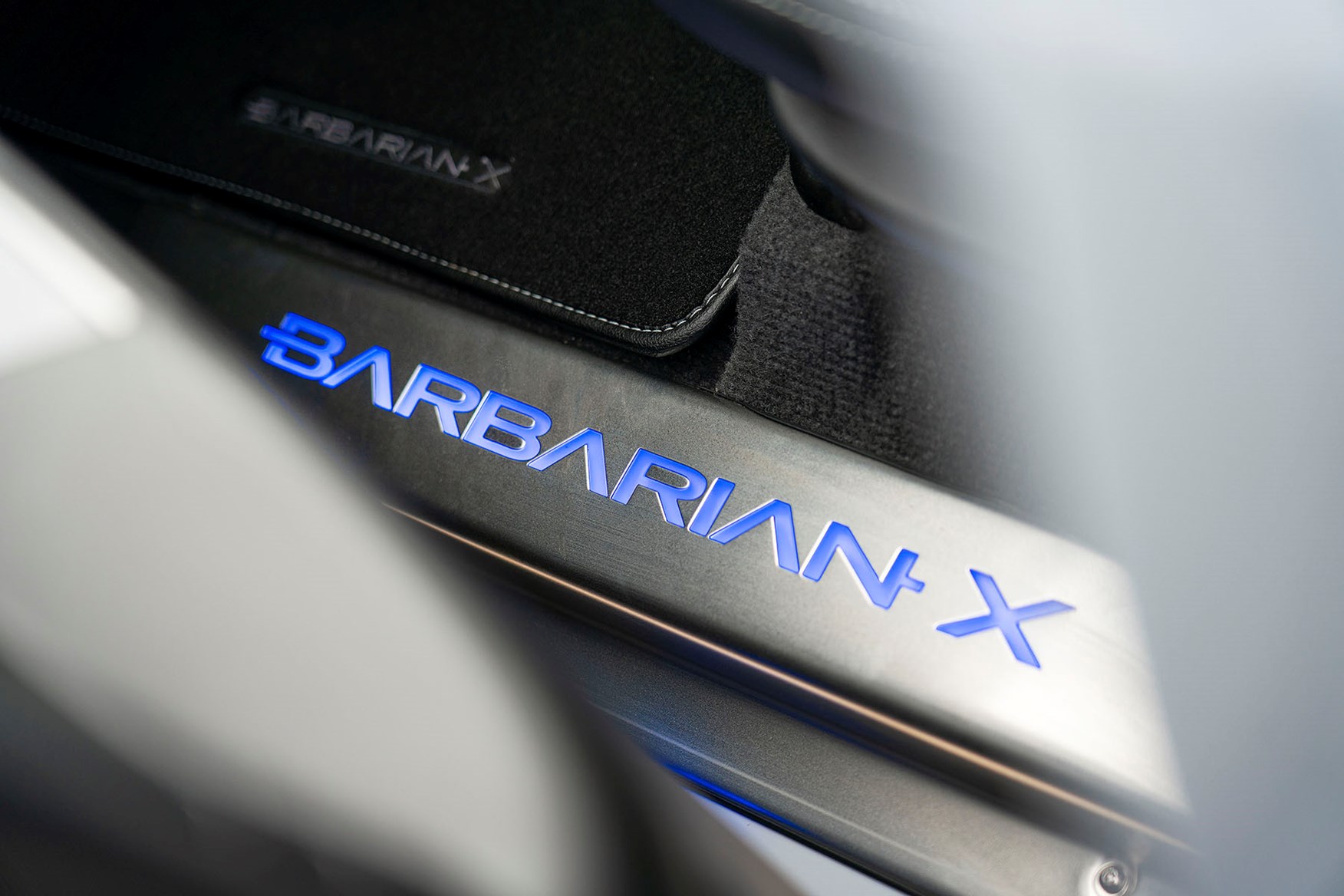 It's too early to judge this generation of L200's reliability, especially given the new engine.
But no serious issues have surfaced with past generations, other than a tendency for the interior to show excessive wear and the same problems with emissions control components that most used diesel vehicles will encounter.
Best safety kit on top models only
All versions get an alarm
There's lots of useful kit available here, but not all of it is standard.
Mitsubishi L200 safety equipment
Mitsubishi has given the L200 a comprehensive suite of standard safety features, including:
Emergency Stop Signal
Mitsubishi Active Stability and Traction Control
Trailer Stability Assist
Hill Start Assist
Seven airbags, including drivers' knee airbag
On Warrior models, these are further supplemented with:
Finally, the Barbarian X gains four further safety features:
Ultrasonic misacceleration mitigation system
Rear cross-traffic alert
360-degree surround view camera
Additional features on the L200 include LED headlights and day running lights on all but the 4Life, larger tail lights (again, LED on higher specifications), and the extra security in poor weather offered by full-time four-wheel drive.
Isofix points for securing child seats are provided on the outer rear seats.
Mitsubishi L200 security
Every L200 gets an alarm and immobiliser.
One point to note is that as supplied, the L200's tailgate doesn't lock – when fitting a cover for security, it's worth getting a locking kit as well.
Which Mitsubishi L200 (19-21) is best for me?
Given the mechanical similarity between L200 models, the only real decision is how car-like you want the equipment and convenience to be.
We'd go for the Barbarian as a great all-rounder, though the extra safety features and upgraded seats of the Barbarian X are very appealing and the Warrior provides strong value.