SsangYong Musso review (2016-on)
PROS
Extremely keen pricing
Four-wheel drive as standard
Five-year unlimited mileage warranty
Torquey new engine claims 40mpg
3.5-tonne towing, 1.0-tonne payload
CONS
Not very good to drive
Terrible ride comfort
Very small load area
Limited safety equipment
Cab not that practical
Summary
If the SsangYong Musso pickup looks vaguely familiar, that's because it's a renamed and remodelled version of the SsangYong Korando Sports that was first introduced to the UK in 2012.
Musso means rhino in SsangYong's native Korean; it's also a name previously given to a SsangYong SUV – which adds to the confusion but at least meant there were plenty of badges already handy for the changeover.
This version has been replaced by an all-new Musso pickup that first went on sale in 2018, but currently remains on sale while stocks last as a budget alternative to the latest model.
SsangYong Musso vs rivals
The Musso pickup went on sale in September 2016 and, as with the Korando Sports before it, is only available in a double-cab design.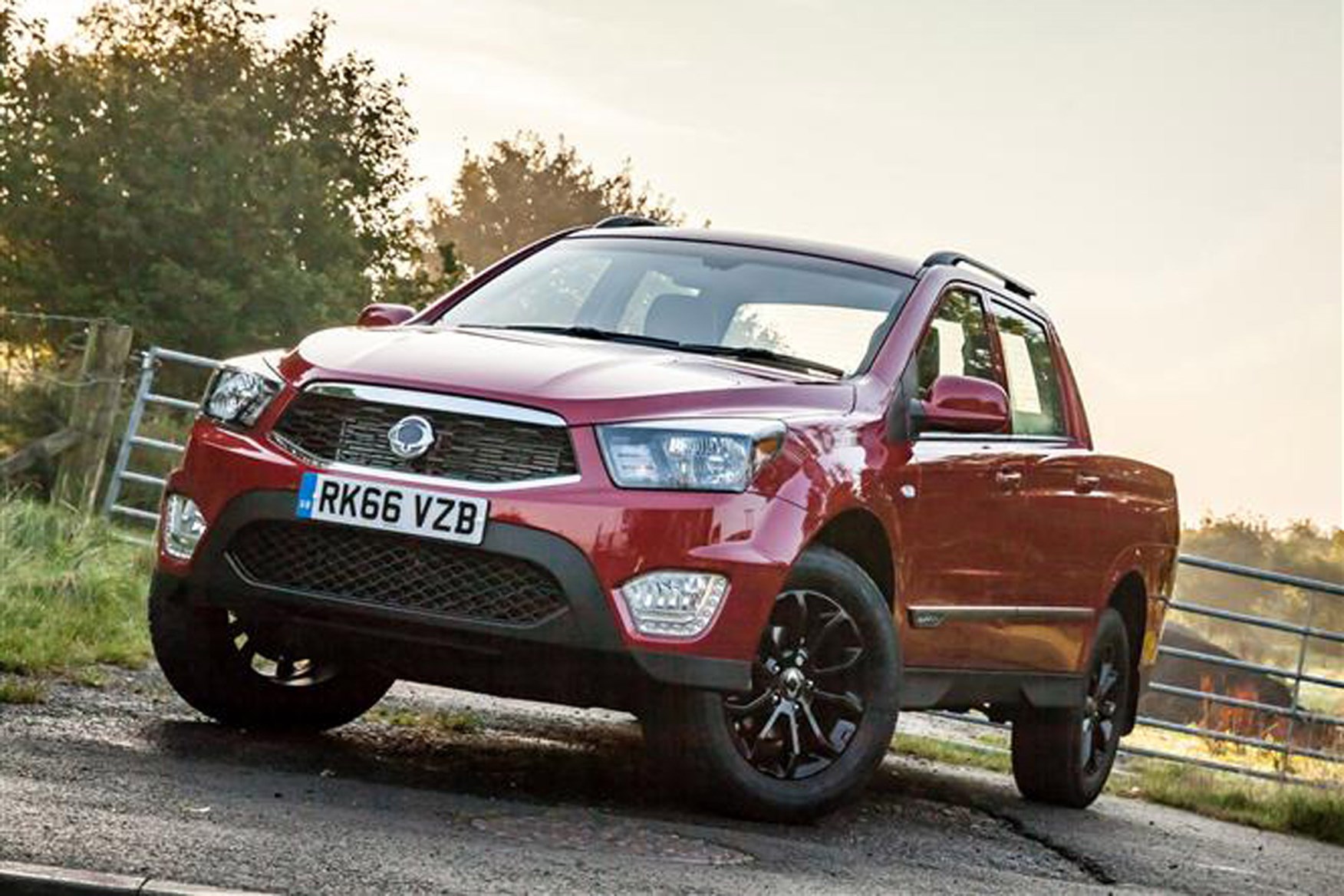 At under 5m long it's the most compact pickup currently offered to UK buyers – by some considerable margin while the Great Wall Steed remains unavailable – and as a result its load area is somewhat limited. Being around 400mm shorter than the latest Isuzu D-Max, Mitsubishi L200 and Toyota Hilux, it's not going to feature high on anyone's list if they're looking for maximum load-hauling practicality.
But with four doors, five seats, four-wheel drive, a one-tonne payload rating and a five-year, unlimited mileage warranty, all wrapped up in a choice of two generously-equipped yet keenly-priced trim levels, the Musso would appear to be a tantalising prospect for buyers searching for a low-cost "dual-purpose" machine.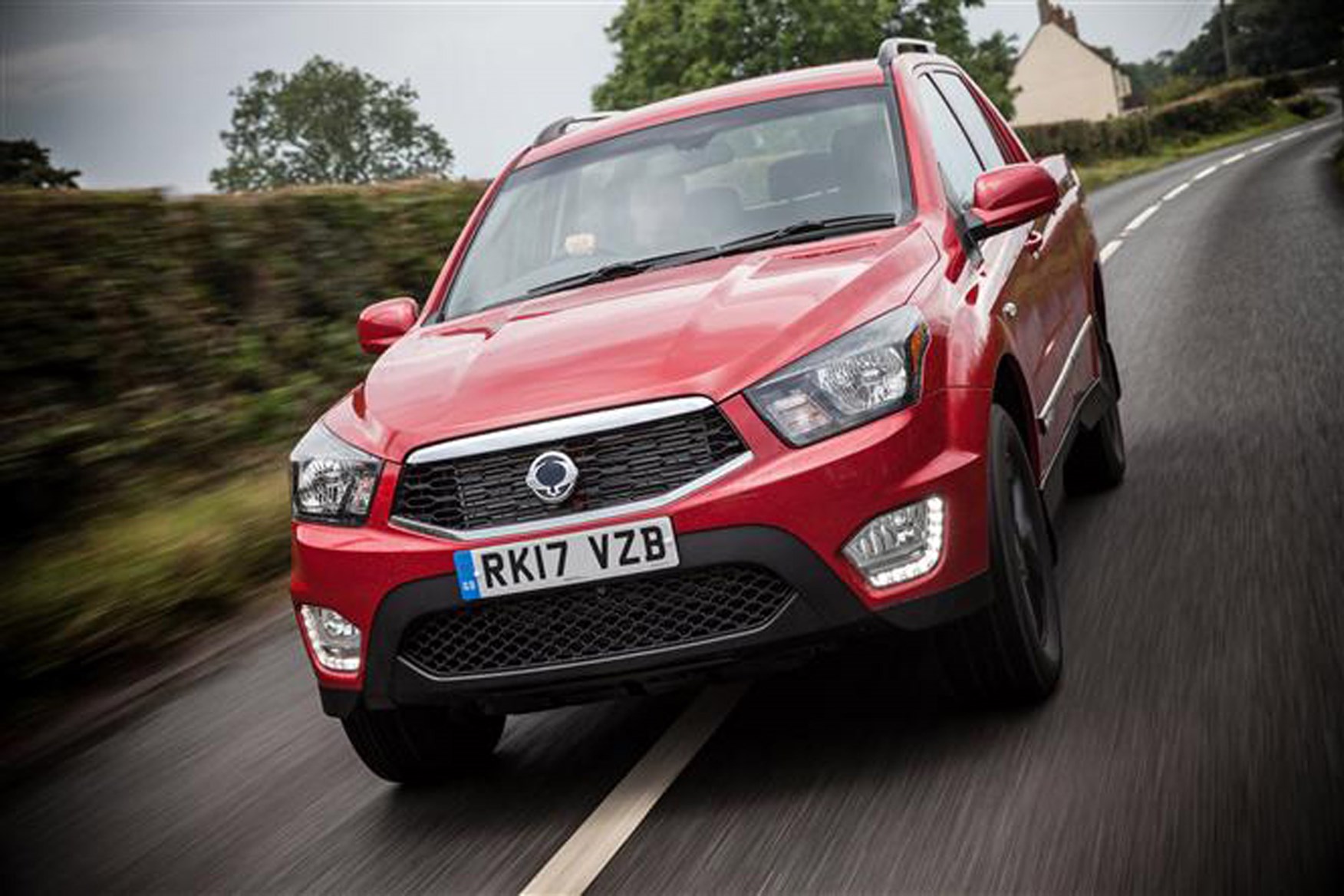 Something with a bit of sass that can still carry a couple of sheep if needs be.
Powerful new 2.2-litre engine
Better yet, alongside the made-over looks – which are slick enough in a slightly awkwardly-proportioned kind of way – the Musso has a larger engine, ditching the Korando Sports' old 155hp 2.0-litre turbodiesel for a brand new Euro 6-compliant 2.2-litre turbodiesel with 178hp and 400Nm of torque.
That's enough muscle to tow 3.0 tonnes, while the updated technology also improves fuel economy and reduces CO2. Selectable four-wheel drive and a six-speed manual gearbox are standard; a new six-speed automatic gearbox is optional on the EX. We've tested both transmissions here.
3.5-tonne towiing capacity
Following the initial launch in late 2016, in March 2017 SsangYong subsequently received Vehicle Type Approval from the UK's Vehicle Certification Agency to increase the Musso's maximum legal towing capacity to 3.5-tonnes (3,500kg).
This matches the very best in the sector, again adding to the Musso's impressive value.
Terrible to drive
That's the good news. The bad news is that as well as being the least practical pickup on sale, the Musso is pretty terrible to drive. The ride quality is particularly peculiar – and even though it uses a car-like multilink rear suspension design and coil springs (rather than more traditional leaf springs), it's still got a live rear axle.
Keep reading the Parkers Vans full review of the SsangYong Musso pickup to see whether its positive attributes are enough to offset the negative for your purposes.
Skip to our full verdict on...
We appreciate that the driving experience may not be a major priority for buyers looking for a budget pickup, but it should still be noted that the SsangYong Musso really does struggle in this area.
On the plus side, the new 178hp 2.2-litre turbodiesel engine is relatively refined: if you're just cruising along you'll hardly hear it, and it only really exhibits that classic diesel rattle if you've got it wound right round to the top of the rev-counter.
Plenty of power, limited feedback
More importantly, as the 400Nm torque rating suggests, it can cope with plenty of weight. We've tested it unloaded, with a hardtop, and with 600kg of bagged gravel on a Euro-pallet in the back – and it simply shrugged-off the latter. Though the optional automatic gearbox perhaps helped smooth out this difference, the Musso certainly isn't short of performance.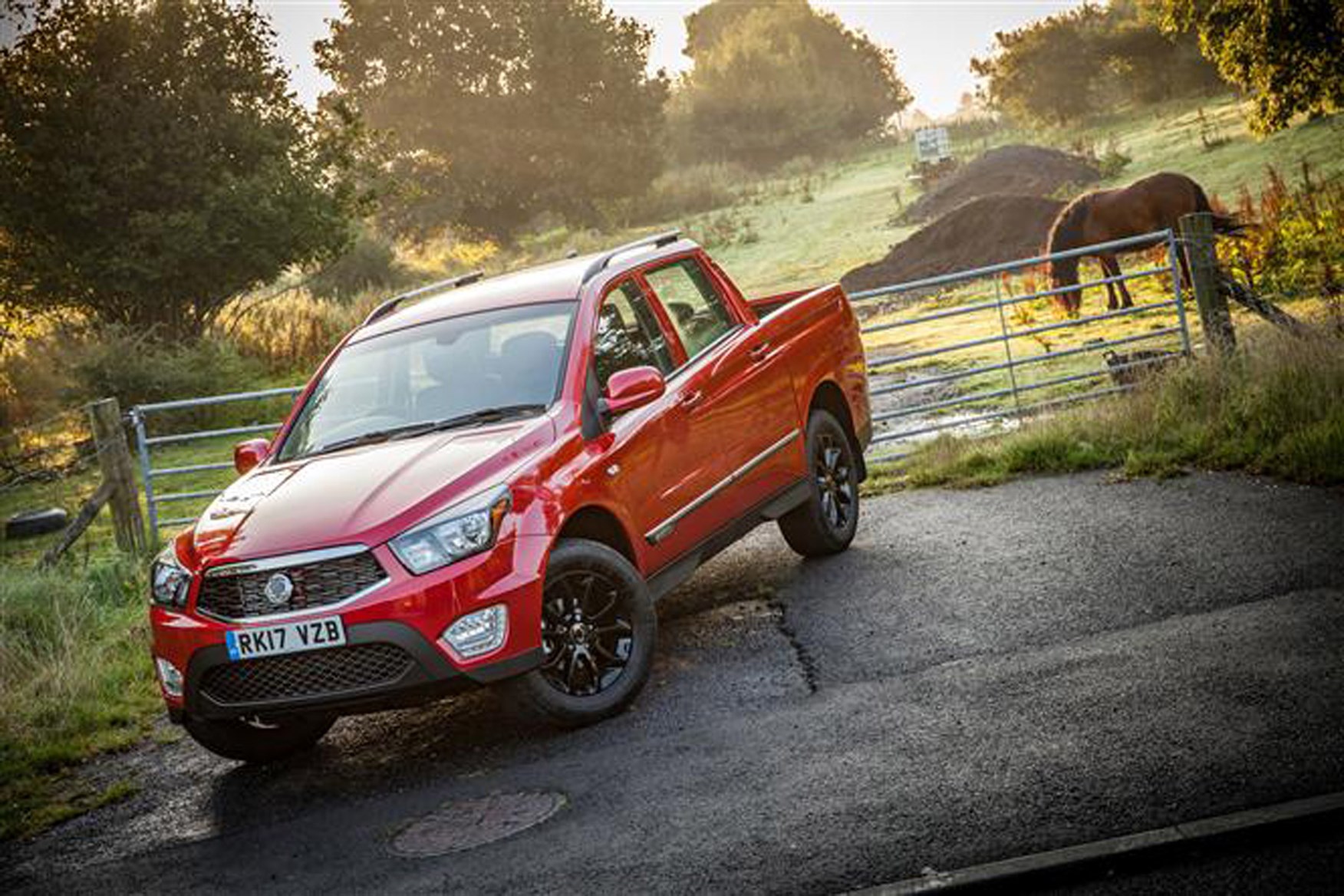 Unfortunately, it most certainly is short of feedback through the steering and feel through the brake pedal. You might not think this matters, but the steering issue makes it difficult to position on the road precisely – especially with the additional load, which increases the amount the Musso leans over in corners – while the numb brakes make it difficult to stop smoothly.
Very poor ride comfort
These are not the Musso's biggest problem, however. The Musso's biggest flaw is the way it rides. This is a strange mixture of wallowing softness yet sharp shuddery unpleasantness whenever the road surface becomes anything less than marble smooth. It's quite extraordinary to find yourself bouncing along as if on a waterbed, yet wincing whenever you encounter a bump in the road.
And this is at sedate, everyday speeds, not being driven like a rocket.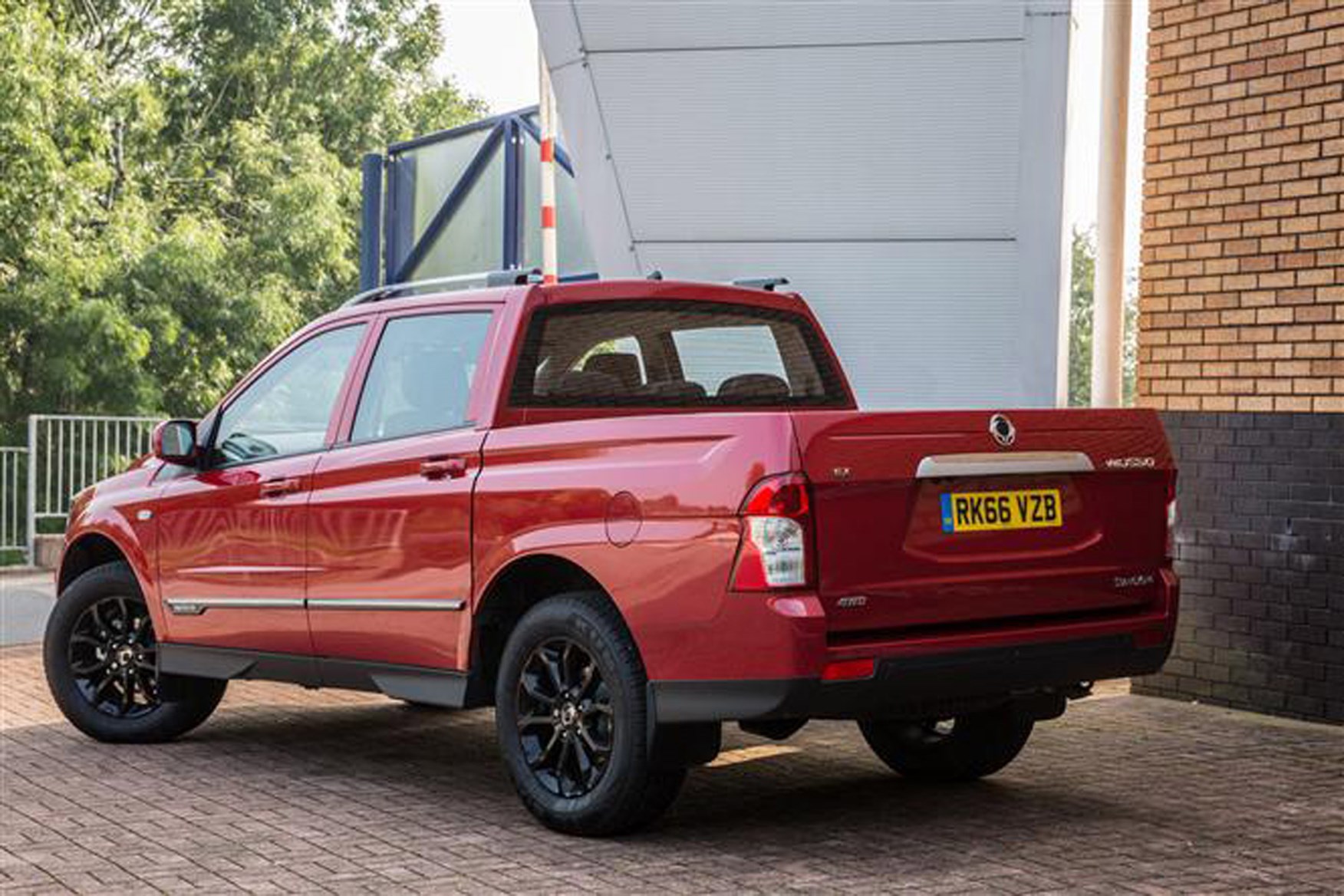 Just to quantify the shakiness – or prove you aren't imagining it – you can watch the manual gearlever vibrating almost constantly. Or if you're sat in the back (where the ride comfort is better, incidentally), with no-one in the passenger seat, you can watch that entire seat shaking about.
As you might expect, with 600kg onboard, the loaded example was slightly more settled. But we would still find it difficult to tolerate day-to-day, and regardless, it surely isn't practical to drive a pickup fully-laden all the time.
Choice of gearboxes
It's a shame, as SsangYong's commercial vehicle versions of the Rexton and Korando SUVs are more than acceptable to drive, and the standard six-speed manual gearbox is actually quite pleasantly engineered in the Musso. The optional six-speed automatic is smooth and changes gears rapidly under manual control, but is often indecisive when left to its own devices.
We have not yet tested the Musso off-road, but with electronically switchable four-wheel drive (two-wheel drive, plus high- and low-range four-wheel drive), it should cope with moderately rough stuff. The preceding Korando Sports was reasonably impressive in this area.
With no sidesteps and 195mm of ground clearance, it's a long way up into the Musso's cab (and therefore also an even more noticeably long way back down). Once on-board you'll find the interior floor is also quite high, resulting in a rather straight-legged seating position – making it a bit of a shame that there's no reach-adjustment for the steering wheel.
The steering wheel does adjust for height (rake), but only seems to lock into a limited number of positions within its arc. Despite this, at 5ft 11in we were able to make ourselves reasonably comfortable – just take your time on the test drive to make sure it's suitable for you.
New dashboard, clear instruments, limited practicality
The dashboard is completely new for the Musso, and has an attractive circular theme throughout. Though the materials aren't all the greatest quality, clearly some care has been taken to make this an inviting environment rather than a drab utilitarian one. The dials and controls are all very clear – although the angle of the indicator and windscreen-wiper stalks is unusually high, which may catch you out at first.
More of a shame is that some of the detailing hasn't quite been thought through – the off-kilter controls for the heated front seats (standard on the higher EX grade) and headlight level-adjustment on the centre console are likely to do your nut in if you're even slightly OCD. The door bins are also awkward to access, being narrow and impeded by the door panel armrests; in fact, if you're looking for lots of in-cab storage this probably isn't the truck for you.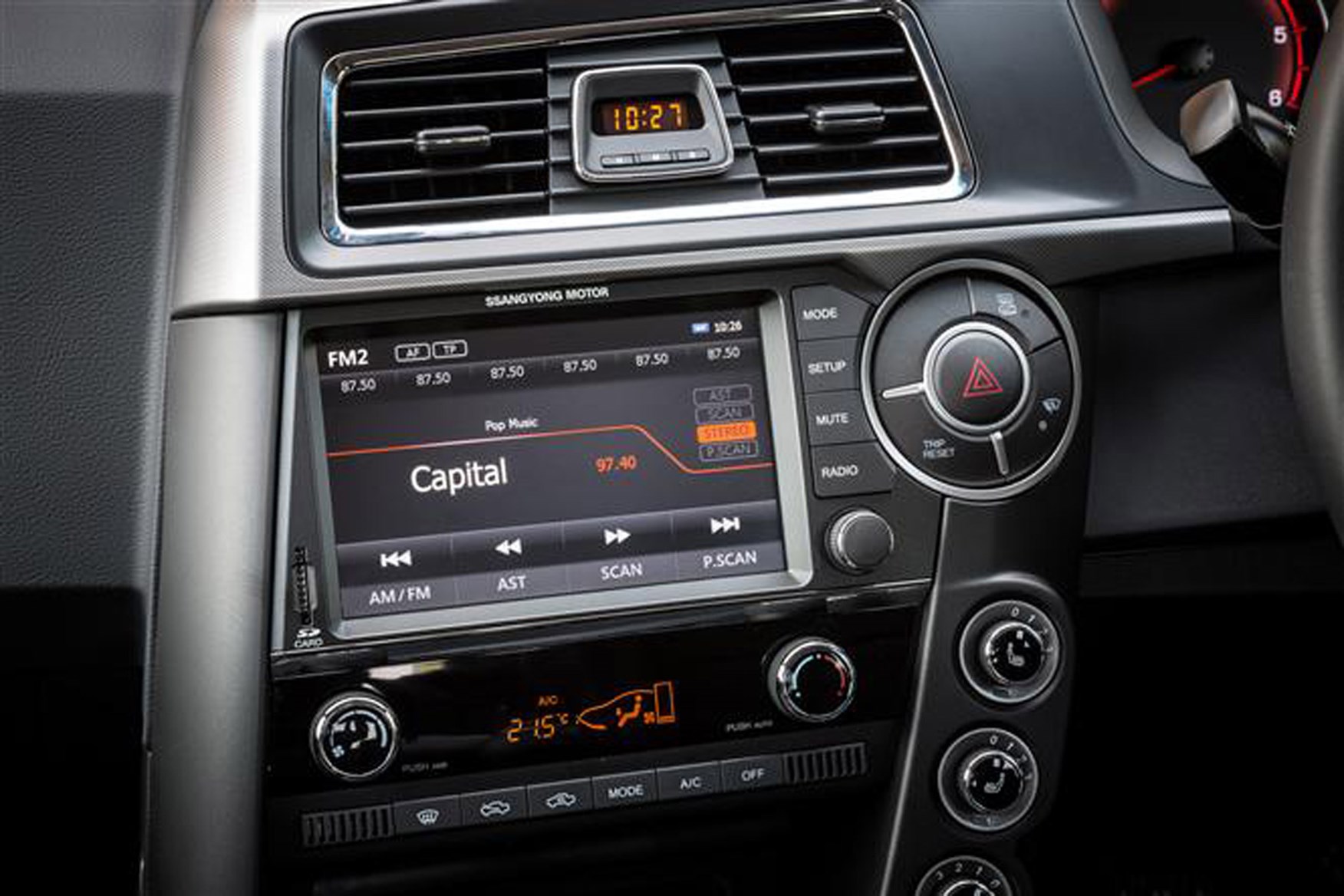 The rear doors are large which makes for easy access, but while the rear seat backs are comfortably angled and not overly upright as they are in some pickups, legroom is limited.
Standard equipment
The Musso SE comes with the following items of standard equipment:
Leather-look seats with driver lumbar support
Front and rear electric windows
Electric, heated door mirrors
Manual air-conditioning
CD player with iPod and Bluetooth connectivity
18-inch alloy wheels (silver) and full-size spare wheel
Loadbed liner
The Musso EX adds the following:
Leather seats with electric adjustment for the driver
Heated front seats
Power-folding mirrors
Automatic lights and wipers
Automatic air-conditioning
Seven-inch touchscreen with reversing camera
Gloss black 18-inch alloys
Roof rails
Sat-nav and DAB radio are available via an optional infotainment system.
The Musso is cheap to buy – and should be reasonably cheap to run.
For starters, it comes with a five-year, unlimited mileage warranty, covering all major mechanical and electrical components. The servicing intervals are relatively short, however, falling every 12,500 miles or 12 months – whichever is sooner. SsangYong doesn't have a huge number of dealers, but their coverage is growing, and costs are generally modest.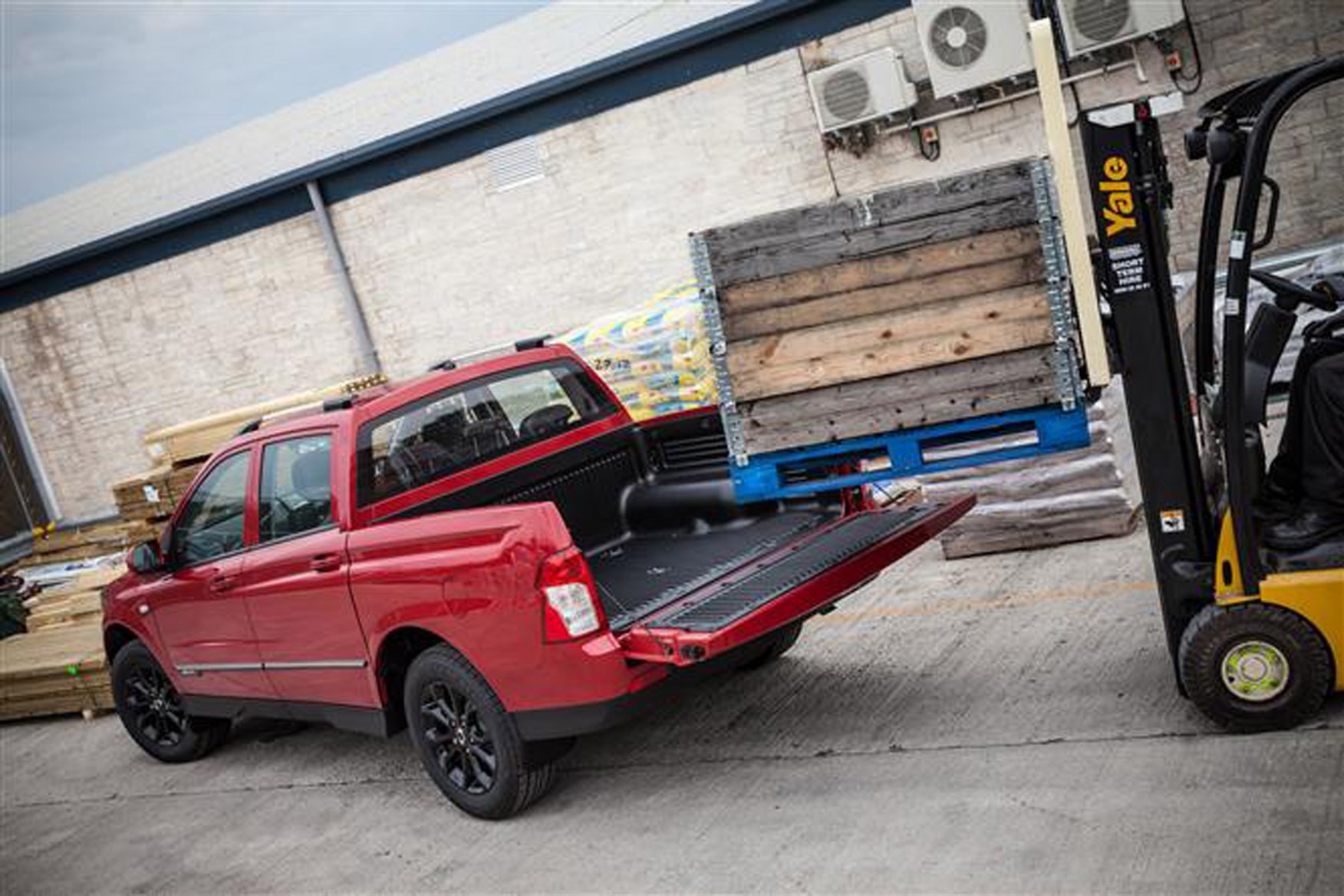 Similarly, the new engine might be larger than the old 2.0-litre unit in the Korando Sports but it's also more efficient, with claimed fuel economy now up to 40.0mpg for the manual gearbox, and 37.0mpg for the optional automatic. Anything in the 30s will be a good result in real life.
CO2 emissions are 186g/km for the manual, 202g/km for the auto. It meets the Euro 6 emissions standard without using AdBlue, so that's one less expense to worry about compared with some larger rivals.
SsangYong may be a small brand in the UK, but it has a reputation for producing robust products and, at least superficially, build quality seems to be improving with every new model.
The old Korando Sports pickup was by its most successful commercial vehicle, too, and appears to have proven durable. Since the Musso is largely the same underneath there is no reason to expect this new model to be any different.
However, the 2.2-litre motor is new to the pickup, and although it's also used in SsangYong's passenger cars, it was only introduced early in 2016 so at this stage we can't comment on its long-term reliability.
That said, the Musso's five-year, unlimited mileage warranty should offer reassurance against any uncertainty.
There's no Euro NCAP crash test score for the Musso (nor the Korando Sports), and it isn't available with any of the modern active safety aids some rivals are now fitting.
However, you do get dual front airbags (for the driver and passenger), active head restraints (aim to reduce whiplash in event of a crash), Anti-lock brakes with Electronic Brakeforce Distribution (EBD), and electronic stability control with anti roll-over protection.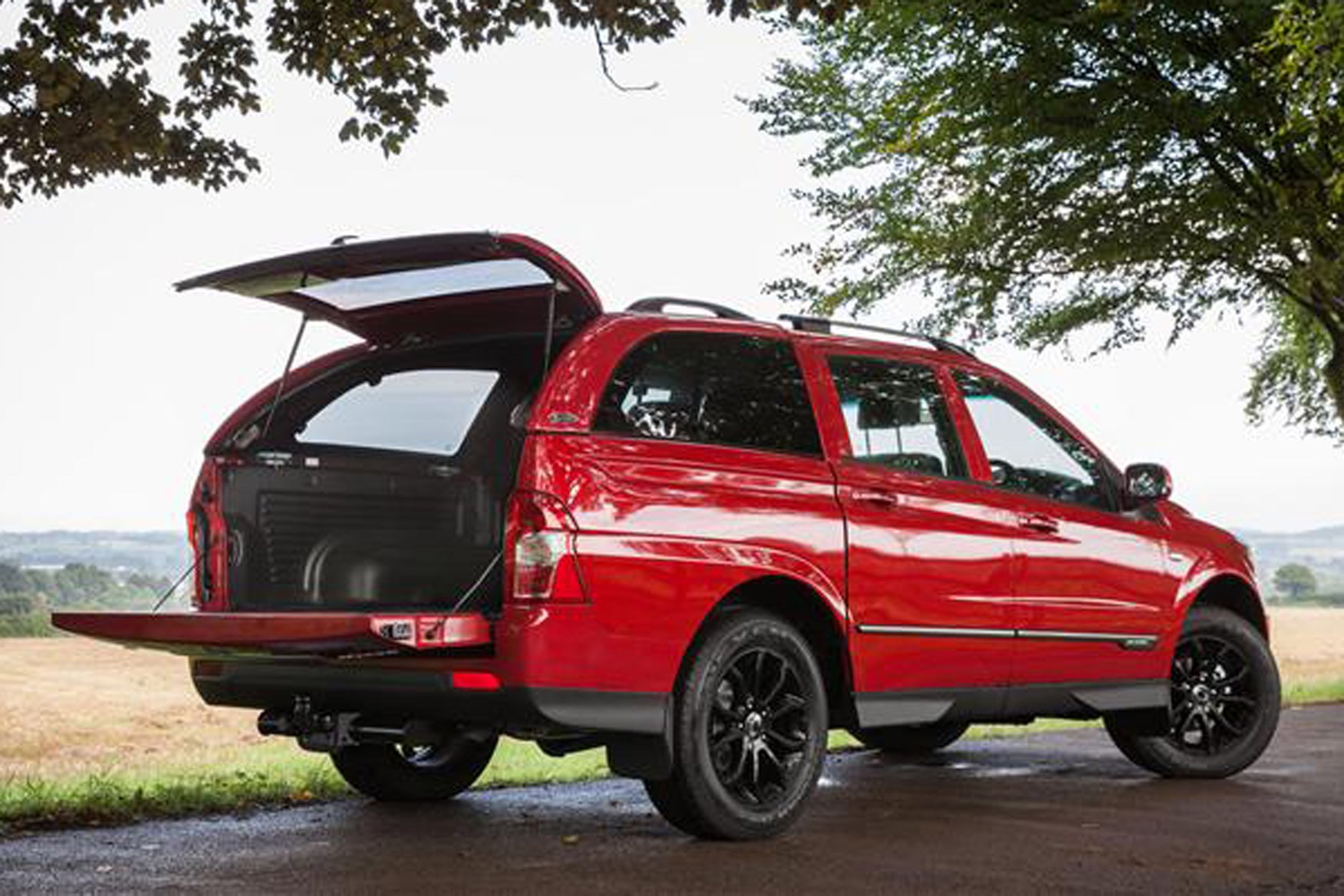 A reversing camera comes as standard on the higher-spec EX model.
Alarm and immobiliser as standard
On the security front, an alarm and immobiliser are fitted as standard, and the remote locking system includes the tailgate. SsangYong offers an optional hardtop or hinged chequerplate cover for the load area.
Which Ssangyong Musso (16-18) is best for me?