Mitsubishi L200 review (2015-2019)
Great value, strong performance and winner of the Parkers 2019 pickup award
PROS
Nimble driving experience
Responsive and frugal engines
Lots of standard equipment
Good off road
Great value for money
CONS
Limited Double Cab load area
Payload falls short of many rivals
12,500-mile service intervals
Not that stylish inside
Auto only has five speeds
Summary
We rate the Mitsubishi L200 Series 5 pickup so highly we named it Pickup of the Year in the Parkers 2019 New Car Awards. Watch our awards video below.
This L200 first went on sale in September 2015, as the first of seven new-generation pickups launched between 2015 and 2017. And it set the standard high, with impressive fuel economy, good off-road ability and a whole host of safety systems.
It was replaced by a heavily facelift model known as the L200 Series 6 in August 2019.
Mitsubishi L200 trim levels
The fifth-generation L200 comes in four standard trim levels:
4Life
Titan
Warrior
Barbarian
Each is well equipped versus Mitsubishi's rivals - which include the Isuzu D-Max, Ford Ranger, Nissan Navara and Toyota Hilux - making great value one of the L200's strongest attributes.
As with most pickup manufacturers, Mitsubishi is fond of regular special editions. Recent examples include the SVP and SVP II, the Barbarian Black, and the Challenger.
The L200 also forms the basis of the Fiat Fullback pickup.
Mitsubishi L200 body styles and engines
The L200 was initially only available in the popular Double Cab bodystyle, meaning four doors, five seats, and a smaller load area.
However, in August 2016, Mitsubishi added Single Cab and Club Cab variants in basic 4Life specification, targetting buyers who need a working truck rather than the lifestyle crowd.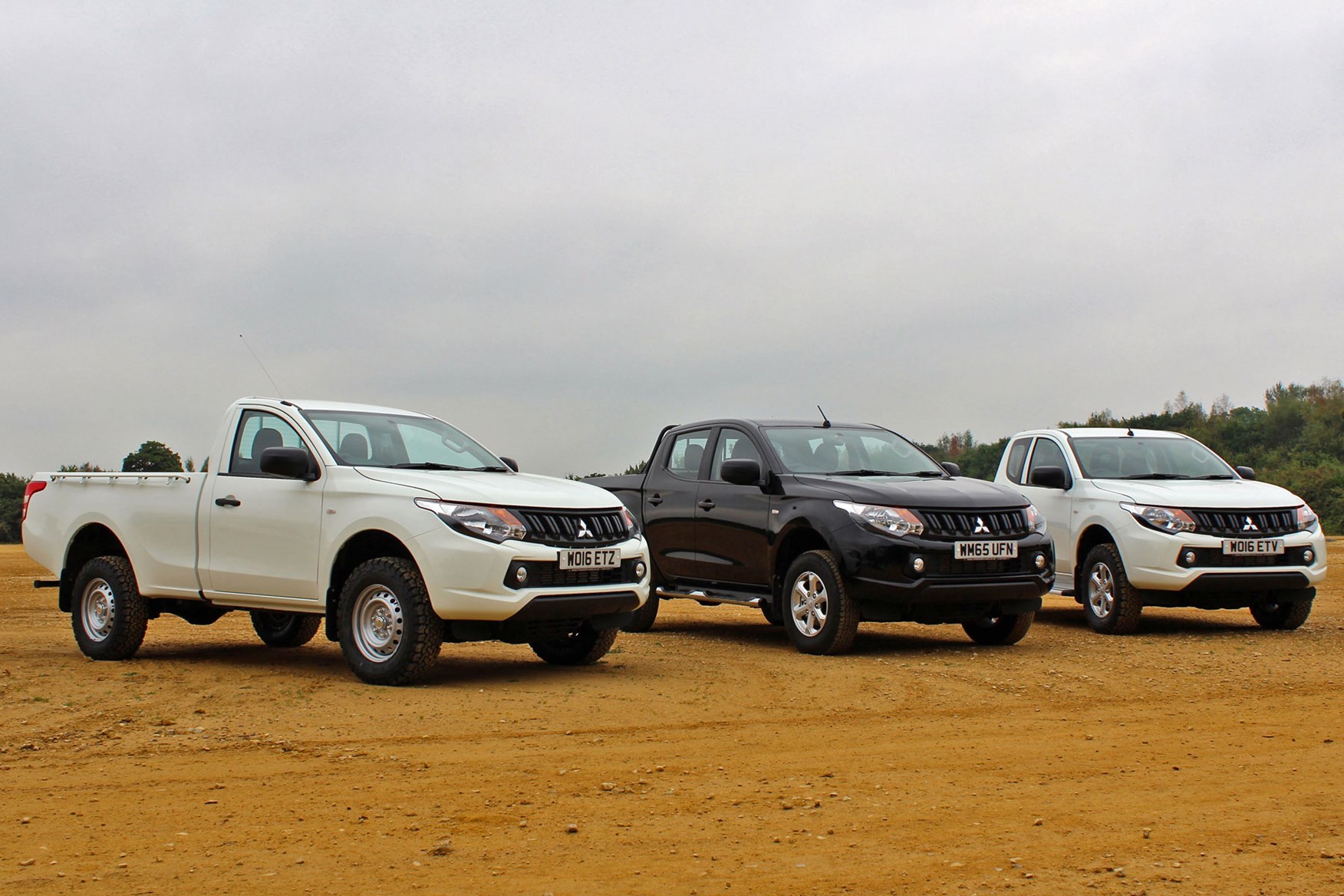 At the same time, Mitsubishi announced an upgrade to the L200's 2.4-litre turbodiesel engine, bringing it in line with the initial Euro 6 emissions requirements.
This had no impact on the engine's power output. An all-new motor at the L200's launch in 2015, this continues to be sold with 154hp / 380Nm in low-power guise and 181hp / 430Nm as a high-power version.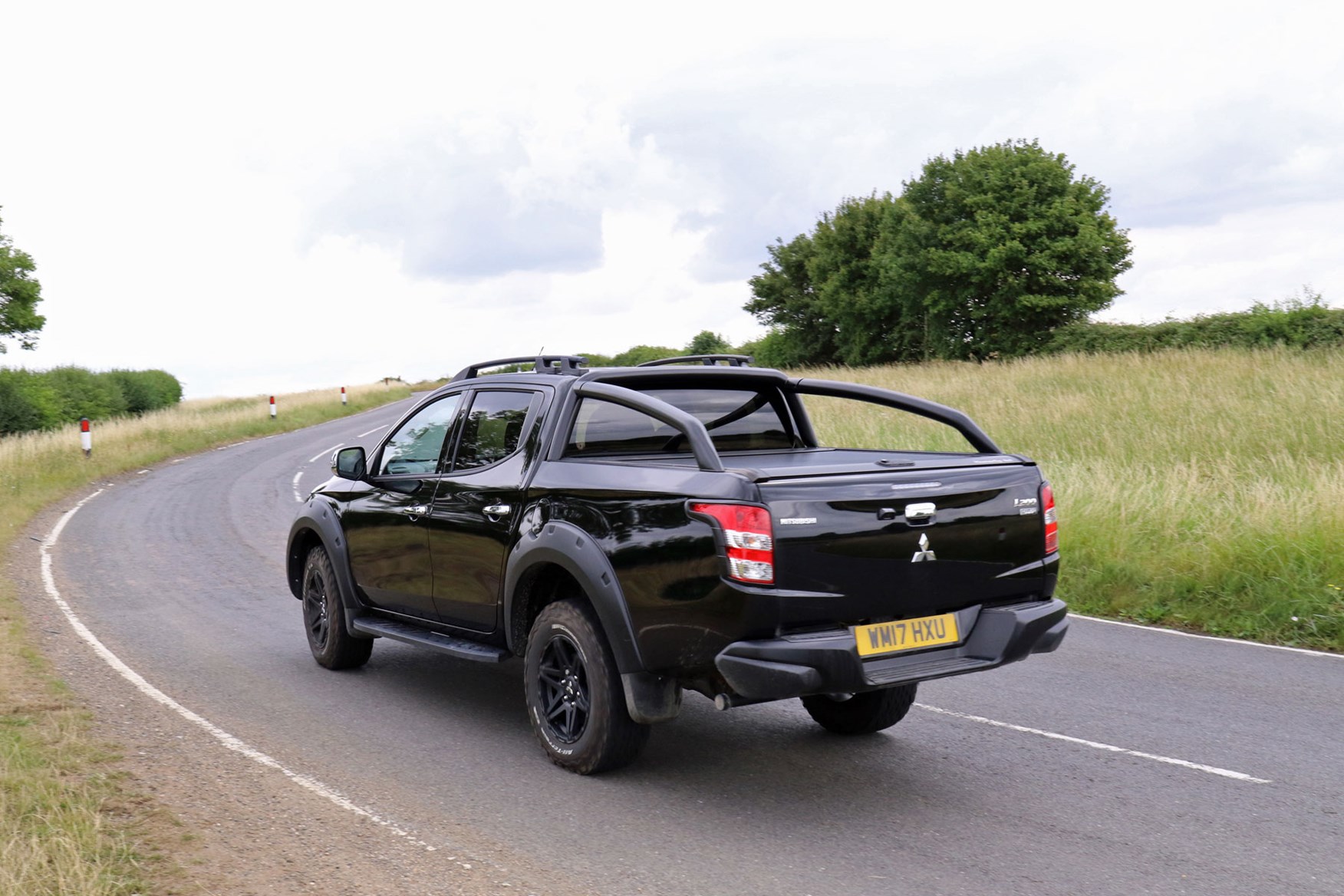 Both engine variants offer sprightly performance thanks to the L200's relatively light weight, and refinement that makes them easy to live with.
A six-speed gearbox is standard, a five-speed automatic is optional.
Upgrade to 3.5-tonne towing capability in 2018
There was a further upgrade in January 2018, when Mitsubishi announced it had re-engineered the L200 with additional chassis reinforemcent to increase the towing capacity from a limited 3.1 tonnes to a best-in-class matching 3.5 tonnes.
The nature of its 4x4 system also means this made it the only pickup on sale in the UK able to tow 3.5 tonnes on tarmac in both two-wheel drive and four-wheel drive modes.
---

Mitsubishi L200 verdict
A relatively compact pickup by modern standards, the L200 is nimble to drive with a turning circle better than most and plenty of poke from its 2.4-litre turbodiesel engines. It performs well on and off road.
Keen pricing and lots of standard kit make it a great choice for those who are looking for maximum value for money, and following the 3.5-tonne towing upgrade in 2018, it was voted winner in the pickup category at the 2019 Parkers New Car Awards.
While the load area is small and maximum payload rating falls far short of the strongest competitors, great value means it's definitely one for your shortlist.
Keep reading for the full review of the Mitsubishi L200 Series 5 pickup truck, or view our dedicated L200 Dimensions page
Skip to our full verdict on...
Powerful engines deliver keen performance thanks to light weight
Five-speed auto out-classed by rivals, but 4WD works well
Strong off-road performance, despite limited ground clearance
Powering the Series 5 Mitsubishi L200 is a 2.4-litre turbocharged diesel engine made largely from aluminium, which is still relatively unusual for a pickup.
It comes in two power outputs:
154hp / 380Nm
181hp / 430Nm
Fitted with a variable geometry turbocharger, this is an impressively responsive engine and, helped by the pickup's relatively low weight, the higher-output 181hp L200 goes 0-62mph in a competitive 10.4 seconds.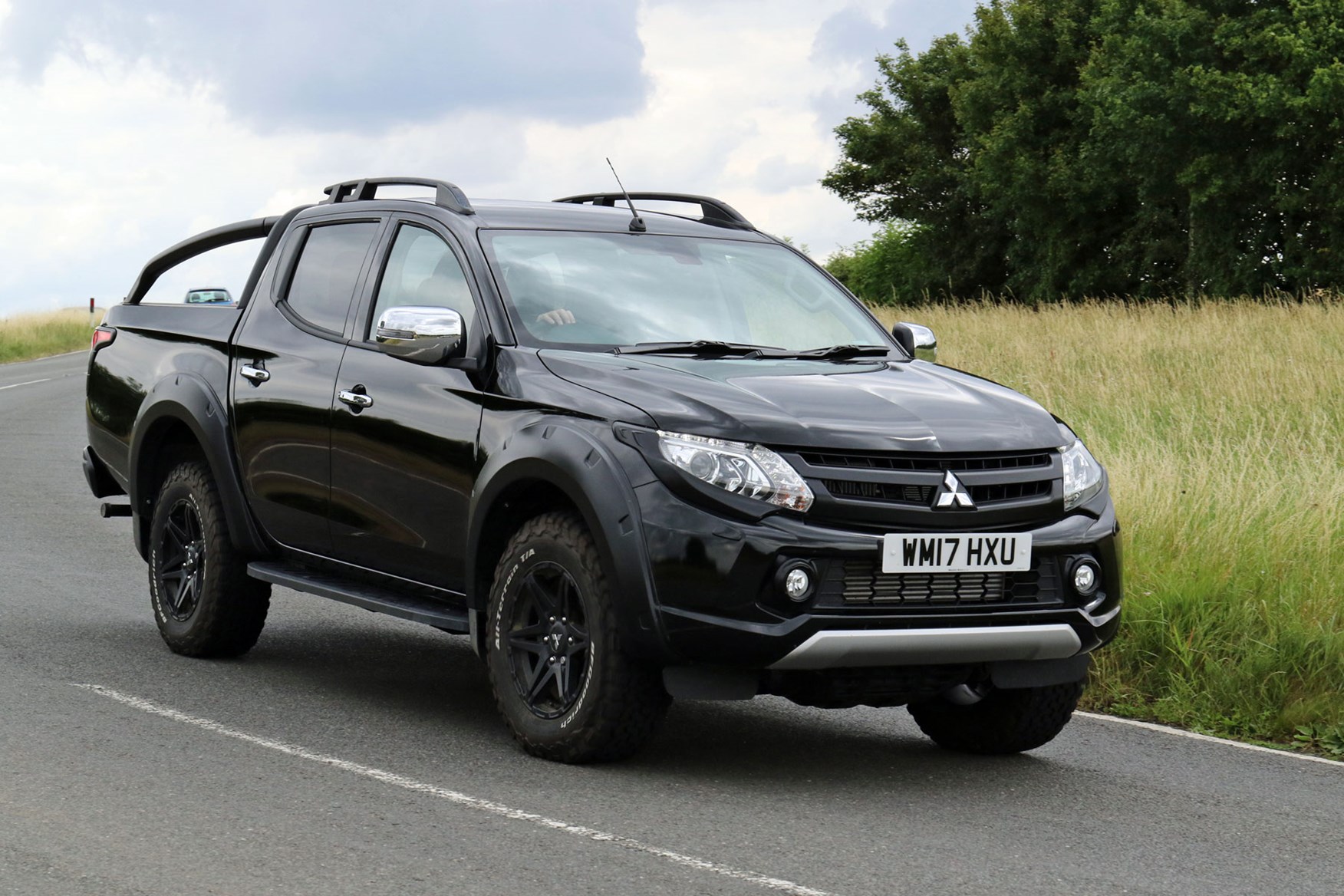 All versions have a six-speed manual gearbox as standard, while the Warrior and Barbarian Double Cabs are available with an optional five-speed automatic.
Drives like... a pickup...
The L200 has always been quite utilitarian to drive, and during our early encounters with this model we found a number of recognisable characteristics carried over from the previous generation, including a notchy gearchange and noisy engine.
However, subsequent examples tested have proved better in both regards.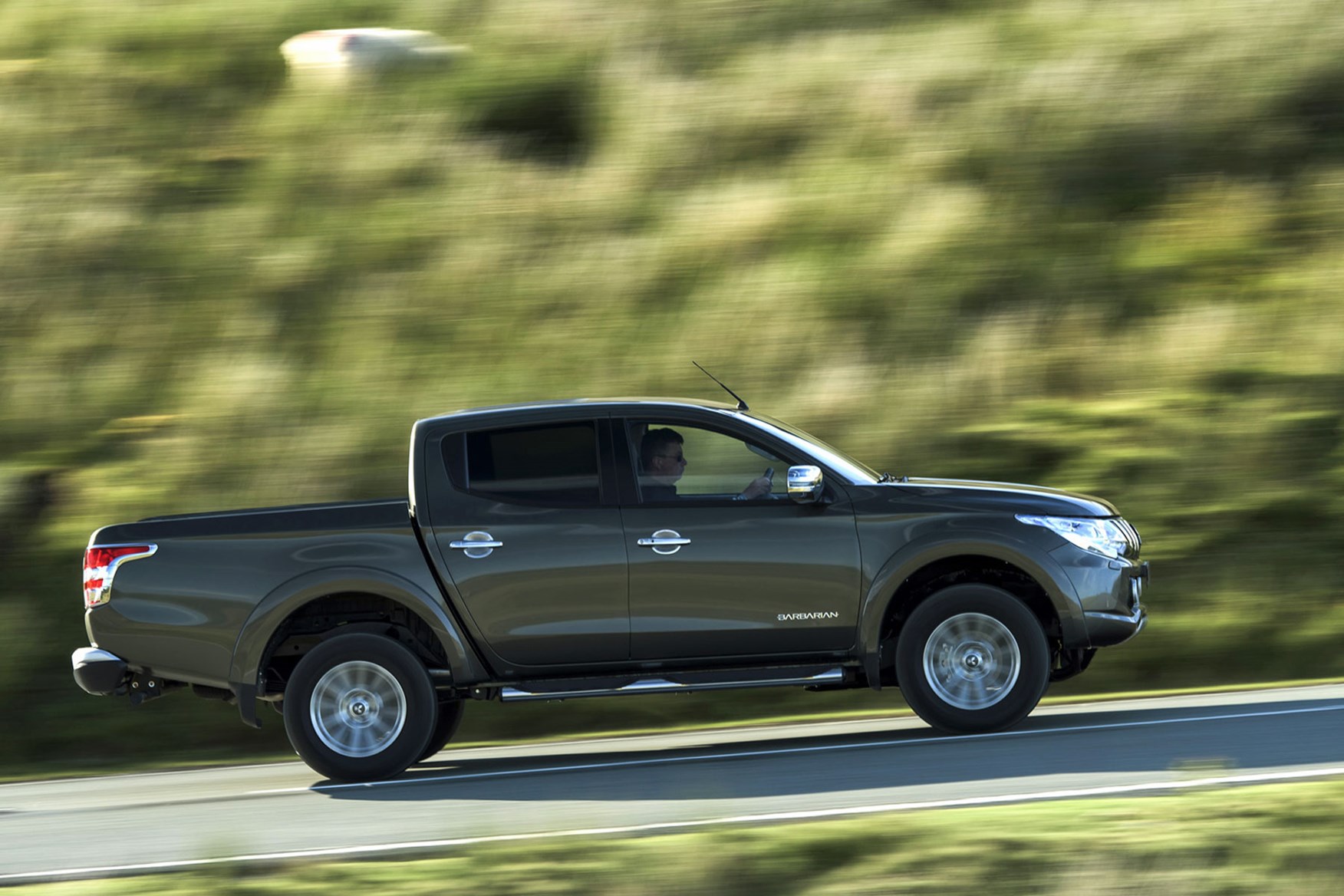 The optional automatic is relatively smooth, and comes with paddleshifters and a sport mode. But it can be hesitant and with just five ratios can be quite noisy on the motorway. This is one area where the L200 certainly lags behind rivals, with many offering seven- and eight-speed automatic options now.
...but actually quite a good pickup
There are also areas of definite improvement. The Mitsubishi is a lot more agile now, with a tighter than average turning circle for a pickup.
The steering is precise, and the L200 is keen to change direction, with plenty grip at the front to follow this through.
It also feels more composed and refined on the road, while increased structual strength aids stability. The amount of road noise has been dramatically reduced, as has the body roll generated in the corners.
Choice of four-wheel drive systems
There are two four-wheel drive (4WD) systems available on the L200:
Easy Select on 4Life models
Super Select II on the Titan, Warrior and Barbarian trim levels
Both versions feature electronic rather than mechanical activation controls for the first time.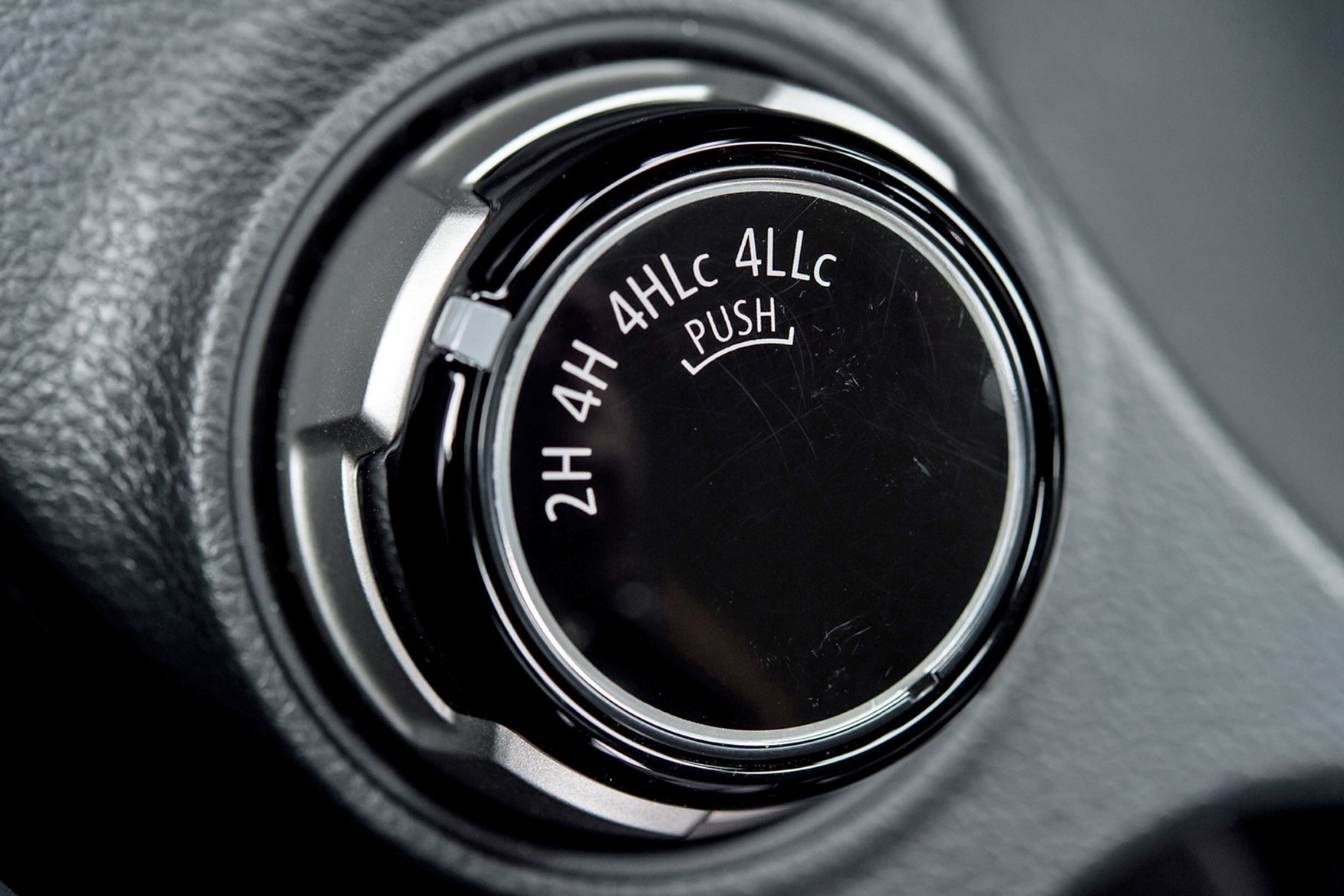 Easy Select has three settings; 2WD High, 4WD High and 4WD Low, while the Super Select has the extra 4WD High with centre differential lock.
The centre differential is useful, as it allows the L200 to be driven on the road with four-wheel drive engaged, something only the expensive VW Amarok and top-spec Mercedes X-Class V6 also offer.
Is the L200 good off-road?
Yes. The Mitsubishi L200 has always performed very strongly off road, and the fifth-generation model is no exception.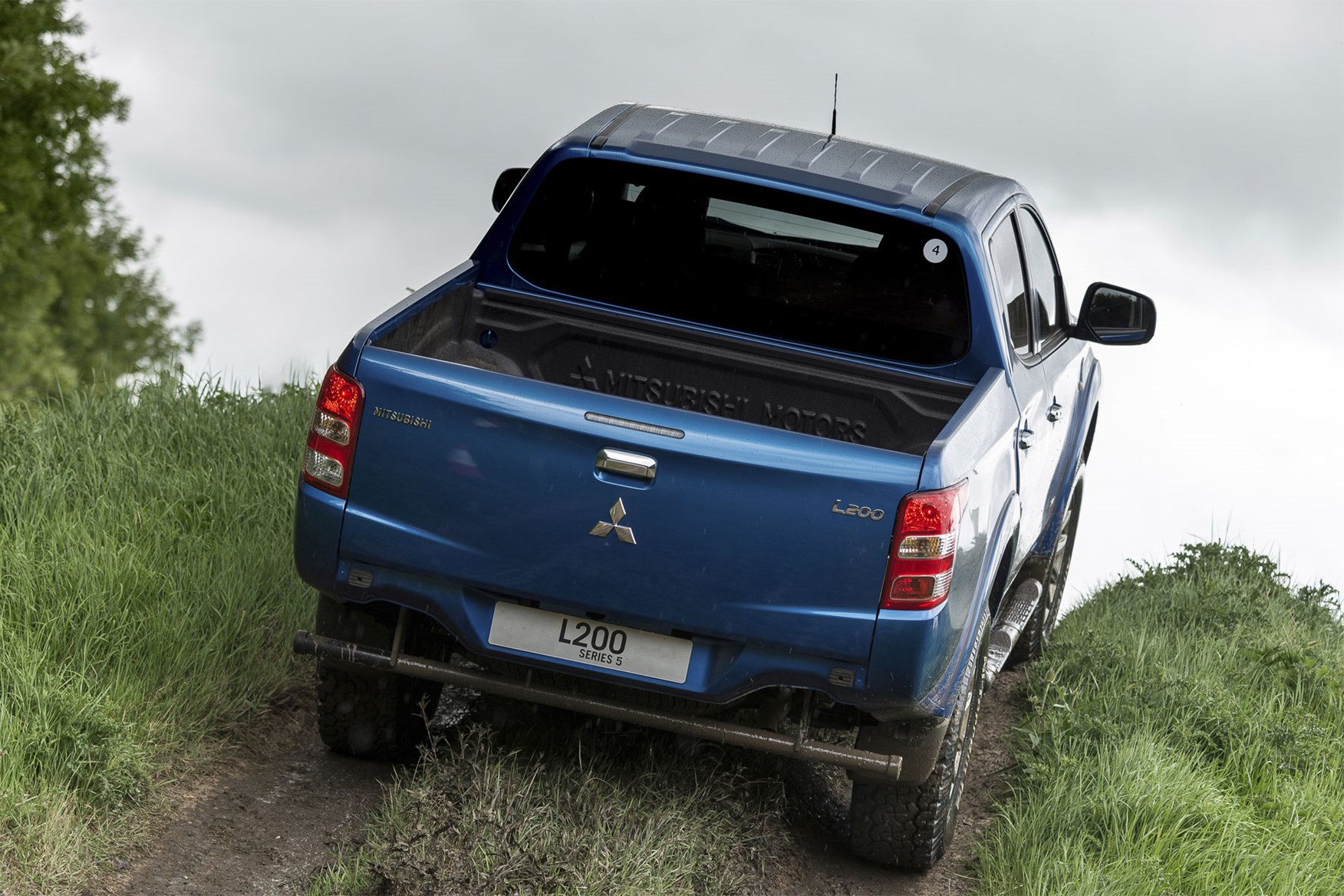 We are particularly impressed with the smooth torque delivery at low speeds, which makes short work of claggy mud and uphill slopes.
The low-range mode for the four-wheel drive also provides great control going downhill – simply put the L200 into first gear, bring the clutch up, and then take your feet off all the pedals for a nice controlled descent.
So while there is no high-tech hill descent control, we found that the engine braking was more than up to the task of keeping things controlled on a 35 degree descent without the need to apply the footbrake.
Ground clearance is rated at 200mm, while the breakover angle is 23 degrees – not bad, but could be better if Mitsubishi hadn't elected to fit side steps as standard on every model, even the working spec 4Life variants.
The approach angle is 30 degrees and the departure angle 25 degrees, but on ly on models where the rear of the vehicle is protected by a simple bash bar rather than a full bumper. On Double Cabs fitted with the rear bumper the departure angle is reduced to 22 degrees.
Also useful off-road is the L200's 5.9m turning circle. That's impressively manoeuvrable for a pickup, but you may still have to take more than one stab at particular tight cross-country corners, and the rear overhang can still catch you out if you aren't paying attention.
Plain but easy to use dashboard design
Good visibility
Improved touchscreen from 2018
Accessing the cab is a lot easier than it was in the previous L200 thanks to the side steps that are standard on all but the Single Cab; Double Cab models get remote keyless entry right across the range, too.
Uninspiring but comfortable inside
Considering the advances made elsewhere on the Mitsubishi L200, the interior is a rather uninspiring design. We'd even argue it looks more dated than its predecessor thanks to the boring square buttons and general lack of style.
Nevertheless, the cab is comfortable, with a smaller steering wheel than the previous model that's now rake adjustable, plus a six-way adjustable driving seat with memory foam cushion and increased travel to accommodate taller drivers.
There are also steering wheel-mounted controls and good all-round visibility thanks to the short and low dashboard and large rear window. Fancier versions get a touchscreen infotainment system, though in pre-2018 cars you may find this rather fiddly to use.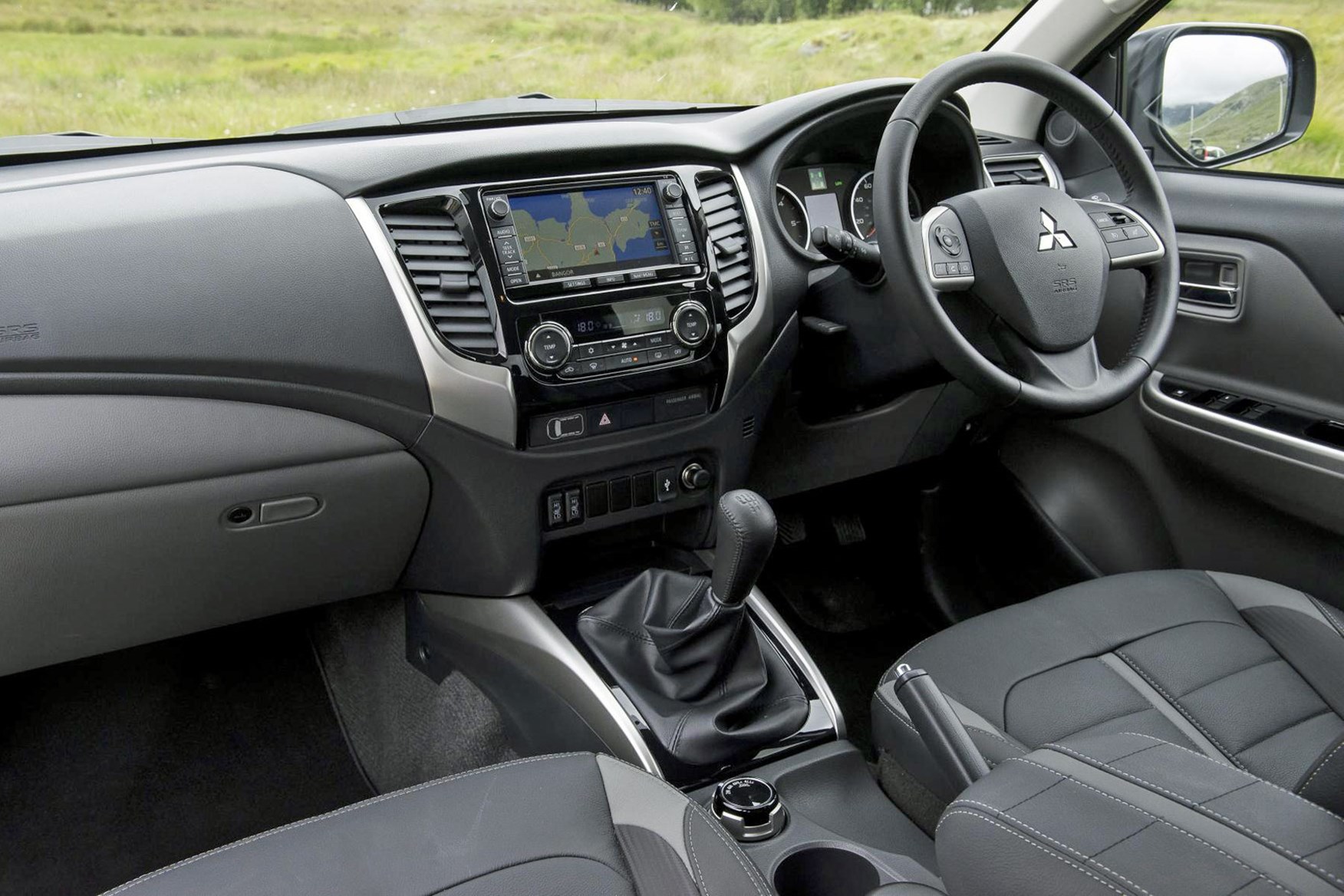 Regardless of year, in-cab storage is a bit of an issue, with only a limited number of covered compartments around the interior. This isn't particularly unusual for a modern pickup.
Mitsubishi L200 rear seats
Double Cab models have a spacious rear seat, which should be comfortable for most adults (although the rear middle seat certainly isn't a comfy as the two outer ones).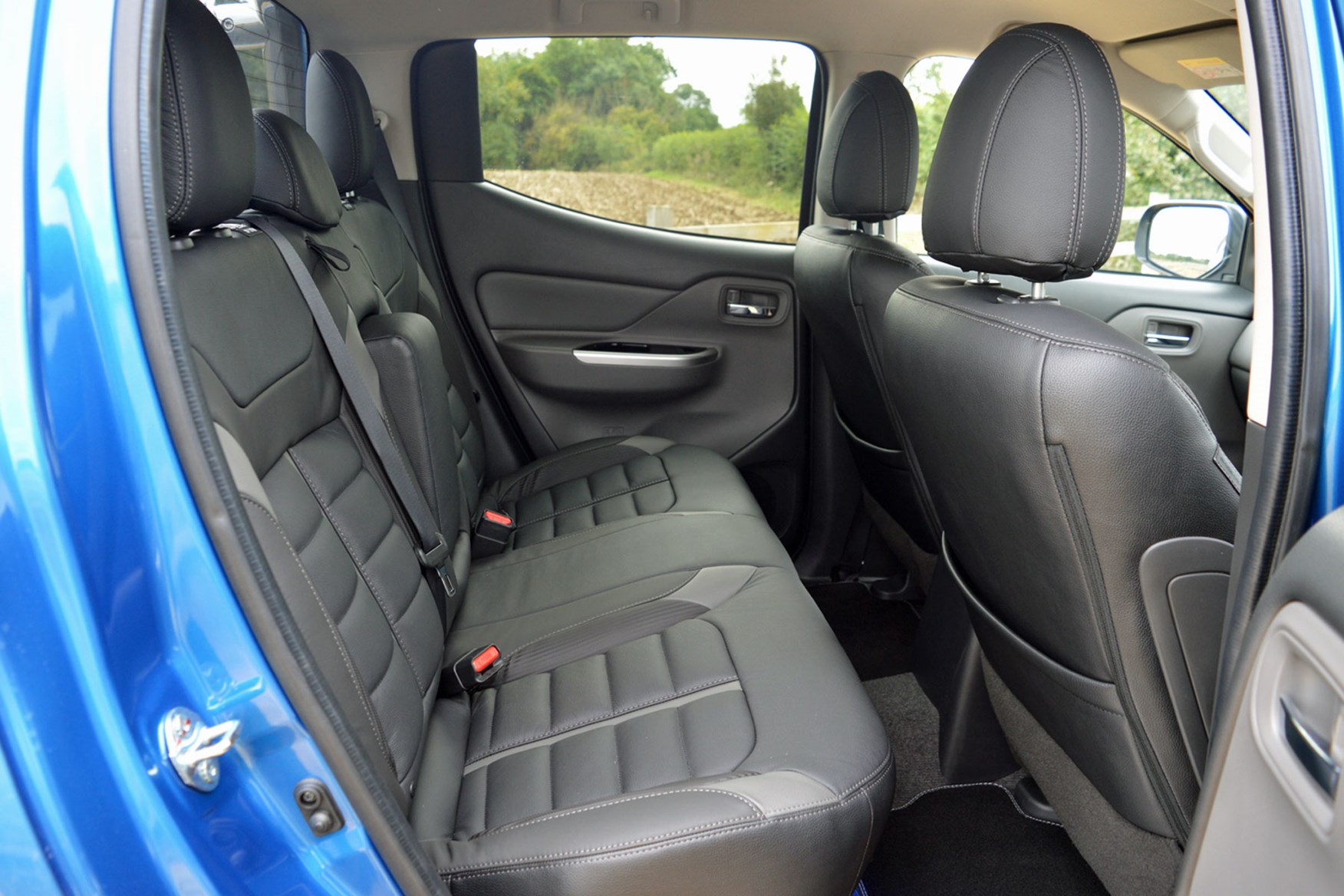 In Club Cab models, the rear seat is intended more for occasional use, and won't be ideally suited for longer journeys. Single Cab L200s have no rear seats at all, as you'd expect.
Not much storage space
Storage space around the cabin is not that generous, with a deep, but not particularly well trimmed cubby under the plastic armrest (Barbarian models get leather trim here) and cupholders in the centre console.
Ahead of the gearlever, there's a box with a rather permanent-feeling plastic cover; this is designed to be unclipped and your smartphone charging cable coiled underneath. The box itself isn't big enough for the latest bulky iPhones and Android devices, though, and access is slightly hampered by infotainment ports sharing the opening.
Glovebox capacity is acceptable, and the door bins are capable of taking a 1.0-litre bottle plus oddments. There are no small boxes in the dash itself, though, and anything in the door pockets causes an annoying buzz due to the lack of soft trimming and proximity of the main speakers. A roof-mounted sunglasses pocket makes up for the lack of smaller stowage spaces lower down.
Reasonably sized pockets feature in the rear doors, and rear passengers will find a centre armrest with cupholders and map pockets in the seats. Smaller rear passengers are provided for, with Isofix points on the outer pair and top tethers behind the seat – this area also provides a useful carpeted space behind for tools or emergency items.
A-pillar grab handles for both passenger and driver are provided, making the climb up to the cabin somewhat easier.
2018 Mitsubishi L200 interior upgrades
Alongside the improved towing capacity (increased from 3.1 to 3.5 tonnes), Mitsubishi also introduced a new infotainment system for 2018, fitted as standard on the Warrior and Barbarian trim levels.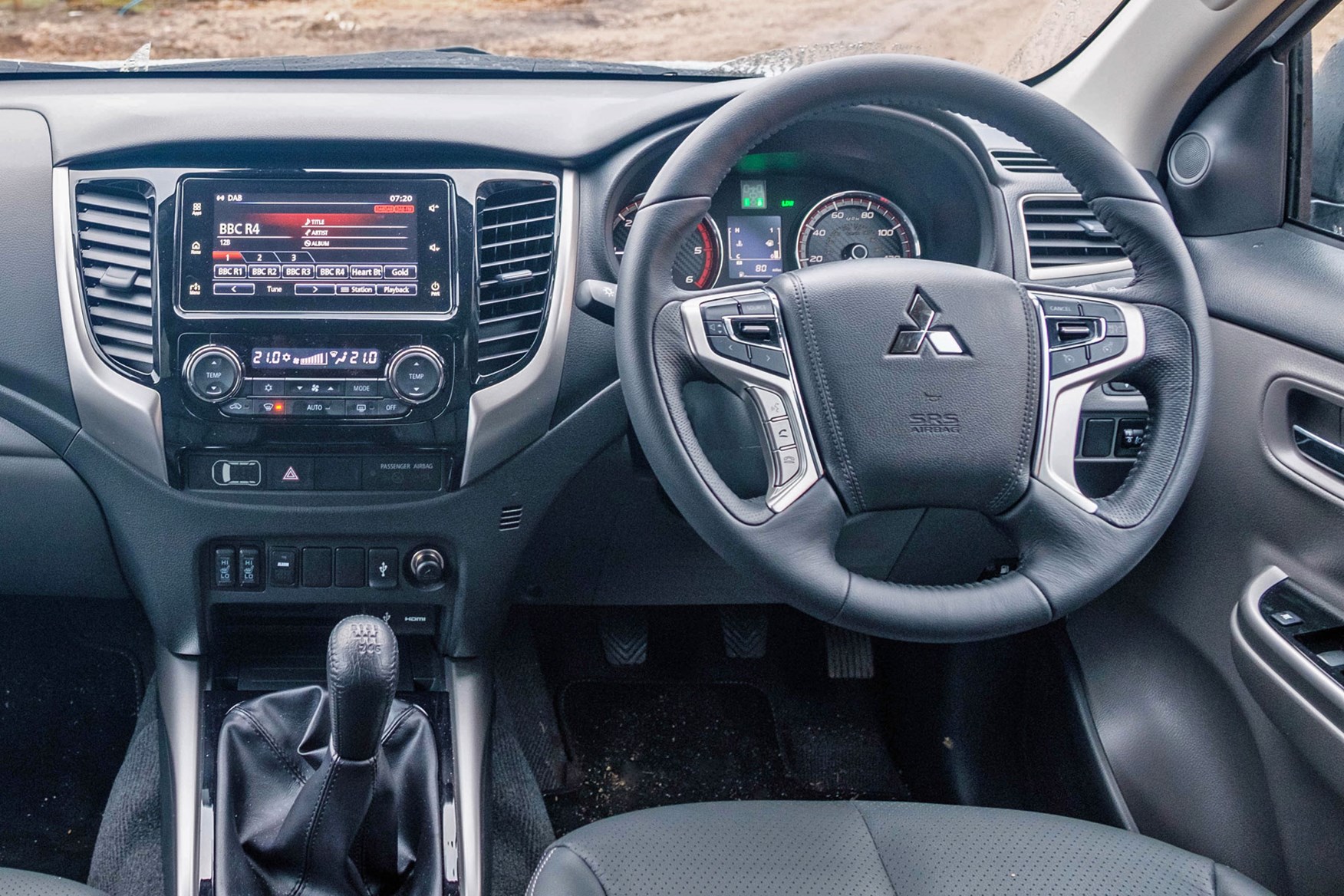 Called Mitsubishi SDA - which is somehow short for Smartlink Phone Display Audio - this not only features a much nicer touchscreen user experience, but also includes Apple Carplay and Android Auto for more convenient phone connectivity on the move.
There's no CD mechanism, but two USB ports feature; one in the usual spot below the heater controls, and one in a new location in the box ahead of the gearlever. Video input is also possible via HDMI, though playback is restricted to when the vehicle is parked.
You can have smartphone navigation and a USB device with music on at the same time. This effectively replaces the Mitsubishi system's ability to connect an iPhone via USB and leave an SD card of music in the device; if you prefer using an Apple device for music, and want Waze navigation via Android Auto, Mitsubishi provides.
It's not all good though – the handsfree system is still pretty awful and uses the passenger side speaker for audio output; something that could easily be changed in software but appears to be hardwired, and the changes mean if you don't have a smartphone or music on USB storage, you're limited to the FM/DAB radio.
For full details of Mitsubishi L200 standard equipment, see the Costs and Value section of this review.
Inexpensive to buy and to run
Lots of standard equipment
Five-year warranty
Owning a Mitsubishi L200 should be very affordable, thanks to keen list pricing and low running costs. Compared to most rivals you should find that it's also very generously equipped - making it even better value.
Low weight = low costs
Mitsubishi's engineers have worked extensively to reduce the L200's kerbweight (including the introduction of the first all-aluminium pickup truck engine) and it was the lightest and most aerodynamic model on the market when it was introduced. Two factors that contribute to excellent on-paper fuel economy.
Mitsubishi L200 mpg
All 4Life models claim 40.9mpg, while the heavier lifestyle versions claim 39.8mpg with the six-speed manual gearbox or 37.7mpg with the automatic.
Low 30s mpg is a good result in the real world, and should be perfectly achieveable unless you've got the payload maxed, are towing, or have a particularly heavy right foot.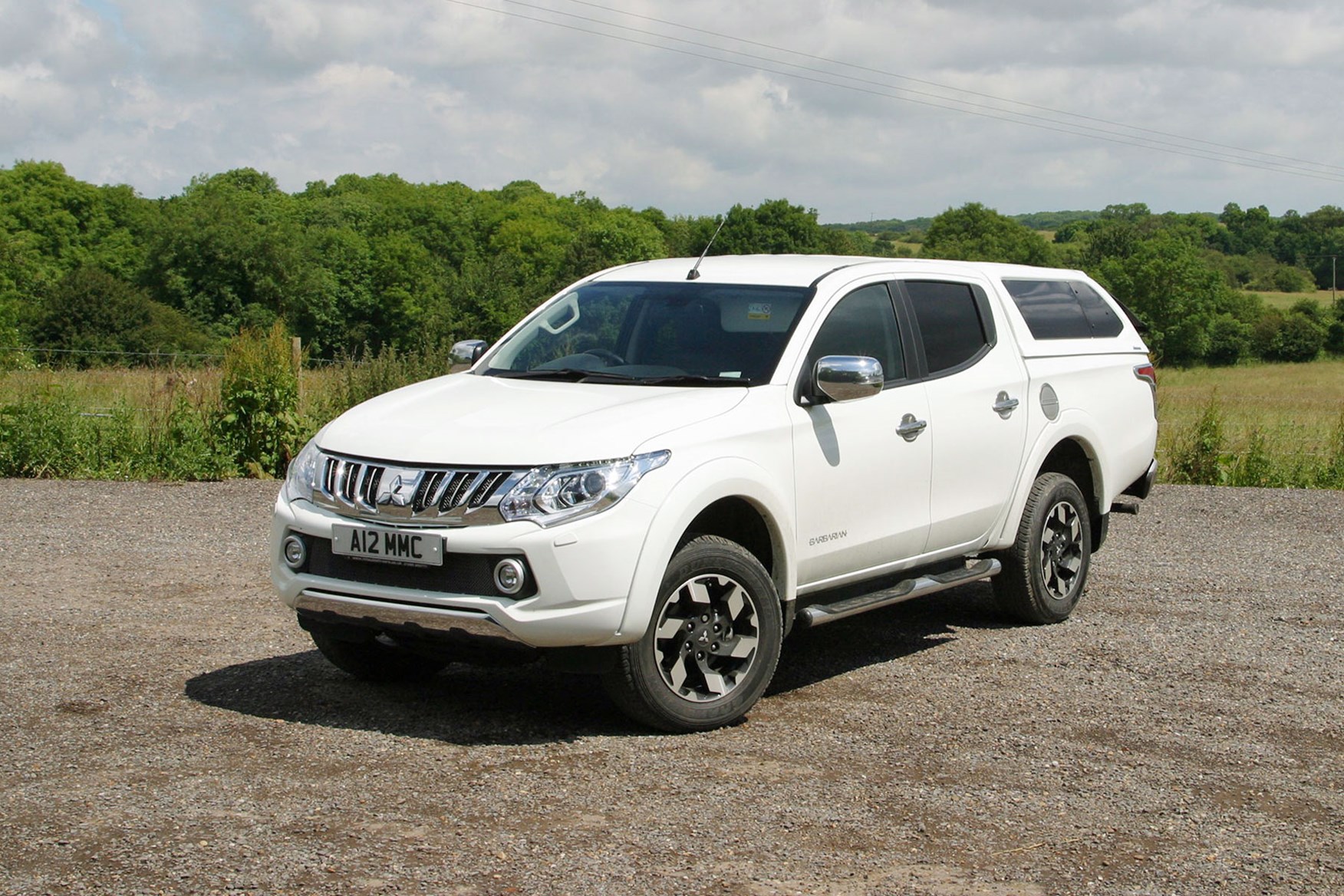 Versions that meet Euro 6 emissions regulations manage to get by without an AdBlue tank, too, so there's none of the extra expense involved in keeping that topped up here.
Though some experts do suggest the NOx trap method Mitsubishi uses instead may prove less reliable over time, it's too early to tell whether this is actually the case.
Mitsubishi L200 warranty and service intervals
The warranty provides cover of up to five years or 62,500 miles, but service intervals are set at a fairly limited 12,500 miles or two years.
You can upgrade to 125,000 miles of warranty cover for a modest fee via a third-party arrangement between Mitsubishi UK and Allianz Assistance; customer experience suggests this isn't the most straightforward process, but at least the option is available.
There are now 125 Mitsubishi dealerships nationwide, and the number is rising so you should be able to find a centre not too far from you.
Mitsubishi L200 standard equipment
Standard equipment is generous across the L200 range, starting with the entry-level 4Life specification, which features air-conditioning, electric windows and Bluetooth with audio streaming standard on every model - even on the most basic Single Cab.
The Club Cab version adds alloy wheels and the additional, rear-hinged doors that enable access to a set of 'temporary' rear seats (below). These are designed for occasional journeys only, or you can flip them up to use the space as secure in-cab storage.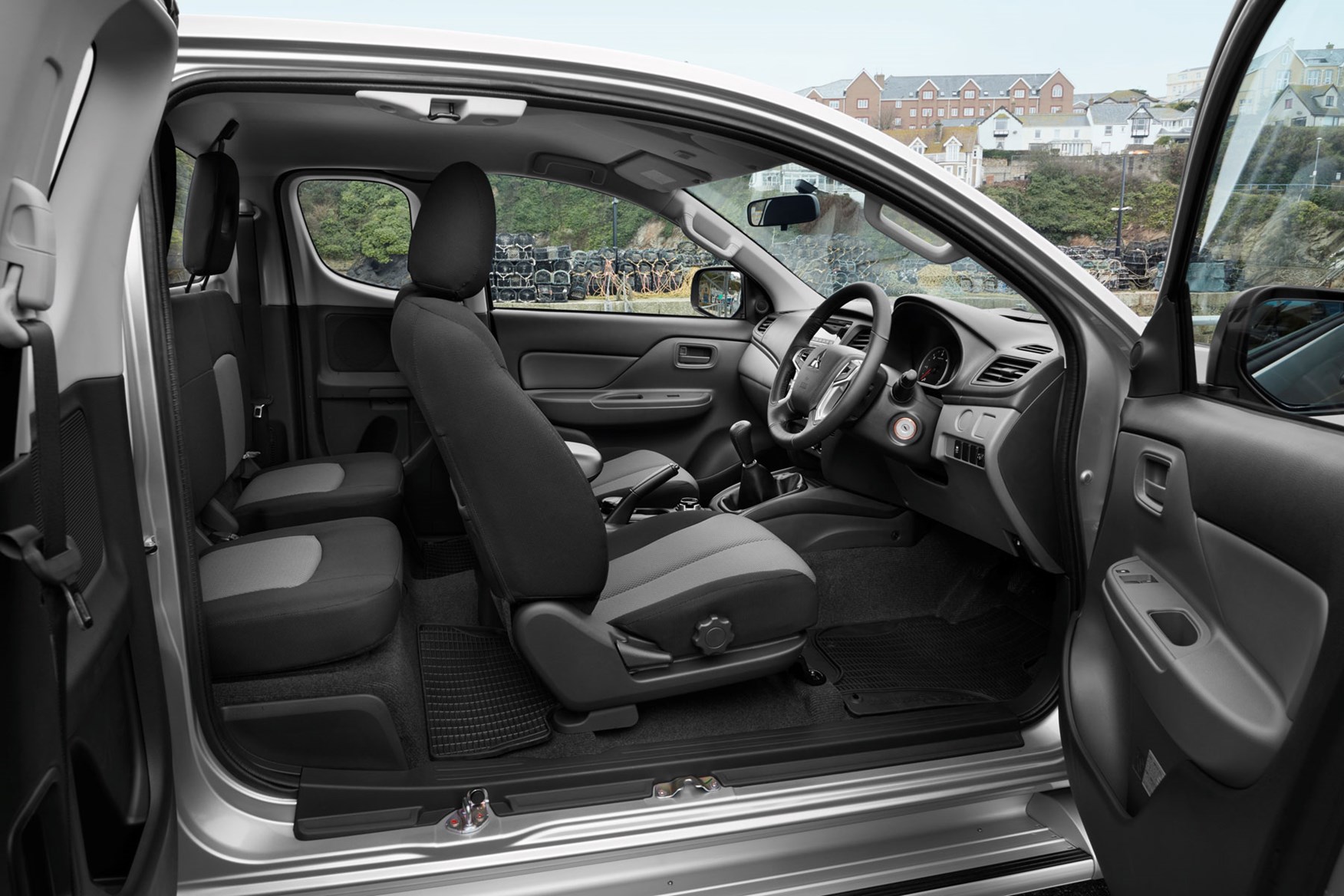 For proper backseat luxury, look to the Double Cab, which has a lot of legroom and the backrests inclined at a comfortable 42 degrees. All lifestyle versions of the L200 come in this bodystyle only, starting with the Titan model.
Mitsubishi L200 Titan standard equipment highlights:
Automatic lights and wipers

Six speakers (instead of just four)

Reach- and rake-adjustable steering

Silver detailing on the air vents

Dual-zone air-conditioning
Mitsubishi Warrior standard equipment highlights (in addition to Titan):
Heated front seats with electric adjustment for the driver

Rear-view camera
Mitsubishi Barbarian standard equipment highlights (in addition to Warrior):
Leather upholstery

Driver's armrest

LED interior mood lighting

Illuminated door entry guards
Numerous special edition L200s have come and gone over the years, including the SVP and SVP II (pictured below), the Barbarian Black and the most recent Challenger.
These tend to be based on the highest specification (though the Challenger is a Warrior variant), with changes largely focused on the outside appearance of the truck.
Which perhaps not everyone will appreciate.
Most owner complaints about this generation of L200's reliability centre around the quality of materials rather than mechnical components.
Leather steering wheels seem to wear very quickly, the dashboard plastics are easy to scratch and there have been complaints about the quality of the paint as well.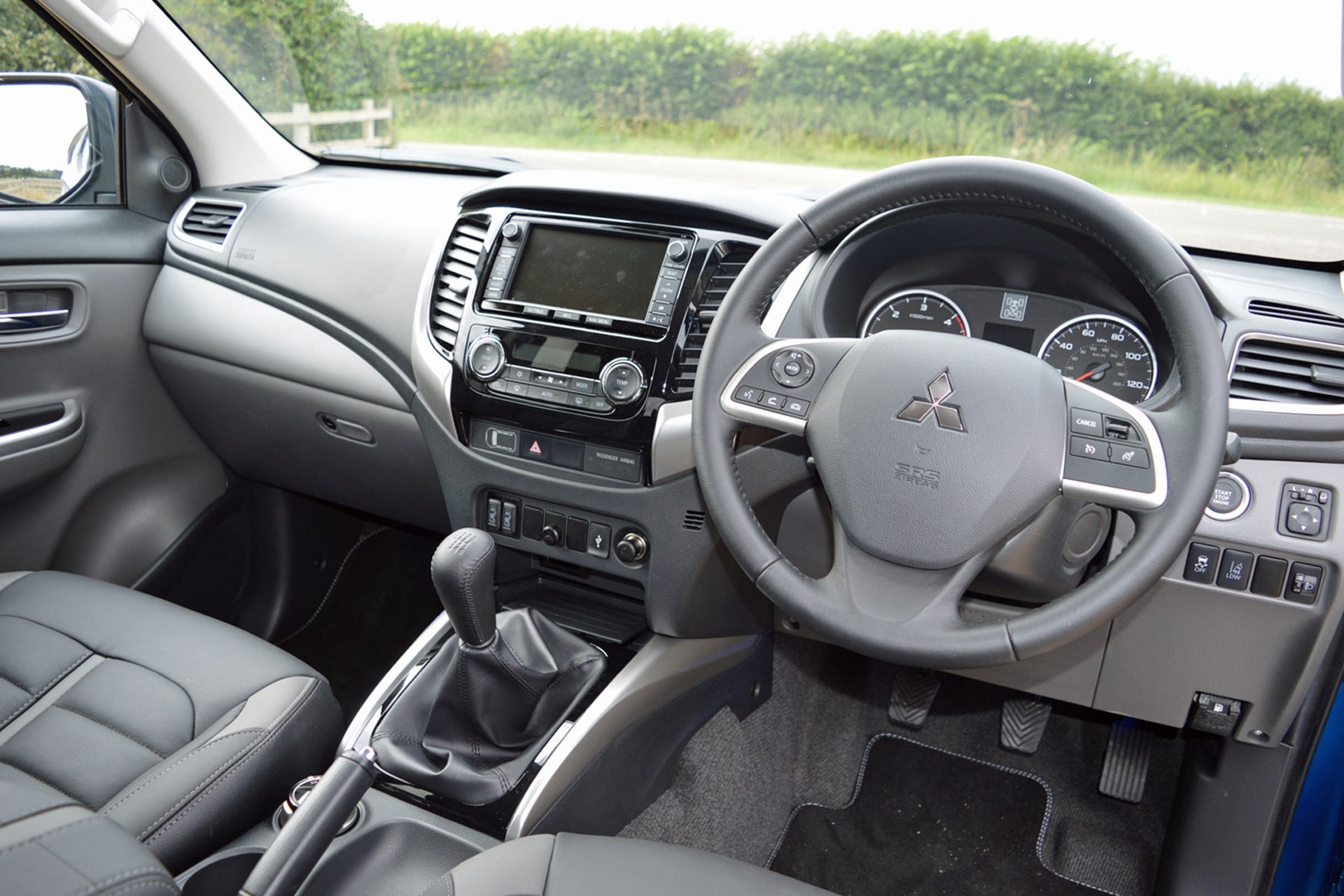 The fundamental engineering seems to be standing up fairly well, however - although there have been complaints about fuel economy and emissions control components such as diesel particulate filters; much of this will depend on how an individual vehicle is driven, so make sure you check the service history carefully if you're looking at buying a used example.
A lot of the Series 5's manual transmission components have been carried through from the previous L200, and there have been some reports of problems with the previous version's gearbox, particular with third gear proving difficult to engage. If buying used, be sure to pay attention to how the gearbox feels during the test drive.
Safety and security is another area where the Mitsubishi L200 scores well.
All models benefit from:
Deadlocks
Immobiliser
Daytime running lights
Trailer Stability Assist
Two airbags
Double Cab models get seven airbags and cruise control, too.
What's more, lane-departure warning is standard from Titan trim upwards.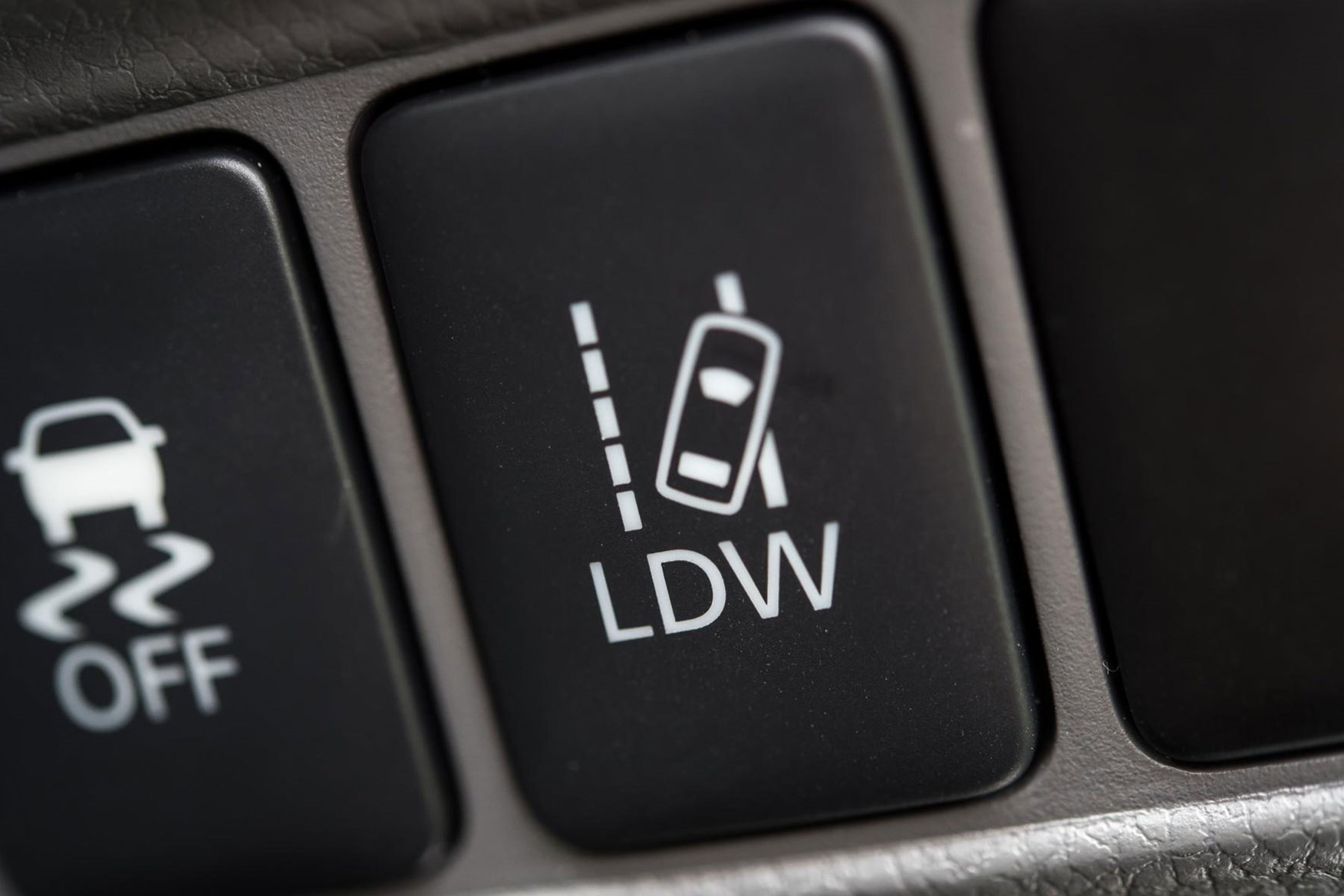 If you find the beeping this generates annoying, it is easy to switch off, but it reactivates everytime you start the engine.
Which Mitsubishi L200 (15-19) is best for me?
Our pick of the range has consistently been the Warrior model, which offers the best blend of price to standard equipment - arguably of any pickup on sale.
Still can't decide? Then we also have the following detailed individual variant reviews - click the link below to jump straight to the one that most interests you:
All figures correct at time of writing
---
Mitsubishi L200 Barbarian SVP II review
Tested July 2018 by Keith WR Jones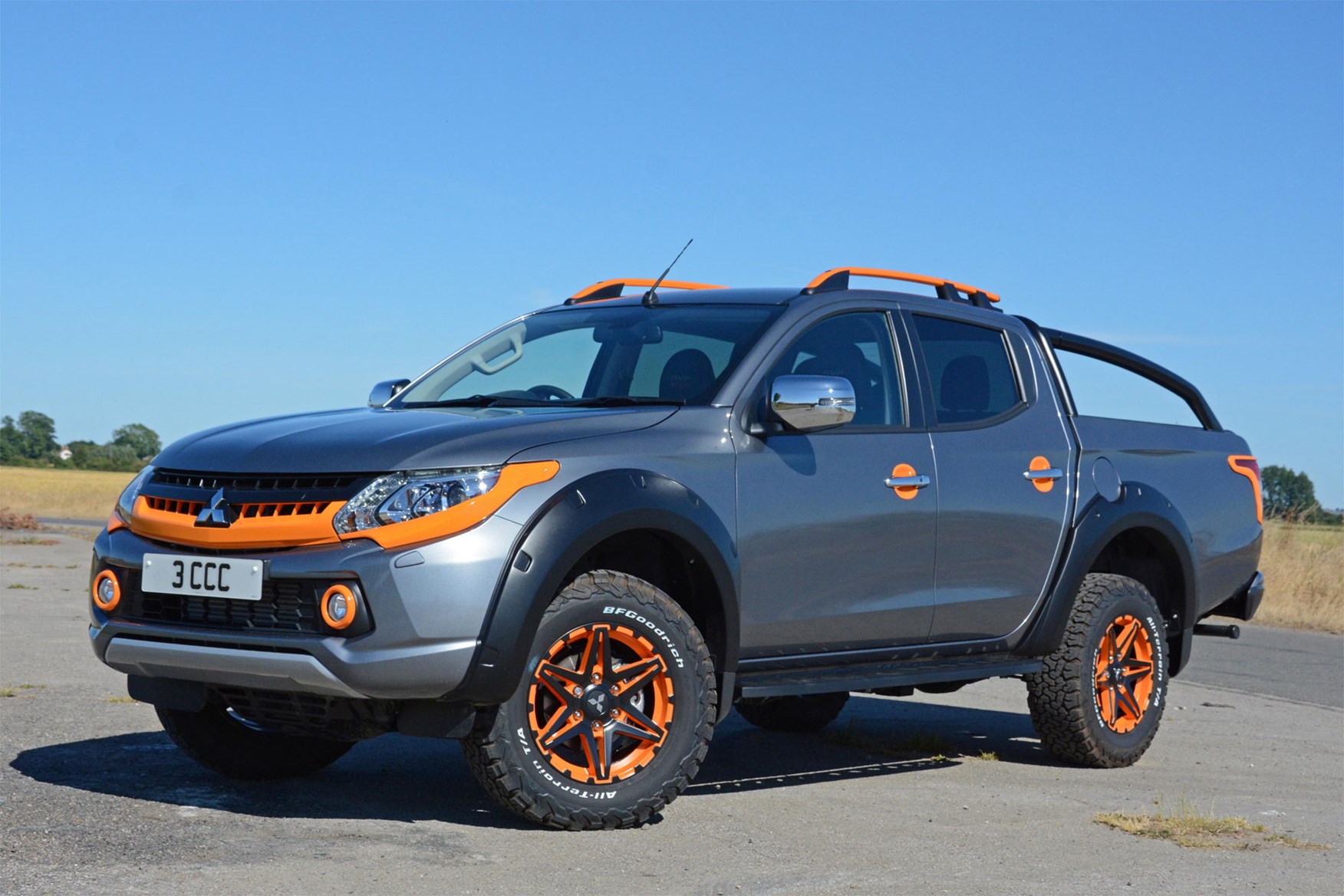 Second Special Vehicle Projects version of the L200
Bigger wheels, macho appearance, lots and lots of orange
Appealing, but it feels expensive for what it is
Compared with its chief rivals in the toughened-up pickup market, the L200 looks a little slender and under-wheeled alongside muscular Ford Ranger and Volkswagen Amarok trucks.
In 2017, Mitsubishi sought to redress this balance with the limited edition L200 Barbarian SVP. For 2018, the recipe's been reworked for the SVP II.
With so much in-yer-face orangey bits, this is not a truck to commute to any clandestine affairs in…
Other than the orange, what's different about the L200 Barbarian SVP II?
As with 2017's SVP, this is a limited edition in the strictest sense of the word: only 500 L200 SVP IIs are being built, split 50:50 between Diamond Black and the Atlantic Grey of our test pickup.
Regardless of colour, there's absolutely no escaping the oranginess – and whether you like it or find it repulsively tacky, this is a truck that garners attention wherever you drive it.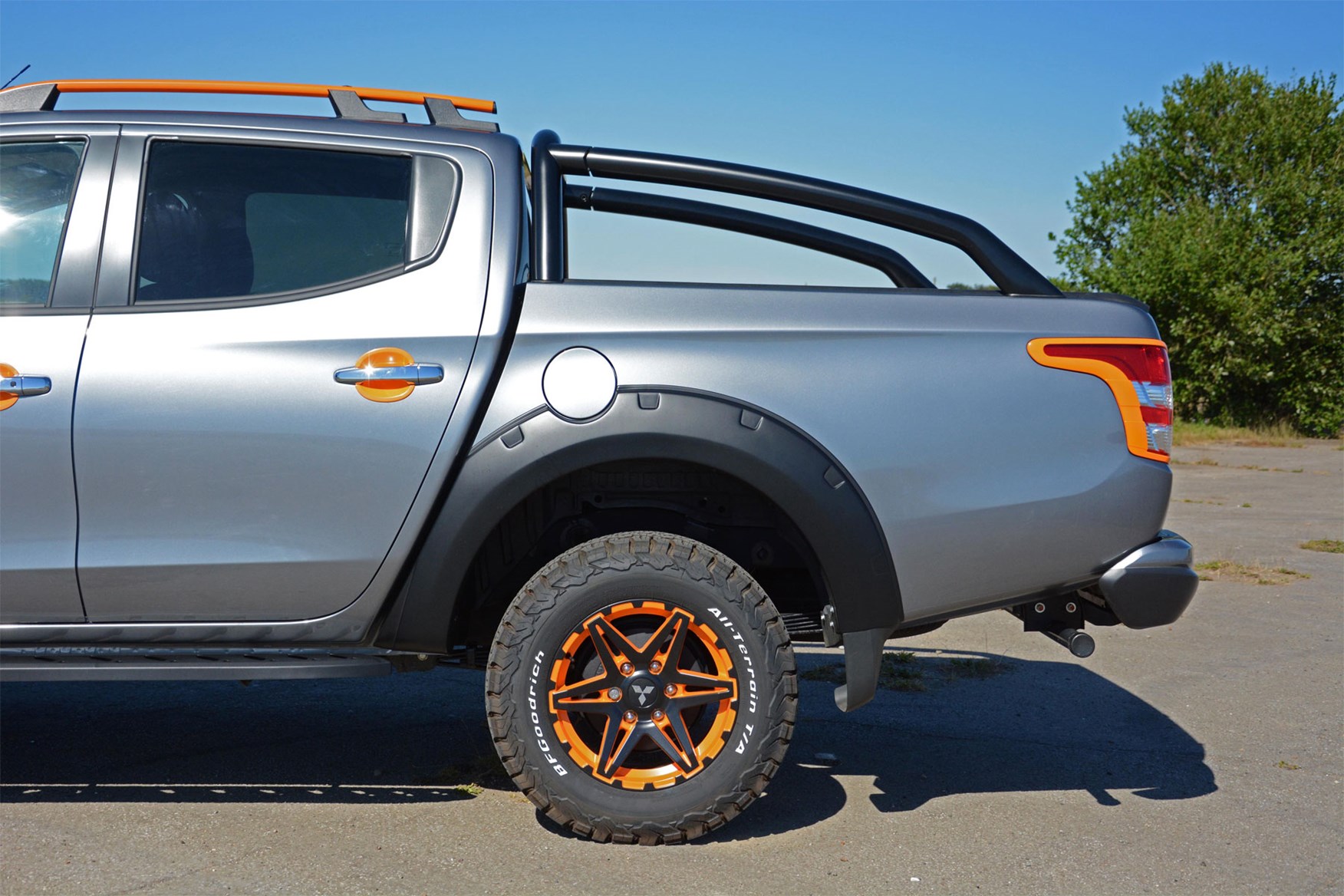 Those exterior tangerine cues include the grille, headlamp, front foglight and tail light frames, roof rails, door handle recesses and the orange and black finish to the 17-inch alloy wheels.
Enveloping the wheels are a set of knobbly BF Goodrich all-terrain tyres and a quartet of black plastic wheelarch extensions
Inside, there's something of a 1970s lounge bar vibe about it, with black and orange leather seats, complemented by the satsuma-like glow from the LED ambient lighting and illuminated kick plates.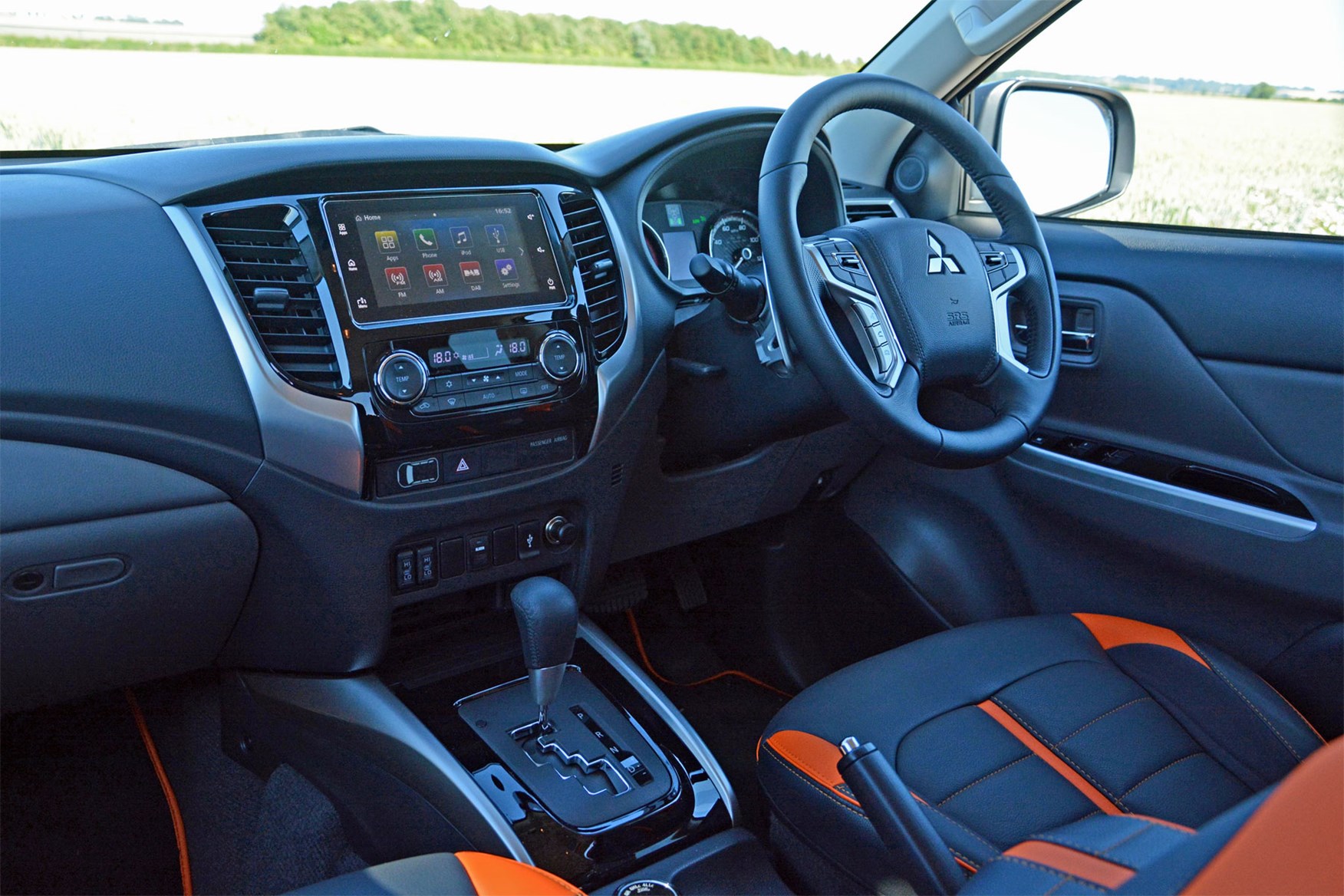 Leather and faux suede upholstery is shaped into the familiar 'six pack' design featured on standard Barbarians, although each SVP II has an embroidered edition number on the front headrests.
The Barbarian starting point means the SVP II is also stacked with kit, including Mitsubishi's substantially improved SDA infotainment system.
How does the Mitsubishi L200 SVP II drive?
Those all-terrain tyres will prove effective – in combination with the selectable four-wheel drive – where there's no specific road to follow, but on conventional asphalt surfaces they do generate a background humming noise.
And when you corner with speed, you're aware that the wheels themselves are moving sideways within the tyres, although the net effect of this is that you slow down.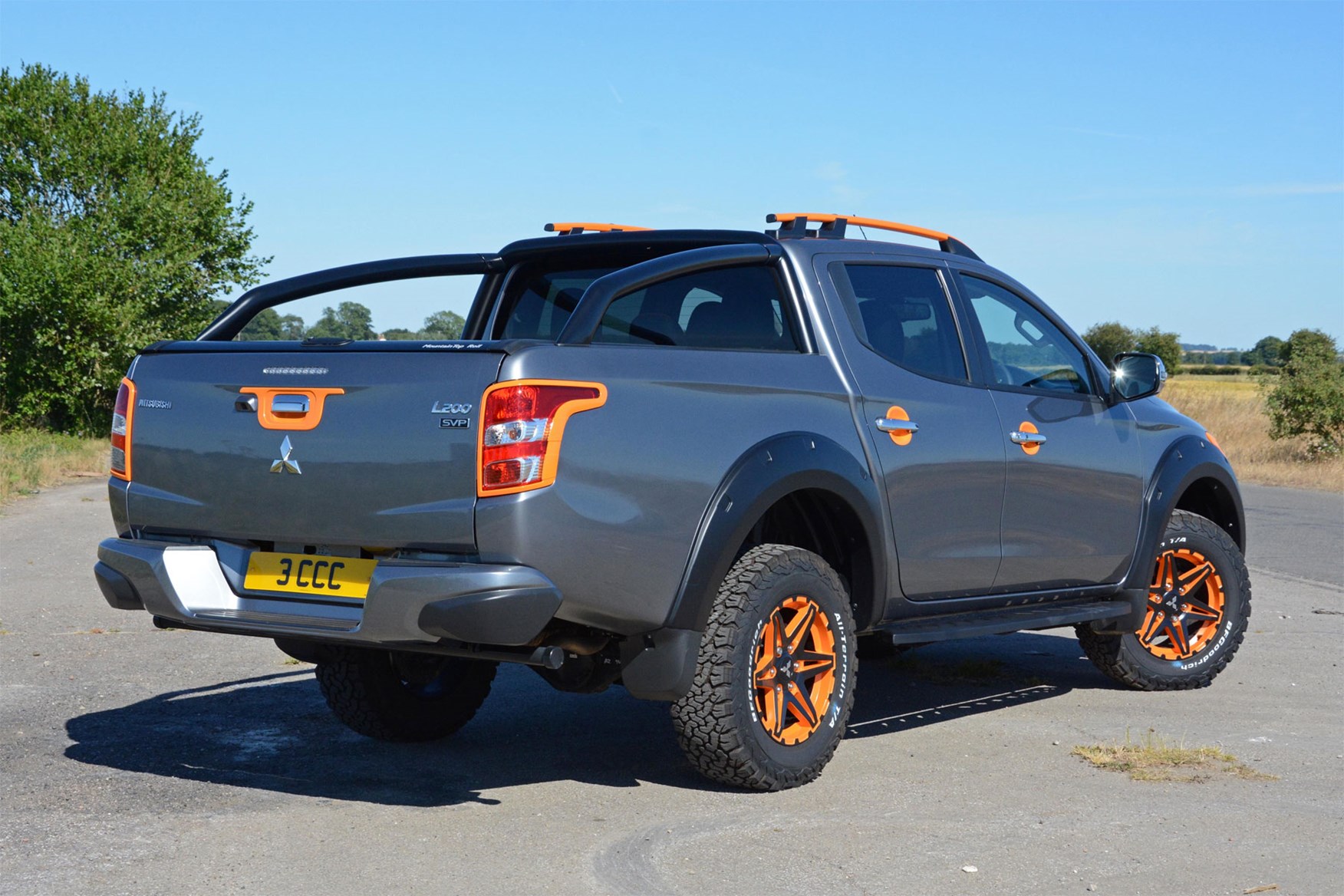 With nothing in the loadbay, there's a fidgety quality to the way this L200 rides: despite the cushiony tyres, it feels firm, meaning undulating B-roads can be a bouncy experience.
At least bodyroll is kept in check well for a vehicle of this height.
Producing 181hp and 430Nm of torque, the SVP II's 2.4-litre turbocharged diesel engine gives the Mitsubishi fine real-world pace in combination with the optional five-speed auto.
Should I buy an L200 SVP II?
Unlike with marmalade, you do pay extra for the SVP II's orange bits – it weighs in at £31,810 (plus VAT) on-the-road, a figure that's £3,430 higher than the mechanically identical L200 Barbarian it's based upon.
For that premium you're gaining permanent attention from other road users and pedestrians alike, as well as the degree of exclusivity of knowing that there are only 499 other Mitsubishis like yours.
But just as it was when we drove the original L200 SVP in 2017, the less expensive Warrior model remains the one we'd recommend.
---
Mitsubishi L200 Warrior 2018 review - now with 3.5-tonne towing capacity
Tested April 2018 by Richard Kilpatrick
Warrior trim bridges utility and comfort
Four-wheel drive towing on tarmac for £25,605 (plus VAT)
Impressive towing ability meets average load capacity
It's a small change for the 2018 Mitsubishi L200 Warrior pickup, just a little number moving on the specification sheet: 3,100kg to 3,500kg (or 3.5 tonnes). Yet for that small improvement in grade, the Mitsubishi L200 joins the front runners in the crowded double cab pickup market.
For those of you wanting to get it over and done with - that's pretty much all there is. Mitsubishi's L200 for 2018 looks much like 2017's - the big change is that the chassis is now double-skinned in crucial areas, and as a result the consistently popular pickup now pulls more weight.
Regardless of specification, the towing limit on the L200 4x4 is rated for the class maximum of 3,500kg. Many rivals that meet this high towing limit only offer them with an automatic transmission, whereas Mitsubishi has achieved that rating on both manual and automatic versions.
However, load capacity for the Warrior Double Cab is unchanged at 1,045kg, and since the Mitsubishi's gross train weight - GTW, or the total combined weight of pickup and trailer - also remains unaltered at 5,950kg, you can no longer tow to the max while also carrying nearly to the max as well.
New L200 can shift 4,090kg, towing 3,500kg of that
To stay legal, payload capacity drops to 590kg when towing the full 3,500kg. It is also necessary for a trailer and load over 3,100kg to have three axles for stability and weight distribution. A stronger towbar is part of the manufacturer approved kit, and standard-fit trailer stability assist completes the package.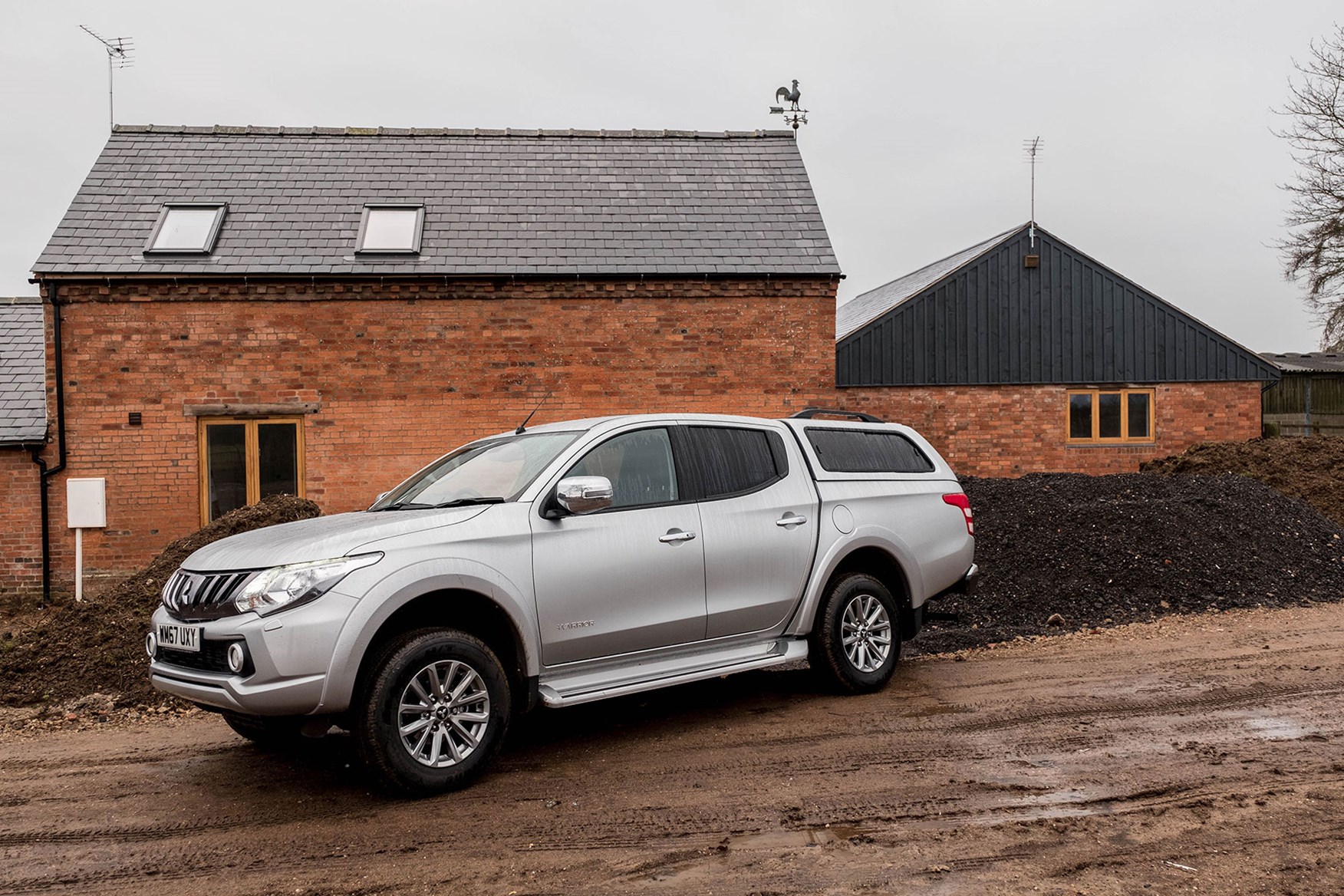 Still, thanks to the L200's low kerb weight, this now makes the L200 one of the best load luggers around, with a total load capacity of 4,090kg, and the only one offering that capacity with selectable permanent all-wheel drive usable on tarmac, rather than part-time four-wheel drive limited to loose surfaces.
If you're wondering why the svelte Mitsubishi is legally rated to carry more than larger, beefier looking pickups, the key is in the UK's licensing restrictions. A Maximum Authorised Mass (MAM) or GTW under 6,000kg is less likely to need a tachograph for the majority of users.
For example, if you want the security of full-time 4x4 for the same list price, you could get a Volkswagen Amarok Trendline 163hp; it has selectable four-wheel drive and a larger loadbay, but has a maximum load capacity of 3,423kg. Even the most powerful VW peaks at 3,856kg - some 234kg shy of the L200, and no Amarok can tow 3.5 tonnes.
That's how unusual the L200's blend of abilities is; it's essentially unrivalled.
Has the uprated capacity changed how the L200 drives?
Unless you're in the business of stacking mattresses and attempting to detect small vegetables underneath them, you're unlikely to be able to tell if you're in the newer L200. One of the best four-cylinder engines offered in this market, the 2.4-litre MIVEC diesel is refined, light and powerful, with impressive torque of 430Nm.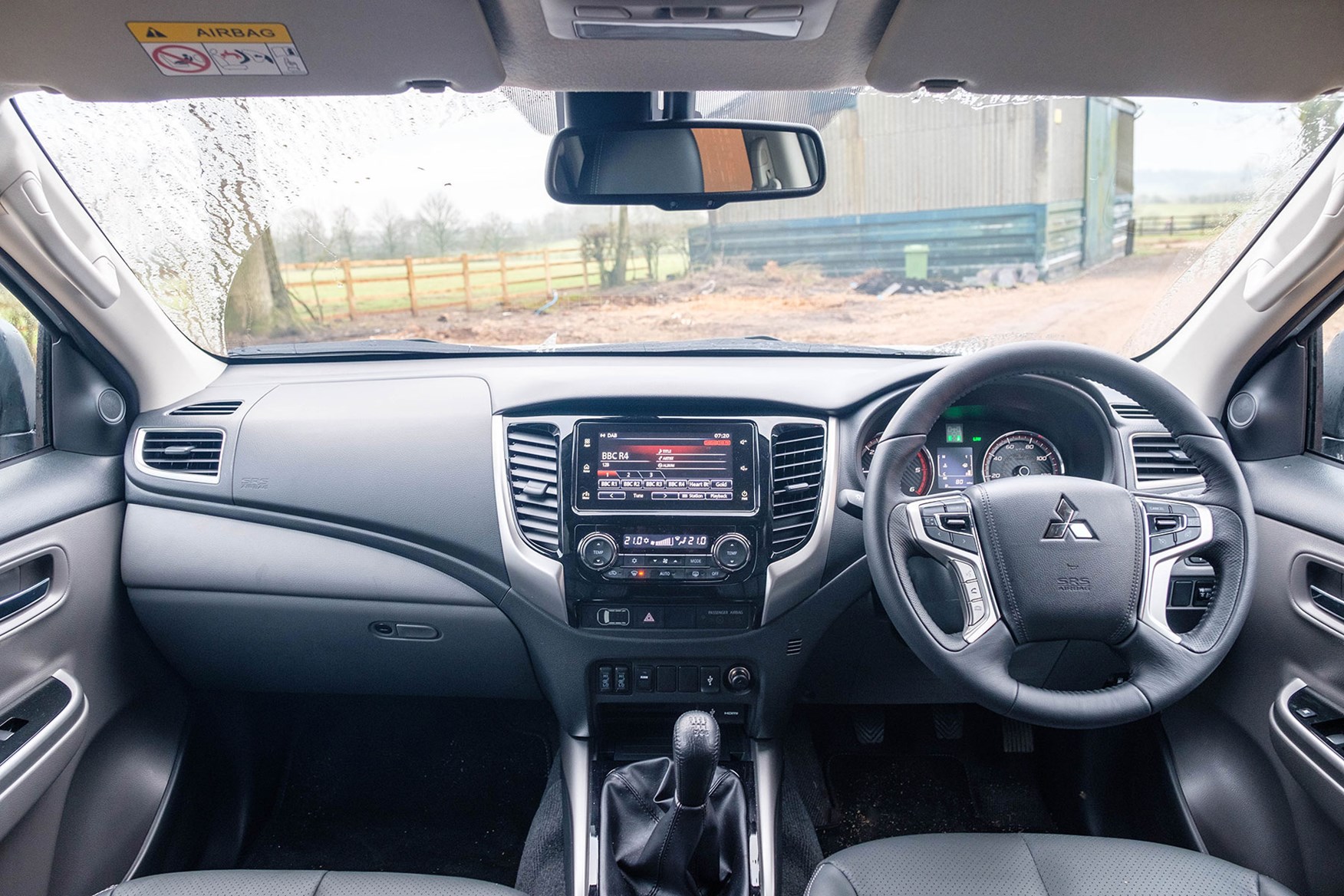 In 181hp Warrior form with the six-speed manual gearbox, there's a slightly harsh edge to road imperfections, and a precise, but ponderous gearshift surrounding a core of a comfortable ride, responsive handling and decent refinement for a pickup.
Larger road imperfections - or the 'bloody great potholes' that Britain seems to have perfected as an alternative traffic calming measure - provide a fair amount of noise and a few echoes as the suspension settles, without feeling like the Mitsubishi has been overwhelmed or damaged.
Turn-in and initial response are sharp for this type of vehicle, and the L200 is generally an engaging and enjoyable pickup to pilot, requiring little correction and providing plenty of feedback through the wheel. Standard-fit Bridgestone Dueler tyres work well in all conditions, rather than being so optimised for the road that they struggle with snow or mud, too.
Our test example came from Mitsubishi with a Truckman top fitted, which increases wind noise quite dramatically – a small price to pay for a usable, well-lit covered load area and a small improvement in fuel economy compared to an uncovered bed.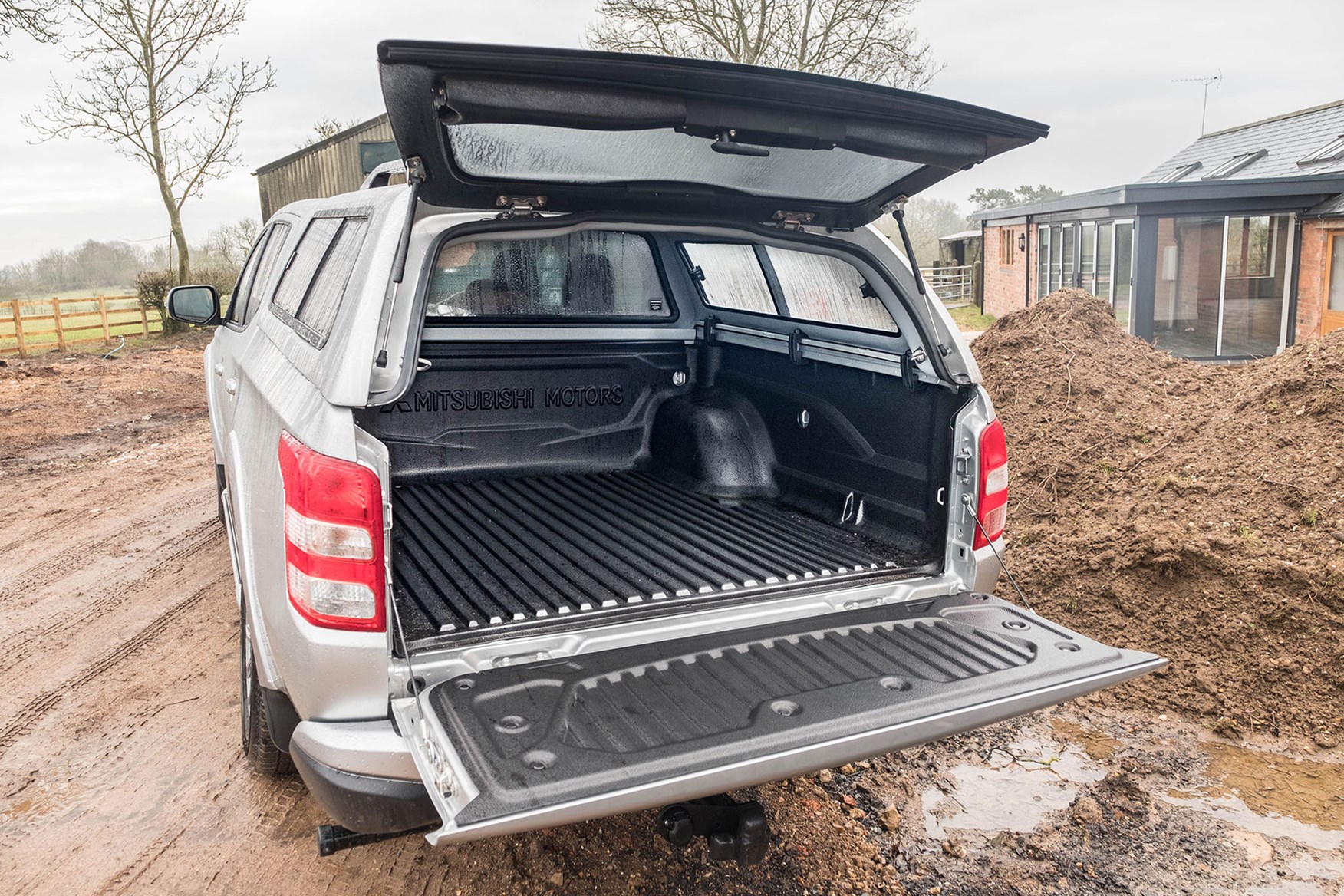 That load bed may be able to carry a lot of weight, but it's one of the smaller ones on the market. See our dedicated L200 Dimensions page for full details.
Should I buy one?
The Mitsubishi L200 is already a good pickup to drive, and the increased towing capacity adds flexibility. Selectable full-time four-wheel drive is a significant advantage over many rivals, providing grip for towing on loose surfaces and security in poor weather.
It's also good value, both at the £25,605 list price for this Warrior specification pickup, and on the frequent finance and lease offers from Mitsubishi from £275 per month with £825 deposit contribution; all figures exclude VAT.
Combining this ability and competitive pricing, the 2018 Mitsubishi L200 Warrior is a great truck if value and practicality are your priorities; unless you need a particularly large load area, it's difficult to make a case for spending more - and even if you do, you won't be able to tow as much with such surefooted traction on mixed surfaces.
---
Mitsubishi L200 Barbarian SVP review
Tested August 2017 by CJ Hubbard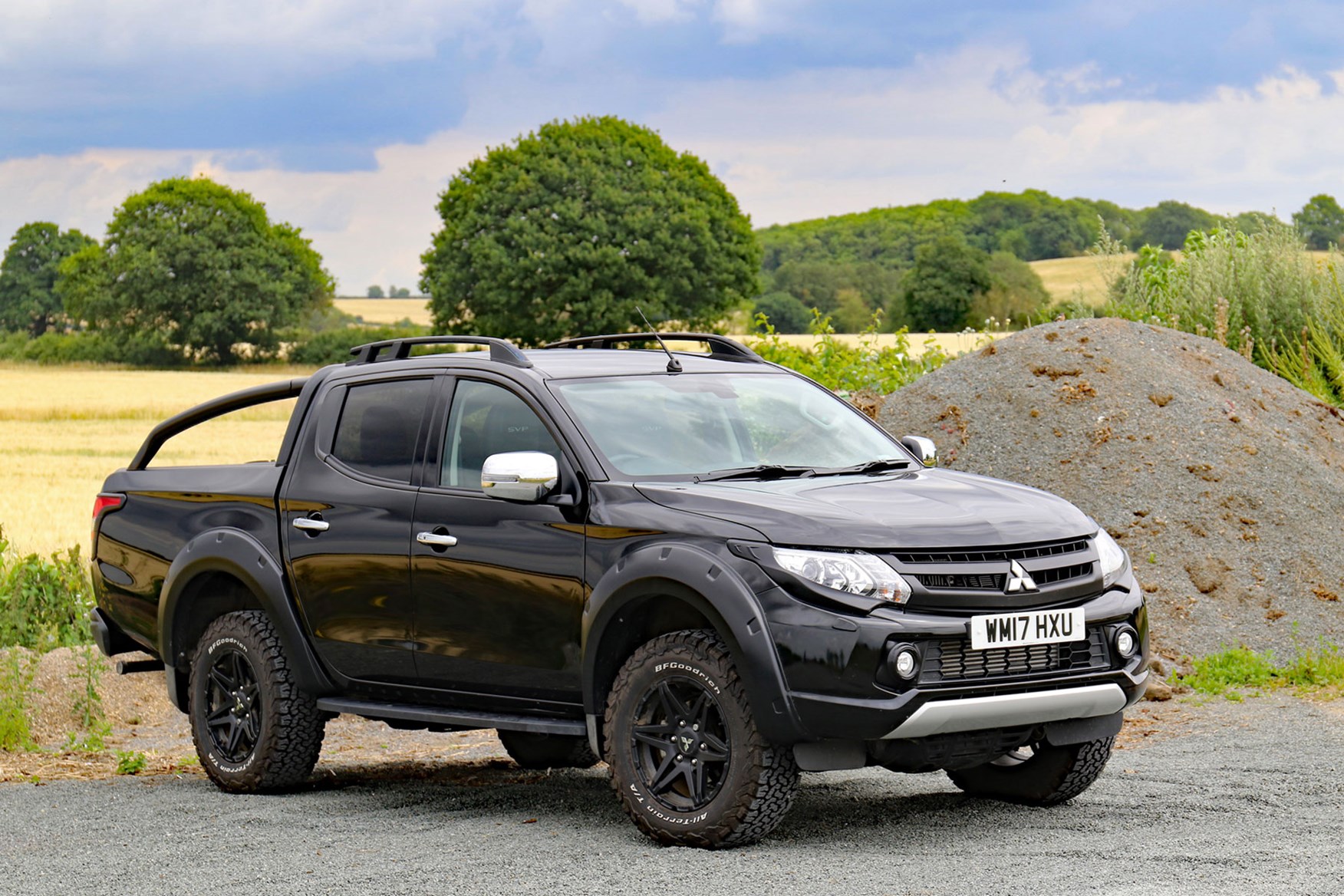 Limited edition lifestyle version of versatile pickup
Full makeover includes bodywork mods, big tyres
Lots to like but it comes at quite the price
The L200 has many talents, but it's not the most obvious choice if you're after a head-turning pickup.
Mitsubishi has come up with a solution. It's called the Barbarian SVP, and as well as sexing up the L200, it's also the launch vehicle for a whole new range of limited edition Special Vehicle Projects from Mitsubishi UK.
It looks, fair to say, pretty badass.
What's different about the Mitsubishi L200 SVP?
This is a proper limited edition. Just 250 will be sold, half of them murdered-out in Cosmo Black, the other 50% finished in Electric Blue.
The blue works as a good contrast to the black exterior upgrades – which include eye-catching 17-inch alloy wheels with BF Goodrich off-road tyres and the wheelarch extensions necessary to accommodate them.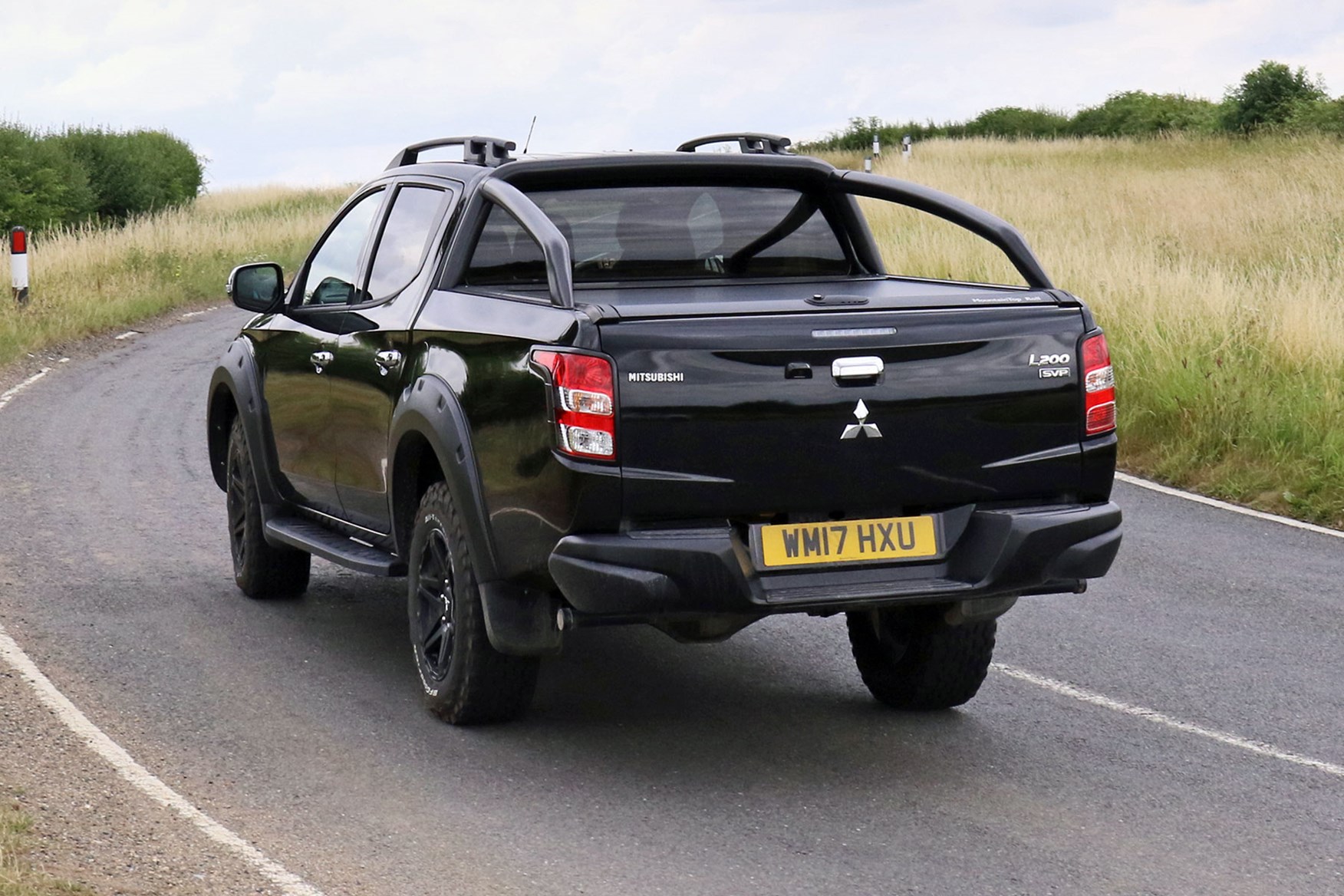 But we have to say the black on black on black of this test example certainly channels the mean and moody. In fact, it exuded a weirdly similar vibe to the Rolls-Royce Ghost Black Badge Parkers had in on test at the same time.
The L200 SVP's black finish also makes the more challenging styling elements – the headlight and taillight shrouds in particular – appear better integrated.
There's more black for the foglamp surrounds, roof rails, sport bar and rear bumper, plus you also get an all-new grille, and side-steps apparently inspired by shark fins.
Almost the only thing on the outside that isn't black is the faux skid plate under the front bumper.
Looks hard as. But what about creature comforts?
The SVP is based on the top-of-the-range Barbarian trim level, so it's loaded with standard kit,
Interior highlights include the fancy-looking Barbarian six-pack leather and suede seats, which come complete with SVP-logoed headrests embroidered with individual limited edition numbers; ours was number three.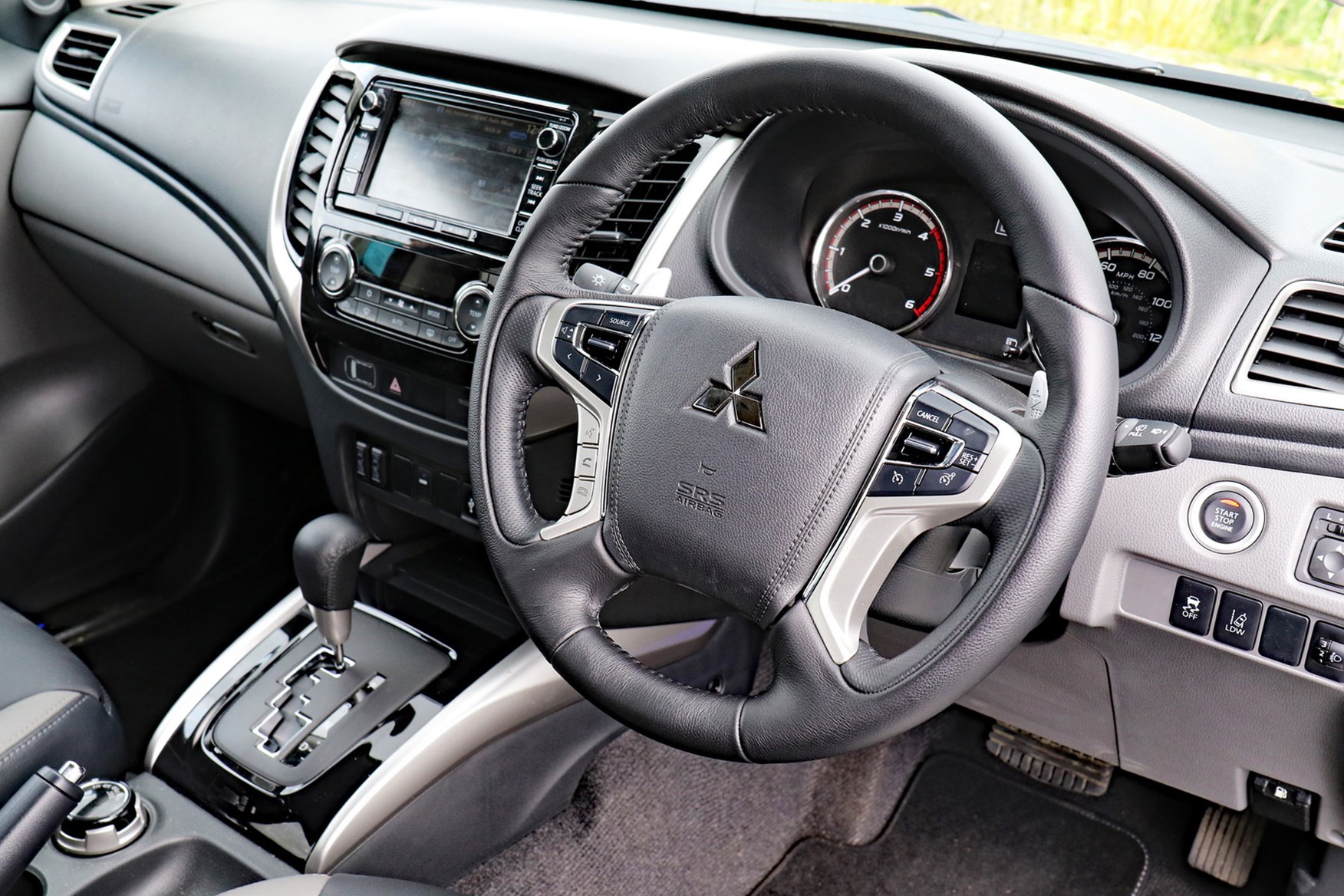 Illuminated Barbarian sill plates are joined by footwell mood lighting – although given this is neon blue, the mood you'll need to be in is Early Millennial Boy-racer.
The load bed lighting strips are similarly hilarious, though no doubt useful as well. Other neat touches include puddle lamps, tailgate damper and SVP badging on the outside.
Overall, the interior is still rather dull compared with most current rivals, however.
The sports bar on the back is optional, and costs £458 plus VAT at the time of writing.
Does the SVP drive any differently to a regular L200?
The knobbly off-road orientated tyres move around a bit more underneath you, and generate a touch more road noise as well, but the SVP driving experience is otherwise L200 situation normal.
This means a surprisingly positive front end with plenty of grip, and well-controlled body roll in the corners – but a jittery unladen ride and rather numb steering.
All SVPs get the more powerful 181hp version of Mitsubishi's 2.4-litre L200 turbodiesel engine, which feels effortlessly potent in most situations and is commendably refined once warm.
This particular example was fitted with the optional automatic gearbox. Despite having only five speeds this is a definite upgrade over the long-winded six-speed manual transmission.
The L200 is a good choice for an off-road pickup, and those all-terrain tyres will only improve this. Fancy risking all those fancy exterior bits, though?
Should I buy an L200 SVP?
At £30,633 (plus VAT) as tested, the Mitsubishi L200 SVP is not a cheap proposition – that's £4,000 more than an equivalent L200 Barbarian with the same automatic transmission.
Whether you think the additional jewellery is worth the extra cash is up to you.
But it does run rather counter to one of the L200's major selling points: its fantastic value. For us, the L200 Warrior remains the sweet spot in Mitsubishi's lifestyle range.
---
Mitsubishi L200 4Life Single Cab review
Tested November 2016 by CJ Hubbard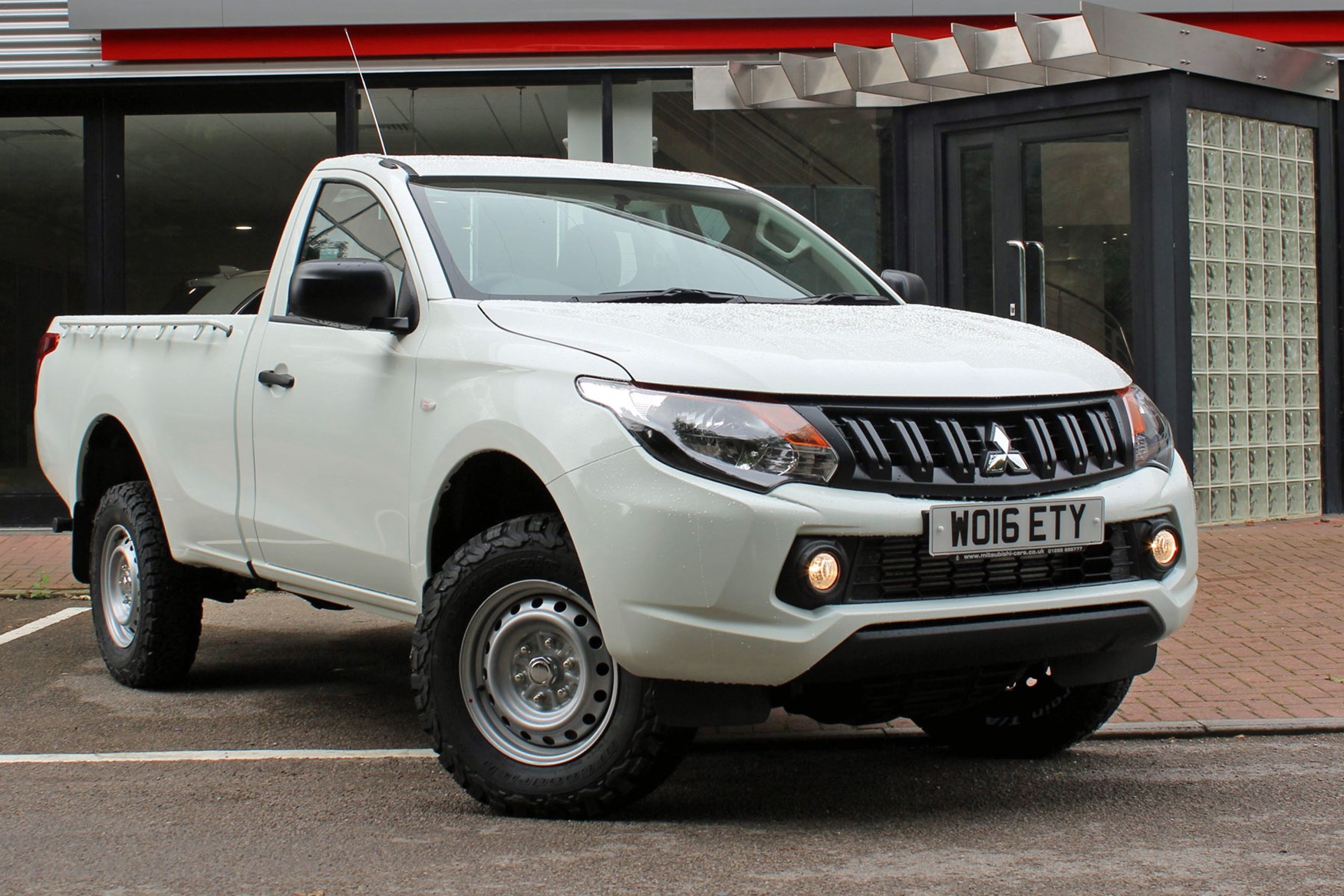 Entry-level Mitsubishi pickup truck tested
Two doors, two seats, extended load area
Cheap and great value, but rivals more practical
This is the cheapest, most basic version of the fifth-generation Mitsubishi L200 pickup truck, the 4Life Single Cab, priced just £17,999 plus VAT at launch.
That's only a couple of hundred quid more than the equivalent Isuzu D-Max, and over a grand less than the lowliest Toyota Hilux. For this kind of money you'd be right to expect a stripped out, bare bones experience – but Mitsubishi doesn't quite treat you like that.
This pickup, like every other current L200, comes with air-conditioning, four-wheel drive and Bluetooth as standard, among many other items of fitted equipment. Put that together with the five-year warranty and you've got extremely solid value.
But is it actually any good? Let's find out.
Single cab = maximum working capacity?
The L200 Single Cab was added to the Mitsubishi L200 range in September 2016, alongside the Club Cab; up until this point, the L200 gen 5 range was limited to Double Cab models only.
The Single Cab has just two doors and two seats. While this obviously limits the amount of human cargo, compensation comes in the form of a significantly extended load area, making this a more practical truck.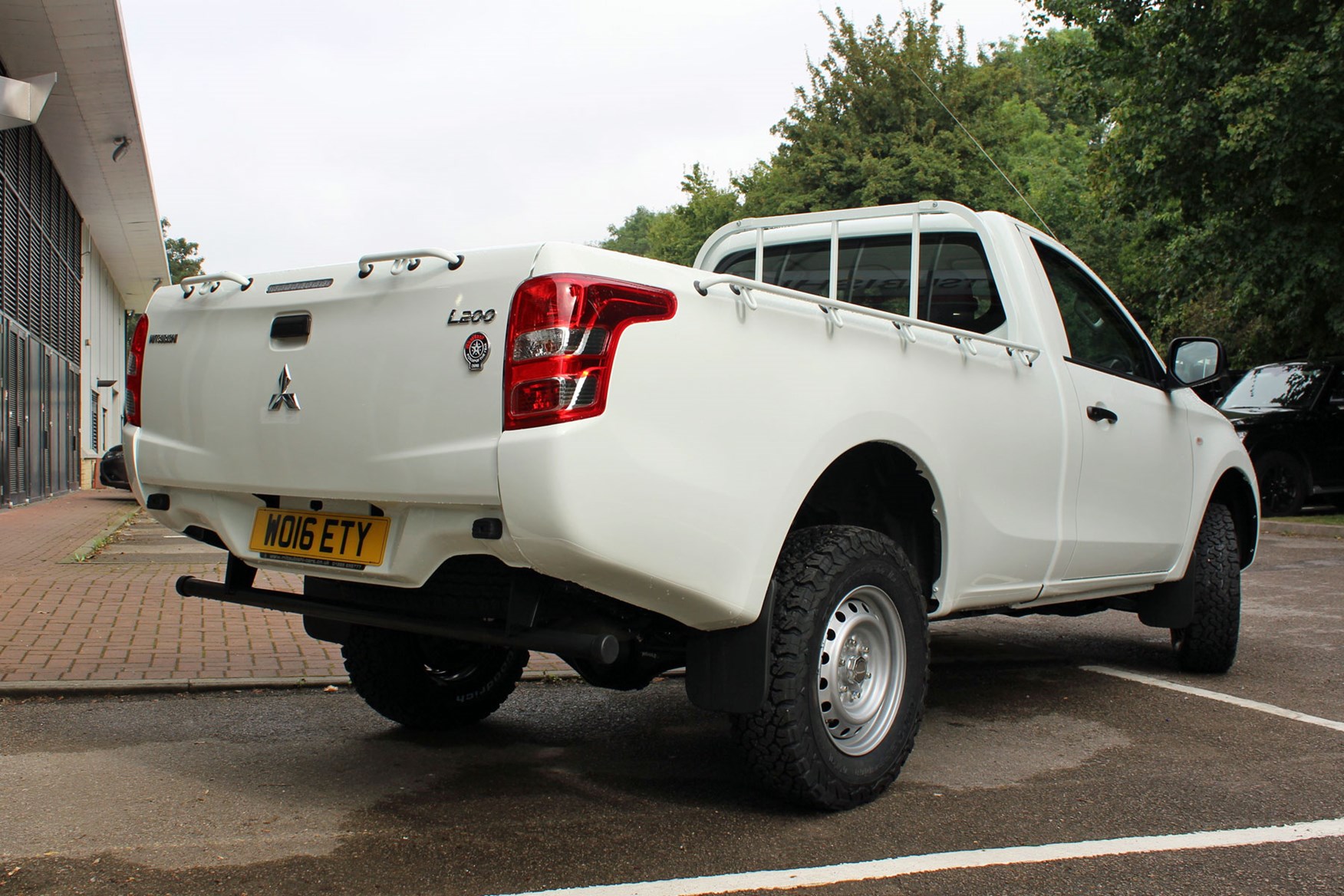 The load area is 415mm longer than the L200 Club Cab, and 745mm longer than the L200 Double Cab. Payload capacity is 1,060kg – 15kg higher than either Mitsubishi alternative, though towing capacity is limited to the same 3.0-tonnes as the Club Cab.
Sounds impressive in isolation, but both the Isuzu and Toyota single-cab rivals have longer and wider load areas, higher payload ratings and greater towing capability.
So although this is the most practical L200, it isn't the most practical single-cab pickup.
What's the L200 Single Cab like to drive?
You can only get the Single Cab with a 154hp 2.4-litre turbodiesel engine. This is reasonably efficient at a claimed 40.9mpg – the same on paper as the Club Cab but since it weighs less you should find this L200 variant the most fuel efficient out in the real world.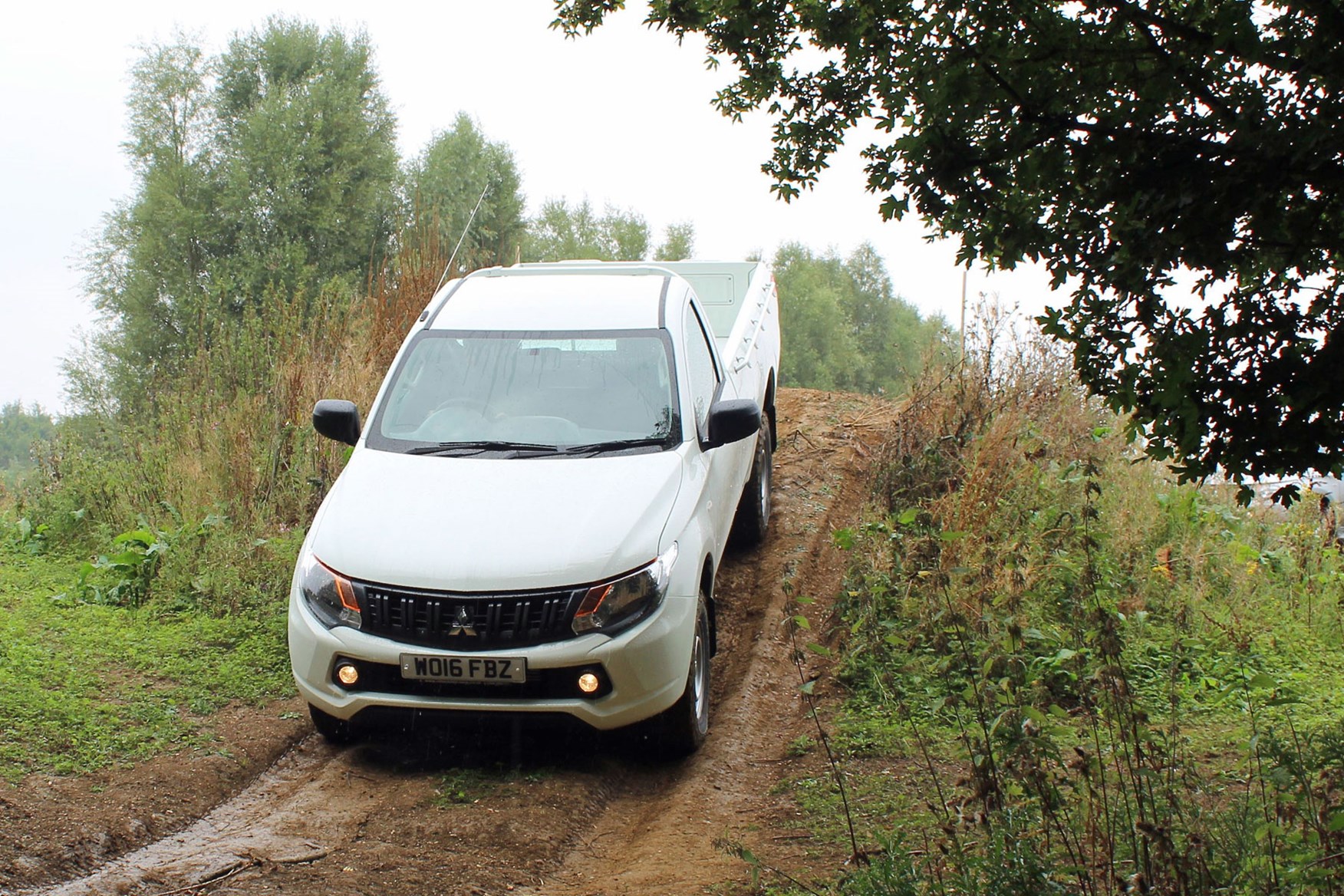 The engine is surprisingly refined – you can barely hear it when cruising, and it only really becomes disturbing when revved hard. 380Nm of torque means you don't have to do this too often.
The six-speed manual gearbox is less easy to warm to, being notchy and occasionally vague. And although the steering is light and accurate enough, this is a bouncy, slightly tippee-toed driving experience if you have to go any distance without any kind of load in the back, rolling through the turns and lurching over bumps.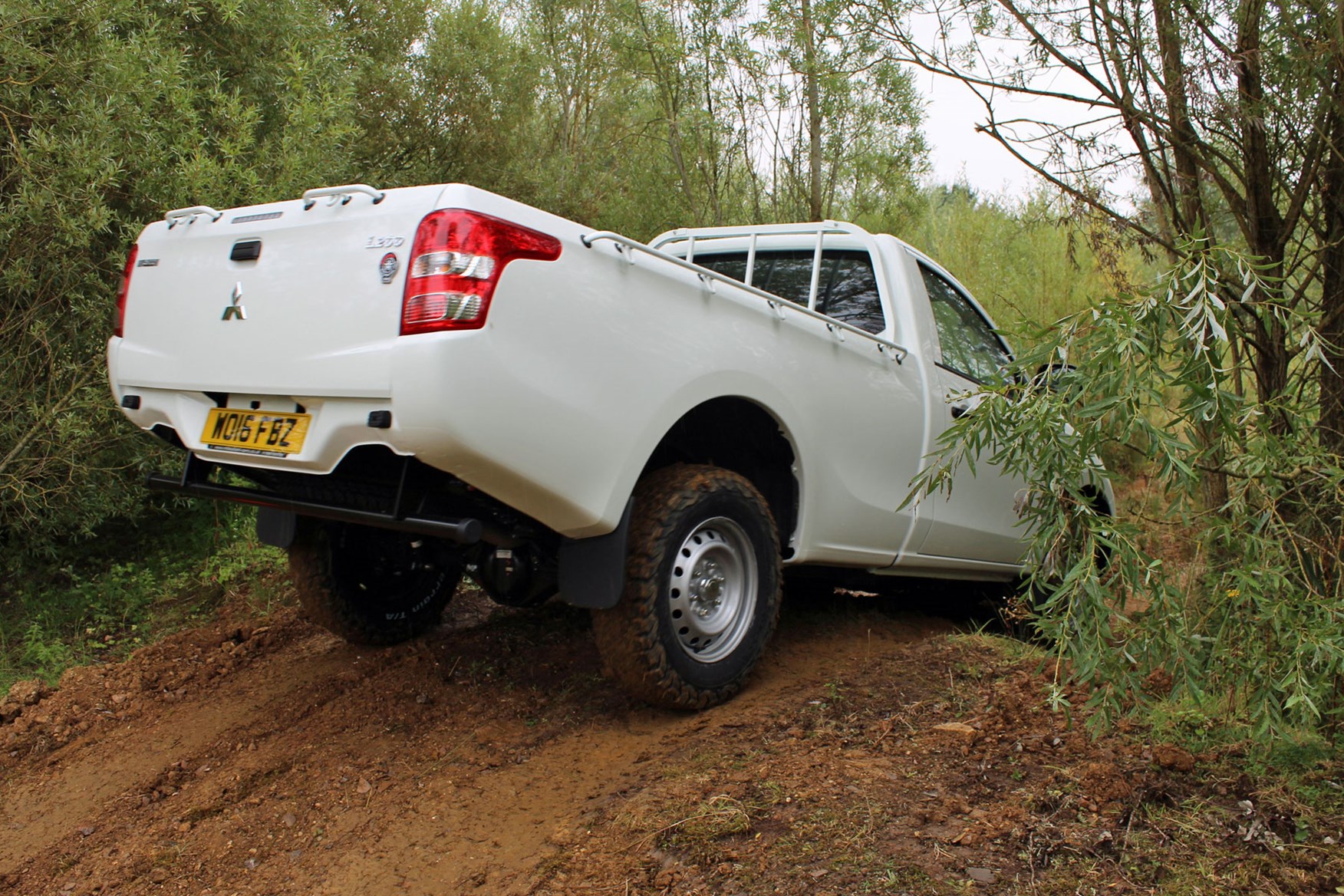 Still, with not only four-wheel drive but the ability to lock the rear differential for increased traction it is good off-road – even on regular road tyres – and our test vehicle was finished in UN-spec white, attracting smiles and waves wherever we went.
Should I buy an L200 Single Cab?
Consider the load area and payload capacity limitations carefully, but if it's got the space and strength to cover your needs then the L200 4Life Single Cab is an excellent choice. While the interior is a very much on the plain side, for a working truck it comes very well equipped, is easy to drive and covered by a reassuringly length warranty.
---
Mitsubishi L200 4Life Club Cab review
Tested September 2016 by CJ Hubbard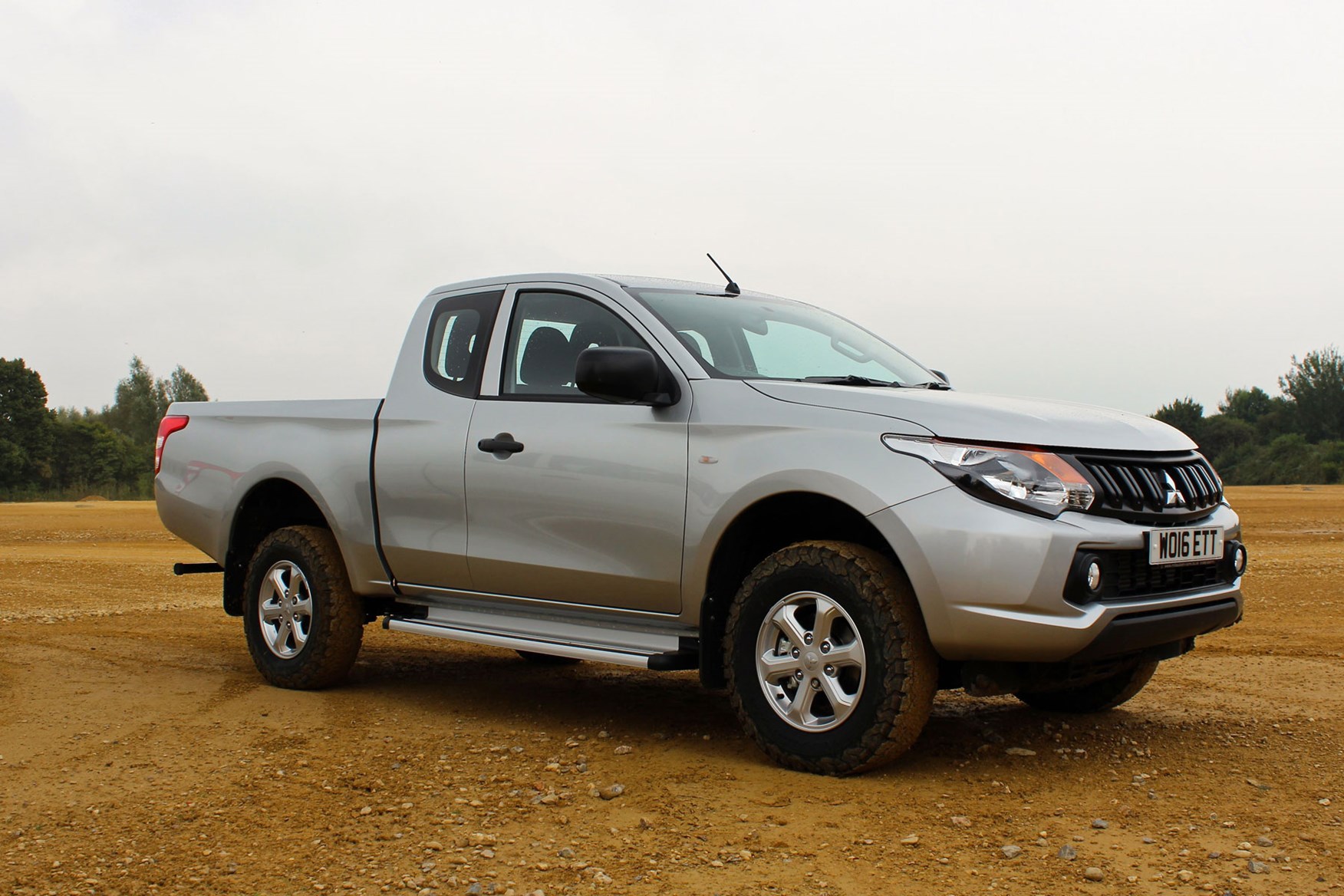 Extended cab version of L200 Series 5 pickup tested
Only available in basic 4Life spec with 154hp engine
Good value at £18,499 plus VAT with lots of fitted kit
A year after launching its fifth-generation L200 pickup truck in 2015, Mitsubishi has now added Single Cab and Club Cab versions, available only in the entry-level 4Life specification.
What's new for the L200 Series 5 Club Cab?
The biggest change for the Series 5 Club Cab is that it has a set of backwards-opening rear doors.
The advantage to this is that gives you better access to the rear seating area – handy whether you're transporting people or storing valuable tools and equipment back there. The rear seat bases flip upwards to make more room for the latter, too.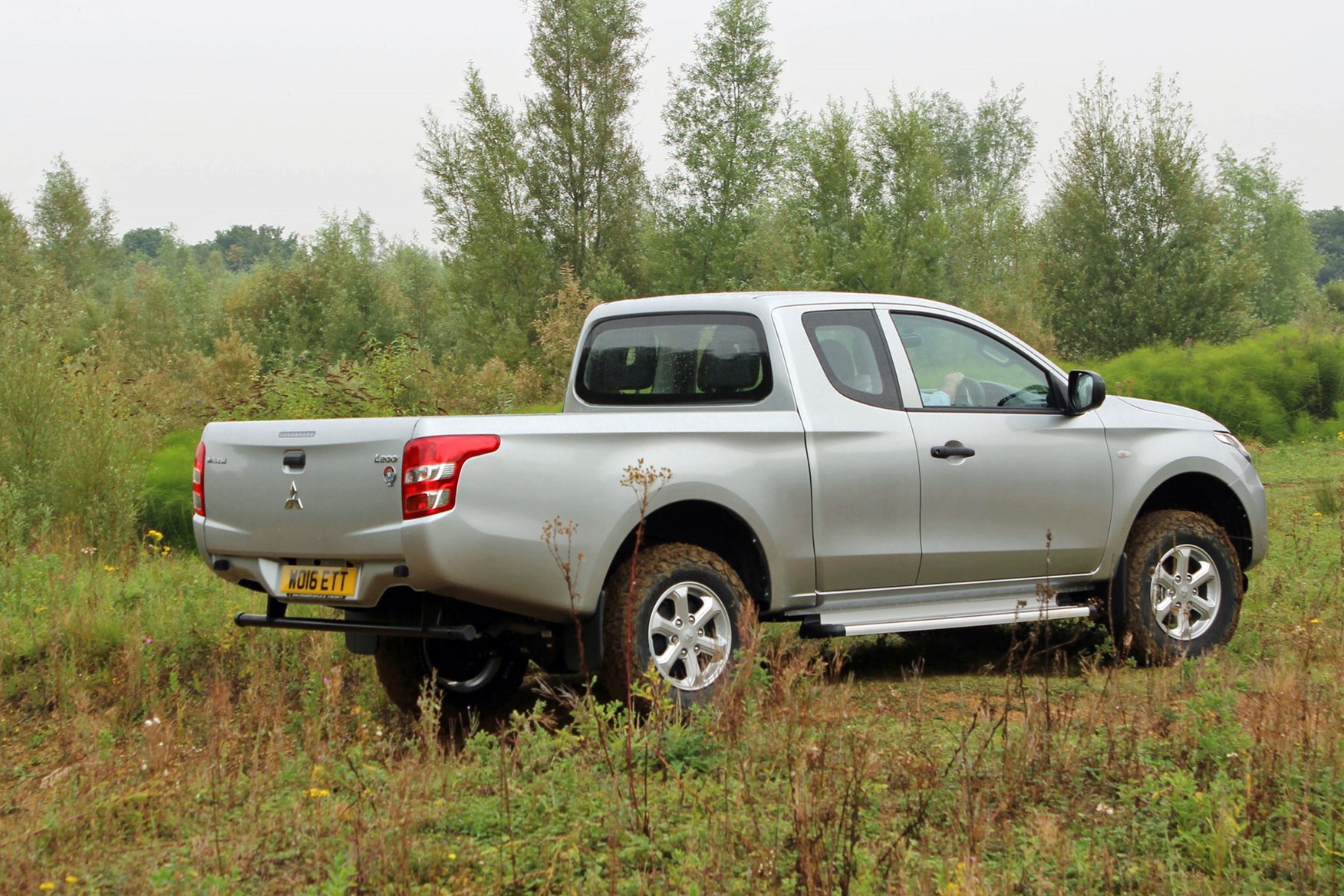 You can only open the rear doors if the front doors are already open. Which might occasionally be inconvenient, but certainly helps them stay safe.
How basic is Mitsubishi's 4Life specification?
Not that basic any more. The interior is certainly more functional than frilly, in terms of its design and tough plastic finish, but electric windows and air-conditioning are now standard, the front seats have adjustable lumber support, and there are buttons on the steering wheel to control the CD-radio and Bluetooth system. You also get two airbags, a USB port for charging your phone and a leather-trimmed steering wheel.
That said, there is no engine choice in the 4Life range – only the 154hp, 380Nm version of Mitsubishi's 2.4-litre turbodiesel is fitted; paired with a six-speed manual gearbox and the Easy Select four-wheel drive system this claims 40.9mpg.
What's the Easy Select four-wheel drive system like?
This has two-wheel drive, four-wheel drive and four-wheel drive low-range settings, activated electronically via a knob by the gearlever.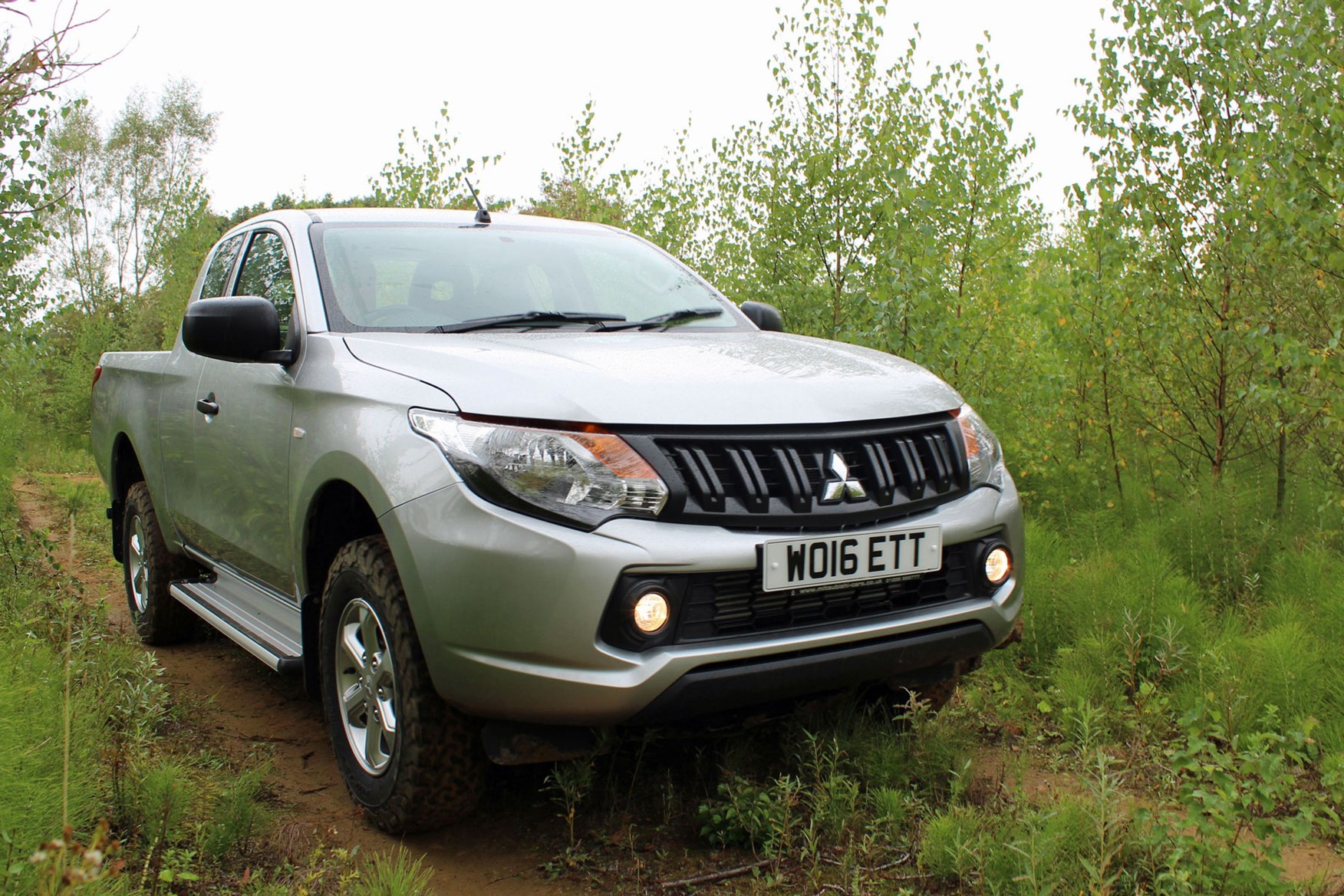 Compared with Mitsubishi's higher grade Super Select four-wheel drive system, Easy Select can't drive all four wheels at motorway speeds, but it's fitted to 4Life models because it has a proper differential lock, which is better for dealing with more serious off-road terrain.
We tested it over a reasonably challenging forest course using both regular road tyres and mud-plugging off-road tyres, and aside from having to be careful not to catch the long rear end on anything, it breezed through every obstacle.
What's the 4Life Club Cab like on regular roads?
Pretty easy to handle in most situations – helped by the L200's relatively compact dimensions (keeping in mind that it is still nearly 5.2m long and 1.8m wide).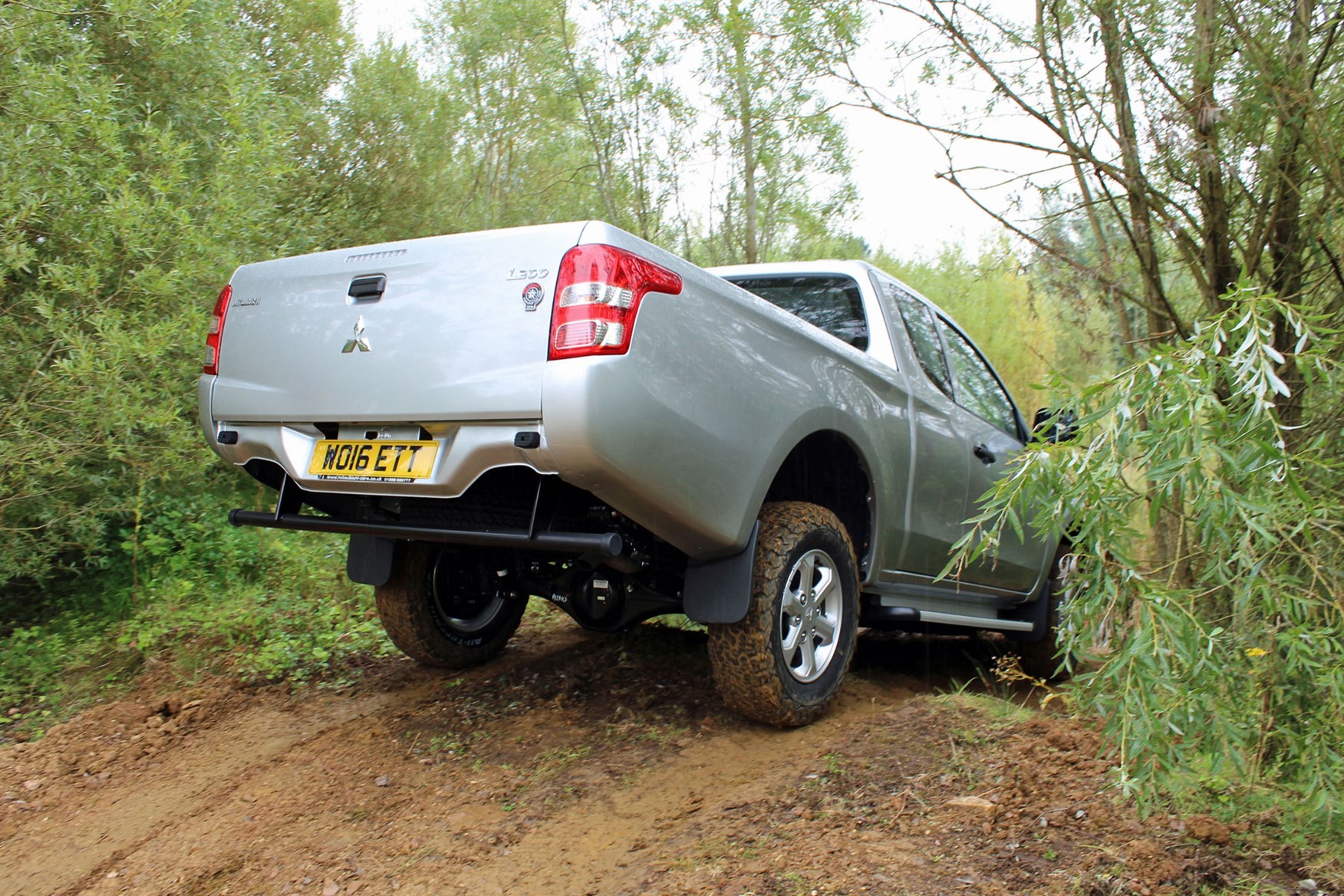 The steering is light and acceptably precise, and if the Club Cab starts to roll excessively in the corners you're probably going too fast.
Should I buy an L200 Club Cab?
The 4Life Club Cab is priced from £18,499 excluding VAT, undercutting every rival except the Isuzu D-Max Utility, which comes with far less standard kit. It's great value.
With good fuel economy, a quiet engine and useful creature comforts, the Mitsubishi should be an easy pickup to spend your working life with. But it isn't the top choice if practical concerns such as payload and towing capacity are your number one priority.