Mitsubishi L200 review (2015-on)
Great value, strong performance and winner of the Parkers 2019 pickup award
PROS
Nimble driving experience
Responsive and frugal engines
Lots of standard equipment
Good off road
Great value for money
CONS
Limited load area and payload
Short service intervals
Firm, crashy ride
Not that stylish inside
Auto only has five speeds
Summary
We rate the Mitsubishi L200 Series 5 pickup so highly we named it Pickup of the Year in the Parkers 2019 New Car Awards. Watch our awards video below.
It first went on sale in September 2015, as the first of seven new-generation pickups launched between 2015 and 2017. And it set the standard high, with impressive fuel economy, good off-road ability and a whole host of safety systems.
A facelifted version of this Mitsubishi L200 is due to go on sale in the UK in late summer 2019 - more details below.
Mitsubishi L200 trim levels
The fifth-generation L200 comes in four standard trim levels:
4Life
Titan
Warrior
Barbarian
Each is well equipped versus Mitsubishi's rivals - which include the Isuzu D-Max, Ford Ranger, Nissan Navara and SsangYong Musso - making great value one of the L200's strongest attributes.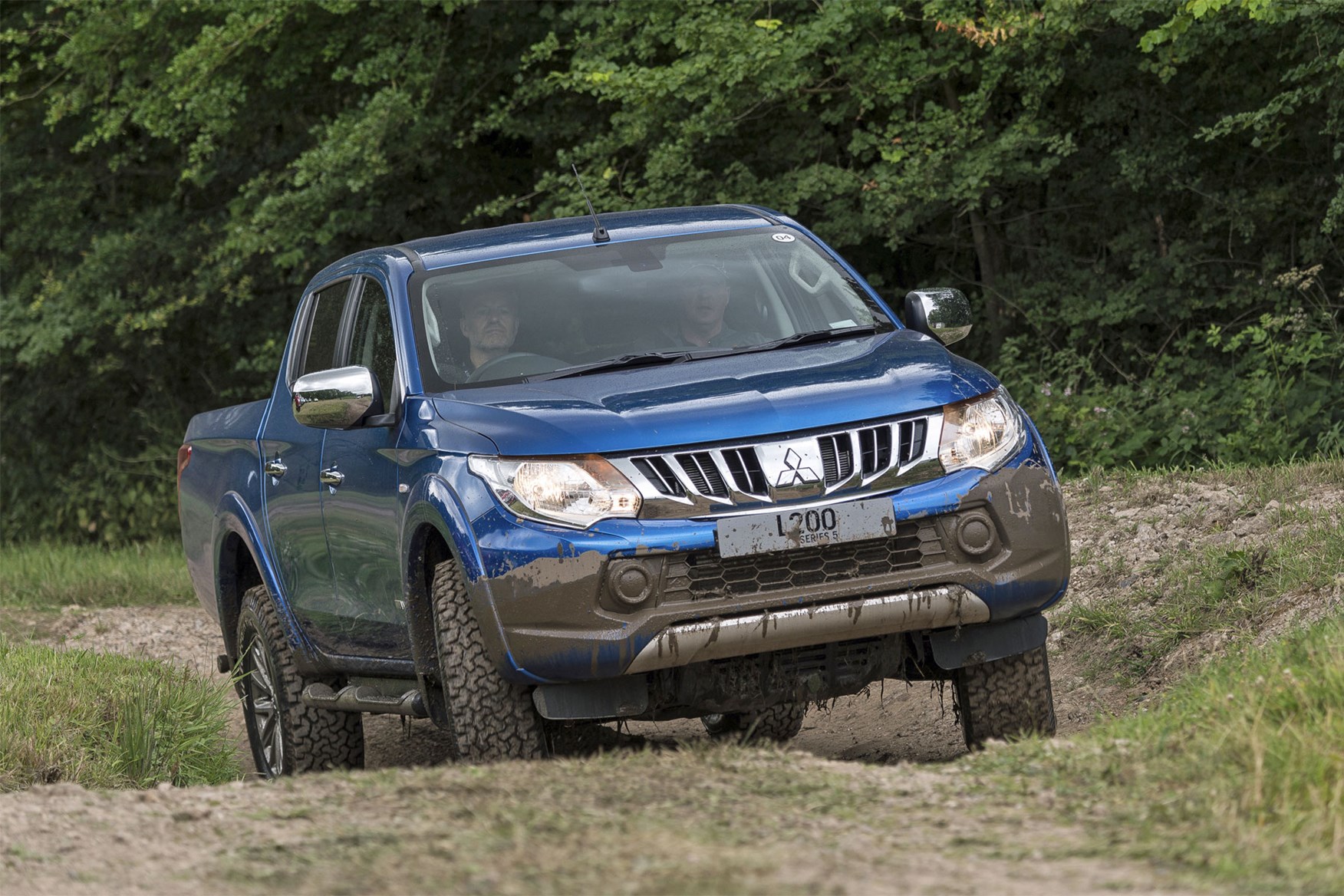 As with most pickup manufacturers, Mitsubishi is fond of regular special editions. The SVP and SVP II being the most recent examples.
The L200 also forms the basis of the Fiat Fullback pickup.
Mitsubishi L200 body styles and engines
The L200 was initially only available in the popular Double Cab bodystyle, meaning four doors, five seats, and a smaller load area.
However, in August 2016, Mitsubishi added Single Cab and Club Cab variants in basic 4Life specification, targetting buyers who need a working truck rather than the lifestyle crowd.
At the same time, Mitsubishi announced an upgrade to the L200's 2.4-litre turbodiesel engine, bringing it in line with the latest Euro 6 emissions requirements.
This had no impact on the engine's power output. All-new at launch in 2015, this continues to be sold with 154hp / 380Nm in low-power guise and 181hp / 430Nm as a high-power version.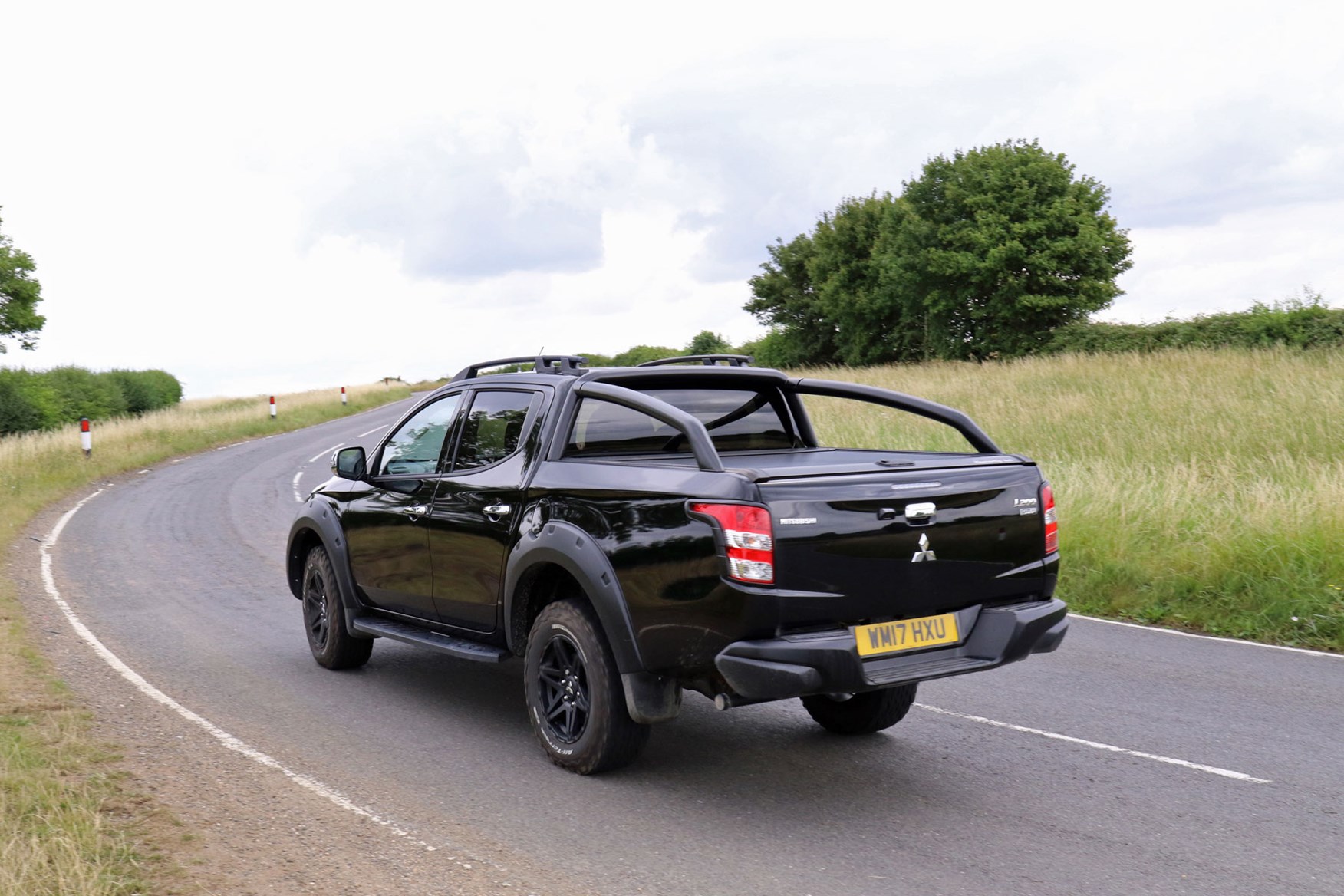 Both engine variants offer sprightly performance thanks to the L200's relatively light weight, and refinement that makes them easy to live with.
A six-speed gearbox is standard, a five-speed automatic is optional.
Upgrade to 3.5-tonne towing capability in 2018
There was a further upgrade in January 2018, when Mitsubishi announced it had re-engineered the L200 with additional chassis reinforemcent to increase the towing capacity from a limited 3.1 tonnes to a best-in-class matching 3.5 tonnes.
The nature of its 4x4 system also means this made it the only pickup on sale in the UK able to tow 3.5 tonnes on tarmac in both two-wheel drive and four-wheel drive modes.
>> Mitsubishi L200 upgraded to tow 3.5 tonnes in 2018
2019 Mitsubishi L200 facelift
In November 2018, Mitsubishi revealed a substantially facelifted version of the L200 (pictured below), which is set to go on sale in the UK in July or August of 2019.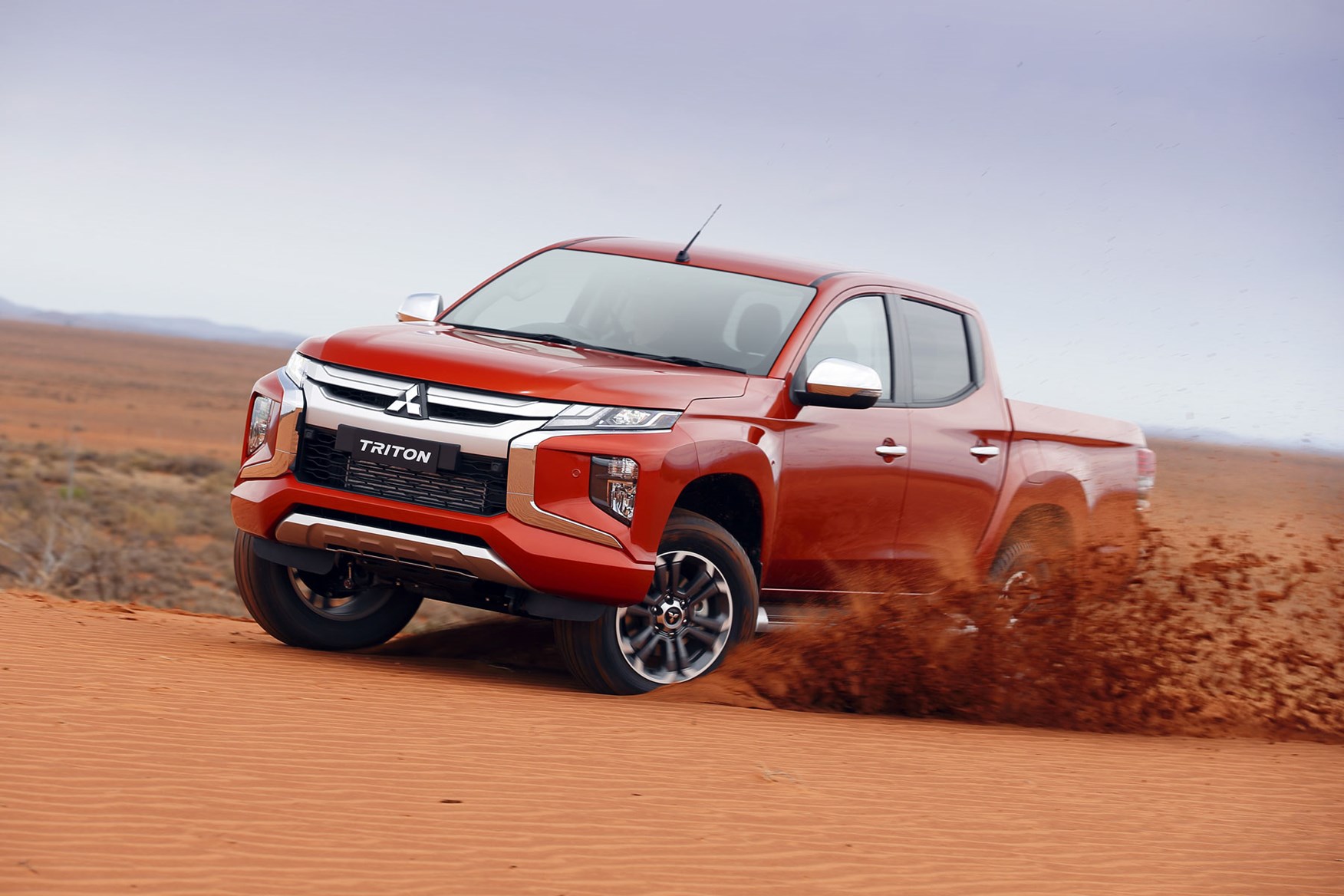 We'll update this review page with full details of the new model as soon as the UK specification is confirmed.
In the meantime, you can read our first driving impressions of the revised L200from the launch event in Thailand in our dedicated news story and initial review by clicking here.
>> New 2019 Mitsubishi L200 review - first test of facelifted model
---

Mitsubishi L200: the Parkers Vans verdict
A relatively compact pickup by modern standard, the L200 is nimble to drive with a turning circle better than most and plenty of poke from its freshly developed 2.4-litre turbodiesel engine. It performs well on and off road.
Keen pricing and lots of standard kit make it a great choice for those who are looking for maximum value for money, and following the 3.5-tonne towing upgrade in 2018, it was voted winner in the pickup category at the 2019 Parkers New Car Awards.
While the load area is small and maximum payload rating falls far short of the strongest competitors great value means it's definitely one for your shortlist.
Keep reading for the full Parkers Vans review of the 2015-onwards Mitsubishi L200 pickup truck.
We also have the following individual Mitsubishi L200 model reviews:
Skip to our full verdict on...
Powering the Series 5 Mitsubishi L200 is a 2.4-litre turbocharged diesel engine.
It comes in two power outputs:
154hp / 380Nm
181hp / 430Nm.
Fitted with a variable geometry turbocharger, this is an impressively responsive engine and, helped by the pickup's relatively low weight, the higher-output 181hp L200 goes 0-62mph in just 10.4 seconds.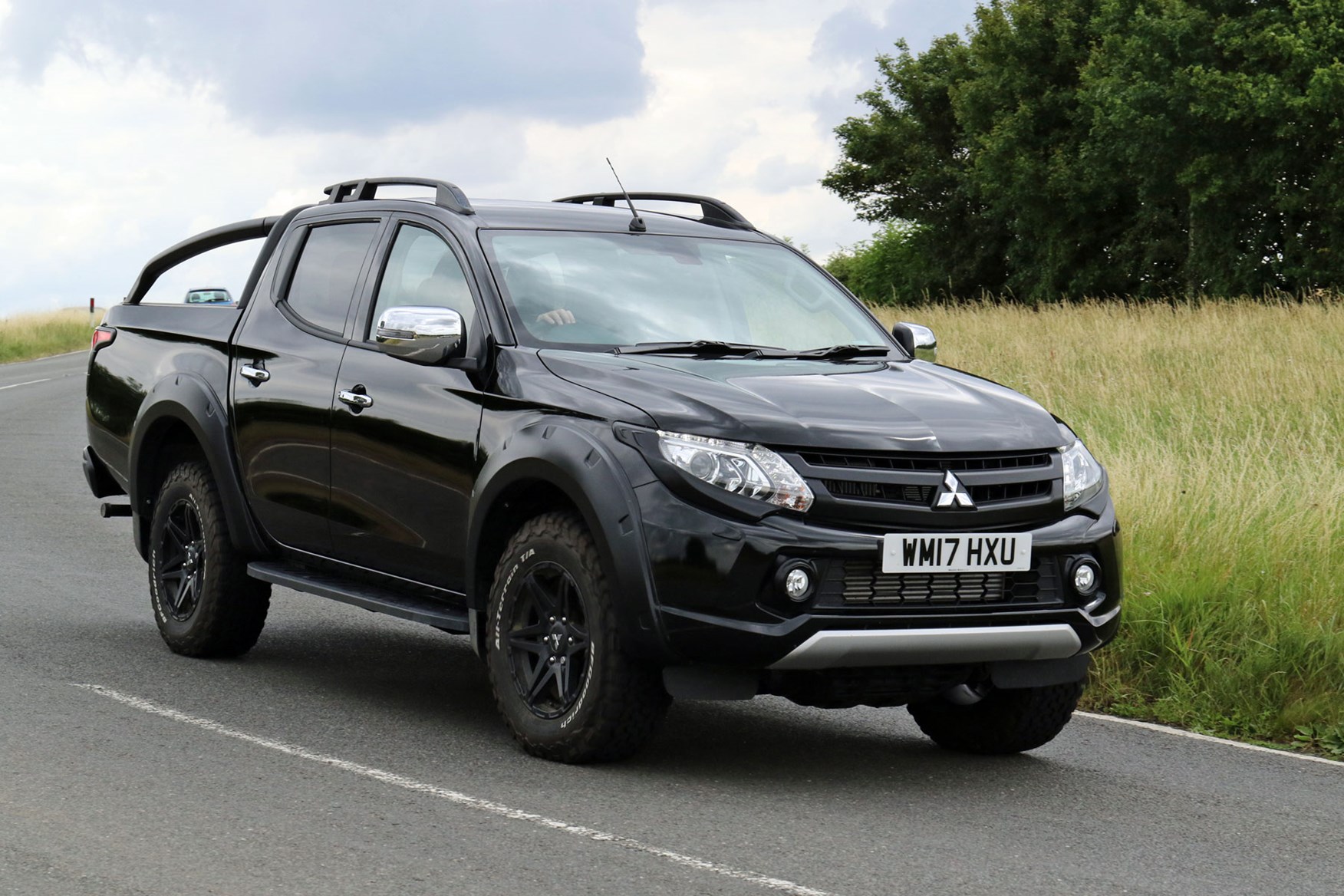 All versions have a six-speed manual gearbox as standard, while the Warrior and Barbarian Double Cabs are available with an optional five-speed automatic.
Drives like... a pickup...
The L200 has always been quite utilitarian to drive, and during our early encounters with this model we found a number of recognisable characteristics carried over from the previous generation, including a notchy gearchange and noisy engine.
However, subsequent examples tested have proved better in both regards.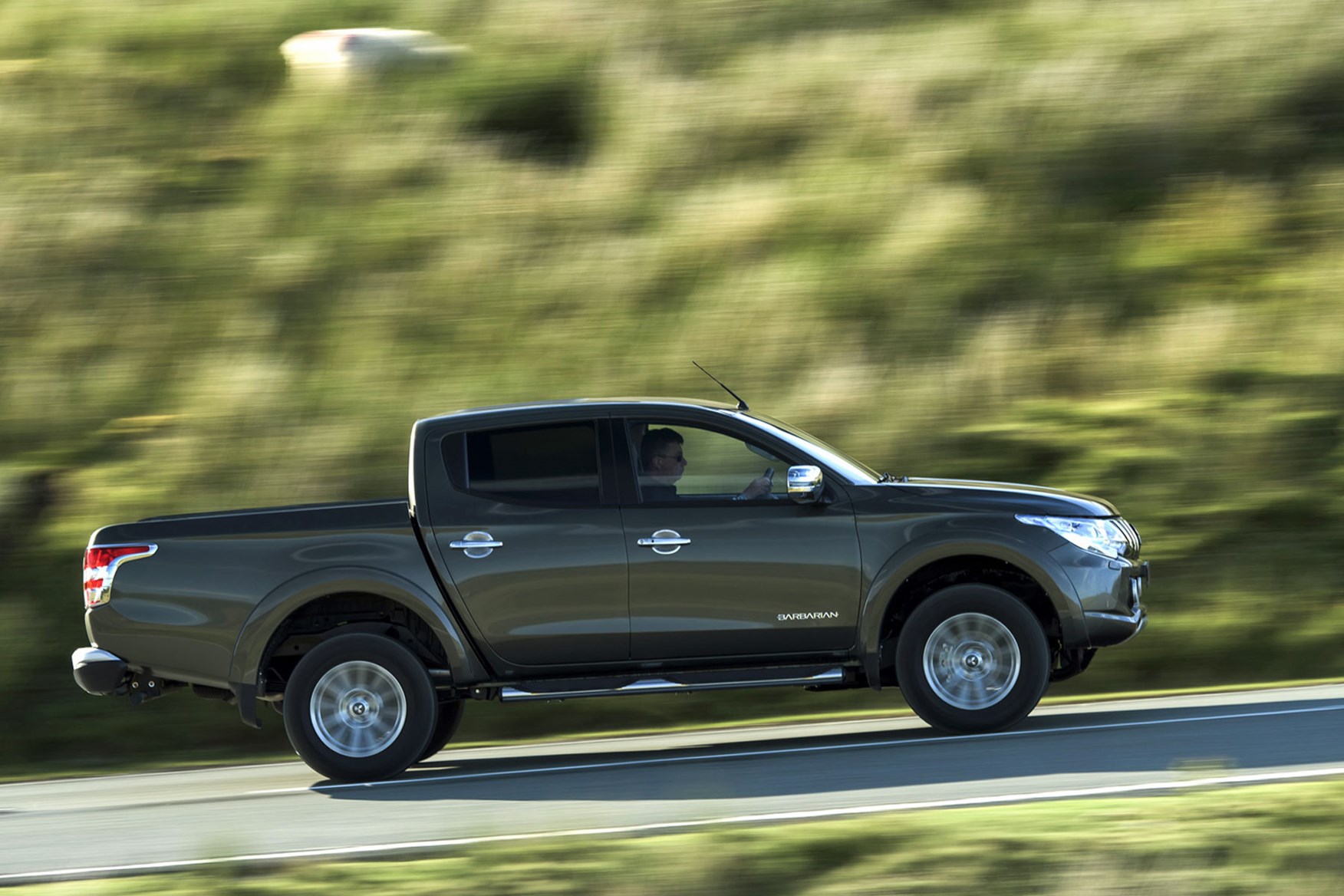 The optional automatic is relatively smooth, and comes with paddleshifters and a sport mode. But it can be hesitant, and is no match for newer automatics like the eight-speed unit fitted to the Volkswagen Amarok.
...but actually quite a good pickup
There are also areas of definite improvement. The Mitsubishi is a lot more agile now, with a tighter than average turning circle for a pickup.
The steering is precise, and the L200 is keen to change direction, with plenty grip at the front to follow this through.
It also feels more composed and refined on the road, while increased structual strength aids stability. The amount of road noise has been dramatically reduced, as has the body roll generated in the corners, although it is still outperformed in both these areas by the Ford Ranger and VW Amarok.
Choice of four-wheel drive systems
There are two four-wheel drive (4WD) systems available on the L200:
Easy Select on 4Life models
Super Select on the Titan, Warrior and Barbarian trim levels.
Both versions feature electronic rather than mechanical activation controls for the first time.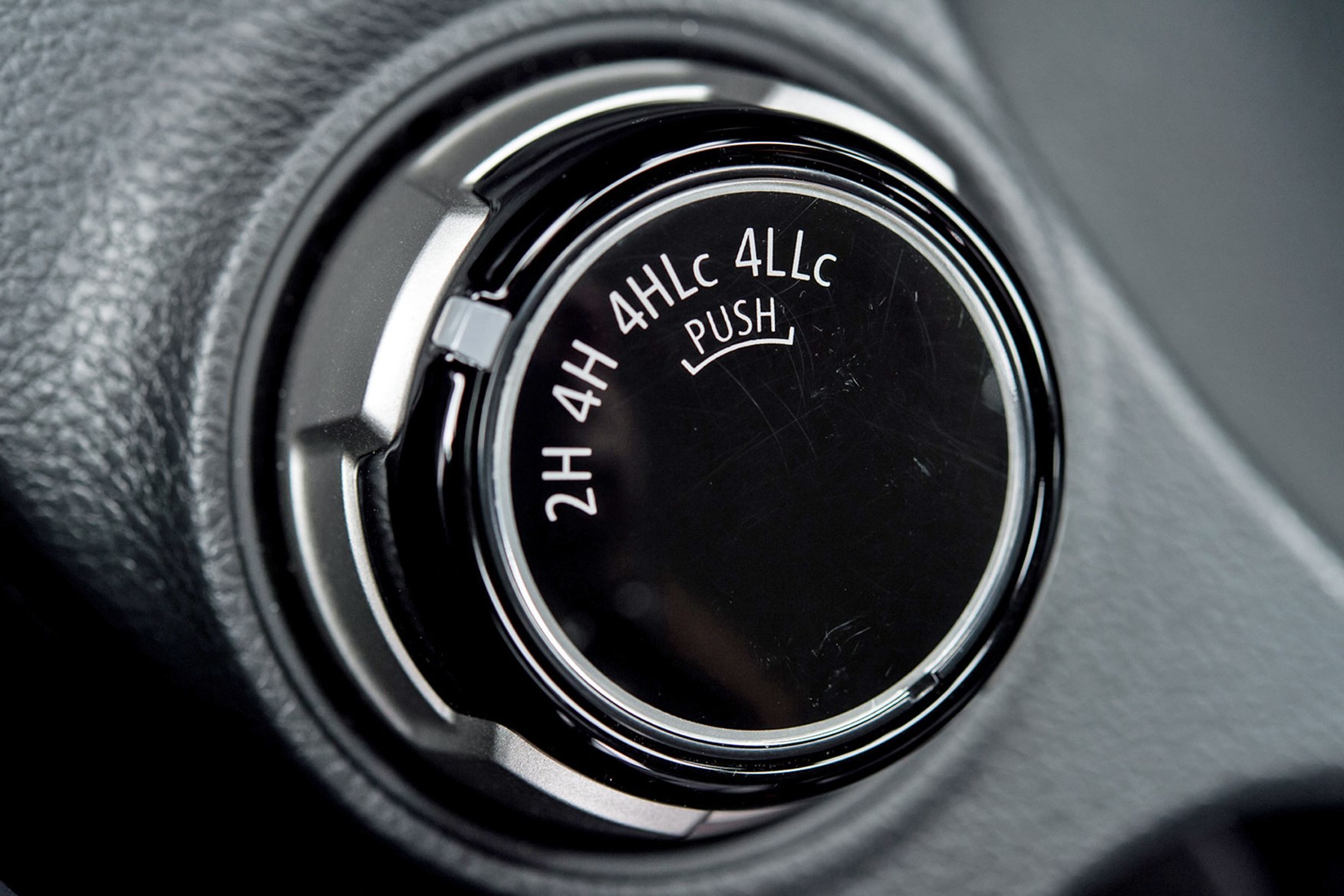 Easy Select has three settings; 2WD High, 4WD High and 4WD Low, while the Super Select has the extra 4WD High with centre differential lock.
The centre differential is useful, as it allows the L200 to be driven on the road with four-wheel drive engaged, something only the expensive Amarok and top-spec Mercedes X-Class V6 also offer.
L200 off-road performance
The Mitsubishi L200 has always performed very strongly off road, and this fifth-generation model is no exception.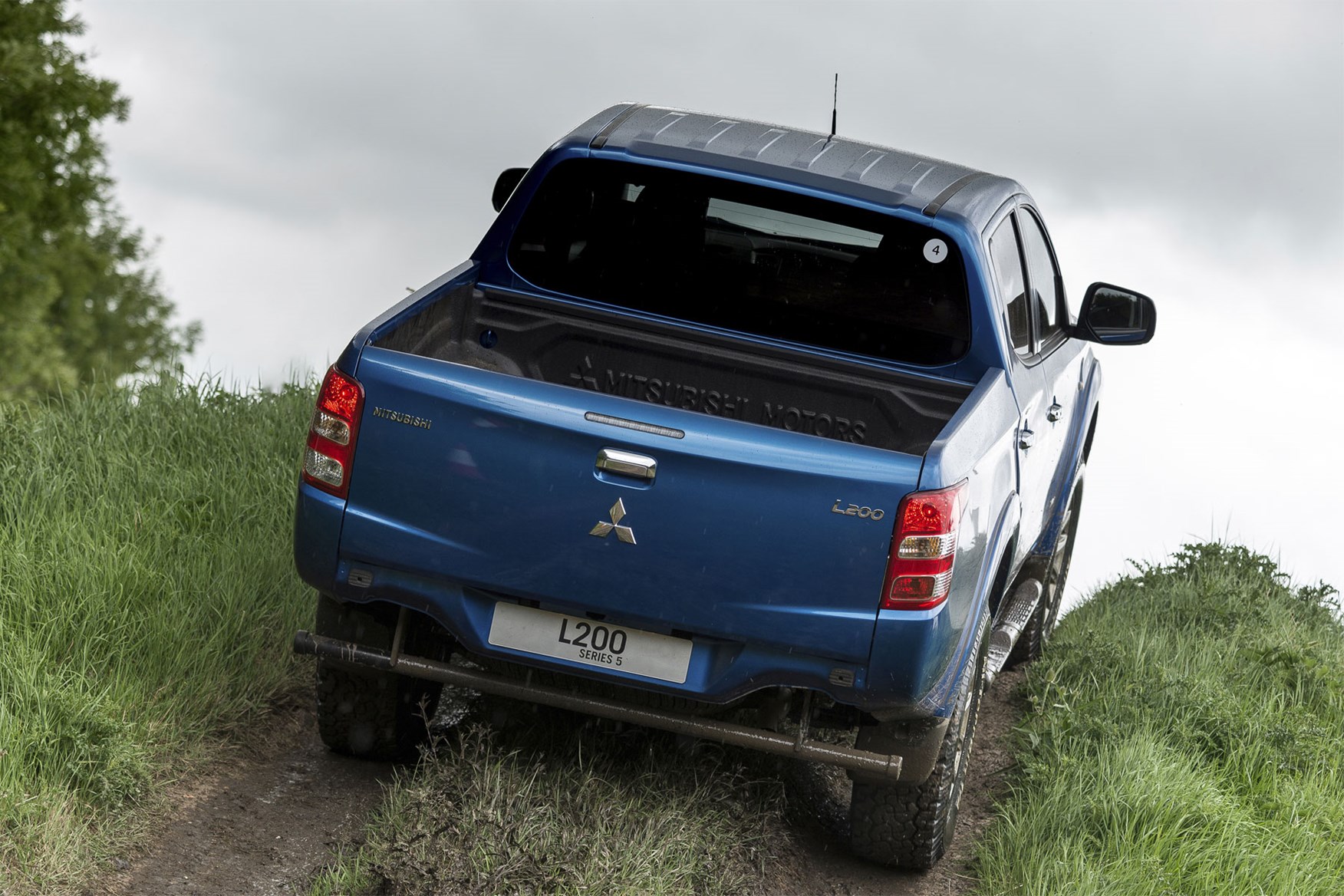 The L200 has maximum approach and departure angles of 30 and 25 degrees respectively (22 degrees departure on Double Cabs fitted with the rear bumper), and 200mm ground clearance.
There is no high-tech hill descent control, but we found that the engine braking was more than up to the task of keeping things controlled on a 35 degree descent without the need to apply the footbrake.
Accessing the cab is a lot easier than it was in the previous L200 thanks to the side steps that are standard on all but the Single Cab; Double Cab models get remote keyless entry right across the range, too.
Uninspiring but comfortable inside
Considering the advances made elsewhere on the Mitsubishi L200, the interior is a rather uninspiring design. We'd even argue it looks more dated than its predecessor thanks to the boring square buttons and general lack of style.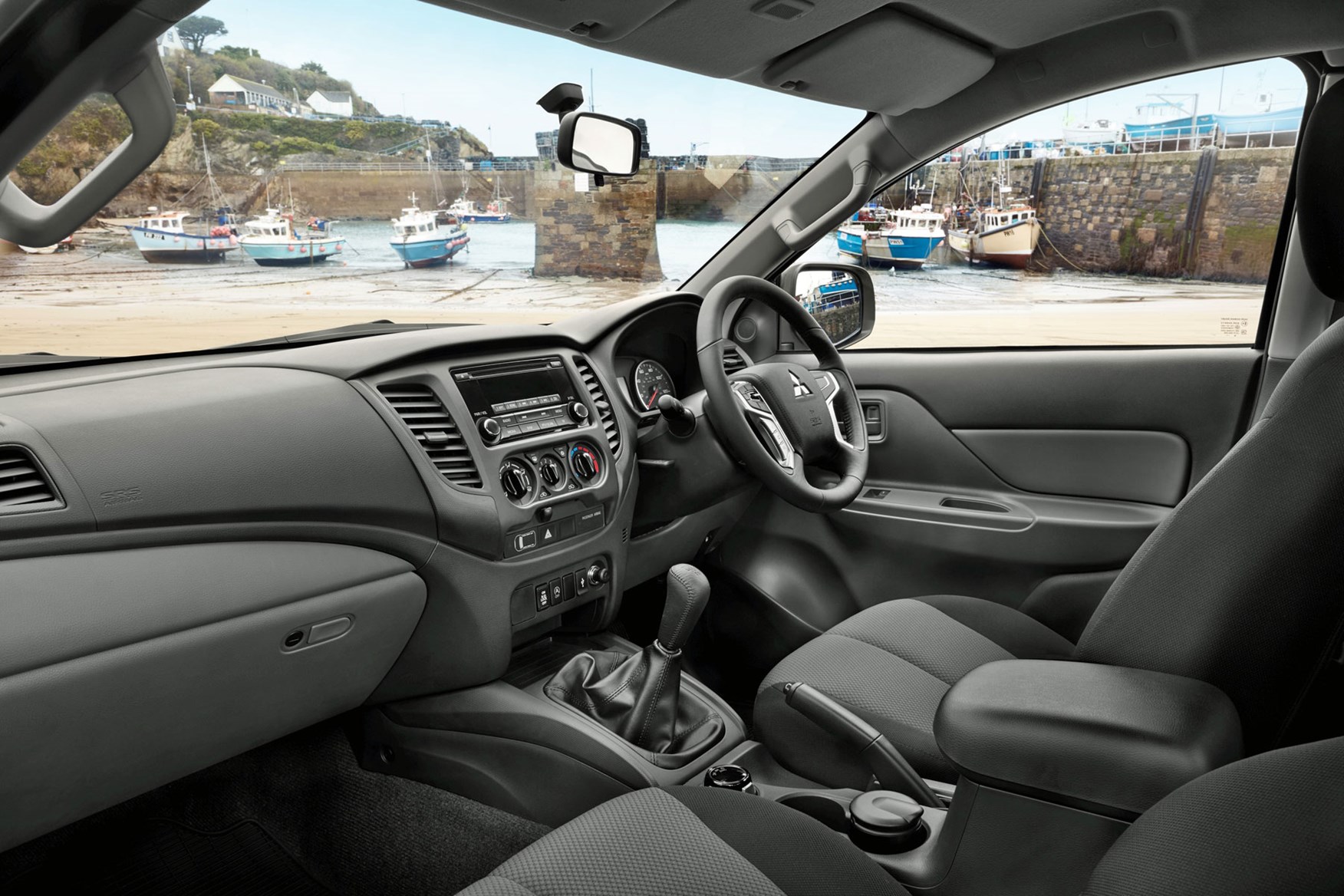 Nevertheless, the cab is comfortable, with a smaller steering wheel than the previous model that's now rake adjustable, plus six-way adjustable driving seat with memory foam cushion, and increased travel to accommodate taller drivers.
There are also steering wheel-mounted controls and good all-round visibility thanks to the short and low dashboard and large rear window. Fancier versions get a touchscreen infotainment system, though in pre-2018 cars you may find this rather fiddly to use.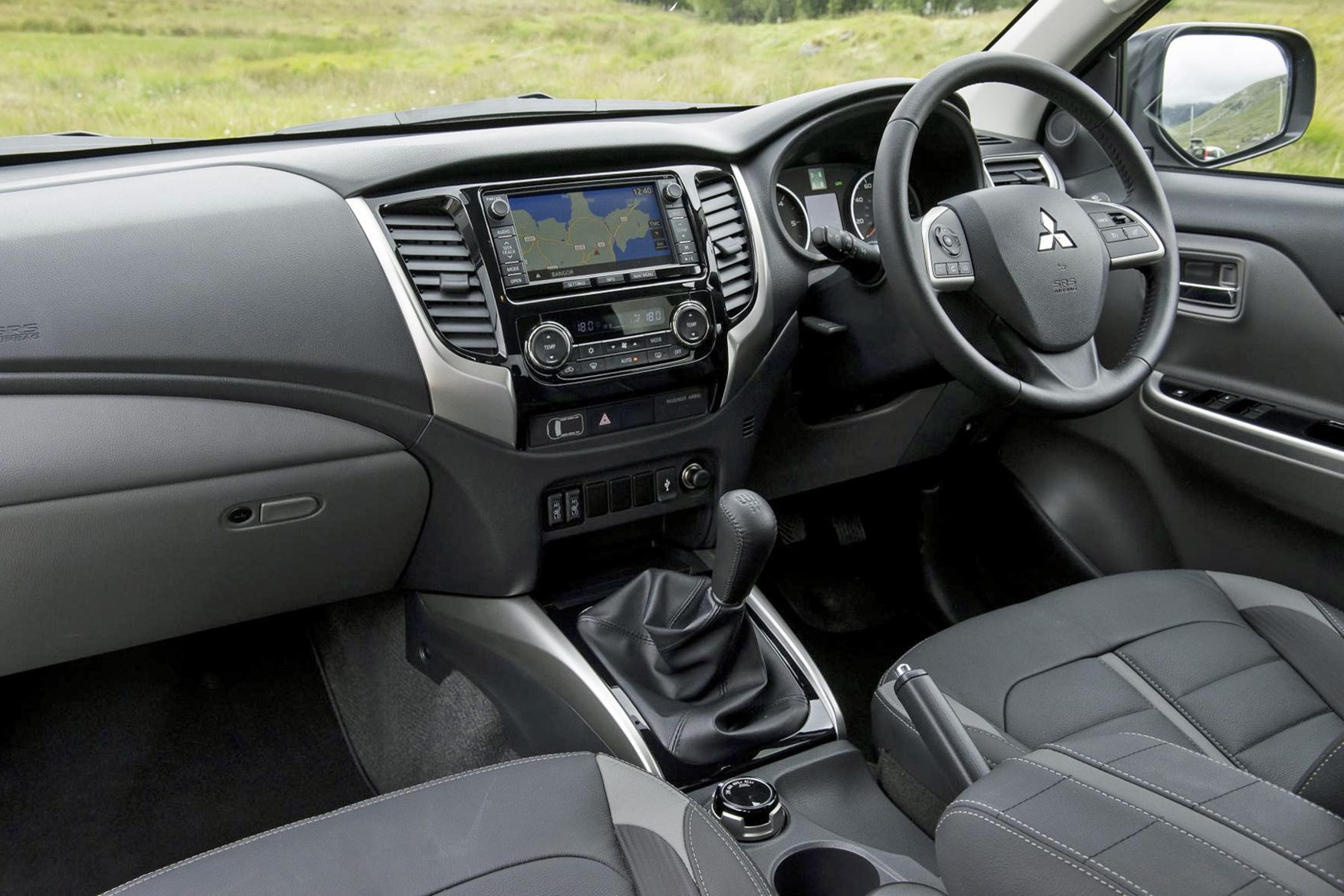 Regardless of year, in-cab storage is a bit of an issue, with only a limited number of covered compartments around the interior. This isn't particularly unusual for a modern pickup.
Mitsubishi L200 rear seats
Double Cab models have a spacious rear seat, which should be comfortable for most adults (although the rear middle seat certainly isn't a comfy as the two outer ones).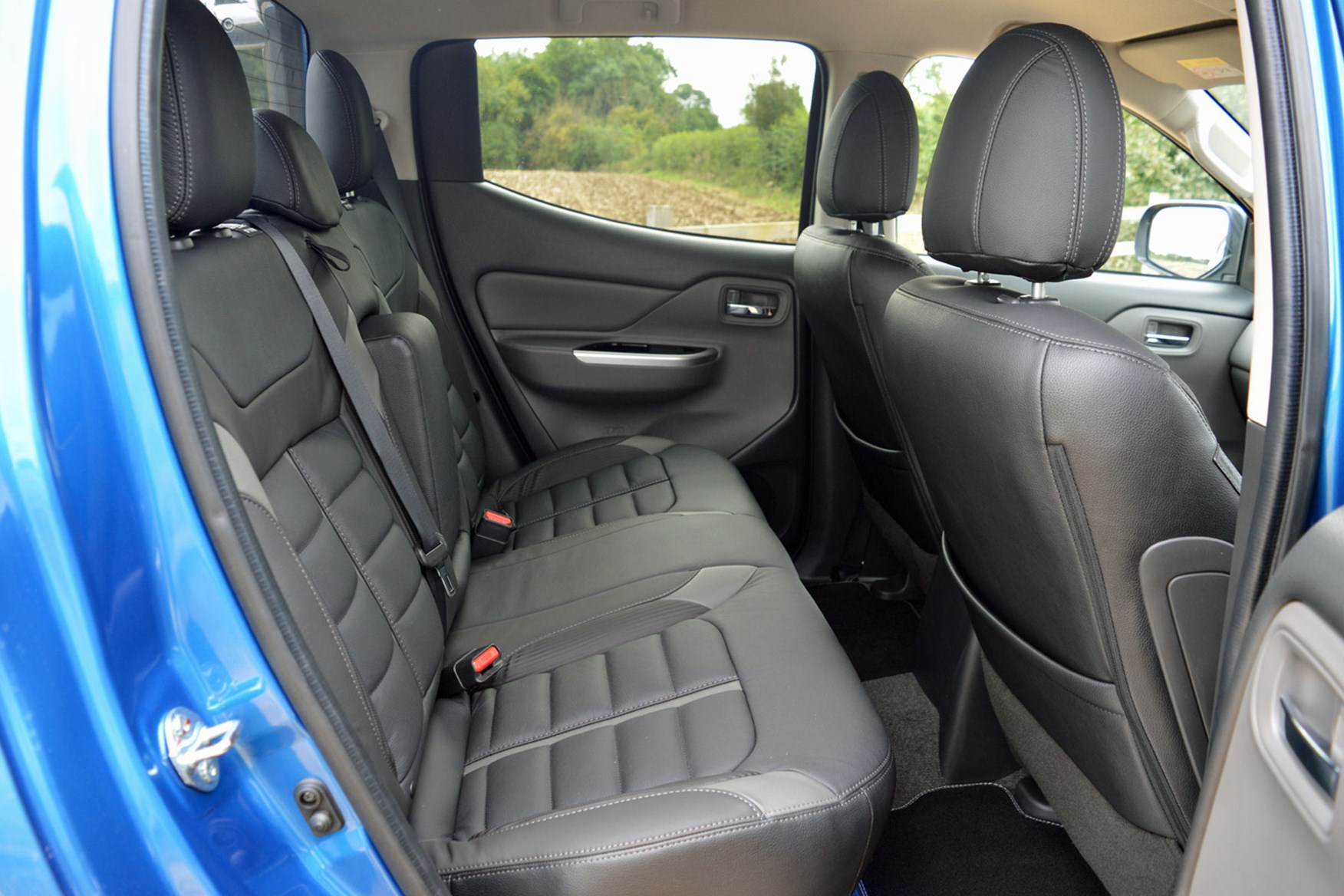 In Club Cab models, the rear seat is intended more for occasional use, and won't be ideally suited for longer journeys. Singel Cab L200s have no rear seats at all, as you'd expect.
2018 Mitsubishi L200 interior upgrades
Alongside the improved towing capacity (increased from 3.1 to 3.5 tonnes), Mitsubishi also introduced a new infotainment system for 2018, fitted as standard on the Warrior and Barbarian trim levels.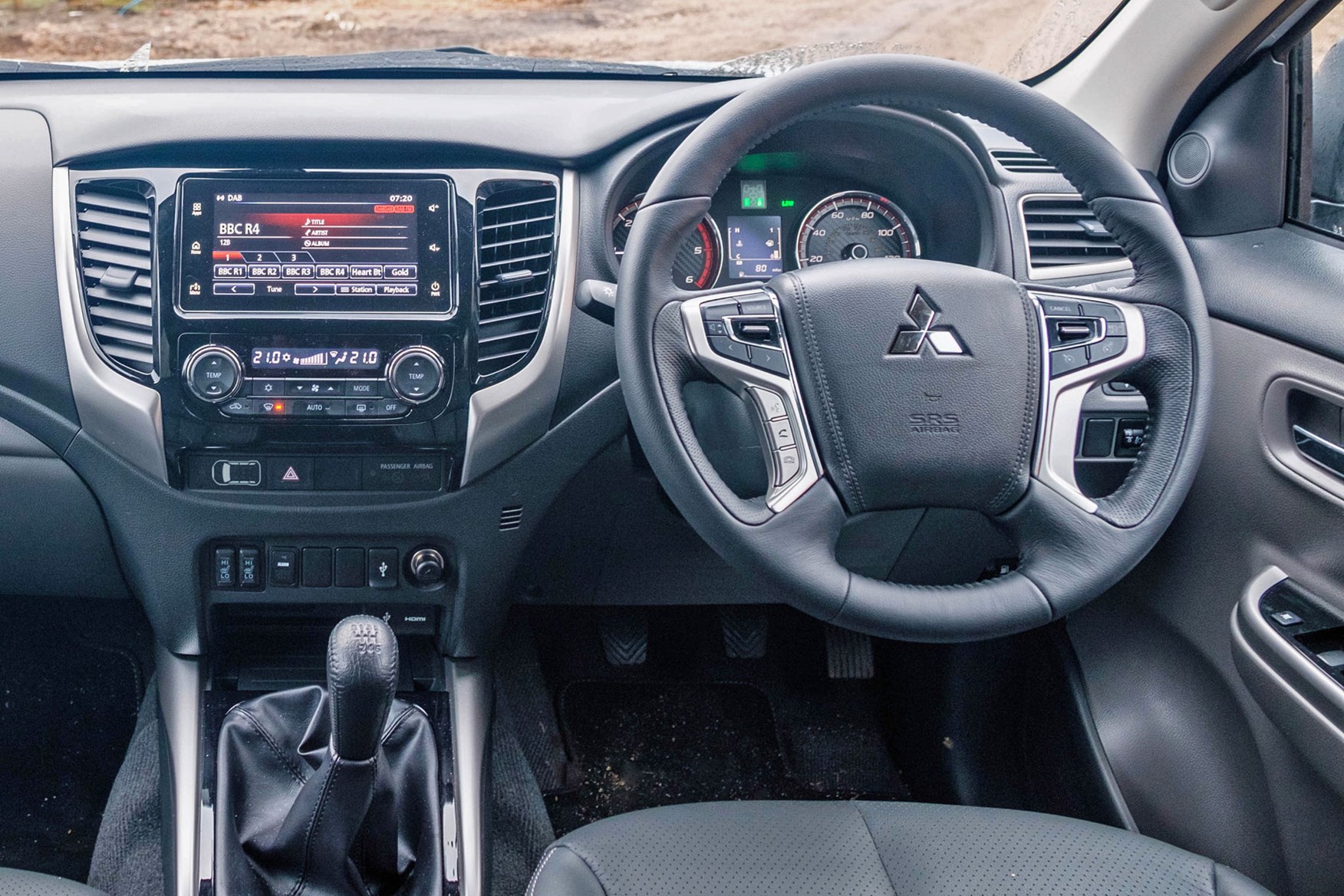 Called Mitsubishi SDA - which is somehow short for Smartlink Phone Display Audio - this not only features a much nicer touchscreen user experience, but also includes Apple Carplay and Android Auto for more convenient phone connectivity on the move.
For details of Mitsubishi L200 standard equipment, see the Costs and Value section of this review.
Owning a Mitsubishi L200 should be very affordable, thanks to keen list pricing and low running costs. Compared to most rivals you should find that it's also very generously equipped - making it even better value.
In fact, argueably the only pickup that outdoes the L200 for value is the 2018 SsangYong Musso, and you'll probably find the Mitsubishi is nicer to drive.
Low weight = low costs
Mitsubishi's engineers have worked extensively to reduce the L200's kerbweight (including the introduction of the first all-aluminium pickup truck engine) and it was the lightest and most aerodynamic model on the market when it was introduced. Two factors that contribute to excellent on-paper fuel economy.
Mitsubishi L200 fuel economy
As such, all 4Life models claim 40.9mpg, while the heavier lifestyle versions 39.8mpg with the six-speed manual gearbox or 37.7mpg with the automatic.
Low 30s mpg is a good result in the real world, and should be perfectly achieveable unless you've got the payload maxed, are towing or have a particularly heavy right foot.
Versions that meet Euro 6 emissions regulations manage to get by without an AdBlue tank, too, so there's none of the extra expense involved in keeping that topped up here.
Though some experts do suggest the NOx trap method Mitsubishi uses instead may prove less reliable over time, it's too early to tell whether this is actually the case.
Mitsubishi L200 warranty and service intervals
The warranty provides cover of up to five years or 62,500 miles, but service intervals are set at a fairly limited 12,500 miles or two years.
You can upgrade to 125,000 miles of warranty cover for a modest fee via a third-party arrangement between Mitsubishi UK and Allianz Assistance; customer experience suggests this isn't the most straightforward process, but at least the option is available.
There are now 125 Mitsubishi dealerships nationwide, and the number is rising so you should be able to find a centre not too far from you.
Mitsubishi L200 standard equipment
Standard equipment is generous across the L200 range, starting with the entry-level 4Life specification, which features air-conditioning, electric windows and Bluetooth with audio streaming standard on every model - even on the most basic Single Cab.
The Club Cab version adds alloy wheels and the additional, rear-hinged doors that enable access to a set of 'temporary' rear seats (below). These are designed for occasional journeys only, or you can flip them up to use the space as secure in-cab storage.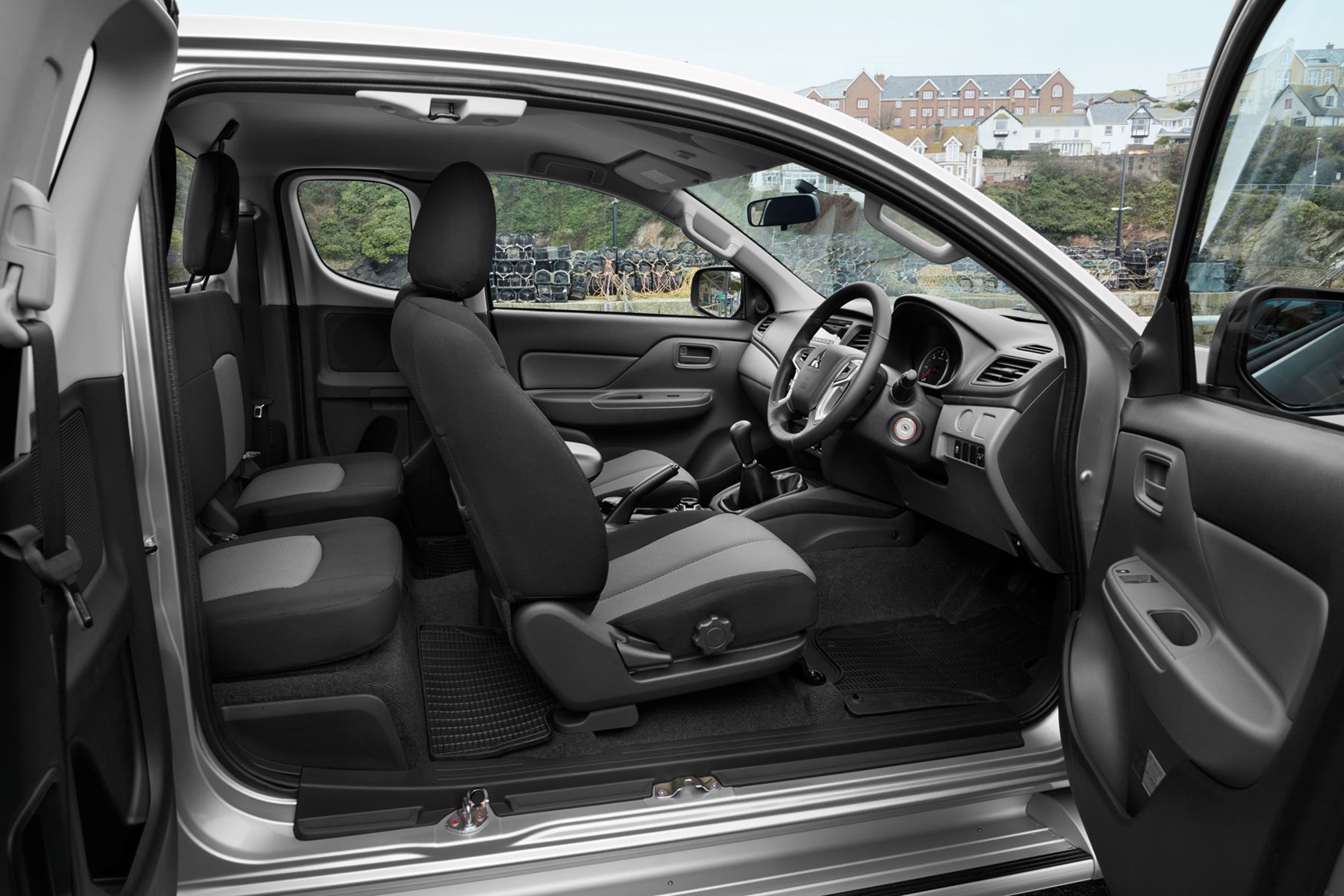 For proper backseat luxury, look to the Double Cab, which has a lot of legroom and the backrests inclined at a comfortable 42 degrees. All lifestyle versions of the L200 come in this bodystyle only, starting with the Titan model.
Mitsubishi L200 Titan standard equipment:
Automatic lights and wipers

Six speakers (instead of just four)

Reach- and rake-adjustable steering

Silver detailing on the air vents

Dual-zone air-conditioning
Mitsubishi Warrior standard equipment (in addition to Titan):
Heated front seats with electric adjustment for the driver

Rear-view camera
Mitsubishi Barbarian standard equipment (in addition to Warrior):
Leather upholstery

Driver's armrest

LED interior mood lighting

Illuminated door entry guards
The special edition SVP and SVP II (below) models are based on the Barbarian trim, but featured enhanced looks (not to everyone's taste, that's for sure), and mildly fancier interior finishing.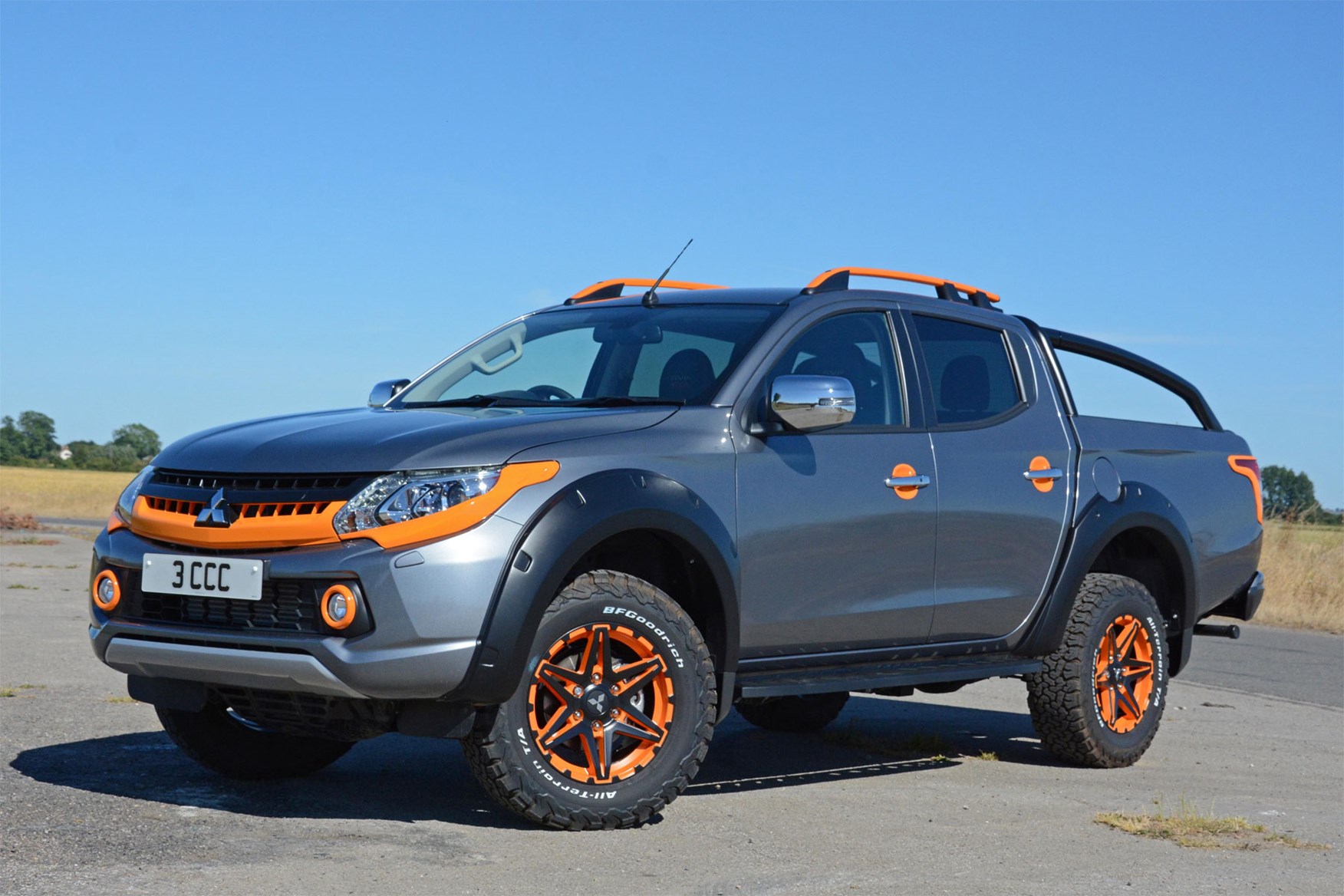 Most owner complaints about this generation of L200's reliability centre around the quality of materials rather than mechnical components.
Leather steering wheels seem to wear very quickly, the dashboard plastics are easy to scratch and there have been complaints about the quality of the paint as well.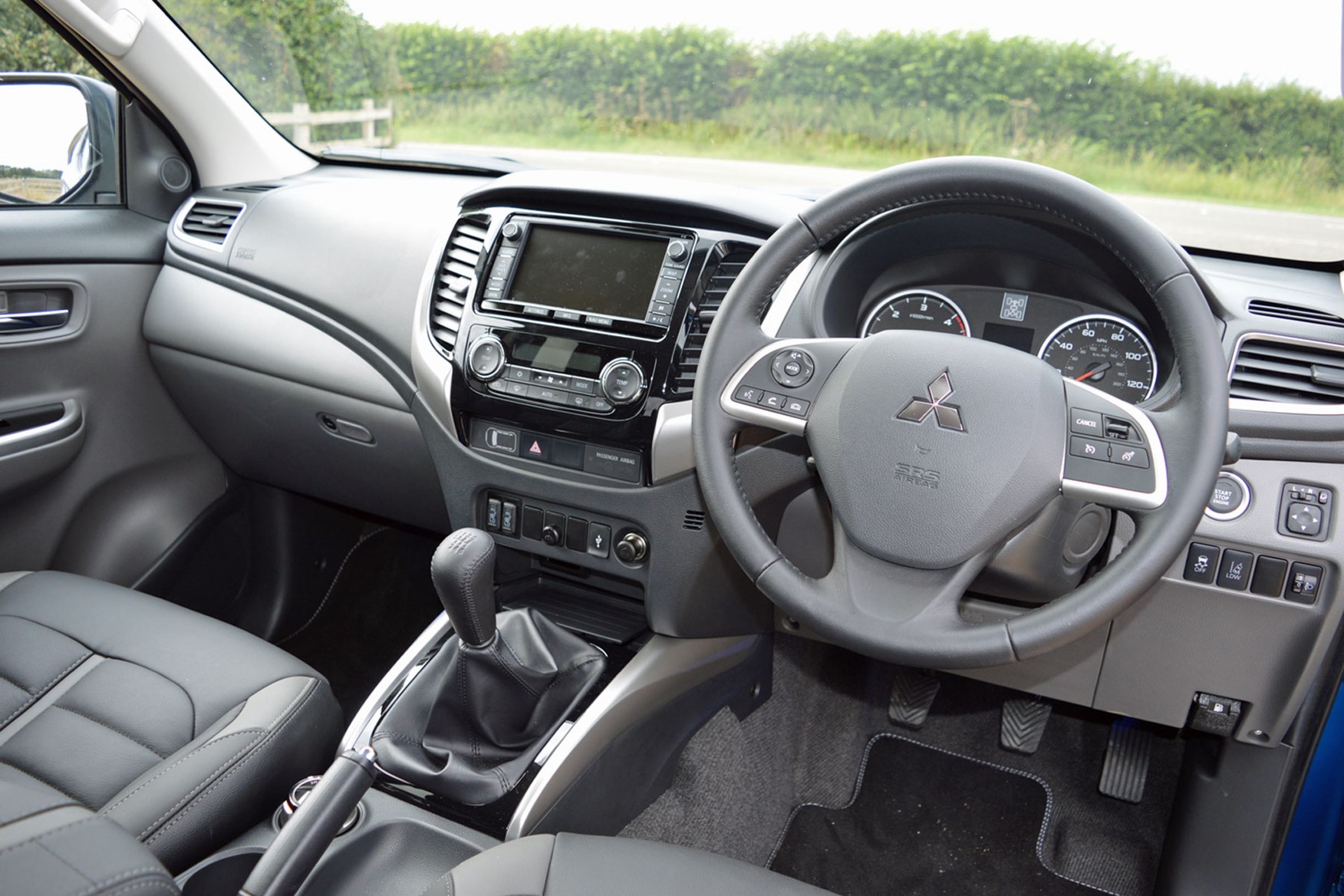 The fundamental engineering seems to be standing up fairly well, however - although there have been complaints about fuel economy and emissions control components such as diesel particulate filters; much of this will depend on how an individual vehicle is driven, so make sure you check the service history carefully if you're looking at buying a used example.
A lot of the Series 5's manual transmission components have been carried through from the previous L200, and there have been some reports of problems with the previous version's gearbox, particular with third gear proving difficult to engage. If buying used, be sure to pay attention to how the gearbox feels during the test drive.
Short service intervals
The short service intervals of 12,500 miles or two years should help maintain reliability since you'll be visiting the dealer more often.
While the standard five-year warranty is limited to just 62,500 miles, this can be extended to 125,000 miles for a modest charge, which may be worth considering if you're a high-mileage driver. See the Costs and Value section for more details.
Safety and security is another area where the Mitsubishi L200 scores well.
All models benefit from:
Deadlocks
Immobiliser
Daytime running lights
Trailer Stability Assist
Two airbags
Double Cab models get seven airbags and cruise control, too.
What's more, lane-departure warning is standard from Titan trim upwards.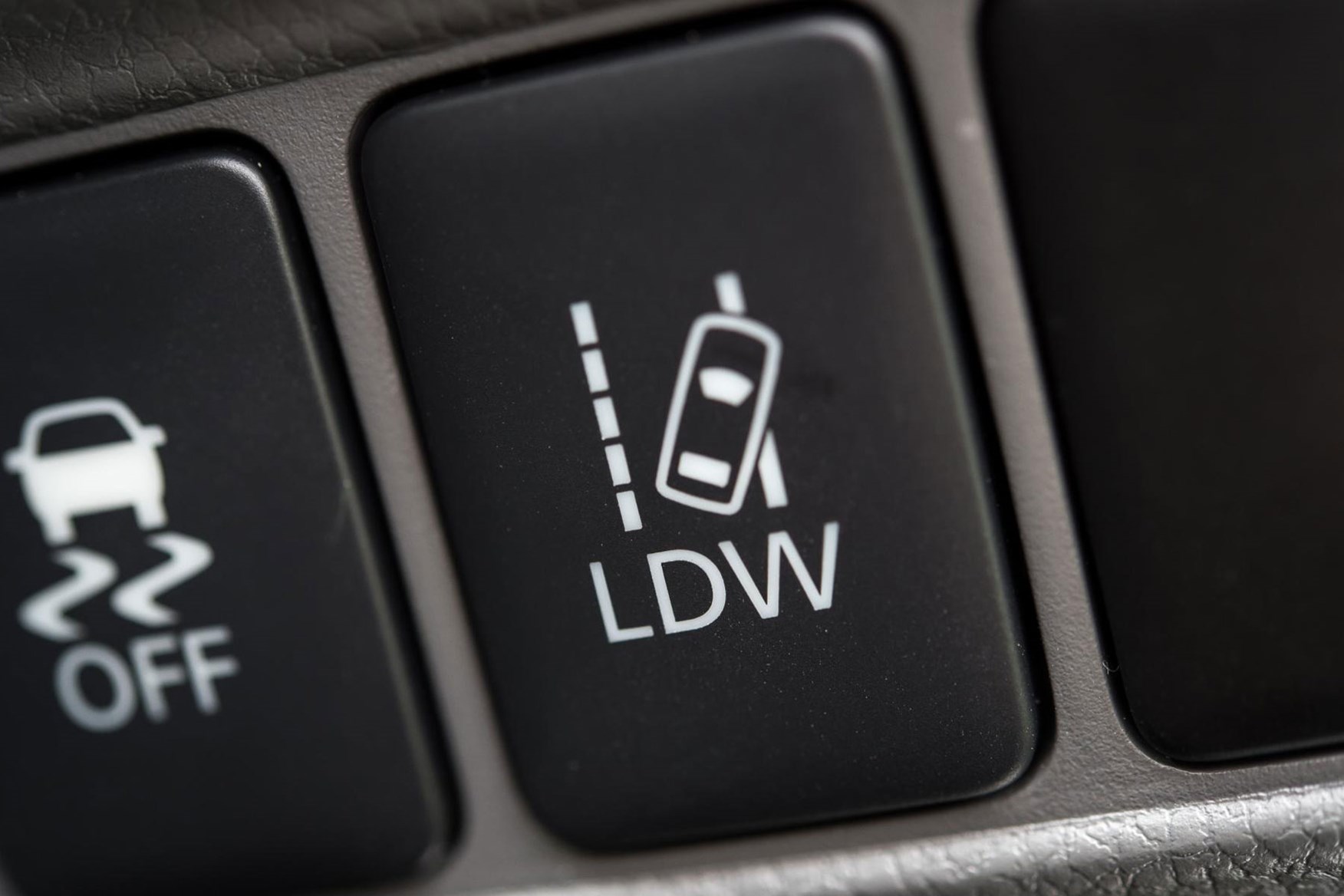 If you find the beeping this generates annoying, it is easy to switch off, but it reactivates everytime you start the engine.
Which Mitsubishi L200 is best for me?