Vauxhall Vivaro-e electric van review (2020)
A gamechanging electric van with 200 mile range and plenty of payload
PROS
Outstanding driving range
High payload for an electric van
Good to drive
Well equipped
Cheap to run
CONS
Expensive to buy versus diesel
Diesel can still carry and tow more
Cramped cab
Offset driving position
Charging still takes time
Summary
The Vauxhall Vivaro-e, though it speaks quietly – and in more ways than one – could well be a gamechanger for electric vehicles, which is why we've named it the 2021 Parkers Electrified Van of the Year. The first of a new crop of medium-sized electric vans from the PSA Group of companies that we've been able to drive, it's also the first electric van to top 200 miles of promised driving range, yet also manages to deliver payload that's competitive with conventional diesel-powered rivals.
Suddenly, there is an electric van that could properly suit the daily use of a whole range of businesses and operators. That's what we mean by gamechanger.
Plenty of choice
Understanding that one-size doesn't fit all when comes to business, Vauxhall is selling more than just one version of the Vivaro-e.
There's a choice of two battery pack sizes – 50kWh and 75kWh (kilowatt hour being the standard measure of electric vehicle battery capacity) – and like the regular Vauxhall Vivaro, the Vivaro-e comes in standard L1 and longer L2 bodysizes and two trim levels. Standard and double cab versions are also available.
All of this means that you can opt for the combination of payload, driving range and cost that best suits you.
One of three, soon to be four
The Vivaro-e won't be alone in this capability for long, however. As hot on its heals will come the Citroen e-Dispatch and Peugeot e-Expert, all three vans and manufacturers being part of the PSA Group of companies.
The Peugeot and Citroen will even offer a cheaper, low specification trim level and a third body (super short) bodysize – which in turn means that their ultimate maximum driving ranges and payloads are slightly higher.
Spec-for-spec all three vans have near-identical pricing, so which is best for you may come down to the nearest dealer or the price you can strike at the time.
Complicating matters further, Toyota will start selling its own version of these vans in the near future as well, as an electric version of the Proace. Every one of these four electric vans will be built PSA's factory in France, making the Vivaro-s the only version of that van unable to wear a built in Britain badge (the rest of the Vivaro range is assembled in Luton for the UK).
Driving range
The maximum driving range for the Vivaro-e is 204 miles, according to the latest WLTP standards. For that you'll need the larger 75kWh battery, which will slightly compromise the amount of payload the van can carry.
The smaller 50kWh Vivaro-e has a 143-mile WLTP rating – still very impressive for an electric van of this size, especially given WLTP is supposed to be better representative of real life.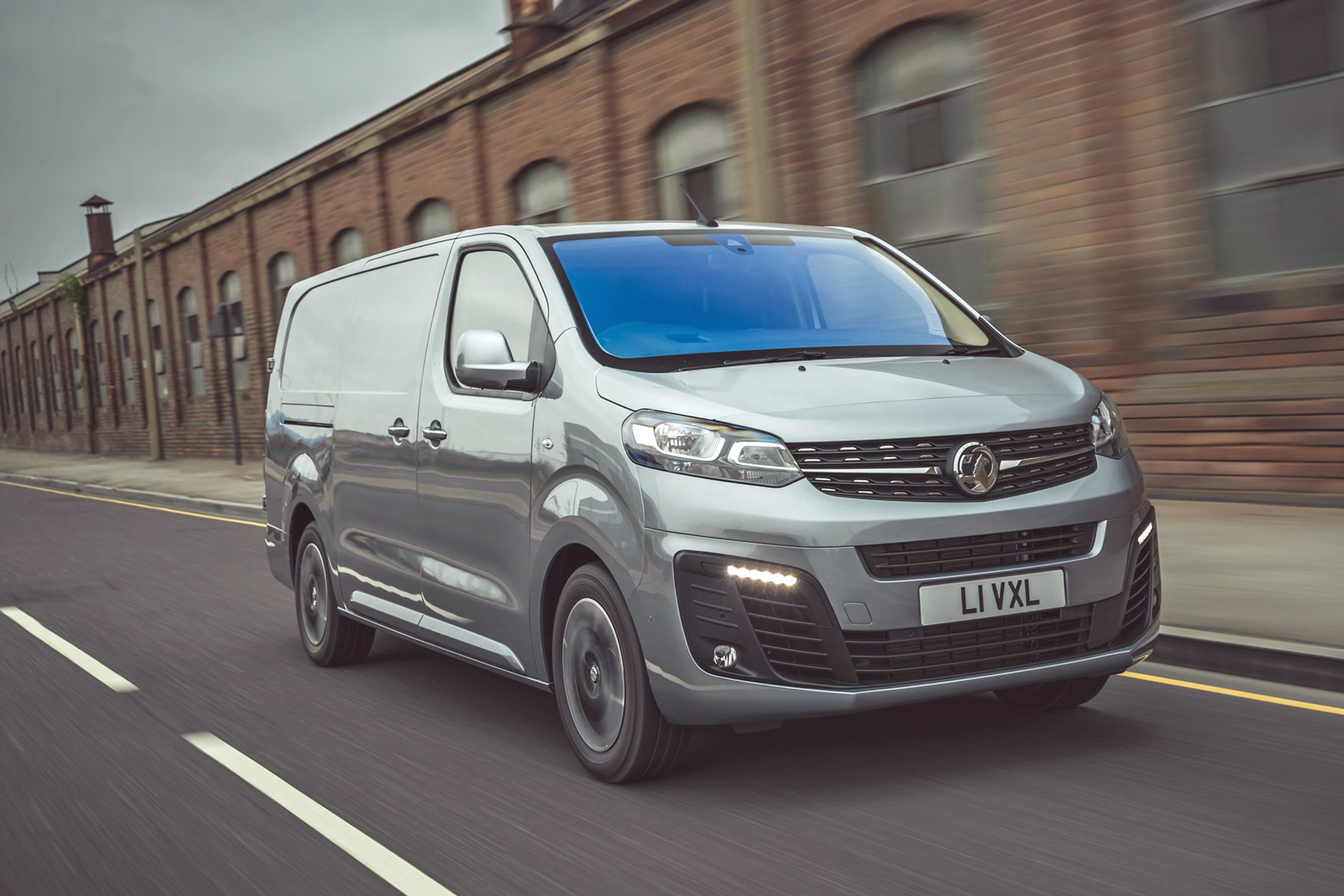 And indeed, in the testing we've been able to do so far, the electric Vauxhall van seems to live up to the range hype – though the amount of weight you're carrying in the back will certainly have an impact on this, as it does the efficiency of any van.
Charging time
Adding to its already substantial list of strengths, the Vivaro-e offers proper quick-charging as standard when most rivals don't even have it as an option.
This means that if you plug it into a 100kW public charger – just about the most powerful currently available – you can the smaller battery pack back up to 80% in about 30 minutes (Vauxhall quotes 32 specifically), while the larger battery pack will manage the same in 45-48 minutes.
Also standard is a more conventional 7.4kW charging system, compatible with home and office wallboxes, with the option to add an 11kW version. Either one of these will deliver a full charge overnight.
You can use a three-pin plug, but you'll need up to two days (really) to get a full charge with that, so it's best left for emergencies.
Payload and practicality
Maximum payload for the Vivaro-e is 1,226kg – some 130kg shy of the best a diesel Vivaro can manage but actually highly competitive with many rival diesel vans.
As you'd expect (if you've been paying attention), the biggest payload corresponds with the smallest van fitted with the smallest battery pack. Yet even the least payload-friendly version of the electric Vivaro can carry 987kg.
The load space is exactly the same size as any other Vivaro of this generation, since the batteries are mounted under the load floor. You can find full details on our dedicated Vauxhall Vivaro-e dimensions page.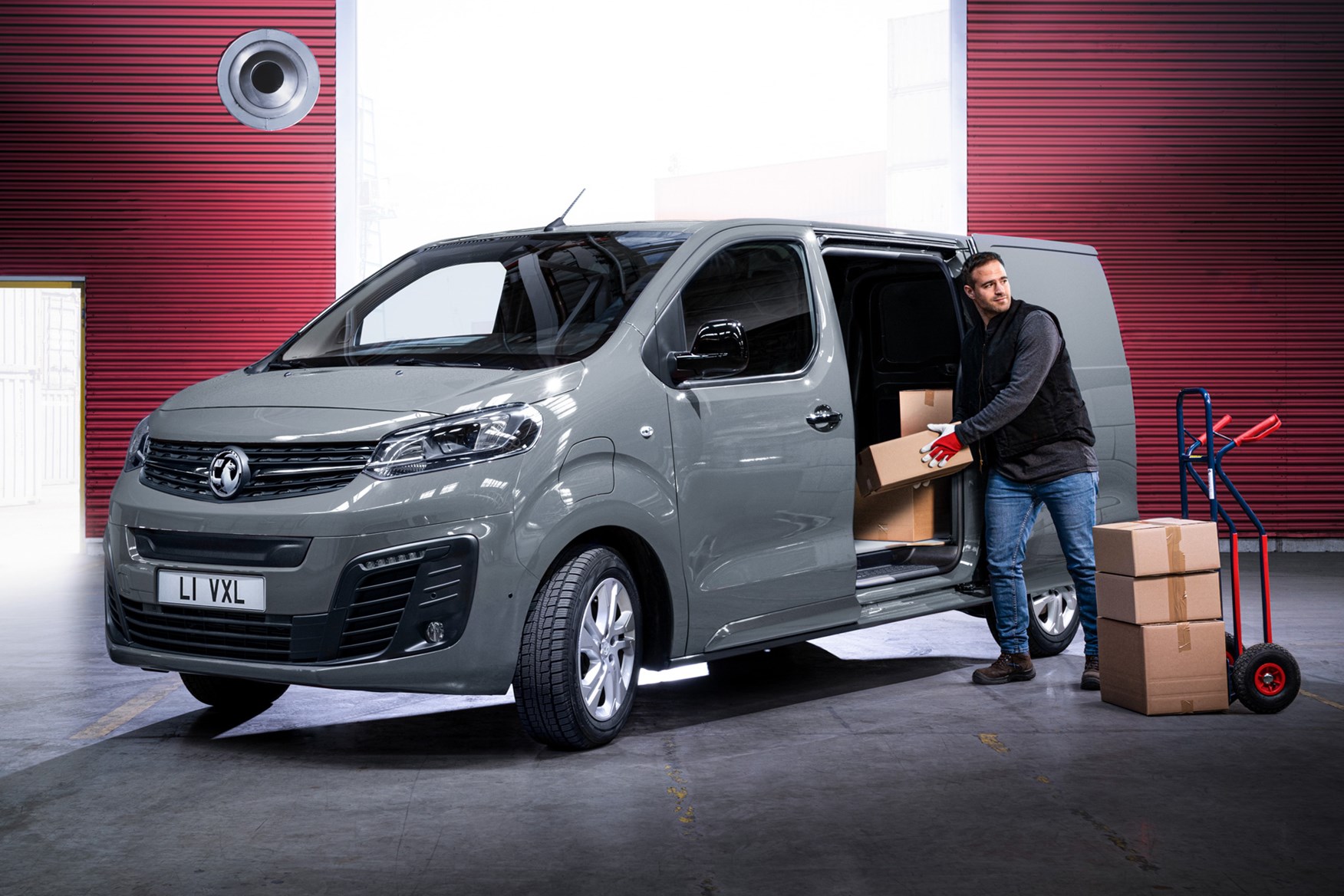 The Vivaro-e has a towing rating of 1,000kg (1.0-tonne). This is somewhat less than the 1,400-2,500kg the diesel models can pull, but substantially better than preceding electric vans, which aren't rated to tow at all.
Vivaro-e rivals
It's been a pretty poor show for pure-electric models in the medium van sector until 2020 – as it wasn't until this year that you could start buying the Mercedes-Benz eVito, the first medium electric van ever to go on proper sale in the UK; Volkswagen finally put the ABT e-Transporter on sale in 2020, too.
Both of these rivals cost more, carry less and have much, much shorter driving ranges than the Vauxhall, and they offer buyers fewer model choices.
This leaves the competition for your cash as something of a family affair, as we've already covered. Though Ford does offer a petrol-electric range-extender Transit Custom Plug-In Hybrid, with similar technology also featuring in the LEVC VN5, which just about competes with the smaller Vivaro-e for load capacity.
Vauxhall Vivaro-e verdict
You'll have to keep reading for our full Vauxhall Vivaro-e review in order to find out more about the driving experience and running costs. But suffice to say, this electric Vauxhall sets a new standard – not just for medium-sized electric vans but for electric vans full stop.
It suffers with the same issues in the cab as the standard model, but the effectiveness of the electric drivetrain as a solution for businesses concerned about the environment (or simply the cost of operating diesel in zero emissions zones) makes it easier to put these to one side.
This is a truly excellent van, making those German rivals in particular seem like something of a joke when it comes to driving range between charges.
Skip to our full verdict on...
Quiet, refined and comfortable
Easy to drive with automatic transmission
Plenty of performance, reliable range estimates
Whether you've been diesel all your life or are already used to electric vans, we think you're going to be impressed with the driving experience of the Vivaro-e.
It probably helps that the Vivaro platform has been designed for electric power since day one, but this is a really smooth integration of this modern drivetrain technology, which shows up the limitations of some less well-adapted vehicles.
What powers the Vivaro-e?
Whichever battery size you choose, the Vivaro-e is powered by a 100kW electric motor, which drives the front wheels. That's equivalent to 136hp, which puts in roughly in the middle of the diesel options Vauxhall also offers, and comes with an accompanying 260Nm of torque.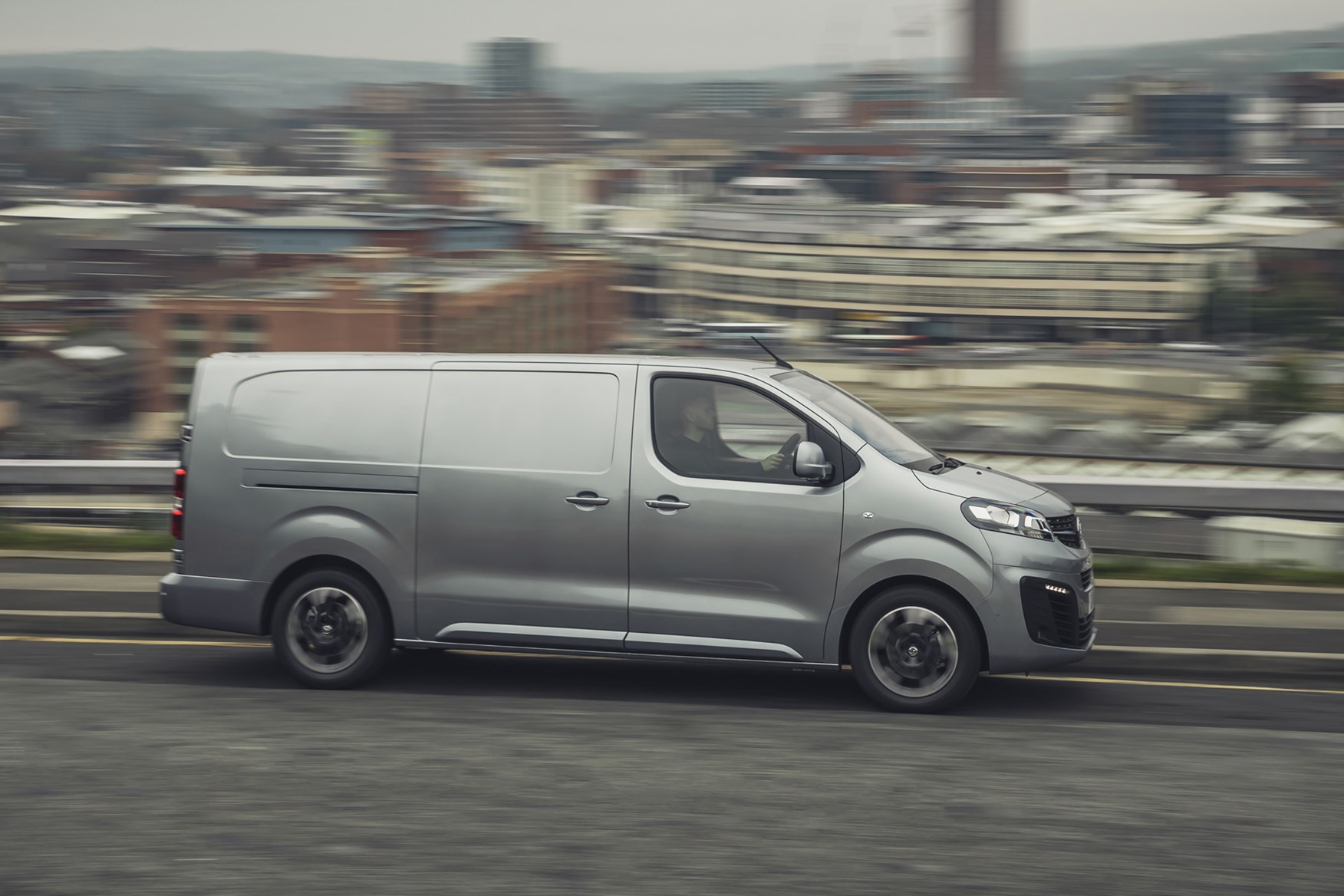 That doesn't sound like much muscle, but as with all electric vehicles, this punch arrives basically instantly, getting the van moving swiftly and easily. In fact, it feels pretty quick.
A choice of three driving modes – Normal, Eco and Sport – help you balance performance against range, though in practice we found you'll still go a good distance even in the most powerful setting.
What's the Vivaro-e like to drive?
Around town the electric drive makes the Vivaro-e nippy, accelerating with an almost rocket-like whoosh. And as with all versions of this van, the ride is comfortable and the steering well judged. You'll be slinging it about in no time, until you remember you've got fragile gear in the back.
Top speed is limited to 81 mph, but it will get up to those speeds more than swiftly enough. It makes a variety of electrical noises in the process, but is much quieter than any diesel, even the impressively hushed Vivaro variants. There's no vibration of any kind to worry about, either.
The electric motor requires only a single-speed transmission, so there are no gears to change or clutches to wear out in traffic here – adding to the relaxed nature of the Vivaro-e's progress. You simply select Drive and go; you might need to check it's switched on first, since it's that quiet.
What do the driving modes do?
Unlike the driving mode selector in some conventional vehicles, we know exactly what each of the Vivaro-e's three driving modes do.
It always starts in Normal mode, which makes sense as it's the most-rounded blend of performance and efficient. This setting restricts the motor to 80kW, equivalent to 109hp – or what many regular diesel van drivers typically suffer with. Initial response is still strong, so you'll only really notice the difference between this and Sport if you've really got your foot down.
The Eco setting goes further, and cuts the motor back to 60kW (81.5hp) while reducing the power consumption of things like the air-conditioning system, which will also help extend the driving range. Switching to this you should instantly see the remaining driving range display in the instrument cluster gain a few miles. Useful if things are looking tight, and still with enough performance to be perfectly driveable if you aren't carrying too much weight onboard.
As you've probably guessed, it's only the Sport mode that gives you the full 100kW or 136hp. The most obvious practical repercussion of this – aside from a slight reduction in the predicted remaining range – is that the electric motor feels stronger for longer when accelerating hard.
A useful option to have if you've got a heavy payload (or are late for that next job), but for the most part we were more than satisfied cruising about in the Normal setting.
What's the driving range really like?
Most importantly, the impact of the different modes on the driving range and the way the mileage fell as we were driving felt consistent and predictable. Some electric vans can show wild variations in how long their batteries will last, whereas the Vivaro-e seems much more dependable – to be fair we've made the same observation about the Mercedes eVito (it's just that the eVito can only promise around 90 miles per charge).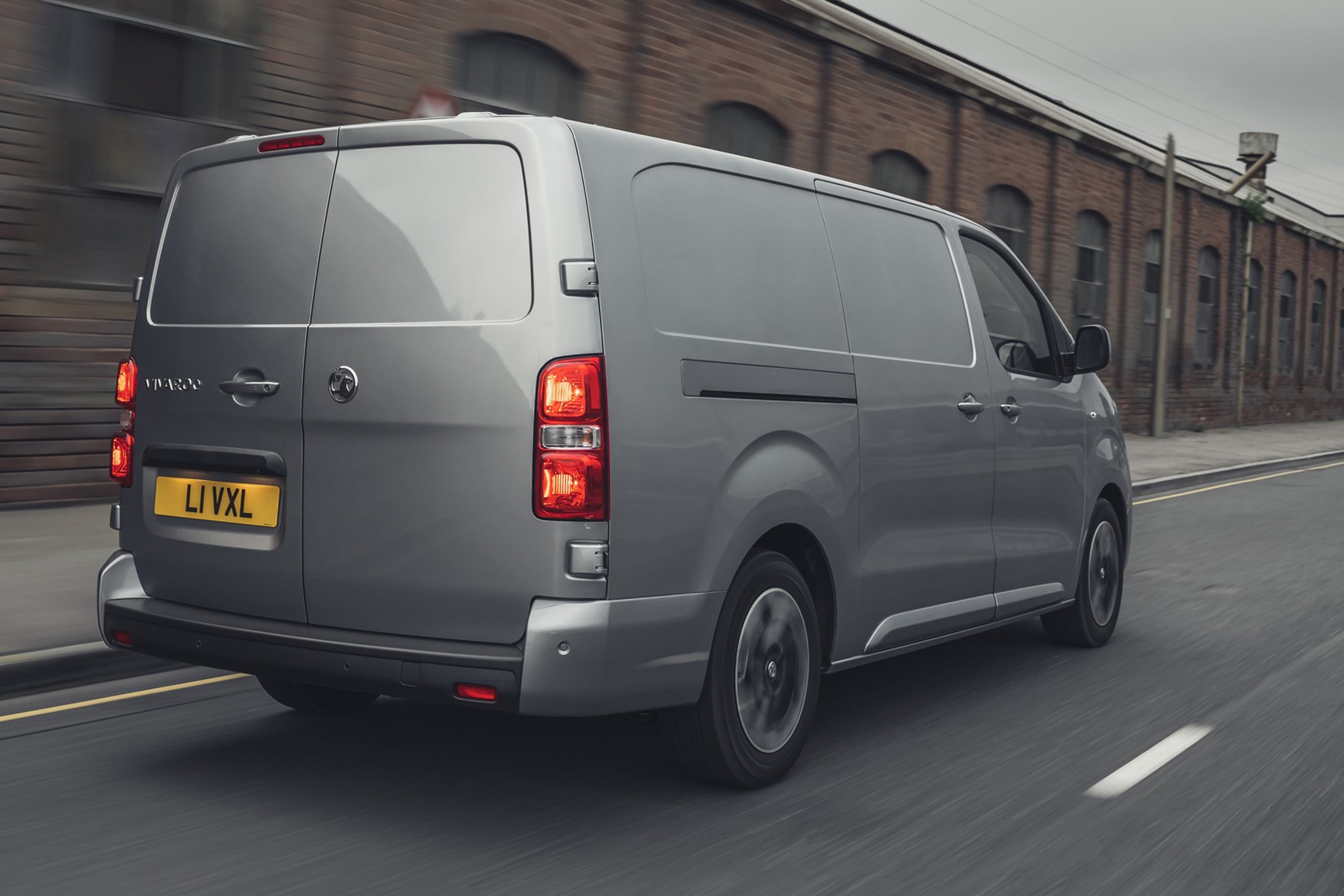 There is a boosted energy regeneration setting, activated by a B (for Brake) button on the centre console. This increases the amount of energy the electric motor turns back into electricity when you slow down, increasing the speed with which it comes to a stop in the process.
Use it, and you'll be gently recharging the batteries every time you release the accelerator – which works very well around town. At higher speeds it's better left off, though, as allowing the van to coast is more efficient than slowing too much and having to speed up again.
Limited interior makeover covers electric van essentials
Push-button gear selector
Same small cab and poor driving position
There are no real surprises in the Vauxhall Vivaro-e's cab interior. This will be good or bad, depending on how much you like the diesel models.
What is different inside?
The instrument cluster is slightly different, showing remaining range and giving you a power meter in place of the usual rev counter. This shows you not only how much more energy you're using whenever you accelerate hard but also the amount you're gaining whenever you slow down. Surprisingly fascinating stuff.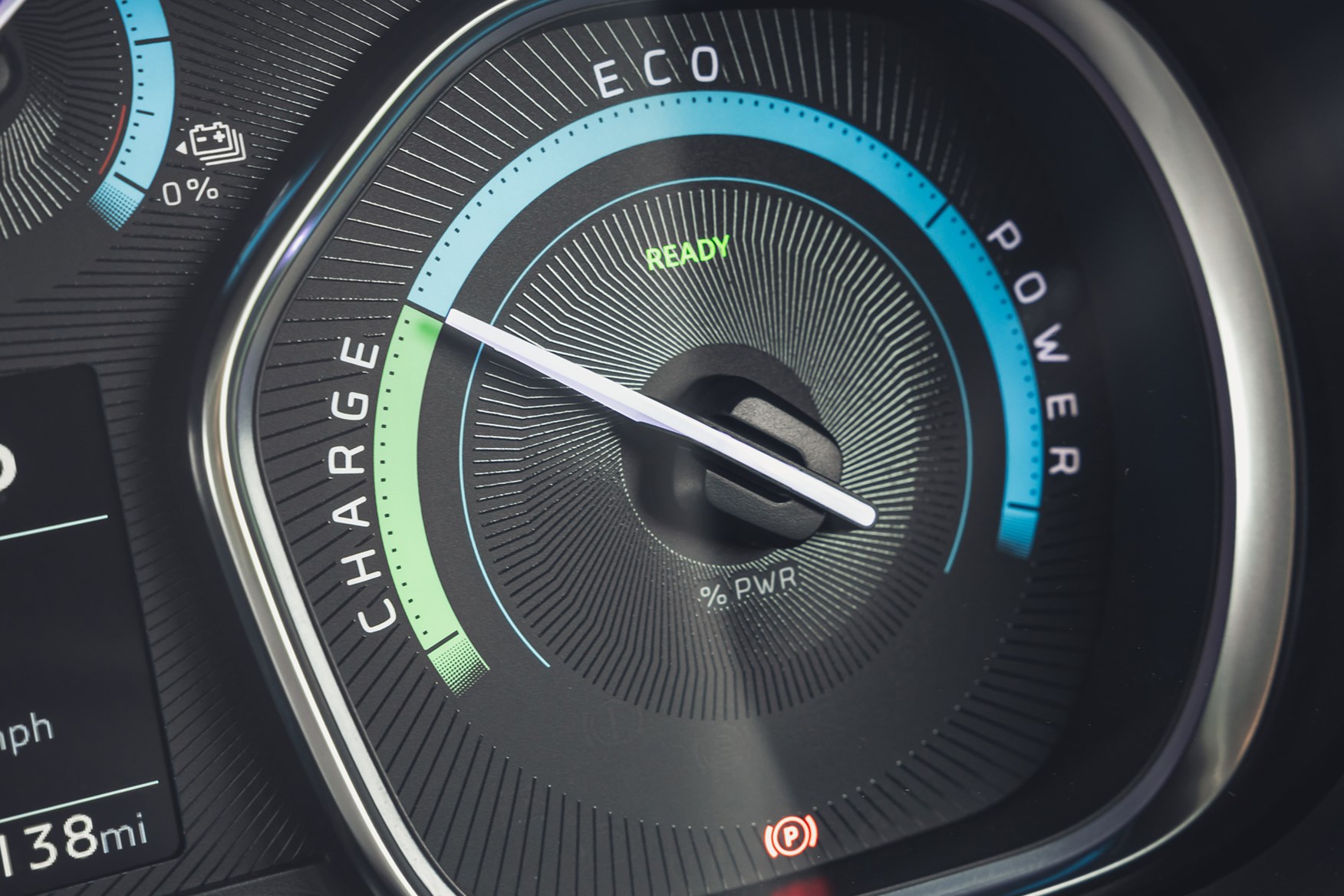 Elsewhere you'll find there's a dedicated energy-flow display on the central touchscreen, while the usual gearlever or rotary gear selector has been banished from the centre console. Replaced by push-buttons for Drive, Reverse, Park and Brake, and a rocker switch for the driving modes.
So what's the bad news?
Turning the Vivaro into a planet-saving electric van can't fix the size of the cab – which some may find cramped, and certainly isn't very roomy for three – nor the offset driving position. The mirrors are relatively small as well.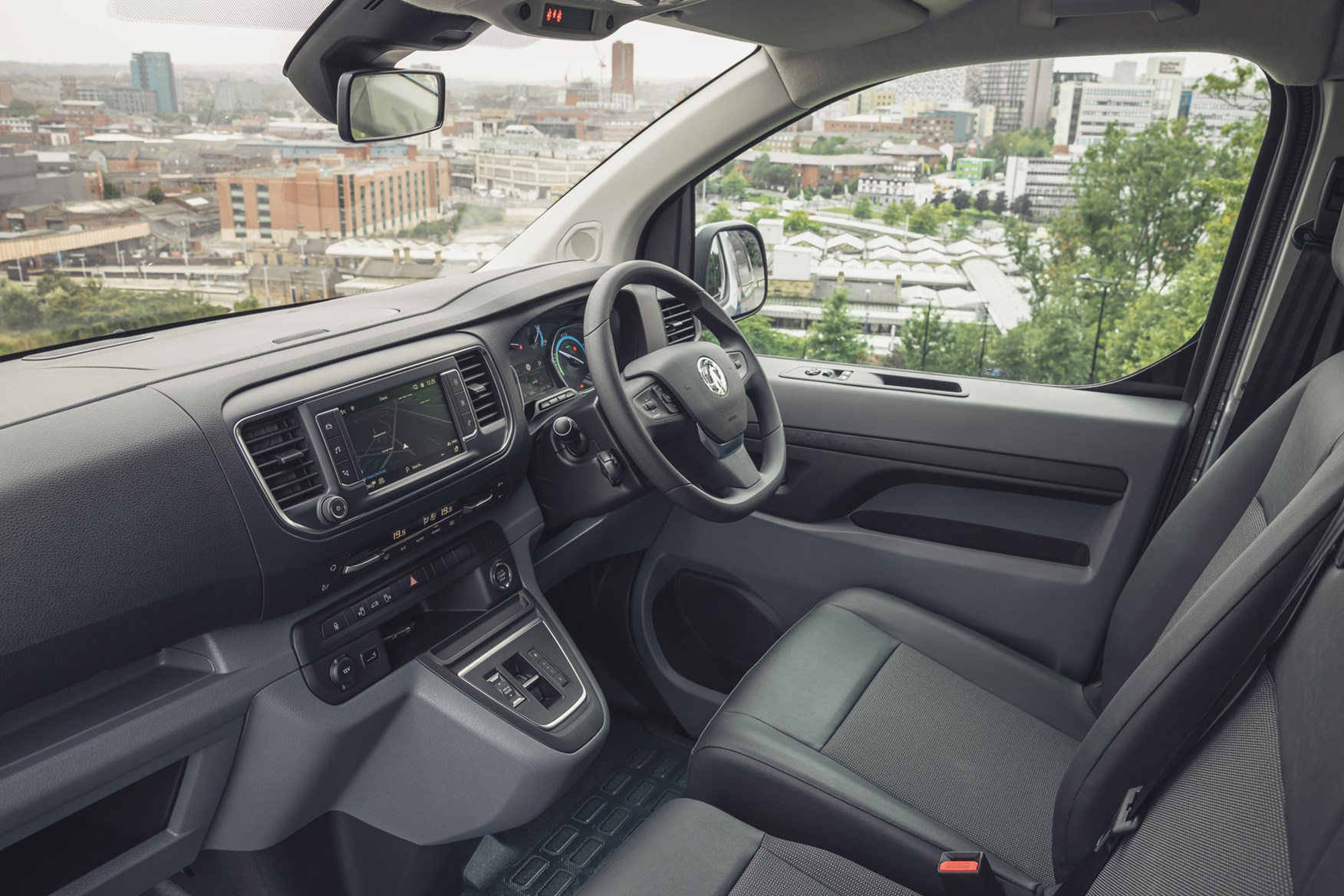 Just things to consider while you work out just how much you don't want to drive a diesel van any more.
Low cost per mile balances-out higher asking price
Eight-year battery warranty (but just three for the rest of the van)
Lots of standard equipment
Electricity costs much less per mile than diesel, so although the Vivaro-e is more expensive to buy than its conventional sibblings, it should also prove much cheaper to run.
This does depend somewhat on your electricity tariff, and where you charge it, though. The fastest public chargers can be expensive – but that's the price you pay for necessity and convenience.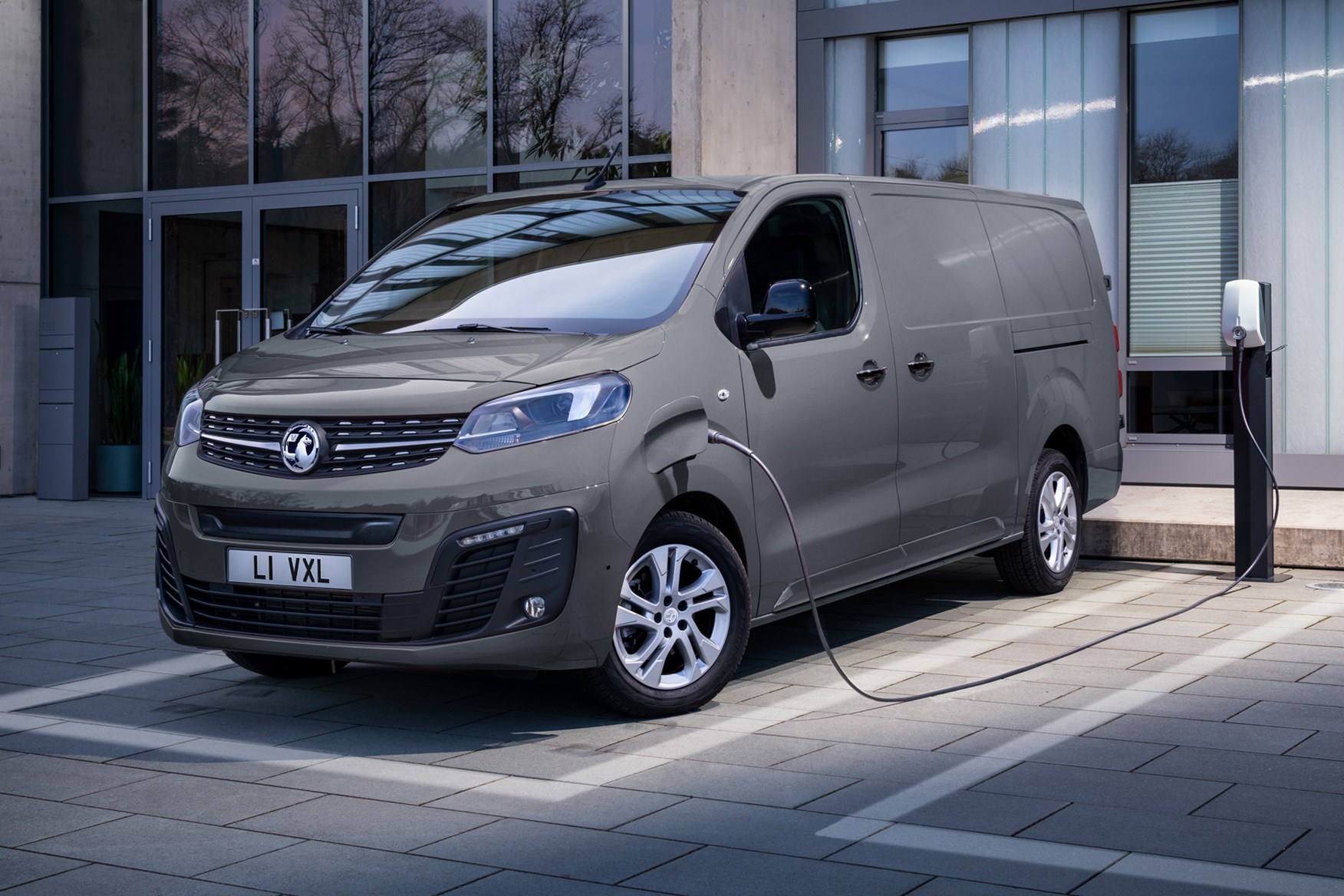 Best operating practice for one of these will be to plug it into nice and cheap off-peak electricity every night, and driving it within its range capability during your working day. Simples – as long as you have got somewhere you can charge it this way.
Tax costs are also less for electric vehicles, reducing your annual expenses.
Vauxhall Vivaro-e service intervals
The Vivaro-e should be cheaper to maintain than the diesel models, since there are fewer moving parts, fluids and filters to change. Use the motor's Brake setting, and you could be even easier on your mechanical discs and pads, plus the single-speed transmission means there's no clutch to replace.
Actual servicing intervals are 25,000 miles or two years, whichever is sooner – though the first service should be completed after one year or 12,500 miles.
Vauxhall Vivaro-e warranty
While most of the van is covered by Vauxhall's standard three-year / 100,000-mile warranty, the battery components get extra reassurance in the form of an eight-year / 100,000-mile warranty.
A battery certification programme will be used to reassure secondhand buyers that used vans can still do the big range business, which should help keep values strong.
Standard equipment
The Vivaro-e comes in a choice of two trim levels: Dynamic and Elite.
Vauxhall Vivaro-e Dynamic standard equipment highlights:
Twin sliding side doors
Full metal bulkhead
Cruise control and speed limiter
Six-way adjustable driver's seat
Dual front passenger seat
Automatic lights and wipers
Rear parking sensors
7.0-inch touchscreen infotainment system
Electric, heated door mirrors
Alarm
Vauxhall Vivaro-e Elite standard equipment highlights (in addition to Dynamic):
FlexCargo load-through bulkhead
Lane-departure warning
Blindspot monitors
Autonomous emergency braking
Front parking sensors
Reversing camera
17-inch alloy wheels
Metallic paint
Note that the double-cab model is only available in Elite specification.
The standard Vivaro – and its French cousins – already have a long trail of official recalls behind them, which you can either consider highly worrying or the sign of a conscientious van maker that doesn't brush problems under the carpet.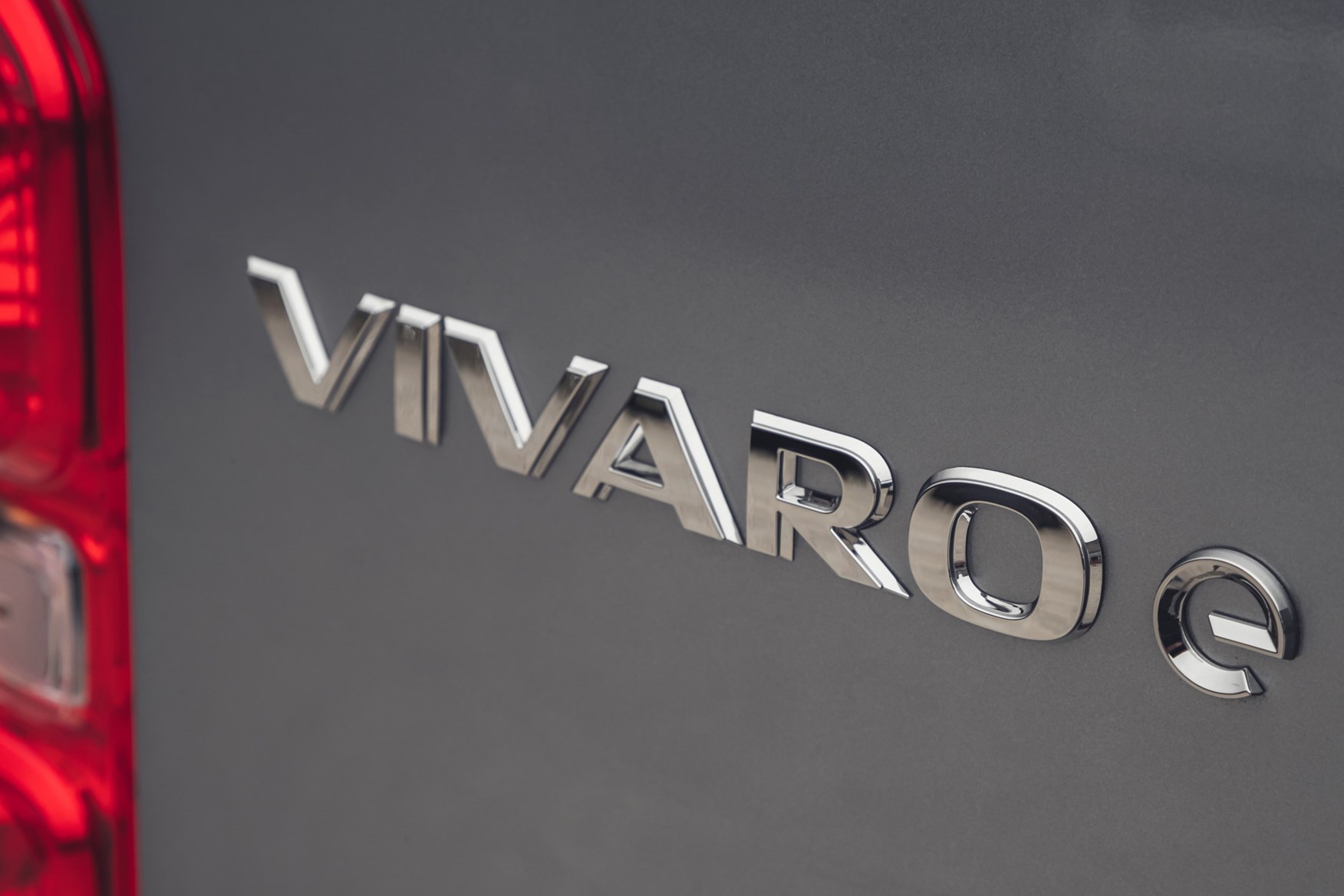 The 100% electric Vivaro-e is so new at time of writing there's not much to comment on in reliability terms. However, the drivetrain is less mechanically complicated than a diesel engine, which is promising.
We'll update this section when we start to hear more.
Lots of safety kit available, if you're prepared to pay for it
Alarm fitted as standard
If it's safety kit you're after, go for the Elite trim level.
The standard Vivaro-e Dynamic covers the basics – driver's airbag, electronic stability control (ESC) – but only Elite comes as standard with modern active safety aids such as autonomous emergency braking (AEB), blindspot monitors and lane-departure warning.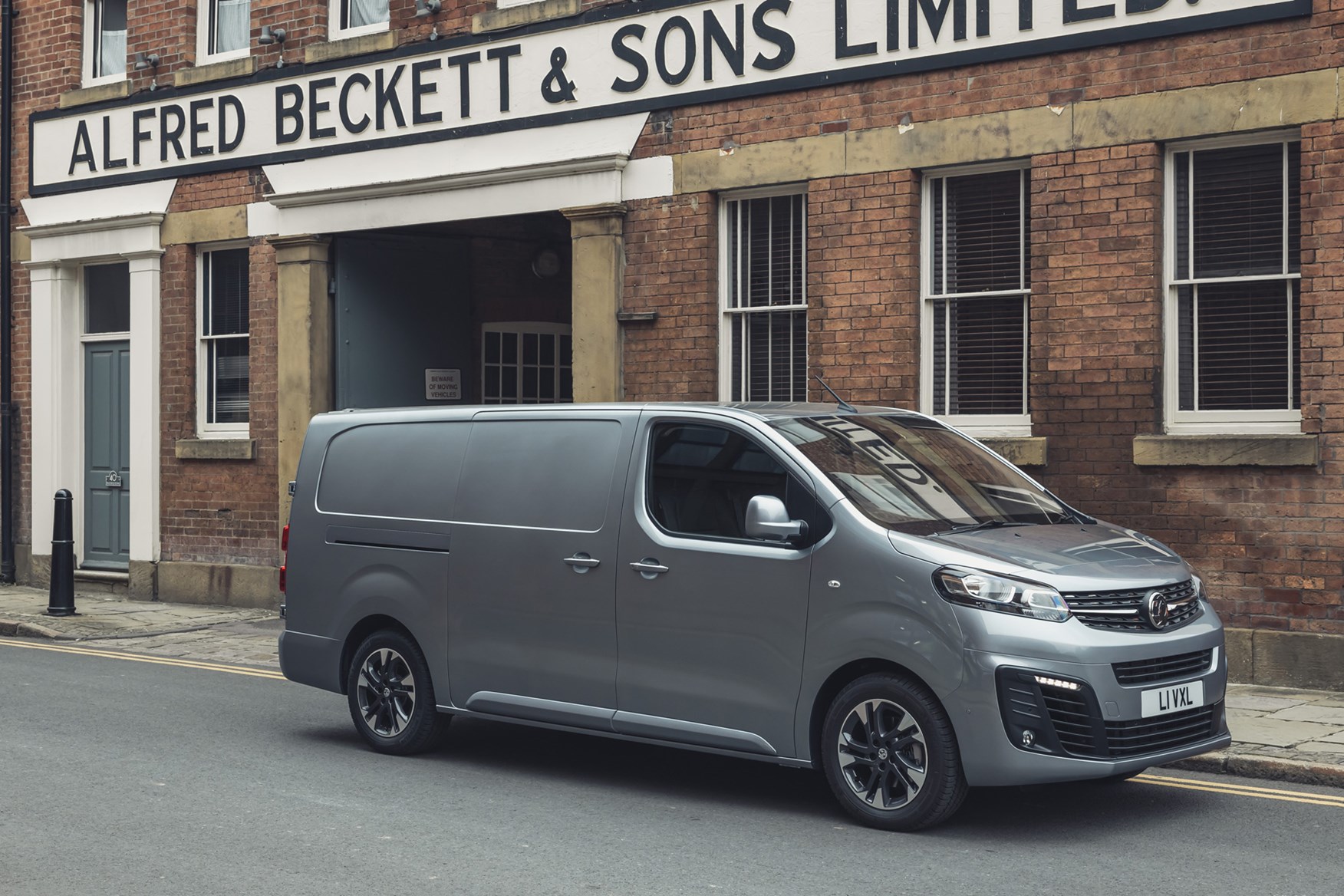 The head-up display fitted to Elite models is also useful, since it helps you keep your eyes on the road while checking your speed and other functions.
As for security, all versions of the Vivaro-e come with a standard-fit alarm. Good show.
Which Vauxhall Vivaro Vivaro-e is best for me?
Which version of the Vivaro-e is best for you will come down to how much of an emphasis you place on either driving range or payload. If it helps, most customers are expected to opt for the bigger battery pack and the reassurance its extra driving range brings.
Both trim levels come with plenty of standard equipment, though as we've already discussed, the range-topping Elite model does far better for safety equipment – though this and its other added features do also reduce the available payload still further.
Also read:
>> The Parkers guide to electric vans