Mitsubishi Outlander Commercial 4x4 van review (2021)
Quality SUV-based commercial 4x4 available with PHEV plug-in hybrid power
PROS
Drives like a car, not like a van
Looks like a car, not like a van
Excellent plug-in hybrid (PHEV) version
Good diesel version
Comfortable and quiet
CONS
Not the cheapest commercial 4x4
Other commercial 4x4s better off-road
Not as practical as a van or pickup
Diesel engine has been discontinued
May not be as durable as a proper LCV
Summary
The Mitsubishi Outlander Commercial is a light commercial vehicle (LCV) version of the Mitsubishi Outlander passenger SUV, competing in the commercial 4x4 sector of the van market. As if that wasn't novel enough, it comes with a plug-in hybrid drivetrain for added extra eco bonus points.
Keep reading our 2021 Outlander Commercial review for more info, but the key piece of information for potential buyers is that Mitsubishi is withdrawing from the UK (and Europe) this year.
This doesn't mean you shouldn't buy one - servicing, parts and aftersales support will be in place for at least a further decade, and full warranty coverage will remain. Rather, it's important to be aware that stock may be limited, and by autumn 2021, once they've gone, they've gone.
What is the Mitsubishi Outlander Commercial?
Although the Outlander Commercial looks little different to the passenger version from the outside, on the inside you'll find blanked out rear side windows and a neatly installed load platform instead of rear seats, transforming it into a comfortable, high-riding van.
It launched in 2013, when it was only available in a stripped back 4Work trim level in combination with a diesel engine. Mitsubishi added the PHEV petrol-electric plug-in hybrid version with more kit in 2014, and as of mid-2018 this has been the only Outlander Commercial available to buy in the UK.
2020 Mitsubishi Outlander Commercial update
For 2020 Mitsubishi changed the range structure slightly by introducing a lower-cost entry trim level called Reflex. This is still well equipped but does without a touchscreen infotainment system and is fitted with slightly smaller alloy wheels.
The range-topping trim is now called the Reflex Plus, and is essentially the same as the single trim level introduced in early 2019.
2019 Mitsubishi Outlander Commercial update
In early 2019, the PHEV's original 2.0-litre petrol engine was swapped for a new 2.4-litre petrol engine, which is more powerful and more efficient.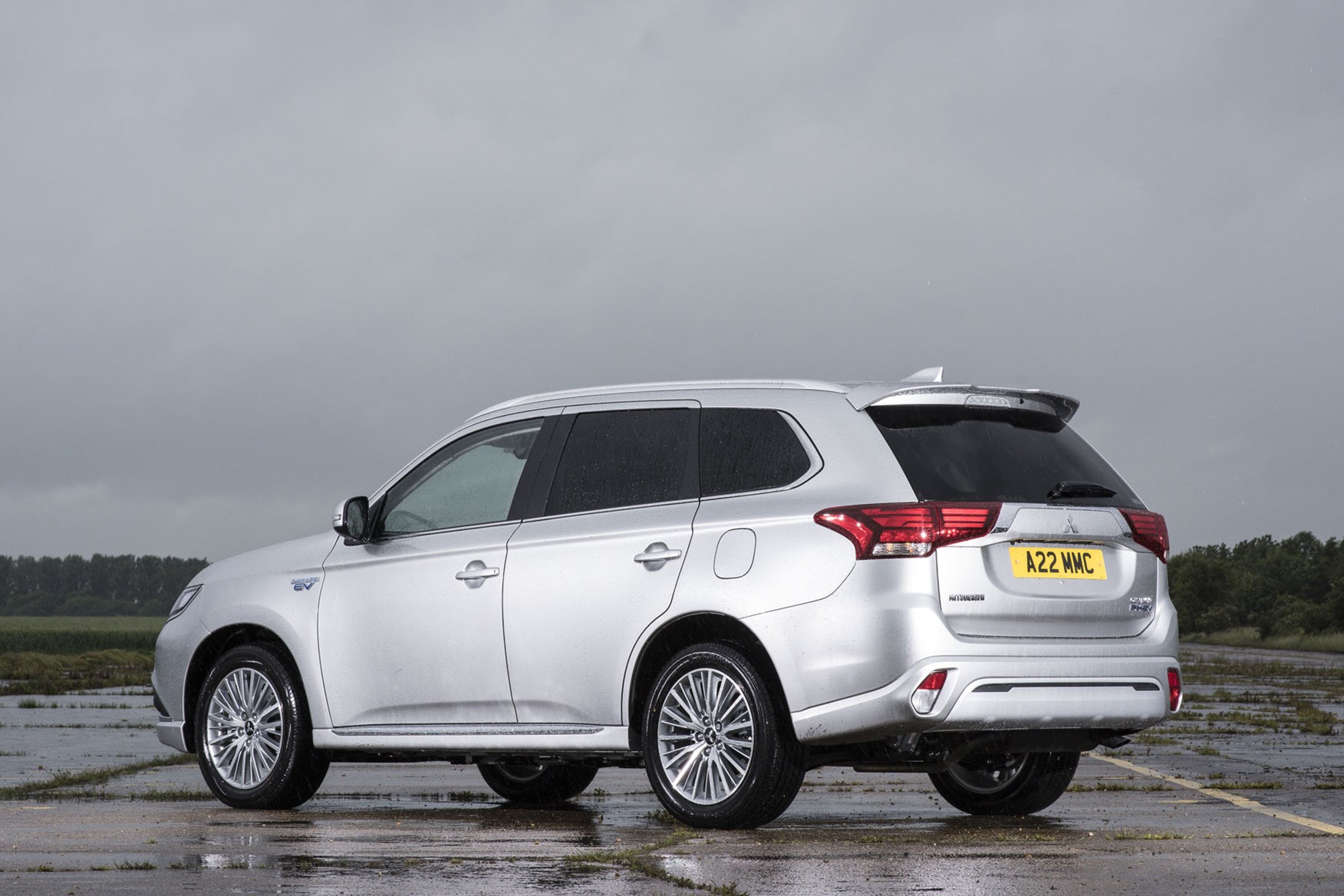 Combined with twin electric motors, as before – one on the front axle, one on the rear – this set-up is also quieter and smoother than previous versions as well.
At the same time, Mitsubishi chose to sharpen the steering, fit revised shock absorbers and modify the software for the four-wheel drive system.
We have driven this updated model, and that experience as well as experience of previous models – including the diesel – informs this review.
Why buy a Mitsubishi Outlander Commercial?
This is the sort of vehicle that's designed to appeal to people who need something that's more practical than a regular car, but don't want to look like they own or drive a van.
Early models feature rear window panels painted the same colour as the bodywork, making its commercial nature much more obvious. But later versions are simply blacked-out, like heavily tinted glass, and thus appear little different to the passenger cars.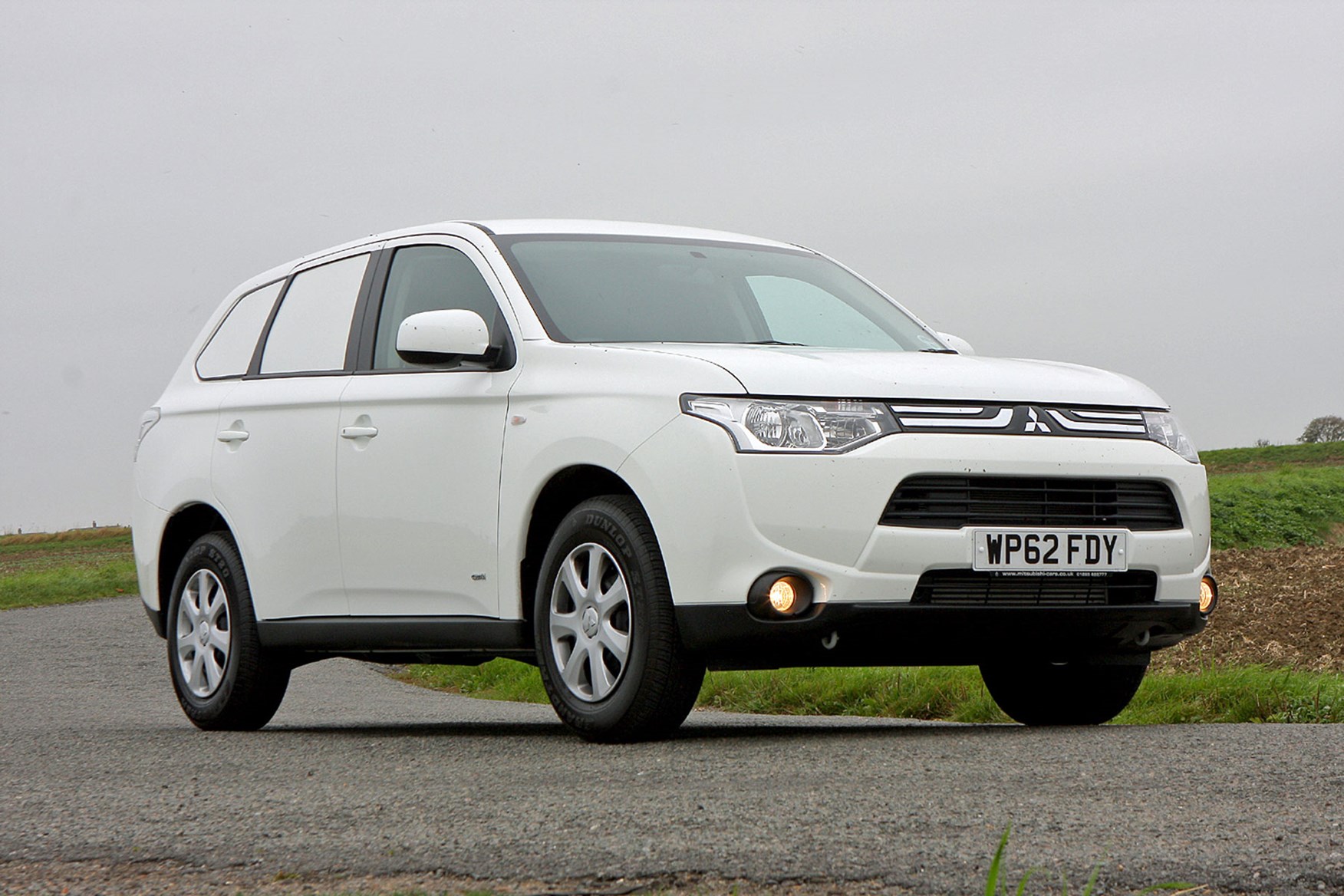 What's more, not only does it look good, you'll find the driving experience almost indistinguishable from the regular passenger version, right down to the interior features surrounding the driver and the front passenger.
And while we weren't overly impressed by the quality of this when we first reviewed the original diesel model, later versions have ramped up the class, and now it's a rather lovely place to spend time.
Certainly it's a noticeable step up over the cab of a Mitsubishi L200 pickup truck, for example, and nothing like a conventional van.
One of only three plug-hybrid commercial vehicles on sale
For a long time, the Outlander was also the only commercial vehicle available with a hybrid powertrain of any kind, and it remains one of only three available as a plug-in hybrid electric vehicle (PHEV).
Your other options are the Ford Transit Custom Plug-In Hybrid (launched in 2019, properly on sale in 2020) and the LEVC VN5 (from mid-2020). Both offer considerably more load space than the Outlander, but aren't as comfortable or car-like to drive.
Can the Outlander Commercial be driven on electric power alone?
The Outlander PHEV is a plug-in hybrid electric vehicle – which means it has a larger battery pack than so-called self-charging hybrids (as you'll find in most of the Toyota car range, for example), giving it an electric-only driving range of up to around 30 miles.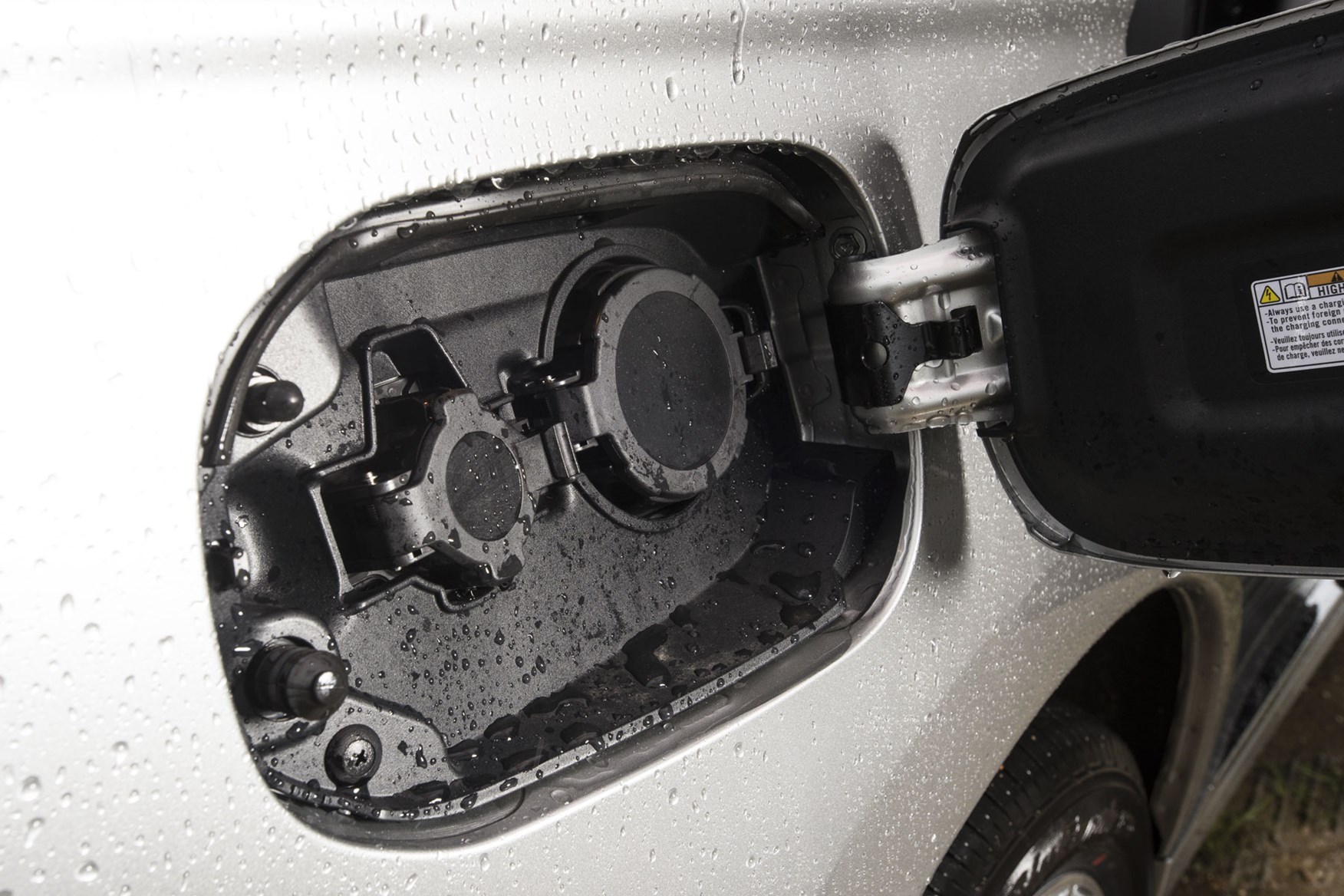 To charge the batteries you can either plug the Outlander into a charging point (it will charge on a regular three-pin plug but this will take longer), or use the Charge driving mode, which devotes some of the petrol engine's power output to the task.
This uses more fuel, but may be handy if you need electric power for an ultra-low emissions zone or silent running later in your journey. There's also a Save driving mode, which prevents the Outlander using the electric motors as a performance booster, ensuring the electric driving range remains available for exactly when you want to use it.
Mitsubishi Outlander Commercial 4x4 rivals
The commercial 4x4 sector is a very small part of the LCV market, and one dominated by the Land Rover Defender while it was still available.
Currently available alternatives to this Outlander include commercial versions of the Toyota Land Cruiser, Land Rover Discovery and Mitsubishi's own Shogun Sport. Until recently you could also get a Dacia Duster and Mitsubishi Shogun commercial as well, and various other high-end SUVs including the Volvo XC90 have been converted by third parties.
The Land Rover Defender Hard Top brings that classic name back to this market in 2021.
Outlander PHEV buyers might also want to consider 100% electric vans – and you can read all about those in our guide to the best electric vans.
---

Mitsubishi Outlander PHEV Commercial verdict
The Outlander Commercial PHEV's unique part-electric power, genuinely car-like driving experience, comfortable cab and well-prepared load area fully deserve to turn heads among those buyers and businesses looking for an alternative to a conventional van.
It's also considerably cheaper than a Land Rover Discovery Commercial and much nicer inside than a Toyota Land Cruiser Commercial – and though both of these offer greater off-road capability, the Outlander will easily cope with a bit of moderate green-laning.
Payload and outright carrying capacity doesn't come close to a proper van or pickup – see our dedicated Mitsubishi Outlander Commercial dimensions page for more details – but as outlined above, that isn't really the point of this type of machine.
If it's a commercial 4x4 you're looking for, the Outlander is a good one. Although it's a pity the diesel version has been discontinued.
Keep reading for our full review, or click the links below to jump straight to the section that most interests you.
Skip to our full verdict on...
Comfortable suspension, if a little soft in the corners
Diesel engine is refined and feels strong
PHEV delivers electric-only running and promises big mpg
We've referred to the Outlander Commercial as being car-like to drive already in this review, but it's probably a good idea to put that into a bit of perspective. The car in question is, after all, a reasonably large SUV, and so you shouldn't expect it to handle just like a family hatchback.
The height of this vehicle and the relatively soft suspension settings mean you do get some body roll in the corners – and though the most recent 2019 update has redressed this and also sharpened up the steering somewhat, it is still quite a wallowy beast compared with a typical passenger car.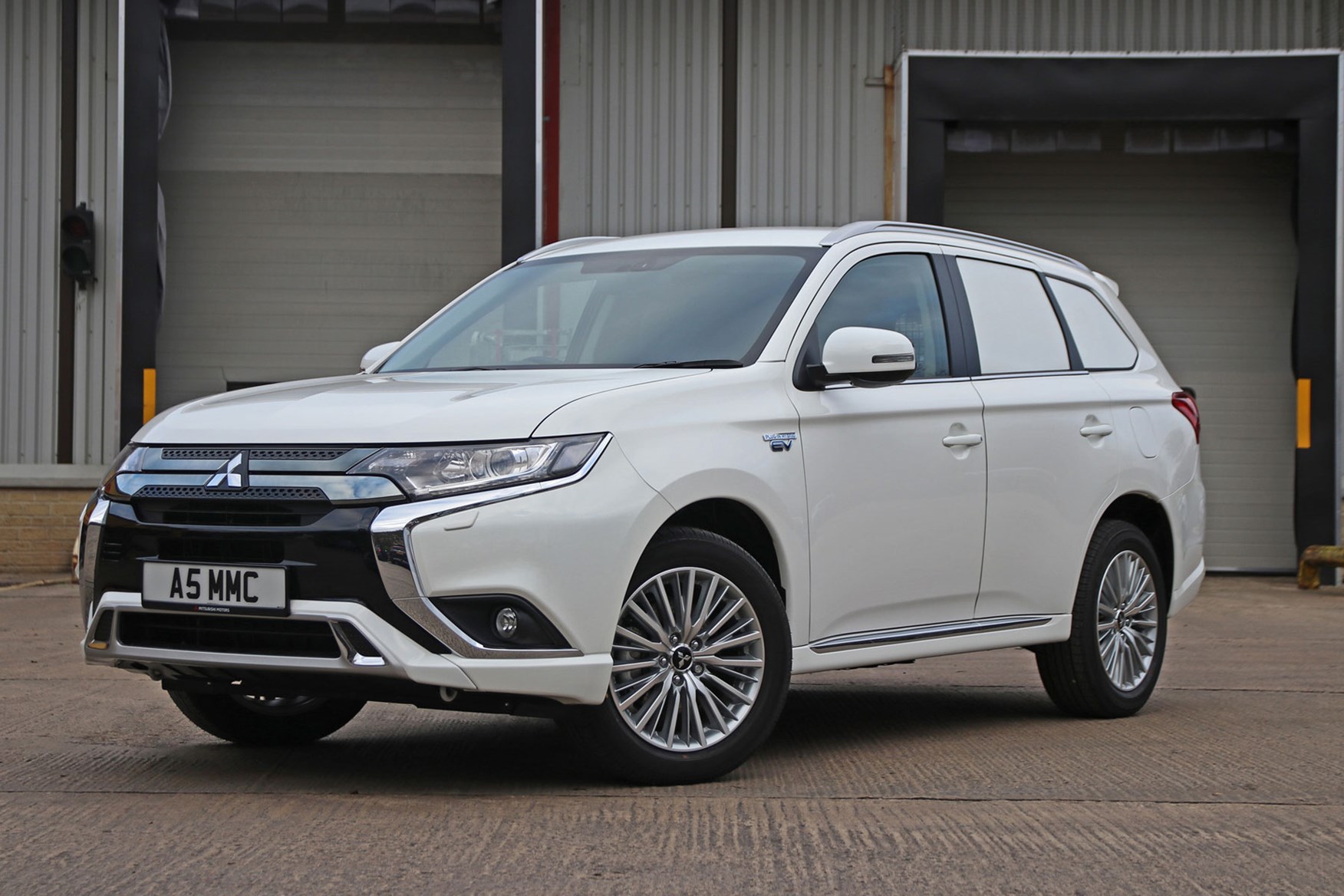 Compared with a conventional van, however, it's a comfortable and quite engaging experience, while the petrol-electric PHEV variant is generally very refined.
And whether you pick a diesel version of the PHEV, every Outlander Commercial comes with four-wheel drive capability.
What's the Outlander Commercial diesel like to drive?
The diesel Outlander Commercial is powered by a 2.2-litre turbodiesel with 150hp and 380Nm of torque. This is plenty of power in a vehicle of this size, and although the official 0-62mph time is over 10 seconds, it feels pretty sprightly in most situations.
The torque is more than enough to make an easy job of shifting its 695kg maximum payload capacity, too.
You get a six-speed manual gearbox and a four-mode all-wheel drive as standard – the latter operating in front-wheel drive mode most of the time to minimise fuel consumption, which at over 50mpg on paper certainly compares very well to many conventional vans.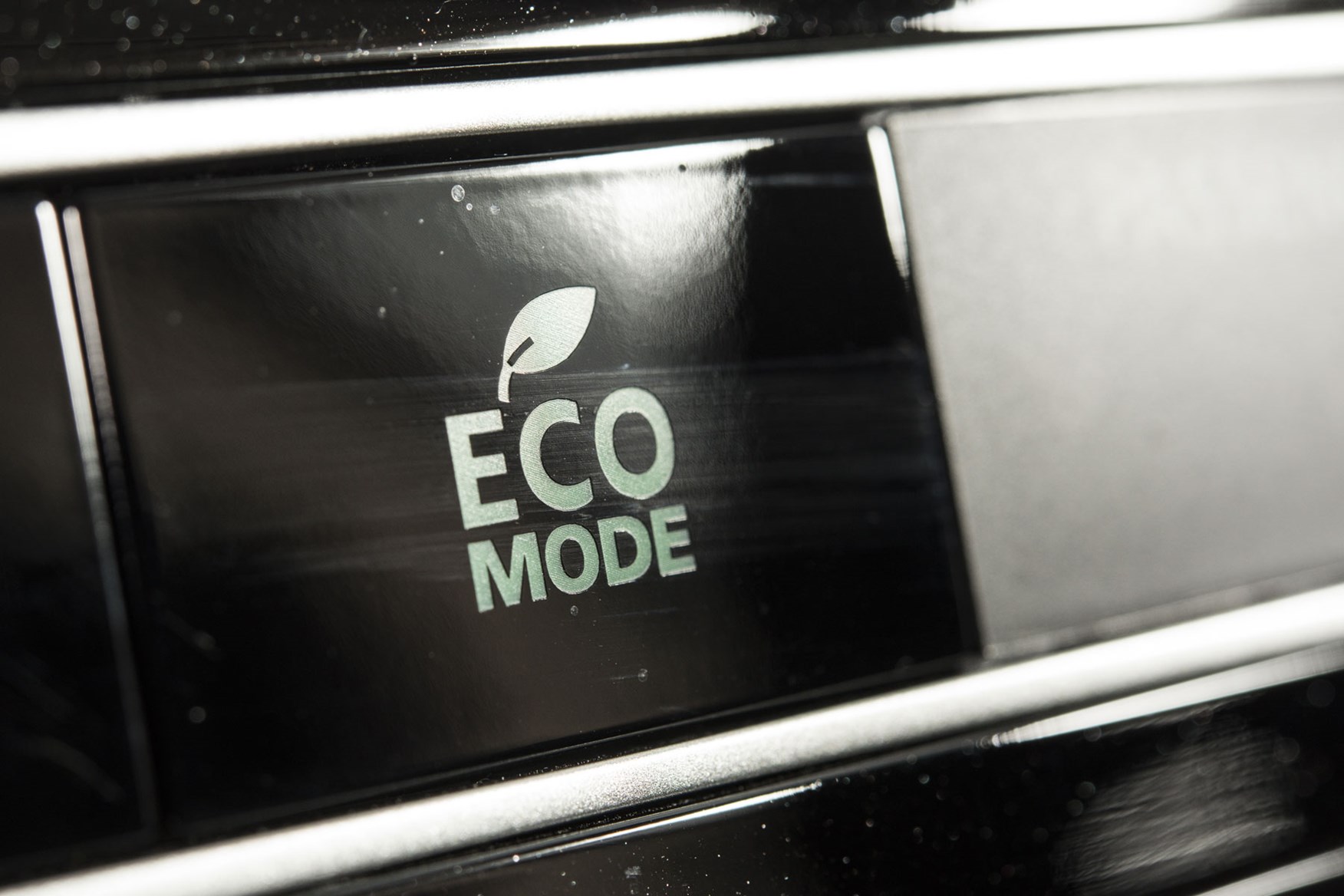 Use the Eco setting if you want the best possible efficiency, as this will only engage the rear wheels as well in particularly slippery situations. The Normal setting uses both axles more of the time, while Snow mode will be quicker to send power to the rear to increase traction.
Lock mode splits power and torque 50:50 front and rear, and is intended to be used off-road only. The Outlander has 190mm of ground clearance, and will cope with modest rough stuff without issue. In regular driving there always seems to be copious amounts of grip.
Engine refinement is good – with little diesel noise and vibration making its way into the cabin – and some drivers may prefer the six-speed manual gearbox to the way the PHEV manages its power.
What is the Outlander Commercial PHEV like to drive?
The PHEV drives just like an ordinary vehicle, but the manner in which it does this is a little different to the diesel Outlander Commercial.
Firstly, it has two electric motors, one on the front axle and one of the back axle. With a large battery pack under the passenger compartment, these are able to drive the Outlander Commercial on their own, up to a claimed range of around 30 miles – probably more like 20 miles in real life. Select the EV (Electric Vehicle) driving mode (a button for this was introduced in 2018), and that's what you'll get until the batteries run out.
At which point the electric motors will give way to a petrol engine, allowing you to carry on driving.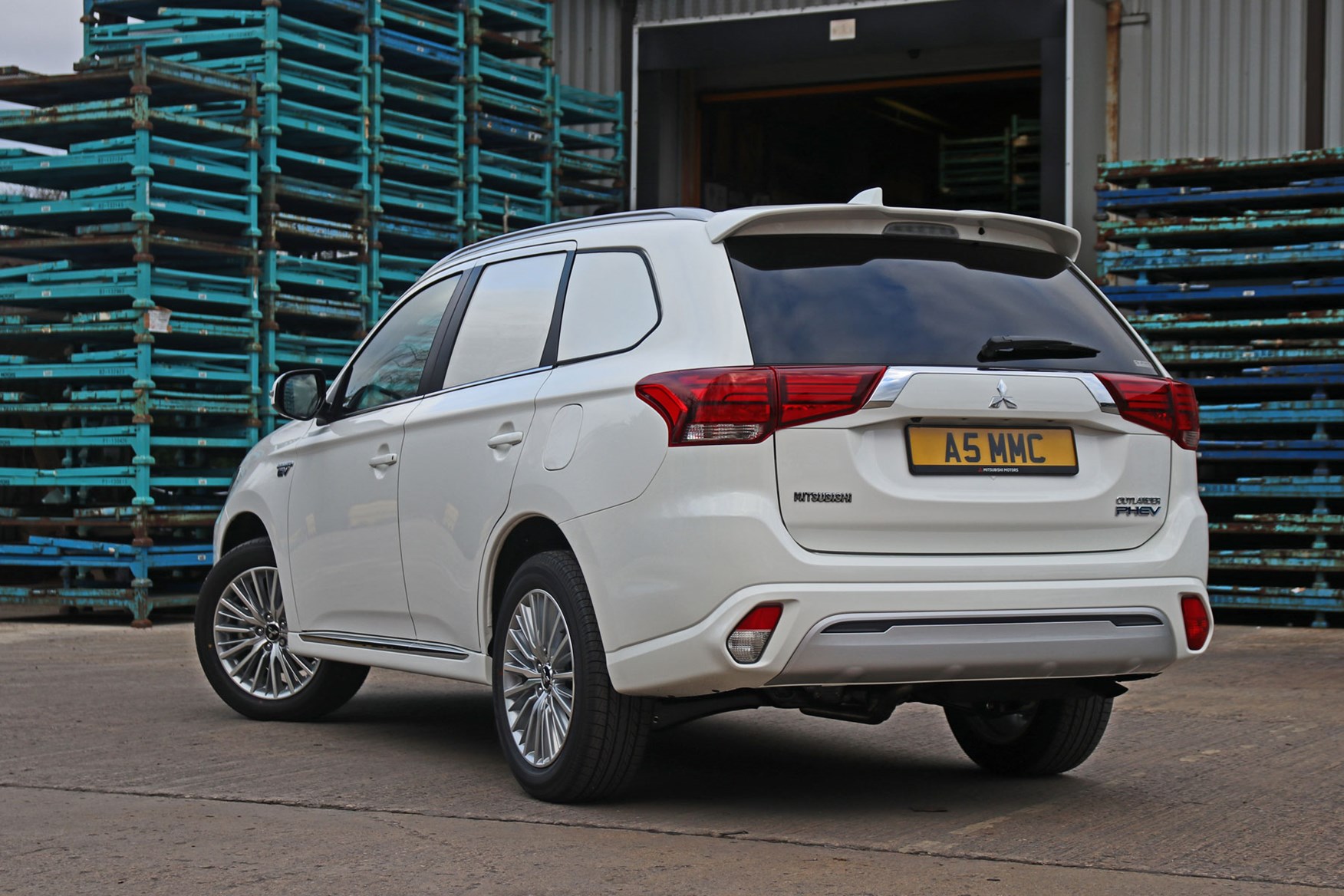 Up until 2019, the petrol engine was a 2.0-litre with 121hp; after the 2019 update this grew to a 2.4-litre unit with 135hp, tuned to use a special Atkinson Cycle combustion process to save fuel. The rear electric motor was also made more powerful as part of this change, going from 82hp to 95hp, while the front motor stayed at 82hp.
The petrol engine can drive the Outlander's wheels alone, or in combination with the electric motors, which gives you a modest boost in performance at the expense of some electric driving range. Using the Save driving mode will prevent this from happening, while the Charge driving mode devotes some of the petrol engine's power to recharging the batteries.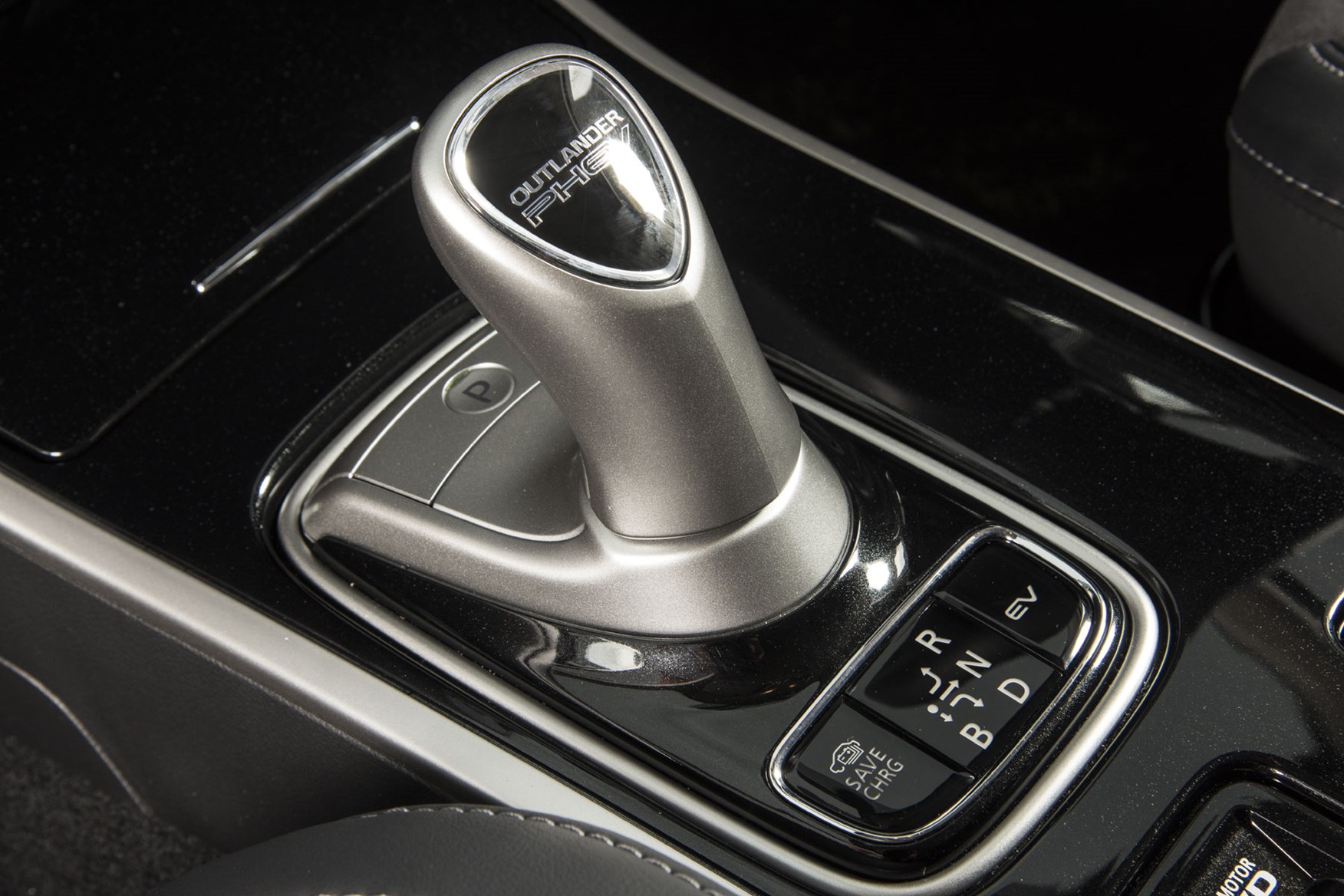 Total power and torque output figures for the petrol engines and the electric motors together are tricky to define, because they tend not to be functioning flat out at the same time. Suffice to say, the Outlander Commercial PHEV behaves like a vehicle with around 200hp at speed, while the electric motors give it a substantial amount of torque right from standstill.
While the 2019-onwards version is smoother and quieter – and a little faster – that's not the same as saying the pre-2019 models were particularly loud, and they certainly don't feel super slow.
The PHEVs also have Normal, Snow and Lock four-wheel drive modes.
What kind of gearbox does the Outlander Commercial PHEV use?
There is no traditional gearbox of any kind in the PHEV, but it drives rather like a constantly variable transmission (CVT) automatic – which is to say that the amount of revs generated by the petrol engine don't necessarily seem to correspond with the speed you're going, as the vehicle is forever juggling between petrol and electric in order to balance performance and efficiency.
It does this quietly enough that it's easy to ignore the oddness of it once you've spent a little while behind the wheel.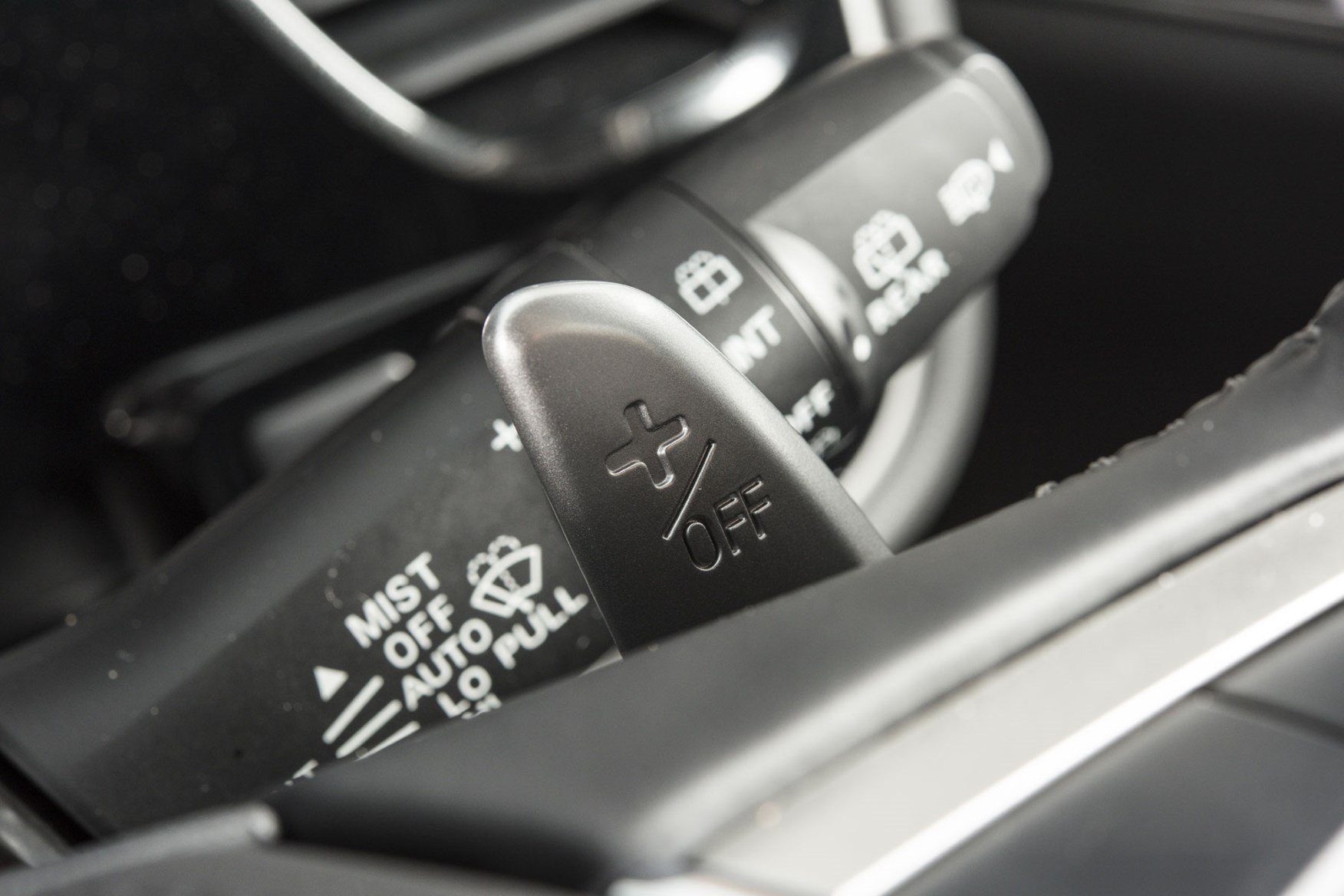 There are paddleshifters on the steering column, but instead of changing gear these control the amount of braking force you get from the electric motors when you release the accelerator – going from B0 (no braking force) to B5 (maximum braking force).
B5 is aggressive enough that in many situations you'll find you don't need to touch the conventional brakes at all – with the added bonus that using the electric motors in this way effectively turns them into generators, which recharges the drive batteries.
It can be quite fun to use the paddles to balance this energy recovery progress while trying to maintain the greatest possible momentum, but there is also a plain ordinary Drive mode that takes care of all this for you.
How long does it take to charge the batteries in the Mitsubishi Outlander Commercial PHEV?
PHEV stands for Plug-in Hybrid Electric Vehicle, and to make the most of its fuel-saving talents (we'll cover these in greater detail in the Costs and Value section of this review) you'll need to use the electric motors as much as possible.
So as well as being able to charge the batteries with the petrol engine, which isn't especially efficient, you can also plug them into the mains. The Outlander Commercial PHEV comes with two of the most common socket types as standard, and will be compatible with most public charging points – though you can also use your standard domestic electricity supply.
Mitsubishi quotes the charging times as 5 hours on a 13 Amp supply or 3.5 hours on a 16 Amp supply – or you can get an 80% charge in 25 minutes using a public rapid charger system.
Exact same interior as the passenger car
Plenty of standard equipment
Quiet and comfortable inside
While it's all load area from just behind the front seats – complete with part-mesh bulkhead for safety with good visibility – the two people the Outlander Commercial can carry will find themselves in exactly the same interior environment as those in regular passenger versions.
Just like being in an ordinary SUV
In this respect, it's very easy to forget you're driving the equivalent of a van. Though the initial 4Work models were a little short on kit, the latest versions come loaded with equipment.
Full details are in the Costs and Value section below, but highlight features include dual-zone climate control, a heated windscreen, heated seats and a touchscreen infotainment system with Apple CarPlay and Android Auto on the top-spec models.
Note, we've only tested the Android Auto application, and found this worked fine with Google Maps for navigation but crashed repeatedly when attempting to use Waze – a problem we've not encountered before with other commercial vehicles that have the same capability.
Quality and quiet
There are some cheaper plastics around the place – especially in the earlier versions – but they're better than most vans even so, and this is not a bad place to spend time at all. All the controls are sensibly placed and easy to use, and the seats are comfortable and supportive.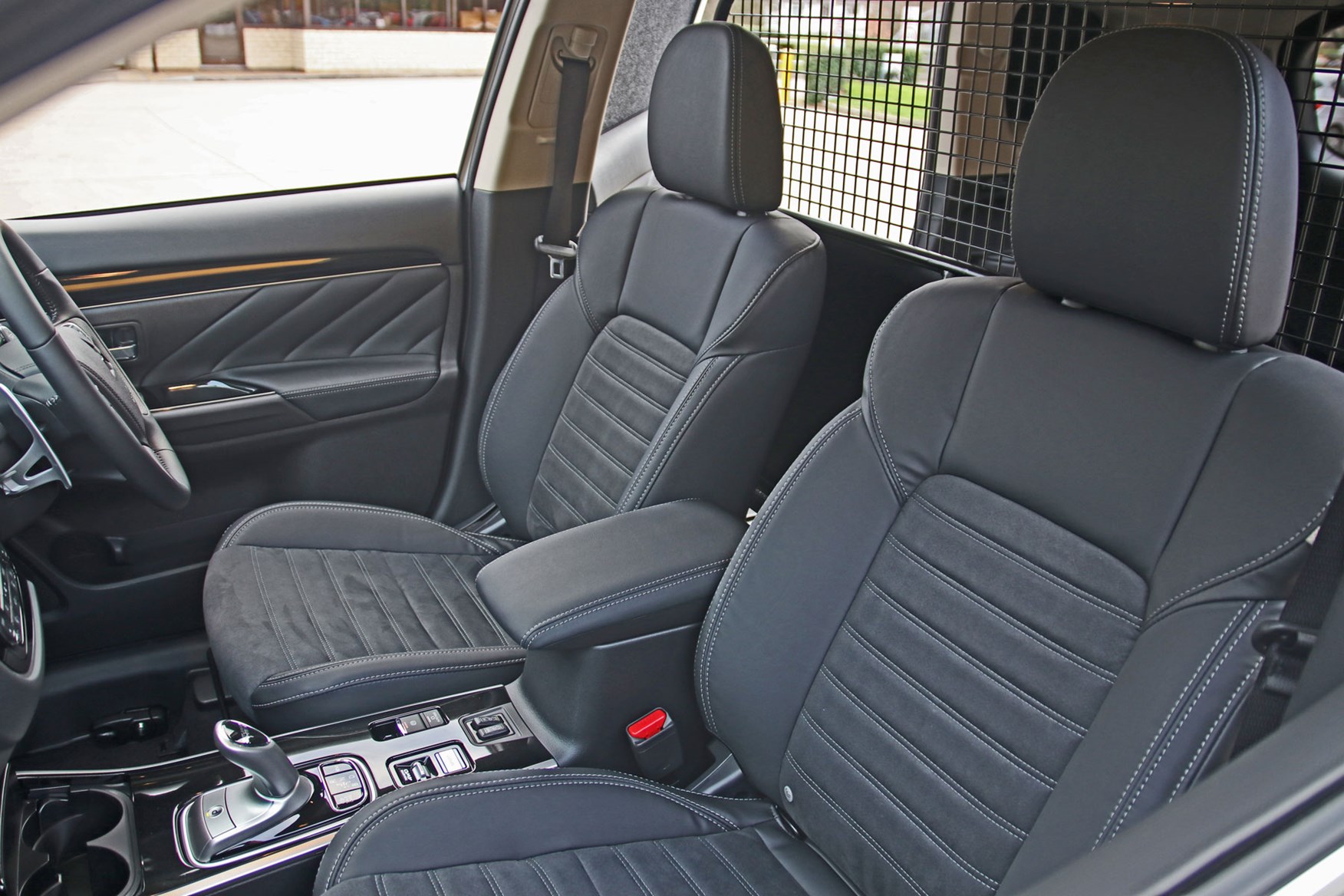 Compared with a van – especially one without a full bulkhead – the Outlander Commercial is far quieter inside, too, making longer journeys less of a pain in the ears.
We're also very pleased to note that the latest versions we've driven haven't suffered with an overpowering rubber smell caused by the load-area lining, which earlier ones were certainly plagued by; it would seem Mitsubishi has changed the specification of this part for the better.
Unconventional instrument cluster in the PHEV
The plug-in hybrid version gets a colourful power meter instead of a rev-counter, segmented into zones that help you quickly see whether you're driving economically, maximising power output or even helping to recharge the batteries.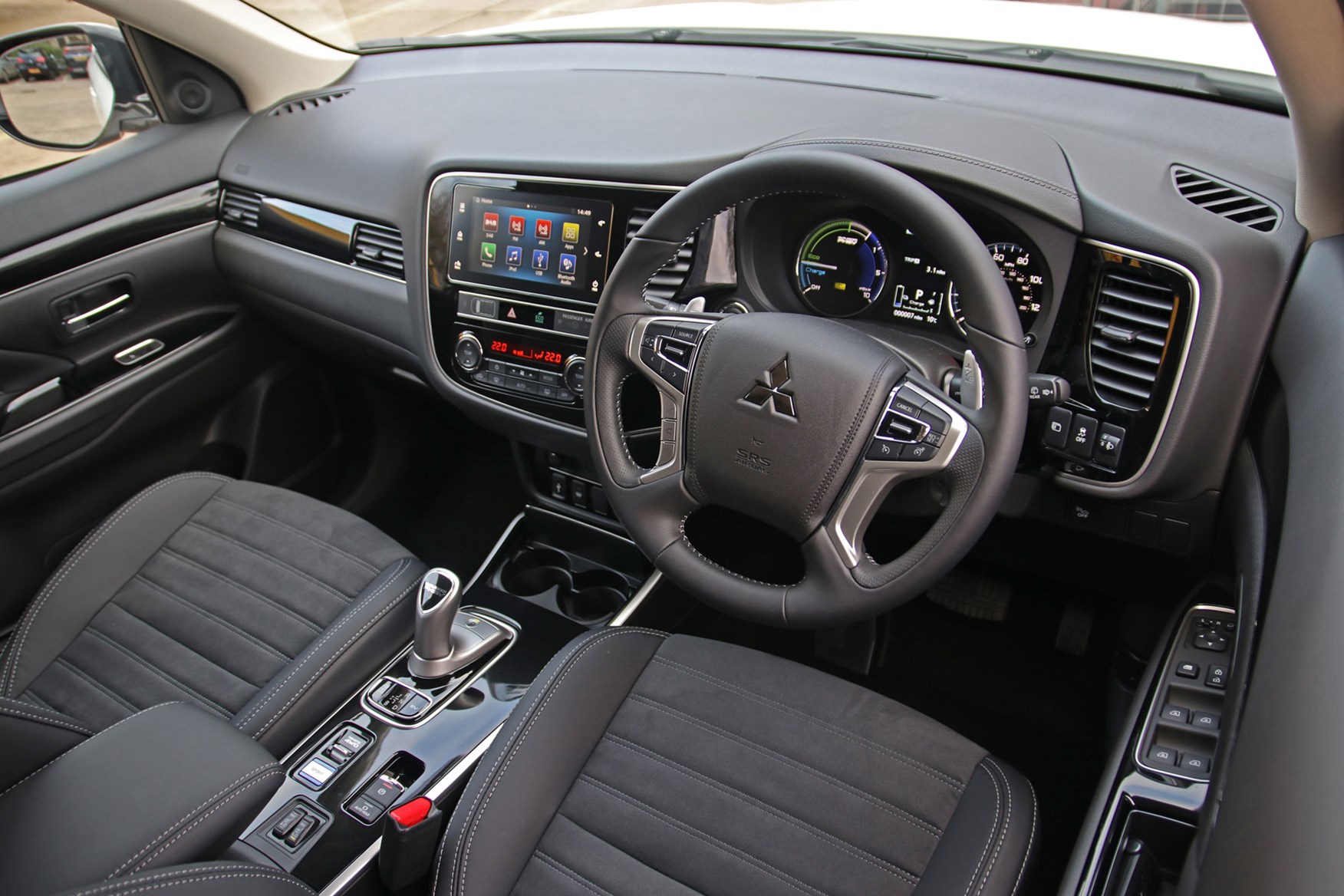 There is also an indicator that gives you guidance on the braking/charging force settings for the electric motors (see the Driving section above for more details on this), while the digital trip computer display shows you the remaining mileage available for electric-only driving as well as the total combined driving range.
Sounds fussy, but the info is clearly displayed, and it doesn't take you long to get used to it.
Full details of fuel economy and how 100mpg+ is possible
Five-year warranty (eight years for the batteries)
Relatively short service intervals, but lots of standard kit
There have certainly been commercial 4x4s with cheaper purchase prices than the Outlander – check out the Dacia Duster and SsangYong Korando commercials, for example – but if you're looking for the lowest possible running costs, then a properly managed Outlander PHEV will be tough to beat.
What do we mean by properly managed? Read on to find out.
Mitsubishi Outlander Commercial diesel mpg
Official fuel economy for the 4Work diesel model is 53.3mpg, but since that model was discontinued in 2018 that figure is measured to the older NEDC standard rather than the newer WLTP standard, which comes into force in September 2019 and is supposed to better represent real-world driving.
As such, if you get much above 40mpg in real life you'll be doing pretty well – especially if you're making the most of the full payload capacity.
Mitsubishi Outlander Commercial PHEV mpg
This is where things get a bit complicated. But stick with us and we'll explain.
Initially, the PHEV was rated to a claimed 149mpg, a figure that later went up to 166mpg – both for versions fitted with the older 2.0-litre petrol engine, and tested to the NEDC standard.
The newer 2.4-litre PHEV has both NEDC and WLTP figures – the former 159mpg and the latter 139.7mpg.
At this point, you're probably (sensibly) thinking: no way does any petrol-powered commercial vehicle get over 100mpg in real life.
And you're right.
Sort of.
Drive one of these without making the most of the electric drive capability, and you'll be lucky to get late 30s mpg in real life. However, if you do take the trouble to charge the batteries fully overnight or whenever you're stopped for a reasonable period of time, you'll find you're able to complete many shorter journeys on electric power alone.
In fact, if your daily commute is less than around 25 miles, you may find you can go weeks without even visiting a petrol station.
Further to this, on longer journeys you can also save the electric power for when it's most useful – such as lower speeds around town – which will also boost your mpg.
Driven like this, fuel economy figures of over 100mpg certainly are possible overall, if not on every journey.
That said, if you're regularly travelling over a 100 miles a time, the diesel version is probably the more efficient choice here.
What's the electric range of the Outlander Commercial PHEV?
This has varied over time and with testing standards, too – for the 2019 model Mitsubishi reckons 28 miles WLTP and 33 miles NEDC.
Expect around 22 to 25 miles in the real world, depending when and where you are driving. Electric power lasts longer at urban speeds than it does on the motorway.
Our advice would always be to use the electric power as much as you can, and when's it's most useful, such as in town. The cost-per-mile for electricity is typically far, far lower than the cost-per-mile of petrol (or even diesel), though be careful if you're restricted to public charging points, as these don't give such good value.
Mitsubishi Outlander Commercial warranty
This has increased over the Outlander's lifecycle from an original three years to five years as of January 2015 – although the mileage cap of 65,500 miles remains.
Later in 2015 Mitsubishi extended the drive battery warranty for the Outlander PHEV to eight years or 100,000 miles, and clarified that it was eligible for replacement within this time should total capacity drop below 70%.
Mitsubishi Outlander Commercial service intervals
Service intervals are every 12,500 miles or 12 months, whichever is sooner.
Mitsubishi Outlander Commercial tax costs
As a commercial vehicle, this version of the Outlander is subject to fixed-rate taxation like any other van or pickup, which makes it usefully cheaper in this area than the passenger version.
For this reason, Mitsubishi is legally obliged to make it very difficult to retrofit a set of rear seats.
>> Van and pickup tax explained
Mitsubishi Outlander Commercial standard equipment
For the 2020 model year (which was introduced with the Reflex model in October 2019 and then bolstered with the Reflex Plus in December 2019), the Outlander comes with the following standard equipment highlights.
Mitsubishi Outlander PHEV Commercial Reflex standard equipment highlights:
Heated seats
Dual-zone climate control, with scheduler function
DAB digital radio
Bluetooth
Rear parking sensors
Reach and rake adjustable steering wheel
Keyless entry and start
Automatic lights and wipers
17-inch alloy wheels
Mitsubishi Outlander PHEV Commercial Reflex Plus standard equipment highlights (in addition to Reflex):
Infotainment system with 8.0-inch touchscreen
Apple CarPlay and Android Auto
Reversing camera
18-inch alloy wheels.
For details of safety and security equipment see that section, below.
The scheduler function for the climate control and heating system means you can pre-select an ideal starting temperature, and when the Outlander PHEV is plugged in to charge it will use the mains electric to achieve this before you unplug it to drive, saving energy in motion to increase the driving range.
May not prove as durable as a purpose-built LCV
Owners seem to love them
Not a great deal to report here. While not a huge number of commercial variants of the Outlander are sold each year, there are entire forums dedicated to the PHEV passenger version, which has consistently been the UK's the bestselling plug-in hybrid since it was introduced, and it would seem that most owners love them to bits.
The only exceptions to this seem to be when people haven't understood the realities of the claimed fuel economy – which we've gone into some details about in the Costs section above.
Mitsubishi did suspend production of its battery packs for a while, following an incident in Japan where an Outlander caught fire, but this appears to have been a one-off. We've heard horror stories about melted charging plugs, too, but these are more likely to be caused by poor wiring on the supply side than an issue with the vehicle
Diesel models can suffer with particulate filter issues, but this will likely occur if you largely do short journeys, and is more of a general diesel particulate filter problem than one specific to the Outlander. If this sounds like the kind of driving you do you're probably better off with a PHEV anyway, as you'll be able to use electric power a lot of the time, which has a far lower cost-per-mile than diesel.
Less likely to be a target for van thieves
Lots of airbags, but no autonomous emergency braking
Car-derived vans like this often feature a lot more safety kit than regular commercial vehicles, but the Outlander doesn't come with the very latest active aids such as autonomous emergency braking (AEB).
Mitsubishi Outlander Commercial safety
The metal bulkhead was optional initially but is now part of the standard kit list for this commercial 4x4. The mesh top part means you can still see out of the main rear window, which remains plain glass.
The rear side windows are blanked panels, which restricts over-the-shoulder visibility – nothing new if you're used to driving a van, but may take a little adjusting to if you're changing into one of these from an ordinary car.
As of 2019, the full list of standard safety equipment is as follows:
Electronic stability control
Front and side airbags, plus driver's knee airbag
Hill-start assist
Automatic lights and wipers
Heated windscreen
All versions of the Outlander are four-wheel drive with a dedicated Snow setting. They should prove capable of dealing with slippery conditions such as muddy lanes and fields.
We were also pleased to see the front passenger seat has Isofix mounting points for securely installing a child seat. This is sadly an unusual feature in most commercial vehicles.
The switch to deactivate the passenger airbag (essential when using a rear-facing child seat) is located on the side of the dashboard and easily accessed when the passenger door is open.
Mitsubishi Outlander Commercial security
Looking so much like a car means the Outlander commercial 4x4 is less likely to attract opportunistic van thieves, although the plain glass rear window and meshed bulkhead mean it's easy to see into the back as well. So as ever, it's probably best to avoid leaving anything inside that you can't afford to lose, if at all possible.
Still, the standard specification includes an alarm and immobiliser.
Which Mitsubishi Outlander is best for me?
As of July 2018, the Outlander Commercial the range has been exclusively PHEV, so if you want to buy new this is your only choice.
Prior to this, at least until diesel started coming under heavy criticism from environmentalists, the split between diesel and PHEV sales of the Outlander Commercial were fairly even, so if you're buying used you should find either to choose from.
>> Find new Mitsubishi Outlander Commercial deals near you
>> Find used Mitsubishi Outlander Commercial deals near you
Should I buy an Outlander Commercial diesel or hybrid?
We've covered the pros and cons of each powertrain throughout this review, but the major deciding factor should probably be how often you typically do longer journeys – especially those over about 100 miles.
For shorter distances, the PHEV's electric driving capability should bring big running-cost advantages. But over longer distances the diesel will be more efficient overall.
Other important factors to consider in this are whether your business will benefit from presenting an eco-conscious image to its customers, and also whether it will be easy for you to charge the PHEV's batteries. If it won't be easy there's really not much point to buying one at all.
>> The Parkers guide to electric vans: everything you need to know