Renault Zoe Van review (2022)
Car-derived pure electric van offers big driving range but limited payload
PROS
Electric driving range 245 miles
Lots of creature comforts
Quiet, quick and easy to drive
Five-year warranty
Cheap to run
CONS
Payload of less than 400kg
Small load space
Charging still takes time
Unproven as a van
Expensive to buy
Summary
The Renault Zoe Van is – as the name suggests – a van version of the Renault Zoe car. The novelty here is not just that it's one of only two truly car-derived vans on sale in the UK but that the Zoe is exclusively available with electric power. This makes the Renault Zoe Van the smallest electric van on sale in the UK as well.
To be totally clear, there are no petrol or diesel versions of the Zoe Van – it's an electric motor and a battery pack, or nothing. This would seem to limit the appeal of an already niche product (you don't see many car-derived vans for a reason) still further.
But with plenty of power and an official driving range greater than any other electric van, not to mention lots of creature comforts, this could be the ideal solution for any green-thinking firm that needs only a compact amount of dedicated van loading capacity. Read our 2022 Renault Zoe Van review to find out...
Renault is good at this sort of thing, isn't it?
Renault has a proven track-record as an electric van pioneer – the Kangoo ZE was the very first electric van on the market and the Master ZE (now called the Master E-Tech) offers electric van buyers truly impressive payload and a lot of body options.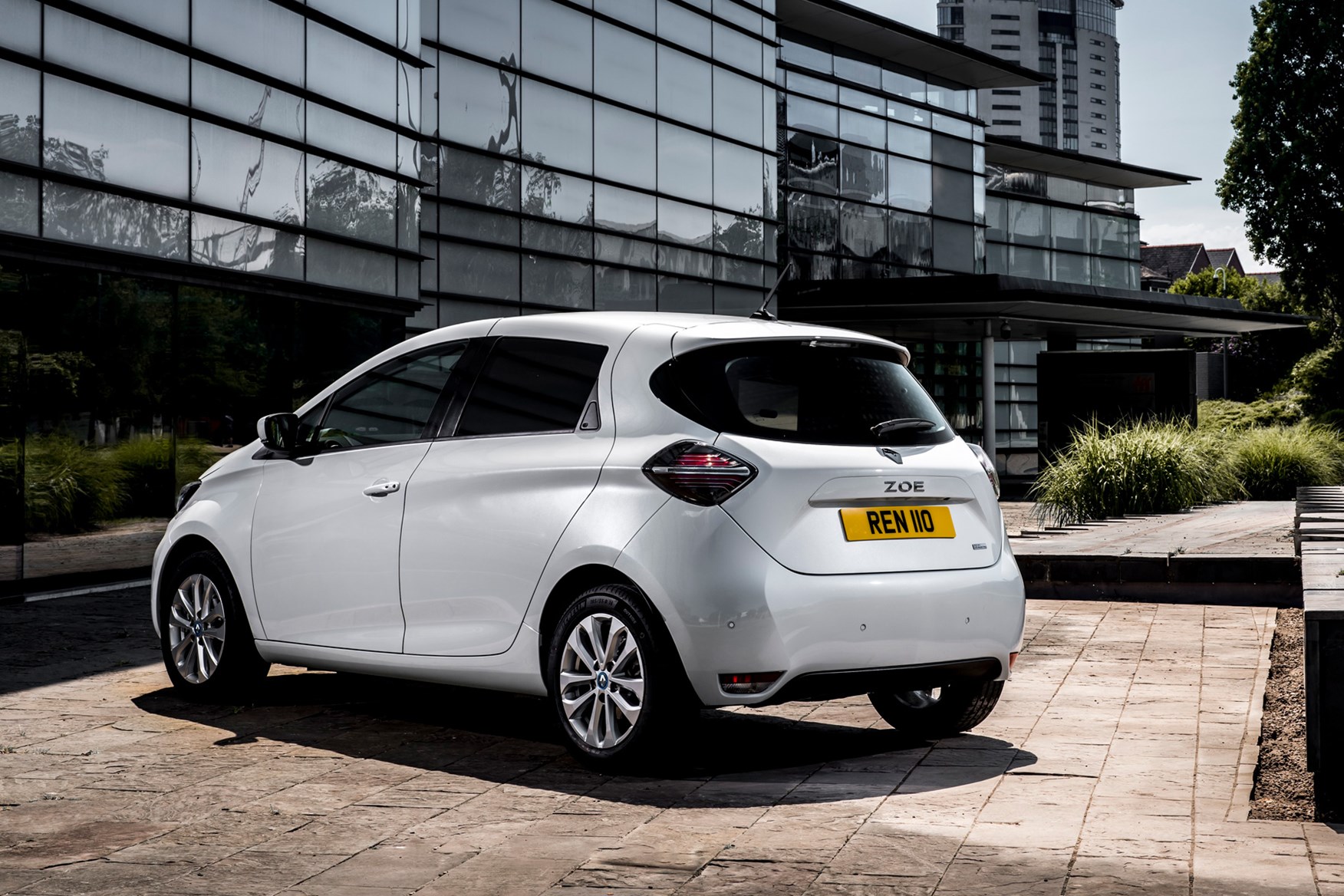 It's also good with electric cars; the Zoe the van is based on is already the significantly updated model, when many other carmakers are only just bringing out their first dedicated electric vehicles.
What's more, the van conversion for the Zoe is particularly neat, with a very well-finished load space complete with bulkhead and full-length load cover – the rear window on the tailgate retains its glass, so this is useful for hiding the kit inside from prying eyes.
The only other actually car-derived van (or CDV) on the market is the Ford Fiesta Van. This is now only available with petrol engines, including a mild-hybrid variant; the diesels having been discontinued in 2020.
There is also a Dacia Duster Commercial that's light enough to also qualify as a car-derived van, but this is based on an SUV, and therefore much larger.
So how far can the Zoe Van drive on a charge?
Fitted exclusively with an 80kW (107hp) electric motor and 52kWh battery pack, the official driving range is of the Renault Zoe Van is 245 miles. That might not sound like much compared with a conventionally fuelled van, but for an electric model it's currently unbeatable (at the time of writing in October 2020).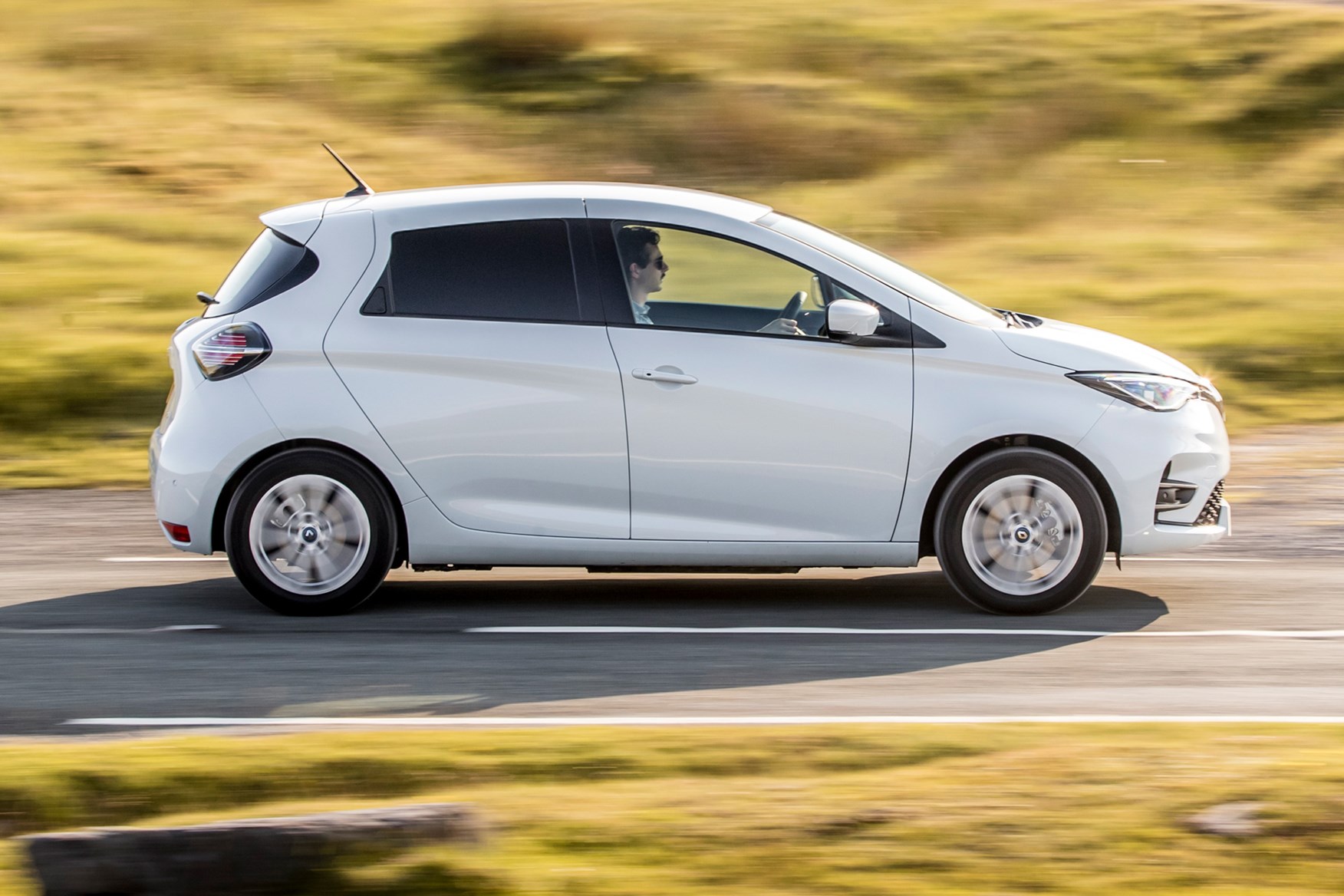 Charging also isn't as convenient as topping up the tank at the filling station forecourt, but by electric van standards the Zoe performs well here, too, with 50kW fast charging available as an option. Plugged into a compatible charger, this will give you an 80% recharge in 70 minutes.
Every version comes with 22kW charging capability, which will give you a full charge in 3 hours; the more common 7kW charging available from most home wallbox chargers need 9 hours 25 minutes. Charging via a three-pin plug is possible, but takes such a long time Renault doesn't even list a figure.
>> Everything you need to know about electric vans
How practical is it?
This partly depends on how well that driving range is going to work out for you, but as a car-derived van, the Zoe Van also isn't blessed with a large load area or a high payload.
You can find full details of this on our dedicated Renault Zoe Van dimensions page, but load volume is just 1.0 cubic metre – actually slightly more than the rival Fiesta Van – while its highest payload rating is 387kg.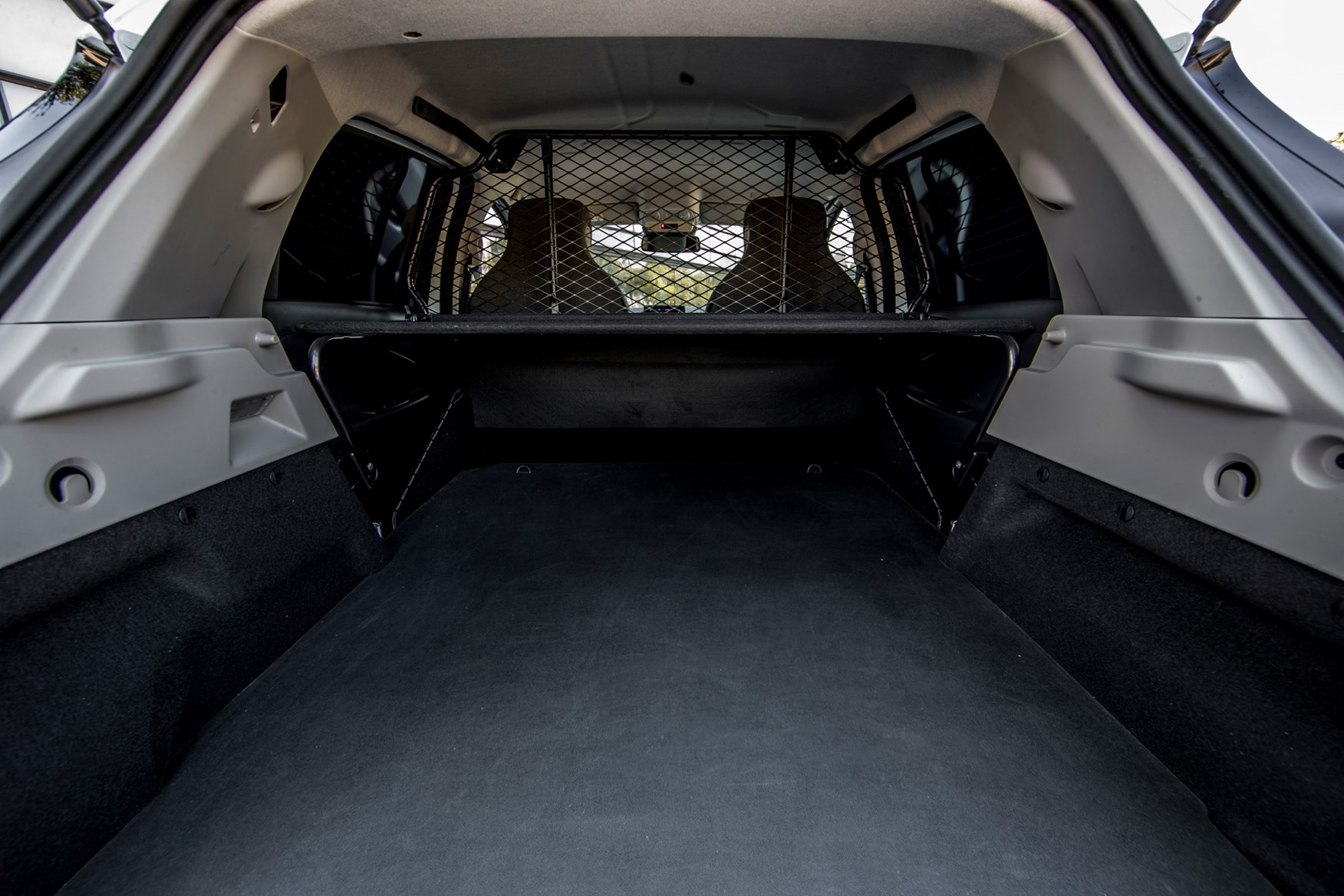 That payload is considerably less than the Fiesta Van can manage, no doubt in part due to the weight of the lithium ion batteries the Zoe has to carry in place of a conventional fuel tank. And if you want to make use of that load cover, just 0.51 cubic metres (510 litres) of space is available.
As such, the kinds of businesses and drivers the Zoe Van is targeting includes engineers who only need to carry lightweight tools or testing equipment, and firms that carry only lightweight goods – florists perhaps.
How does it compare to the rival Fiesta Van?
We've got a full comparison test of the Zoe Van and the Fiesta Van, but here's a quick breakdown. The Fiesta Van isn't limited by range or charging time, comes well equipped, is more easily maintained (since no specialist electric vehicle training is required) and is more fun to drive – if that matters to you.
The Zoe is very refined, produces zero emissions in motion, arguably has a better load space and offers access to that load space via the car's rear side doors – which remain in place in the van, but with blank panels instead of windows. The Fiesta Van has no rear side doors at all.
Both do the CDV job well. Both have their place, we feel.
>> Renault Zoe Van vs Ford Fiesta Van - which is best?
---

Verdict: is the Renault Zoe Van any good?
Keep reading for the full Renault Zoe Van review on Parkers Vans and Pickups, but our quick verdict is that this unusual car-derived van is a welcome alternative choice and yet another important step on the path towards the electrification of business vehicles.
The driving range is substantial enough to suit most daily use, it's easy and comfortable to drive, and both of the available trim levels provide plenty of kit for the money. It's not a cheap choice, but for some businesses it could well be exactly the solution you've been looking for.
If the 100% electric drive system isn't important to you, however, we suspect the rival Fiesta Van will make more sense for most people.
Skip to our full verdict on...
Responsive and refined at low speeds
Comfortable and capable at motorway speeds
Watch out for the range anxiety
Modern vans are increasingly sophisticated and often described as 'car-like' to drive, which is sometimes on the generous side of true (we're still mostly talking about big, boxy vehicles here, after all). The Zoe Van, however, is actually a car with the rear seats removed, so if you want a van that does comfort and refinement few options are going to be better than this.
Something that's only helped by the electric drive system.
Quiet and nippy
As with all electric vans, the Zoe Van has only a single-speed transmission. You select Drive (or Reverse) and you go. As there are no gears to worry about it's even easier to handle than a van with a traditional automatic, providing instant acceleration on the one hand and no fuss at all in traffic on the other.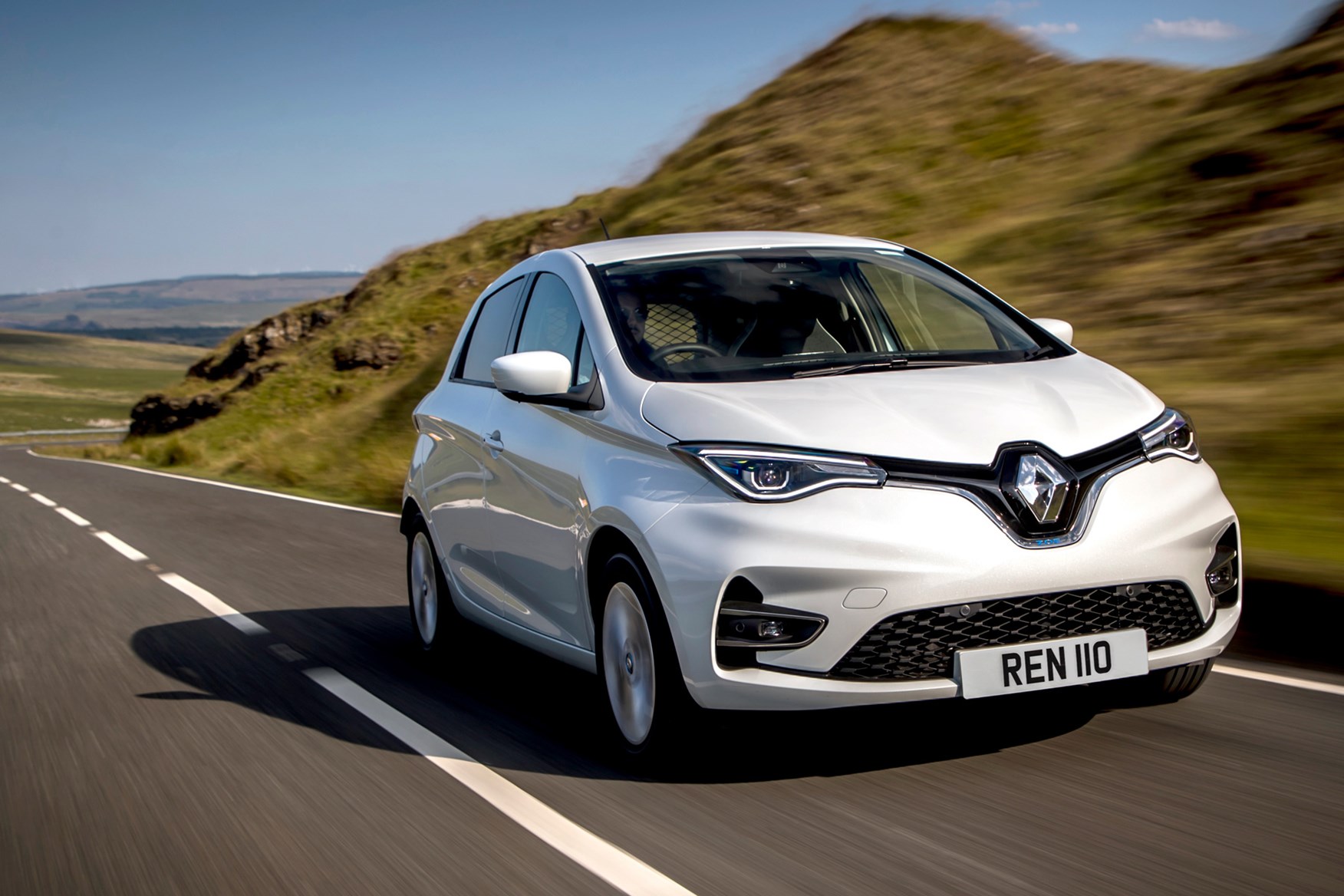 The 80kW electric motor is equivalent to a 107hp conventional engine, but it produces all of its 225Nm of torque as soon as it starts turning – and does so very quietly. This makes it very responsive at low speeds, and generally very refined inside.
You will hear a bit more road and wind noise as you go quicker, and the responsiveness does drop away slightly at motorway speeds. But it will happily cruise along with motorway traffic without causing any alarm – it's certainly much punchier than the Renault Kangoo ZE.
Are there any driving modes?
As an alternative to the regular Drive mode you can put the Zoe Van into a B (for Brake) setting, which recovers more energy whenever you slow down by turning the electric motor into a generator when you take your foot off the accelerator.
This helps recharge the batteries (you'll see the driving range creep up if you back off from dual carriageway speeds on approach to a roundabout, for example) and has the effect of slowing the van down more quickly, saving you wear and tear on the brake pads.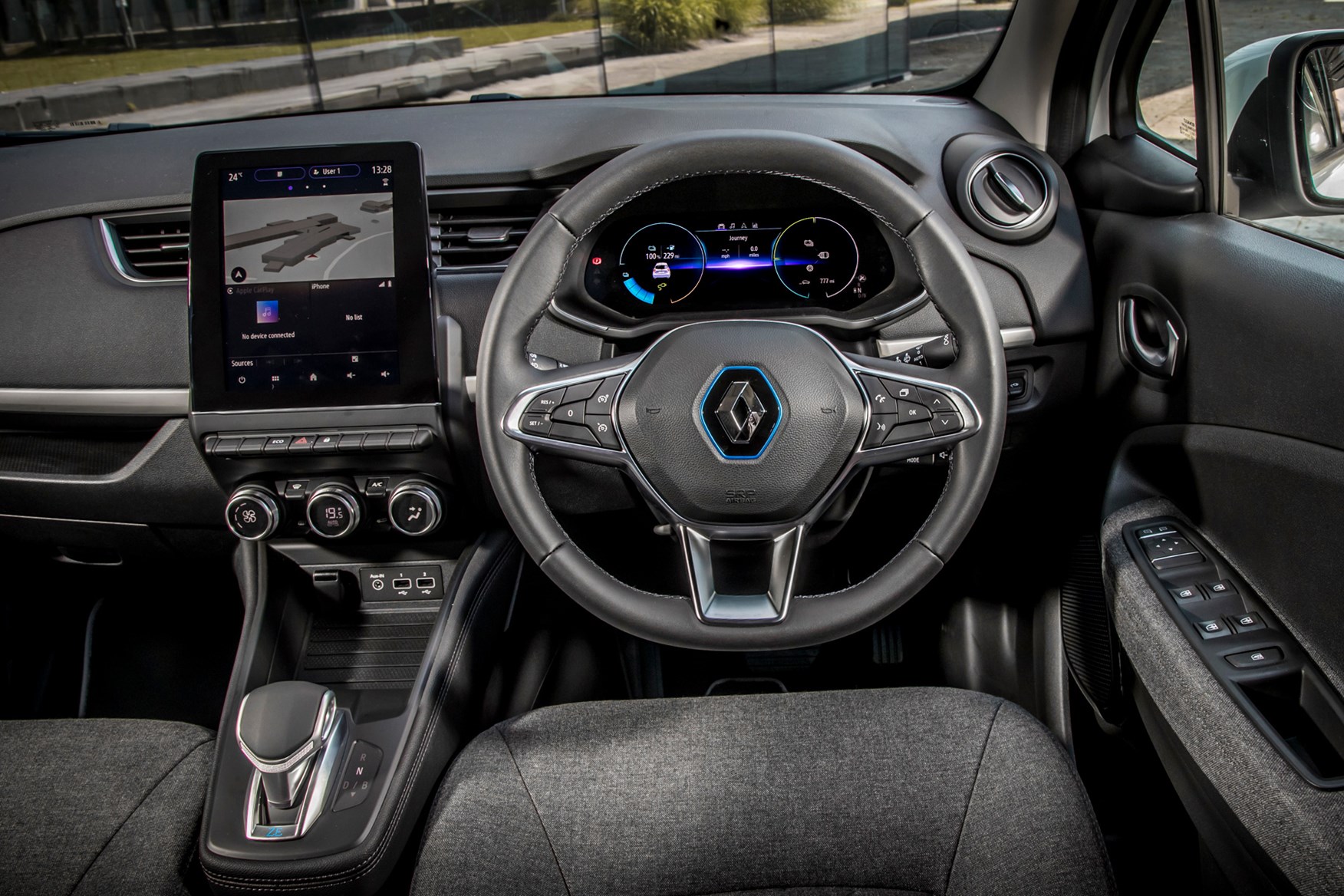 It might sound unnecessarily complex, but it's easy to get used to and worth experimenting with to see if you can make your driving style more efficient.
In addition to this there is also an Eco button, which knocks back the motor performance and response as well as adjusting ancillaries such as the air-conditioning system in order to maximise the driving range.
The Zoe Van is perfectly driveable with Eco engaged, but you will noticed the reduced oomph, especially with a load in the back.
What's it like in the corners?
Absolutely fine, but not as fun as the Fiesta Van. The Zoe Van is composed – meaning there's not too much rolling around in the bends and the suspension is able to deal well with most bumps and potholes – but it's not especially engaging or communicative. The steering feels a bit numb and aloof.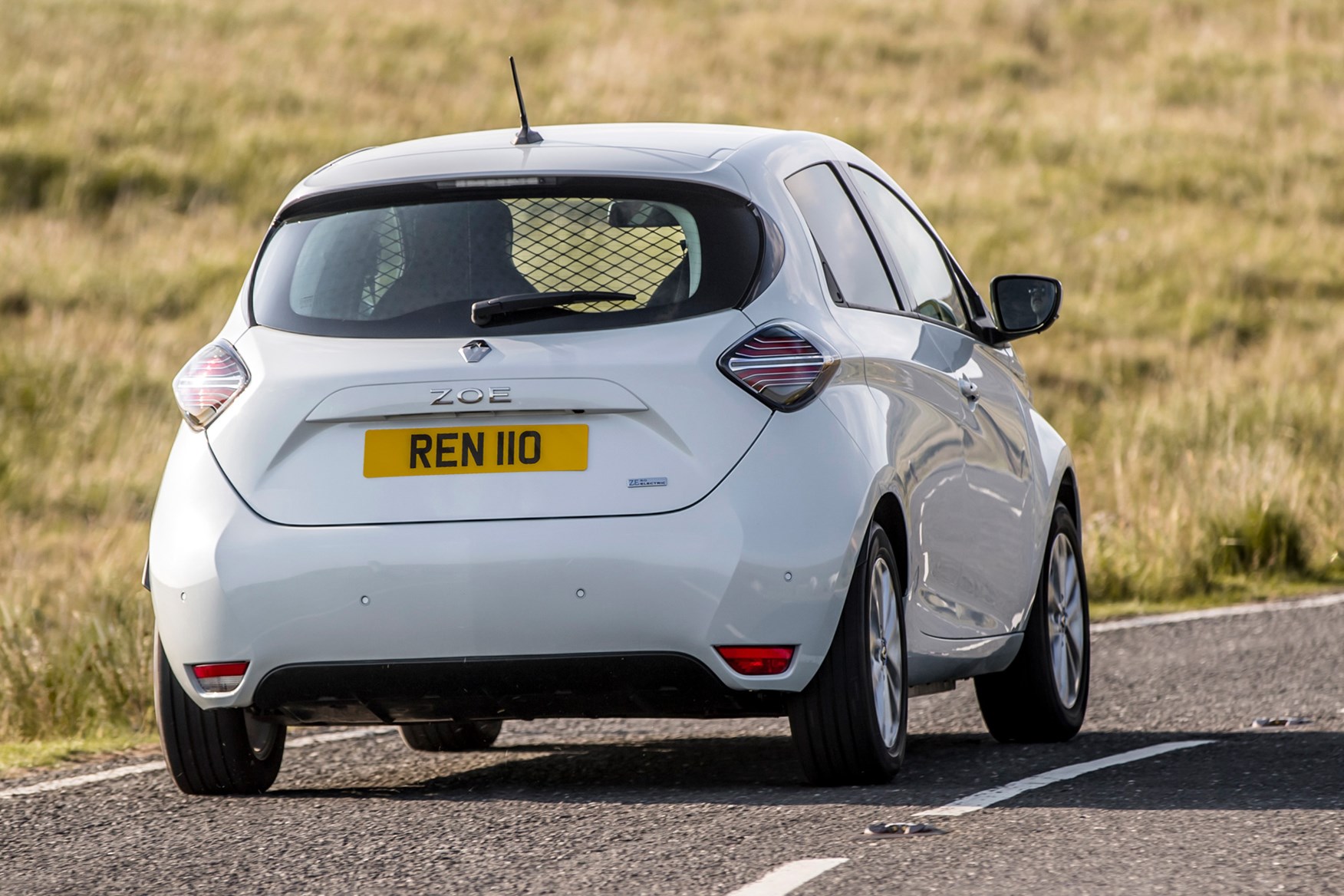 Seems unlikely this will matter too much to many van drivers, but it is another point of distinction between these two rivals.
What's the driving range really like?
Electric van range varies with temperature, so the distance available in summer will be greater than in winter. Renault very helpfully has a calculation for this, something not all electric van makers do, saying that while in summer real-world range should be around 233 miles, in winter it will be more like 150 miles.
Beyond this, the range prediction that comes up on the dashboard when the Zoe Van is fully charged is based on how the van has previously been driven. So given a few journeys and charge cycles, the van should be able to give you a fair prediction on how far you can go based on your driving style.
Renault even provides a widget on its website so you can take a gander at this. Input your average speed, the temperature and the wheel size, and this will give you a range prediction for a full charge – with and without Eco mode engaged.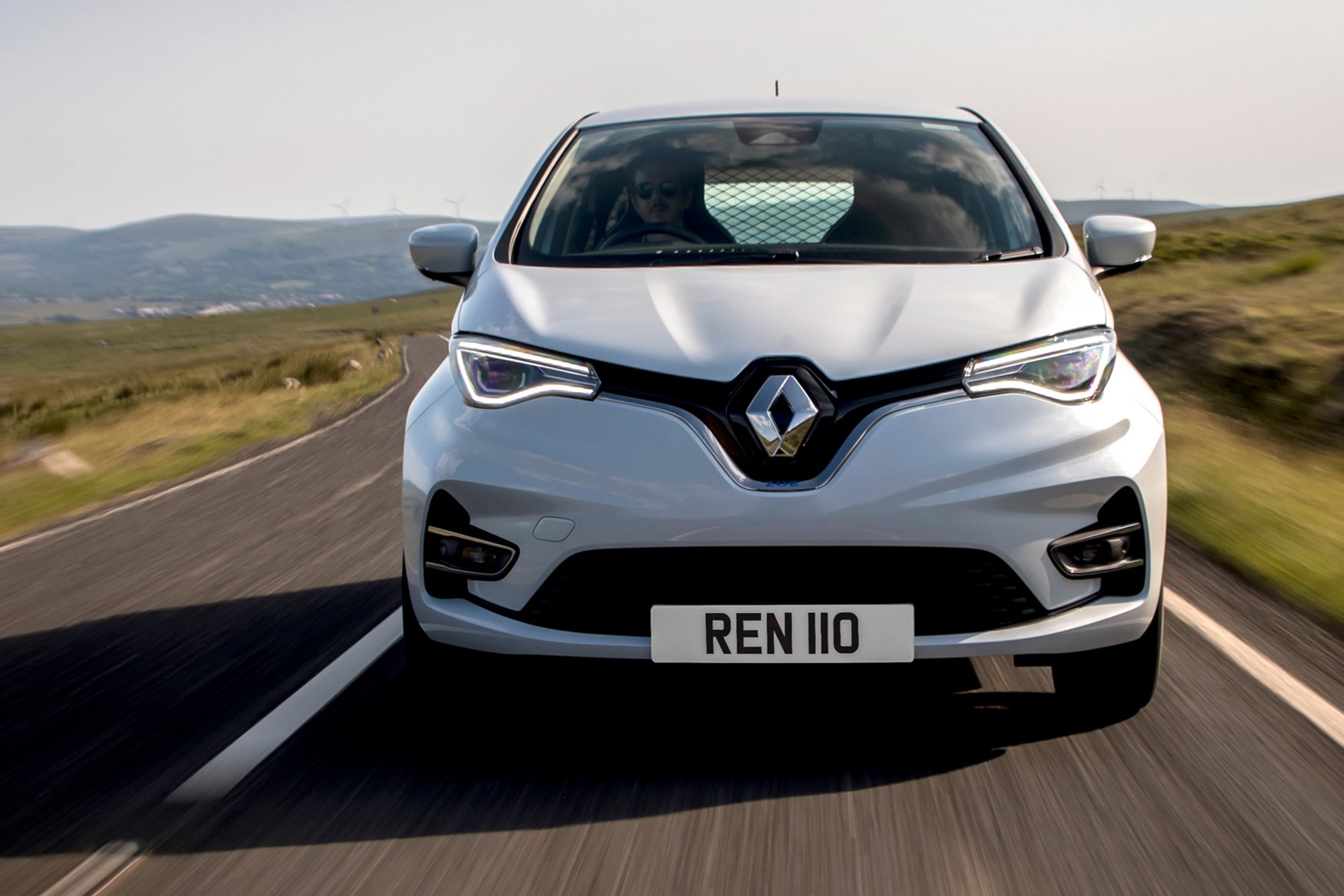 This is all fair enough. What did disappoint us, however, was that even with the cruise control set, the van couldn't seem to settle on a remaining range calculation that matched the miles we were covering in reality.
This was worse at 70mph in normal mode than at 60mph with Eco mode engaged – and is hardly a problem unique to this electric vehicle – but it would be nice to see the van able to work this out more accurately, sooner.
You will also find that if you suddenly need to put your foot down, perhaps because you're running late for your next appointment, the range can plunge quite dramatically. This can lead to some range anxiety, which surprised us in a van with over 200 miles of official capability.
For most, though, if you give the Zoe Van a full charge every night (or whenever it's off shift) you'll likely get a full day of driving out of it no problem. It's more efficient around town, too, where the constant stopping helps keep the batteries topped up – and it seems likely that if you're a long-distance driver you already know this kind of vehicle isn't quite ready for you.
Same interior as the Zoe car
Lots of technology and equipment as standard
High seating position, good visibility
Electric vehicles, though hardly unusual these days, still feel like quite novel technology. And so manufacturers often given them very modern interiors.
So it should come as no surprise to learn the Zoe Van has a 10.0-inch digital instrument cluster and 7.0-inch central infotainment touchscreen. Not to mention a smartphone app that allows you to remotely check its state of charge, control the charging schedule, pre-condition the cabin using the air-con while it's plugged in, plan journeys in advance and even locate it if you've forgotten where you've parked (or want to make sure it's still where you left it).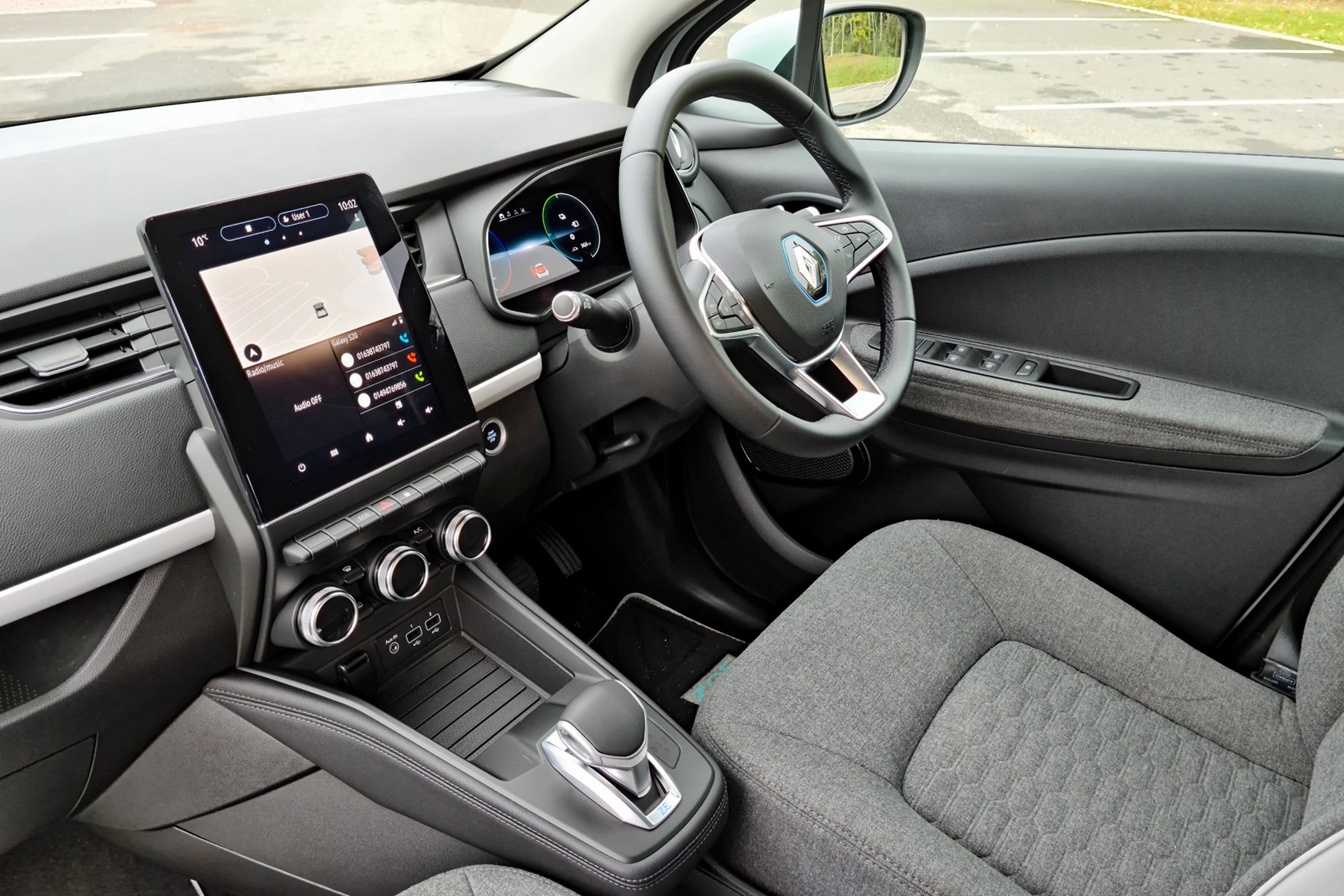 More to the point, because it's based on a car, it's also packed with creature comforts as standard, including air-conditioning on every model.
Passenger space and build quality
Converting the Zoe to a van has entailed removing the rear seats and installing a bulkhead between the two people in the front and a nicely trimmed load space in the rear. The bulkhead is part steel mesh, so you can still see out the rear window (which is clear glass), and reinforced with a brace behind the remaining seats.
Everything forward of the bulkhead is exactly the same as the Zoe car.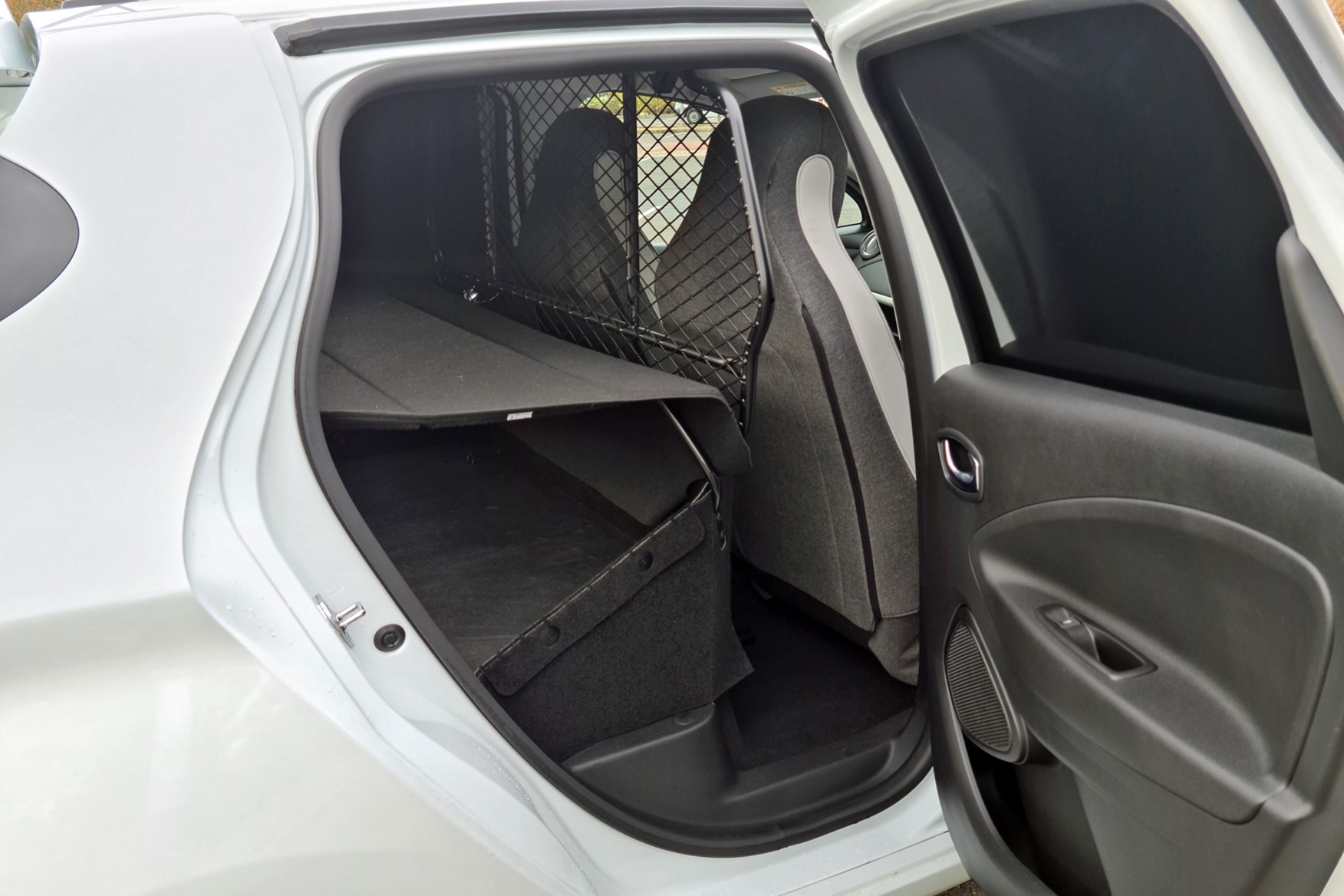 This means there's as much room for two adults as you'd expect in a supermini, and really rather good build quality. However, you should consider that things like the seat materials and plastics weren't originally designed with commercial use in mind, so may not last as long as the tougher, less attractive stuff you might find in a proper van.
The instruments and controls are all very straightforward and good to look at though.
Driving position and visibility
This is a small vehicle with quite a large battery pack – so this has to go somewhere. Turns out to be at least partially under the seats, which means you sit higher than you might expect in this kind of van.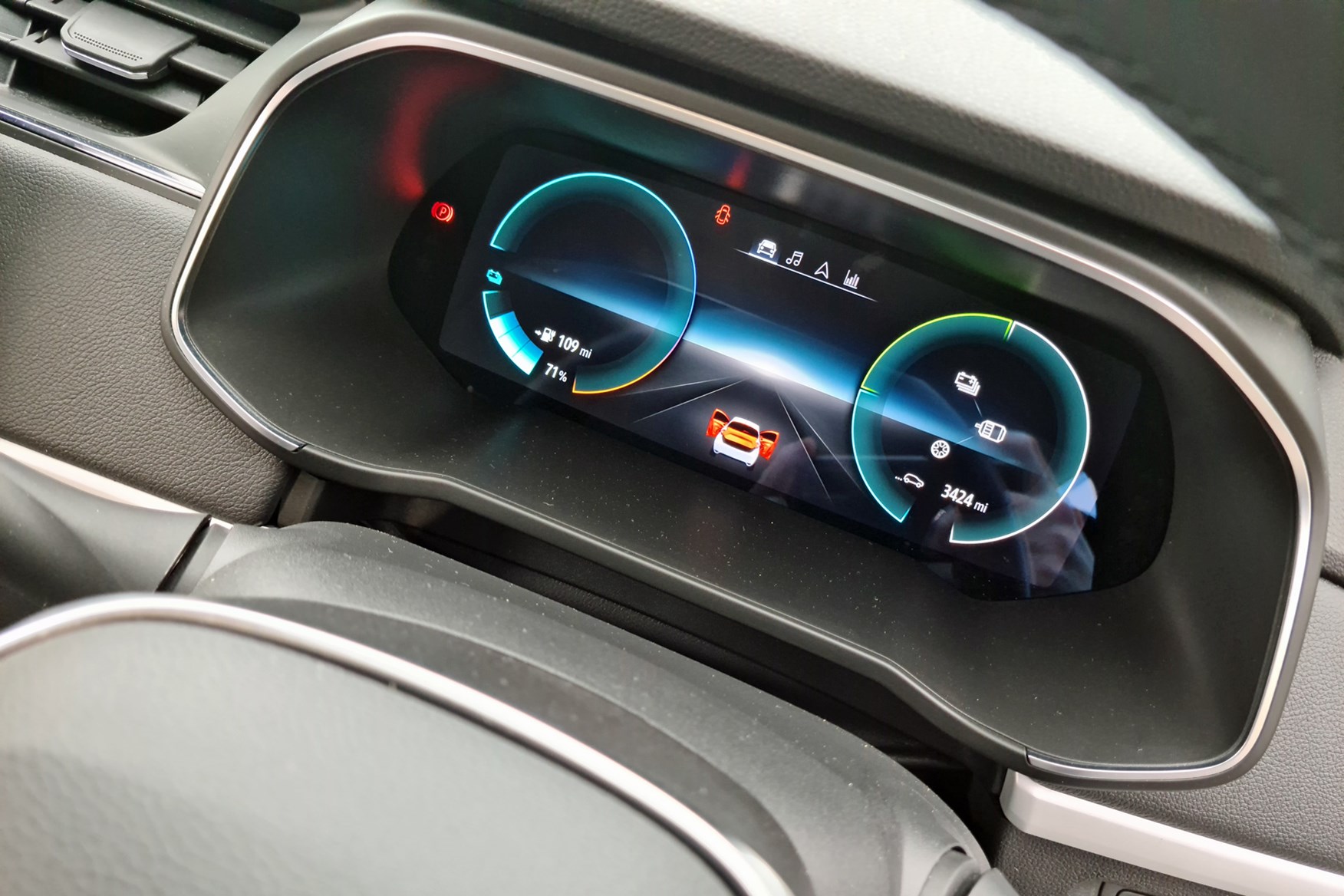 This means a bit of fiddling my be required to perfect your driving position. Fortunately, there's plenty of adjustability elsewhere.
Visibility is similarly excellent, with a good view forward and a glass window behind you. Only the large blindspot over your shoulder (from the blanked out rear side windows) makes the Van any different to driving the Zoe car.
Expensive to buy but running costs as low as 2p per mile
Longer warranty than other Renault vans
Two trim levels, lots of standard equipment
Electric vehicle technology is expensive – mostly due to the cost of the batteries – and so electric vans are also typically more expensive than traditional ones. In this instance, the Zoe Van is certainly more expensive to buy outright than the petrol-powered Fiesta Van.
But it is also thousands of pounds less than the Kangoo ZE electric van that Renault also sells. The Kangoo is bigger of course, but also has a far shorter driving range per charge (143 miles WLTP) and a much cheaper feeling, less well-equipped interior.
On that basis, we think Renault has struck a good balance here. The Zoe Van certainly does not feel like poor value. It even has a longer warranty than the rest of the Renault van range.
What's more, when we checked the monthly finance figures (in November 2020), it was actually considerably cheaper per month to get a Zoe Van than a Fiesta Van, using the exact same terms. So going electric may be cheaper than you think.
And that's before you get to the running costs.
>> Renault Zoe Van vs Ford Fiesta Van - which is best?
Renault Zoe Van running costs
The big advantage that electric vans have over diesel vans – let alone petrol vans – is that the cost much less per mile to run. Electricity is cheaper than conventional fuel, to the point that Renault reckons it could cost you as little as 2p per mile to drive (3p per mile in winter).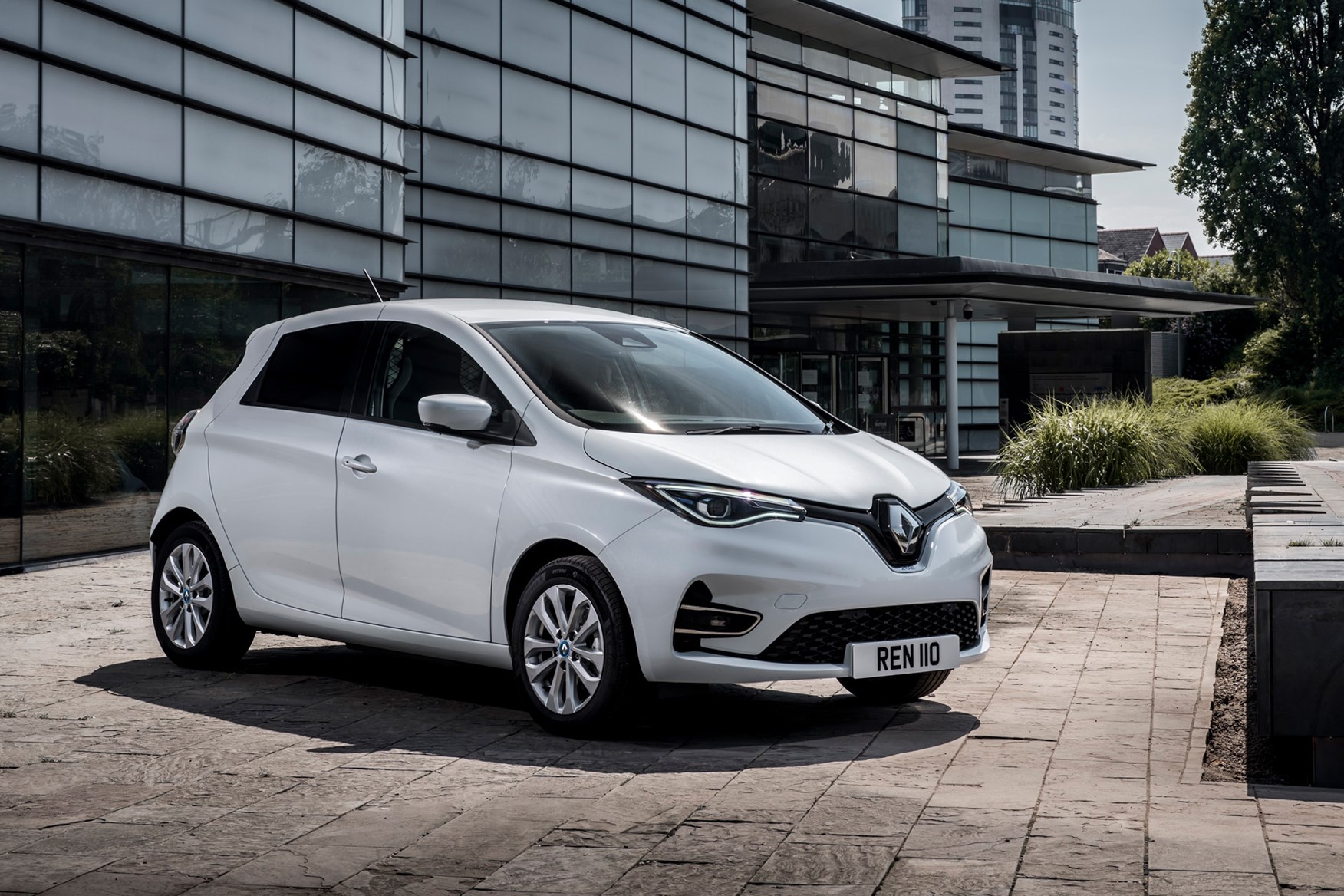 On top of this, there are fewer maintenance items – no oil to change, for example – and other important parts such as brakes should last longer (since the electric motor is able to help slow the van). This should make servicing and routine maintenance cheaper.
Renault Zoe Van service intervals
The service intervals for the Renault Zoe Van are 18,000 miles or 12 months, whichever comes sooner.
Renault Zoe Van warranty
The Renault Zoe Van is covered by the same warranty as the Zoe car, which means you get five years or 100,000 miles of cover, whichever comes sooners – although the warranty coverage in the first two years is for unlimited mileage, should you be likely to push your small electric van that hard in the first 24 months.
The battery components are covered for up to eight years (with the same 100,000-mile limit).
All other Renault Pro+ vans get only a three-year / 100,000-mile warranty.
Renault Zoe Van trim levels and standard equipment
The Zoe Van comes in trim levels, simply labelled Business and Business+. Both versions can be bought as standard and RC models in the UK, with the RC standing for Rapid Charging – meaning these Zoe Vans come equipped with 50kW charging built in.
Renault Zoe Van Business standard equipment highlights:
Full LED headlights
Front foglights
Keyless entry and start
Automatic lights and wipers
Cruise control with speed limiter
10.0-inch digital instrument cluster / driver's display
7.0-inch infotainment touchscreen with Apple CarPlay and Android Auto
Air-conditioning
Electric windows
Heated, electric door mirrors
'Chameleon charger' capable of handling 3-22kW charging (50kW on RC models)
Mesh bulkhead
Four load-lashing / anchorage points
Alarm
ZE Services smartphone app connectivity
Renault Zoe Van Business+ standard equipment highlights (in addition to Business):
16-inch alloy wheels
Body-coloured door mirrors
Recycled seat fabric
Synthetic leather steering wheel
Rear parking sensors
Wireless phone charger
Connected services (three-year subscription)
The Business+ model also comes with a great deal of extra safety kit, which we've detailed in the Safety section below.
It's also worth noting that some items of standard and extra kit available to the Business+ model can't be fitted to the Business version. Things that stand out here include parking sensors and heated seats.
New product, so no reliability data yet
Car basis may make it less durable than dedicated vans
At the time of writing, the Zoe Van is a brand-new product, based on a relatively new electric car. There are no signs of any reliability worries at this stage, and frankly we're not expecting any major problems.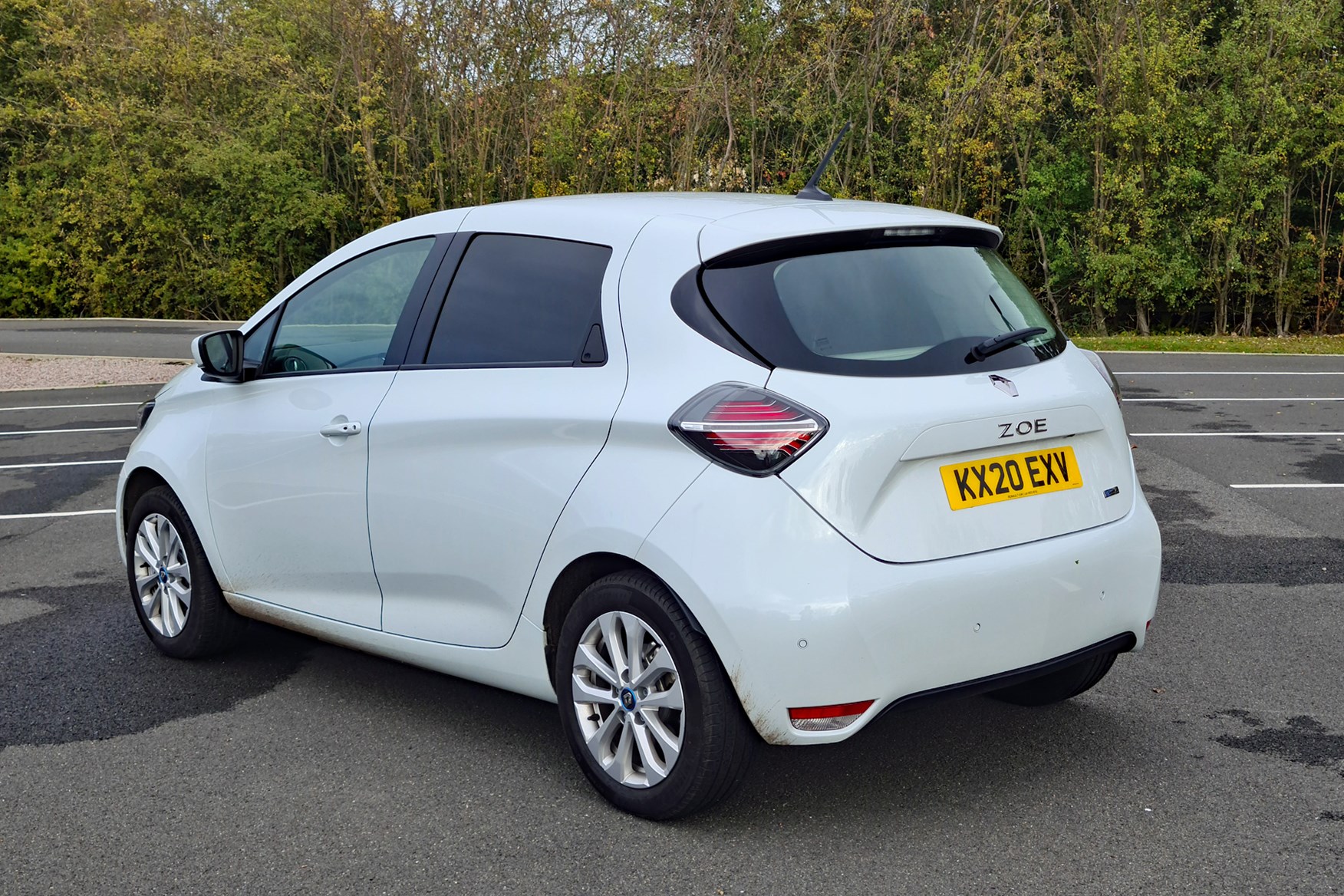 For starters, there are fewer mechanical parts in electric vans compared with those fitted with conventional engines. And while the latest Zoe car was only launched in 2020, it's heavily based on a well-established product, which has also shown few signs of major issues (some occasional charging quibbles aside).
People worry about electric vehicle batteries losing capacity – and therefore driving range – over time, and it's true that this does happen. However, this is a very gradual process, and the batteries in the Zoe Van are guaranteed by an eight-year / 100,000-mile warranty, and we've heard of very few electric vehicle battery packs actually needing to be replaced within this kind of timescale.
Lots of airbags, but you need the Business+ model to get any standard active safety aids
No Zoe Van comes with autonomous emergency braking as standard
All Zoe Vans do come with an alarm system
Another advantage of being a car-derived van comes in the area of safety – cars typically have more safety kit than cars, and Renault wasn't about to remove this when creating the Van version.
Renault Zoe Van safety equipment
All versions of the Zoe Van come with four airbags, electronic stability control, hill-start assist, tyre pressure monitors and Isofix mountings on the passenger seat – plus the ZE Voice low speed noise system that warns pedestrians and cyclists that the Zoe is approaching (it might be too quiet to hear otherwise).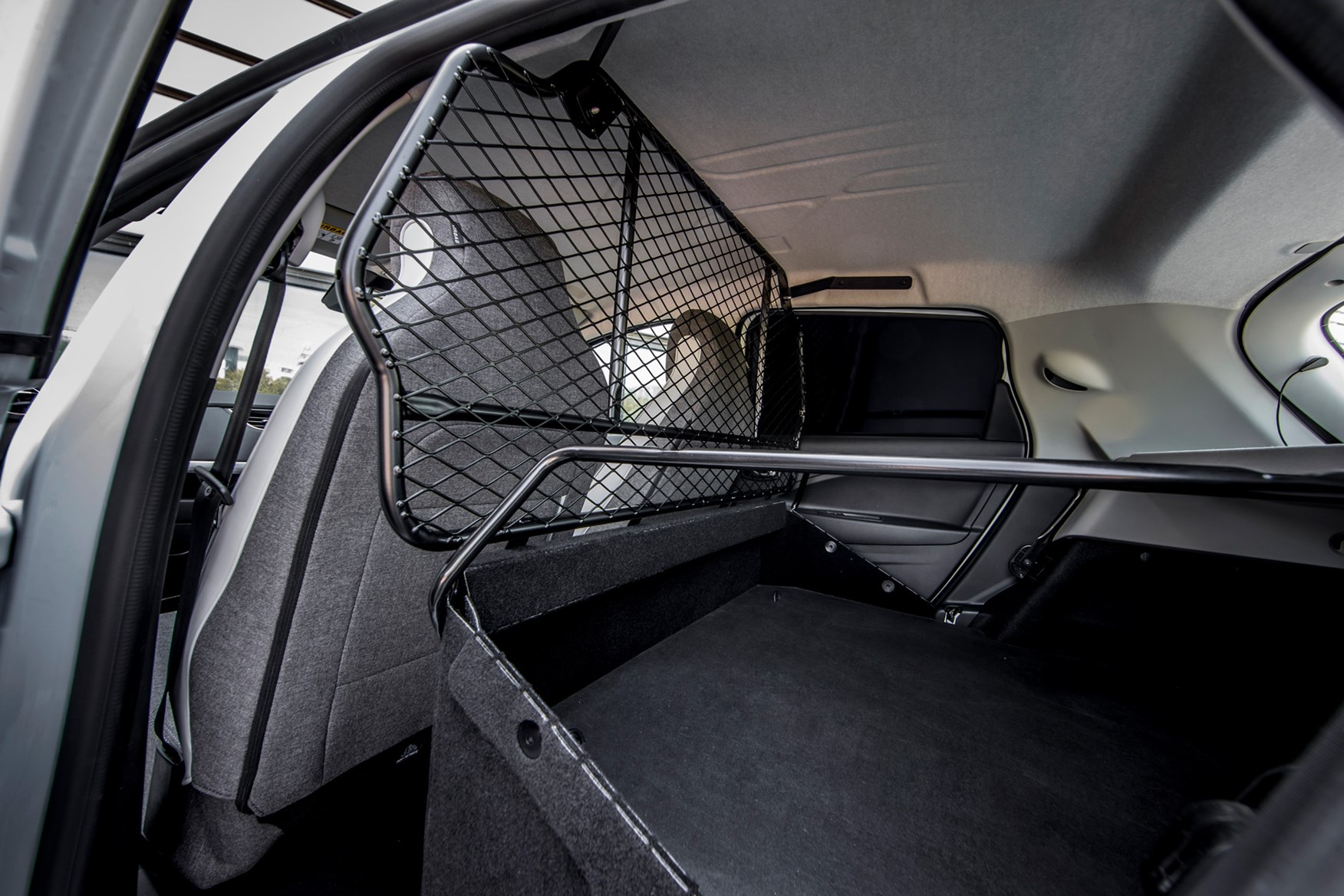 In addition to this, the Business+ model adds lane-departure warning, lane-keeping assist, traffic sign recognition, automatic main beam headlights and over-speed protection. Oh, and rear parking sensors.
What you don't get as standard on any Zoe Van is autonomous emergency braking (AEB), and this is only available as an option on the Business+ trim level.
It may also be worth noting that the bulkhead isn't as substantial as you find in some other van. But then, the Zoe's payload isn't comparable, either.
Renault Zoe Van security
Every Zoe Van is fitted with an alarm as standard. You can also check its location using a smartphone app.
Which Renault Zoe Van is best for me?
With only a single powertrain choice, the only decisions you really need to make here are related to standard equipment and colour – and whether you need that fast charging capability.
Should I buy a Zoe Van with 50kW charging?
Frankly, we suspect the best usage case for one of these remains charging it overnight, so rapid charging may be of limited use to most buyers and drivers.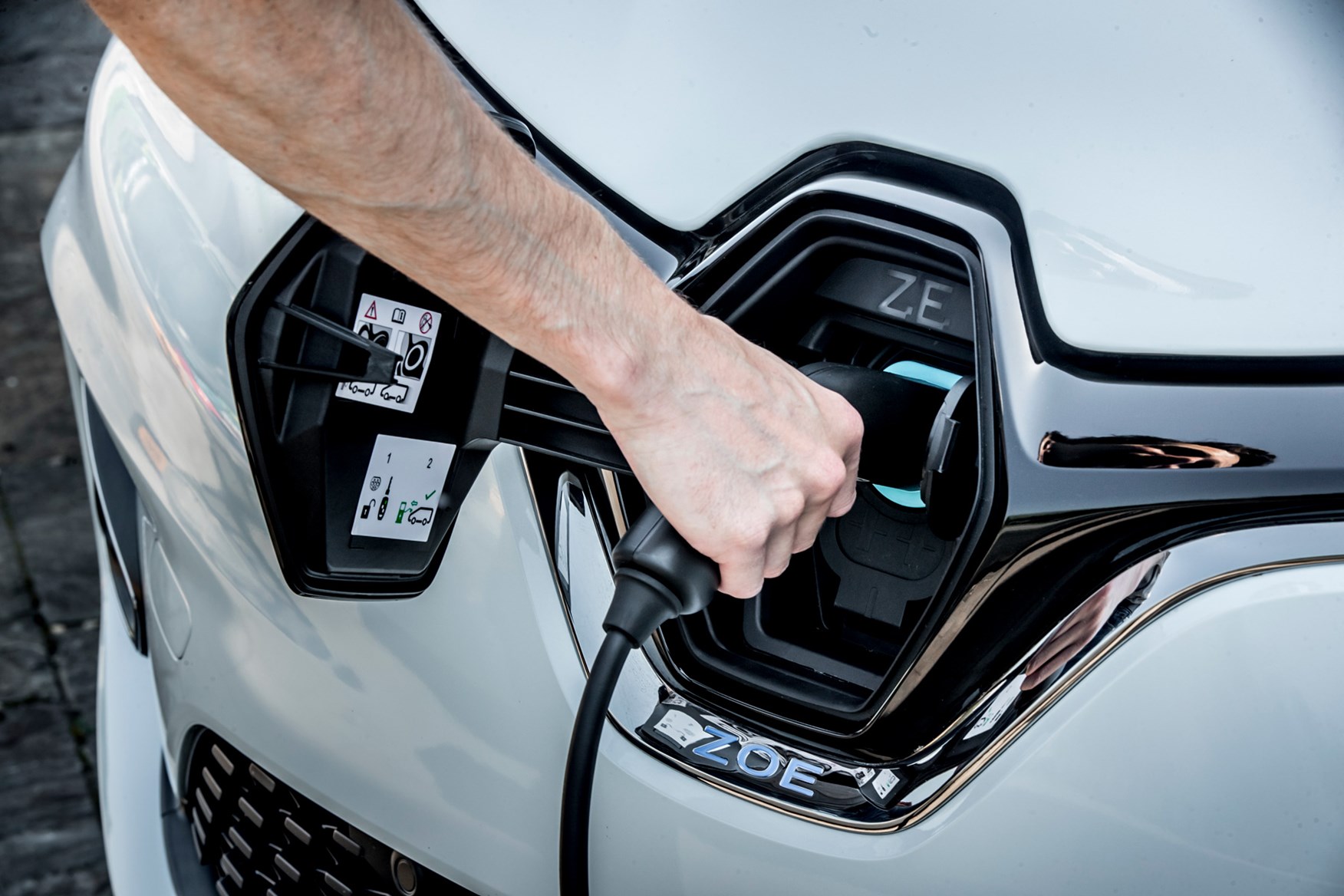 But if you do think you may undertake journeys that will stretch the Zoe Van's driving range, then being able to get an 80% charge in just over an hour is going to be beneficial.
Which trim level is best?
The pricier Zoe Van Business+ is worth the extra outlay for the additional kit you get – but beware that the added gear does slightly reduce payload capacity, from 387kg to 368kg, and you do still get plenty of nice stuff on the standard Zoe Van Business model.
Also read:
>> Renault Zoe Van dimensions, payload and load area info
>> The Parkers guide to electric vans