LEVC VN5 electric van review (2022)
Premium, high-tech range-extender electric van based on the London taxi
PROS
High quality, premium 'mid-size' van
High-tech range-extender drivetrain
Pure electric capability without range anxiety
Lots of standard and safety equipment
Comfortable and good to drive
CONS
LEVC has never made a van before
Pricing is high (but so is value)
Payload and capacity slightly limited
Only one variant
Modest learning curve required
Summary
The LEVC VN5 is an electric van based on the same technology as the latest London Taxi. This might seem like a strange move, but LEVC – the London Electric Vehicle Company (which is, confusingly, based in Coventry) – has recognised that there's more to life than building black cabs and decided to expand its portfolio.
The resulting British-built VN5 van borrows the taxi's front-end design and proportions, but adds a van body on the back. This makes it instantly recognisable yet slightly unexpected, in a manner that seems to catch peoples' eyes. This unusual vehicle is a good way of getting your business noticed.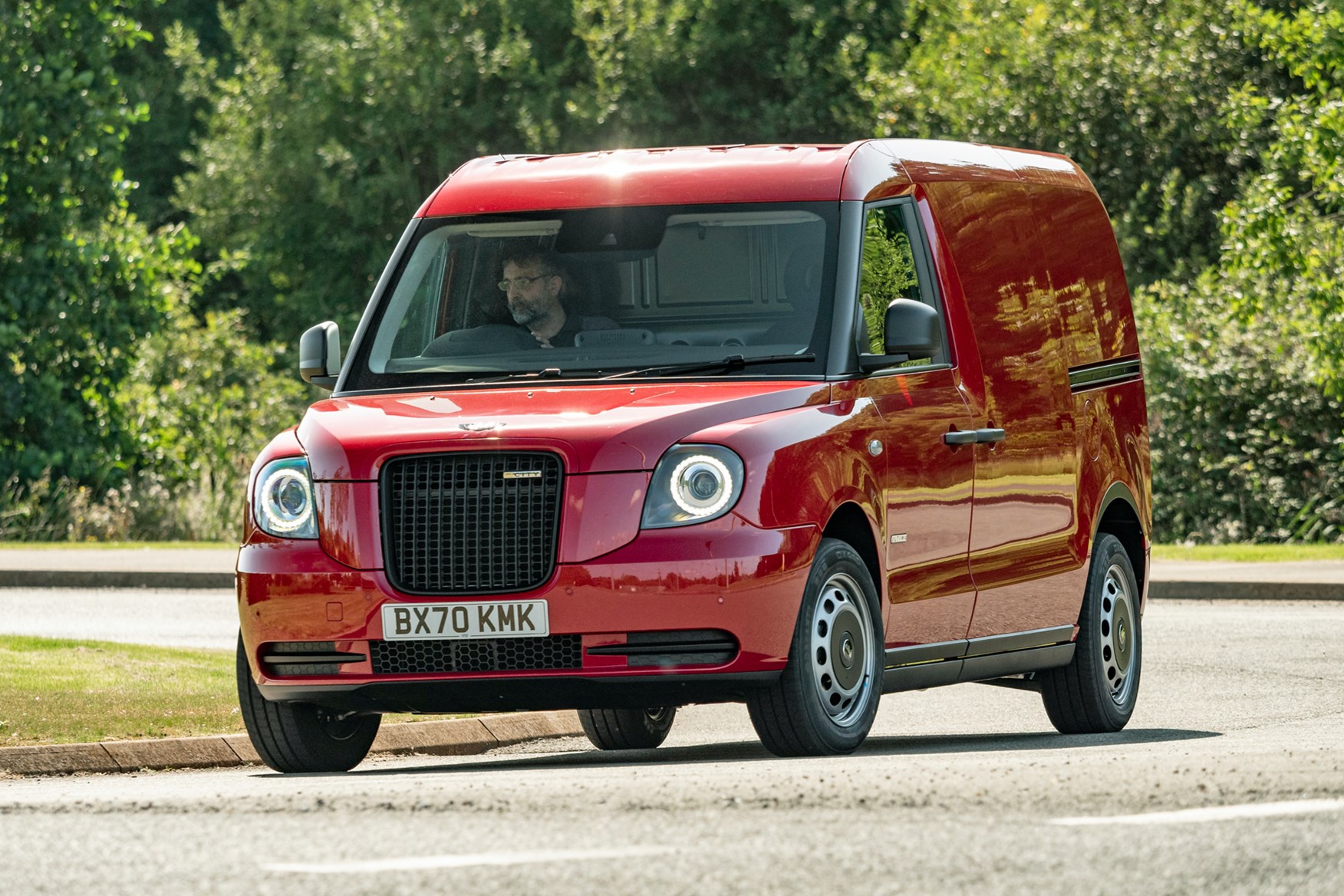 But this van is much more than just a cheeky face. Beneath the surface lies LEVC's eCity electric drivetrain, which combines substantial zero-emissions capability for future-proofing against environmentally concerned city centres and towns with the ability to travel over 300 miles before refuelling, avoiding range anxiety. Keep reading for our 2022 LEVC VN5 review.
Is the VN5 a pure electric van?
LEVC calls it an electric van, on the basis that the only thing that ever drives the wheels is an electric motor attached to the back axle. However, it's more accurate to describe the VN5 as a range extender – for while there is a substantial set of lithium ion batteries under the load floor, there's also a 1.5-litre, three-cylinder petrol engine under the bonnet.
The petrol engine's only function is as a generator. Meaning that it's used to produce electricity to power the electric motor, rather than to directly drive the wheels.
The Ford Transit Custom Plug-in Hybrid has a similar petrol-electric combo, though the VN5's electric-only capability is significantly greater.
We've compared the two in a twin-test - read LEVC VN5 versus Ford Transit Custom PHEV to find out more.
What's the driving range?
According to official WLTP standards, the 31kWh battery pack gives the VN5 a 61-mile pure electric range.
That's enough EV power to cover the total daily use of plenty of van drivers, if you look at all the stats manufacturers typically bandy around when talking about electric vehicles. But LEVC is not marketing the VN5 as a 'last mile' solution in the way most electric vans are described; rather it's calling it a 'distribution to door' solution, meaning that thanks to the petrol engine it can cope with much greater distances and flexibility of use.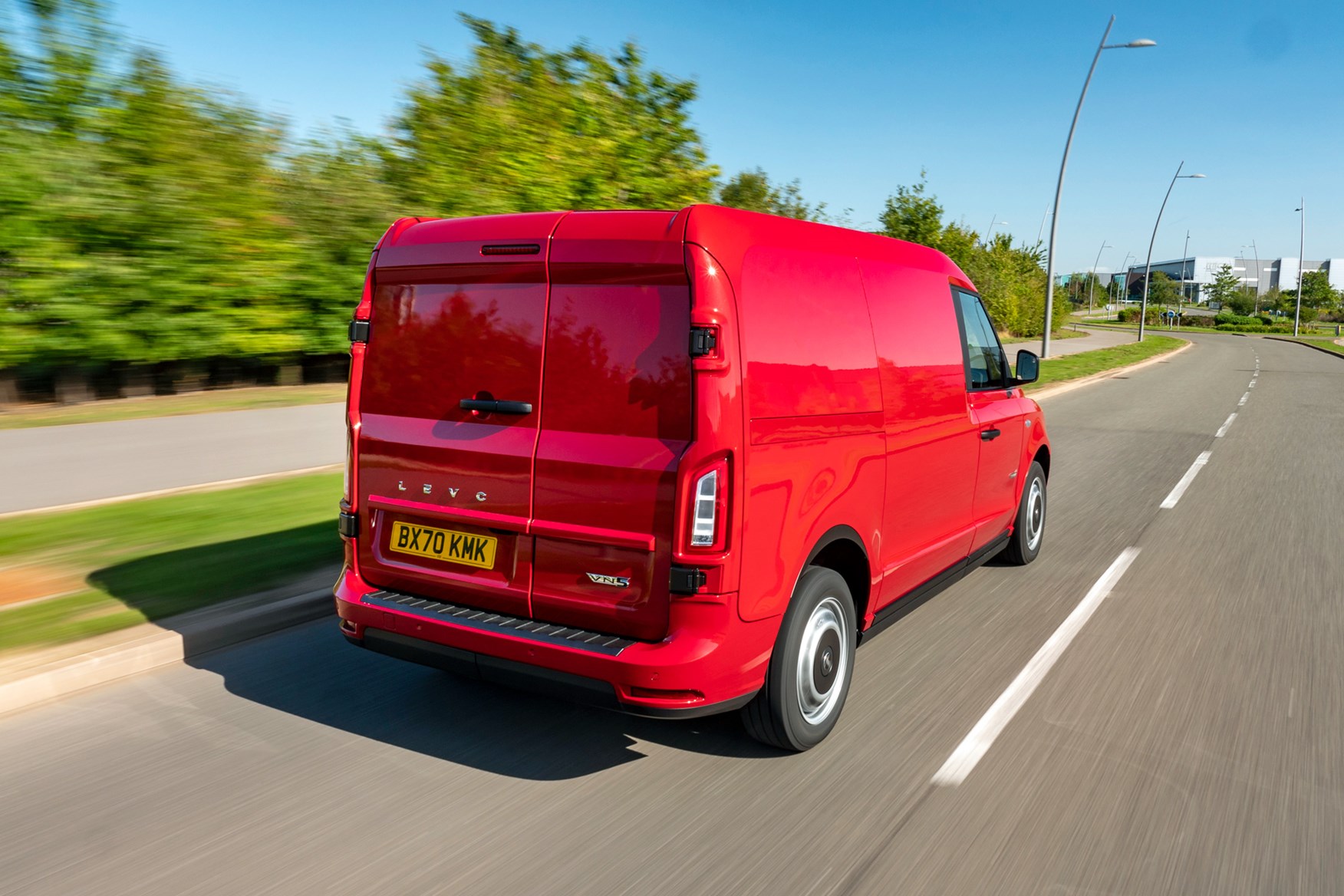 Total WLTP range with a full tank of petrol and a full charge to the batteries is 304 miles – more than the Transit Custom PHEV can manage and unsurprisingly greater than any available (or so far promised) exclusively electric van.
How the van drives is governed by three driving modes, giving you a choice of Save, Smart and Pure EV settings. You can probably guess what they do but we'll explain them further in the Driving section below.
How long does it take to charge?
The VN5 is equipped with a wide variety of charging options, right up to compatibility with 50kW fast chargers – which will take the batteries from flat to full in 30 minutes.
So fast that LEVC reckons some businesses will be able to fully recharge the batteries in the time it takes them to fully load the van. Though as a range-extender, LEVC also reckons it's unlikely many will choose or need to recharge the VN5 during the working day.
How big is it?
We've got full details of this on our dedicated LEVC VN5 dimensions page, but the key figures are a 5.5 cubic metre load space and a height of under 2m (making it compatible with most car parks).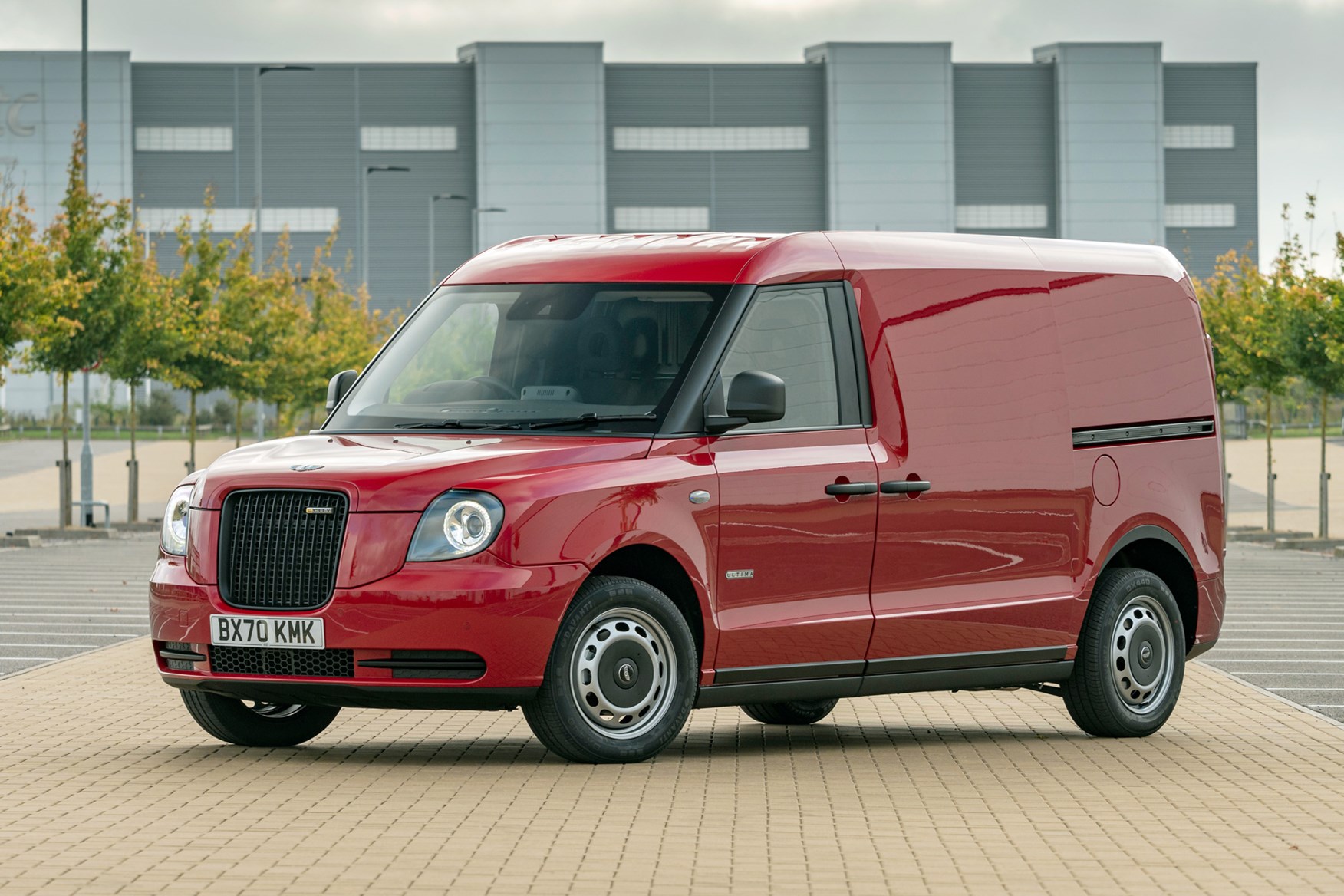 Payload is 830kg – which isn't bad for an electrified van, though someway short of the very best rivals – and it can load two Euro pallets. Helping this process is a particularly wide-opening side door.
In terms of its footprint on the road, you may be surprised to learn it's about the size of a short wheelbase Transit Custom. Bigger than it looks.
What are the rivals?
There's only one other range-extender electric van, and that's the Transit Custom Plug-in Hybrid we've already mentioned. The Ford has a higher payload rating and more load space, but doesn't have quite as much battery power – giving the LEVC the edge when operating in Ultra Low Emissions Zones (ULEZ) and the like.
Up until this point, pure electric vans haven't offered very reassuring driving distances per charge – hence the range anxiety often associated with them.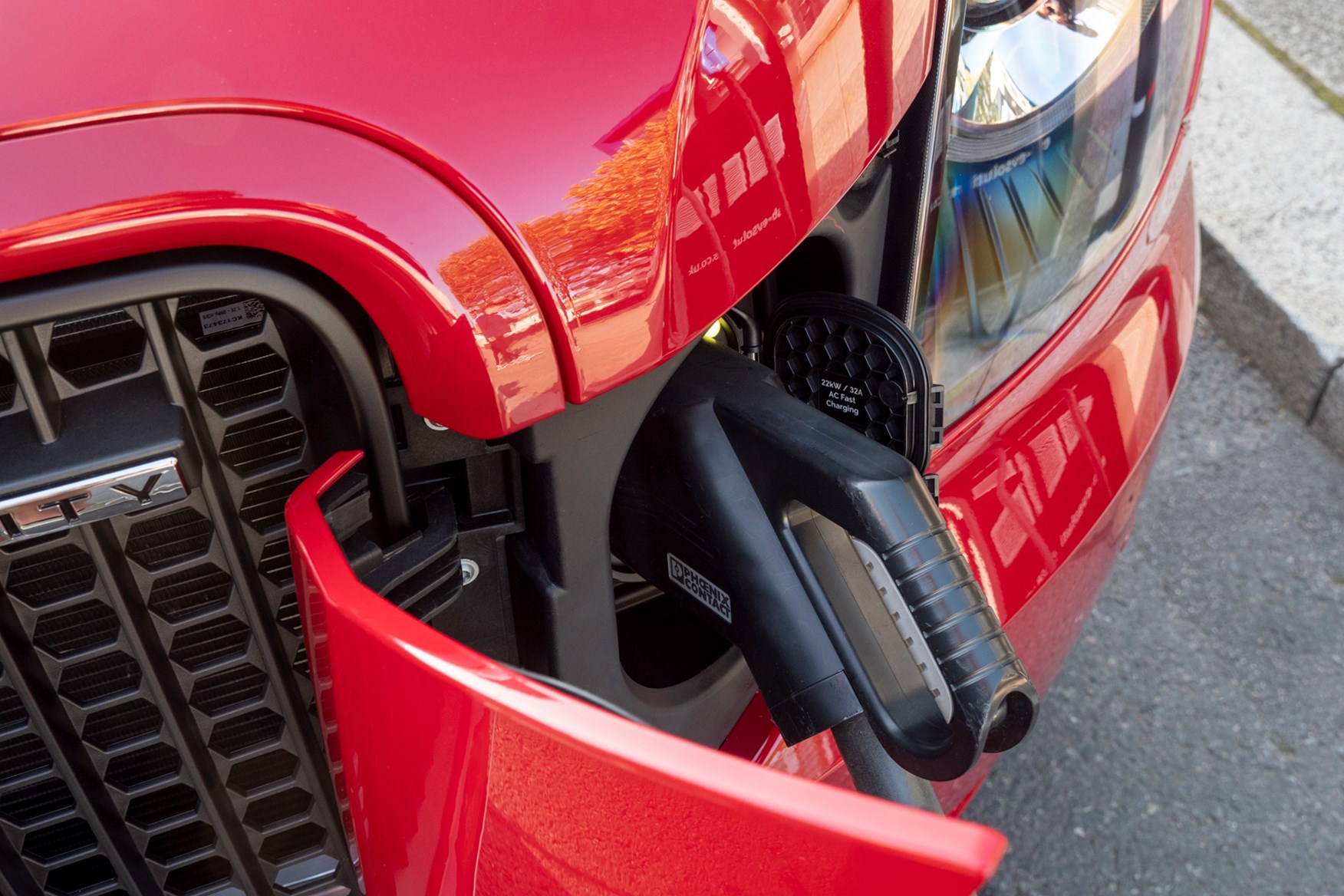 However, the VN5 arrives almost in parallel with some significant advances in this area, which means eco-minded buyers with daily driving requirements of up to around 200 miles should also carefully consider the Toyota Proace Electric, Vauxhall Vivaro-e, Peugeot e-Expert and Citroen e-Dispatch in the medium van segment and perhaps the Maxus eDeliver 3 in the small van segment.
Anything else we should know?
Two things.
Firstly, LEVC is owned by Chinese automotive giant Geely. This is interesting because of the £500 million investment it has made in the factory at Antsy, just outside Coventry, creating the newest vehicle manufacturing facility in the UK. But it's also interesting because Geely owns Volvo as well, and you'll find the switches and screens inside the VN5's high-tech cab are all familiar from the Volvo car range – great news for quality.
Secondly, the VN5 is made from bonded aluminium rather than steel. This makes it lighter and stronger while also increasing its durability. LEVC says it's designed to last twice as long as a conventional van, and it comes with an outstanding five-year / 150,000-mile warranty. Worth keeping in mind when contemplating the price…
All of this is good news for safety, too.
---

Verdict: is the LEVC VN5 electric van any good?
As you'll discover if you read on and digest this whole VN5 review, what we're dealing with here is an extremely accomplished electrified van that while expensive does everything in its power to convince you it's worth buying.
The driving experience is solid, it's comfortable, well-equipped and quiet inside. The load space will swallow two Euro pallets and has been thoughtfully engineered. Safety levels are first rate, an alarm is standard kit, and the van has a distinctive visual image that will cause people to take notice of your business.
Add that to the ability to run on electric power alone for a really meaningful distance, a straightforward solution to range anxiety (you will always be able to put more petrol in it), and you've got a very desirable, cleverly conceived piece of kit.
The only question mark at the moment is over reliability, as it's such a new product. But though LEVC has never built a van before, it now has two years of hard, real-world data on the taxi that shares so many of the VN5's components. If we were looking for a van with this load level and had the budget we would most certainly be tempted to take the plunge.
Skip to our full verdict on...
Fast but refined performance
Electric motor drive is smooth
Ride is comfortable
The surprises keep coming with this van – and the next big one is just how good it is to drive. The LEVC VN5 will give you one of the better van driving experiences available.
Some of this comes down to the electric powertrain, which even when the petrol engine is running is smoother and quieter than you'll find in almost any conventional diesel-powered van. Beyond this, however, the VN5 has a comfortable, bump-absorbing ride, fun steering, really punchy acceleration and, thanks to those taxi origins, an incredible 10.1m turning circle.
Few vans are as well equipped for the rigors of competitive, congested urban driving – and that's before you even consider its 61-mile zero-emissions capability.
Is the VN5 difficult to drive?
As a rear-wheel drive van powered by an electric motor that gets its electricity from either a battery pack under the floor or the 1.5-litre turbo-petrol engine under the bonnet, the VN5 sounds like it could be complicated to drive. Yet in reality, it's as easy to use as anything with an automatic gearbox – you turn it on, you put it in drive and you set off.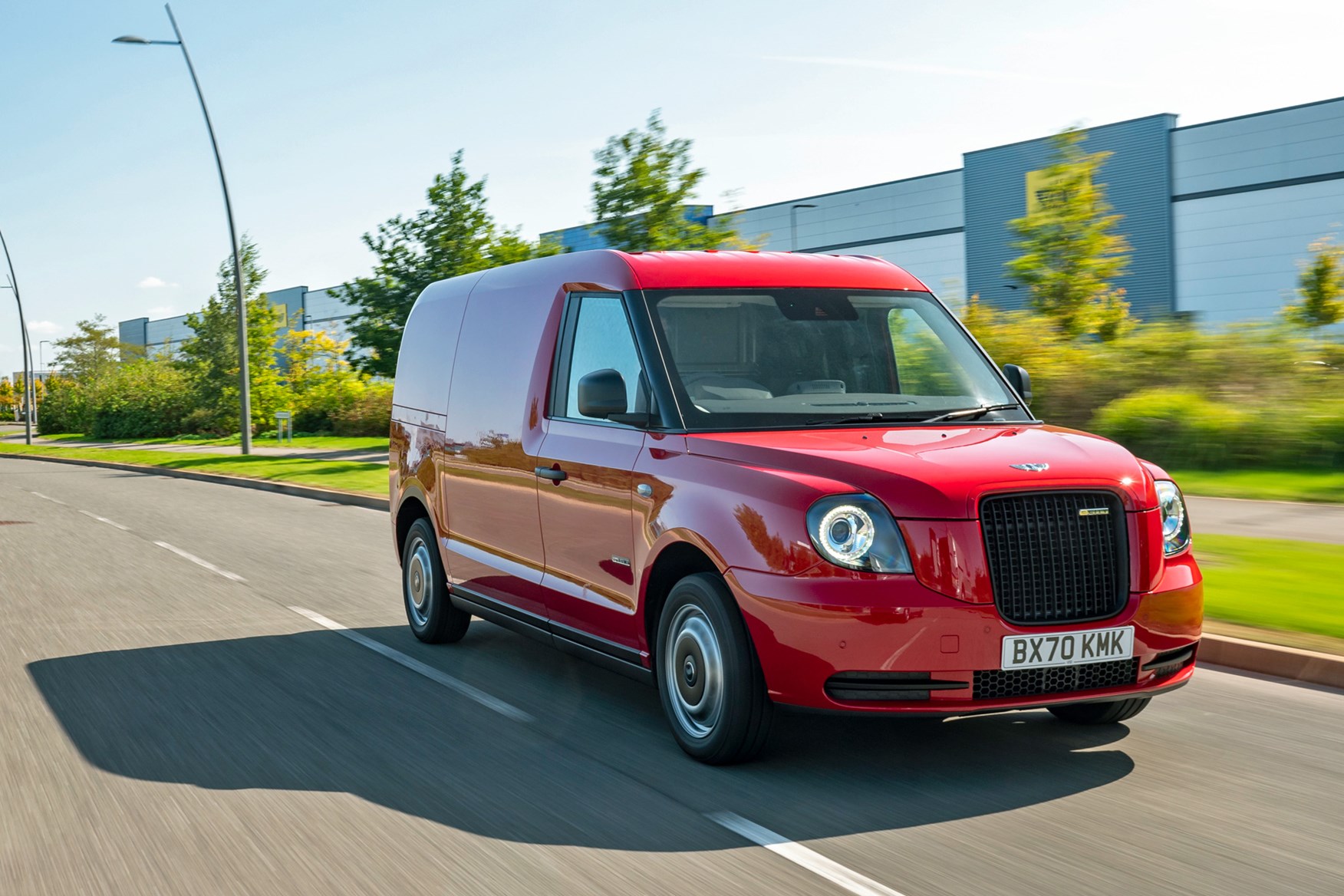 The van is more than capable of handling how and when it uses electric power on its own. Even if you never touch any of the driving modes or the brake regeneration settings you'll enjoy a great driving experience and should see impressive real-world fuel efficiency – we'll cover that in greater detail in the Costs section below.
What do the driving modes do?
If you do want to get the best possible fuel economy it is worth thinking about the driving modes, which are accessed via the central touch screen, one swipe away from the main home screen. There are three modes here: Smart, Save and Pure EV.
The standard setting is called Smart, and this is the one that basically leaves the van to judge when it's best to use the batteries or the petrol engine to provide the electric motor with power.
You probably won't even notice when this changes, such is the overall smoothness. Performance is identical, regardless, with top speed limited to 80mph and 0-62mph taking 13.2 seconds (in reality it feels quicker).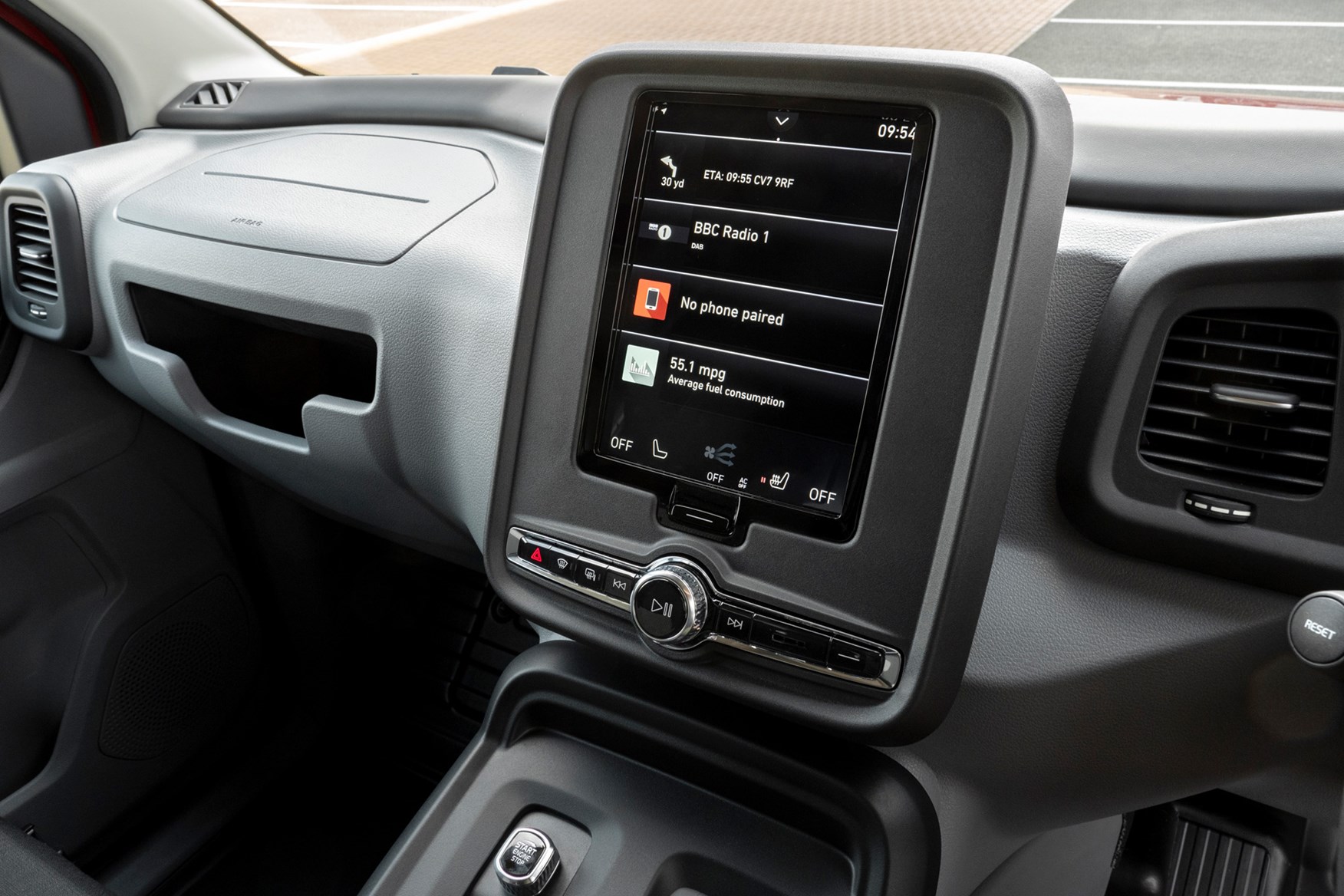 Should you want to make sure you keep the batteries for later – if you know you'll be entering a low emissions zone, for example – set the VN5 to use Save instead. This keeps the petrol engine running so that the batteries aren't depleted in regular driving.
Once you get to the low emissions zone, selecting the Pure EV mode will make sure the van never turns on the petrol engine – well, at least until the batteries run out.
In addition to this there are three settings for brake-energy regeneration, activated by the central gear selector. These control how much the electric motor acts as a brake when you release the accelerator – the greater the effect, the more the process helps recharge the batteries. Worth playing with, too.
What makes it good to drive?
The 110kW electric motor is equivalent to 150hp, which is a decent slug of power. Better yet it delivers its 240Nm of maximum torque instantly – giving the VN5 the ability to accelerate smoothly but quickly, whenever you need it to.
There are also no gears to speak of; as the only thing that ever drives the rear wheels is an electric motor, it makes do with a single-speed transmission, so there's never any waiting for it to change gear.
Basically, if you put your foot down, it goes. Rapidly.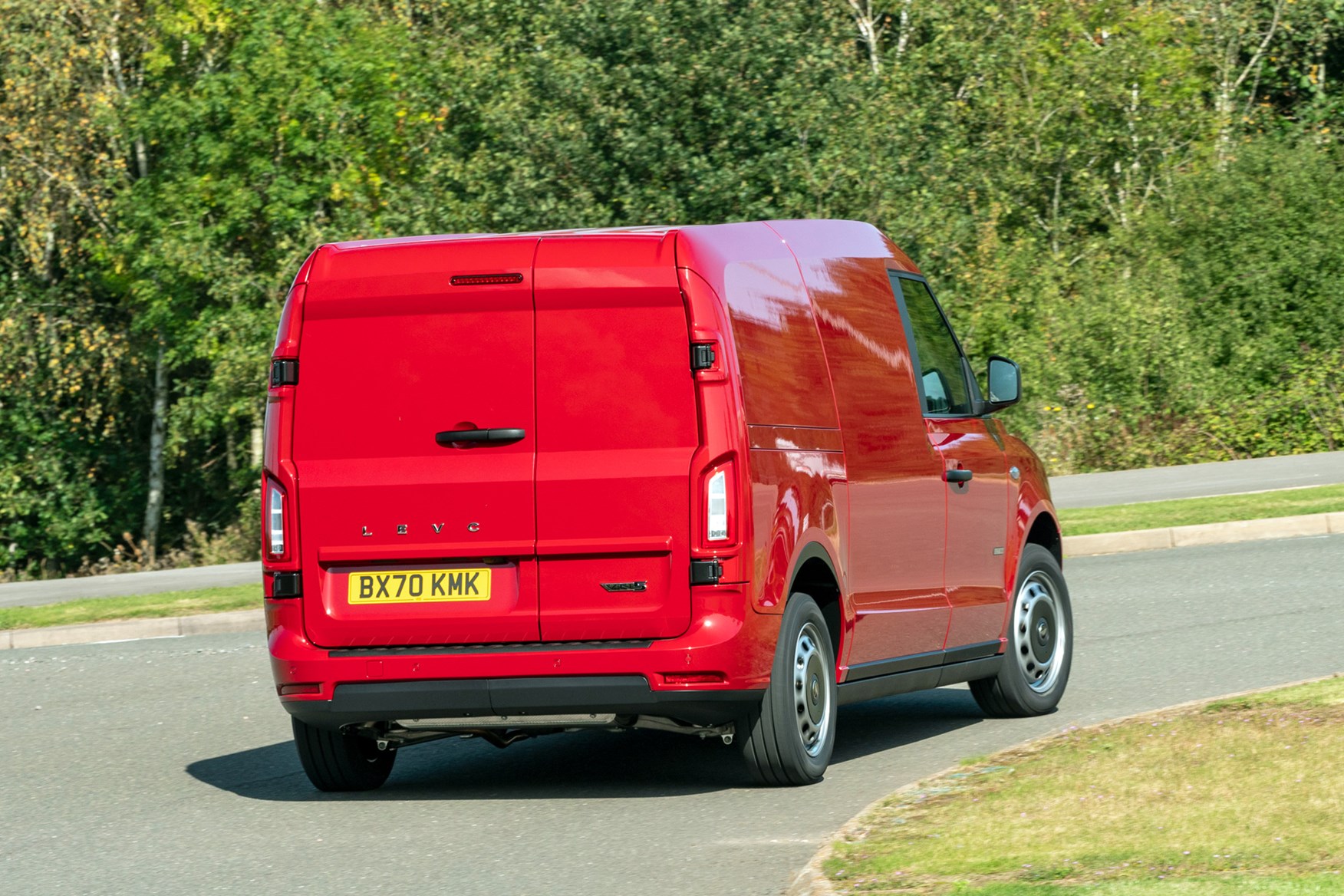 What's more, LEVC has done a good job of tuning the steering and the brakes, making the whole thing easy to get used to in short order. For while it has the same front suspension design as the taxi, giving it that extraordinary 10.1m turning circle, you won't notice this until you need it. In normal use the steering is reassuringly crisp and nicely weighted.
Having the weight of the batteries under the floor aids cornering stability, so although the suspension is largely soft enough to deal with broken tarmac without fuss, it also remains composed and stable in the corners – leaning a bit, as you'd expect from a van, but not too much. The distance between the front and rear wheels is 400mm longer in the van than the taxi, helping the ride comfort even further.
It does lose its way a little bit on particularly bumpy country roads, and if you exceed the grip available at the rear wheels the stability control will cut power abruptly. But in most driving its very pleasant indeed.
What sort of noise does it make?
Under acceleration the VN5 makes an exciting electric whooshing noise, like a low-flying rocket. But when at a standstill or just cruising you may notice various other electrical sounds, which can be a bit disconcerting at first.
Doesn't seem to be anything to worry about, rather that without a clattery diesel to mask such things you're simply more likely to hear them. Road and wind noise are well isolated, so not especially bothersome.
Overall, it's a refreshingly relaxing vehicle to drive, even for lengthy periods at a time.
Very high-tech inside – but in a friendly, useable way
Build quality appears to be very good
Cab is perhaps on the small side
The VN5 is not a cheap van, as you've probably already discovered. Gladly, from the extensive standard equipment through the to build quality and technology, it also feels reasonably premium inside the cab, helping to justify the expense.
High-tech inside
The first thing you'll notice about the interior of the VN5 is the large central touchscreen, exactly the same as you get in the latest Volvo cars. Then you'll notice that instead of a conventional instrument cluster it's got fully digital dials on another screen ahead of the driver. This sets the tone for the whole in-cab experience.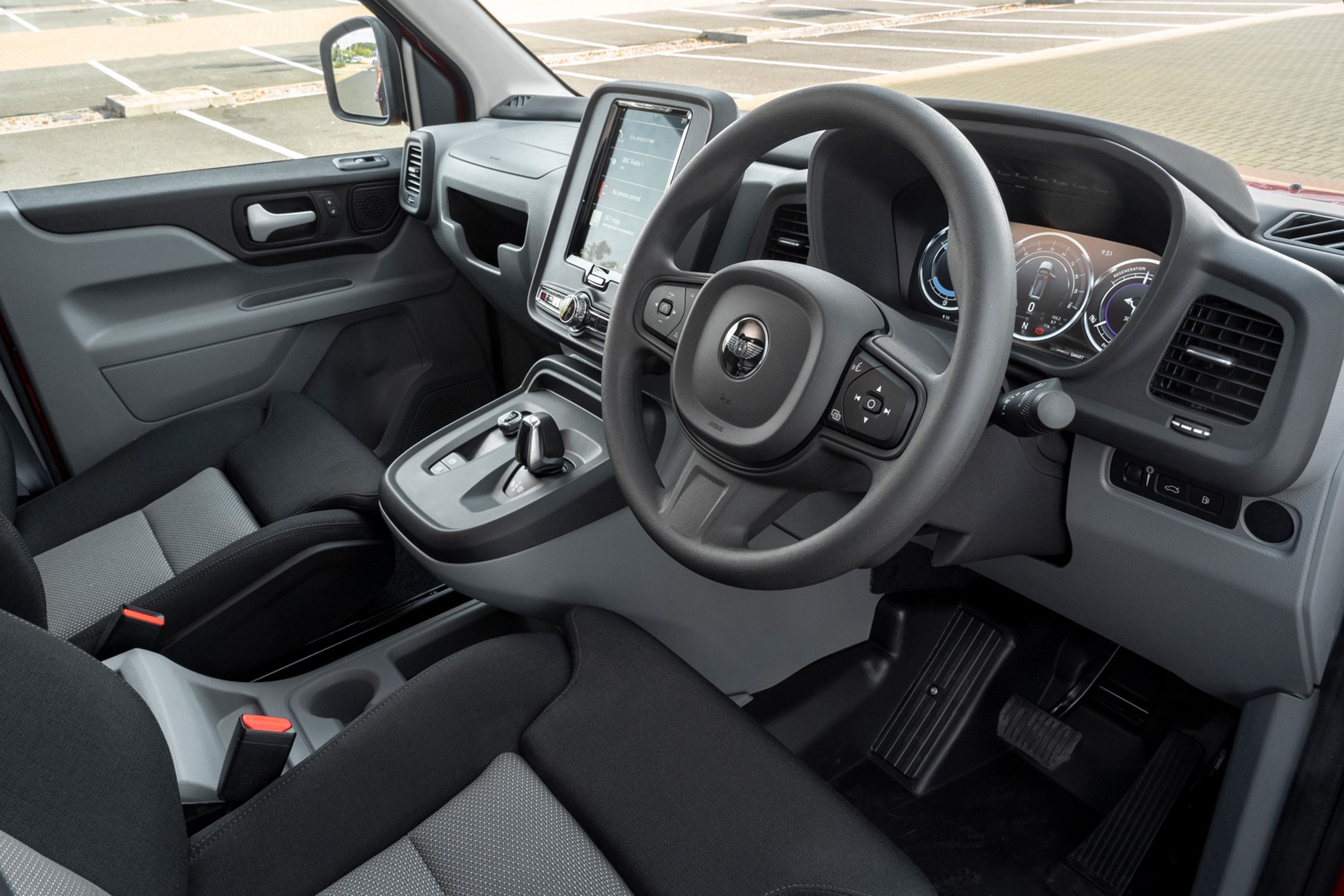 Everything you touch feels solid and high quality – though we'd like to see some padding on the top of the door for comfortable resting of elbows – and you start it using a Volvo-grade twist-switch on the centre console, so the key can remain in your pocket the entire time.
What is the central screen like to use?
The menu system for the central touchscreen is intuitive to navigate, and the screen itself is responsive enough and well laid-out so that it doesn't drag your attention away from the road too much.
There is a physical Home button, should you get lost in the sub-menus, and a large dial for volume. Almost everything else – including the dual-zone climate control, which is fitted as standard – is adjusted via the screen, so it's good news that it works so well.
Sat-nav is only standard on top-spec models, optional on others; it seems to work well where fitted, being similar to the kind of mapping you get on a smartphone.
How is it for space?
The cab is perhaps a touch on the small side, though there is plenty of adjustment in the seat and steering wheel, larger folk may find it a bit more difficult to get comfortable.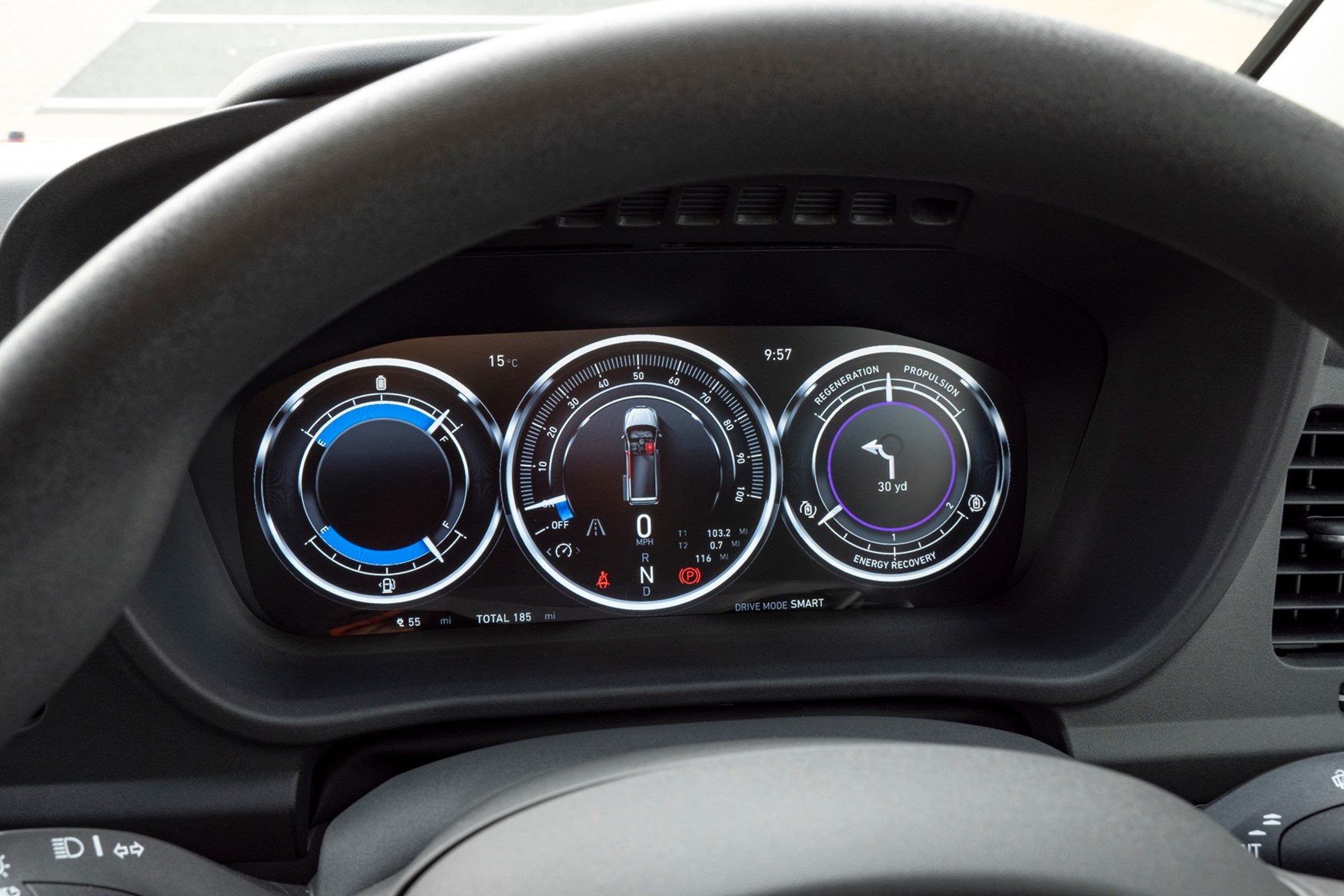 The seating position is on the high side for a small van, but not as commanding as, say, a Transit Custom. The view ahead is good, and although the side mirrors are small by modern van standards, we had no trouble keeping an eye on what was behind or around us. Parking sensors and a reversing camera are available.
There is a selection of storage spaces between the seats, a document slot in front of the passenger, large door bins and space under the driver and passenger seats (the entry-level model misses out on this). There is no proper glove box, however, and aside from the stuff under the seats all the other storage is exposed and visible to opportunistic thieves.
How many seats are there?
The VN5 is a two-seater only – there is no option to add a bench seat and carry an additional passenger.
You can have the passenger seat removed when you order, though, if you want to maximise space or payload capacity.
Expensive to buy but cheap to run
Five-year warranty, 25,000-mile service intervals
Lots and lots of standard equipment
The VN5 justifies its premium pricing in many ways, all related to the technology it uses. Electric vehicles are typically expensive to produce, while the bonded aluminium structure is somewhat more exotic than we're used to in vans as well (even though it's been a feature of some cars for years).
The good news is that this same technology should help reduced the VN5's running costs, while limited initial availability (LEVC is ramping up production slowly) and high levels of standard equipment mean used prices are predicted to be strong.
All of this adds up to a van that, though expensive, still offers potentially good value.
LEVC VN5 mpg
So, the official WLTP fuel economy figure for the VN5 is 314mpg – a figure so absurd that LEVC doesn't even quote it in its official technical specification. The calculation is skewed here by the van's 61-mile pure-electric capability, which significantly reduces the amount of time the petrol engine is used during testing.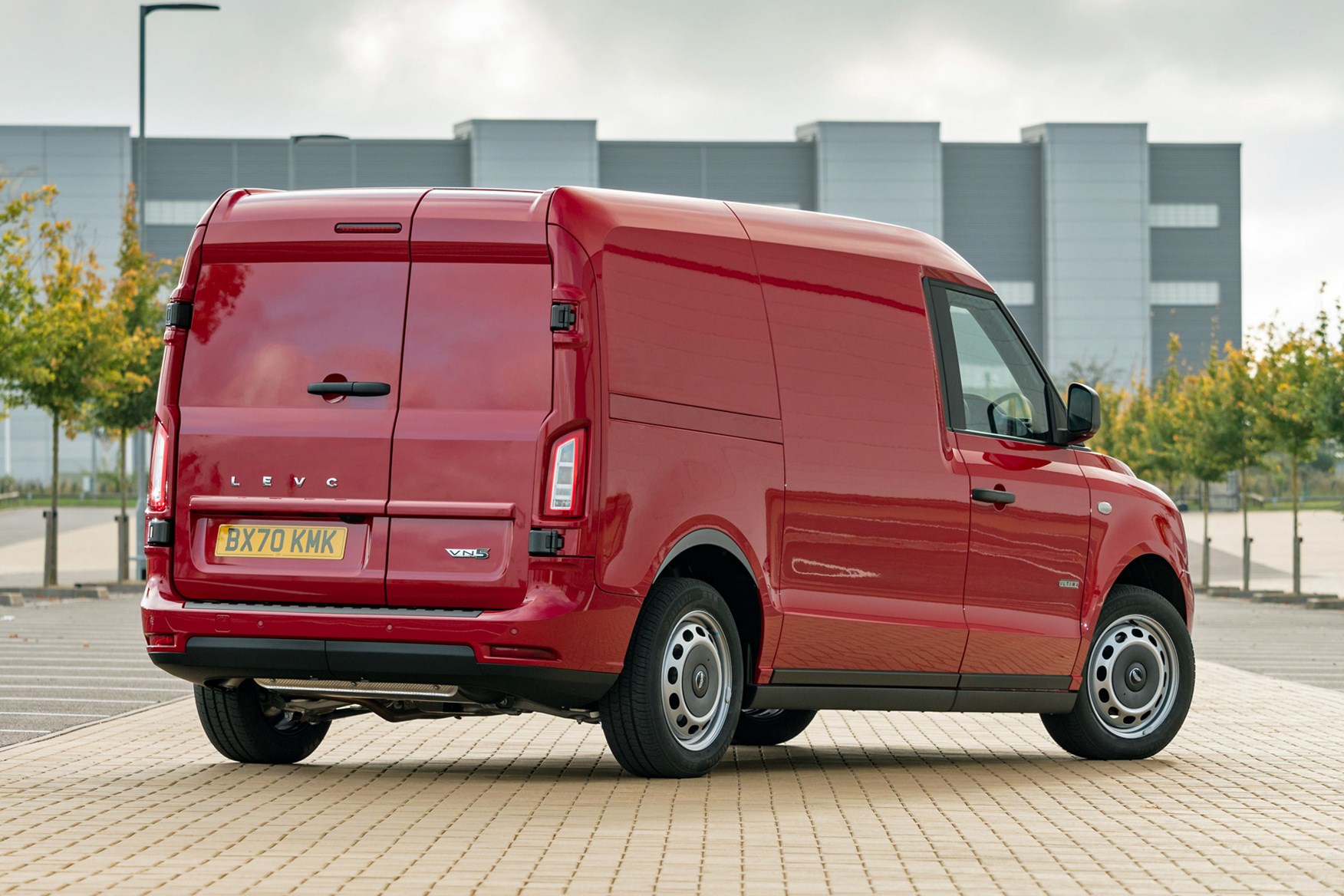 But think about this: how often do you drive more than 61 miles a day? As long as you can charge the batteries fully overnight (or whenever's convenient) you may go ages between having to use the petrol engine, too, even if real-world driving is likely to mean full battery range is more like 50 miles than 60.
The same tech is fitted in LEVC's TX5 eCity taxi, and some drivers in London have found that when switching to this from the previous diesel black cab they're saving over £100 in fuel costs every week.
The flip side to this is that on longer journeys where only the petrol engine is available to power the motor you will find that it becomes really rather thirsty for fuel. It's the same with the Transit Custom PHEV, however, and that has a far lower electric range.
Official CO2 emissions for the VN5 are 21g/km.
Monthly finance costs and residual values
If you are interested in the VN5 but concerned the list prices put it out of your grasp, it may still be worth looking at the monthly finance figures LEVC can offer.
Because the van is expected to hold its value well, this should offset the amount you have to finance, reducing monthly figures to more manageable amounts. Combine this with the potential fuel savings, and it could be more affordable than you think.
How much does it cost to charge?
LEVC says it could cost you as little as £1.50 to fully juice the 31kWh battery pack; compare that to the amount of diesel or petrol you would need to travel around 61 miles in your current van.
Note, however, that the price of charging will vary with your electricity tariff and the type of charger you use – public chargers, especially fast ones, cost more than domestic electricity.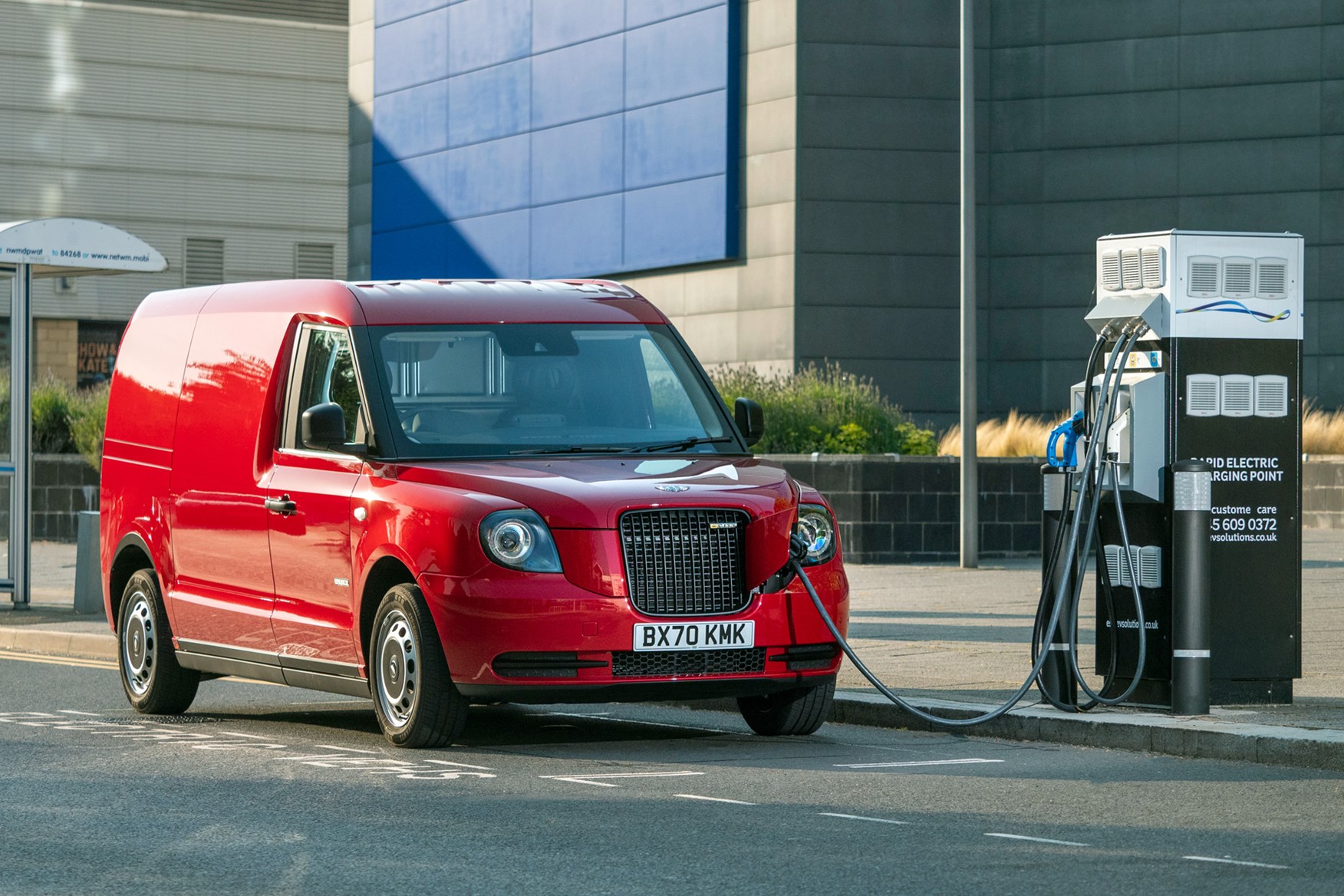 We'll update this once we've had the chance to test the van away from the initial launch activity.
LEVC VN5 warranty and servicing costs
Further compensating for the asking price are the VN5's warranty and servicing advantages, and its claimed longevity.
The whole van warranty covers the VN5 for five years of 150,000 miles, whichever comes sooner; the battery is covered for eight years or 150,000 miles. Both can be extended for a modest extra cost.
The servicing intervals are every 25,000 miles or one year. LEVC is promising costs will be competitive. The dealer network is slightly limited at the moment, but the company has plans to expand this – and its servicing network – to try and place every customer within an hour's journey of aftercare, should it be required.
LEVC also claims the basic structure of the van should prove twice as durable as conventional van, thanks to the use of bonded anodised aluminium instead of welded steel (gluing aluminium is four times stronger than welding it, apparently).
Aluminium doesn't rust, and nor does the SMC (Sheet Moulding Compound) material that forms the body panels that cover it.
Will the VN5 be expensive to repair?
LEVC says not. Although the use of aluminium is unusual in vans it's become very common in cars and any professional body shop should be fix damage to it.
What's more, the composite SMC body panels are said to be more dent resistant than metal.
LEVC VN5 trim levels and standard equipment
At launch, the VN5 comes in three trim levels: Business, City and Ultima. Here's a quick rundown of the main items of standard equipment – for details of safety kit (of which there is lots) see that section, below.
LEVC VN5 Business standard equipment highlights:
Two-zone climate control
Bluetooth and two USB ports
9.0-inch touchscreen
DAB digital radio
Lumber support for driver and passenger
Keyless start
LED headlights
Automatic windscreen wipers
Electric, heated door mirrors
Automatic electric parking brake
Full lined load space with LED lighting
Four load-lashing points
Converter interface plug
50kW DC charging
11kW AC charging
Type 2 / CCS combo charging port
Cruise control
Alarm
LEVC VN5 City standard equipment highlights (in addition to Business):
Heated windscreen
Extra storage under driver and passenger seats
Front and rear parking sensors
Safety Pack
LEVC VN5 Ultima standard equipment highlights (in addition to City):
Body-coloured bumpers and b-pillar trim
Electrically adjustable and heated seats
Satellite-navigation
Rear-view camera
Eight load lashing points
22kW AC charging
In addition to this, has an extensive options list, including several packs that group together popular options for better value.
Note that the only standard colour on the Business and City models is white, while the Ultima comes in graphite grey – there are other colours available for a cost.
Similarly, you'll have to pay extra if you want a CHAdeMO charging port.
This is a total unknown at this stage – LEVC has never built a van before. However…
The eCity's petrol-electric arrangement is well-proven in the TX5 taxi – having launched in 2018 these have now covered millions and millions of miles – and the van has been through an extensive test programme of its own.
The five-year warranty speaks of the firm's confidence in the product.
Crash tested to beyond legislative standards
Lots of standard safety equipment
Alarm fitted to all models
Want a safety-conscious van? Then the VN5 could well be for you – it is loaded with standard safety kit and available with more from the options list.
LEVC VN5 safety
As part of the Geely empire, which also includes safety gurus Volvo, it's perhaps not surprising that the VN5 takes safety very seriously – being partially based on a pure passenger vehicle (the TX5 taxi) also helps. But the level of safety on offer here goes beyond the obvious list of kit on the spec sheet.
That list of kit is quite extensive, though. Even the entry-level Business model gets four airbags, autonomous emergency braking (AEB), forward collision warning (FCW) with vulnerable road-user protection (meaning it detects pedestrians and cyclists), post-collision braking and tyre pressure monitors. That's on top of the obvious ABS and electronic stability control (ESC).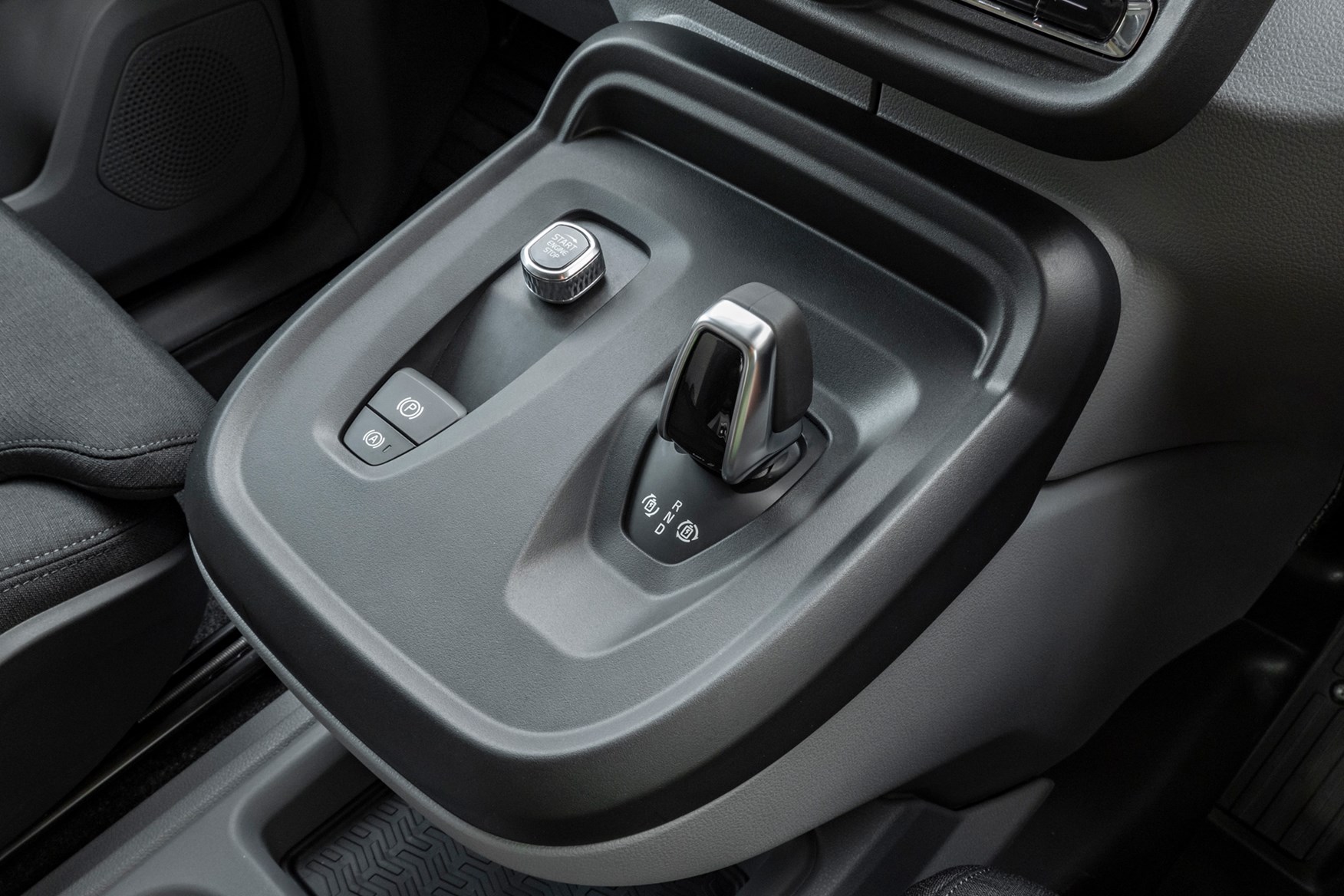 Upgrade to the City model and you also get a Safety Pack, which includes an intelligent speed limiter, road sign recognition, lane departure warning and curtain airbags for the driver and passenger. This is available as an optional extra for the Business, but you might as well just buy the City version if you want it.
Where the VN5 goes beyond this is in the structure. The bonded aluminium is said to be able to absorb twice the crash energy as mild steel, and LEVC claims to have crash tested the vehicle at speeds higher than legislation requires in order to ensure safety levels are as high as possible.
LEVC VN5 security
All models come with an alarm and full bulkhead as standard.
There's also a geo-fencing preparation option, which may add further peace of mind.
Which LEVC VN5 is best for me?
With a single body size and drivetrain option, which VN5 is best for you will come down to standard equipment and payload. The more expensive the model, the more gear you get as standard, but consequently the greater the impact on available payload.
For full details of this, the size of the load space and the van itself, see our dedicated LEVC VN5 dimensions page.
Also read:
>> The Parkers guide to electric vans