This Vauxhall Combo 4×4 is something of a niche machine, but we're still pleased to not only see that it exists but also to have been able to try it properly off-road. As the name suggests, it's a version of the Parkers Award-winning Combo Cargo small van fitted with a four-wheel drive system. It's available to order from the regular Vauxhall pricelist but is built by specialist 4×4 converters Dangel in France.
To this end, it's a bit more serious than most other 4×4 vans you can simply rock-up and order from a local dealer. At present, it's also the only four-wheel drive small van that's this easily available (though there will be a 4Motion version of the new Volkswagen Caddy Cargo in 2021).
As a result of this, the Combo Cargo 4×4 is not exactly cheap, with prices currently starting at over £36,000 before VAT – which is a lot for a small van. So much, in fact, that you could buy a Toyota Land Cruiser Commercial 4×4 instead for £6,000 less, not to mention there's a large number of much cheaper off-road capable pickups available as well.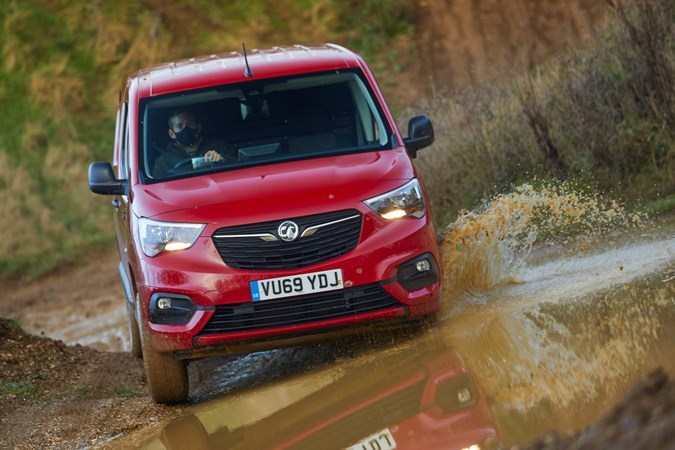 The Combo can carry a higher payload than the Land Cruiser, though, and while it might not quite have the all-terrain chops to match one of those, it is still capable – and has been designed in such a way that it should be more fuel efficient (Vauxhall claims over 40mpg). A pickup will carry more, but will be costlier to run and isn't as easily manoeuvred.
So, Vauxhall isn't expecting to sell hundreds and hundreds of these. But the little Combo that could still feels like it has a place – whether that be as a heavy-weather vehicle in among a fleet of more ordinary models, or as the only vehicle of a specialist owner who regularly finds themselves traversing trickier than average landscapes.
Keep reading for our full Vauxhall Combo Cargo 4×4 review.
Who is it for?
Targeting agriculture, construction and other industries where additional traction and ground clearance might be handy in a small van, Vauxhall is hoping to attract new business with this new model, as you'd expect, but it also represents a potential add-on to existing fleets as a more capable version of an established vehicle. Familiar, but more adept.
What modifications does the Combo 4×4 get?
As standard the Combo van is front-wheel drive; this version, which is based on the 130hp / 300Nm Turbo D model in Edition specification, has the extra hardware required to drive all four wheels: a rear differential, extra driveshafts, and a clever transfer case (about which more in a moment).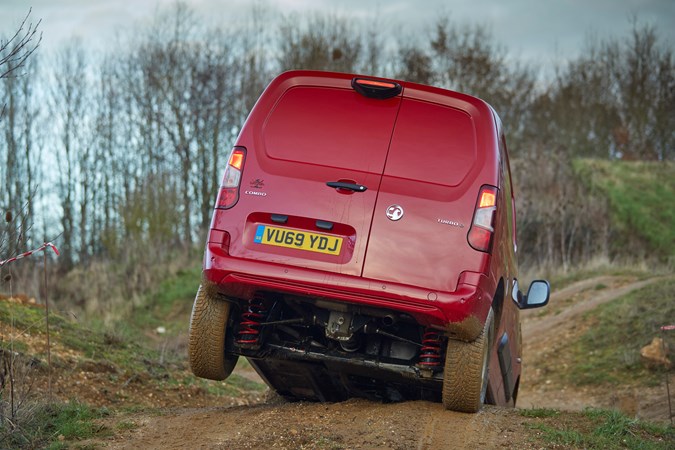 Making space for this extra gear, and further improving off-road performance, all Combo 4x4s also get a 90mm increase in ground clearance over the standard model, taking it up to 185mm. Add the optional 4×4 Plus Pack, and this increases another 20mm to a total of 205mm.
The extra ground clearance results in the following off-road stats:
> Approach angle: 26.6 degrees
> Departure angle: 38.3 degrees
> Break-over angle: 26 degrees
> Ground clearance: 185-205mm
Standard-fit underbody protection for the 1.5-litre engine and six-speed manual gearbox completes the package.
An upgraded limited slip rear differential is also available as an option.
Is the Combo 4×4 factory-built by Vauxhall?
The four-wheel drive Combo was developed in partnership with French 4×4 specialist Dangel, which carries out the conversion on completed vans that have already had 'optimised' steering and suspension fitted at the factory.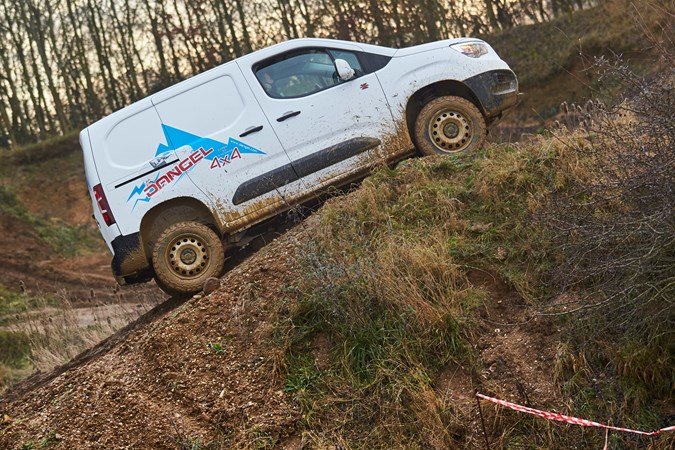 Dangel offers similar conversions for the Citroen Berlingo and Peugeot Partner, though neither of these are offered for direct purchase by their UK dealerships.
The Berlingo, Partner, and Combo are all variations of the same basic van.
What's the warranty?
Although built by a third-party converter, the Combo 4×4 is in the standard Vauxhall pricelist for ease of ordering, and all of the conversion work matches the standard vehicle's three-year / 60,000-mile warranty.
The pricelist notes that oil service intervals for the new transfer case and rear axle are two years or 16,000 miles.
What's the payload?
Available in L1 and L2 bodysizes, the Combo Cargo is rated to carry 892kg and 848kg in payload, respectively.
That's a good amount for a small van anyway, let alone one with four-wheel drive.
It may also be worth noting that it's rated to tow, but only up to 1,200kg with a braked trailer. A Land Cruiser or pickup will be able to pull much more.
What's it like to drive – and is the Combo 4×4 any good off road?
We've driven the regular Combo Cargo 4×4 (white, Opel-branded van; Opel is the European name for Vauxhall) along some boggy green lanes, such as where it's most likely to be used, and around a tricky off-road playground based in a ex-quarry. And we've also sampled a (red) Plus Pack model in a damp, hilly paddock (wet grass being one of the slipperiest surfaces you're ever likely to encounter) as well as – wait for it – on conventional roads.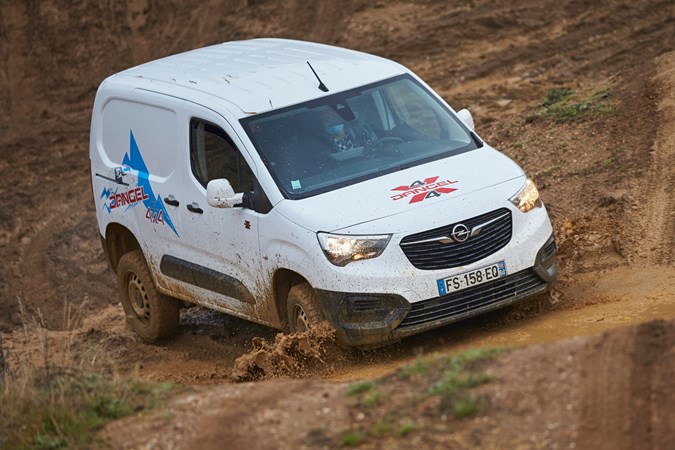 Operating the four-wheel drive system is ultra-simple. The van will always start in the front-wheel drive Eco 2WD setting (so named because it uses the least fuel), so you just need to twist the rotary controller to select Auto 4WD four-wheel drive whenever you're ready to get substantially more muddy.
There's no low-range gearbox setting – as you would get in an authentic commercial 4×4 or pickup truck – so you'll spend a lot of time thrashing in first gear. Fortunately, the Combo is well insulated, so the engine isn't especially noisy, and quickly drowned out by the sound of undergrowth and gravel, etc, bouncing off the van's underside.
Getting the best out of it off-road does involve a modest learning curve. It remains easy to steer even when four-wheel drive is engaged, but one of the quirks of the system is that it remains front-wheel drive until the front end loses grip – this makes it efficient, but means those front wheels literally have to be spinning before the centre coupling will divert drive to the rear.
Basically, keep your foot in if you don't want to get stuck – which is almost standard off-roading advice anyway. We found this meant that on some slopes we needed more of a run-up than might be the case in some other stuff we've driven across the countryside recently (which may be a result of no low-range gearing). When it does get stuck it tends to stall, which is worth watching out for as well.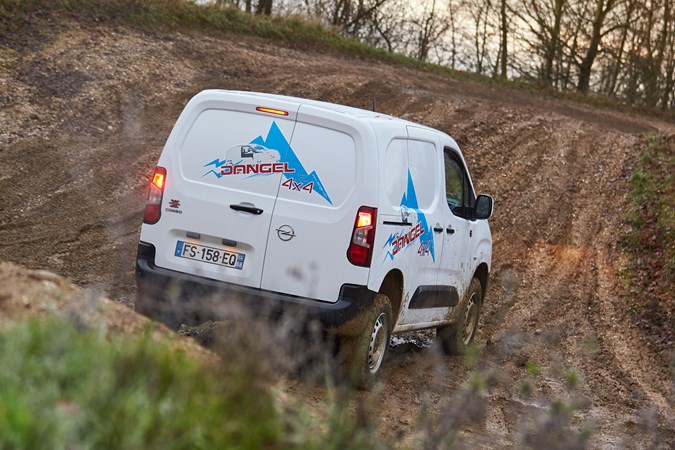 For really tricky climbs, there is a R locking mode for the front wheels, which can allow you to scramble-up places that are otherwise inaccessible – but this only works if the front wheels are pointed straight-ahead. Hence: learning curve.
Being small, you can nip about quite successfully, but ground-clearance on the standard version isn't super high, so be careful you don't get beached when breaching pointier crests.
We tested its side-slope ability beyond the manufacturer specifications ('Just steer down if you start to feel it tipping over,' said the instructor, somewhat casually for a man sat in the cab next to us), and had no problems. Similarly, the hill descent control, activated by a button next to the 4WD controller, works just as it should.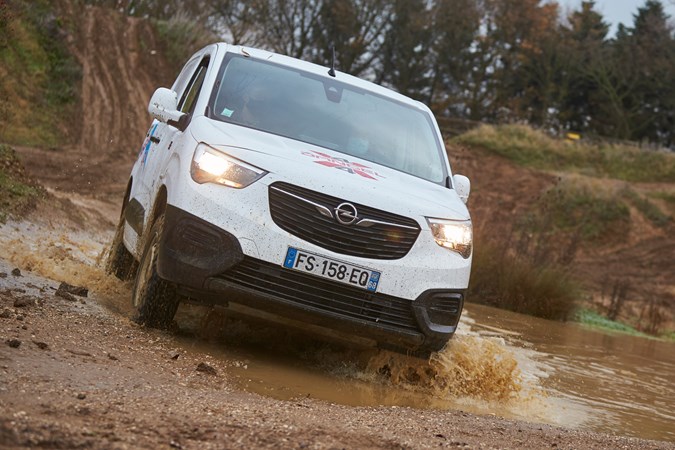 Grip levels we found to be pretty impressive, neither mud nor slippery grass presented much of a problem, and honestly we expected the Combo to struggle when it breezed through most challenges. Respect it's limitations, and it should serve you well.
On the road there's not much to tell the difference between the 4×4 and the regular Combo – not even the Plus Package's extra-increased ride height makes much difference in the corners. This is still a very composed, comfortable small van. Exactly as a Parkers Award-winner should be.
How much does the Vauxhall Combo 4×4 cost?
At time of writing (in December 2020), pricing starts at £36,163.33 for an L1 Edition, or £37,363.34 for the L2 Edition – on-the-road but excluding VAT.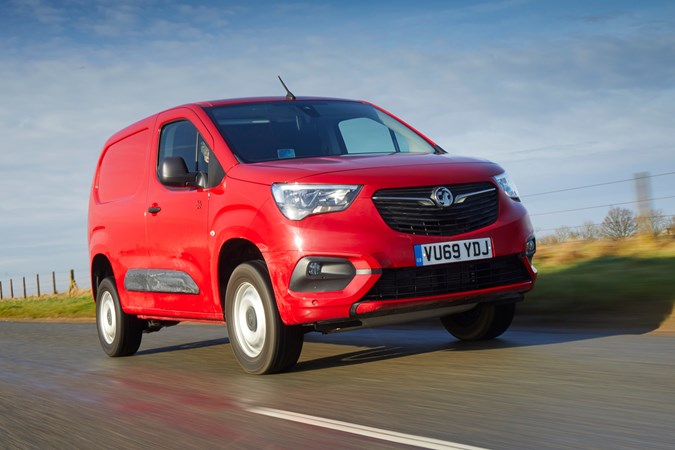 For reference, the Toyota Land Cruiser Commercial presently starts at £29,990.83, and if you just want a basic working pickup, the Isuzu D-Max Utility 4×4 starts at under £20k…
Should I buy a Combo 4×4?
We'll end this review as we started it, by pointing out that the Combo 4×4 isn't exactly destined to be a big seller. We know that, Vauxhall knows that, and probably you knew that even before you began reading.
However, for the limited number of customers who do need a small, genuinely capable off-road van, this Vauxhall really does the job. Whether it's worth the cost versus a pickup will depend on your priorities, but we can certainly see the advantage over a commercial 4×4 unless the destination you need to reach is extremely remote.
Also read:
>> Our main Vauxhall Combo Cargo review
>> Toyota Land Cruiser Commercial 4×4 review