Toyota Land Cruiser review (2018-on)
It's conquered war zones and deserts. Britain is easy
PROS
Excellent reliability
Proven off-road ability
Worldwide support
Surprisingly comfortable
CONS
Basic technology
Low payload
No automatic option
SWB handling a little unsettled
Summary
The Toyota Land Cruiser is simply one of the toughest, best-known 4x4s in the world. Rather than the crude simplicity of some long-lived all-wheel-drive vehicles, the Land Cruiser's modern versions can been seen tackling mountains in Afghanistan, providing support to the Red Cross in Syria, and traversing the Australian Outback. The recipe for world domination is fairly straightforward, too; a robust ladder chassis, a simple to use low-range transfer case with full-time four-wheel drive, and immensely strong suspension and steering systems with good underbody protection.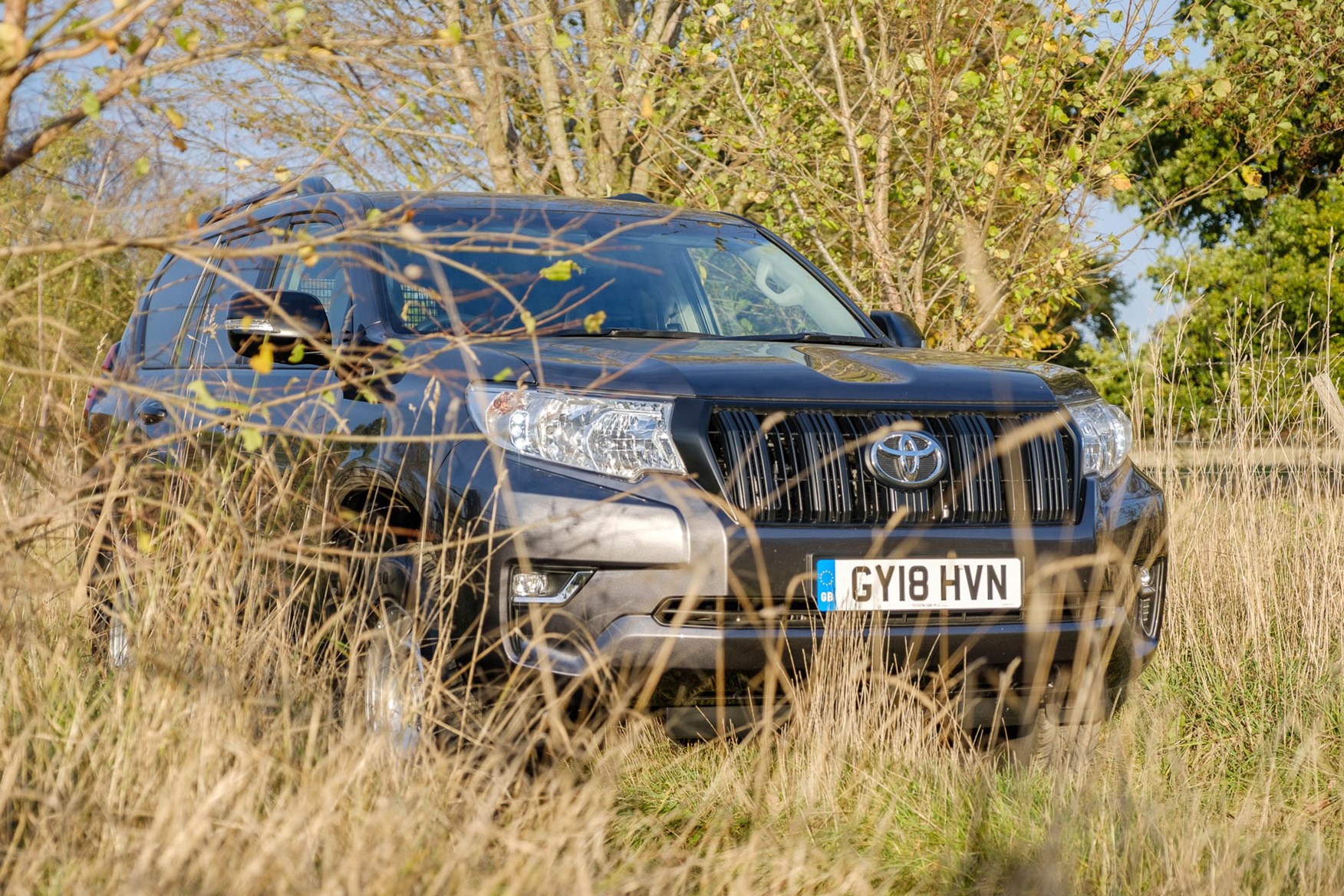 It's really a Land Cruiser Prado 150
Strictly speaking, though, the Land Cruiser available in the UK is only part of a wider family – and is better known worldwide as the Land Cruiser Prado. The vehicles used by NATO are often a larger scale 4x4, powered by engines that would terrify any British buyer's wallet into hiding. This is a matter of scale, not substance, and the Land Cruiser you can buy in the UK is just as uncompromising – and a better fit for our landscape. The Prado is well regarded around the world and comes in guises as diverse as this stripped-out Utility version, up to the luxurious UK-market Land Cruiser Invincible and American Lexus GX.
Toyota Land Cruiser Utility Commercial – rivals
Surprisingly, the Land Cruiser's commercial variants have some formidable competition – in part due to the respectably low list price; at £28,509 ex-VAT, the long wheelbase provides better refinement, ride quality and handling than most 4x4 pickups with hard tops in a similar budget. However, it can't compete for carrying heavy loads or towing, and lifestyle buyers will be disappointed when they realise the 'commercial' bit of the name means only two seats, no clever fudges for tax here.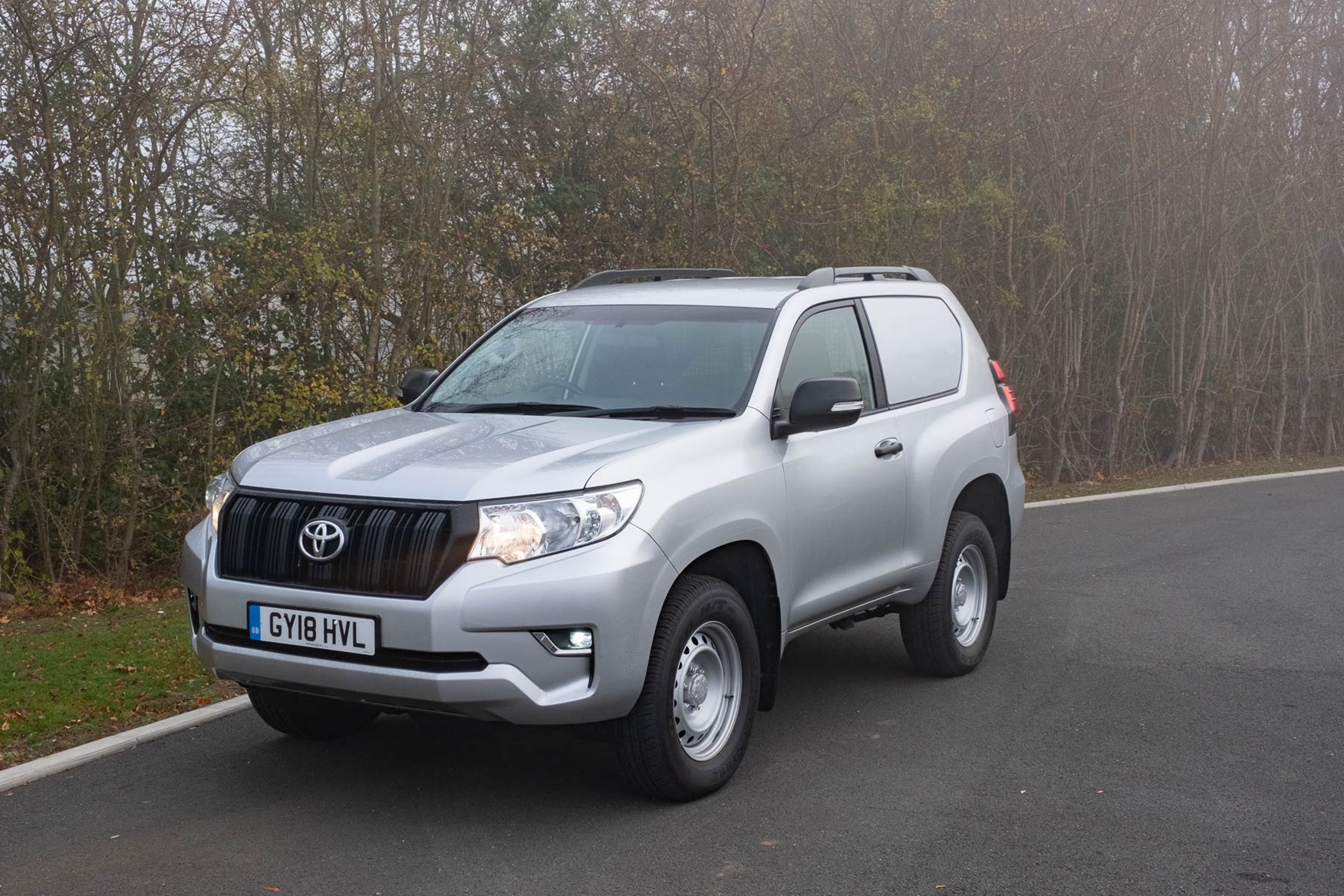 The strongest competition comes from Mitsubishi – which offers the SWB Shogun Commercial and the Shogun Sport Commercial at broadly competitive rates; next to these the LWB Land Cruiser looks like good value, though Mitsubishi offer much higher equipment levels. Land Rover also offer a commercial variant of the Discovery, which again is more expensive thanks to the luxurious nature of the base vehicle.
Land Cruiser Utility Commercial – one engine, two variants
For the British market the Land Cruiser only comes with the 2.8-litre D-4D four-cylinder diesel, producing 177hp and 420Nm; unlike some rivals, the commercial variant is offered based purely on a stripped-out specification, too. Utility means cloth seats with manual adjustment, digital air conditioning, a manual gearbox and attractively functional steel wheels.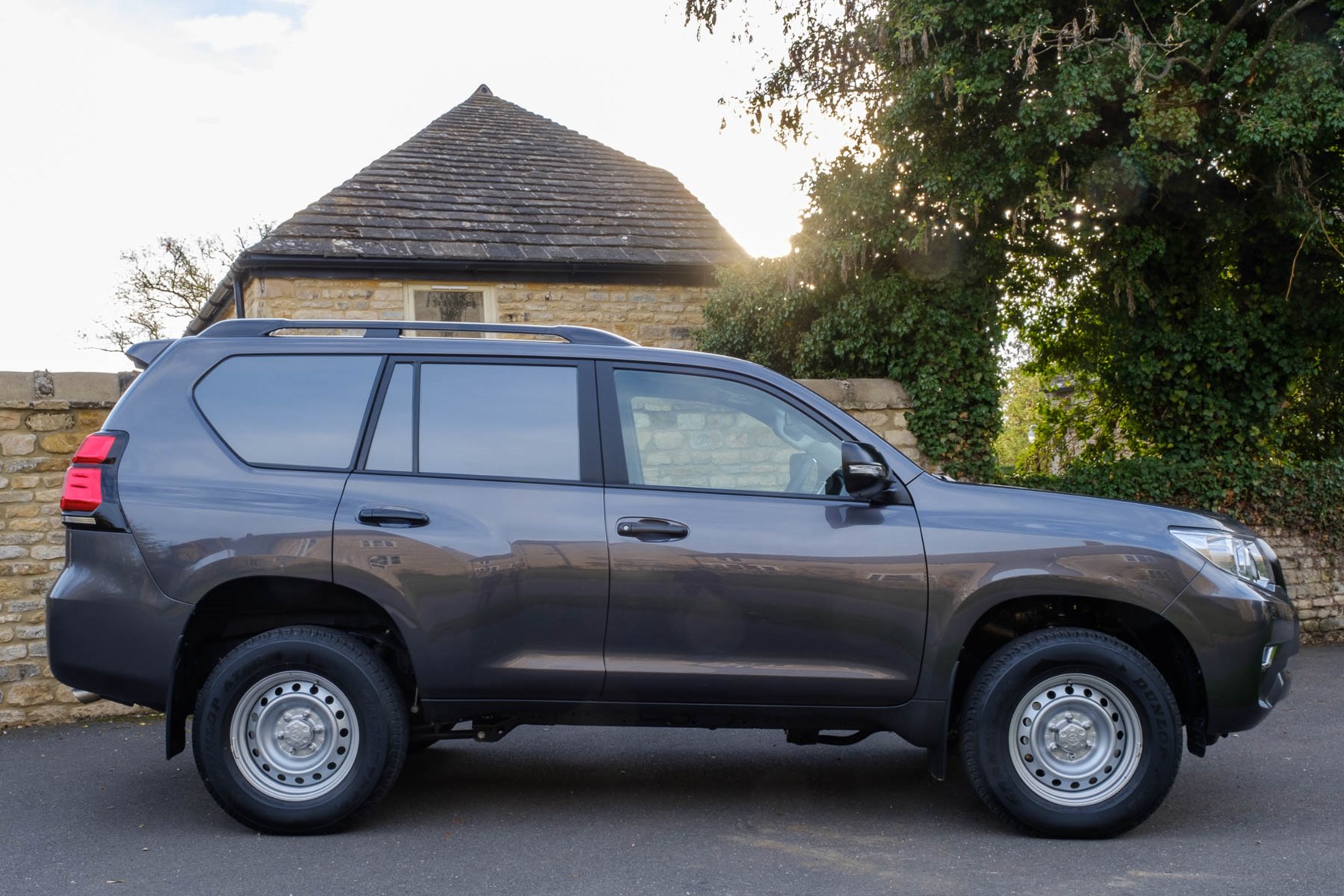 Performance is probably not high up on buyers' requirements, but the large diesel and six-speed gearbox allow the Land Cruiser to sprint to 62mph in 12.1 seconds. Top speed is 108mph. That's plenty.
Why buy a Toyota Land Cruiser Utility Commercial?
It's all about the tax, essentially. If your business or industry suits reclaiming VAT, a fixed-rate of BIK and relatively generous fuel allowances, and you never need rear seats, then you'll save a healthy amount over the total ownership of the commercial over the civilian Land Cruiser Utility. The actual saving for the loss of the rear seats if you can't reclaim tax is minimal, and resale will be trickier too. Unlike the Mitsbishi and Land Rover rivals, there's no unusually generous or luxurious specification to create a luxury van – this is a replacement for traditional 4x4 car-derived vans like the Land Rover Defender.
Toyota Land Cruiser Utility Commercial verdict
It's easy to look at the crudity of the Land Cruiser Utility – commercial or not – and expect a second-world driving experience; particularly when the cost is so reasonable. Far from it – the only real difference between this and the second most expensive Land Cruiser is additional technology and trim, meaning the Utility Commercial rides and handles well enough to keep buyers of a £49,000 premium SUV happy.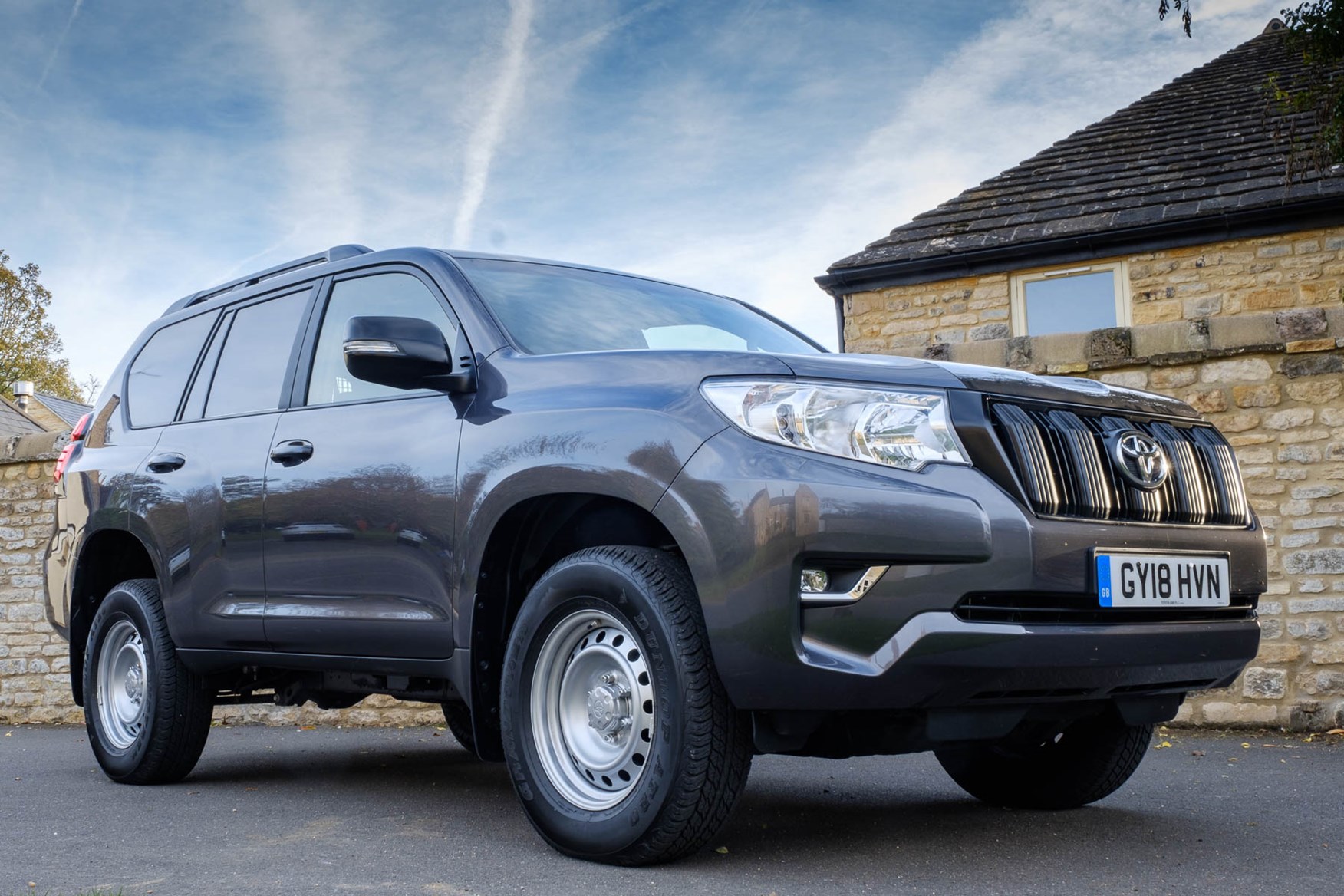 The Land Cruiser Utility Commercial is therefore brilliantly honest – robust underneath, comfortable without complexity, and deeply satisfying to drive for the class of vehicle. In long wheelbase form in particular, the lack of infotainment screens and leather seats is soon forgotten in the face of uncompromised engineering.
Skip to our full verdict on...
One of the larger four-cylinder engines on sale now, and naturally a diesel, the Land Cruiser's 2.8-litre D-4D is the only option offered in the UK. A new design for 2015, it has been tuned for improved emissions and longevity; the four-cylinder, 16-valve DOHC layout is fed via a variable geometry turbocharger and has a relatively low compression ratio, trading maximum potential power for low stress and tolerance of low-quality fuel. It achieves 177hp and 420Nm with just 203g/km emissions when installed in the 2.0-tonne Land Cruiser.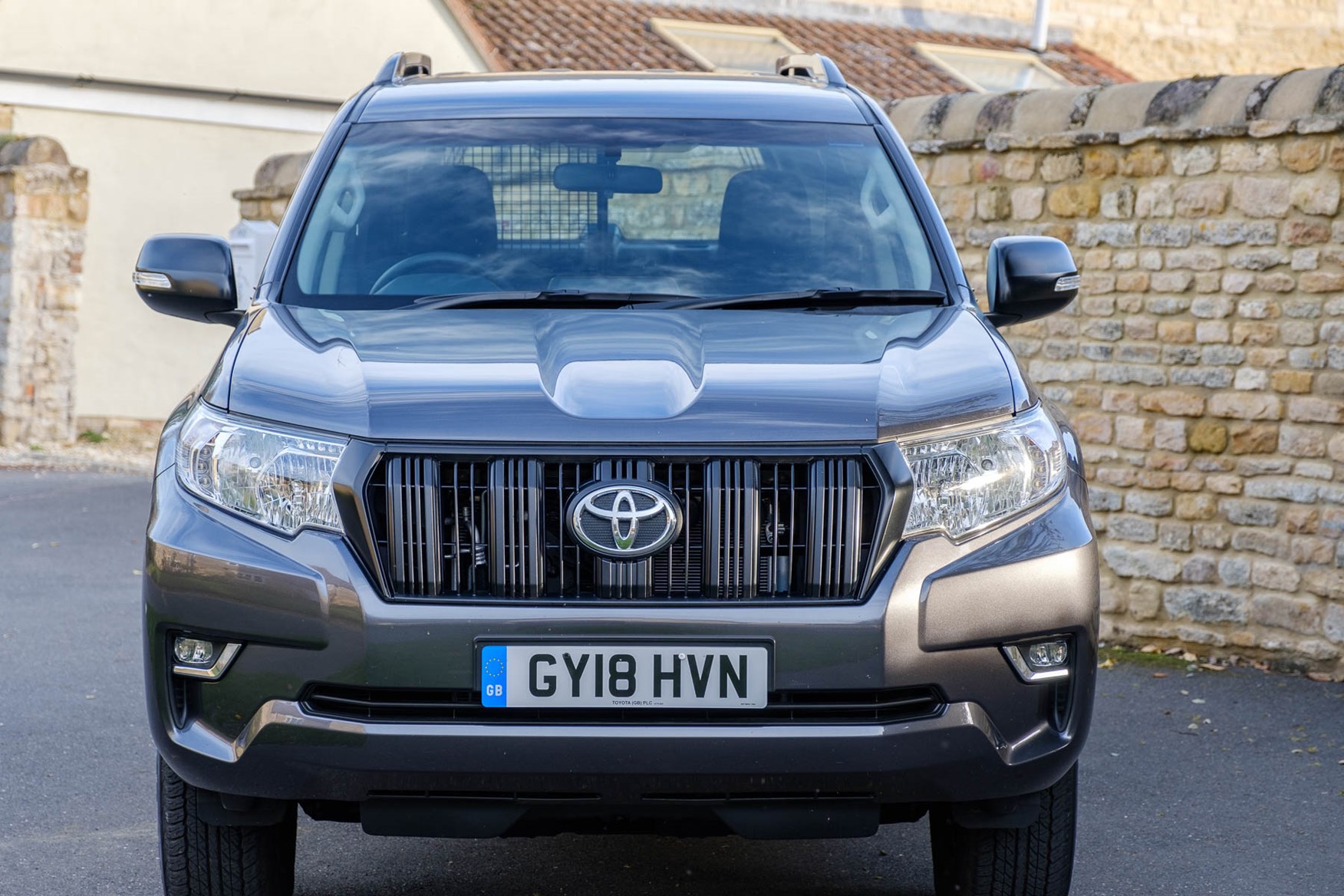 It doesn't sound like a great deal of power, particularly given the Land Cruiser's heavyweight protection underneath (no plastic trims to be found here, the engine guards are strong metal) and permanent all-wheel drive. Yet the six-speed manual gearbox provides decently spaced ratios to make the best of peak torque, and the SWB in particular feels quicker than the 12.1 second official 0-62mph time suggests.
Don't mistake the three pedals and long, tough rubberised gearlever for crudity, either. Toyota have weighted the controls brilliantly, with a light, progressive clutch and long, easy throw on the stick. Cruise control is standard, too, which makes taking advantage of the tall sixth gear for motorways is fairly stress-free; it's a little stalk on the wheel rather than buttons, so intuitive to add or subtract speed.
Slow, yet precise steering sets the tone
There are no sports pretentions to the Land Cruiser Utility, or this Commercial version, so expecting a lot of feedback or precision from the steering would be unfair. For the class of vehicle, though, it's excellent. Despite long travel, flexible articulation independent front suspension, the front end feels tight and well-damped, with none of the fidgety slack that often accompanies such heavy-duty setups.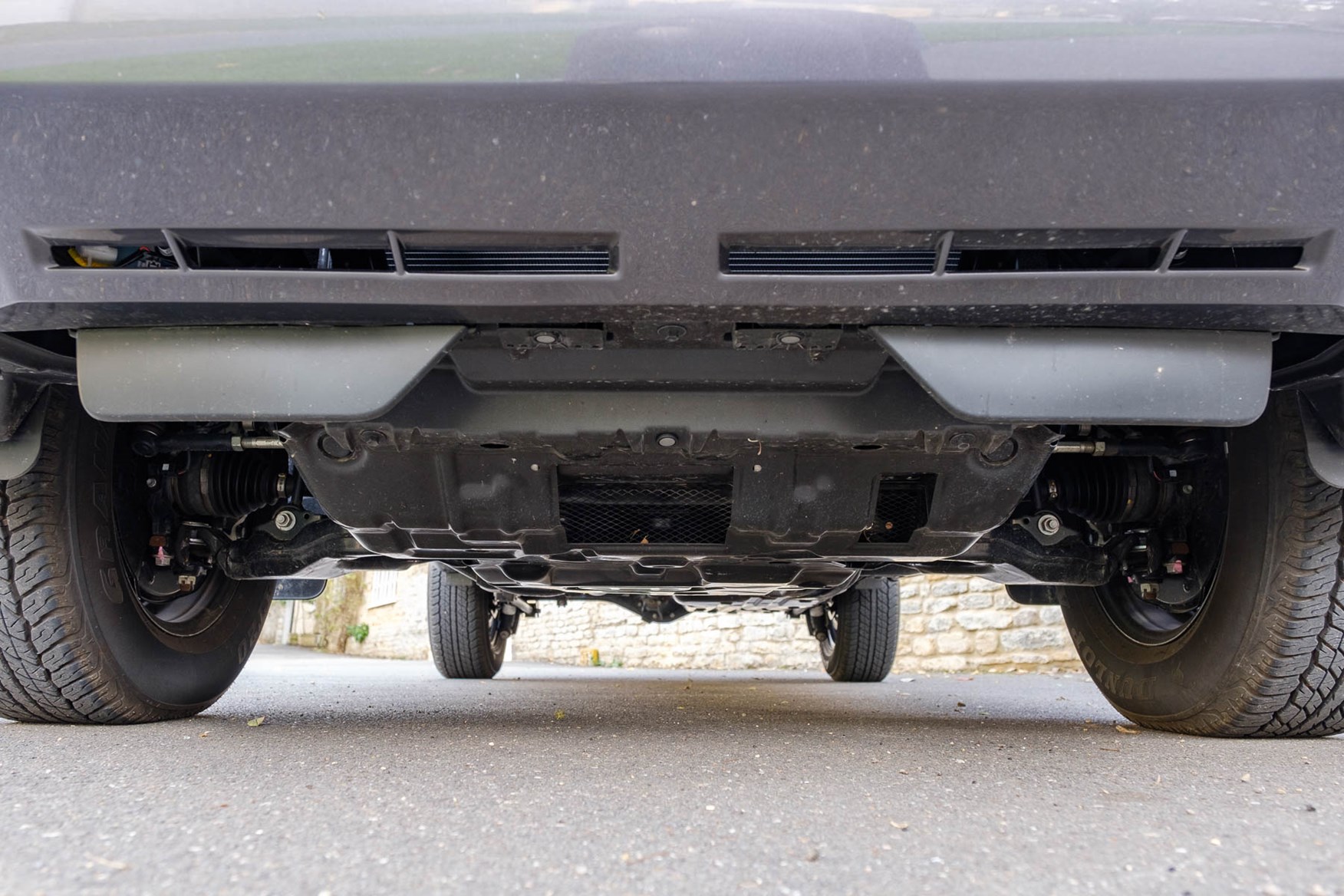 There's a feeling of quality engineering for the intended purpose, rather than trying to mask the mass of components needed for the Land Cruiser's ability to function in rugged environments. Feedback is sparse on smooth roads, suggesting that at speed on rough surfaces, the driver will be insulated from the worst shocks. High profile, soft tyres help too, and the ride quality of the LWB Land Cruiser in particular is impressive. Braking, too, is powerful yet considered, and easy to modulate – essential for off-road control.
Given the number of roads in Britain, most Land Cruisers will spend a lot of time on tarmac even if their ultimate destination is a building site, remote mountain or farm. Here the LWB really shines – able to comfortably remain at the legal limit safely without undue stress for the driver, it's also surprisingly settled on poor tarmac. The SWB model lacks composure by comparison, pitching a little on speed bumps and turning with an eagerness that, combined with bodyroll, can make it feel a little twitchy in the wet.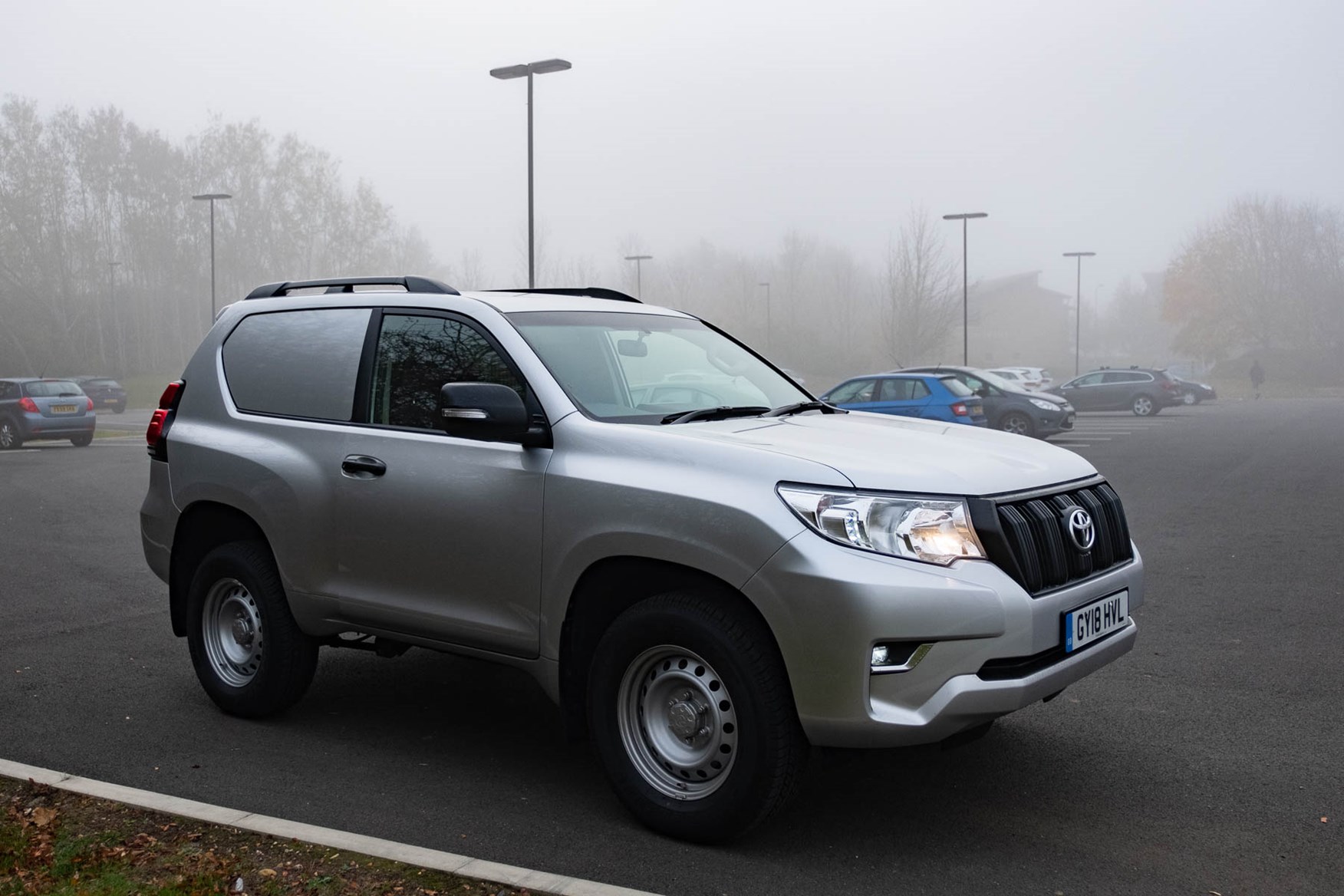 In both cases, the presence of full-time four-wheel drive is welcome on- and off-road, and driver controls are simple – you can engage a low-range gearbox, and you can lock the centre differential if there's insufficient traction.
Off-road specifications – Land Cruiser Utility Commercial LWB
Approach angle: 31 degrees
Departure angle: 26 degrees
Breakover angle: 22 degrees
Ground clearance: 215mm
Climbing angle: 42 degrees
Rollover limit: 42 degrees
Wading depth: 700mm
A feeling of wellbeing in the Land Cruiser
Combining all the Land Cruiser's traits results in a wonderfully confidence-inspiring, calming vehicle to drive. Everything is so well made, all the controls need a light, but firm touch, and the engine just feels relentlessly capable – unstoppable even. Which if you're heading to a forgotten Welsh hillside to repair some power cables or tend to livestock, is exactly what you need.
Toyota does offer a luxury version of the Land Cruiser; this is not it. Everything up front is the same as the Land Cruiser Utility, which means some tough, well screwed together plastics, an immense cubby box between the seats and storage in the console, large door bins, a chunky steering wheel with media controls plus a cruise control stalk, and well-padded yet firm seats trimmed in velour-like fabric.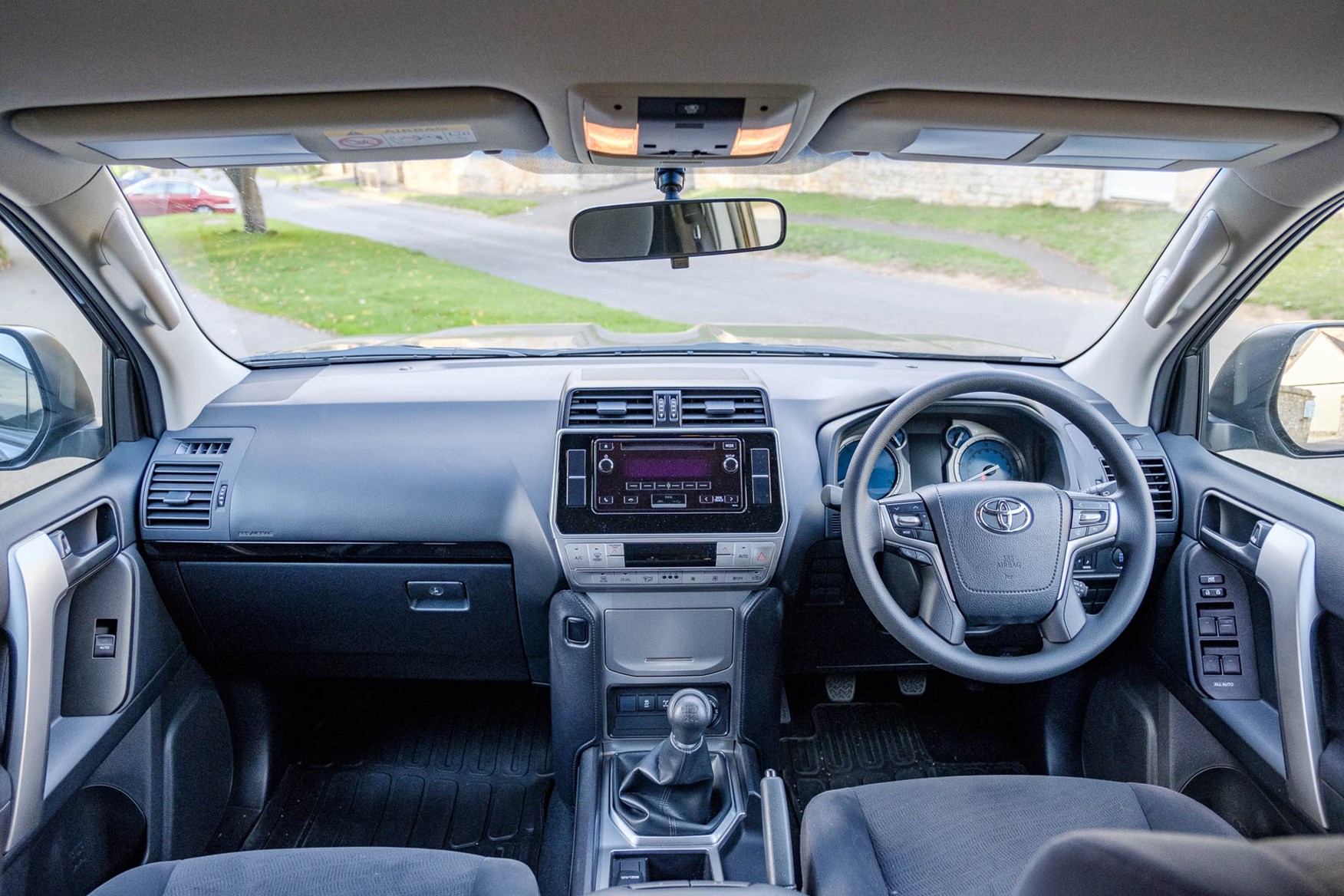 Beneath thick rubber mats there's a fully carpeted floor, and on five-door models the controls for the rear electric windows are still present – though the panels, blacked-out with body-colour, don't move. Even the full-length centre console is unchanged from the passenger car's, with a rear heating outlet connected. Ideal for keeping your cargo toasty.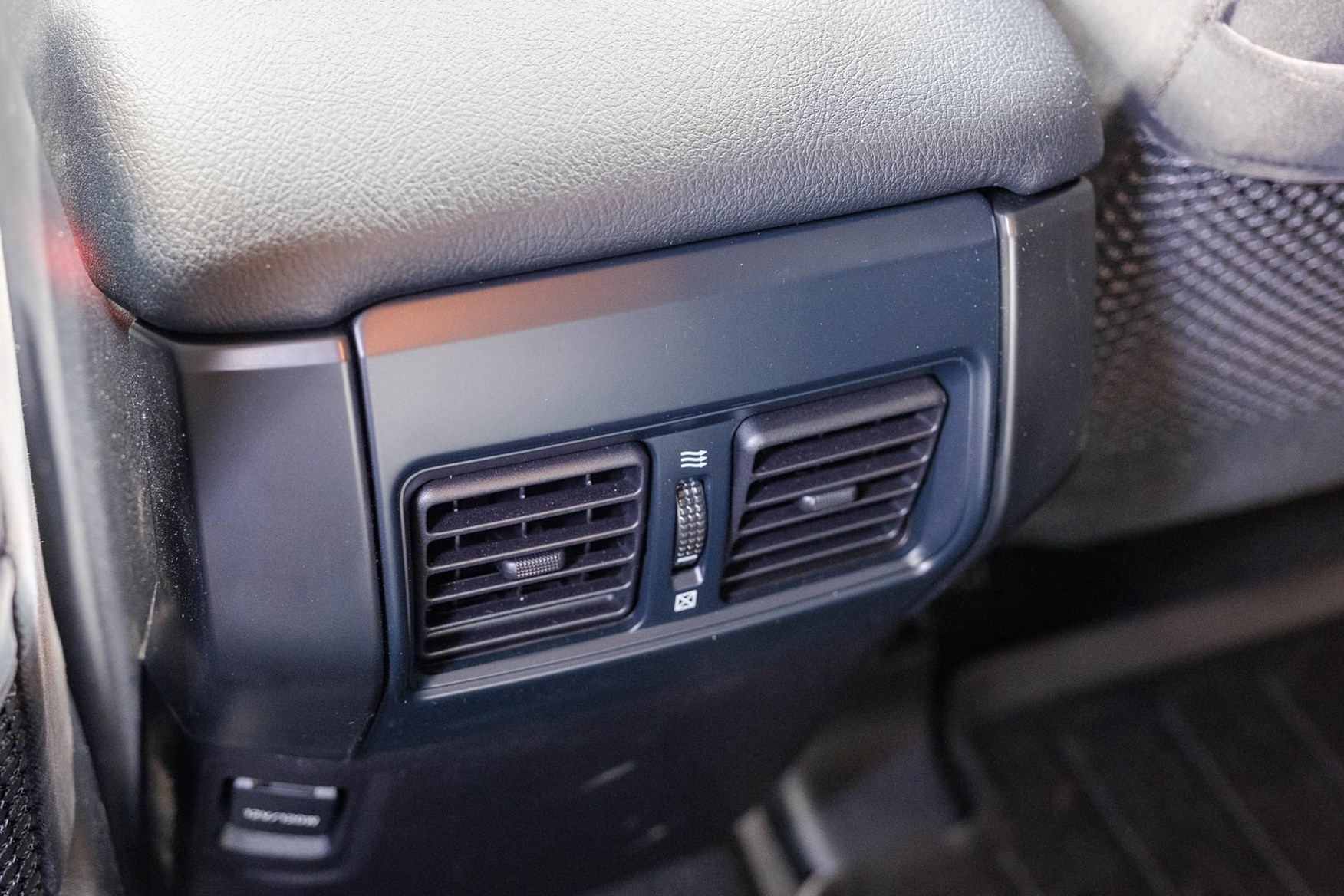 Strong handles aid access to the seats, rather useful given the lack of side steps, and once aboard you'll struggle to find a single disappointing grade of plastic, unexpected sharp edge or flimsy mechanism. It's a masterpiece of functionality in hardwearing materials, with nothing thrown in for the sake of it.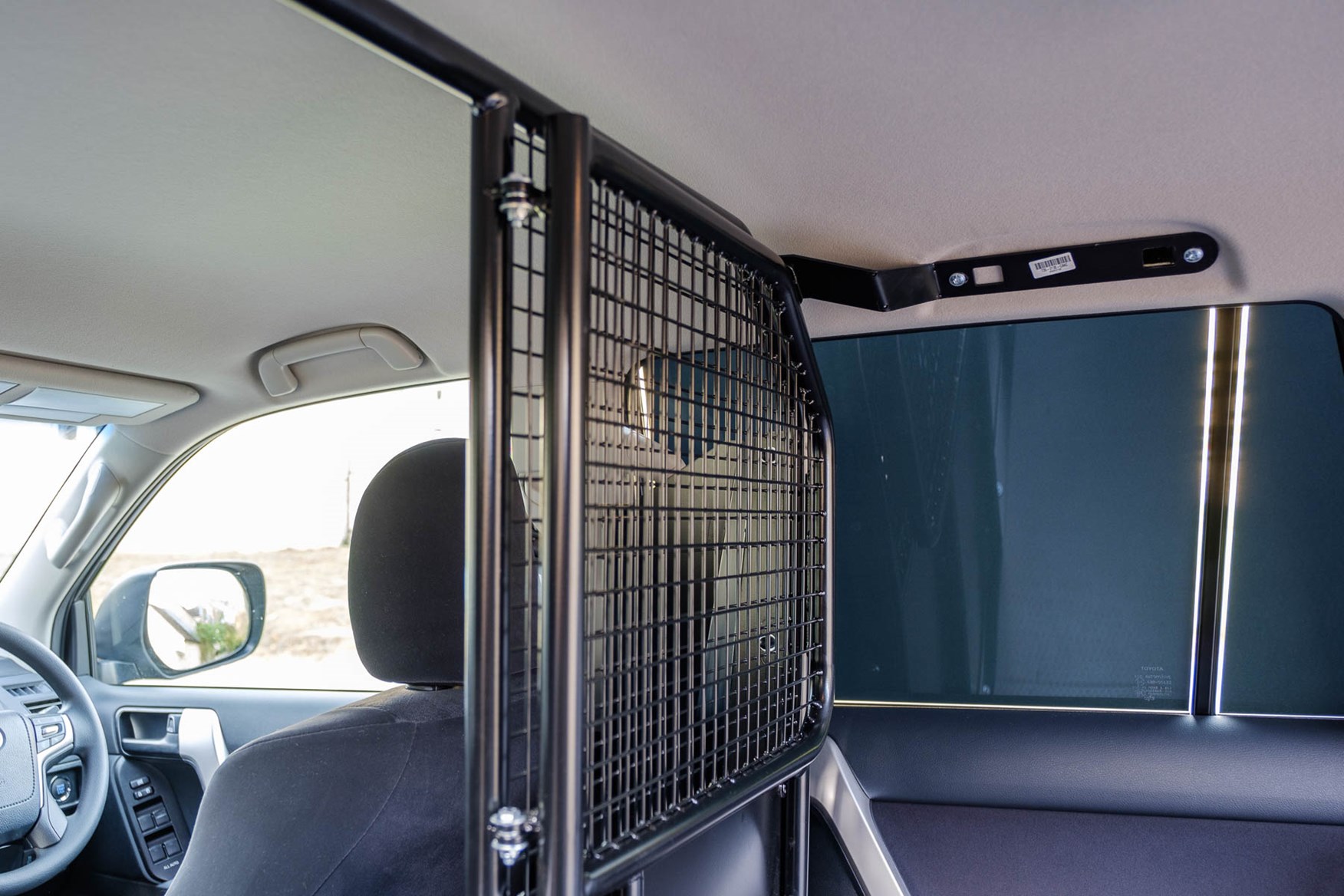 Visibility is good, for a vehicle competing with vans – the rear view mirror is large, like the door mirrors, and you can open half of the bulkhead mesh for an unobstructed view on the passenger side; the translucent nature of the covered windows allows visibility of lights over the shoulder, too, for keeping an eye on blind spots.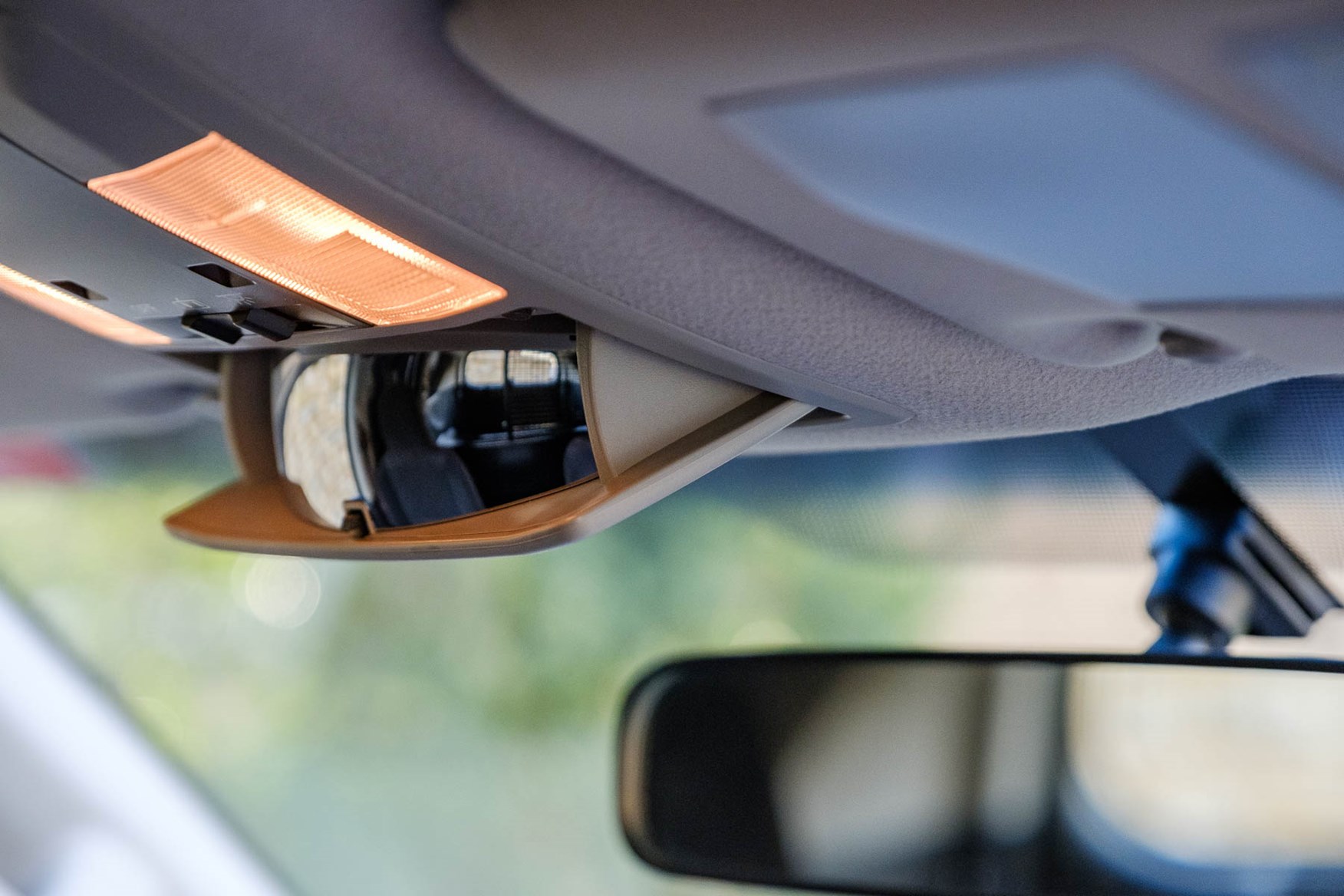 There's also a pop-out conversation mirror in the roof that provides a wide-angle view of the load area. You will rely on those large door mirrors, though, as there are no reversing aids as standard.
Land Cruiser Commercial in the space race
Trimming-out the rear, the seats are gone and a metal bulkhead with upper grille is installed, anchored to the grab handle locations in the roof – nothing on the commercial vehicle preparation looks to have required modifications to the body structure, but it's all very solid. All the rear trim retains slots for seatbelts and other passenger accessories. Where the seat base and load floor would be is now a tough boarded floor with a grippy surface, finished with aluminium strip edging.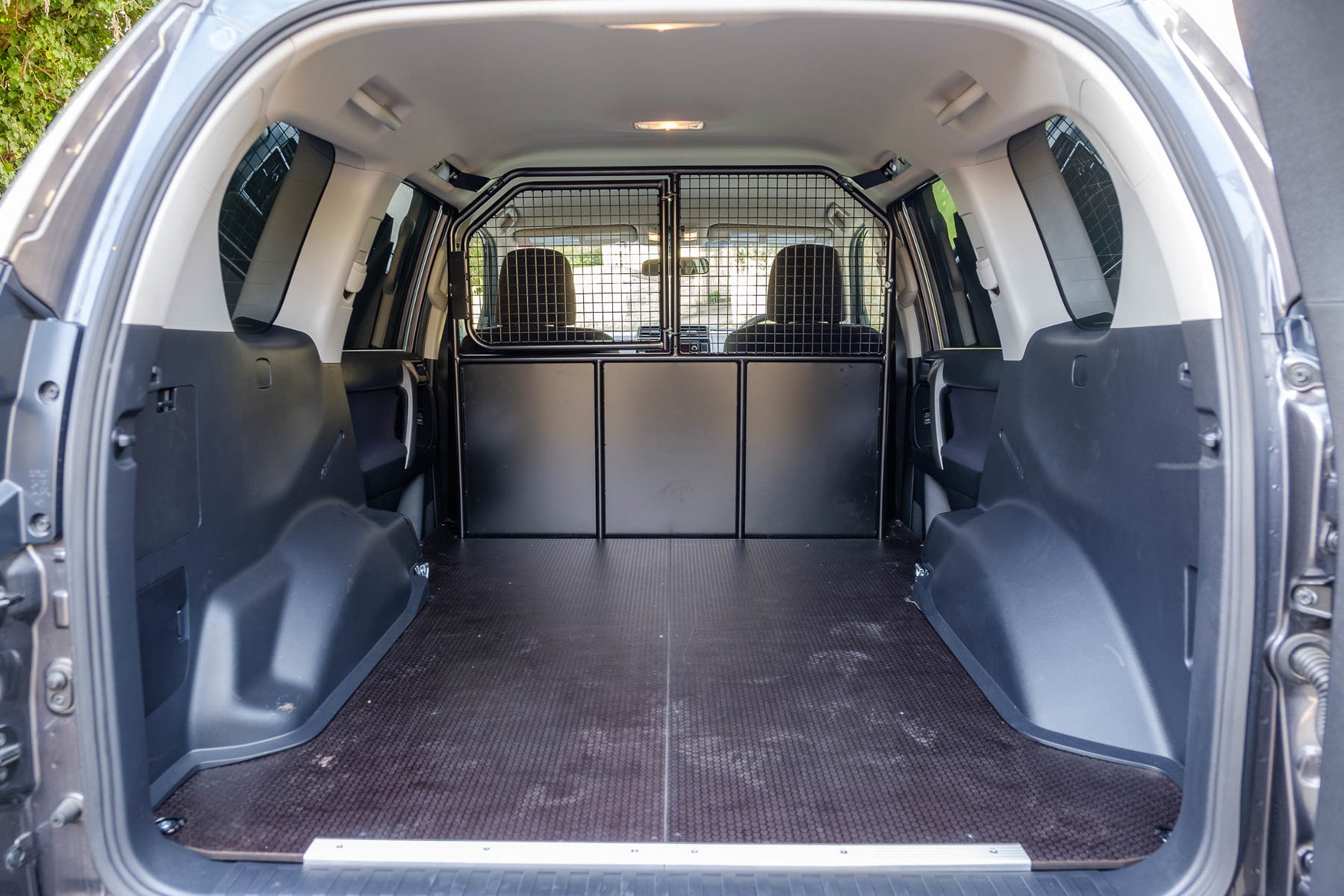 It's a good start point for a bespoke conversion, particularly given the functional rear side doors on the LWB. Both versions also retain the glass hatchback on the tailgate, operated from the keyfob – so longer loads could be carried (appropriately secured) or an easy-access set of tools located behind the window.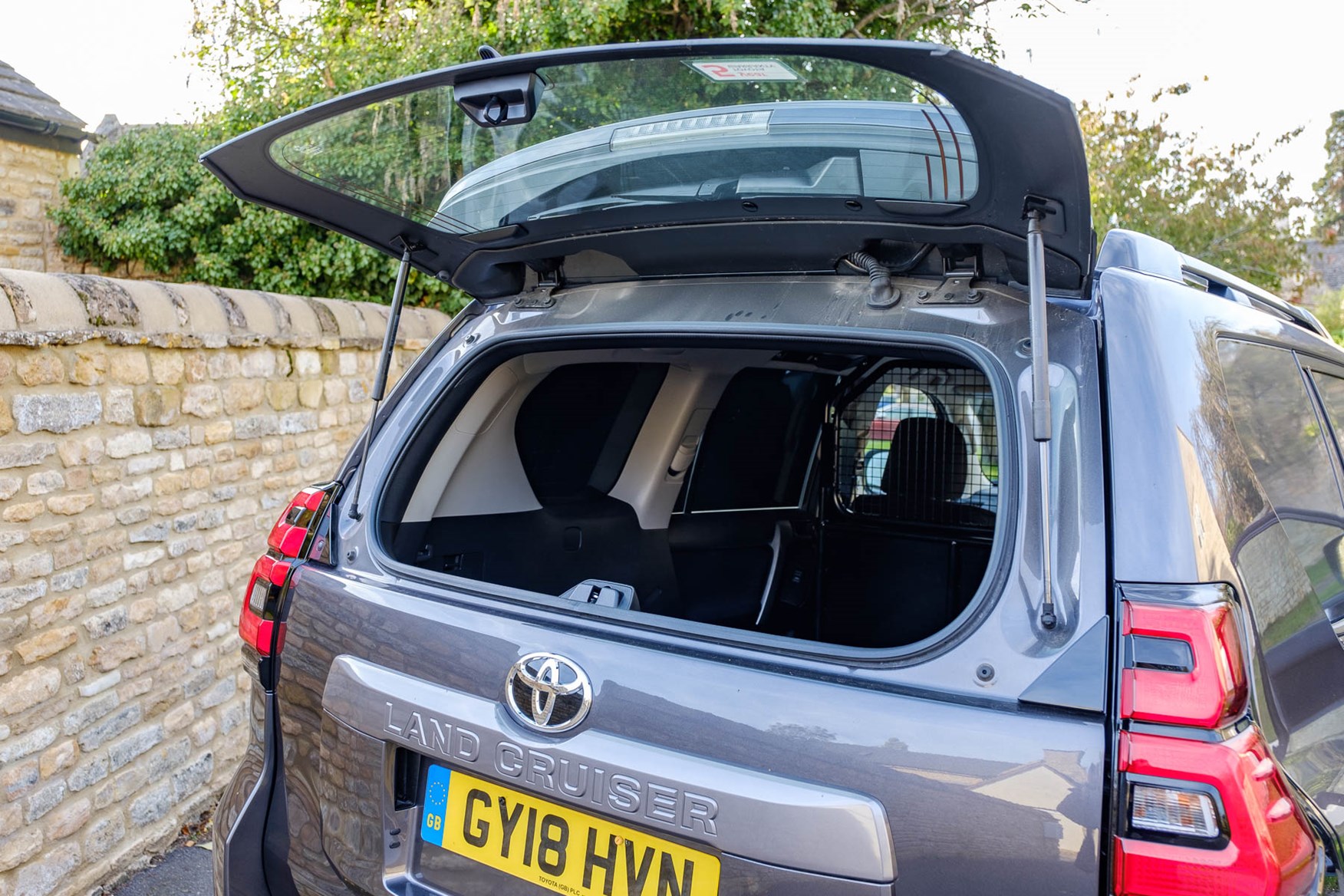 Access to the rear from the front is also possible through a magnetically latched mesh door in the upper part of the bulkhead. This will secure itself in the open position too.
Double DIN, no DAB
Perhaps the most surprising aspect of the Land Cruiser is the radio. Occupying a classic double-DIN space, and connected to six speakers, it supports CDs, Bluetooth/USB/iPod, aux-in and FM/AM/LW radio but no DAB – in 2018! Reception is good and can pick up signals from remote AM stations, perfect for that 'lost in a foreign nation' ambience, but no Absolute 80s?
Hands-free over Bluetooth is refreshingly clear and stable, fortunately. Given the ability to stream from your smartphone, there's no reason the lack of DAB should be a problem; but as it's a standard size of unit upgrading to a third-party system is relatively straightforward.
Below the radio is a digital heater control panel (with dual-zone temperature controls on the LWB; the SWB has manual air conditioning with a simple hot/cold scale) and the traditional blue-LED Toyota digital clock. Ventilation is, as you'd expect, excellent despite the lack of climate control.
Despite the legendary quality and status of the Land Cruiser, the Utility Commercial is surprisingly reasonable in terms of cost. Yes, there's a lot of kit stripped out – but this is a case of quality over quantity.
Land Cruiser Utility Commercial fuel economy
Claimed combined economy from the 2.8-litre manual is 36.7mpg; real world driving on-road and unladen can come very close, without any effort to drive economically. Sustained motorway cruising in sixth gear is relaxed and efficient. Naturally more extreme applications will reduce economy.
Land Cruiser Utility Commercial warranty and service intervals
All Toyotas come with a five-year, 100,000 mile warranty with no mileage limitation in the first year, including the Land Cruiser Utility Commercial. Bodywork comes under Toyota's 12 year anti-perforation warranty, which is transferable to future owners, and finally paintwork and surface rust is covered by a three-year unlimited mileage warranty.
Service intervals for the Land Cruiser are set at 10,000 miles or 12 months, with an intermediate service priced at £250 and a full service at £395. A full service including transmission oil replacement and coolant change is £500; the 2.8-litre engine uses a timing chain rather than belt.
For vehicles over five years old, Toyota offers reduced servicing rates. An extended warranty is also available. Consumables are generally competitive direct from Toyota as well, making a Land Cruiser a sensible long-term proposition.
Land Cruiser Utility Commercial tax info
VED and BIK are the same as any other commercial vehicle, which does mean there are cases where the regular Land Cruiser Utility could be cheaper – particularly as the reasonably low on-the-road price of a Land Cruiser Utility includes a punitive first year rate that vans are not subject to.
BIK is a different story, with a flat commercial vehicle rate and generous personal mileage allowances.
Finally, for businesses purchasing or leasing a Land Cruiser Utility Commercial, there may be the option to write down 100% as capital allowance for plant within annual investment allowance limits, or an 18% write down as well as reclaimable VAT.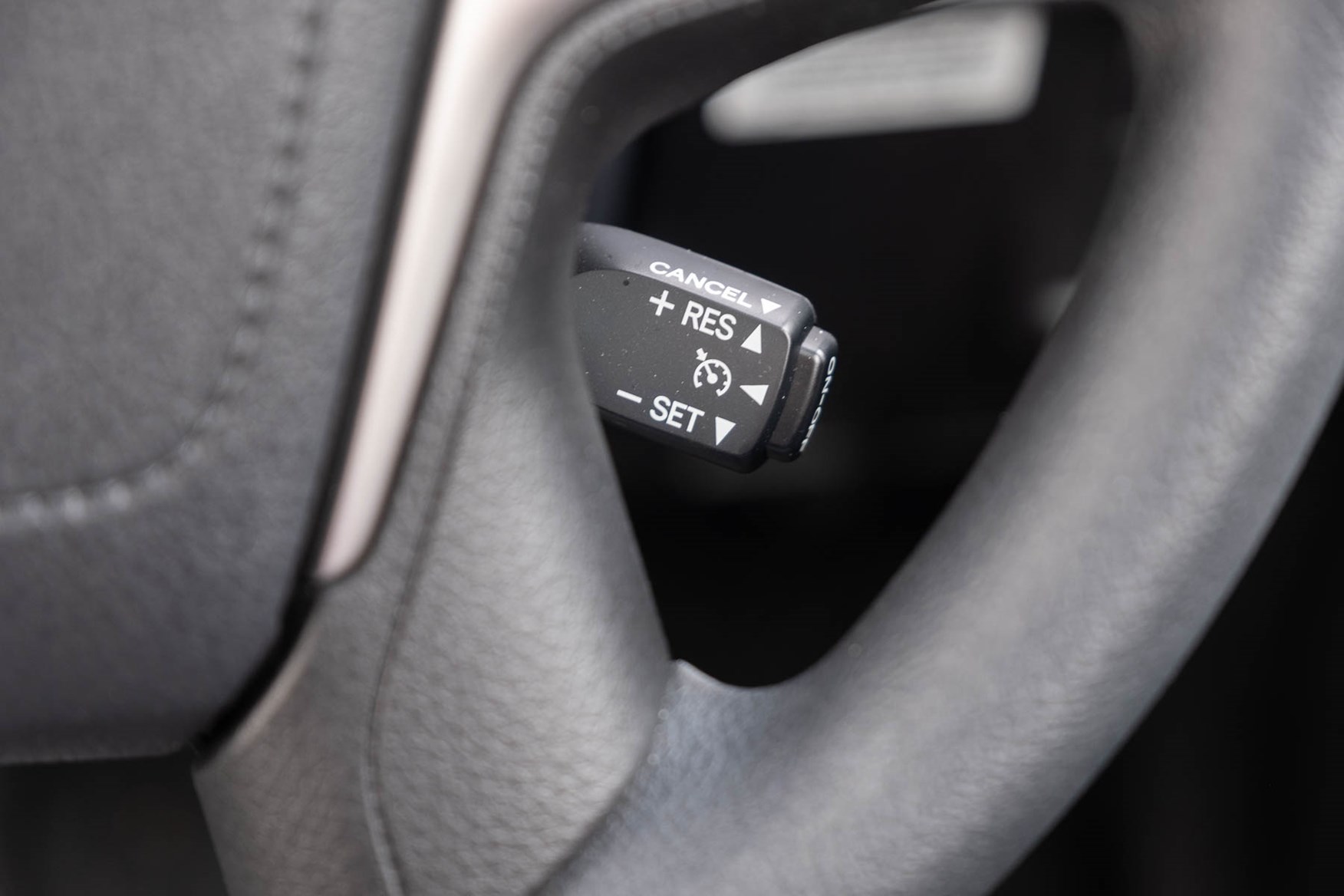 Toyota Land Cruiser Utility Commercial standard equipment
There's a clue in the name – Utility. You get the basics, and nothing more – but they're very well-made basics.
For details of safety equipment see the Safety and Security section of this review.
Land Cruiser Utility Commercial standard equipment highlights:
Six-speed manual transmission
Dual-zone automatic air conditioning on LWB
LED front and rear daytime running lights
Auto headlights
LED front fog lights
Full-size spare wheel
Keyless entry and start
Remote opening glass tailgate
Six-speaker radio/CD with Bluetooth
Cruise control with speed limiter
Height adjustable driver's seat with lumbar support
17-inch steel wheels
Toyota offers very few options for the Land Cruiser Utility Commercial, with an accessories range limited to towing and body protection. If you want more luxury or equipment, it may be worth asking third-party converters to adapt a higher specification of Land Cruiser.
Nothing to report. The engine is a new design, so problems with age and high mileage have yet to surface – otherwise, this is simply one of the most reliable commercial vehicles you can buy.
Basing the Commercial on the stripped-out Utility does limit the safety specification and driver convenience for this Land Cruiser; not least because a couple of features are unavailable with manual transmissions. Occupant protection is excellent for a commercial vehicle, though.
Land Cruiser Utility Commercial safety equipment
Seven airbags
Brake assist
Tyre pressure monitors
Dynamic stability control (electronic stability control, or ESC)
Trailer stability assist (LWB)
Land Cruiser Utility Commercial security
An alarm and immobilizer package is standard on the Land Cruiser, including glass breakage detection and tilt detection. The conversion doesn't scream commercial vehicle at passers-by, so there's a reduced risk of thieves expecting to find tools inside – but you may want to change the body colour panels on the glass for ones that look more like tinted windows.
Which Toyota Land Cruiser is best for me?
There's only one trim level, one engine, and one transmission. So your choice is between long and short wheelbases. Unless you have a good reason to take the shorter vehicle, such as restricted covered parking or very tight turns, the superior ride quality and cargo capacity of the Land Cruiser Utility Commercial LWB make it the one to have.