Toyota Proace City review (2020)
Award-winning small van that combines comfort and practicality with a five-year warranty
PROS
Compact dimensions, large inside
Impressive payload
Long warranty
Comfy and easy to drive
Well-equipped as standard
CONS
No auto or six-speed gearbox
Fiddly controls
Doesn't get best tech from sister vans
Laggy infotainment system
Not a real three-seater
Summary
The smallest entrant in the Toyota Professional light commercial vehicle range is the Proace City small van, launched into the UK in 2020. Like the larger Proace (no City) medium van, it's essentially a rebadged version of a PSA Group model – in this case, it's a Citroen Berlingo / Peugeot Partner / Vauxhall Combo Cargo, now wearing a Toyota nose.
This is no bad thing. This trio of vans has already won the Parkers Small Van of the Year award in 2020, and now they've repeated that feat in the 2021 Parkers New Car Awards we've included the Toyota among the winners. Identical beneath the branding, these excellent small vans offer a comfortable driving experience, plenty of choice in the mechanicals, and class-leading payload.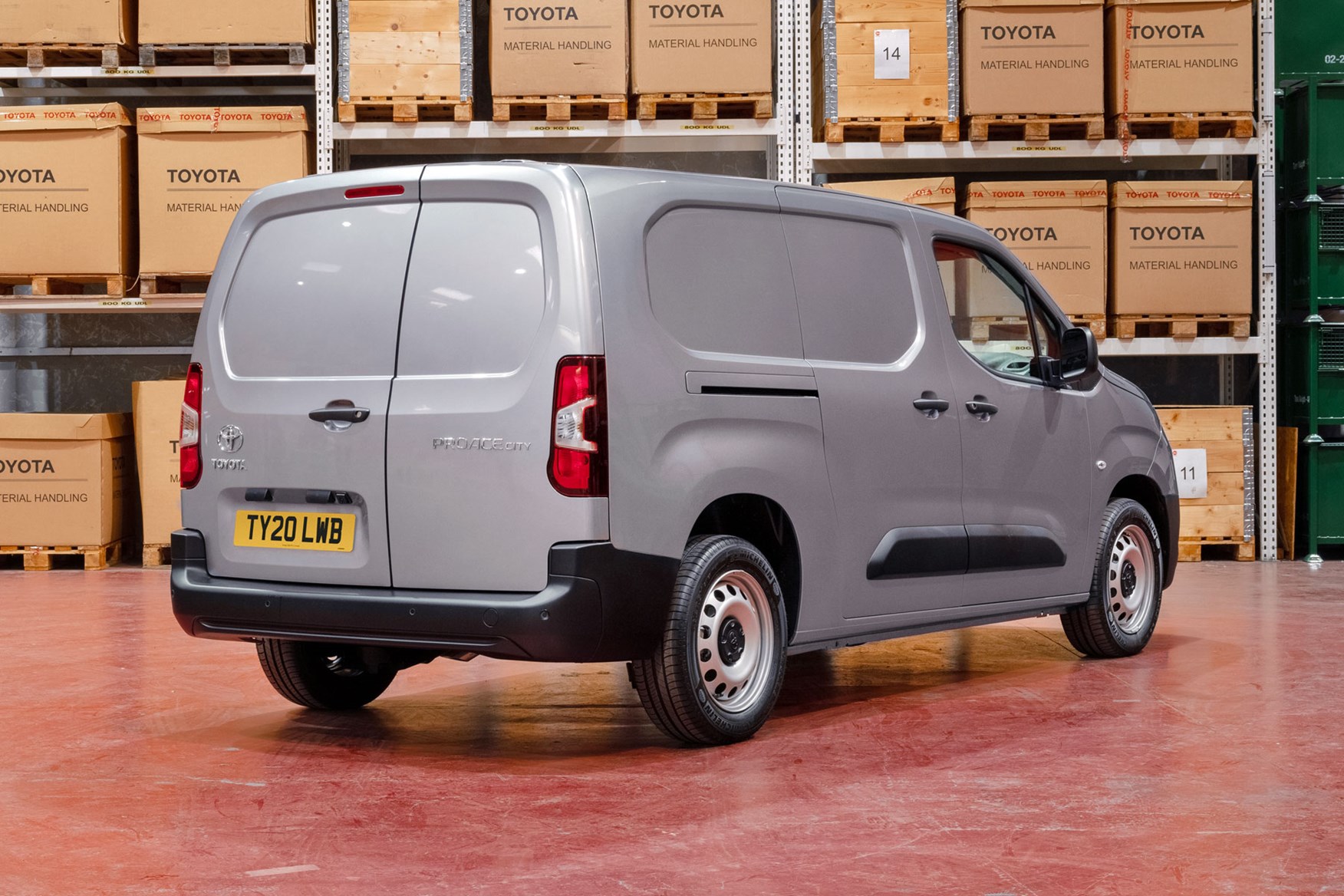 Toyota's own take on the experience offers a reduced range compared with its sister vans, but arguably a better ownership package, with better residual values predicted and a superior warranty – five years, instead of just three.
What's different for the 2020 Toyota Proace City?
Obviously, the main cosmetic difference is in the van's face. Toyota's stripped off the Peugeot, Citroen or Vauxhall branding and added its own corporate grille, much like it did on the larger Proace.
Start checking through the brochure and you'll notice Toyota's other major change – namely, a reduced range of engines and trim levels.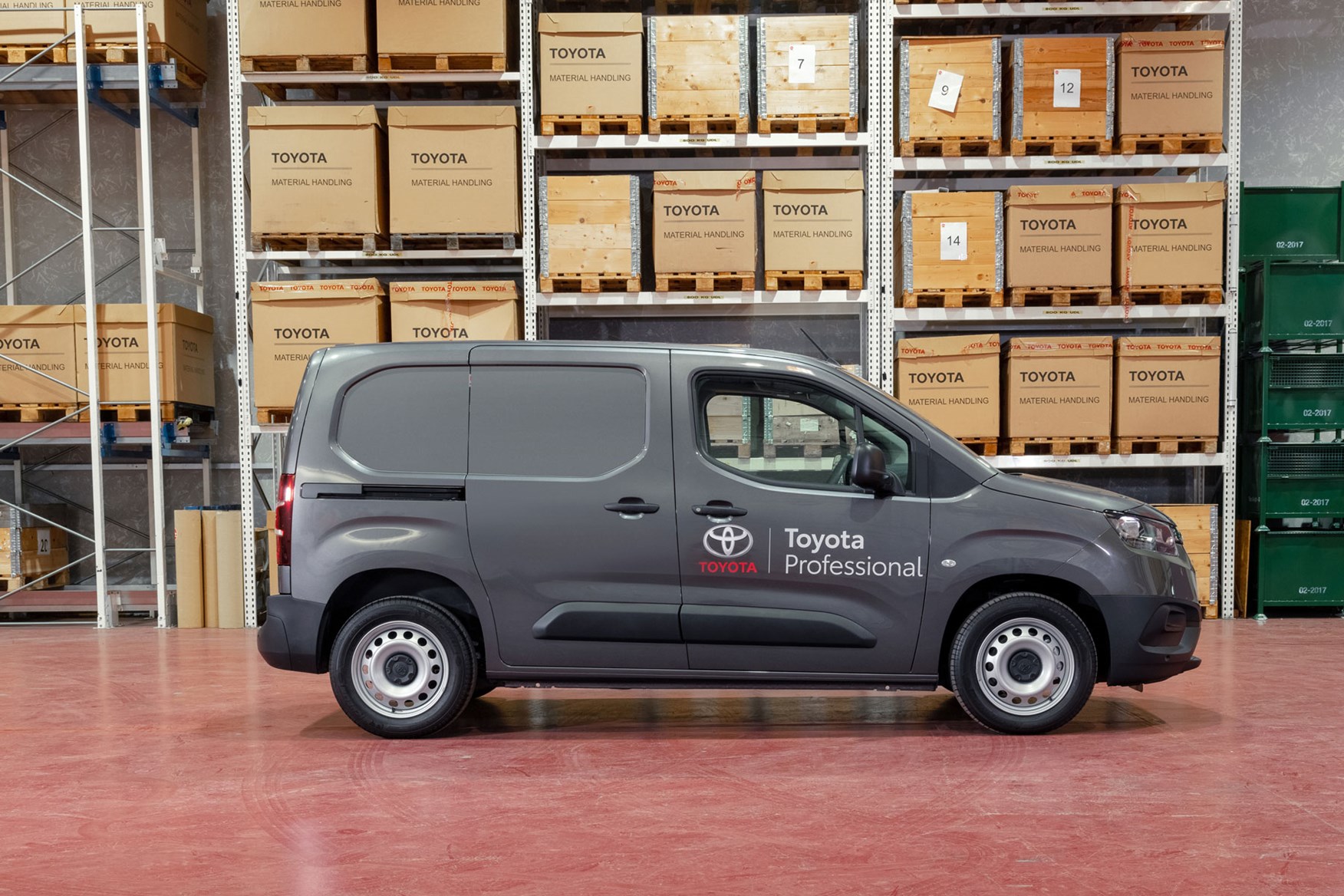 While Peugeot, Citroen and Vauxhall offer their vans with a full complement of three or four trim levels, four engines including a petrol option, and automatic transmission variants, Toyota's range is simplified: two trim levels, two power outputs, and one five-speed manual gearbox.
However, there are still two body lengths, meaning load length ranges from 4.4 metres to 4.7 metres – the latter figure is slightly greater than that of the shortest Proace medium van. Cargo volume is 3.3 cubic metres or 3.9 cubic metres.
Well-equipped compact van
The two trim levels, meanwhile, are simple to understand. Both come with air-conditioning, which is a nice extra in a small van, as well as DAB radio, electric mirrors and automatic headlights.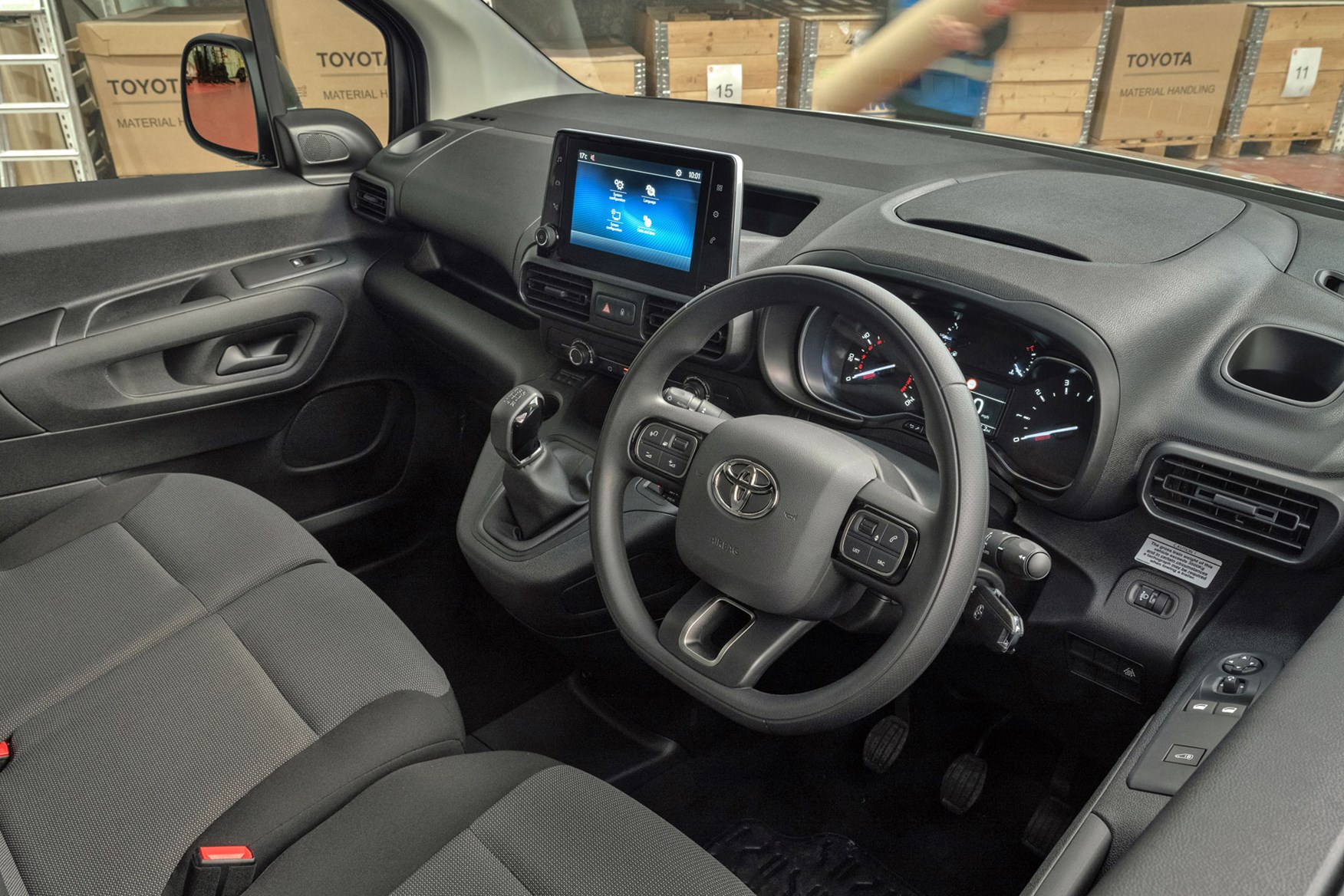 The more premium Icon grade, which Toyota expects will take 70% of sales, gets an 8.0-inch infotainment screen complete with Apple CarPlay and Android Auto – if anything, this is better than including navigation as the vast majority of people will prefer using a smartphone app instead.
It also gets a reversing camera and all-round sensors to make parking easier as well as the Smart Cargo system – a load-through bulkhead and folding front seat arrangement.
One engine, two power outputs
Buyers can choose from two engines under the hood of their Proace City. Well, one engine, really – it's the same 1.5-litre turbodiesel in two states of tune.
The entry point is a 75hp model which is aimed at those with less demanding needs – it's slow, and not entirely up to the task of propelling a fully laden van at motorway speeds. As for fully laden, 75hp models get a reduced 650kg payload.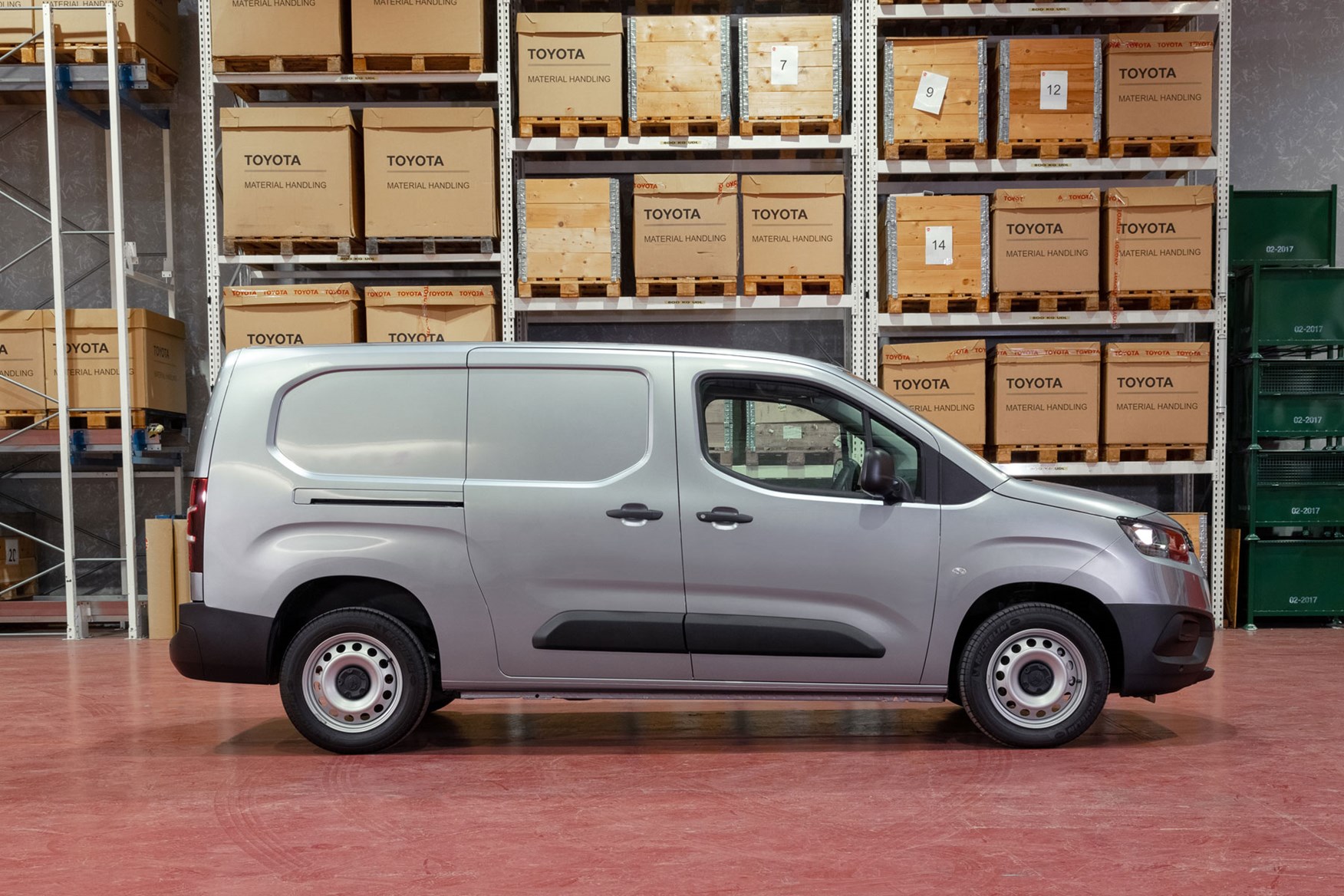 For those reasons the 100hp model is by far the best bet, gaining the class-leading 1,000kg payload (950kg in LWB form) as well as significantly more flexibility on faster roads. That's probably why Toyota expects 90% of buyers to opt for it. It's also rated for towing up to 1,500kg – again, class-leading.
Both engines come mated to the same five-speed manual gearbox, though, which is a bit of a shame. It has a very long throw and isn't especially positive in its action, plus the lack of a sixth ratio means the engine spins quite fast at the legal limit.
The Berlingo, Combo Cargo and Partner all get an additional 130hp engine paired to a six-speed 'box – Toyota isn't initially offering this in the UK but has said it's open to expanding the range if there's particular customer demand.
Presumably that also applies to its sister vans' optional eight-speed automatic or 1.2-litre petrol engine, both of which offer something a little different in this sector.
Appealing ownership package
Recently rebranded as Toyota Professional, this new commercial vehicles arm brandishes three impressive promises all aimed at keeping small business owners sweet.
The first, like Toyota's passenger cars, is a five-year, 100,000 mile warranty – a useful thing to have, especially when its sister vans offer only three years of cover.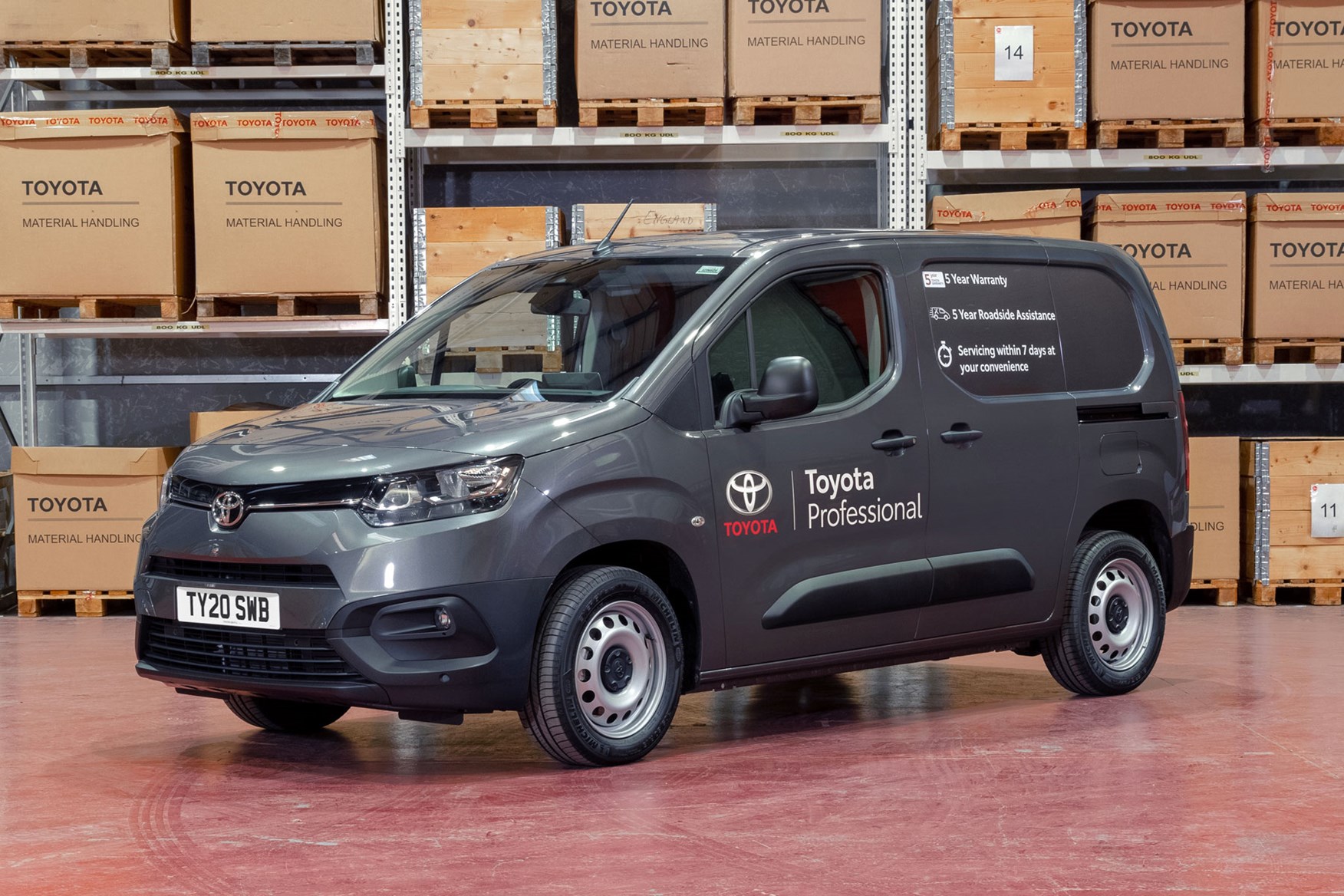 There's also five years of free roadside assistance, and a promise that if you need it, you'll get an appointment at a Toyota service centre within seven days of asking – or your bill will be half-price.
As further proof of its commitment to the LCV sector, there are now 117 dealers across the country certified to work with Toyota Professional products – up from less than 30 a few years ago.
---
Toyota Proace City Verdict
The Proace City is a Citroen Berlingo / Peugeot Partner / Vauxhall Combo Cargo with a reduced model range and a longer warranty. It really doesn't get much simpler than that, does it?
These are brilliant small vans (as evidenced by their Parkers Small Van of the Year trophies) with comfortable interiors, plenty of useful tech and bigger payloads than anything else in this class. No, they're not as much fun to drive as a Ford Transit Connect, but does that really matter?
If the ownership proposition is appealing – and for those who anticipate keeping their vans for a while, we suspect it will be – the Proace City is a great option.
Skip to our full verdict on...
Reduced engine range compared with sister vans
Still comfortable and refined to drive
Lack of six-speed gearbox is a shame
It's perhaps not entirely unexpected that the Proace City is very similar to its sister vans when it comes to the driving experience. In fact, it's identical, as Toyota doesn't make any mechanical changes.
The differences are in the engine range – Toyota only offers two engines to Peugeot, Citroen and Vauxhall's four.
They're both variations of the PSA Group's 1.5-litre diesel engine, which is common to the brand's passenger cars. As such, we rate it very highly for its responsiveness and particularly its refinement – it's very quiet at a cruise, near-silent at idle and has a good spread of power across its rev range.
Engines and gearboxes
Easy to digest, here – there's just two.
BlueHDi 100: 1.5-litre, 100hp @ 3,500rpm / 250Nm @ 1,750rpm
We've yet to drive the 75hp entry-level Proace City model, but it's expected to take just 10% of sales. With reduced torque and power, plus a lower payload, it's easy to see why most will want to opt for the more powerful engine. However for those wanting the lowest possible cost of purchase or perhaps just don't have particularly weighty needs, it should do the job just fine.
The 100hp engine, meanwhile, has enough power for comfortable motorway cruising and getting away from the lights without being tardy. It's very smooth.
Both engines are paired to the same five-speed manual gearbox. You'll find this transmission in the PSA trio, too, and it's, well, it's fine. It changes ratios, but doesn't do so particularly pleasantly – it has a very long throw and a strangely-shaped gearknob, so you'll find your arm flailing about quite a lot. It is nice and high-set though, usefully close to hand.
It's a shame that the Proace City won't take the 130hp version of this diesel engine – it comes paired either to a much tighter-feeling six-speed manual or a genuinely excellent eight-speed automatic.
There's also a 1.2-litre petrol that won't be coming to the line-up, which could have been an interesting alternative for the anti-diesel brigade. Given Toyota's nearly completely eliminated diesel from its passenger cars, this seems an odd omission.
How does it handle?
The Proace City drives identically to its sister vans. What that means really is that they're comfortable, easily manoeuvrable and pretty tidy in the corners, but they lack the last degree of on-road finesse provided by the Ford Transit Connect.
The Proace City gains the sensible, full-sized steering wheel shared with the Berlingo and Combo Cargo, rather than the truncated unit from the Peugeot Partner. It takes away some of the steering's immediacy but it's still responsive – we can't imagine drivers will have many complaints about how this van handles, though some would probably prefer a bit more weight to the wheel.
Is it comfortable?
Very. Inheriting car-like underpinnings means the Proace City rides well over bumps and imperfections. Small wheels and chunky sidewalls also help with this, as do good seats. The driver's seat in particular is very comfortable, and adjusts to make room for even the burliest of drivers.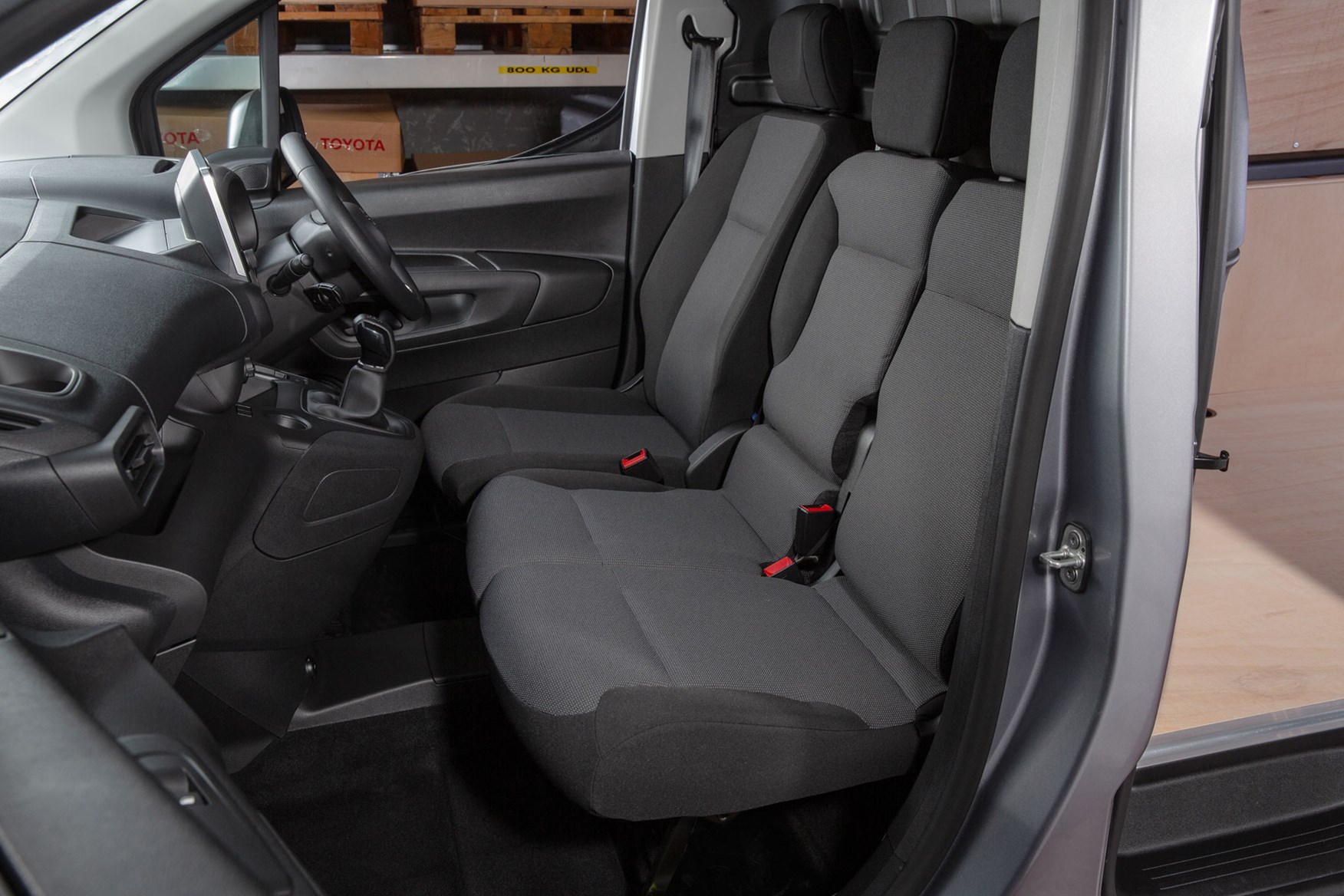 The same can't be said of the optional double passenger seat, which really only has space for two on the very shortest of trips. However, one person can stretch out comfortably, and the lack of a central tunnel means they can also slide over to get out of either door.
Sound deadening is also excellent for a van. The engines do get vocal at high revs, and become noticeable in the cab, but most of the time it's very quiet.
Simple dashboard with easy operation
Some controls difficult to find at night
Lots of cabin storage
The Proace City uses the same cabin as the Citroen Berlingo, eschewing the high-set dials and truncated steering wheel of the Peugeot Partner. There are only a few very minor differences, such as Toyota-specific fonts for the gauges and infotainment system.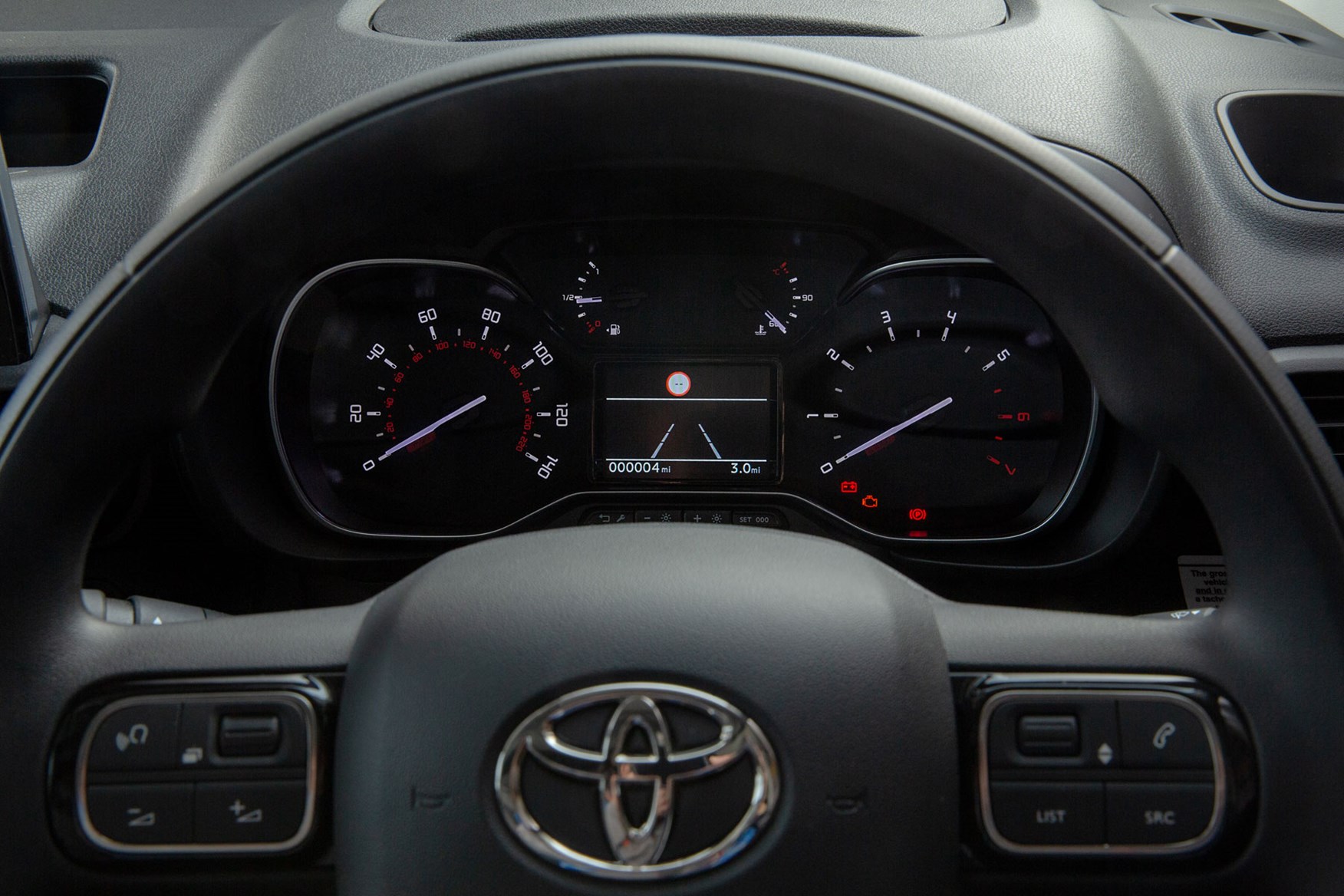 That means you get the same easy-to-read gauge cluster and infotainment screen, the latter of which is set high up on the dashboard and slightly angled towards the driver for easier operation on the move. The gearlever is also high-set in a pod just below that infotainment screen, which unfortunately places the (unlit) air-conditioning controls in their own rather dark cavern.
There are a few other control oddities, too, from the track skip function on the wheel which works the reverse way from what you'd expect, to the oddly-proportioned cruise control stalk that sprouts out of the steering column at just the right angle to be completely obscured by the wheel.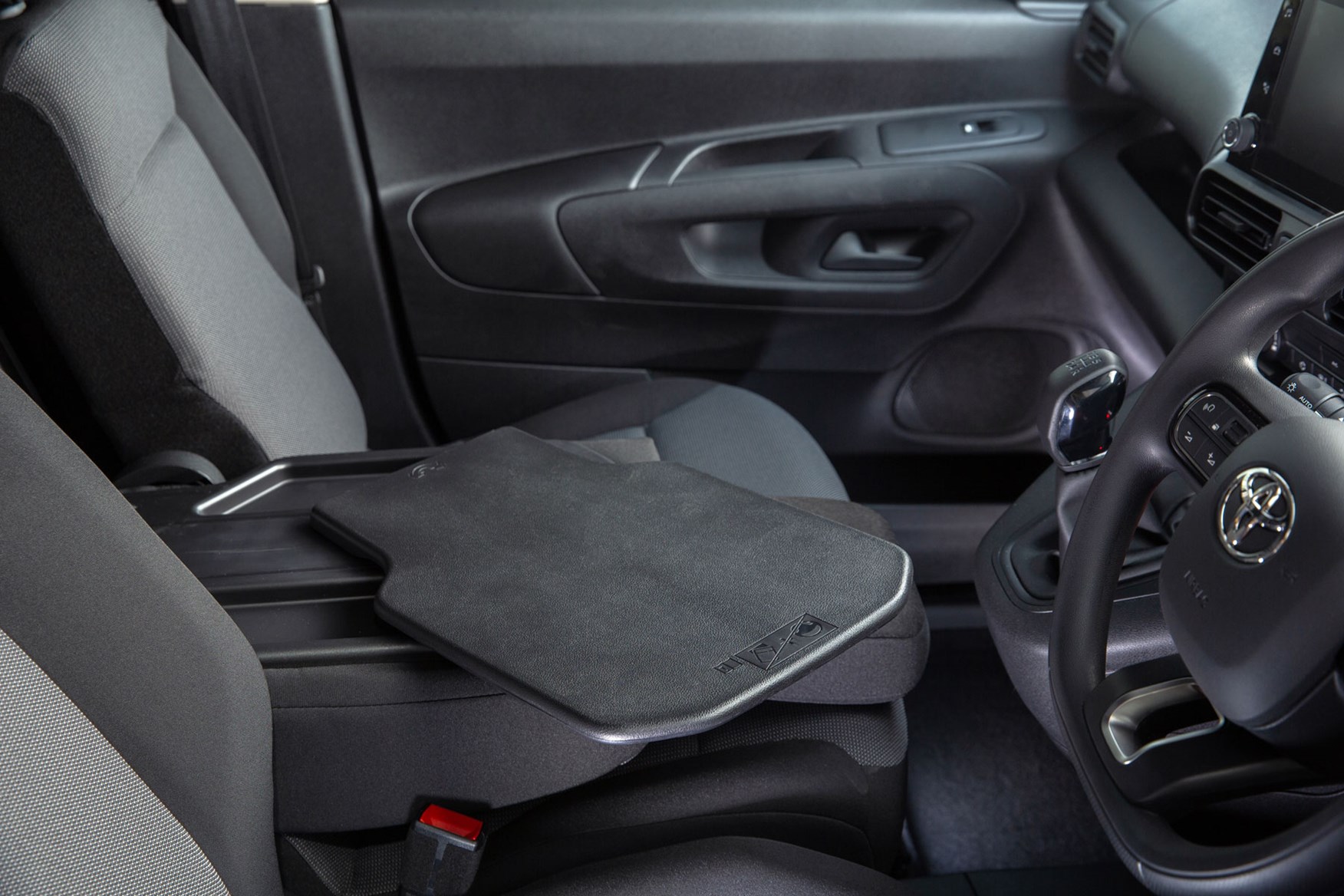 There are plenty of positives, though. An electronic handbrake frees up floorspace in three-seat models, so you don't need to reach down to operate it. There's also lots of storage.
Plenty of in-cab storage
There's a large glovebox on top of the dash and a shelf below it, large enough to accommodate a smartphone – although you may wish to line it with some form of non-slip material if you don't want everything sliding around.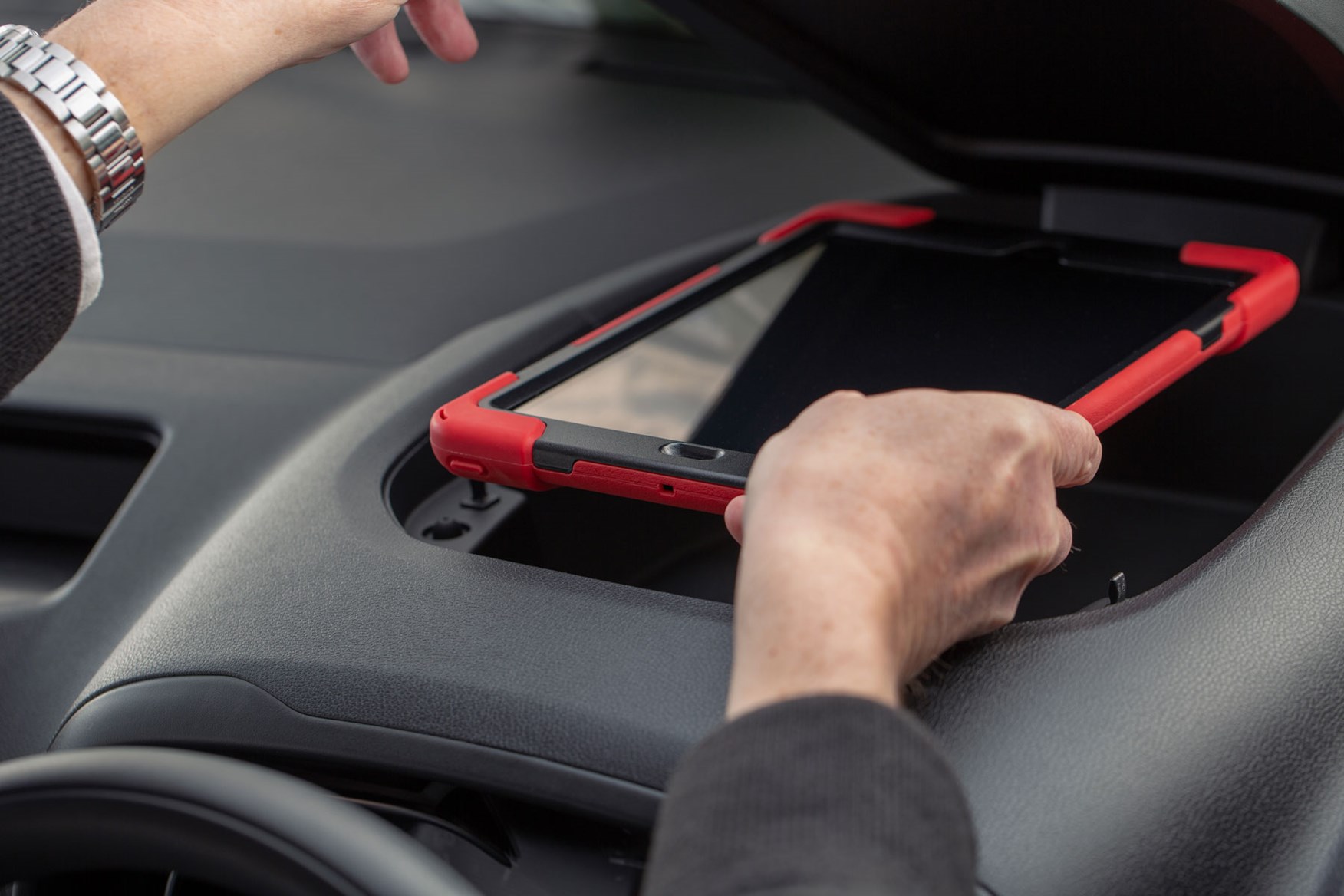 There's also an uncovered cubby hole underneath that – on left-hand drive models, this is a glovebox, but the French PSA Group that manufactures this van doesn't re-site the fuse box when switching over, so it takes up space there instead.
Atop the dashboard there's a tray behind the infotainment screen ideal for keeping your phone when it's plugged in and a large, covered cubby just behind the steering wheel. Door bins are a good size, too, and there's a cupholder on either end of the dash top.
Infotainment
Entry-grade Proace City Active models get a basic radio unit, though it does still include DAB and Bluetooth. The top grade Icon versions, which are expected to be more popular, get a large 8.0-inch touchscreen that sits atop the dashboard angled slightly towards the driver, complete with Apple CarPlay and Android Auto connectivity.
It's easy to see and the interface largely makes sense – as with any of these systems, a few functions are tucked away where you wouldn't expect, but that's the sort of thing that doesn't take long to get used to.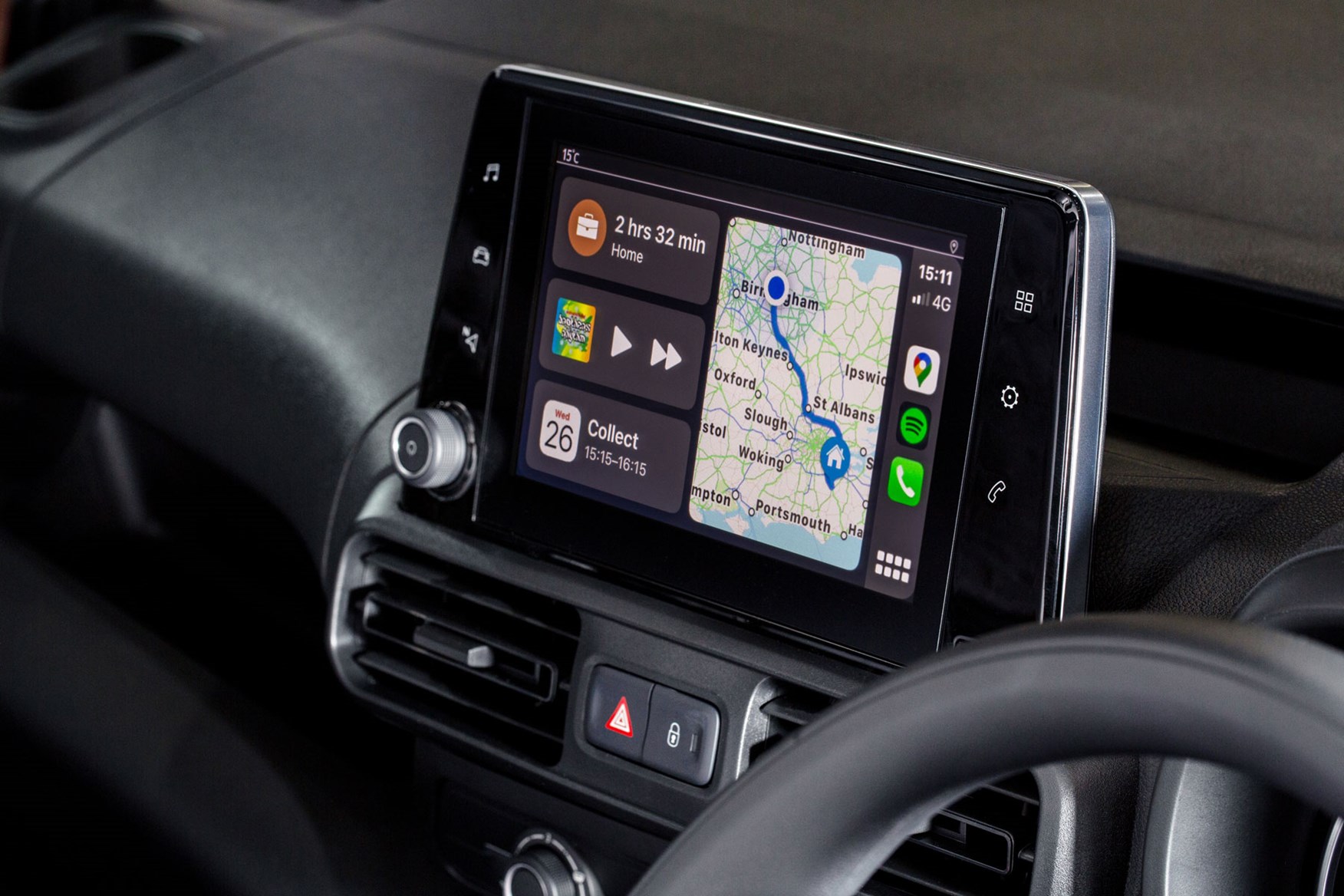 It's not as slick as the system in a Volkswagen Caddy, though we'd put it on par with that of the Ford Transit Connect.
It is a pain trying to select certain items on the screen, though, especially when bouncing around over rough roads.
It also displays the feed from the parking sensors (all-round) and reversing camera. This isn't the highest resolution but it's plenty for parking, though it is a shame that Toyota won't offer the clever rear-view driving camera that others in the family do.
Most popular Proace City expected to be the most expensive
Plenty of standard kit
Class-leading residuals claimed
The Proace Verso should, if anything, prove even cheaper to run than its sister vans. That's not due to its fuel economy or reliability, which are likely to be identical, but its ownership experience and residual values, which Toyota reckons will be above any competitor product. That means good resale value and, more importantly, competitive lease and financing offers.
Toyota Proace City mpg
All Proace City models meet taxing Euro 6.2 emissions standards, and should return excellent fuel economy. Claimed figures are as follows:
BlueHDi 75: 45.6-51.4mpg / 112-116g/km CO2
BlueHDi 100: 46.1-52.3mpg / 113-116g/km CO2
All the diesels require AdBlue, and are fitted with a 17-litre tank for this (quite a generous size, especially for such a small van, so should go quite far between fill ups).
Toyota Proace City warranty
All Proace City models come with a highly impressive five-year, 100,000 mile warranty – the same mileage cover as its sister vans, but with two years of extra coverage.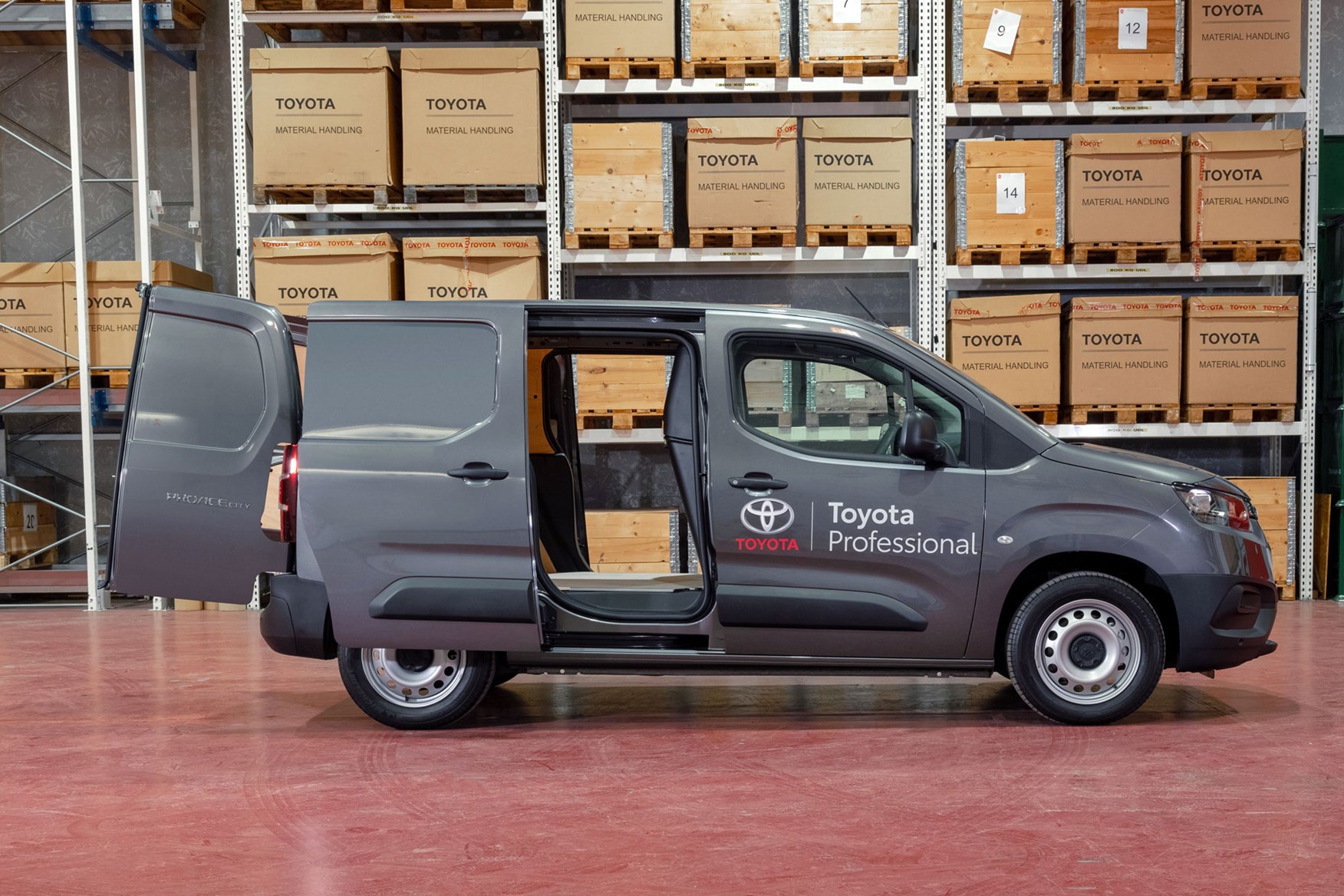 It's an identical warranty to Toyota's passenger cars, and is very reassuring – it suggests the brand's confident either that this van will prove very reliable, or that it's capable of fixing it quickly and cost-effectively. Five years of free roadside assistance is also included.
Toyota Proace City service intervals
Service intervals are variable, but typically come every two years or 25,000 miles. Toyota has recently expanded its service centres to 117 locations across the country. More reassuring still, owners are promised a service or repair appointment within a week – or it's half price.
Toyota Proace City trim levels and equipment
There are just two trim levels, named Active and Icon. The former includes:
Twin sliding doors
Full-height bulkhead
Manual air-conditioning
Automatic headlights
DAB and Bluetooth connectivity
Steel wheels
Electrically heated and adjustable wing mirrors
An additional £2,000 (at the time of writing in March 2020) nets you an Icon model, which includes all of the following over the Active:
8.0-inch infotainment touchscreen with Apple CarPlay and Android Auto
Smart Cargo (twin passenger seat with load-through bulkhead)
Front and rear parking sensors
Reversing camera
Cruise control
Wheel covers
Available optionally for Icon models is a 'Safety and Security' pack, bringing forward collision warning and lane-departure warning plus an alarm. Both grades can have an optional Towing pack fitted provided they're 100hp models.
Toyota is legendary for the reliability of its vehicles. But (big but) Toyota doesn't build the Proace City itself. Instead, it's built by the French PSA Group on the same production line as the Citroen Berlingo, Peugeot Partner, and Vauxhall Combo Cargo.
This van's not been around very long but it already has three recalls – all for items that are 'not correct to specification'. The steering column, handbrake mechanism and passenger seat belt are all affected.
None of these are safety critical recalls, but they are worrying to see on such a new van. On the plus side, Toyota's dealerships are truly excellent, so any work that needs doing will likely be done in a timely and efficient fashion.
The Proace City should prove a safe vehicle to travel in – the passenger version of the vans it's based on scored 91% in Adult Occupant Protection and 81% in Child Occupant Protection during Euro NCAP crash testing.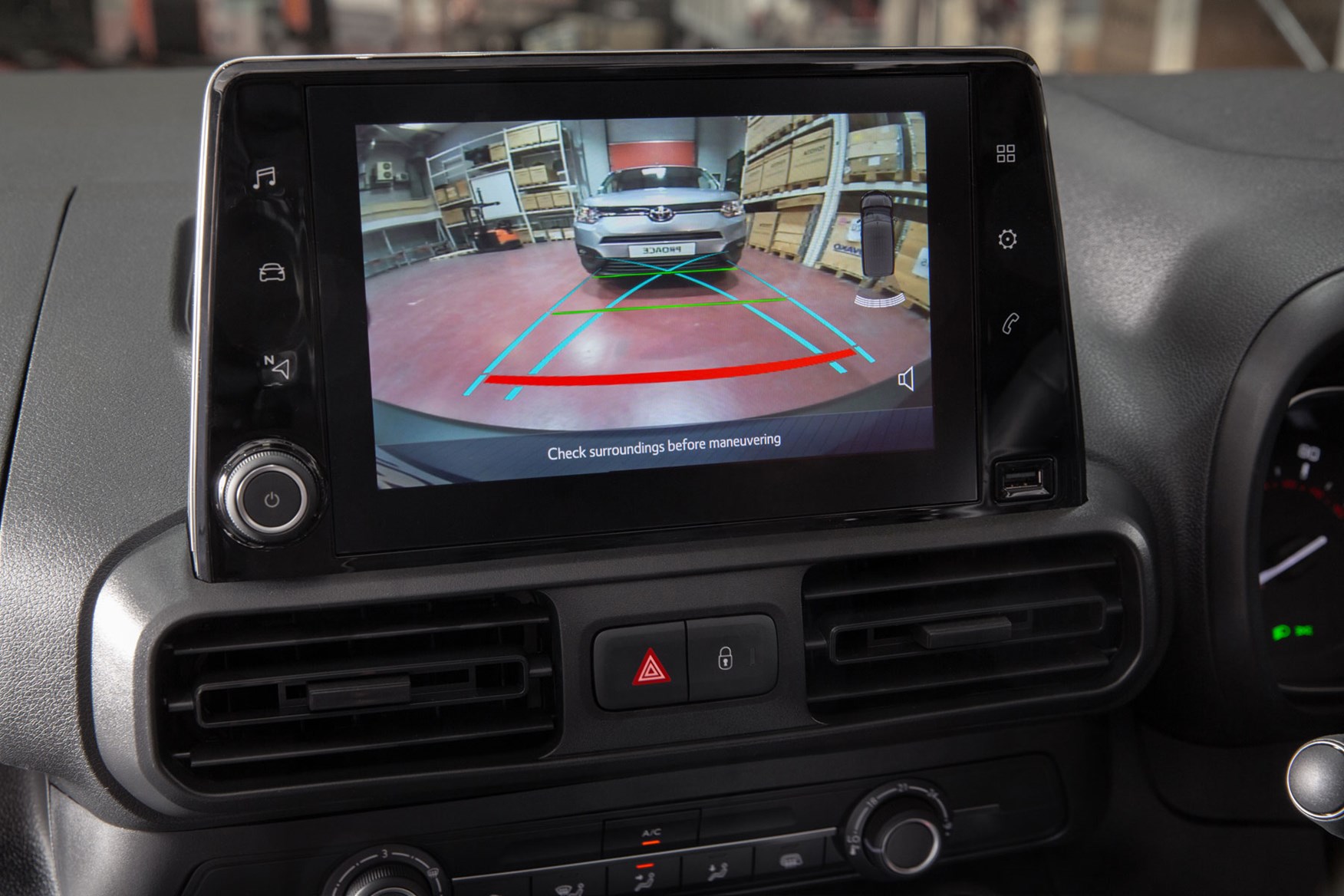 However, while there are plenty of driver assistance packages available on its sister vans, Toyota hasn't chosen to offer all of them in the Proace City.
Even so, dependent on spec, you can still get:
Cruise control
Driver attention alert
Coffee break alert
Distance alert
Cornering lights
Reversing camera
Front and rear parking sensors
Trailer stability control
As for security, an alarm is available as an option on Icon models, and the rear door hinges are hidden to make accessing the rear a more difficult job for potential thieves.
Which Toyota Proace City is best for me?
With a limited line-up of trims and engines, choosing a Proace City should be easy.
Best Toyota Proace City for running costs
It's the more powerful engine that's actually the most efficient, thanks to that extra power they don't have to work so hard. For the best running costs, you should opt for the lighter short-wheelbase model and basic trim.
Best Toyota Proace City for payload
Short-wheelbase Proace Cities fitted with the 100hp engine are capable of carrying a class-leading 1,000kg of payload. This is reduced to 950kg for long-wheelbase models, though that's hardly a big sacrifice.
Best Toyota Proace City for value and standard equipment
Entry-level models are great value given the amount of standard equipment they come with – namely air-conditioning and digital radio, two near-essentials these days.
If it's a van destined for longer distances, though, or one that's going to be doing a lot of parking in tight spots, we'd recommend opting for the Icon grade thanks to that infotainment/navigation screen and its parking aid.