Mercedes-Benz Citan van review (2022)
An appealing small van let down by its limited loading capacity
PROS
Feels high quality throughout
Good spread of engine options
Comfortable and easy to drive
At least six airbags as standard
Not obviously a Kangoo in disguise
CONS
Engines can be noisy
Rivals offer higher payload
Smaller than average load space
Taller drivers may feel cramped
No UK pricing and spec yet
Summary
The second-generation Mercedes-Benz Citan goes on sale in the UK in mid-2022 – but we've already had the chance to experience driving several examples of this all-new small van in order to bring you this full review.
Once again, the Mercedes Citan is based on the Renault Kangoo. But this time, not only does the transformation go far deeper than before, Mercedes has been much more actively involved in engineering the vehicle from the start.
As a result, you'll not only find that it looks very much in keeping with every other modern Mercedes product – be that vans like the Vito and Sprinter or cars such as the A-Class and C-Class – it also feels more substantially like a high-quality product from the moment you get in and start driving.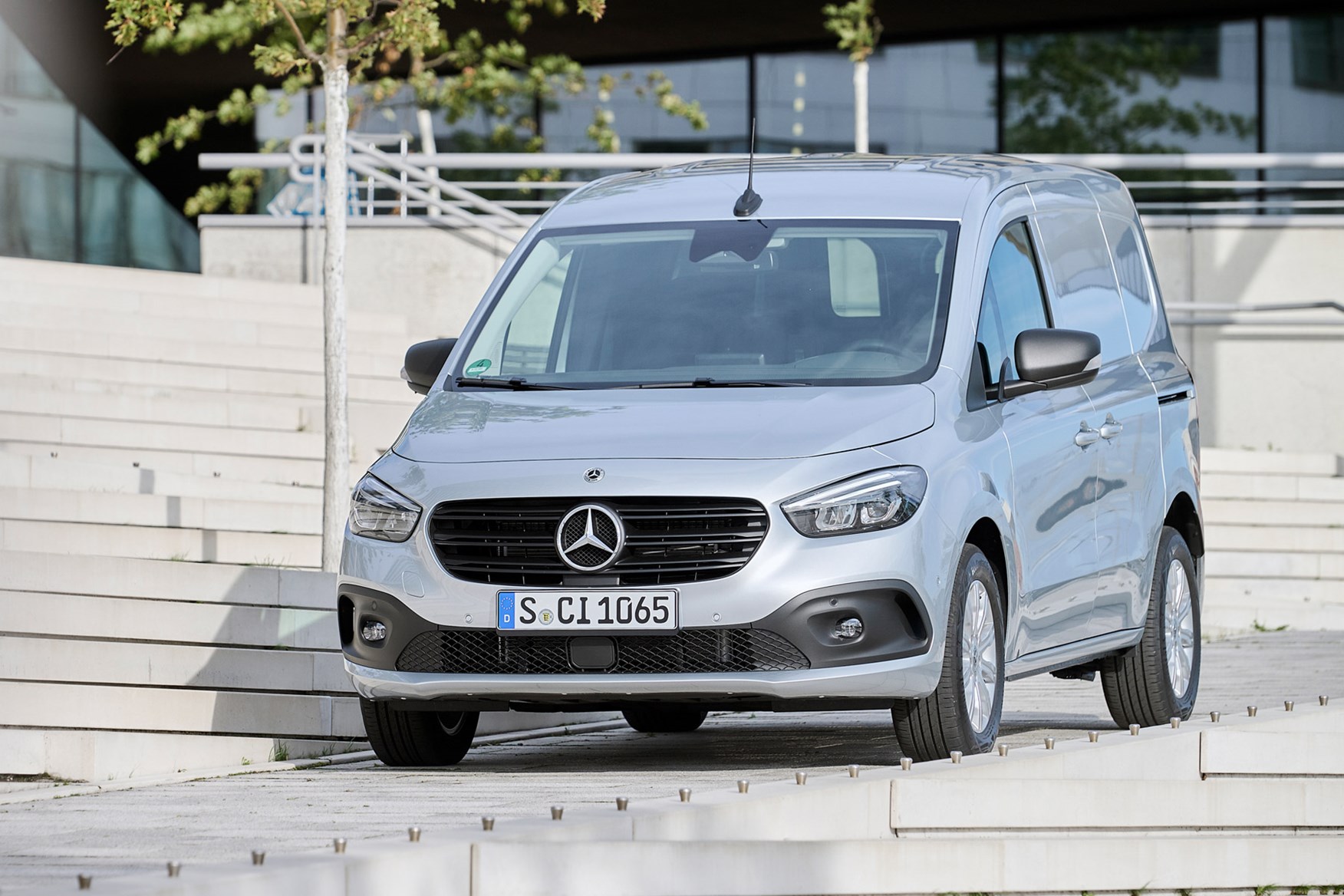 Featuring a completely changed dashboard and Mercedes' own MBUX infotainment system, you'll have to look fairly hard to find any visibly shared parts at all. What's more, as we know from having driven the latest Kangoo already as well (which also doesn't go on sale until 2022), the quality of that small van has also been raised considerably.
Mercedes Citan variants and engine choices
While we've so far only been able to drive the standard short-wheelbase model, the Citan will be available as a long-wheelbase small van as well.
It's also offered as the Citan Tourer passenger vehicle as well as a standard panel van – we've driven both here – and will form the basis of the new Mercedes T-Class car in 2022, too. A special package that turns the Tourer into a micro campervan is available from third-party supplier VanEssa, creating a Citan alternative to the Volkswagen Caddy California.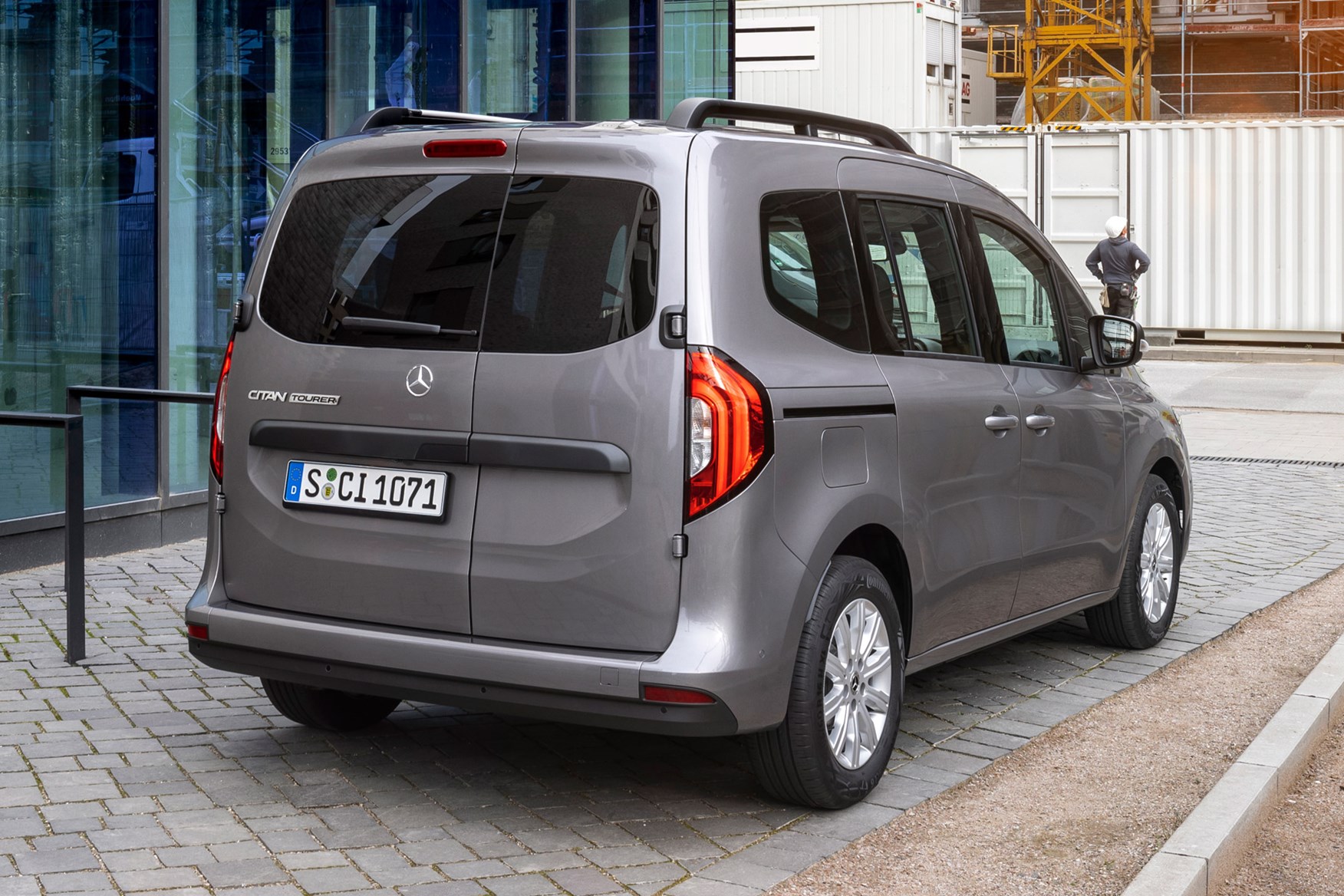 Mercedes offers the Citan with petrol and diesel engines ranging from 75hp to 131hp, though it's not yet fully clear whether every option will be available to UK buyers.
However, we will certainly get the Mercedes e-Citan electric van, which we'll cover in a separate review once we've had the opportunity to drive it. That is also scheduled to go on sale in 2022.
Check out our dedicated Mercedes-Benz Citan dimensions page for full details of load area, towing capacity and payload.
Mercedes Citan rivals
Payload and practicality is worth considering a little further here, though. The Citan's maximum of 827kg (including 75kg for the driver) falls some way short of the 1,000kg payload ratings available from the strongest rivals.
These include the multiple Parkers Award-winning family of vans, the Citroen Berlingo, Peugeot Partner, Vauxhall Combo Cargo and – 2022 Parkers Small Van of The Year – the Toyota Proace City.
What's more, the short-wheelbase Citan's maximum load volume is just 2.9 cubic metres – making the load space far smaller than the above rivals' 3.3 cubic metre minimum.
In image terms, the Citan's closest rival remains the VW Caddy Cargo, and this is another very car-like van. And don't dismiss older rivals such as the Ford Transit Connect, which remains a very high quality small van.
---

Verdict: is the 2022 Mercedes-Benz Citan any good?
This review goes into much greater detail about the 2022 Citan if you keep reading. But if you need a quick verdict, we find the Citan leaves us feeling rather mixed.
On one hand, it's good to drive and comfortable. The cab interior is in with a shout of being the best in the sector, and the running costs are looking competitive.
On the other hand, the load space is very small and the payload ratings merely ok compared with other vans of this size.
So consider your priorities carefully before you get carried away with the Mercedes-Benz image. The Citan is quite an appealing thing, but it certainly isn't the most practical small van on the market.
Skip to our full verdict on...
Wide choice of petrol and diesel power
Comfortable and good to drive
Engines can be noisy, however
The new Citan is available with five conventional engine options, two petrol and three diesel. Here's what it's like to drive.
Mercedes Citan engine options
The diesels are all based around the same basic 1.5-litre turbo, and come with the following power outputs:
Citan 108 CDI: 75hp at 3,750rpm / 230Nm at 1,750rpm
Citan 110 CDI: 95hp at 3,750rpm / 260Nm at 1,750rpm
Citan 112 CDI: 116hp at 3,750rpm / 270Nm at 1,750rpm
Similarly, the petrols are both based on the same 1.3-litre turbo engine, with power output adjusted to give buyers the choice of:
Citan 110: 102hp at 4,500rpm / 200Nm at 1,500rpm
Citan 113: 131hp at 4,500rpm / 240Nm at 1,600rpm
It's not yet clear whether every engine option will be available to Citan customers in the UK, but at this stage we have driven all but the entry-level 75hp diesel, sampled across a variety of panel van and Tourer models.
What are the Citan's engines like?
The diesels are likely to be the bigger sellers, and it's the mid-ranking 110 CDI with 95hp that probably makes the most sense to most buyers, as its 260Nm of torque is only just shy of the 270Nm provided by the 112 CDI.
When shifting loads, torque is more important than horsepower, so don't be swayed by that higher 116hp figure unless you're planning to wring the engine out at every possible opportunity (in which instance the 112 CDI does manage to go 0-62mph some 2.1 seconds faster than the 13.8 seconds the 110 CDI can manage).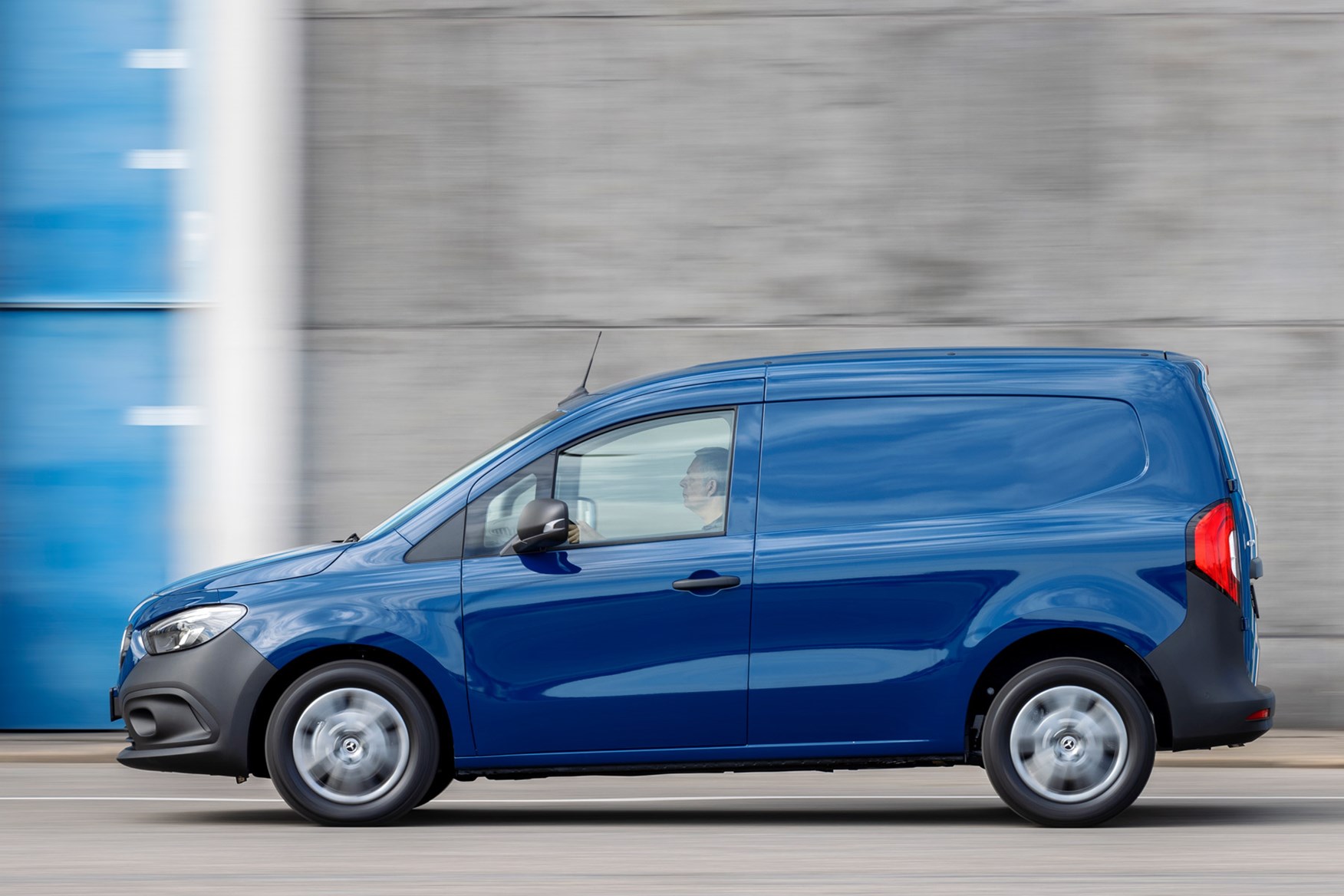 Neither diesel variant is likely to encourage that kind of behaviour, as once you get much higher than 2,000rpm they get very loud. This is worse in the panel van than in the Tourer, which is generally quieter and more refined, but a surprise for a modern van in either case – especially as the Citan is otherwise impressively refined.
In fact, with little road or wind noise, it's exactly the opposite to the Volkswagen Caddy Cargo. The Citan's diesels are noisy compared with the Caddy's much quieter ones, but the Mercedes' cabin is generally quieter than the boomy, resonant experience you get across a wider range of speeds in the VW.
You can drive around the engine noise in the Citan more easily than you can avoid the boominess in the Caddy, however – if anything it's a reminder to change up a gear, because the little Mercedes is quite happy to tickle along in sixth at very low rpm.
It's also worth considering the petrol versions. While these won't be as economical on longer journeys, around town they could prove less painful to run than the diesel engines (modern diesels don't like short trips) and they both offer plenty of torque at low rpm – traditionally a weak point of petrol versus diesel.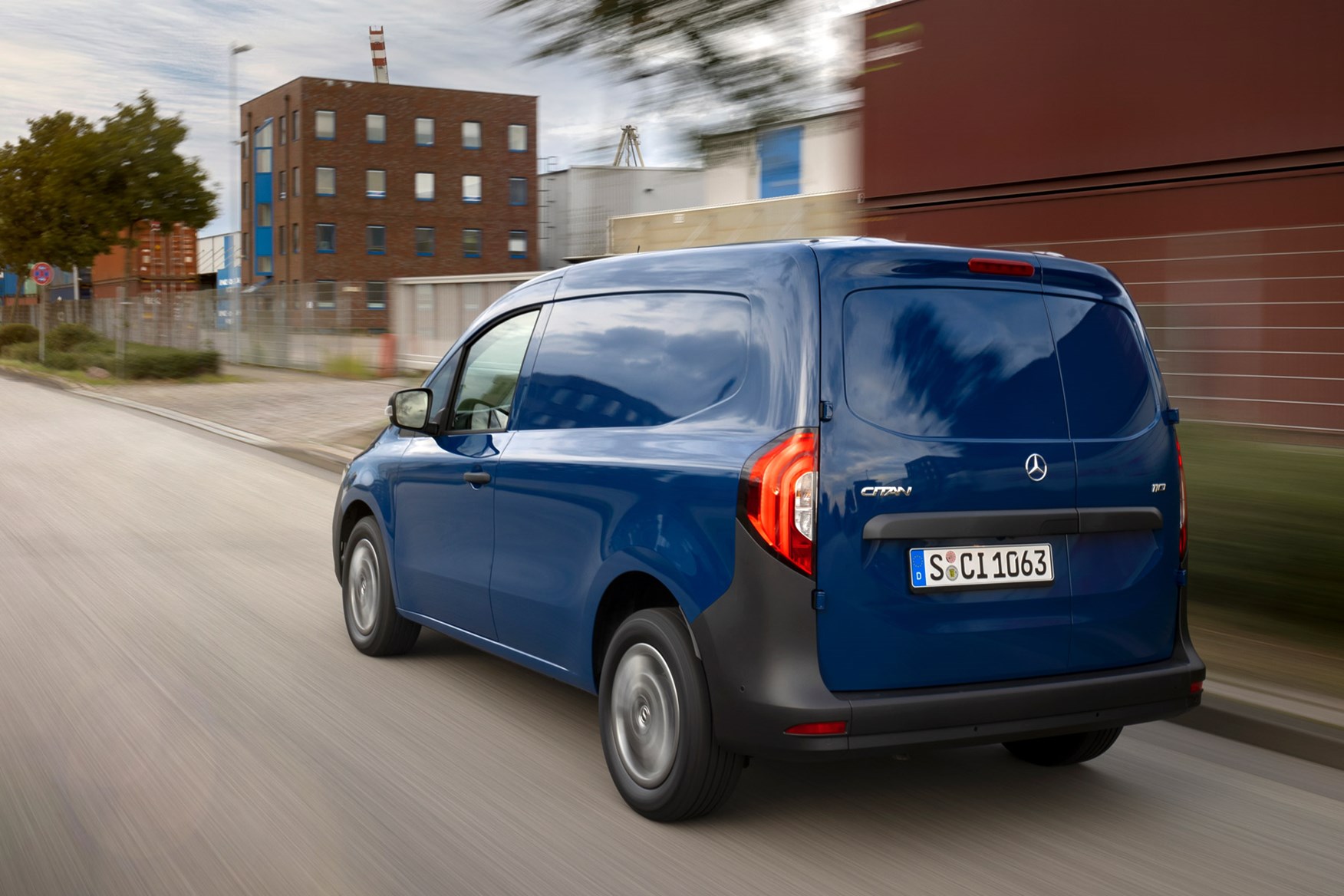 These also suffer with some surprising resonance at certain points in the rev range – and they certainly don't encourage you to rev the nuts off them. But even when this is happening they're quieter and less uncomfortable to listen to.
Regardless of engine type, all Citans come with a six-speed manual gearbox as standard, with a snappy, mechanically precise-feeling action. A dual-clutch automatic transmission option will be available on more powerful engines at launch.
Cornering and comfort
The Citan's steering is fairly numb and lifeless, which means you're left assuming there's plenty of grip at the driven front wheels rather than really feeling it. It's also particularly light in the petrol-powered models, which takes a little bit of getting used to, but ultimately makes it easy to whizz around in the city and beyond; the diesels feel heavier, but not so much so that they are likely to become tiring to drive.
On the plus side, the turning circle for the standard short-wheelbase model is just 11.75m, which makes spinning the van around in tight spaces very easy.
Also impressive is the level of comfort. The panel vans have suspension tuned for driving with high payloads, but even partially loaded they didn't feel overly bouncy or crashy around the roads of Hamburg during the Citan's initial launch.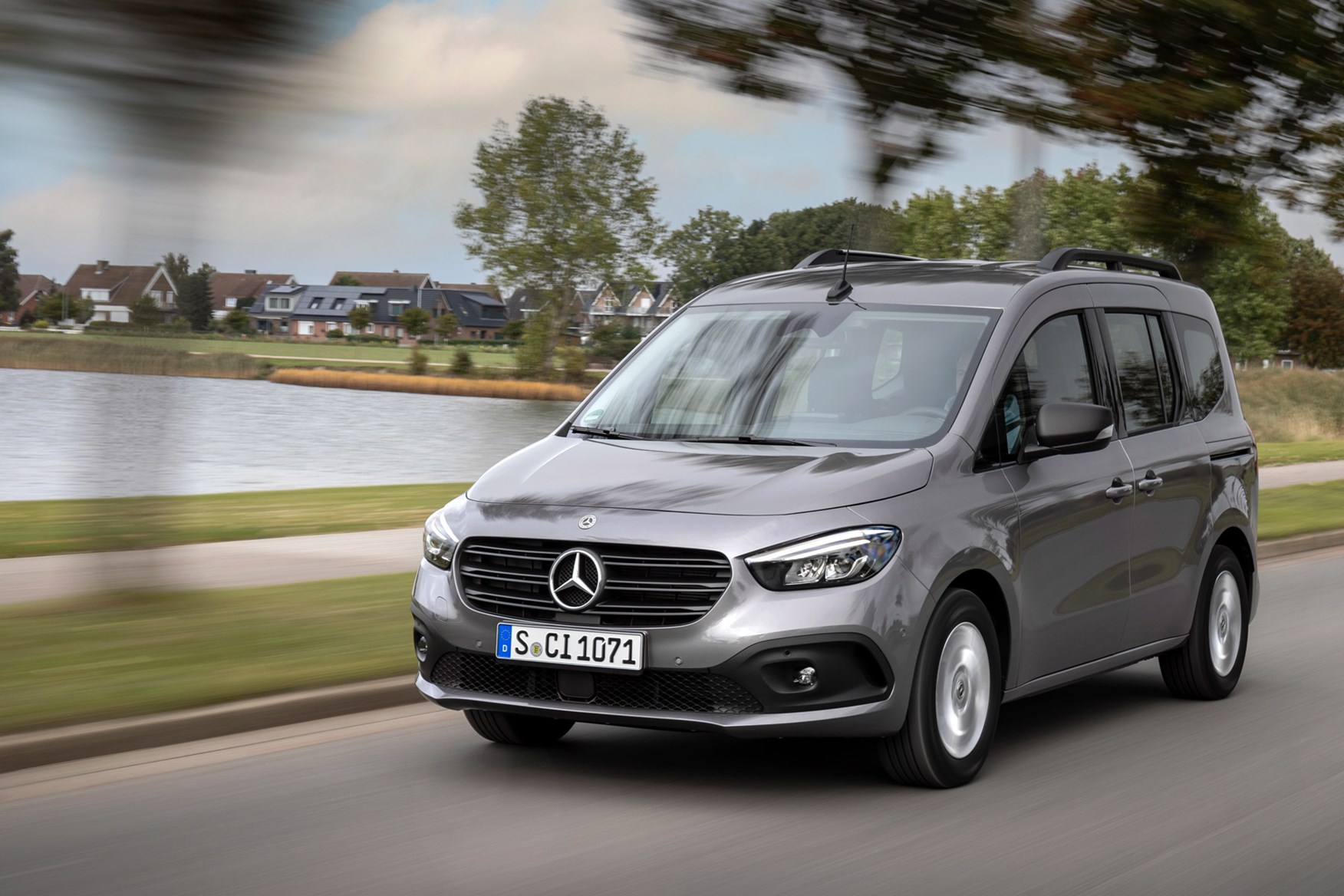 The Citan Tourer models have suspension tuned for lighter loads to make an even better fist of passenger comfort, and we found this to work very well, too. With the extra seats and carpeting, the Tourer feels very much car-quality to drive, and frankly the regular panel van isn't far off this either.
The slightly uncouth engine noise aside, both exude a real sense of quality to the way they've been put together that feels well up to the standards of Mercedes brand. A far cry from the previous Citan model.
Almost entirely Mercedes inside
High quality fit and finish
Good range of adjustment
If you were worried the second-generation Citan would again suffer from a Renault interior with a few bits of Mercedes switchgear crammed in you can relax. While there are some elements shared between the two – such as the inner door handles – the entire dashboard is different in the Citan and thoroughly Mercedes with it. Including plenty of parts familiar from the Sprinter and the firm's passenger car range.
The design and material people have been pretty clever here. Whether or not you think the dashboard looks like a wing, as Mercedes would have it, matters little compared with how well the hard plastics have been disguised. For though most of the surfaces are quite hard, they don't look cheap or nasty at all.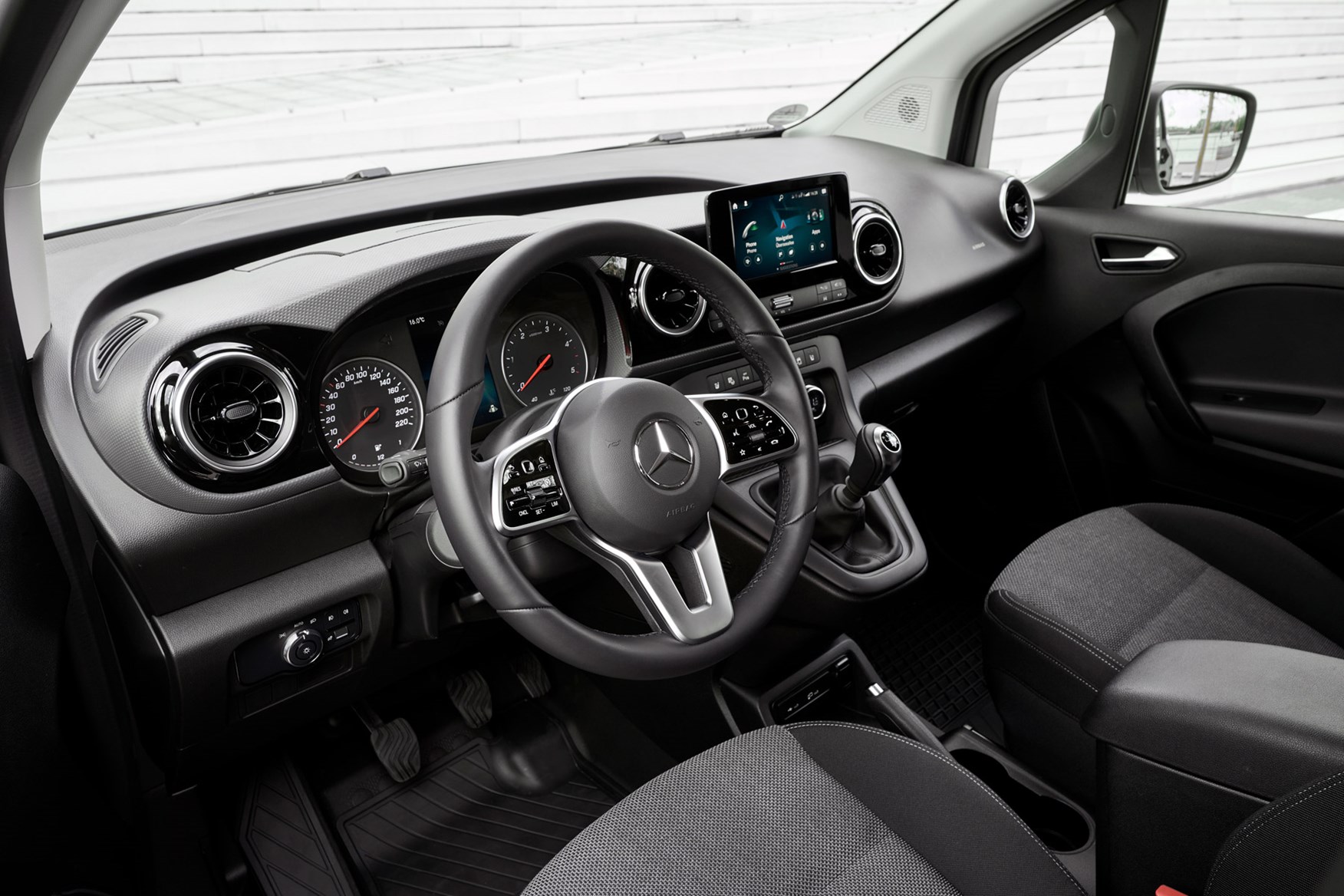 Together with the solid way the entire cabin has been put together, the Citan seems less like a small van and more like a small car – and a good one, at that.
Especially when specified with the MBUX infotainment system and digital screen in the instrument cluster (standard-fit on the Tourer, optional for the panel van). Not to mention the particularly fancy air-conditioning controls with individual digital displays within the dials.
Does that mean it's not very practical?
Gladly, Mercedes has put plenty of thought into practicality as well. The door bins can hold 1.5-litre bottles, and there's lidded storage available on top of the dashboard and under the (optional) centre armrest.
You can also specify a folding metal-mesh bulkhead and fold-flat passenger seat if you need to carry longer loads. Though there are surely better small van choices if that is important.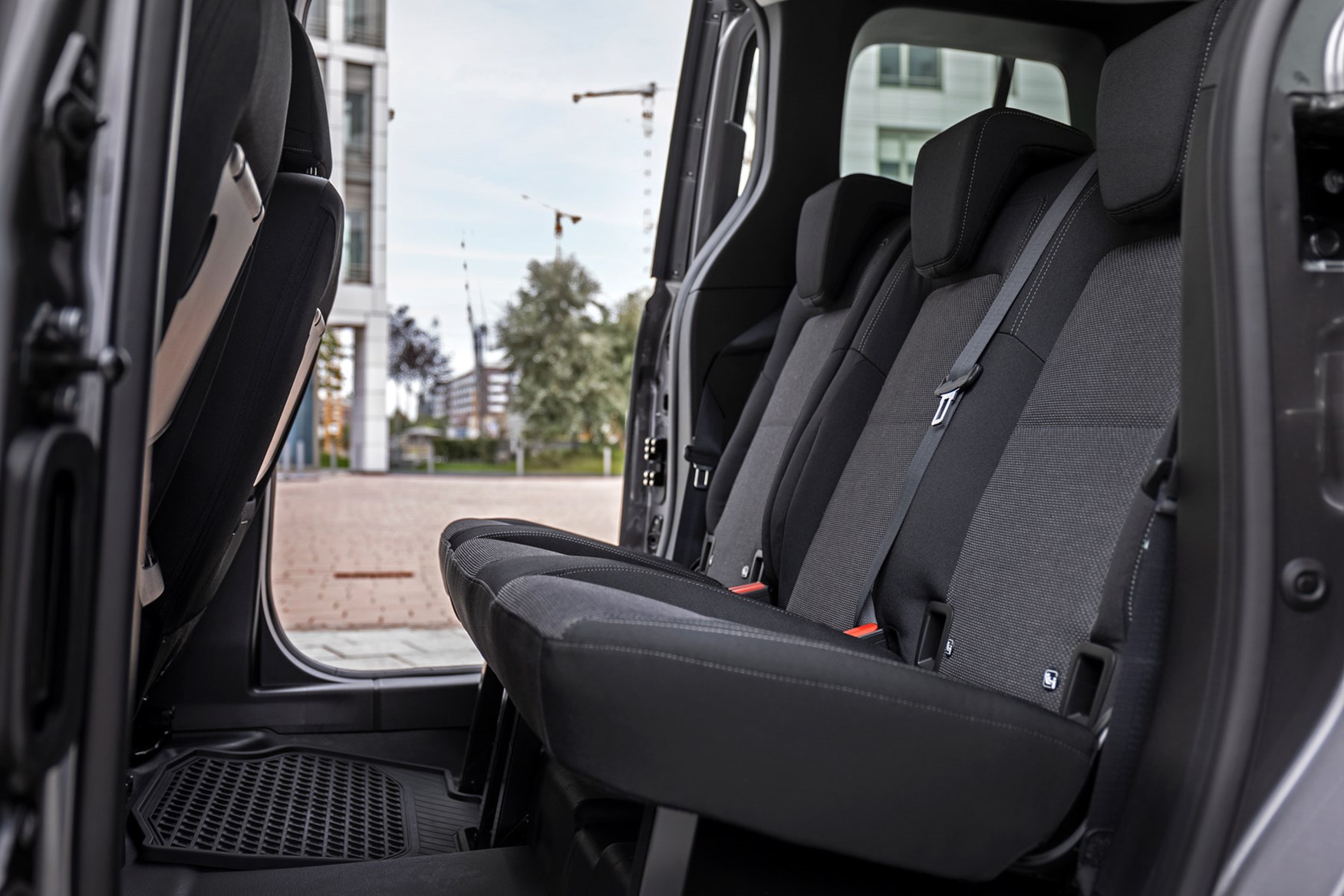 The fixed bulkhead is available with windows if you want to be able to see out of the back, while the Tourer is spacious enough for four adults, if a bit of a squeeze for five.
The front doors open to a full 90 degrees for access, too. An unusual but welcome feature.
How's the driving position?
There is a large amount of adjustment in the reach and rake of the steering wheel, so that shouldn't be a problem. The gearlever is mounted high in the middle of the dashboard for ease, if not quite as close to the wheel as some vans manage.
There are several grades of seat to choose from. With even the standard items featuring height and lumbar adjustment for the driver, they seem both tough and comfortable.
However, in the panel van taller drivers may struggle to get the seat back far enough. At 5'11", this tester was up against the bulkhead.
UK pricing and spec still to be confirmed
Diesels capable of a claimed 56.5mpg
At the time of writing in October 2021, there's no official UK pricing for the second-generation Mercedes-Benz Citan, as it's not set to go on sale until mid-2022.
As a Mercedes van you can expect it to cost more than similar models from less premium brands, but with no UK specification available yet there's not much point speculating any further.
Mercedes-Benz Citan mpg
Here are the official fuel economy figures for the Citan:
Citan 110 petrol: 39.2-43.4mpg
Citan 113 petrol: 39.8-44.1mpg
Citan 108 CDI diesel: 53.3-56.5mpg
Citan 110 CDI diesel: 50.4-56.5mpg
Citan 112 CDI diesel: 48.7-53.3mpg
As you'd probably expect, the diesels are typically more efficient, and the more powerful the engine, the more fuel it will use.
That doesn't mean you should rule out the petrol engines, however. These will be cheaper to buy in the first place, and tend to be more efficient and less troublesome over short distance, such as stopping and starting around town. Worth considering if you don't do many long journeys.
Mercedes-Benz Citan warranty
Mercedes vans all come with three-year unlimited mileage warranties.
Mercedes-Benz Citan standard equipment
At this stage, UK standard equipment and specification is yet to be finalised.
In Europe there are two trim levels – Base Line and Pro Line. Obvious differences between the two include the unpainted bumpers on the entry-level Base Line, though there are changes to the seat material and infotainment as well.
More on the UK spec as soon as it's available.
As a brand new van that's not even on sale in the UK just yet, we can't yet gauge the second-generation Mercedes Citan's reliability.
However, Mercedes is noted as a reliable brand in general in the annual FN50 van reliability survey, and although much of the Citan is based on Renault technology, Mercedes reputation for high-quality aftercare should see you right whatever happens.
At least six airbags as standard
Autonomous emergency braking not fitted on all models
Again, UK specification is still to be finalised, but there are some key safety pointers that are worth mentioning already.
First of all, every Citan is fitted with six airbags as standard – well beyond the norm in the van world, where most manufacturers only fit one. Citan Tourer models have seven airbags as standard, the extra item being a centre airbag to stop driver and passenger colliding.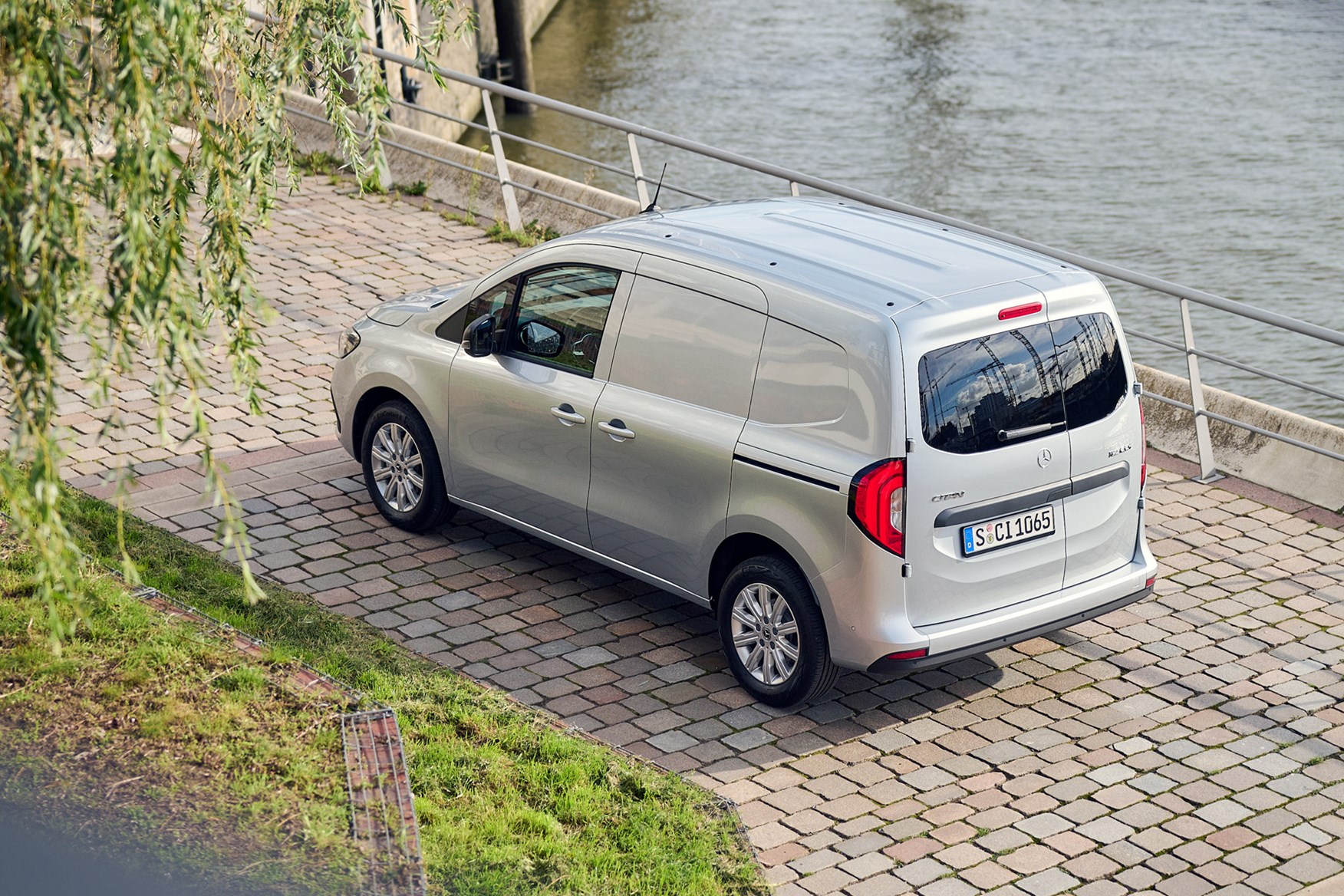 Other standard features include ABS and electronic stability control – as legally required – plus hill-start assist, crosswind assist and attention assist (which watches out for driver fatigue) on the panel van models.
The passenger-carrying Citan Tourer also features autonomous emergency braking (Active Brake Assist), active lane-keeping assist, blindspot monitors and speed limit assist as standard – all items that can also be added to the panel van, either individually or as part of an inclusive safety pack.
Which Mercedes-Benz Citan is best for me?