Mercedes Vito review (2021)
The poshest mid-size van - but is it one of the best?
PROS
Choice of front- or rear-wheel drive
Three body lengths
High quality feel
Long-distance comfort
Good value
CONS
Pull release handbrake
Stalk-mounted automatic gearstick
Rivals offer higher payloads
Cramped cab
Lacks some creature comforts
Summary
Launched in 2015, this generation of Mercedes Vito medium van is relatively unusual in van circles for being all-new from the skin down to the chassis, rather than an evolution of the (admittedly rather similar looking) previous version.
Following a number of updates in 2019, for 2020 Mercedes has officially facelifted the Vito - we're yet to drive the revised model, but we have details of the changes listed below and should be driving it in early 2021.
Earlier in 2020, Mercedes also finally announced the UK pricing and specification for the eVito electric version. This we have driven: read our separate Mercedes-Benz eVito review for full details.
What's new for the 2020 Mercedes Vito facelift?
There's not much to say about the visual facelift - this is limited to a new radiator grille and some detail changes inside the cab - but the 2020 Vito gets a whole new set of engines, and a load of extra technology.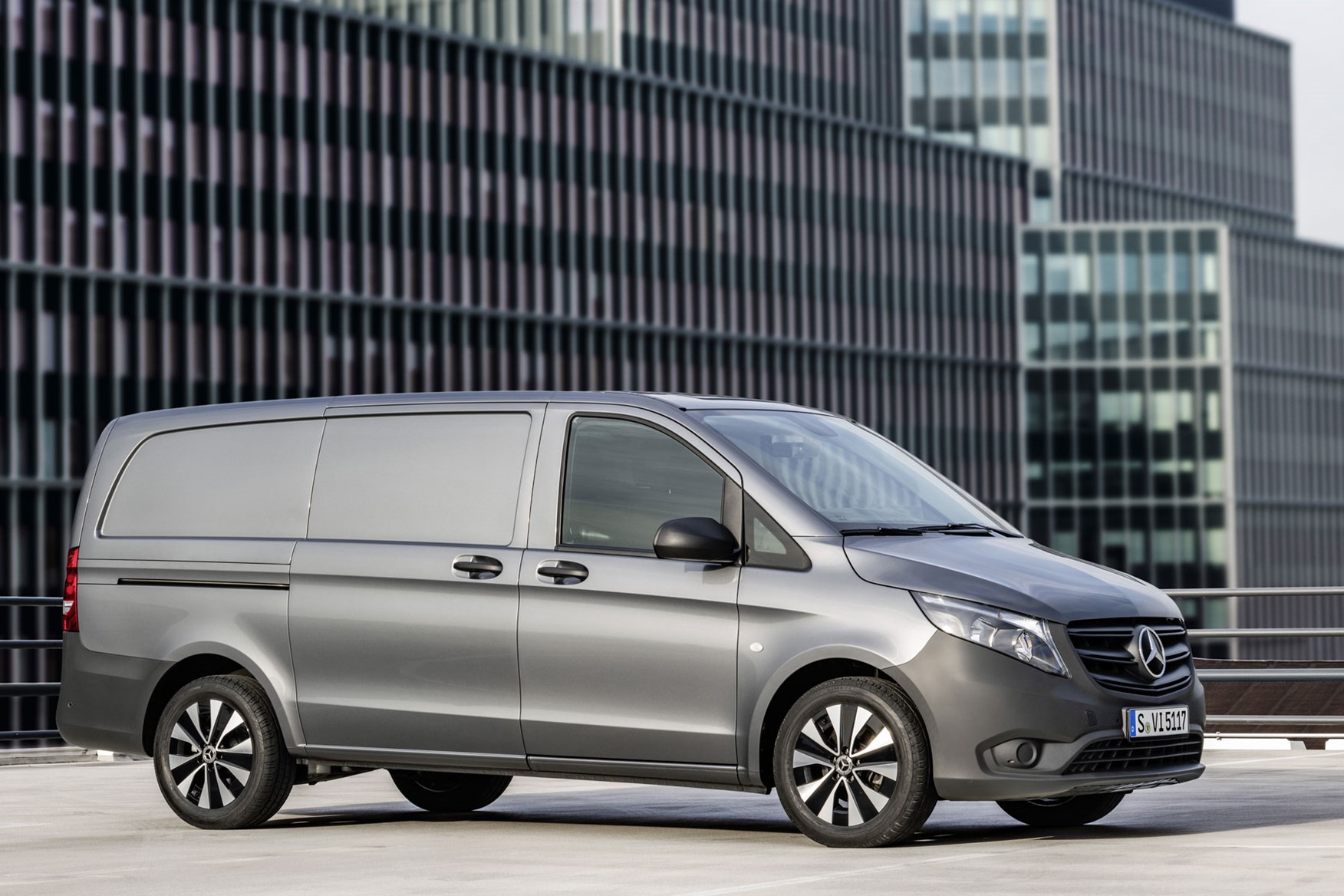 Rear-wheel drive models are now powered by Mercedes' latest 2.0-litre turbodiesels, which started life in the passenger car range and are said to be super clean in terms of emissions.
Front-wheel drive Vitos, meanwhile, are now powered by new 1.7-litre engines, which also bring efficiency gains.
Beyond this you'll find there is more safety tech available - including a clever digital rear-view mirror, autonomous emergency braking and Distronic active cruise control - as well as a new air suspension system and more modern nine-speed automatic transmission.
We'll update this review with more info as soon as we've had a chance to drive the 2020 Mercedes Vito facelift.
Mercedes Vito rivals
As you'd expect from the Mercedes badge on the front, it is one of the more premium choices on the market – which means you should expect to pay more for one of these than an equivalent Ford Transit Custom, Vauxhall Vivaro or Renault Trafic.
As such, the Vito's closest competitor is the Volkswagen Transporter, which also puts a premium on being more premium. Both hold their value well, though, which means monthly leasing rates may prove more affordable than you'd initially think given these are heavily influenced by re-sale value.
Mercedes Vito strengths and weaknesses
There's no suggestion the Vito is actually bad value anyway. The saying 'you get what you pay for' applies to vans as much as anything else, and this Mercedes gives you a high quality of finish and a driving experience that does feel a cut above most competitors.
It's also the only mid-size van available with a choice of front-wheel drive (FWD) or rear-wheel drive (RWD), which combined with a range of three body lengths means there is almost certainly a Vito to meet your needs.
Four-wheel drive is also available, but this is more of a special order option than a regular part of the range.
Other positives include a solid reputation for reliability (the Vito consistently appears in the top 10 of the FN50 van reliability survey), a payload rating that has increased by up to 120kg compared to the previous model, and 30 years of roadside assistance cover (yes, 30).
However, maximum payload and maximum fuel economy are both now middle-of-the-road at best for this class of van.
Mercedes Vito bodystyles and variants
In addition to the regular panel van, Mercedes also builds the Vito as a crew van (meaning a second row of seats) and a Tourer (a lower cost alternative to the V-Class MPV in the Mercedes passenger car range).
But while the Vito is offered in three body lengths – Compact, Long and Extra-Long, renamed L1, L2 and L3 in 2019 – there is only one roof height.
Front-wheel drive Vitos borrow bits from the Renault Trafic family, and up until 2020 came with a choice of two Renault 1.6-litre diesel engines, while equivalent rear-wheel drive Vitos use a 2.1-litre Mercedes engine available in three power outputs.
A seven-speed automatic is optional on the two less-powerful rear-wheel drive models, and fitted as standard on the range-topping version. Front-wheel drive models are restricted to a six-speed manual gearbox only, as also fitted as standard on the less-powerful rear-drivers.
The electric version - called the eVito - finally went on sale in the UK in January 2020.
Mercedes Vito updates for 2019
2019 brought a number of changes for Mercedes' medium van, as in January the firm announced it would start offering a choice of three trim levels in place of the single specification it previously sold.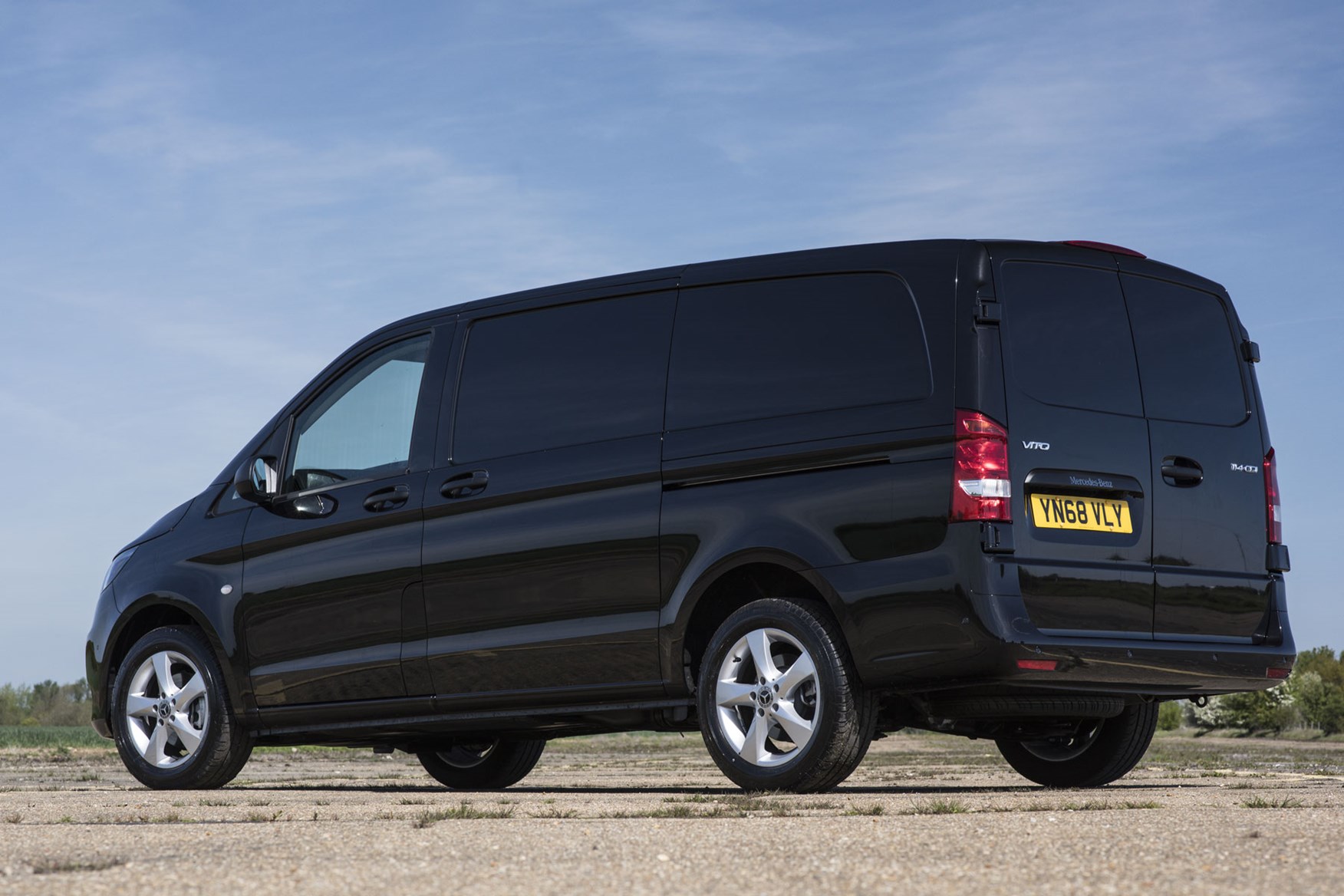 The new trim levels are labelled Pure, Progressive and Premium, and are available on the Vito panel van and Vito crew van only (the Vito Tourer was already sold in Pro and Select variants). You can find details of what each one offers in the Costs and Value section below.
It was at this point that Mercedes also announced that the Compact, Long and Extra Long body lengths would be renamed L1, L2 and L3 respectively. Full details of all Vito dimensions are available on our dedicated Vito dimensions page.
Subsequent to this, in April 2019 Mercedes confirmed the RWD Vito's existing 2.1-litre engines were being upgraded to meet newer Euro 6C emissions regulations (though the Vito Tourer passenger carrier gains an entirely new 2.0-litre motor); sales of FWD Vitos are temporarily suspended, however, and set to return in September 2019 in 110 CDI form only.
When September 2019 rolled around, Mercedes then brought back the Vito Sport trim level to sit at the top off the range, complete with a rather garish set of graphics but a lot of standard kit. This is only available as a Crew Van or Tourer, though.
You can read an individual model review of the 2019 Mercedes Vito Premium below.
---

Mercedes Vito verdict
A relatively small and slightly cramped-feeling cab aside, the Vito cuts an impressive dash.
Some rivals will ultimately carry more, but few in the medium van sector can compete with Mercedes for long-distance comfort – although we would caution you to opt for a rear-wheel drive model if this is a priority, as the driving experience is superior.
For more details keep reading for the full Mercedes Vito medium van review on Parkers Vans and Pickups.
Skip to our full verdict on...
A drivetrain to suit every buyer
We recommend you go RWD if you can
Plenty of performance
The Vito is available with front-, rear- and even four-wheel drive layouts, though the last is more of a special order. This level of choice is very unusual in the mid-size van sector.
Mercedes Vito front-wheel drive
Front-wheel drive (FWD) versions are powered by a 1.6-litre diesel engine that's also used in the Renault Trafic, Fiat Talento, Nissan NV300 and the old Vauxhall Vivaro.
It comes in two power outputs, both paired with a six-speed manual gearbox:
109 CDI with 88hp and 230Nm
111 CDI with 114hp and 270Nm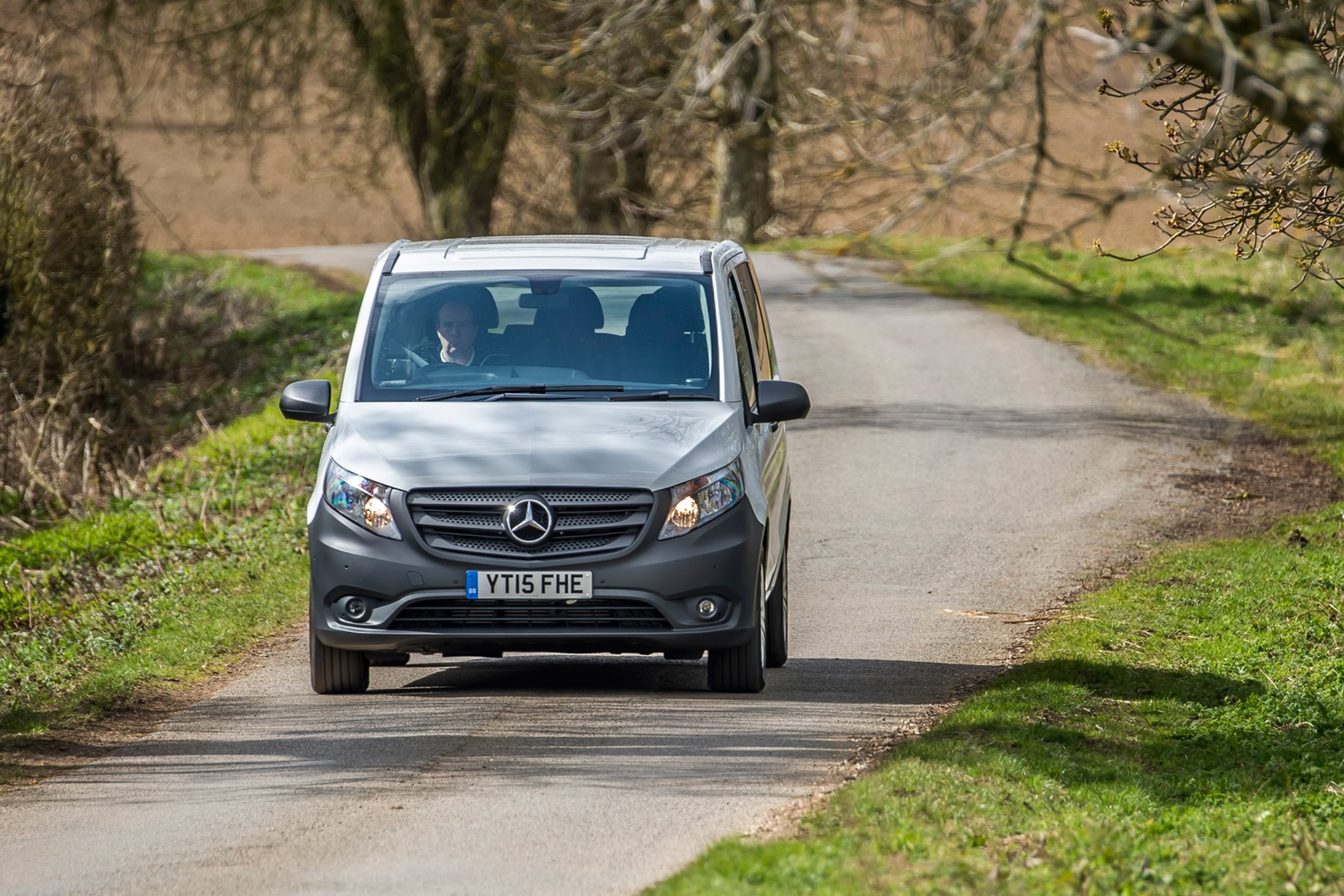 Either option is fine if you just want a cheap Vito, but compared to the rear-wheel drive models they feel lethargic and not quite as nice to drive. The potential payload and fuel economy advantages don't really stack up, either.
Mercedes Vito rear-wheel drive
Rear-wheel drive (RWD) Vitos are fitted with Mercedes' long-serving 2.1-litre engine, in the following three outputs:
114 CDI with 136hp and 330Nm

116 CDI with 163hp and 380Nm

119 CDI with 190hp and 440Nm
Immediately you can see there's a significant upgrade in performance, particularly torque, which makes them much better at shifting loads even before you've considered the additional traction offered by the rear-wheel drive layout.
In fact, these are genuinely rapid vans - particularly in 116 and 119 configuration.
The optional seven-speed automatic transmission (standard on the 119) available on these models suits them very well, too, shifting smoothly and taking the pain out of traffic jams, while paddleshifters on the back of the steering wheel allow you to take manual control.
Excellent handling with long-distance comfort
Some have complained that the electrically-assisted power steering is a little too light around town. But we find its accuracy more than makes up for this, and the Vito generally very pleasant to drive.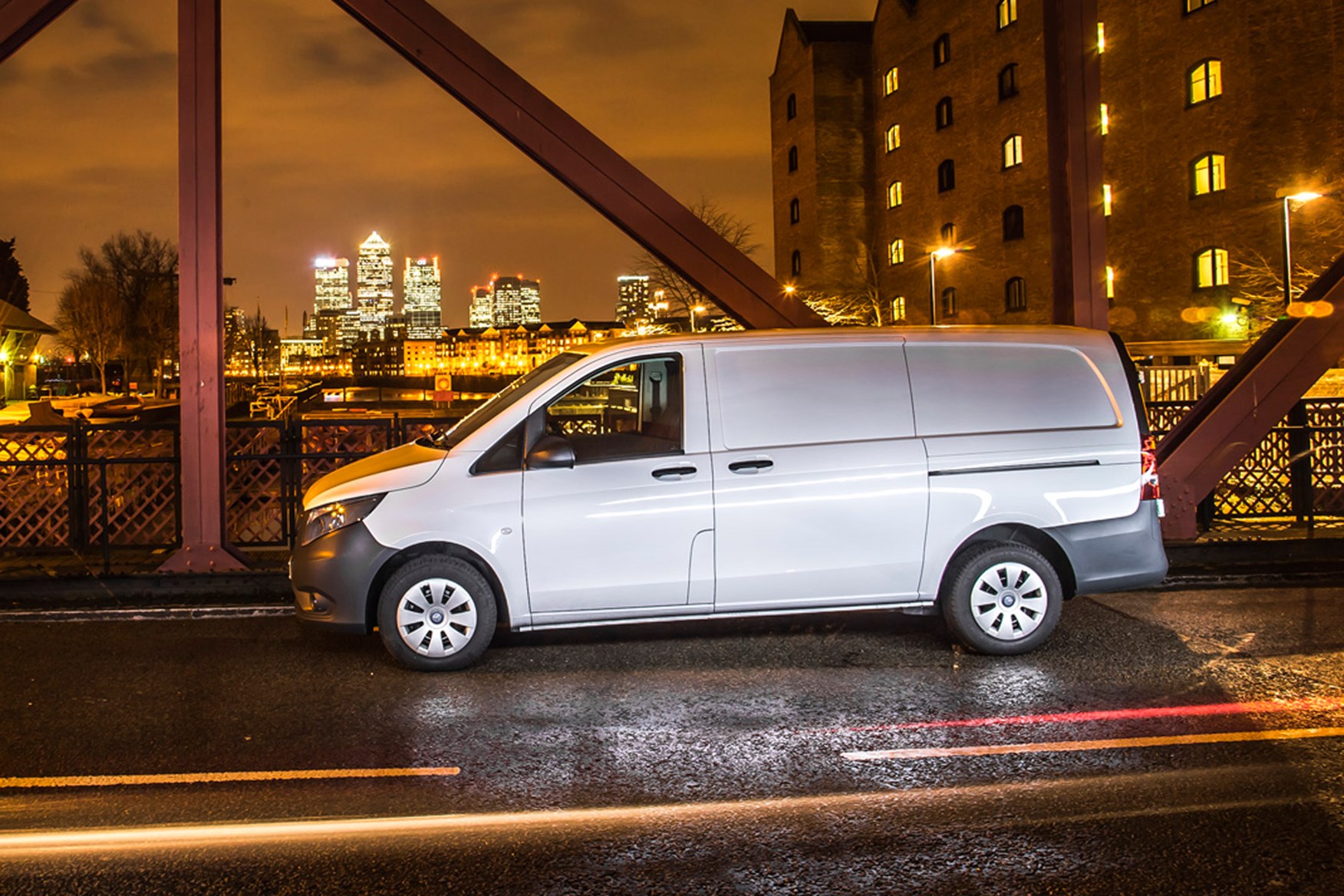 Although visibility isn't brilliant due to the narrow windows, the suspension is finely balanced between delivering good long-distance ride comfort and suppressing bodyroll in the corners - meaning you can make quick progress on all types of roads.
Interior starting to feel very out of date
Most models lack DAB radio
Some poorly placed controls
The interior has been updated, but still retains the traditional simple-but-presentable ethos of the previous generation - as well as many of its idiosyncrasies. As a result, it's starting to feel rather old fashioned.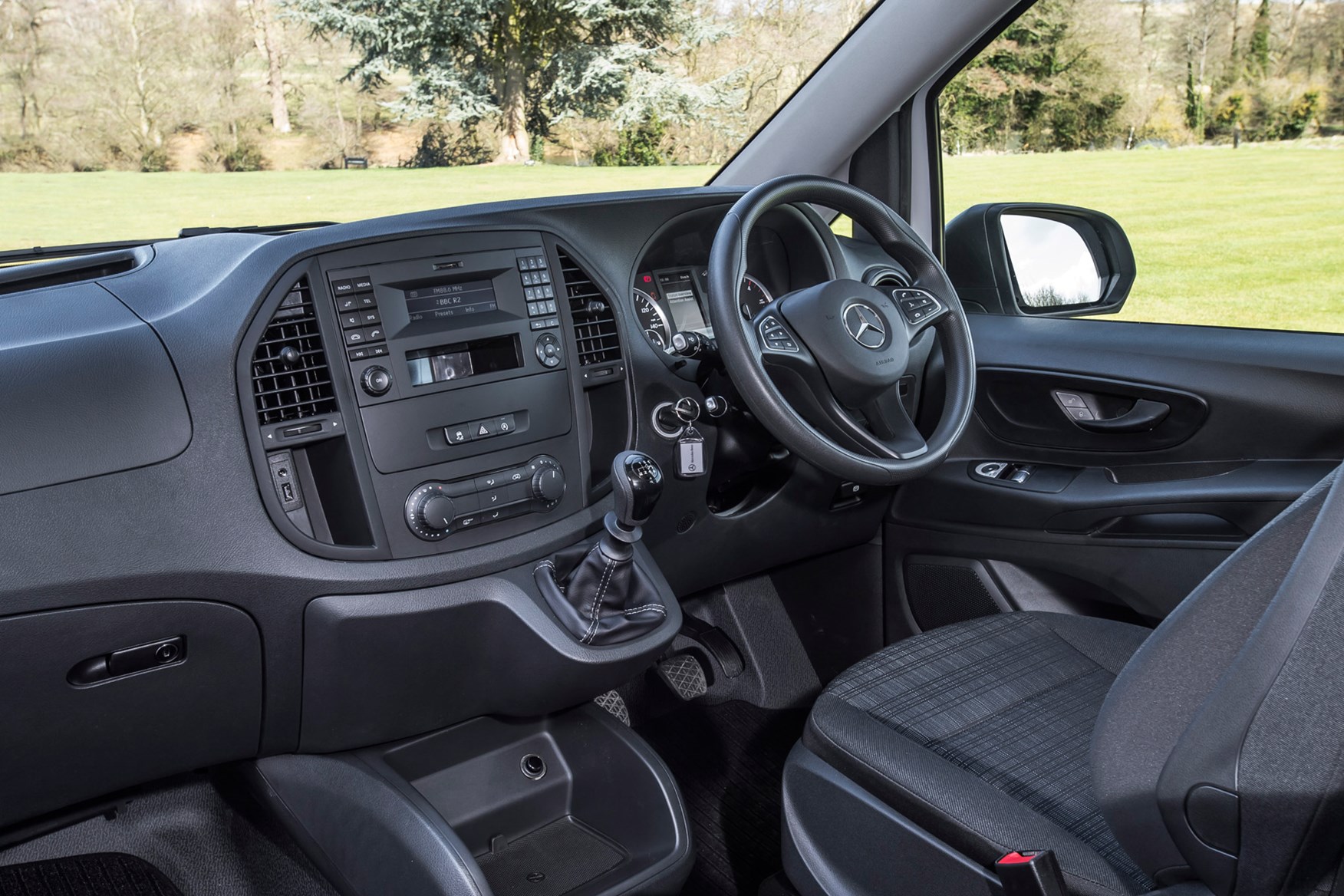 The quality of fit and finish is high, and we like the seats and the driving position. If you're coming to a Vito from another brand of van, there will be a few things you need to get used to.
Unusual interior controls and features
For example, it retains Mercedes' trademark foot-operated parking brake, which is a marmite feature among drivers, along with the dashboard mounted light switch.
Worse is the gearstick for the automatic transmission, which is located behind the steering wheel on a stalk where you would usually find the controls for the windscreen wipers. Do not be surprised if you knock the van out of gear the first time you drive it in the rain.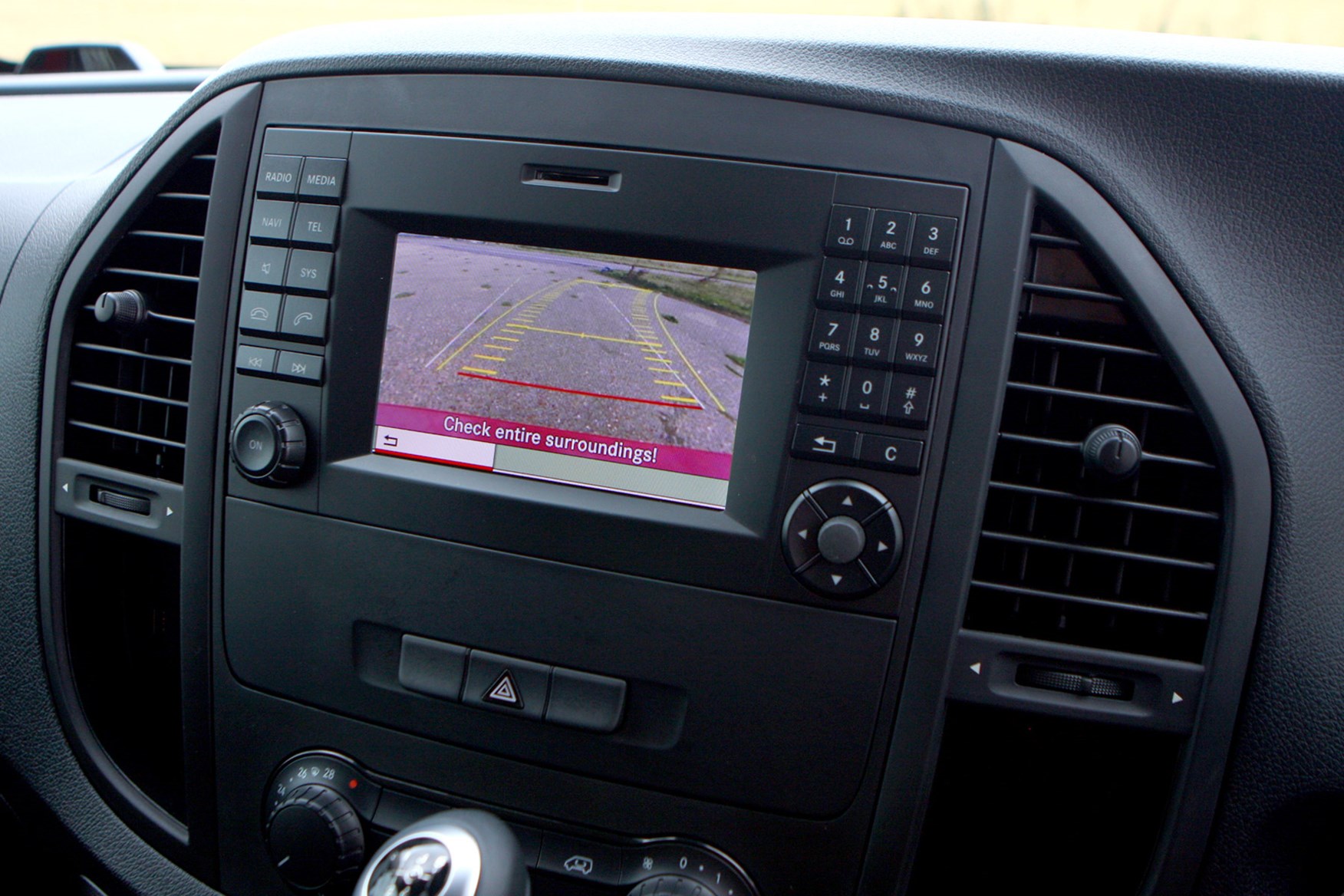 Obviously, you'll get used to these things in time, but if you're regularly hoping between vehicles it will continue to be rather jarring.
Not as spacious as some rivals
Compared to likes of the Transit Custom and Transporter, the Vito's cab is also rather cramped, with a relatively narrow windscreen and low ceiling.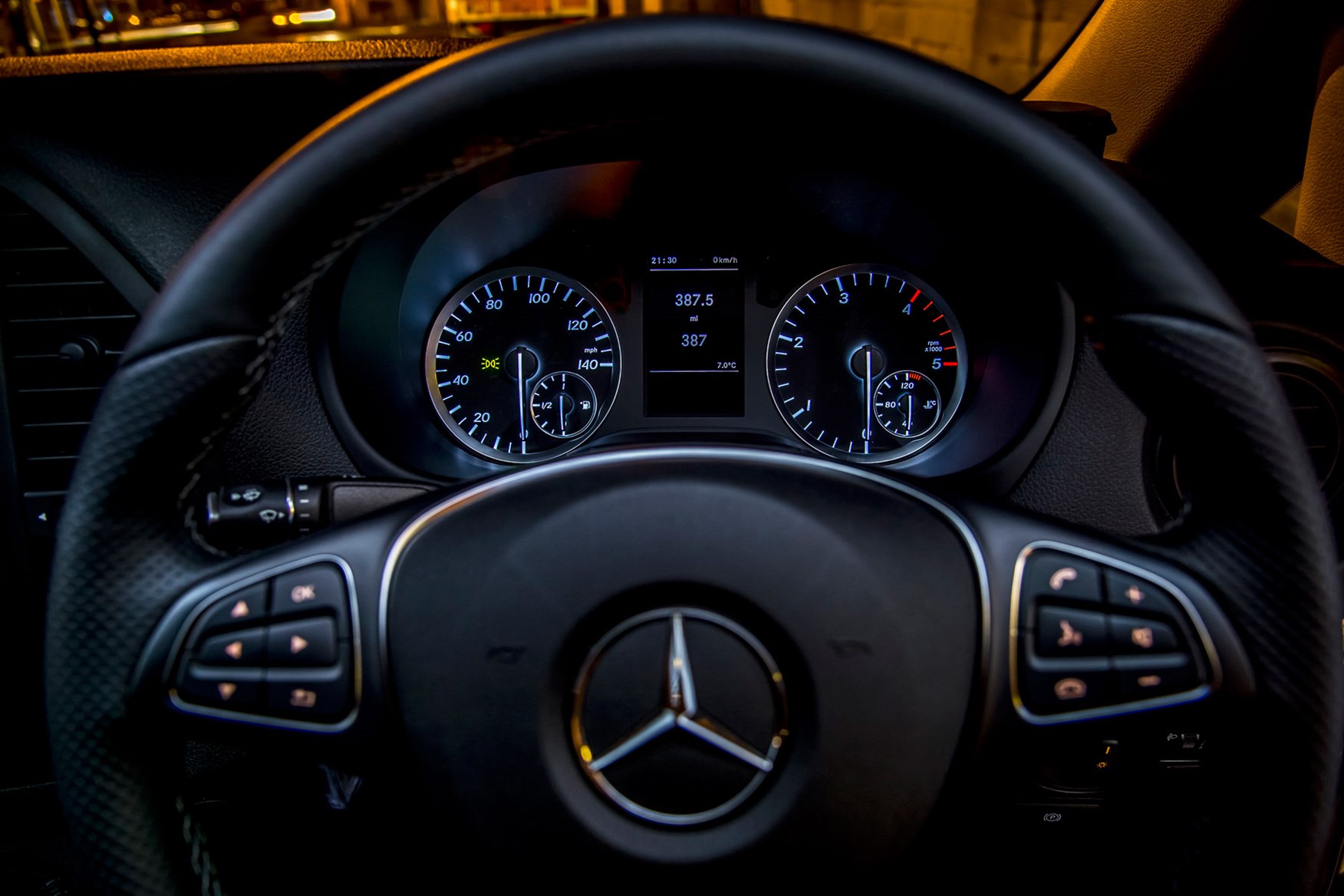 Third seats in medium panel vans are often as useful as an inflatable dartboard, and the one in the new Vito is no exception. There is very limited legroom, even without the gearbox carving a big slice of it for itself.
It's also disappointing to note the lack of creature comforts such as DAB radio.
Expensive to buy but holds its value well
Pricier models are very well equipped
Average fuel economy, 25k service intervals
While the Vito certainly isn't the cheapest medium van on the market, strong secondhand values help keep monthly finance payments competitive, and running costs shouldn't be too unreasonable.
In fact, Mercedes reckons the 2015-onwards version of the Vito is as much as 20% cheaper to run than its predecessor, thanks to increased service intervals and improved fuel economy.
Mercedes Vito mpg
Maximum claimed fuel economy for a Vito that meets the latest Euro 6 emissions regulations is 47.1mpg; slightly disappointing in a sector of the market where some rivals now comfortably top 50mpg.
As with most vans that meet Euro 6, the Vito has an AdBlue tank that you also need to keep topped up.
Mercedes Vito service intervals
The Vito requires a service once every 25,000 miles or two years, whichever is sooner. Something of an advantage over the VW Transporter.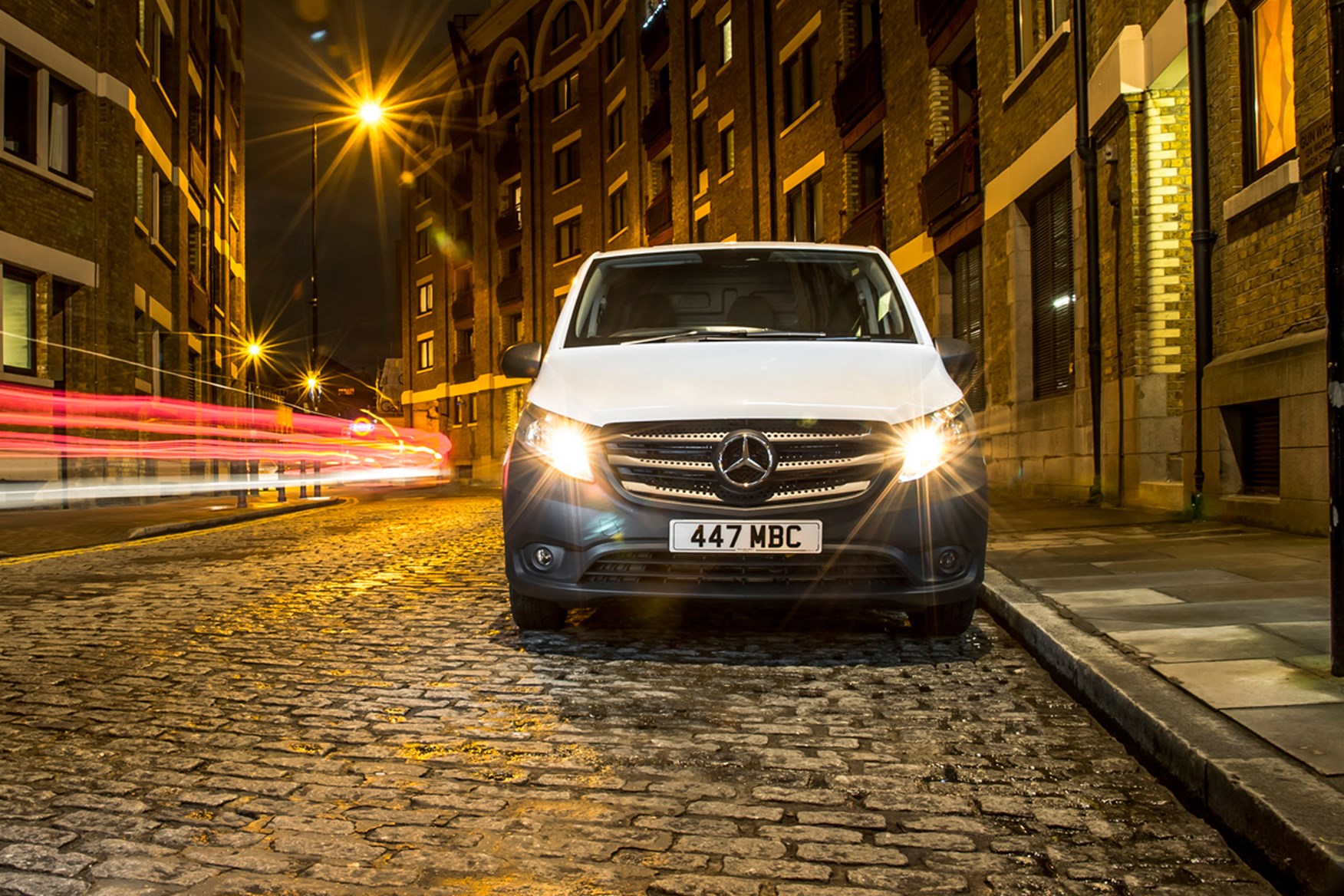 Traditionally, official Mercedes servicing has always been thought of as quite expensive, but the company has been working hard to reduce costs, with the availability of Mercedes' own line of re-conditioned parts bringing further savings.
It's also worth noting that if you do get your Vito serviced by Mercedes-Benz, you automatically get roadside assistance cover. This can be reactivated with a service at Mercedes right up until the van is 30 years old.
>> For an insurance quote on the Mercedes Vito try mustard.co.uk
New Mercedes Vito trim levels for 2019
In January 2019 Mercedes announced three new trim levels for the Vito: Pure, Progressive and Premium.
This move is intended to make it easier for customers to compare the Vito to rival vehicles and in the process get the right Vito for their business requirements. Happily, the changes also increased the Vito's standard equipment.
Then in September 2019, Mercedes also brought back the Vito Sport - although this is only available as a Crew Van or Tourer.
Mercedes Vito Pure standard equipment highlights:
Leather steering wheel (and gearknob on manual versions)
Audio 10 infotainment system
Overhead control panel
Automatic headlights
Parking sensors
Active Park Assist automatic parking
Heated, electrically adjusted door mirrors
Heat-insulating glass
'Comfort' driver's seat
The Pure specification is only available in combination with the 109 CDI, 111 CDI and 114 CDI engine options.
Mercedes Vito Progressive standard equipment highlights (in addition to Pure):
Metallic paint
Colour-coded bumpers
Audio 15 infotainment system with colour screen
Electric-folding door mirrors
Front fog lights
Driver's seat lumbar support
The Vito Progressive is available with all engine options except the most powerful 119 CDI.
Mercedes Vito Premium standard equipment highlights (in addition to Progressive):
Air-conditioning
17-inch alloy wheels
Chrome radiator grille
Reversing camera
Anti-theft protection package with double lock
Velour floor mats
Pre-wiring for Becker Map Pilot sat-nav system
The Vito Premium comes as a 114 CDI, 116 CDI or 119 CDI.
Mercedes Vito Sport standard equipment highlights (in addition to Premium):
Sport suspension (10mm lower than standard)
Sport side skirts
Sport graphics on bonnet and sideskirts
17-inch (Crew Van) or 19-inch (Tourer) alloy wheels
LED headlamps with highbeam assist 'plus'
Automatic gearbox
Sat-nav
Heated windscreen washer jets
Electric auxiliary heating
The Vito Sport comes as a 116 CDI or a 119 CDI only, and is available on Crew Vans or Tourers, with a choice of L1 or L2 body size.
Two airbags and crosswind assist as standard
Autonomous emergency braking optional
Alarm only optional on most models
The Vito gets a generous amount of safety kit, but doesn't do quite so well across the range for security.
Mercedes Vito safety
Every Vito is fitted with the following standard safety equipment:
Driver and passenger airbags
Adaptive ESP (electronic stability control) - varies the braking force required to prevent a loss of grip depending on the weight and position of the van's load
Crosswind Assist - actively stabilises the van in windy conditions
Attention Assist - detects driver fatigue
Disc brakes front and rear
Optional Vito safety equipment includes:
Reversing camera with trailer mode, a system that shows projected coupling lines on the screen
Parking Assist, which automatically steers the van into spaces (standard as of January 2019)
Collision Prevention Assist - an autonomous emergency braking (AEB) system
Euro NCAP Gold award
As part of a Euro NCAP van safety campaign designed to highlight the best and worst vans for safety, in December 2020 the crash-test body awarded the Vito an impressive Gold rating.
Mercedes Vito security
Security equipment isn't quite so generous, with only remote locking and an immobiliser as standard.
Mercedes does offer an alarm, but this is only fitted as standard on the Premium and Sport models. These models get anti-theft package that includes double locks.
As ever, we'd recommend upgrading the security well beyond standard if you need to leave valuable items inside; better yet, remove them from the van completely as much as you can.
Which Mercedes-Benz Vito is best for me?
The Mercedes-Benz Vito is the only medium van offered in a choice of front-wheel drive (FWD) and rear-wheel drive (RWD).
FWD should be the more economical set-up, and these models are typically cheaper to buy. But the difference in mpg and list price isn't that great, and we've always found the RWD Vito a far superior product. RWD also offers greater loaded traction.
The middle power output is typically the most popular in either variant, but up until 2019 trim levels were less formalised (with the exception of Sport models) - so if buying used you'll have to check the exact specification of the van you're considering very carefully to make sure it's got the kit you require from the options list.
---

Mercedes-Benz Vito individual model reviews
Still trying to decide which Vito is best for you? Our following individual model reviews may help - check them out:
We also have a full review of the Mercedes-Benz eVito electric van on a separate page.
---

Mercedes-Benz Vito Premium 114 CDI L2 review
Tested May 2019 by Tom Wiltshire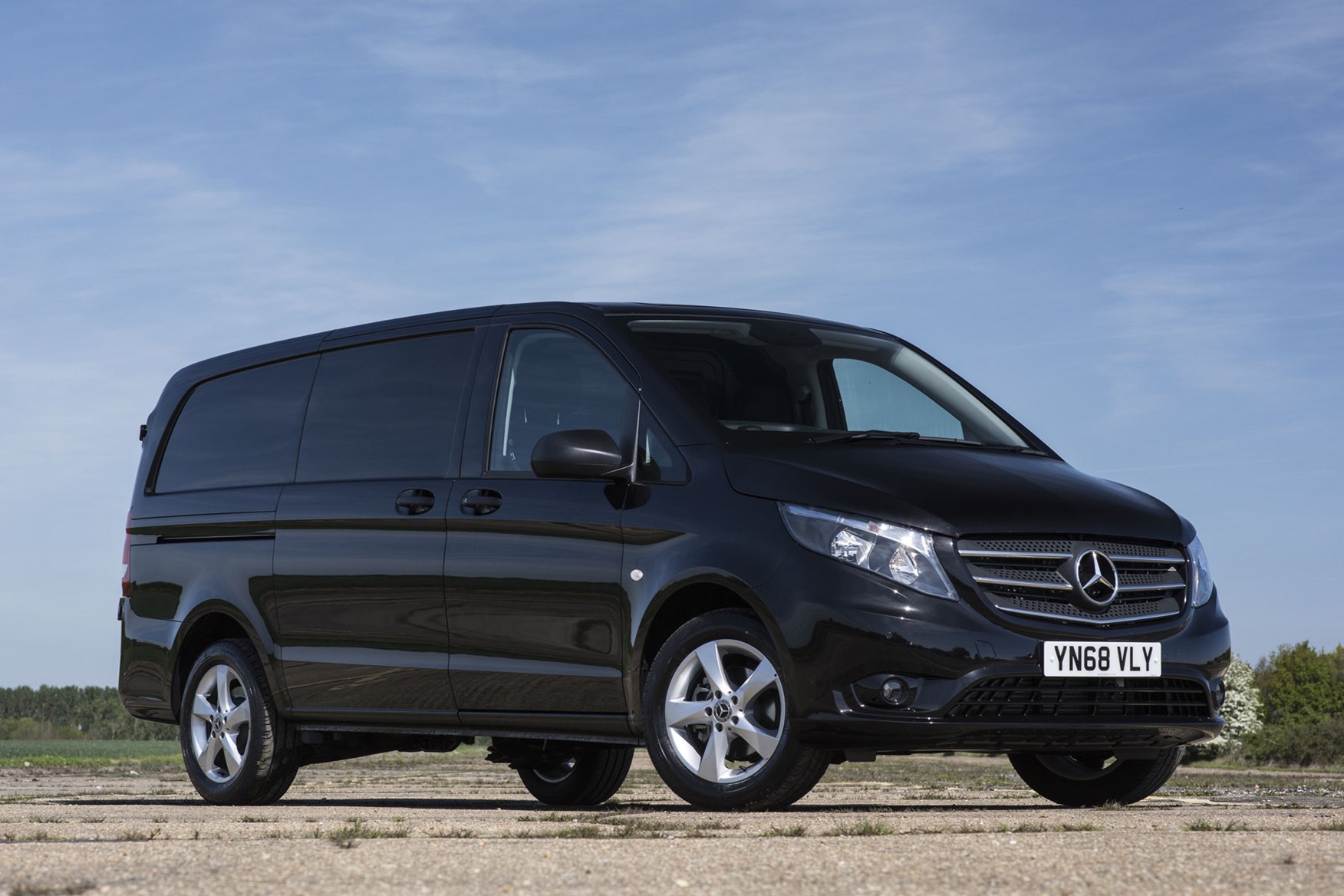 Updated model with brand-new trim levels
Smooth diesel engine and comfortable ride
Practical load area, but dated cab
The Mercedes Vito is a mainstay of posh panel vans, going head-to-head with the Volkswagen Transporter in a bid to capture the higher end of the light commercial sector.
A modest upgrade has seen the Vito split into traditional trim levels for the first time. Previously, you were able to option up your van pretty much how you liked, but now you can choose from Pure, Progressive and Premium trim levels to make the process easier.
We're testing the top-spec Premium model, fitted with the 114 CDI engine – that's a 2.1-litre diesel with 136hp, by the way.
These models are marked out by body-coloured bumpers and alloy wheels, though the metallic black paint of our model definitely gave it a touch of 'private ambulance'. These trims are available on panel and crew vans – ours was the panel van.
In the cab
You've not stepped back in time – this really is a 2019 model. Taking pride of place in the middle of the dash is the Audio 15 infotainment system, a truly ancient beast that's not even fitted with a touchscreen.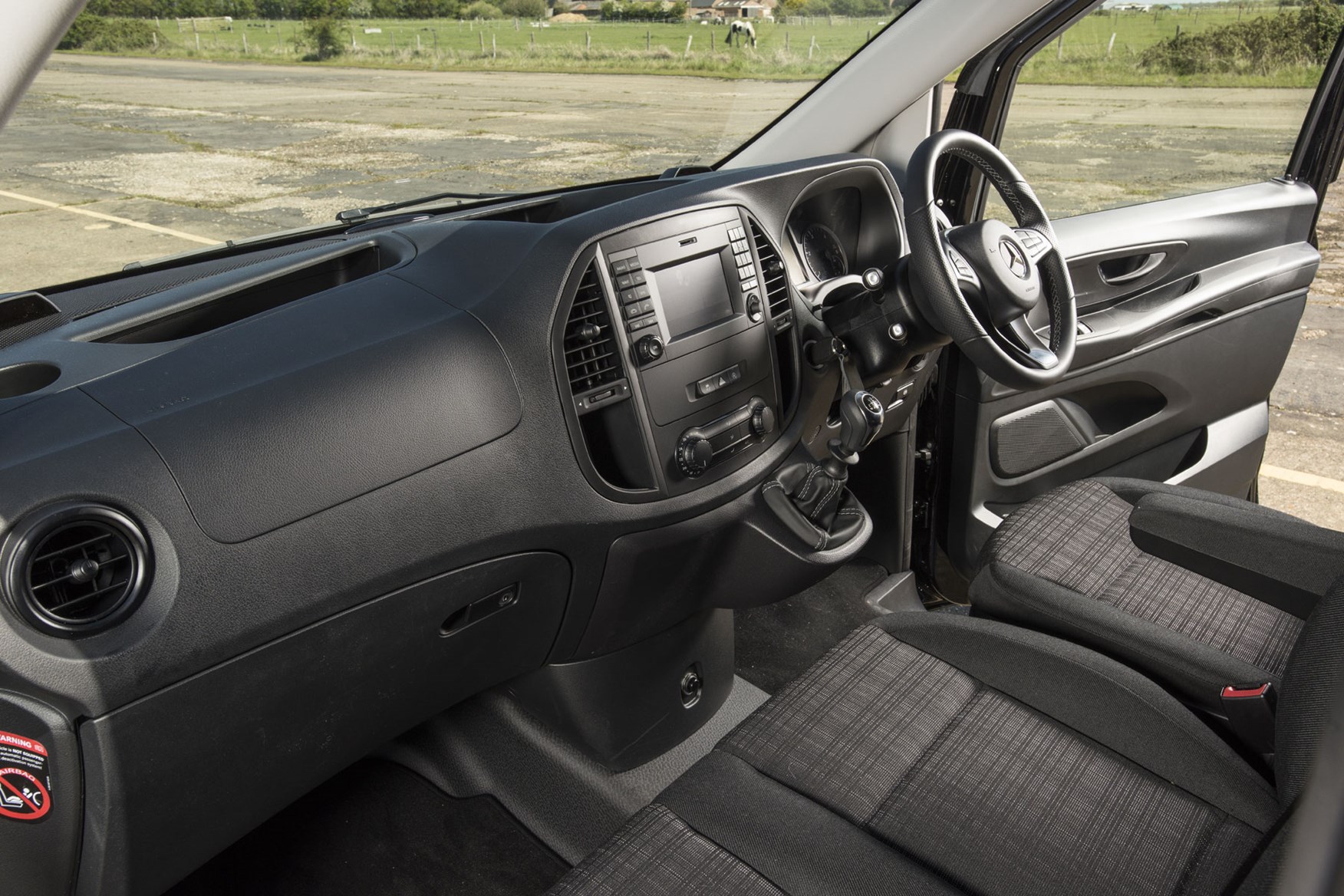 This is dated, difficult to navigate and thanks to the tiny screen, hard to see on the move. And while there's Bluetooth connectivity, DAB radio is an optional extra only available with an infotainment upgrade. This feels like a pretty poor relation to the touchscreen systems you can spec in rivals such as the Ford Transit Custom or Volkswagen Transporter.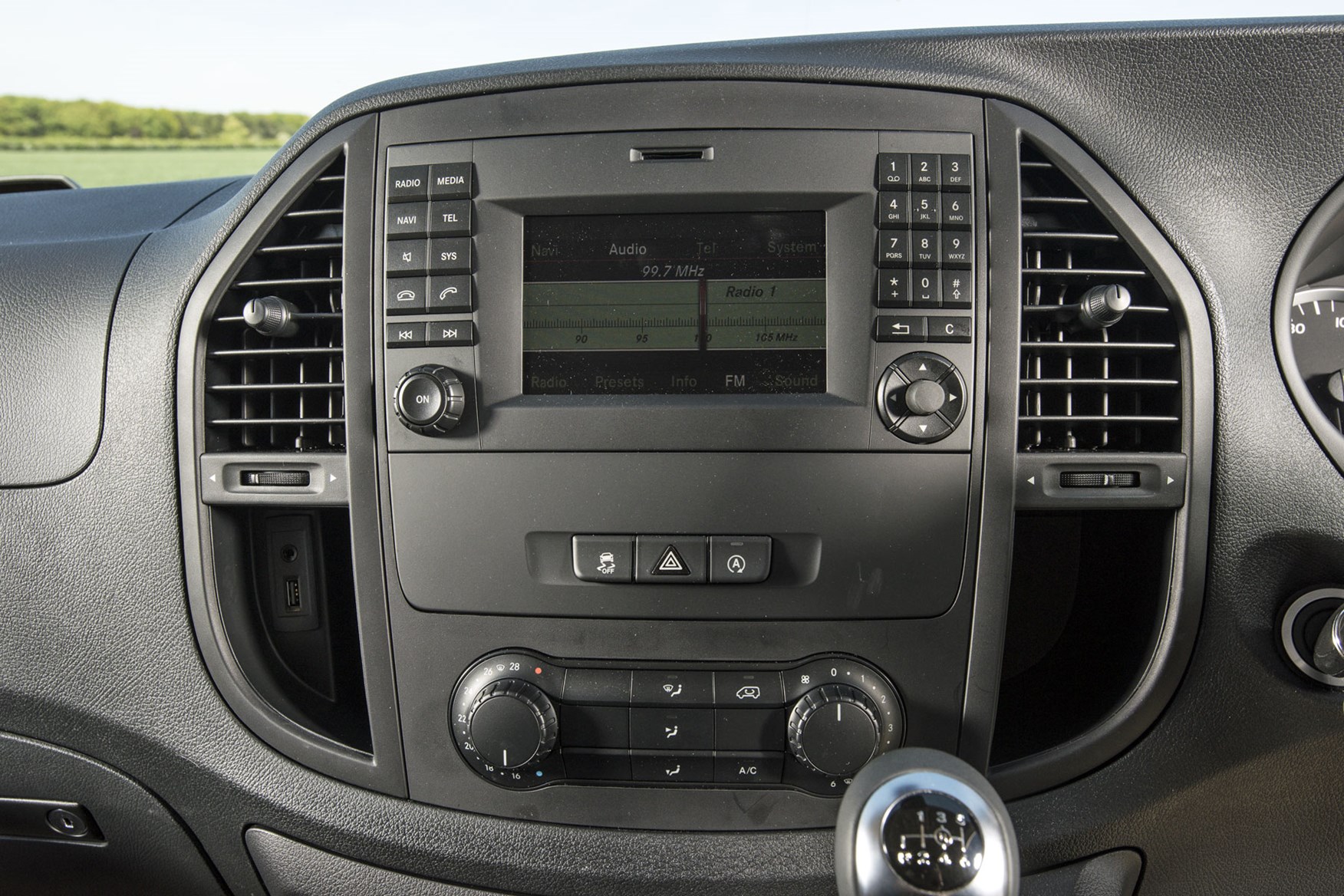 The rest of the cab is a happier story. Hardwearing materials, clear dials and a comfy driver's seat are all highlights, and the dash-mounted displays for the parking sensors are an inspired touch. Passengers in the front bench seat won't be happy sat bolt upright with little back support, though.
There's a big glovebox but storage elsewhere is poor, with no lids for the dashtop bins and no overhead racks for papers either.
Load area
Twin sliding side doors and 180-degree opening rear ones make loading a cinch, but payload and dimensions are only average for the class. Long-wheelbase L2 models can carry up to 1,215kg, around 200kg less than the Ford Transit Custom's maximum payload; for our test van, though, maximum payload is a particularly puny 709kg.
Still, it's a load practical area, with hardwearing composite lining and plenty of tiedown points. The unprotected wheelarches could potentially take a beating, though, and switching out the weak halogen lighting for LEDs would be greatly appreciated.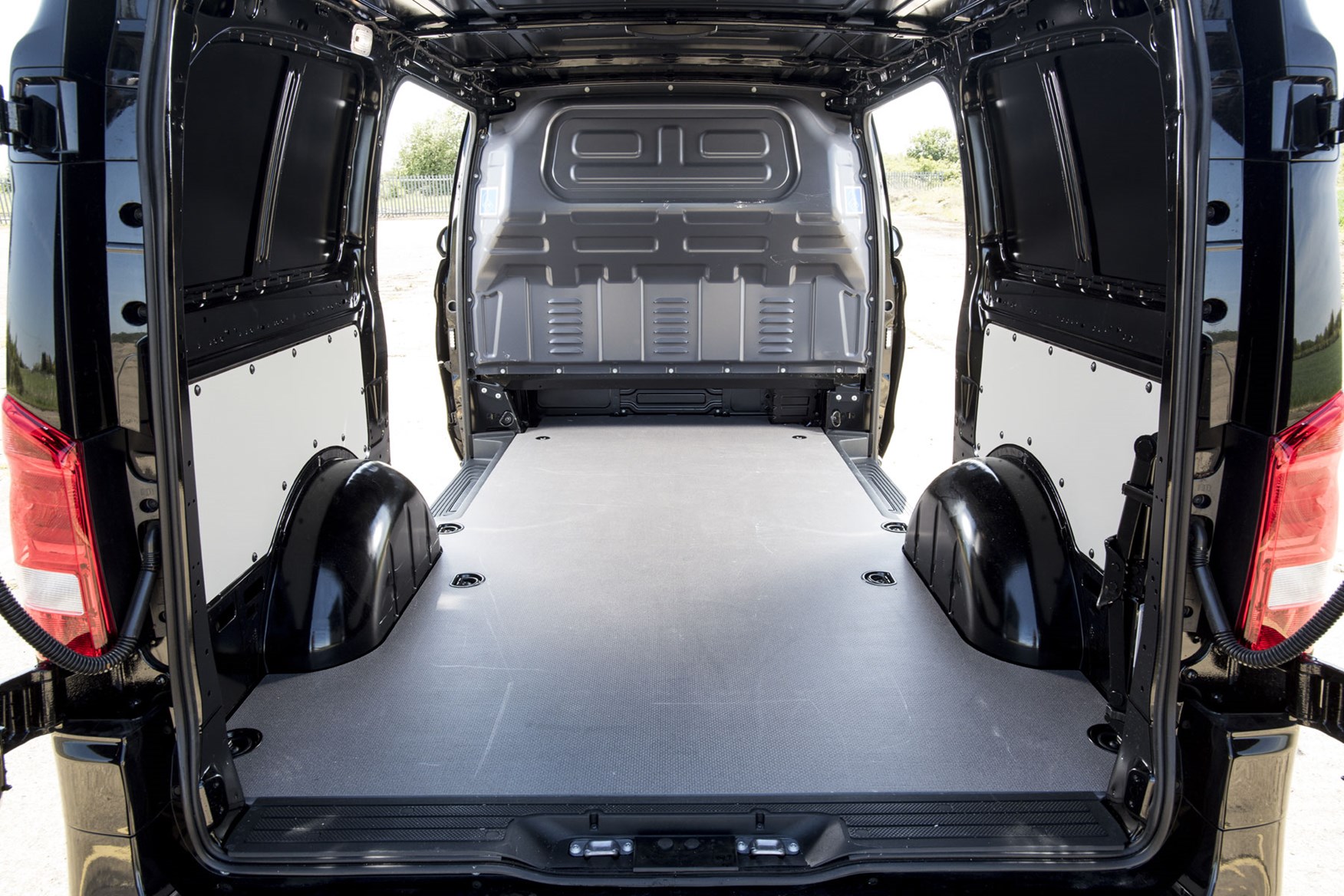 Vito panel vans feature a full-height bulkhead as standard.
What's it like to drive?
Lower-powered Vitos make use of a 1.6-litre Renault diesel engine and front-wheel drive, but our 114 CDI was powered by Mercedes' venerable 2.1-litre diesel, coupled to rear-wheel drive and a six-speed manual gearbox.
It's a good pairing – the engine is smooth and reasonably quiet and the gearbox fairly slick, though our barely run-in test van was a bit sticky going into 6th. More impressive is the ride, which is comfortable even when unladen. This is a relaxing van to do long distances in.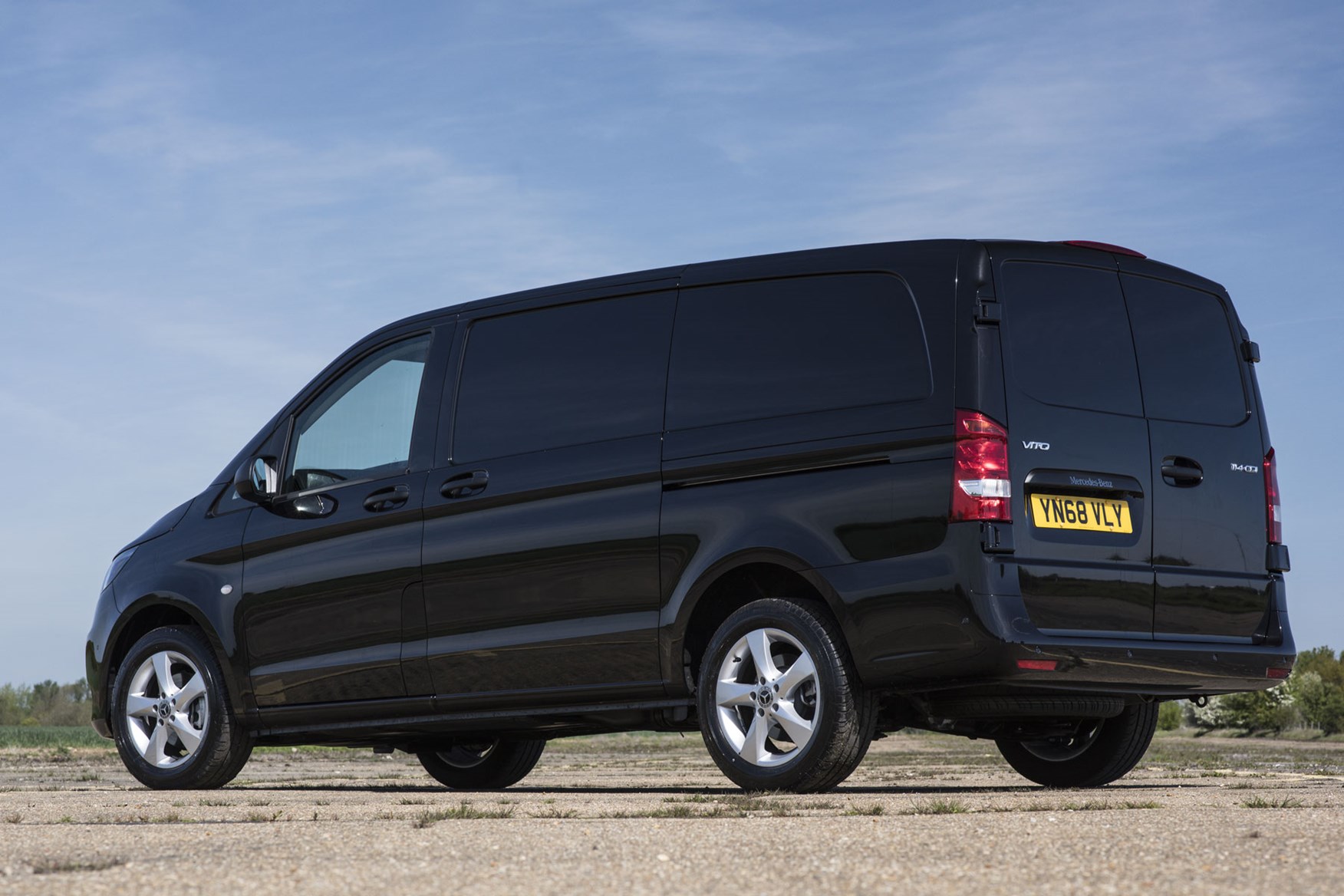 Light and accurate steering makes things easy round town, though we wish Mercedes would fit taller door mirrors like the two-part items you get on a Ford Transit Custom or a Renault Trafic. The foot-operated parking brake is also a serious throwback that's likely to divide opinion.
Pricing and summary
The Vito isn't the cheapest van around, especially in this plush top-spec trim. Decent fuel economy –we managed an easy 40mpg over 700 mixed miles – and good resale values thanks to that fancy badge should help offset the ownership costs, though.
Monthly finance payments are competitive and there are also long service intervals of every 25,000 miles or two years.
We reckon the 114 CDI engine is a good choice – a well-balanced compromise between performance and economy, but it's not necessarily worth paying the extra for this top-spec Premium trim as it still does without items we'd like on a high-end van such as decent infotainment or DAB radio.
Opting for this powertrain in a lower spec comes in at £23,900 exc VAT for a Pure, long-wheelbase van. Our test van weighed in from £27,515 exc VAT, but a good middle ground may be the £25,570 Progressive model.*
*All prices correct at the time of writing in May 2019
---
Mercedes-Benz Vito 111 CDI Long review
Tested September 2016 by CJ Hubbard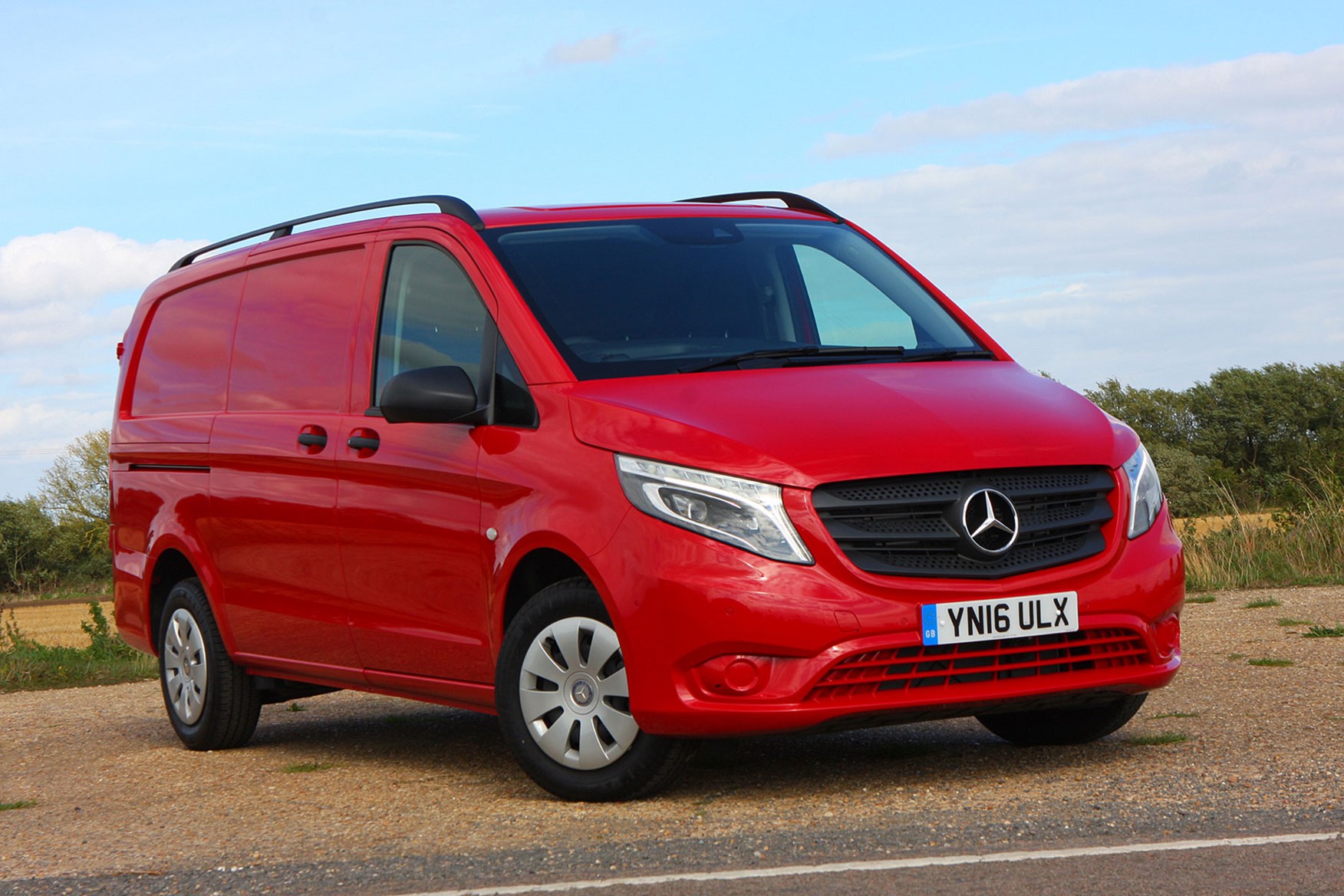 1.6-litre Renault-sourced diesel engine and front-wheel drive
Long-wheelbase Vito has space for three Euro-pallets
1,102kg payload, but cramped cabin and low seating position
The Mercedes-Benz Vito is a medium-duty van that competes against the likes of the Ford Transit Custom, Volkswagen Transporter and Renault Trafic. The current model was introduced in 2015 following a ground-up overhaul, and has impressed us already when fitted with the long-standing 2.1-litre Mercedes diesel engine in rear-wheel drive layout.
The vehicle tested here, however, is the Vito 111 CDI model – second up from the bottom of the range and powered by a 114hp 1.6-litre diesel provided by Renault; an engine that's exclusively paired with front-wheel drive. This promises to be good news for fuel economy on paper, and it's a worthwhile amount cheaper to buy. But it's also some 22hp and 50Nm less powerful than the entry-level 2.1-litre alternative.
Let's find out if the efficiency savings are worth it.
Mercedes Vito 111 CDI Long: load area, dimensions and payload
First things first, the all-important business end. The Vito only comes with a single roof height option, and this particular van is a Long model – which is the middle of the three wheelbase options Mercedes offers, sitting between Compact and Extra-long. You can check the exact dimension here.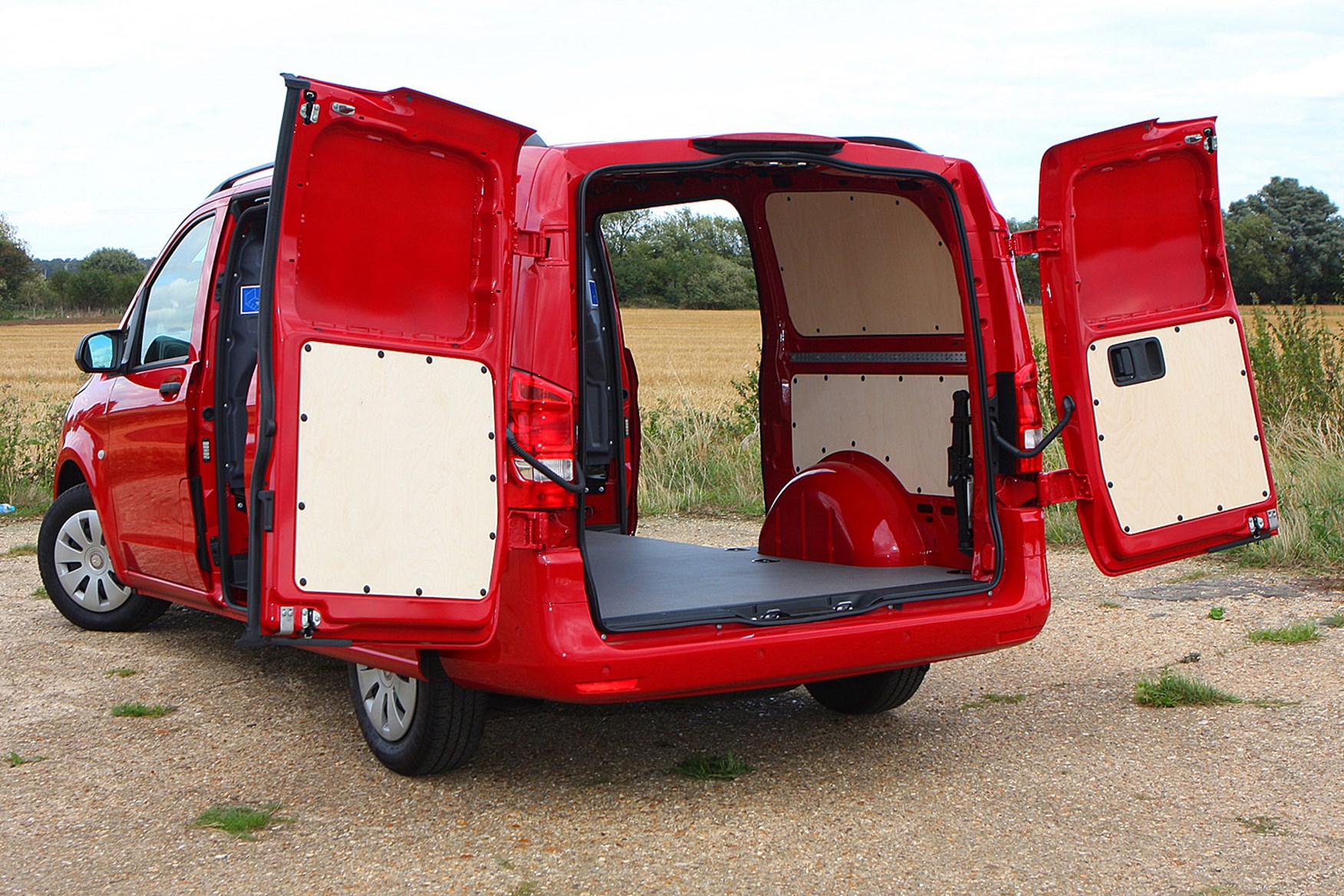 Access is via a pair of rear doors that open 180 degrees or the twin sliding side doors (one on each side) that are fitted as standard; these open to 961mm – wide enough to slide in a Euro-pallet. You can fit three Euro-pallets into a Long Vito (the same as the Extra-long version). The sill height, especially at the sides where there's an inset step, is nice and low for easy access, but most will have to stoop to stand up in the back – so if you regularly need to be sorting through things in the loadbay, perhaps look for a rival with a high-roof option.
A full-width steel bulkhead is standard, but the level of panelling inside the load area depends on how much extra you're prepared to pay (full wood lining is an inexpensive option), and ditto the variety of load-lashing, which includes rails in the floors and the sides if you want them. An LED strip light in the back provides very effective illumination in the dark with low power consumption, so you shouldn't have to worry about it flattening the battery if you need to leave it on for extended periods of time. It activates automatically when you open the doors.
Front-wheel drive Vitos like this one have a maximum payload capacity of up to 1,305kg with the optional upgrade 3.05-tonne Gross Vehicle Weight (GVW) – which is a chunky 120kg more than the previous equivalent. In Long guise this particular 3.05t example has a maximum payload of 1,102kg, compared with 852kg in the standard 2.8t variant.
In the cab
We've commented before that the Vito has a disappointingly cramped, almost claustrophobic cabin, and we're not about to change our minds. Here the jolly Jupiter Red paint (one of five standard options) gives way to a dark plastic driving environment with a tall, deep dashboard, low seating position and steeply raked windscreen; it is not the easiest of vans to see out of, which can impact on your confidence manoeuvring it around town.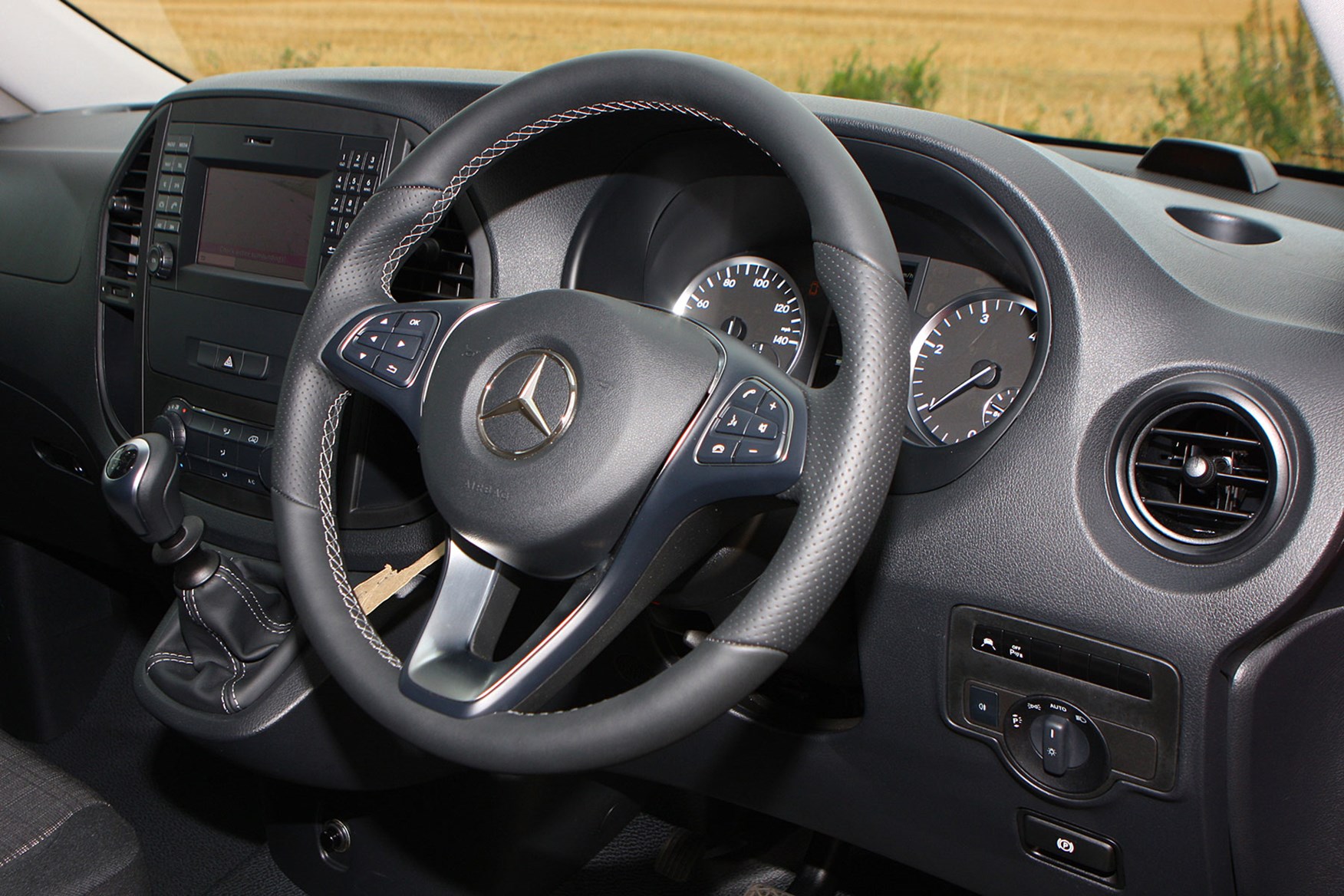 The quality of construction feels good throughout, however standard-fit safety kit is limited unless you're prepared to pay extra.
Comfort
The Vito is a relatively comfortable van to drive, with a large amount of adjustment in the driver's seat and the steering wheel – helped by our test example's optional Comfort seat and lumbar support.
But having the indicator and cruise control stalks in close proximity on the same side of the steering wheel caused us to set the cruise when we were trying to indicate on several occasions, and seems to be a rather daft piece of ergonomic design. There's no telling Mercedes, though, as it's been using this set-up for years.
The foot-operated parking brake and the position of the key on the left side of the steering wheel are idiosyncrasies you do get used to over time. The limited amount of cubby storage in the cab is likely to be a bigger issue; the slots in the dashboard are all very well, but without a cover lighter items can fly out during abrupt acceleration. Items in the bin on top of the dashboard also tend to reflect in the windscreen.
As is often the case with this class of van, the middle passenger seat is only useful if your mate has a twisted spine or no knees thanks to the position of the gearlever pod. And while it's nice to have a fancy display-screen radio with (optional) sat-nav integration, this is an ancient system in Mercedes-land now, and the lack of DAB digital radio is practically a crime against humanity in 2016. Air-conditioning is extra, too.
On the road
Once you're accustomed to the low driving position, the Vito is easy enough to handle. The steering is well-judged to be low effort at low speeds while weighting-up reassuringly to keep things stable as you go faster. It retains a decidedly van-like feel throughout, though – which sounds unsurprising except that some rivals are becoming increasingly adept at delivering a car-like driving experience in this class of van.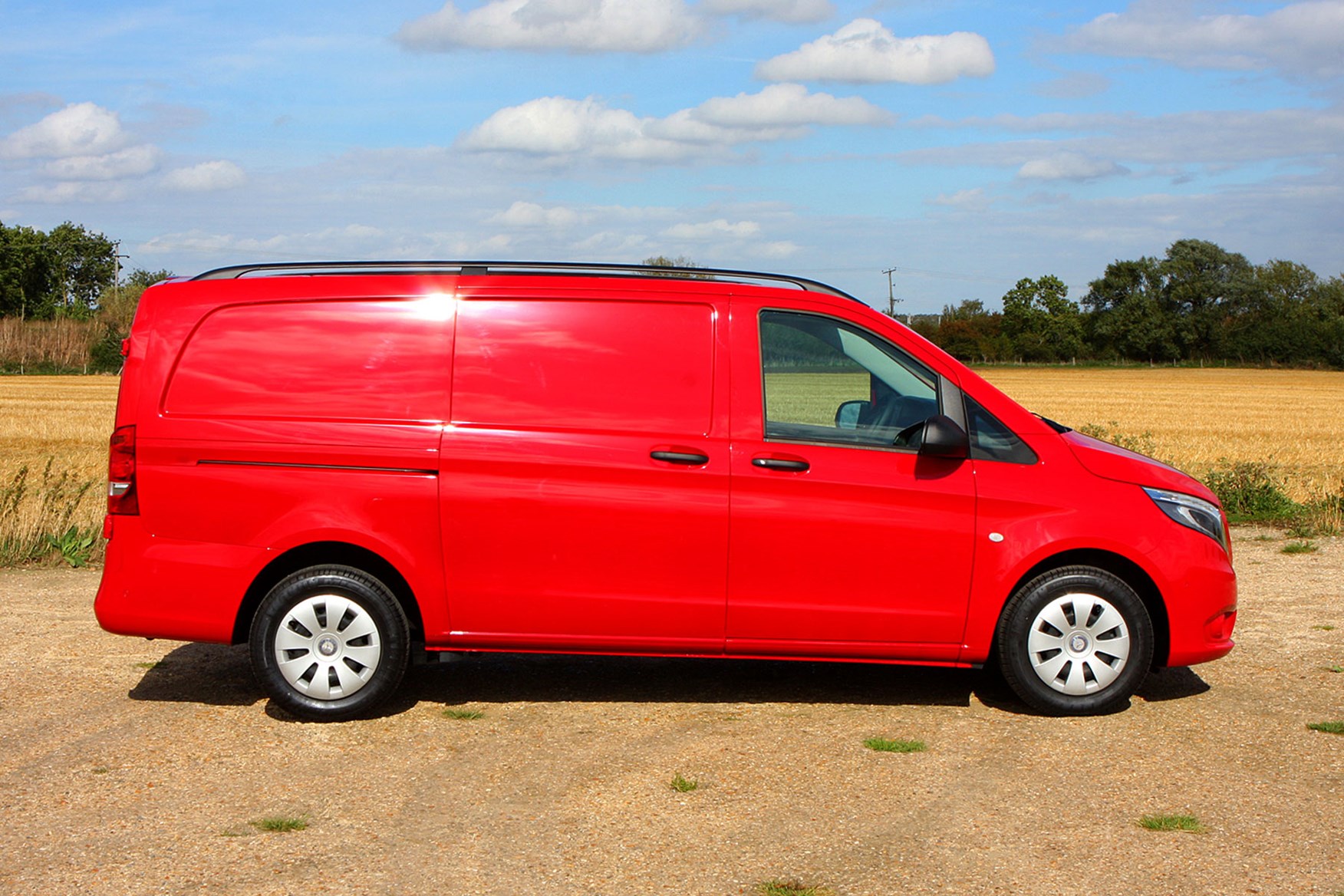 Along similar lines, while the six-speed manual gearshift is neat and precise, first gear itself is rather short – this will help get heavier loads moving but does mean you need to be quick with the change to second away from the traffic lights. It's not the most refined engine either, and the Vito is generally quite noisy and rattly, especially unladen.
Without any kind of load in the back you're unlikely to be overly concerned about the 1.6-litre motor's power deficit to the larger 2.1-litre engine; with 114hp and 270Nm this is the more punchy of the two 1.6-litre options available (the entry-level model having just 88hp and 230Nm) and can happily punt the Vito along at the rate of modern traffic.
However, once you do get some payload on board you will find the smaller engine runs out of spare puff much more quickly.
Mercedes Vito 111 CDI running costs
The extra strain will soon eat into the 1.6-litre diesel's on-paper fuel economy advantage, too – and since the official figure of 45.6mpg is just 1.5mpg better than the 44.1mpg of the least-powerful 2.1-litre Vito we strongly suspect that driven with the same care, the 2.1 will prove the more efficient when it comes to carrying a significant payload.
Regardless of engine type, the Vito's servicing intervals are every two years or 25,000 miles – whichever is sooner.
All new Mercedes vans are also covered by a 30-year roadside assistance package, so if minimal downtime is your major concern, this will certainly help keep you moving. The standard warranty is for three years, with unlimited mileage.
Should I buy one?
The Mercedes Vito is a competent van with a healthy payload capacity and attractive running costs. But we're not keen on the interior, expect to get at least mildly stung by the options list and we're unconvinced the 1.6-litre engine will offer much in the way of a long-term saving over the 2.1-litre motor – especially if you plan to pay for your van on a monthly basis rather than outright.
---
Mercedes-Benz Vito Sport 116 CDI crew van review
Tested March 2016 by Liam Campbell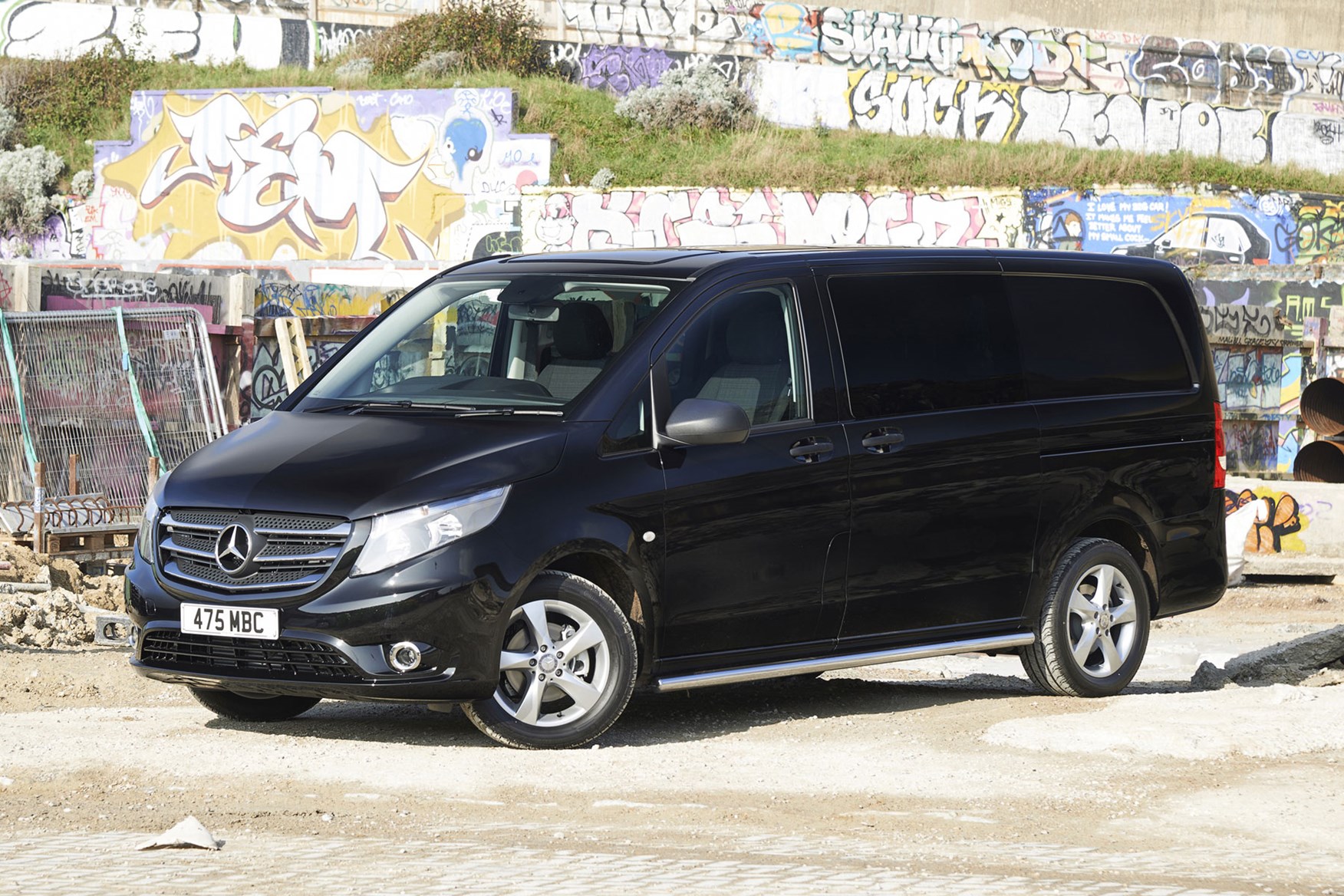 Powered by Merc's 2.1-litre engine with 163hp
Aimed at lifestyle owner-drivers
Priced at £27,980 plus VAT*
The previous Mercedes-Benz Vito Sport proved to be a big hit among owner-drivers, and now the trim level is available on the latest generation. We tested the long-wheelbase, 163hp 116 CDI BlueTEC crew van, which is priced at £27,980 plus VAT.*
This is very much a vehicle designed for the lifestyle market; for example, a family that needs five seats but also wants a large loadspace to transport equipment or sports kit to events.
With the large specification list, which includes 5.8-inch TFT display, air-conditioning and cruise control, it's comfortable enough to keep the family happy, with an accommodating loadspace and it even looks the part.
In the cab
The layout of the Vito cab isn't the best, with visibility hampered by the high dashboard and low seating position, while the closeness of the dashboard makes the cab feel a little claustrophobic.
Furthermore, the two stalks (one used for the cruise control and the other for indicating/windscreen wipers) are located on the same side, which meant that we would often set the cruise control when we intended to indicate. There is also the issue of the ignition being located on the inside of the steering wheel and Merc's unique kick-and-pull foot-operated parking brake.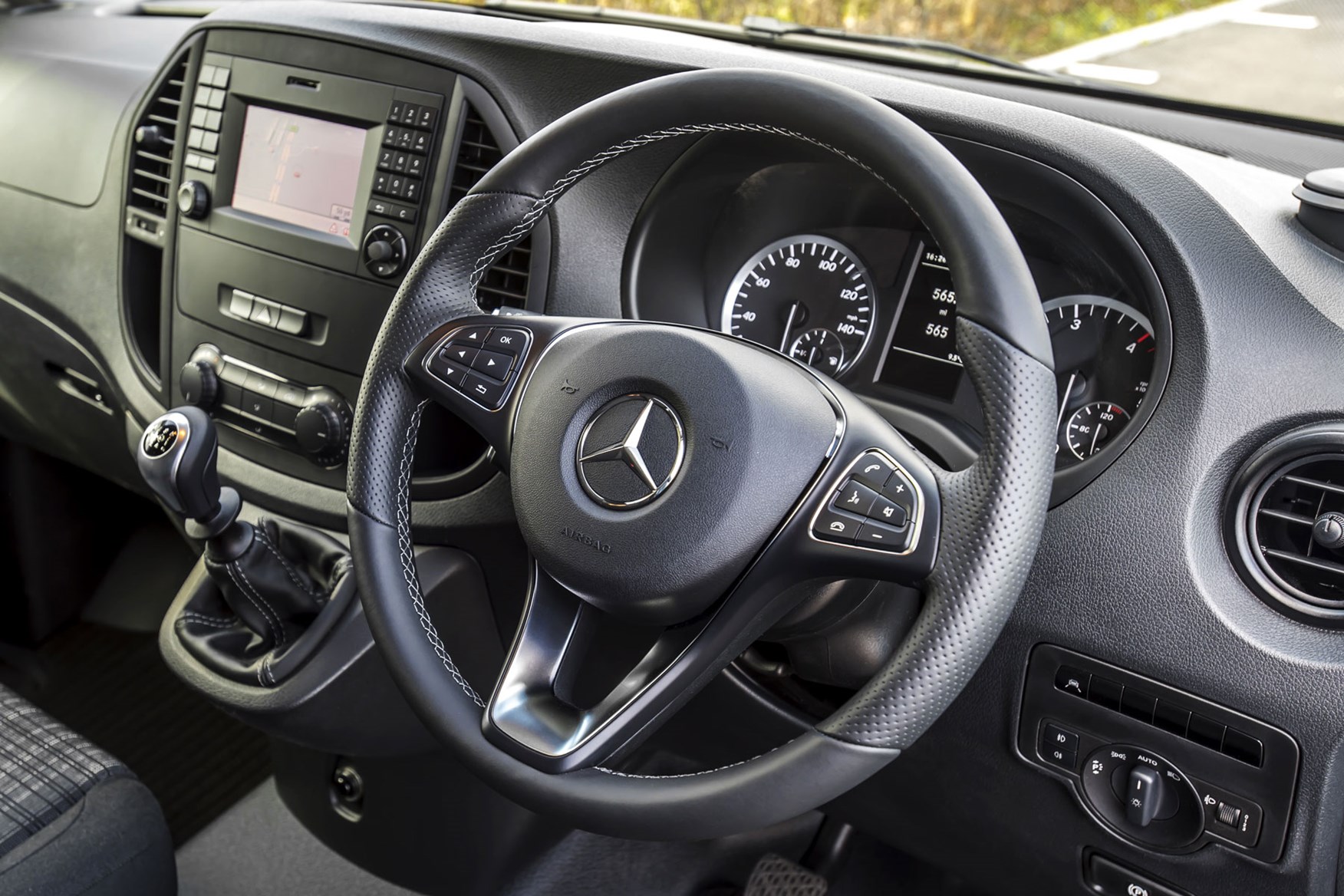 As you would expect from a lifestyle model, there is a generous amount of equipment included. There is an Audio 15 infotainment system with a 5.8-inch (non-touchscreen) TFT display with USB, SD-card and Bluetooth connectivity and iPod interface.
There is also a multifunction steering wheel, trip computer, cruise control, air-conditioning and, in typical Merc fashion, a whole range of safety systems to give your family peace of mind. Despite this, reversing sensors, heated seats and sat-nav are still only available as an option.
Load area
Opening the rear tailgate reveals a surprisingly large load area, measuring 1,664mm long, 1,667mm wide (1,270mm between the wheelarches) and 1,258mm high. Commercial users might want to specify rear barn doors, however, as forklift trucks can't load vehicles with tailgates.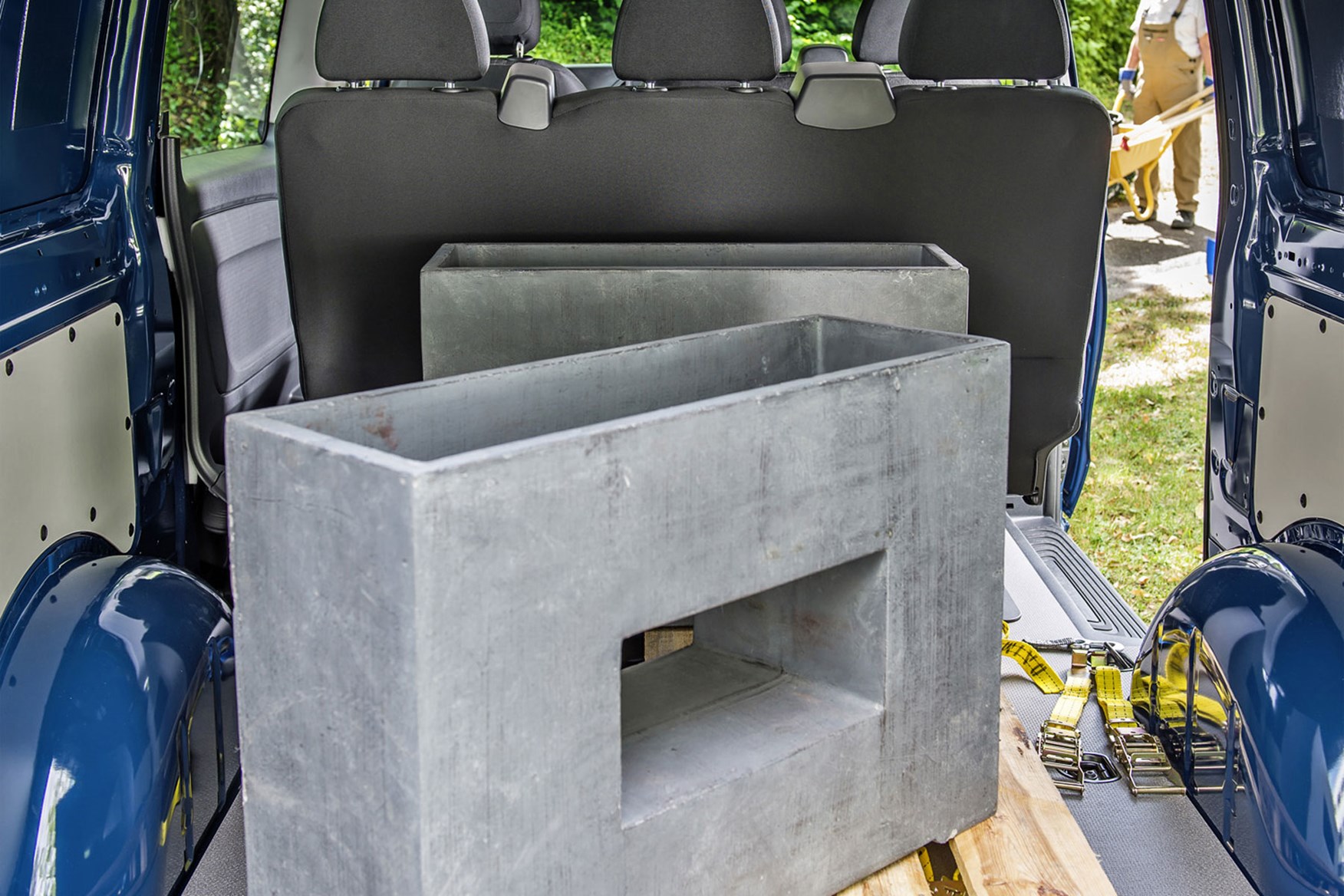 There is no bulkhead and the rear seats are removable, allowing loads of up to 2,831mm long to be accommodated, increasing the maximum payload of 928kg. The floor is lined with a slip-resistant wood-resin board that has eight lashing points.
On the road
Under the bonnet of the Vito is the reputable 2.1-litre OM-engine, which also powered the previous generation. This is tuned to 163hp and 385Nm of torque, and achieves 46.3mpg on the NEDC combined cycle.
On the road, the Mercedes-Benz Vito Sport isn't the most refined and suffers from quite a few bangs and rattles, although this is no doubt amplified by the open loadspace. The low centre of gravity and firm suspension means the Vito performs well in corners, although bumps in the road tend to make the cab shudder.
The engine is spritely although second and fourth gears are incredibly close, and meant we frequently stalled as we selected what we thought was second gear.
Should I buy one?
With its versatile loading attributes, five seats and powerful and efficient engine, the Mercedes-Benz Vito Sport crew van has got to be high on the shopping list for those in the market for this kind of vehicle. However, it still lags behind the Transporter Highline in terms of reliability, ride quality, residual values and the amount of standard equipment.
*All prices correct at time of writing in March 2016