Mercedes-Benz Sprinter review (2020)
High-tech masterpiece sets new standards if you're prepared to pay the price
PROS
Very comfortable and easy to drive
Comes in over 1,700 variants
Now available with front-wheel drive
Nine-speed automatic and 4x4 options
Raising the bar for in-van technology
CONS
Not the best for 3.5-tonne payload
Rivals promise greater fuel economy
Some issues with latest safety kit
Refinement could be better
So-so interior quality
Summary
The third-generation Mercedes Sprinter, on sale in the UK from June 2018, is without doubt the most technically advanced and versatile van we have ever driven and reviewed.
Keep reading to find out whether this premium large van is the best choice for your business.
What's new for the 2020 Sprinter?
The Sprinter is one of the newest large vans on the market, so we're not expecting any huge overhauls in 2020. However, we are expecting a new range of engines, which will bring this important Mercedes into line with the latest Euro 6d-Temp (also known as Euro 6.2) emissions regulations.
These should be available from around about June 2020, but we'll bring you further details as soon as we have them.
The long-promised all-electric e-Sprinter is also set to go on sale in 2020, but we wouldn't bank on this just yet. Mercedes has already seen electric van delays in the Vito range.
The large van all other large vans are measured against
The Sprinter has come to define the entire large van sector, and as with the previous two models, the big Benz continues to set the benchmark that all rivals will be measured against.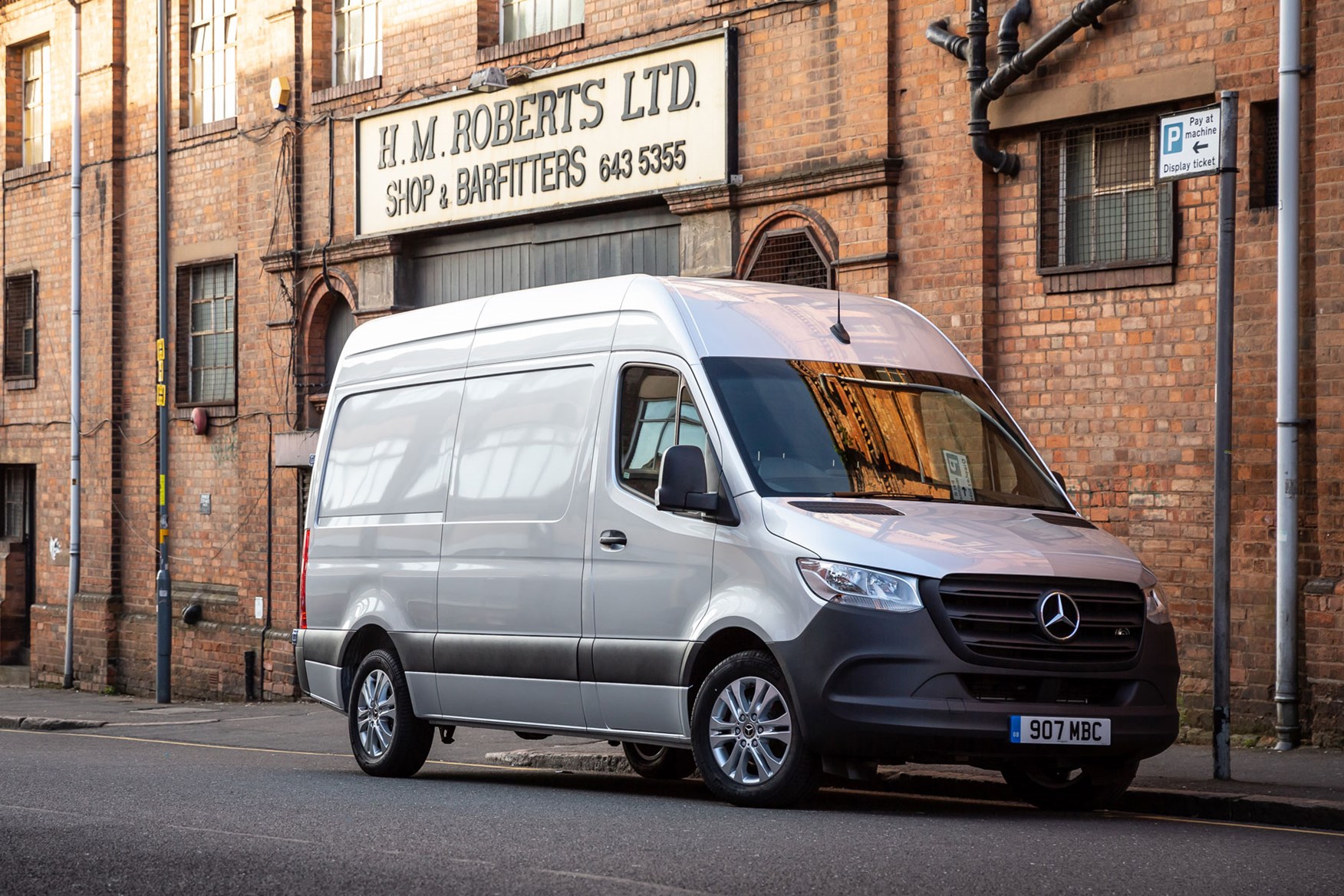 That isn't to say this latest Sprinter is perfect – there are certainly some areas where the best competitors represent fierce competition.
Plus, as usual with the more premium end of the large van segment, if you're after maximum payload in a simple 3.5-tonne panel van there are older, cheaper models that can carry more.
But no other van offers this level of technical sophistication, or such a huge amount of choice.
Mercedes Sprinter: the van that comes in over 1,700 variants
More than 1,700 versions of this Sprinter are available to order direct from Mercedes-Benz, while built-in Mercedes Pro Connect internet connectivity as standard in the UK is intended to make keeping track of your fleet – whether that's one van or several hundred – easier than ever.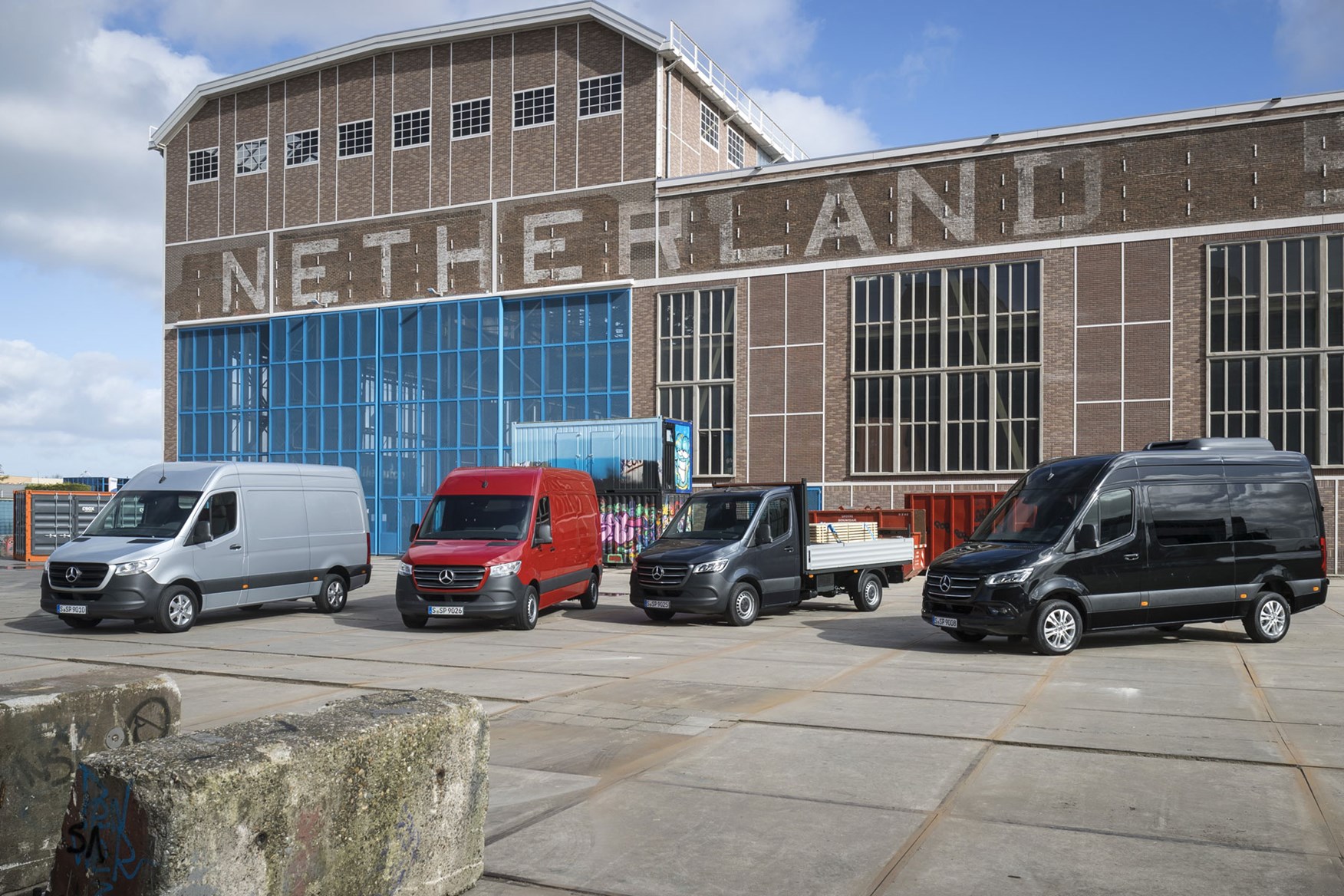 Improvements to the cab design bring greater comfort, increased practicality and enhanced durability. The very latest Mercedes MBUX infotainment system adds what's said to be cutting edge, time-saving sat-nav capability and a voice control function that works well within its limitations.
Safety equipment is similarly state-of-the-art. Though not all of it works quite as we would hope yet.
The whole approach is wrapped up in a philosophy that Mercedes calls adVANce (you can see what it did there), which aims to improve every aspect of the Sprinter's performance, from the amount of load it can carry to the way you buy it and the type of engine that powers it.
Mercedes Sprinter: available with front-wheel drive for the first time
Not only does the basic 2018-on Sprinter panel van come in a choice of three wheelbase lengths, four body lengths, three body heights and load volume of up to 17.0 cubic metres, it's also available with front-wheel drive (FWD) for the first time.
This is in addition to the rear-wheel drive (RWD) and all-wheel drive (AWD or 4x4) versions that were offered previously, rather than in replacement. So whatever your traction requirements, there is now a Sprinter to suit.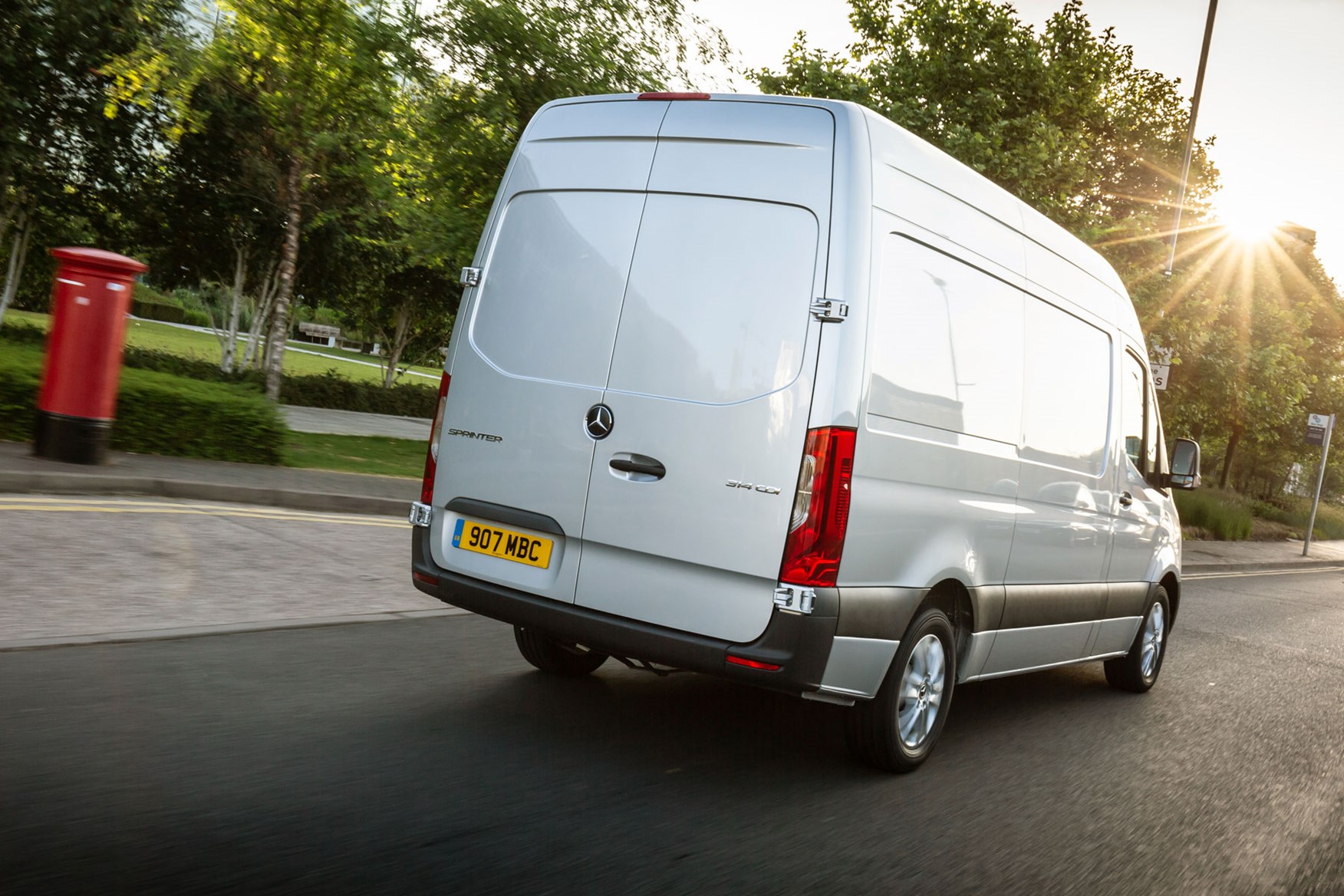 The major advantage to front-wheel drive Sprinters is an increase in payload – which goes up by 50kg compared to equivalent rear-wheel drive models.
But it also enables a lower loading sill height at the rear, additional body variants, and is available with an optional nine-speed automatic gearbox in place of the standard six-speed manual transmission. That's a first for a van.
Mercedes Sprinter engines and body variants
Regardless of where the drive is delivered, most Sprinters will be fitted with 2.1-litre turbodiesel engines of the same type used by the previous model – although as before, there is a 3.0-litre V6 turbodiesel available at the top of the RWD range.
As a result, power output ranges from 114hp to 190hp, and torque output from 300Nm to 440Nm.
This review concentrates on the conventional diesel panel van, though we have also driven pickup and Tourer minibus Sprinters as well.
Other versions available direct from Mercedes-Benz include chassis cabs and a new tractor head made possible for the first time by the FWD layout, which should go down well with the campervan conversion market among others.
Mercedes Sprinter rivals
The Sprinter's closest competitor is the Volkswagen Crafter.Up until this generation they were the same vehicle beneath the branding, making the rivalry between the two latest versions particularly intense.
We've completed a twin-test of the latest Sprinter against the latest Crafter so you can see how they compare directly.
The Crafter isn't quite as high-tech as the Sprinter, but it is incredibly easy to drive, comfortable and cleverly designed. The MAN TGE is a rebranded version of the Crafter, and also worth considering, especially given the round-the-clock service available from MAN's truck dealer network.
The Ford Transit is another key rival – supported by Ford's extensive dealer network, the Transit sells in big numbers, and is also a smart, modern large van that drives very nicely for such a big vehicle.
We consider the Sprinter a class above the likes of the Peugeot Boxer and Renault Master families, which are getting very long in the tooth now.
The Iveco Daily works best if you need a van that goes up to an extremely high gross vehicle weight (GVW) – the Sprinter's max is 5.5 tonnes, the Daily goes up to 7.2 tonnes.
The legal GVW limit for a regular car driving licence is 3.5 tonnes.
---

Mercedes-Benz Sprinter verdict
Comfortable, easy to drive and well equipped as standard, the Mercedes-Benz Sprinter is a top choice of large van.
If you're looking for the most high-tech solution on sale right now, this is it, though the VW Crafter and MAN TGE put a greater emphasis on the ease of use for the driver.
Historically, the Sprinter also has an unmatched reputation for reliability, and there are no signs of this changing with this generation. The three-pointed star arguably represents the best possible brand image you can present to your customers, too.
However, refinement, payload and fuel economy aren't necessarily top of the class, and as ever the Sprinter remains a pricey vehicle. Not that you're likely to think it's poor value, given what you get in return for your cash.
This Sprinter was runner up in large van category in the 2020 Parkers Awards.
Skip to our full verdict on...
A very comfortable large van to drive; great seats, soft suspension
Speed-sensitive electric power steering is clever but lacks feedback
Front-wheel drive available with excellent nine-speed automatic
This generation of Sprinter is the first to offer front-wheel drive (FWD) in addition to rear-wheel drive (RWD) and all-wheel drive (AWD).
What's the 2018 Mercedes Sprinter like to drive?
Regardless of whether the engine is powering the front or back axle, the Sprinter's driving experience is fundamentally the same.
Which is to say it's characterised by very comfortable suspension (and not just for a van), giving a soft-feeling ride that irons out all but the worst road surface imperfections.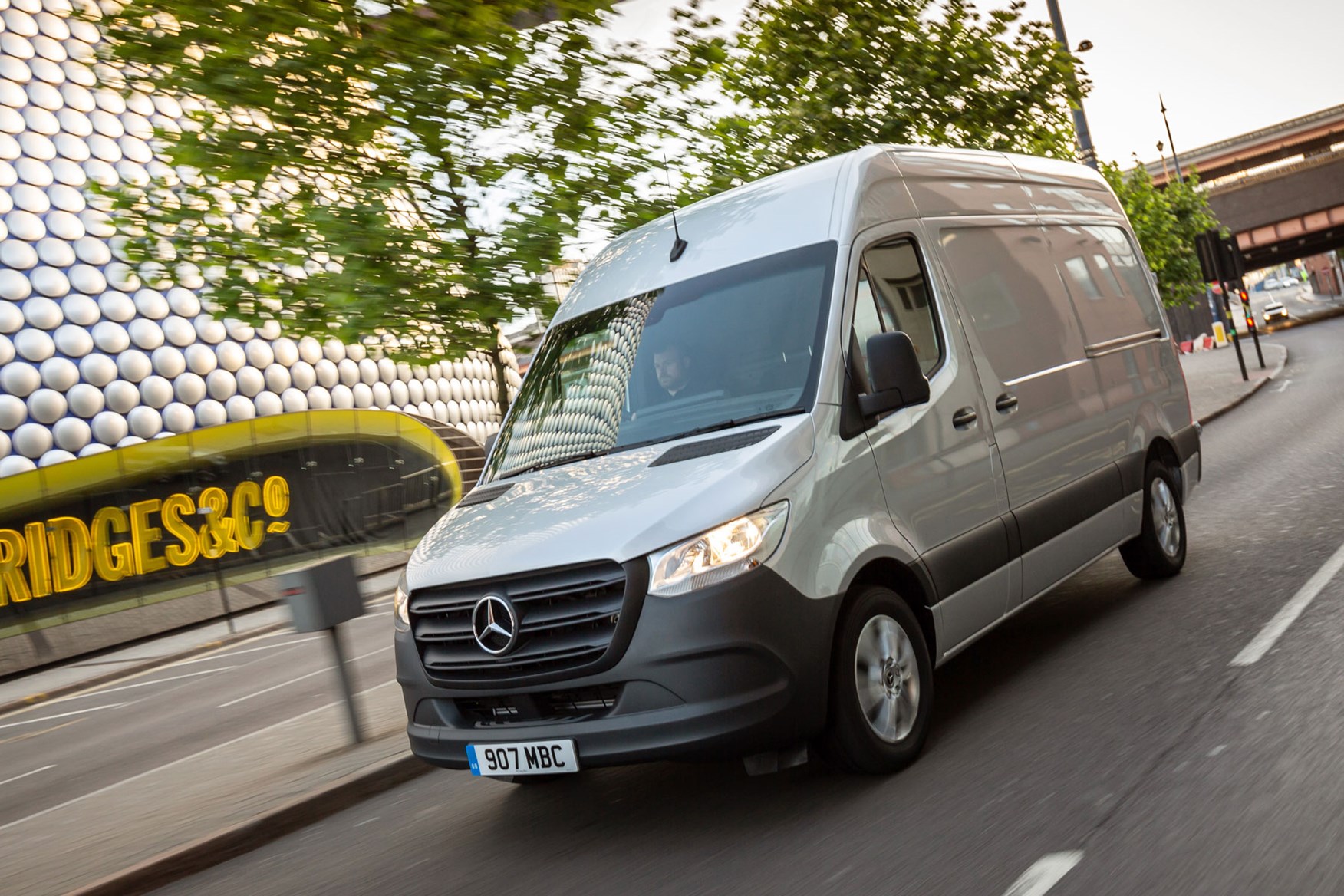 You can even add rear air suspension for extra comfort and control, or choose composite rear springs to replace the standard steel items for increased payload.
Put this together with some excellent seats, and it's quickly clear that travelling long distances in one of these is unlikely to be a chore.
There's not even much bodyroll in the corners, considering just how cushioning the suspension seems to be – and we say this having driven a variety of Sprinter van types with a variety of different demo loads in the back.
As such, when faced with a typical British B-road, the Sprinter proves surprisingly wieldy, allowing the driver to quickly build confidence in its handling and manoeuvrability. The suspension easily deals with mid-corner bumps, and over time you get used to the limited feedback from the electric power steering
Electric power steering – good and bad news
As with the VW Crafter, Mercedes has switched the Sprinter to this modern form of power-assistance from the older hydraulic type because it's more efficient – meaning it uses less fuel – and makes it possible to include some sophisticated safety systems that do some of the steering for you.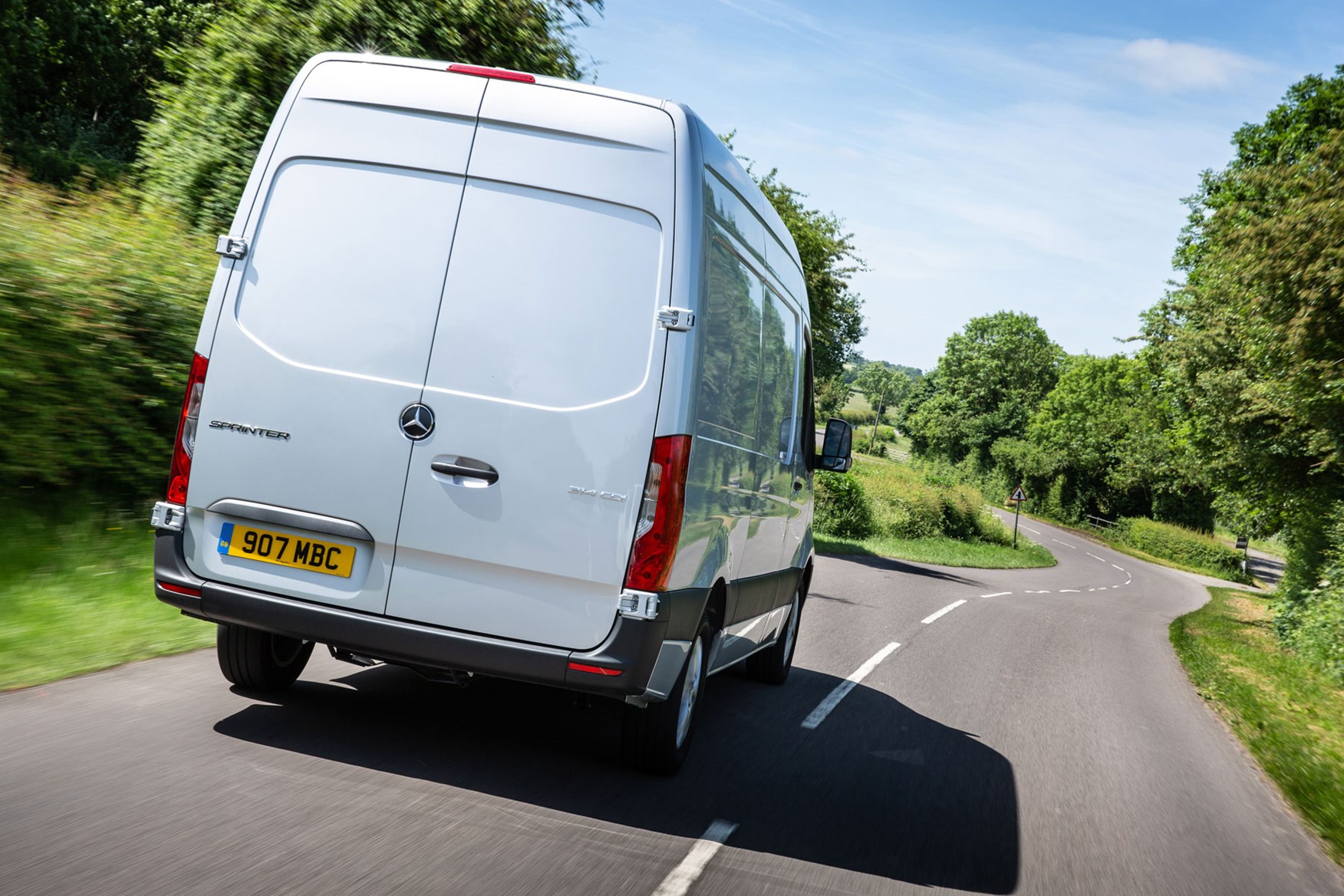 The electric power-assistance is fitted as standard (except on AWD models) and also speed-sensitive, so it gives you lots of assistance at low speeds for easy manoeuvring but reduces it as you go faster for greater stability. In theory.
On the plus side, it makes the Sprinter feel super-nimble around town – zipping through traffic is a breeze.
On the not-so-plus side, there is almost zero feedback, making it tricky to judge grip levels. And at motorways speeds the straight-ahead position is so vague you find yourself constantly sawing away at the wheel making micro corrections, which is rather tiring.
The Crafter's steering is much more reassuring and natural feeling in both cases.
Differences between front-wheel drive and rear-wheel drive Mercedes Sprinters
Beyond the increased payload and lower loading floor, the new-for-this-generation front-wheel drive Sprinters also seem to be more refined – the engines sound quieter and there's less vibration in the cab, though still more than in some rivals.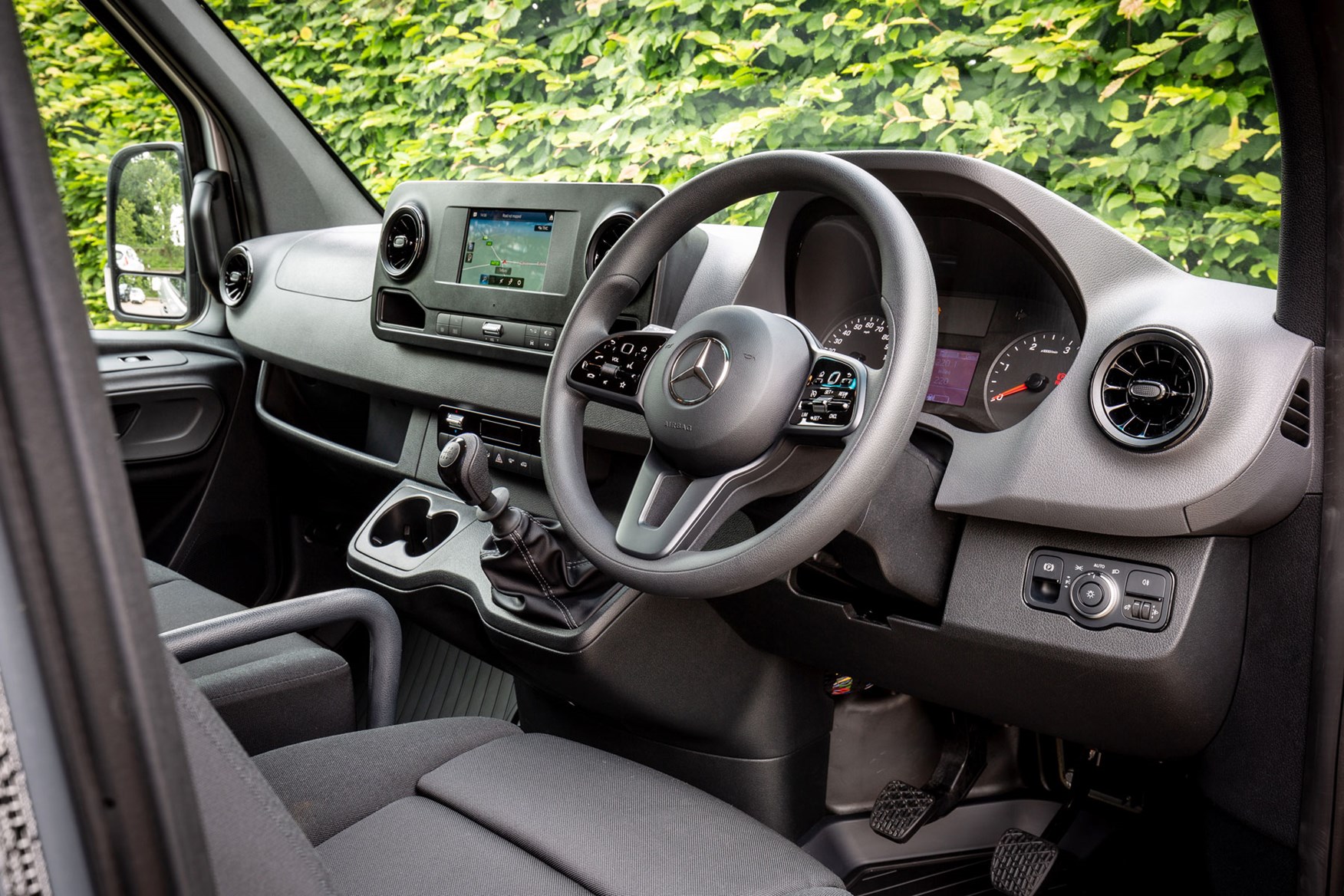 A six-speed manual gearbox is standard on all Sprinters, but the FWD unit is lighter to use where the RWD version sometimes requires a determined shove. Neither is particularly pleasant, however, and the drivetrains are at their best when combined with their optional automatic transmissions.
Again, though, the old seven-speed automatic (7G-Tronic) fitted to RWD Sprinters is out-classed by the superb smoothness and response of the brand new nine-speed auto (9G-Tronic) available in FWD models.
All of this leaves you wondering why anyone would bother with a rear-wheel drive Sprinter at all. But the RWD models remain better suited to the heaviest loads, as they offer increased traction and higher gross vehicle weights.
Mercedes-Benz Sprinter FWD engine choice:
112hp @ 3,800rpm / 300Nm @ 1,400-2,400rpm
140hp @ 3,800rpm / 330Nm @ 1,400-2,400rpm
177hp @ 3,800rpm / 400Nm @ 1,800-2,400rpm
The front-wheel drive Sprinter is only available with the 2.1-litre four-cylinder 'OM651' engine in single-stage turbo form. The top-spec 177hp version is reserved exclusively for campervan conversions.
Mercedes-Benz Sprinter RWD engine choice:
112hp @ 3,800rpm / 300Nm @ 1,400-2,400rpm
143hp @ 3,800rpm / 330Nm @ 1,400-2,400rpm
163hp @ 3,800rpm / 360Nm @ 1,400-2,400rpm
190hp @ 3,800rpm / 440Nm @ 1,600-2,600rpm
The first three are again 2.1-litre four-cylinder engines, but they use two-stage turbocharging for improved response. In practice we noticed little difference in performance, yet found the rear-wheel drive models to be louder with more obvious vibration inside the cab.
The final 190hp engine option is a 3.0-litre V6 turbodiesel, fitted with the seven-speed auto as standard. This can be a little slow to wake up, and the gearshifts are occasionally glacial, but once it's into its stride there is surely no faster large van on sale.
The V6 configuration is also noticeably smoother than the four-cylinder options.
For details of what the AWD Sprinter is like to drive, see our individual model review at the bottom of this page.
Attractive yet functional design, good quality
Standard UK equipment includes 7.0-inch touchscreen, keyless start
Full details of MBUX infotainment and Mercedes Pro Connect telematics
While the outside of this Sprinter looks only slightly different to the model it replaced, inside the cab a much more thorough transformation has taken place.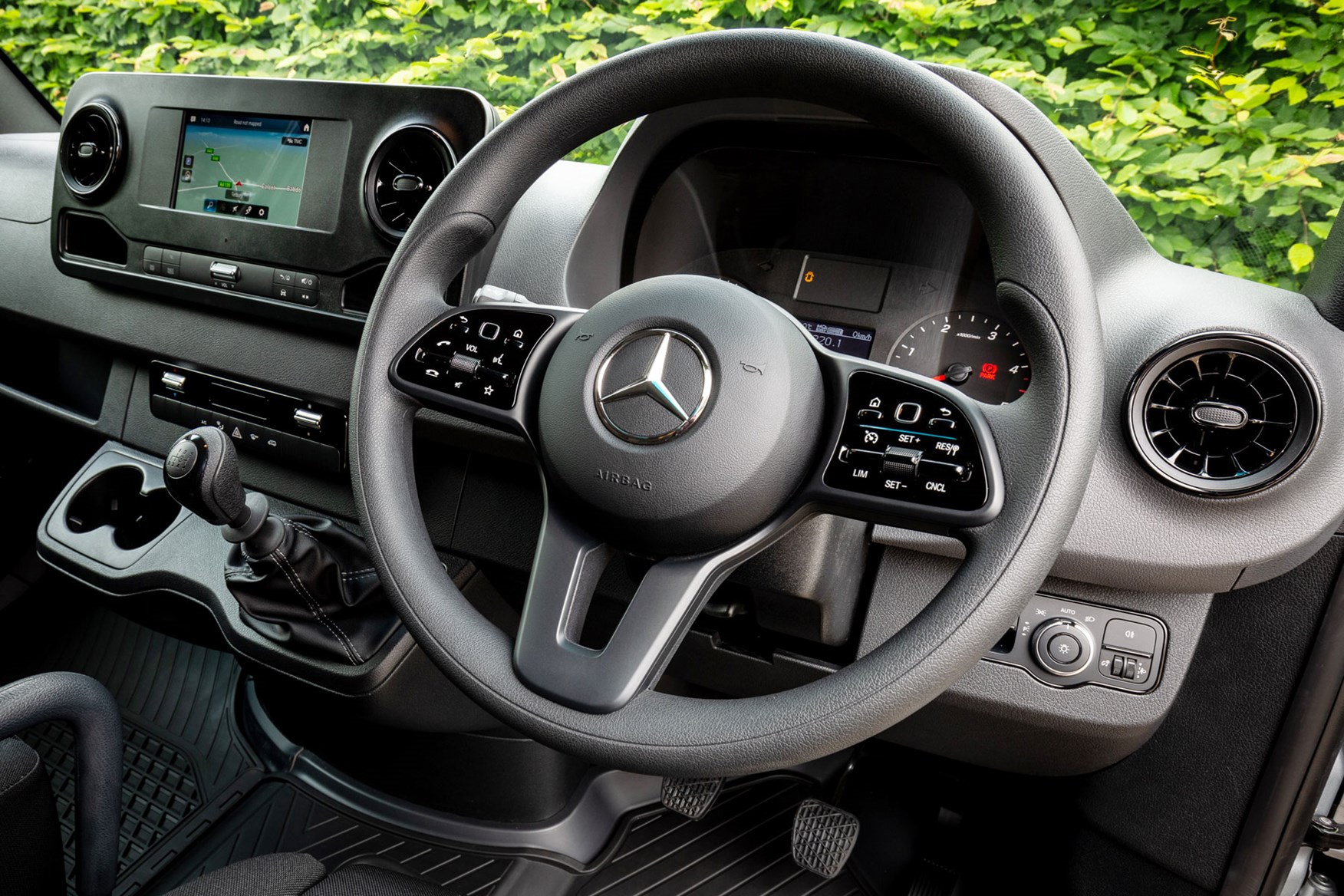 Gone is the slab-like dashboard of the previous Sprinter, in its place a sleek, rounded design with a built-in central touchscreen, housing the latest MBUX infotainment system (on which more below).
Every Sprinter sold in the UK comes with the basic 7.0-inch version of this screen – unless you specifically ask Mercedes to remove it – with an even more premium 10.25-inch touchscreen available.
The bigger screen upgrade makes the MBUX system easier to use, but everything still functions as it should without this.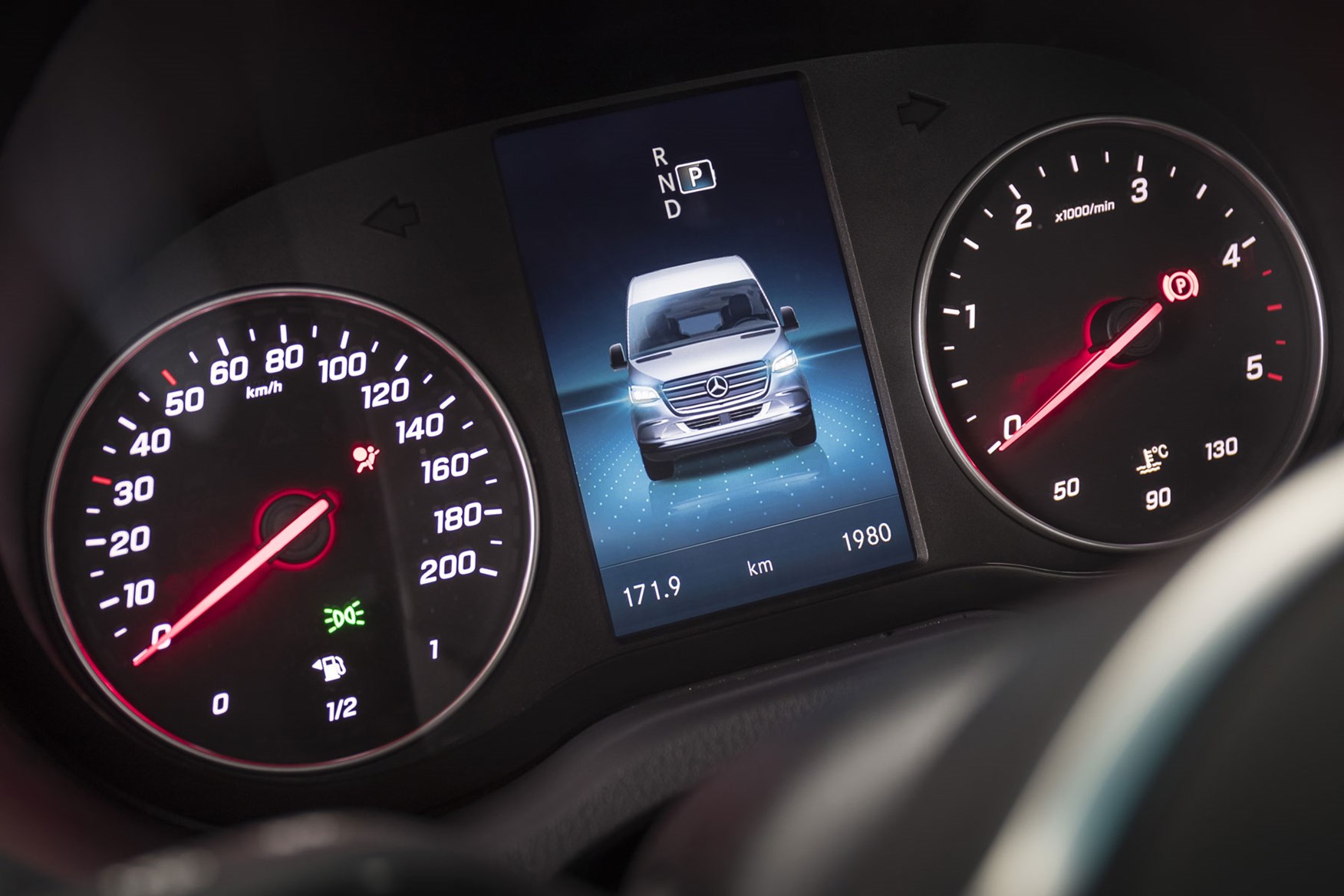 The steering wheel features a large number of buttons plus touch-sensitive pads for controlling the screen on one side and scrolling through the menus in the instrument cluster on the other.
The dials are clear on more basic versions, while fancier models add a full colour trip computer module in the middle, further increasing the premium ambience.
Best-in-class quality?
The Sprinter's swoopy dashboard looks impressive at first glance, and elements of it are very high quality. Details such as the airvents and control for the optional air-conditioning seem almost unnecessarily good.
However, the dashboard itself, especially on the UK vehicles we've driven so far, has felt a little cheap and less well put together than an equivalent VW Crafter. On one van, the lid for the central dash-top storage bin kept popping open as we were driving along, something that quickly became rather annoying.
Still, if you weren't sitting so high up, with such a commanding view of the road ahead, you could easily pretend you were driving a car. Picking up clients and customers in this van should not be an issue.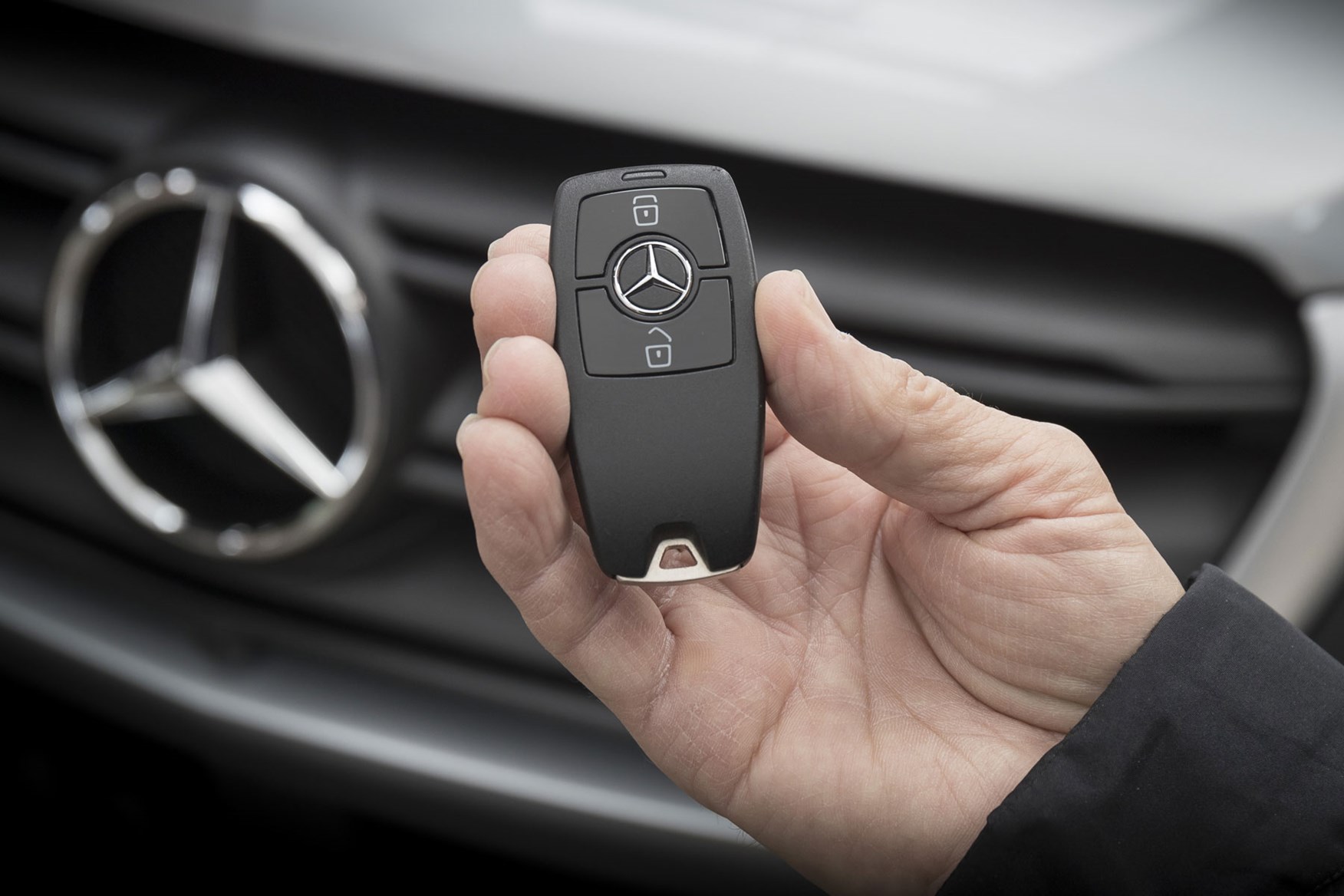 Every Mercedes Sprinter comes with keyless entry and start as standard, meaning you can keep the key in your pocket at all times (unless you need to recharge it, which can be done by a special slot in the bottom of the centre console).
How good are the seats in the Mercedes Sprinter?
Simply put: excellent.
The higher-specification seats are so comfortable and supportive they actually feel like they're doing you some good – as if you might get out of the Sprinter after a long journey with better posture than you started with.
The entry-level seats aren't quite as adjustable, but again comfort and support are a cut above the norm, though the VW Crafter is also very good in this area.
The Sprinter's seats are designed to be easy to get in and out of; a surprisingly useful feature if you're a multi-drop driver such as a parcel courier.
Is there a lot of storage space inside the Mercedes Sprinter?
Mercedes has made the storage solutions inside the Sprinter's cab highly customisable, far more so than with any rival.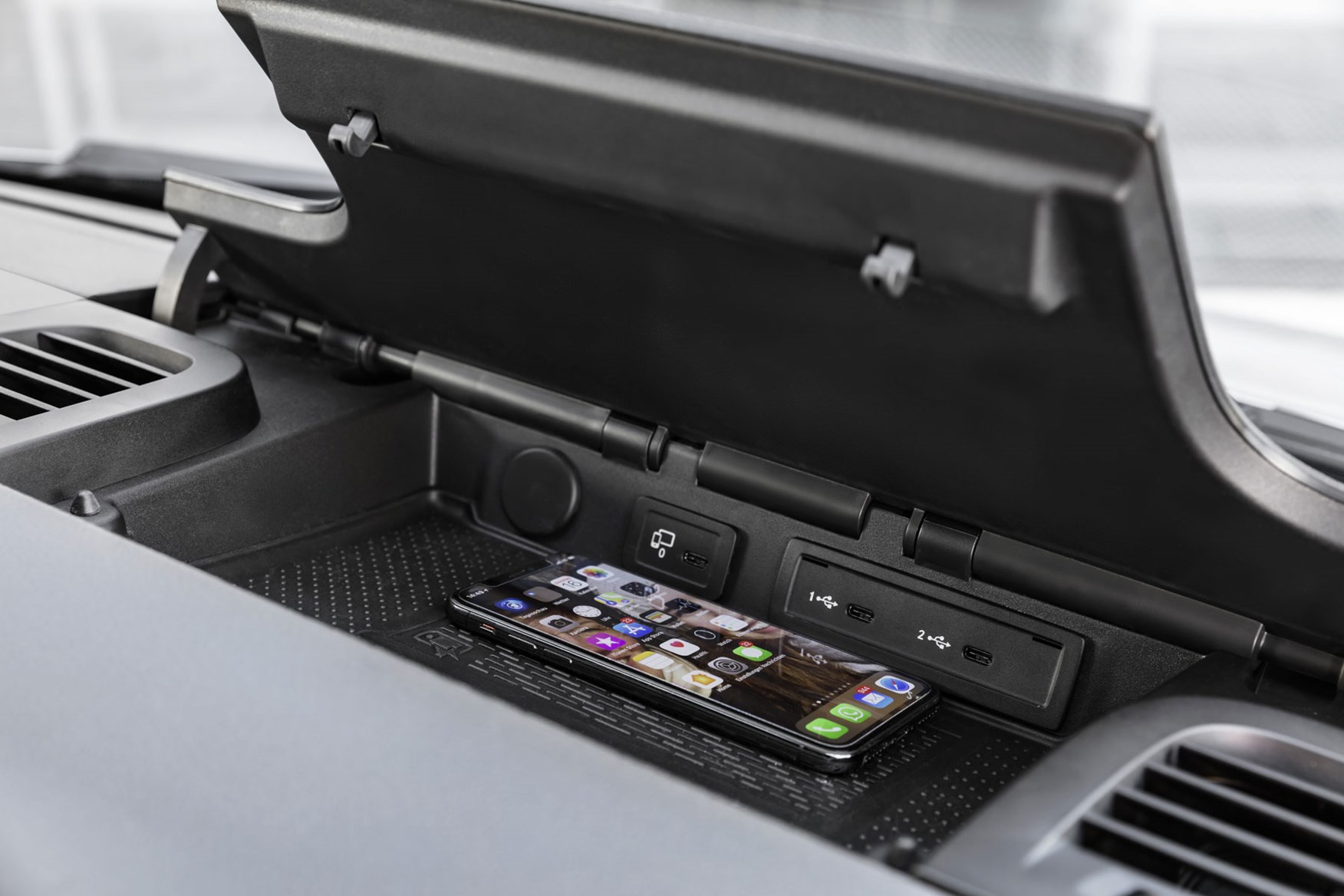 The trio of dash-top trays are available with or without lids (and even without you can have a lip at the back to stop stuff flying out), while the gearlever pod on manual transmission vehicles can be accompanied by a dual cupholder (one side being smaller than the other, as if designed specifically to hold energy drink cans) or a simple cubby hole.
In Sprinters equipped with an automatic gearbox – controlled by a stalk near the steering wheel rather than a more common lever – you can have two of these storage areas, to mix or match. Or you can elect to not have them at all, increasing the knee room for the middle passenger if you regularly carry one.
There's more storage overhead, including a DIN slot, should that be required for a tachograph or other equipment. Multiple USB connections and other power sockets are available as required. Under-seat storage is present and correct.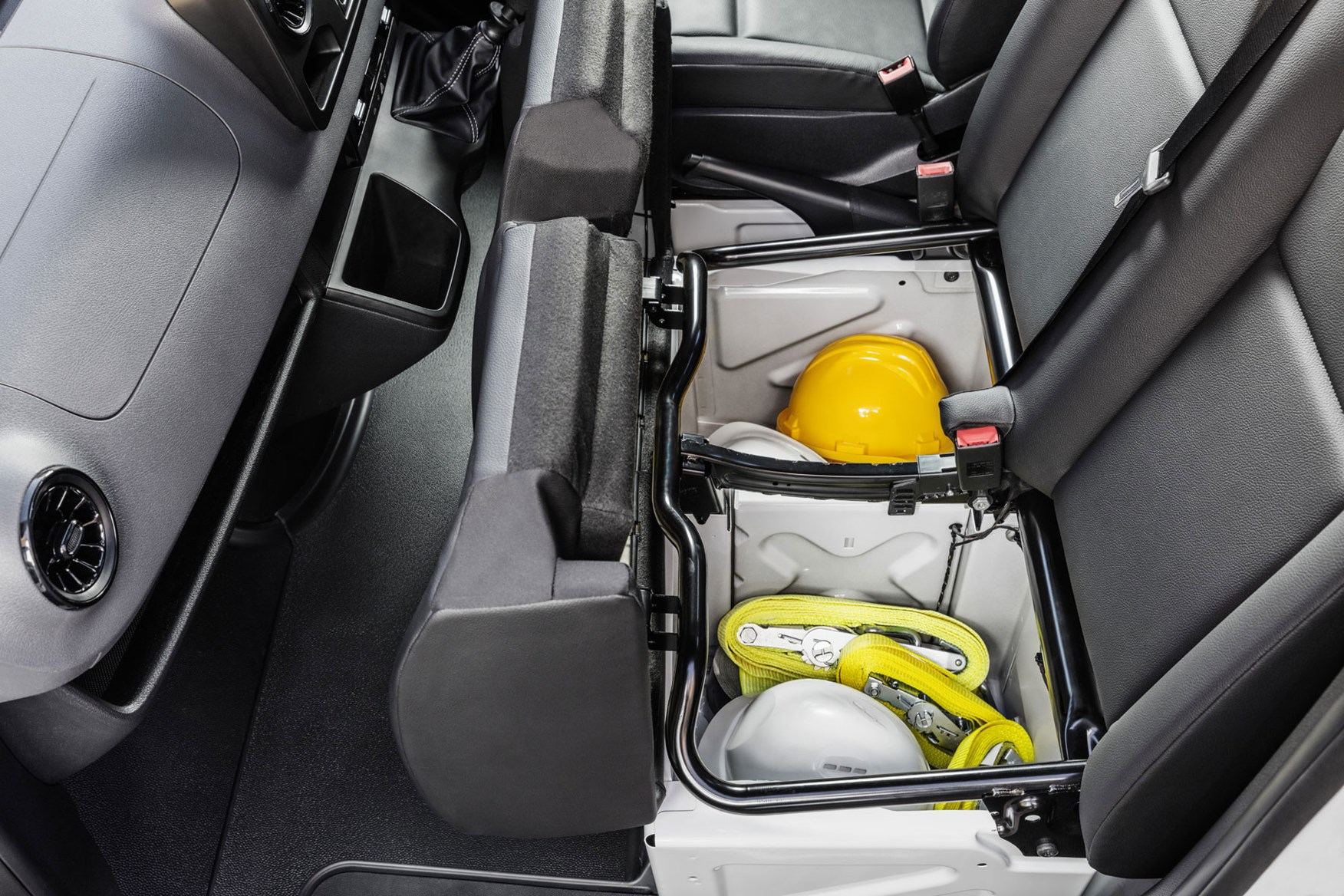 However, it's not all good news. There's no conventional glovebox at all (though a small shelf is offered on some versions), and the dash-top trays go so far back towards the screen it can be difficult to reach things inside.
Taken as a whole, we're not sure the Sprinter stacks up that well inside against the latest VW Crafter (or MAN TGE). The Volkswagen not only comes with a conventional glovebox, it also offers a third, easy-to-access compartment in the doors and has a surprisingly handy shelf that runs across the entire width of the cabin
The Crafter also appears to be made from better quality materials. So while the Sprinter offers the more flexible solutions (including greater numbers of lids on things), we'd examine both German rivals carefully to see which best meets your in-cab storage needs.
What is the Mercedes MBUX multimedia infotainment system like?
MBUX stands for Mercedes-Benz User Experience, and it replaces the old Comand infotainment system, featuring not only a slick touchscreen display, DAB radio (for the first time in a Sprinter) and Bluetooth as standard, but also a 'real speech' voice control system, similar in function to Siri on an iPhone or Google Assistant on an Android phone.
Simply say 'Hi Mercedes,' and the system will reply 'How can I help you?'
You can then ask it a question or tell it to do something. Its capabilities are a little more limited than a smartphone's, but it can answer questions about the weather, change the orientation of the sat-nav display (where nav is fitted), and if you've got your phone connected, you can dictate text messages very easily.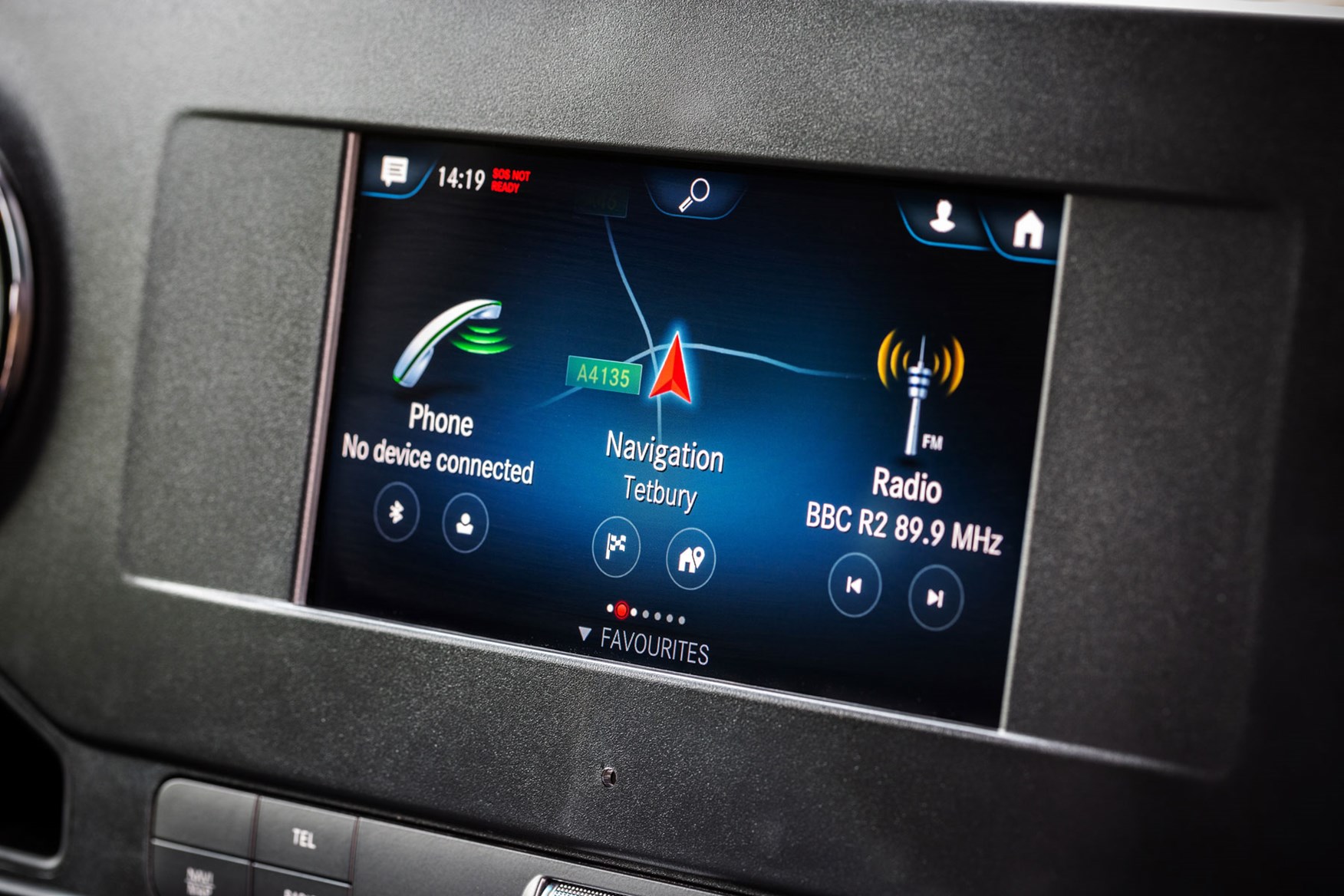 Ok, so in the demo in the press conference at Sprinter's international launch it got confused between the words 'new' and 'nude', which could have potentially interesting consequences, but fundamentally it works very well.
We were surprised that asking 'Where are we?' didn't get any response at all, however, and although it's supposed to be able to turn up the heating on command we couldn't get this to work.
It does seem to know more immediately practical things like speed limits, though.
Other useful features within the MBUX system include the ability to pair more than one phone at a time, and to set driver profiles.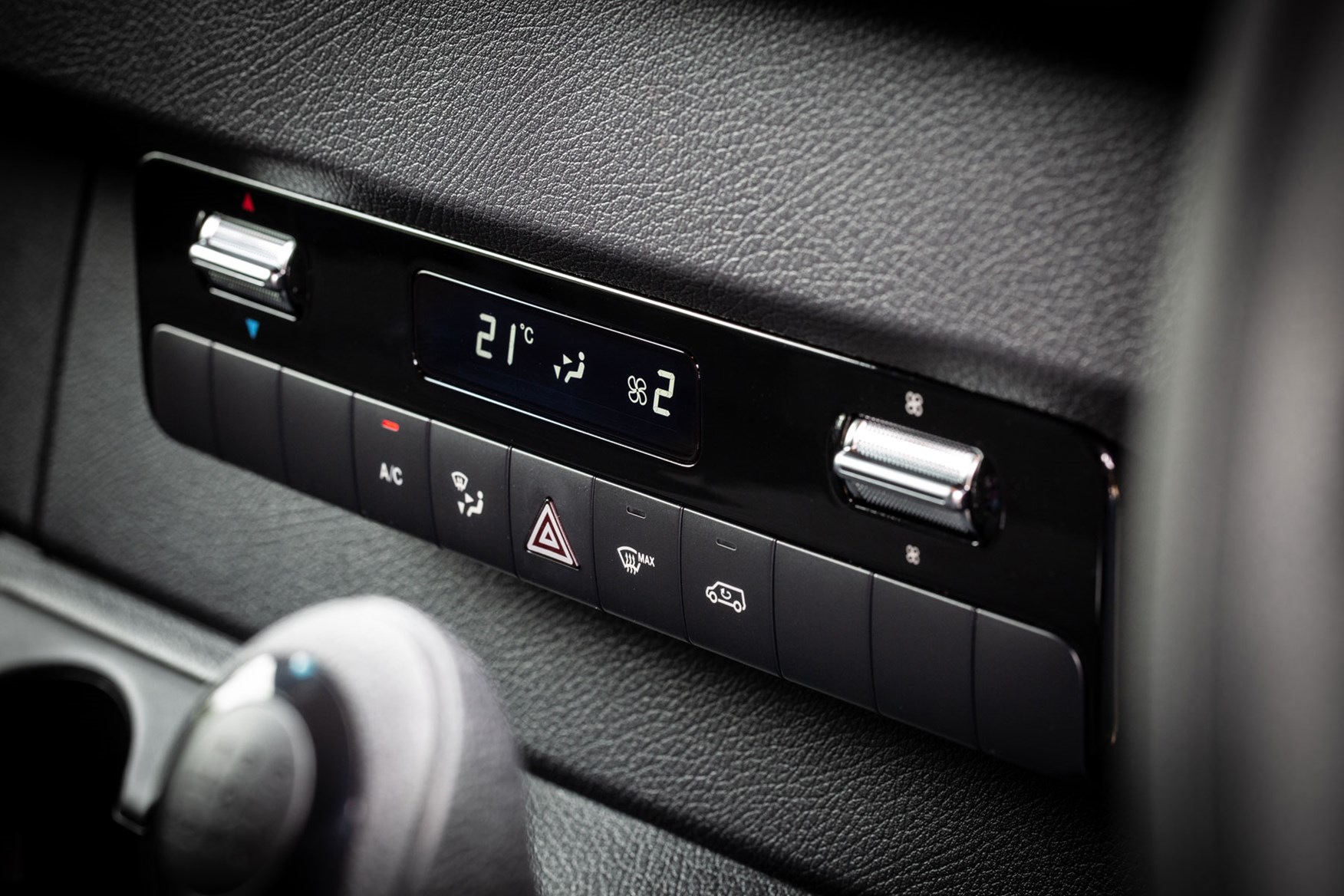 This last feature is handy as the system also learns which of its features you use most often, and tailors itself to suit. If lots of drivers use the same van, they will no longer be frustrated at other people's choice of radio station, for example.
What is Mercedes Pro Connect?
Every Sprinter of this generation comes fitted with 4G Wi-Fi internet connectivity as standard – which is how many of the MBUX functions work.
However, this also allows the van to be integrated into the new Mercedes Pro Connect telematics system right out of the box.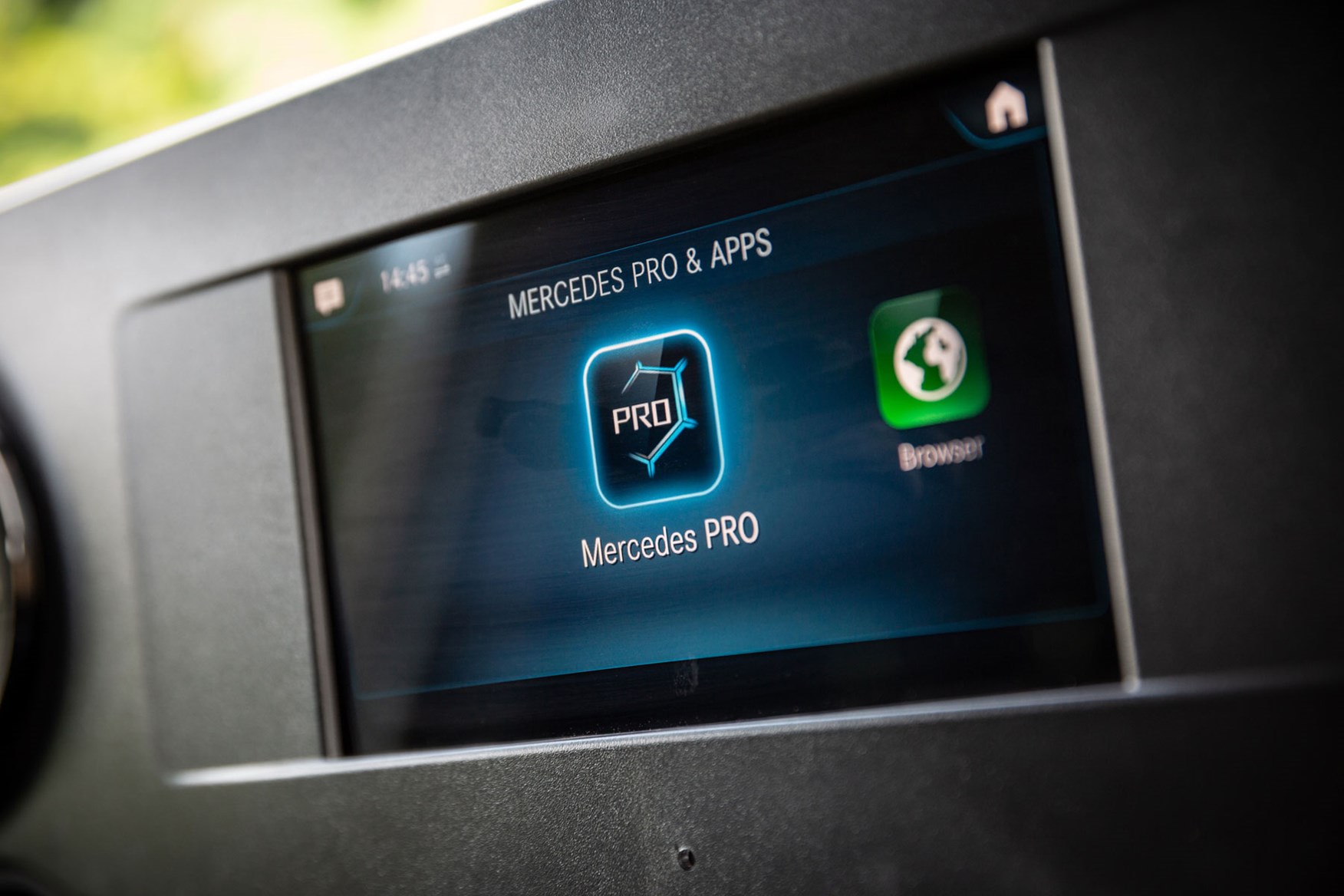 Telematics on vans is nothing new, but up until this point it has mostly relied on software (and hardware) from other companies. Mercedes is the first manufacturer to bring its own to market, and is offering eight packages at launch with the intention of making it as easy as possible to keep a fleet of Sprinters running smoothly while also improving the efficiency of your business.
As such, functions range from basic info about the van itself – including fuel level, tyre pressures and whether the doors are locked – to vehicle operations and management tools. All controlled via smartphone app or computer.
Here are some examples of Mercedes Connect Pro packages and what they can do:
Vehicle Supervision – this is the vehicle data tool, showing full details of the van itself from washer-fluid level to brake wear, and even allowing you to lock or unlock it via the smartphone app. Handy if you're on the other side of a site and someone needs a tool from the back
Vehicle Operations – vans can be tracked in real time, or you can set up a notification for when they leave or enter a specific area (a process called geofencing)
Vehicle Management Tool – allows you to send messages, addresses and contact details straight to the van or smartphone app, allowing you to organise jobs remotely
Maintenance Management – automatically flags upcoming maintenance issues, including routine servicing or more pressing matters; the idea is to give you more opportunity to organise servicing at a time least inconvenient to you and your business, including the ability to book online within the software
Digital Driver's Log – makes it easy for the driver to track working journeys, with settings including business, commute and private; in private mode all of the tracking systems are disabled
You will have to pay extra for most of these services, but Mercedes is including three years of 'Live Traffic' information wherever sat-nav is fitted. This gives you dynamic routing for maximum efficiency to save costs.
More Mercedes Pro Connect features are set to come online in the near future, too.
Increased level of standard equipment, long service intervals
Reduced running costs through intelligent design, high residual values
Fuel economy still doesn't match the very best in class
The Sprinter is not the cheapest van to buy, but the promise of strong secondhand values means monthly finance payments may be more affordable than you'd think – so don't immediately rule Mercedes out based on the list price.
Also, if you consider what you're getting for your money, it really represents very good value.
Mercedes Sprinter mpg
FWD Sprinters claim 34.0-35.8mpg according to the official figures.
RWD Sprinters claim 29.7-40.4mpg according to the official figures - though the hghest result is for a 5.0-tonne gross vehicle weight model rather than a more common 3.5-tonne version.
Regardless, this puts it right towards the bottom of the list of best large vans for fuel economy.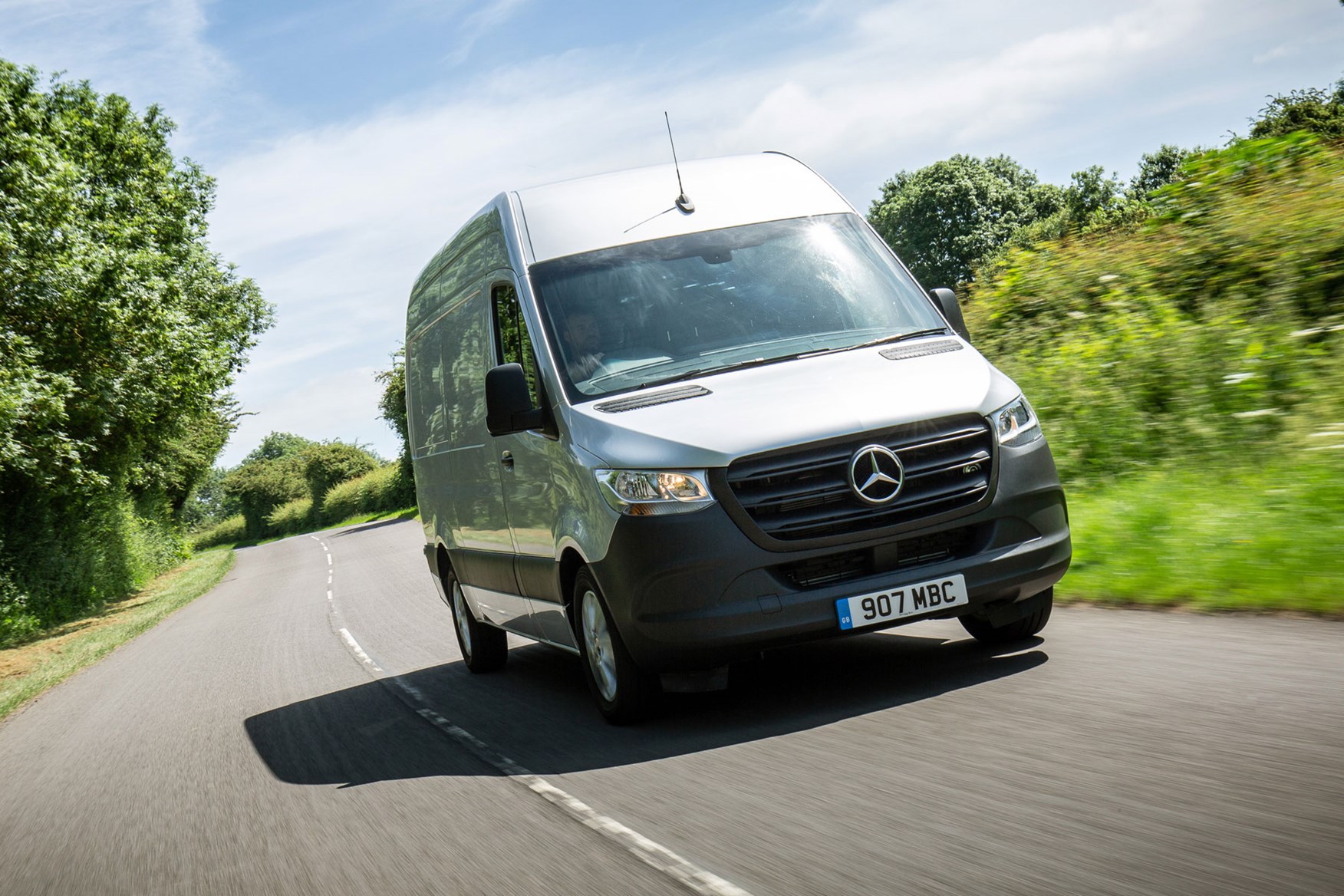 We're told, however, that in real-world driving, the new Sprinter should provide efficient motoring than the previous version, particularly in its lower-powered front-wheel drive variants, and especially where the nine-speed automatic gearbox is fitted.
Mercedes Sprinter running costs
Similarly, the automatic gearboxes, though more expensive in the first place, should reduce wear-and-tear costs over time, as they prevent drivers from being too aggressive with clutches and other components.
Mercedes-Benz servicing and parts aren't known to be the cheapest, but the firm does offer a line of reconditioned parts at lower prices, and for this model has worked hard to make it easier to replace individual components rather than entire assemblies.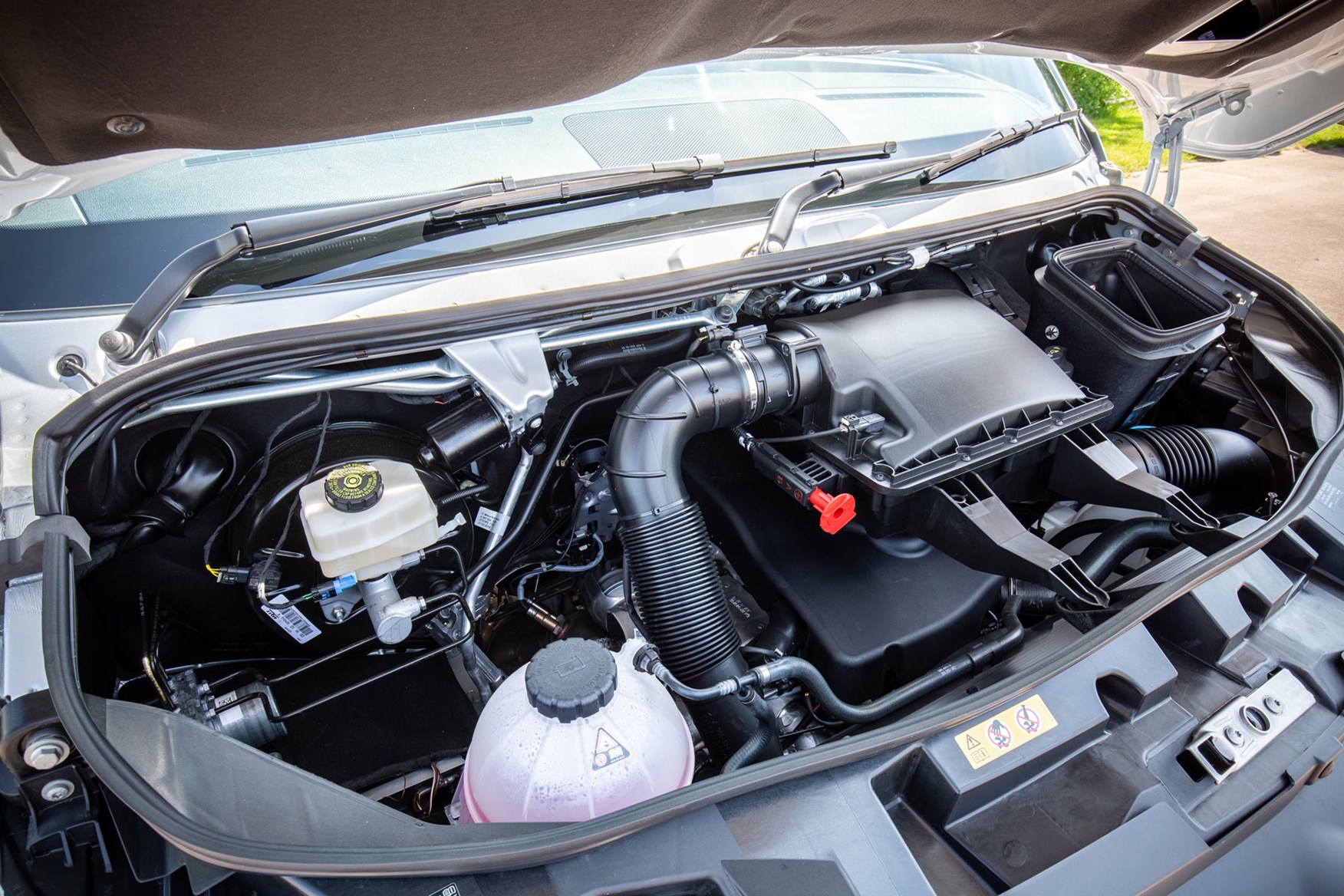 Buyers also get first-rate emergency breakdown assistance known as MobiloVan. This is free for up to 30 years, as long as you continue to get the van serviced by an official Mercedes centre – saving you the cost of additional breakdown cover, which may make up for paying a little more for the service itself.
Mercedes Sprinter servicing intervals
FWD Sprinters require servicing every 24,000 miles or two years – whichever is sooner.
RWD Sprinters can go up to 37,000 miles between services.
In practice, the Mercedes Pro Connect system can advise you of upcoming service and maintenance issues well ahead of time, which means you can arrange to get the work done when it's least inconvenient, minimising downtime and optimising efficiency.
Mercedes Sprinter warranty
All Mercedes-Benz Sprinters are covered by a three-year, unlimited-mileage warranty.
Mercedes Sprinter standard equipment
UK buyers get more equipment as standard than others in Europe, as we increasingly expect to see technology from cars in our vans.
These are just some of the standard equipment highlights:
Keyless entry and start
MBUX infotainment system with 7.0-inch touchscreen
DAB radio
Bluetooth
Steering wheel with multifunction controls
Communications module with 4G sim card (enables Mercedes Pro Connect and mobile Wi-Fi hotspot)
Electric power steering
Automatic headlights
You will still need to pay extra for air-conditioning and sat-nav, and of course the full options list is absolutely vast.
Mercedes is the class leader in this area, and will be looking to keep its reputation intact with the 2018-on Sprinter.
Although this van is significantly more complex than the previous Sprinter, it has over six million miles of testing under its belt ahead of going on sale, while the decision to carry over the old engines should make this latest model highly reliable.
>> The most reliable vans according to the FN50 van reliability survey
Cutting-edge safety equipment – both standard and optional
Autonomous braking systems are a bit keen…
Built-in connectivity increases peace of mind security
Another area where Mercedes has really gone to town with this Sprinter is safety.
Mercedes Sprinter safety
This ranges from features such as the rain-sensing Wet Wipers – which squirt washer fluid from the blade rather than onto the windscreen from jets on the bonnet in an effort to reduce the amount washing the screen obstructs your view (it works very well) – to cutting-edge active safety systems designed to reduce accidents.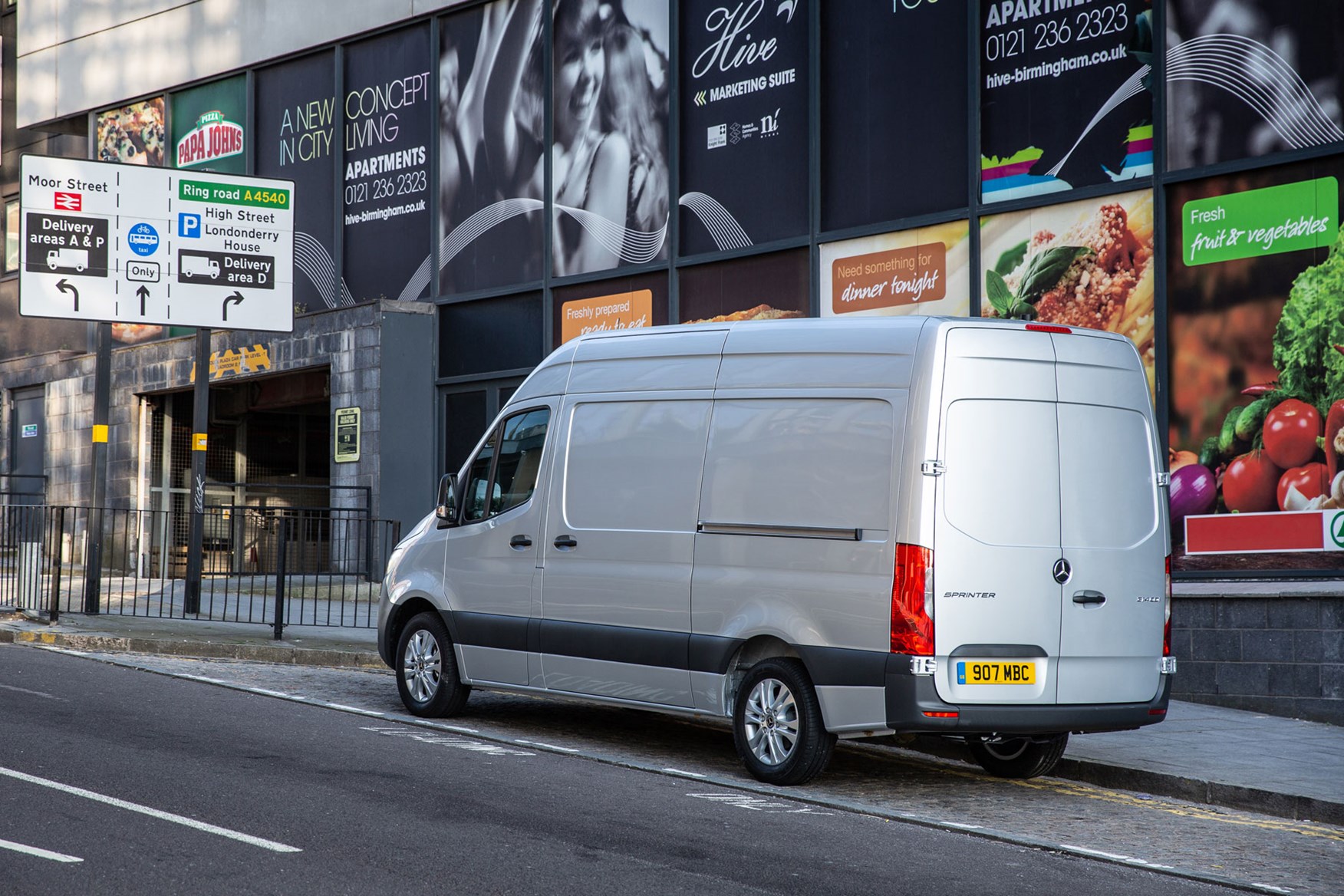 Standard features include load-adaptive electronic stability control (ESC – known as ESP by Mercedes) and Crosswind Assist, which now uses the steering as well as the brakes to counter side winds that might otherwise blow you off course.
UK Sprinter buyers also get Active Brake Assist – an autonomous emergency braking (AEB) system that now detects pedestrians and works better at night – and driver-monitoring Attention Assist as standard as well.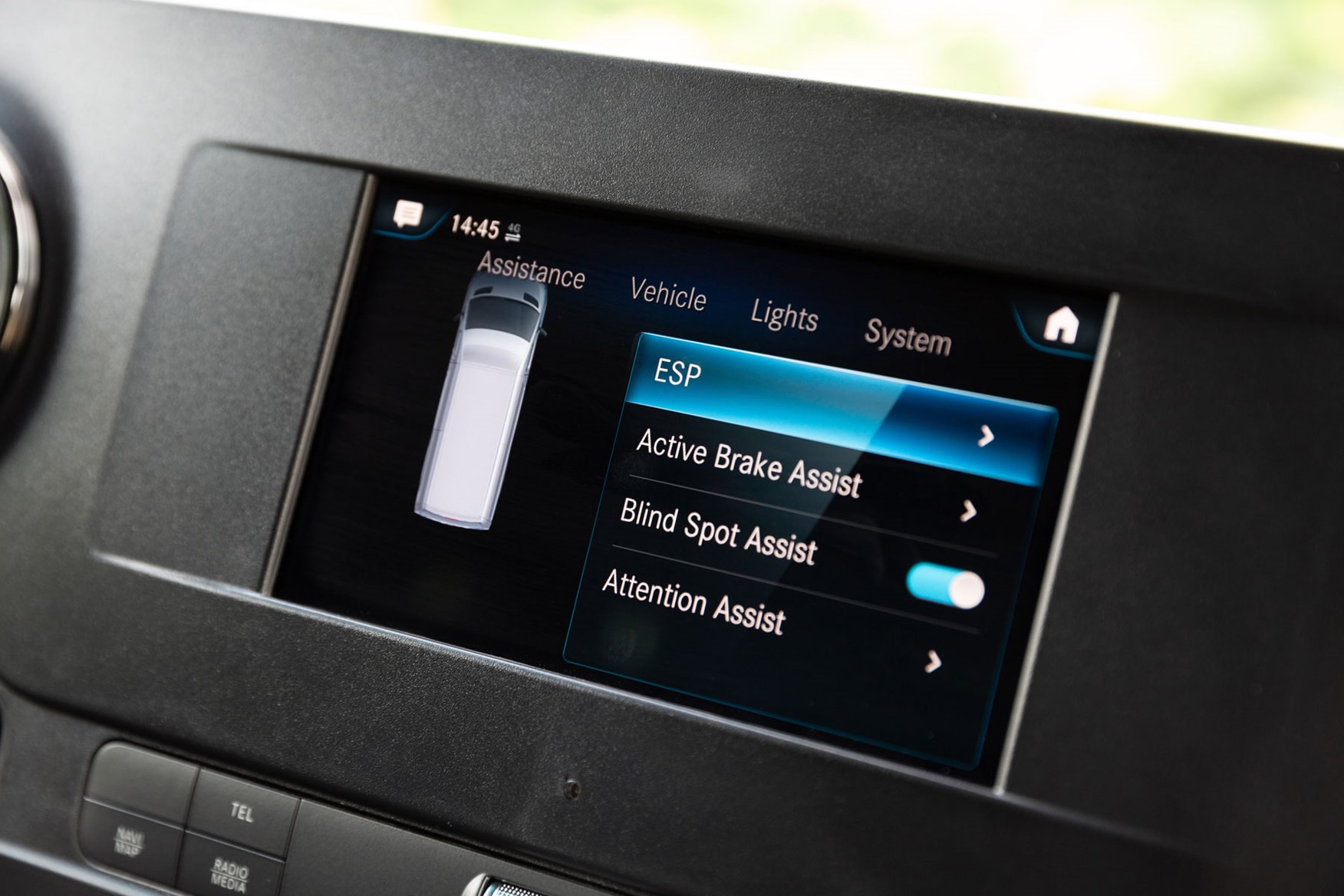 Optional safety upgrades include:
Active Lane Keeping Assist – warns then brakes one side of the van to prevent you leaving a lane without indicating; quite aggressive to say the least, see below
Active Distance Assist Distronic – an adaptive cruise control system with stop and go capability, meaning it will bring the van down to a standstill in traffic, and restart it if the traffic begins moving again within three seconds, taking the pain out of jams
Parking Package – all-round parking sensors plus self-cleaning reversing camera
Drive Away Assist – combined with the Parking Package, this stops you driving into things by accident from a standstill
Parking Package with 360-degree camera – birds-eye view camera system for the ultimate in avoiding objects at low speed; available on cars and some pickups for years, it's great to see it appearing more widely on vans
LED headlights
Phew.
Should you still manage to have an accident, the Sprinter can automatically call the emergency services, bringing them to your aid.
Autonomous braking systems still need some work
All these safety systems are great – if they work properly. But on the initial launch drive of the 2018-on Sprinter, we found some of the braking functions a touch too aggressive.
The Active Lane Keeping Assist was particularly bad, slamming the brakes on if you wandered too close to a solid white line when going round a curve. A shock to us; an even bigger shock to the vehicle behind.
Similarly, the main Active Brake Assist triggered itself – albeit more gently – apparently in response to a shadow from a bridge. This was only a momentary 'false-positive' so we didn't end up at a standstill in the outside lane of a Dutch motorway, but it was disconcerting, nonetheless.
Mercedes Sprinter security
An alarm and immobiliser system are fitted as standard, while keyless entry and start on all models means you never need to take the key out of your pocket – which hopefully reduces the chance of you losing it.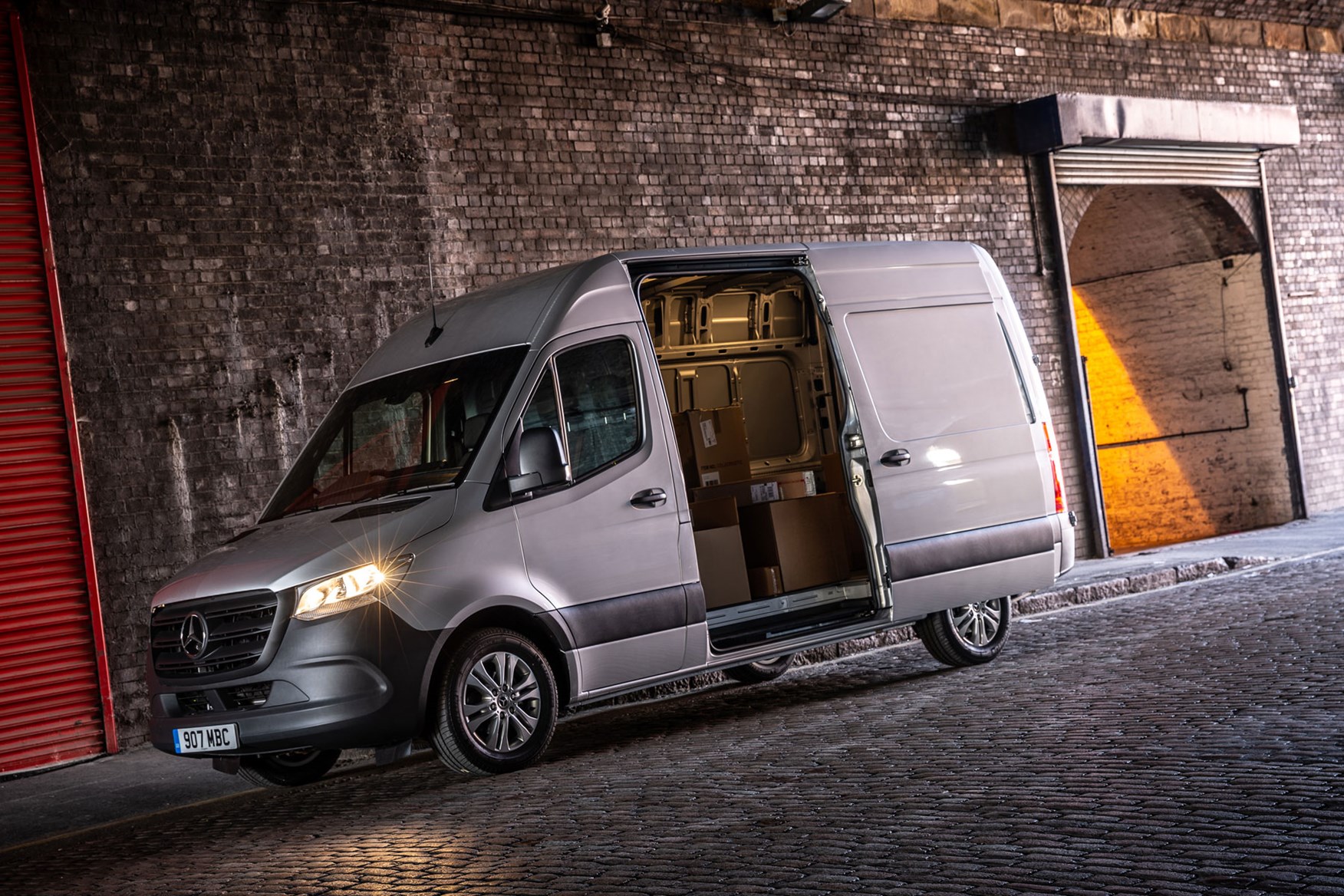 The standard 4G Wi-Fi connectivity and the Mercedes Pro Connect app means you can locate the vehicle easily – useful for big parking lots as well as recovery after a theft. The same system allows you to remotely lock (and unlock) doors, and see whether the doors and windows are closed.
Mercedes usually fits strong locks, but as with any van, if someone really wants to get inside, they will – no lock can protect from mechanical cutting equipment, after all. Don't leave anything inside that you can't afford to lose.
Which Mercedes-Benz Sprinter is best for me?
With such a vast array of models and options, picking your perfect Sprinter might prove quite a task - though whatever you want one for it's likely Mercedes has something suitable.
Here is some extra info that might help you decide which is best for you.
Most popular Mercedes Sprinter engines
Most buyers are likely to choose the 140hp/143hp engine options, which will be fine in most circumstances.
However, we found that even without any load in the back at all, these will start to struggle on steep hills in top gear when equipped with the standard six-speed manual gearbox. The problem is present on both FWD and RWD versions.
So, either be prepared to start shuffling cogs with the gearlever in order to maintain momentum, or go for an automatic transmission.
Are FWD or RWD Sprinters better value?
Front-wheel drive Sprinters cost less, but may get through front tyres more quickly and they certainly require servicing more often.
Swings and roundabouts… We suggest you buy based on the best choice for your use. FWD Sprinters are nimble, and perhaps a tad nicer to drive; RWD Sprinters will cope with heavier loads and offer greater traction when fully loaded.
---
Mercedes Sprinter 4x4 review
Tested January 2019 by Tom Webster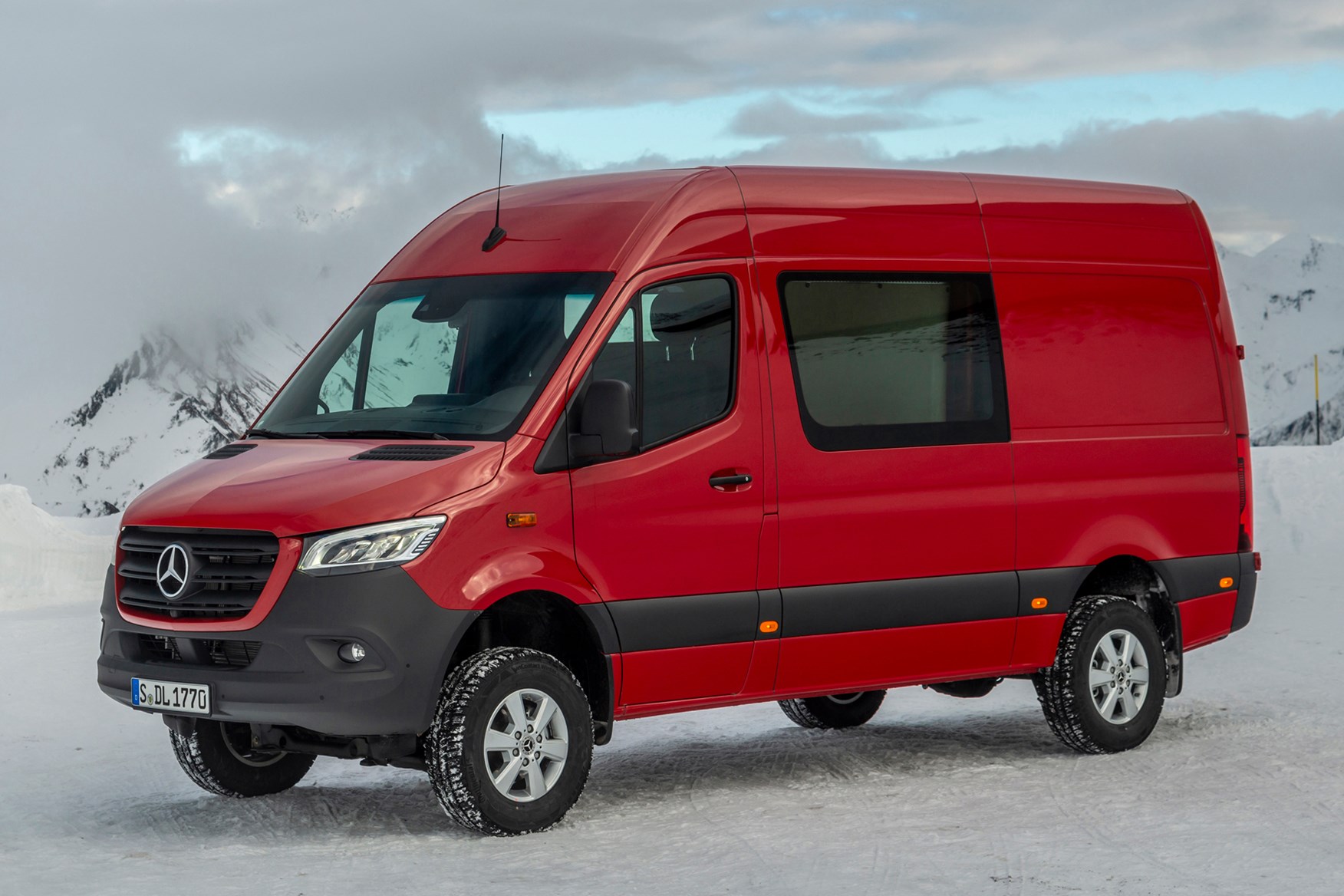 We've had an early drive in the go-anywhere version of Mercedes' high-tech large van, the Sprinter. We travelled to the Austrian Alps to tackle icy terrain that is likely to be harsher than that faced by many Sprinters.
The new Mercedes Sprinter comes with so much technology that it offers almost anything a modern van user could want. But there was no four-wheel drive version.
Now a 4x4 model has joined the range though, and we've had an early go. So far, we've only been able to take the Sprinter 4x4 out on off-road terrain, however, that was about as testing as it gets, as snow and ice-covered mountain roads are likely to offer a sterner challenge than many Sprinters will face in the UK.
Doesn't the Mercedes Sprinter 4x4 look a bit odd?
There is a chance that you will be able to spot a 4WD Sprinter from a long way off, thanks to the 100mm increase in ride height that gives it an elevated stance. It stops short of looking like it is perched on an unlikely set of automotive stilts, instead appearing more rugged and capable. As much as a panel van can look rugged that is – there isn't any extra unnecessary cladding around the wheel arches, or enhanced bumpers.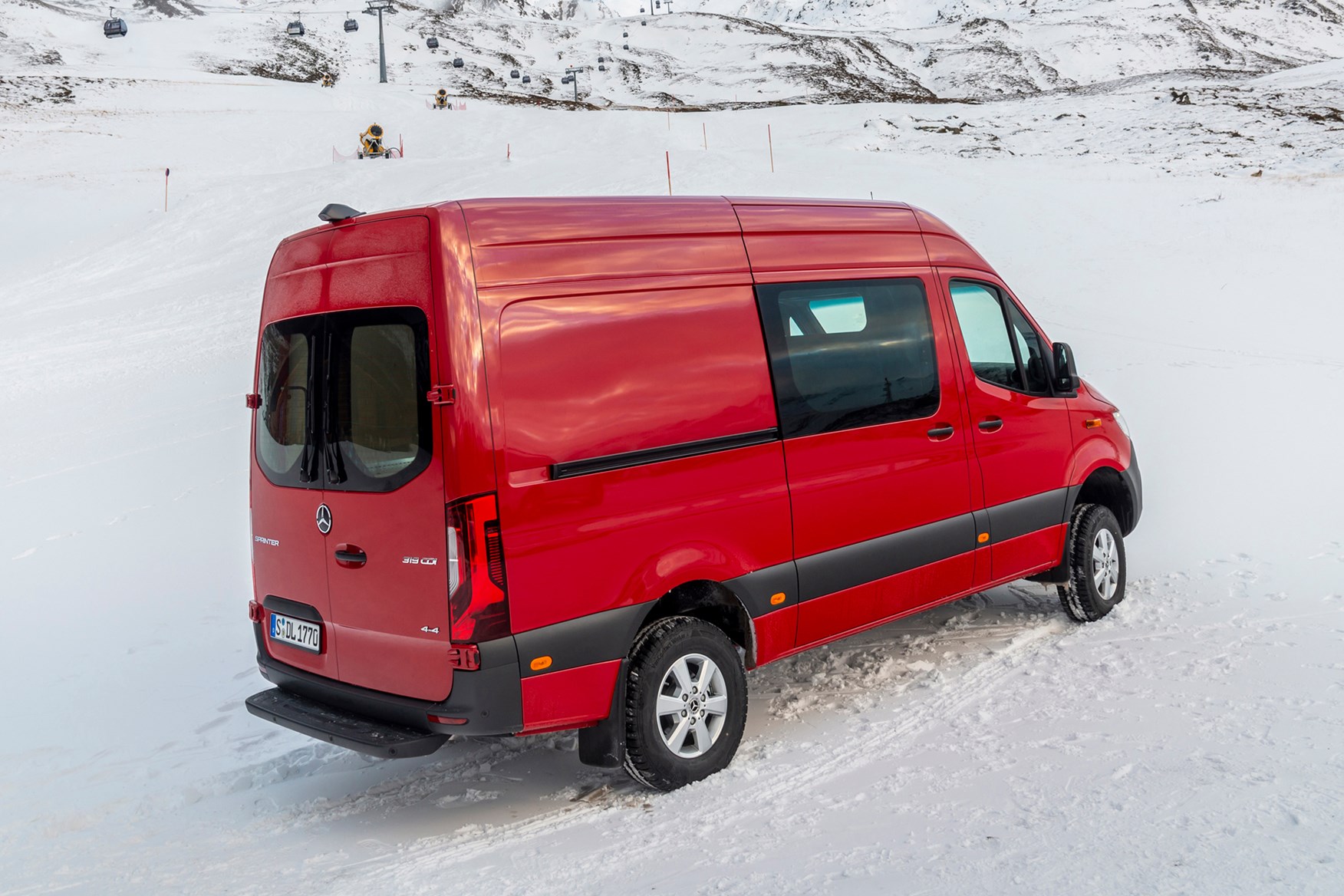 This is an optional addition, though, so there is every chance that you won't be able to spot the 4WD Sprinter among its front-wheel-drive or rear-wheel drive compatriots.
If you do go for it, then taller drivers will be made to feel small when getting in and out of the cab. The extra ride height makes for a very high step up from the ground, so all but the very loftiest of drivers will have to make use of the side steps and the grab handles.
It is a shame that these handles are located on the door, though, rather than the windscreen pillar. The positioning doesn't feel as natural for pulling oneself up into the cabin, so instinct has you reaching for the steering wheel to get a boost up. However, such is the height of the handle that there is every chance that would be out of the reach of some shorter drivers if it is was positioned there anyway.
What is the Mercedes Sprinter 4x4 like off-road?
The conditions we faced in the Sprinter 4x4 were certainly a test, with deep snow and ice proving a challenge. None of the Sprinters we tried, be it the 143hp four-cylinder 2.0-litre diesel or the more powerful V6, struggled with getting over the frozen obstacles, but the smaller version did have to work a fair bit harder to keep up with the passenger car leading us when we were on the longer uphill straights.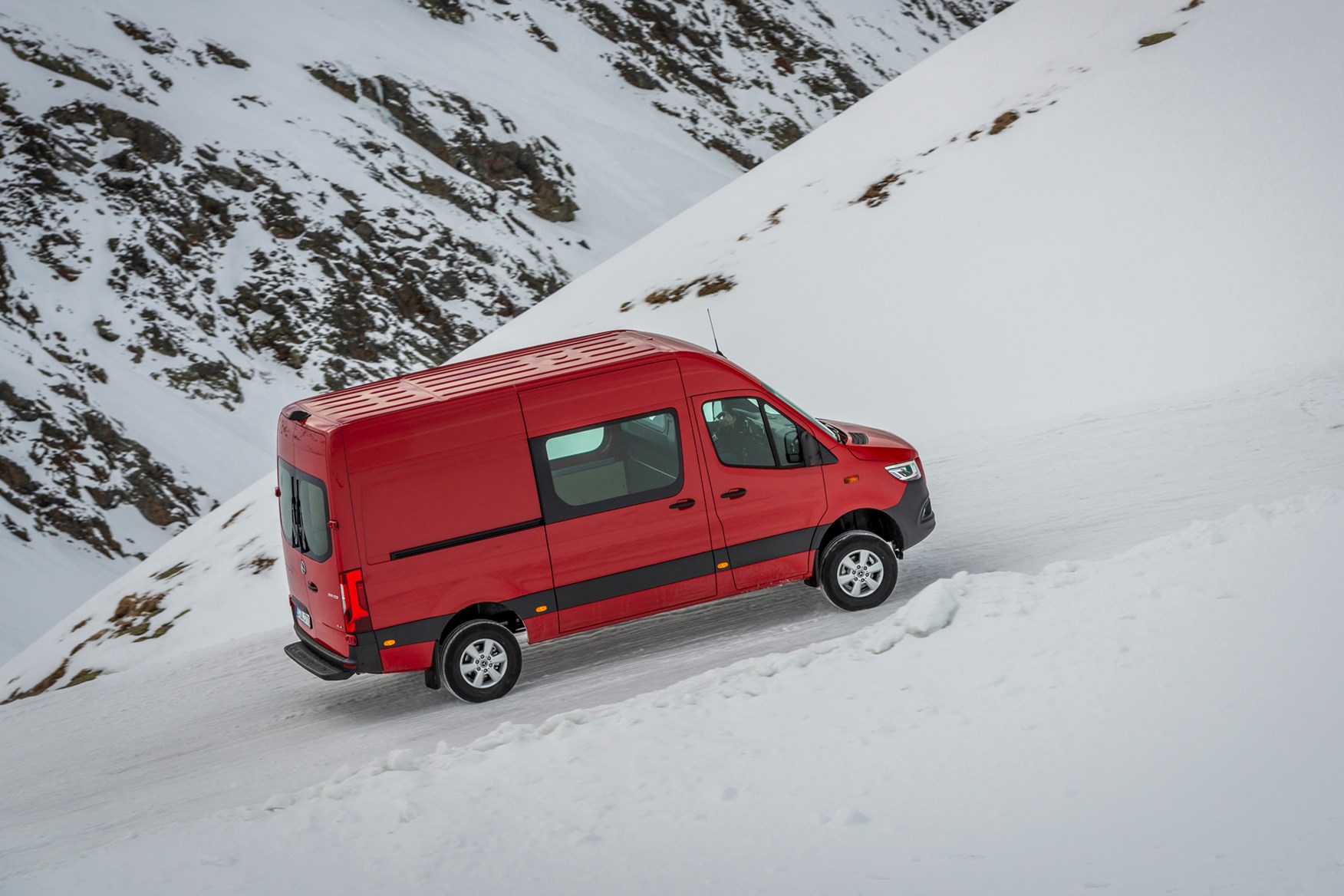 With so much extra height in the suspension, it is perhaps no surprise that the ride feels different to a standard Sprinter. Inevitably there is a little extra bounce and movement over bumps, but the big caveat is that we were unable to venture away from our mountain road, and certainly never got up to anything like motorway speeds.
Despite this extra bounce, it doesn't ever feel like control is compromised, as most of the movement is absorbed long before it gets to the cabin. Whether this is the case on a rolling UK A-road with its fair share of potholes remains to be seen.
What other kit does the Mercedes Sprinter 4x4 come with?
The all-wheel drive Sprinter was a manual-only model in the past, but the good news is that this has changed with this latest version. Sadly, you don't get the latest nine-speed automatic gearbox that is available on the front-wheel drive Sprinter, but you do get the still-excellent seven-speed version that comes on the rear-drive version.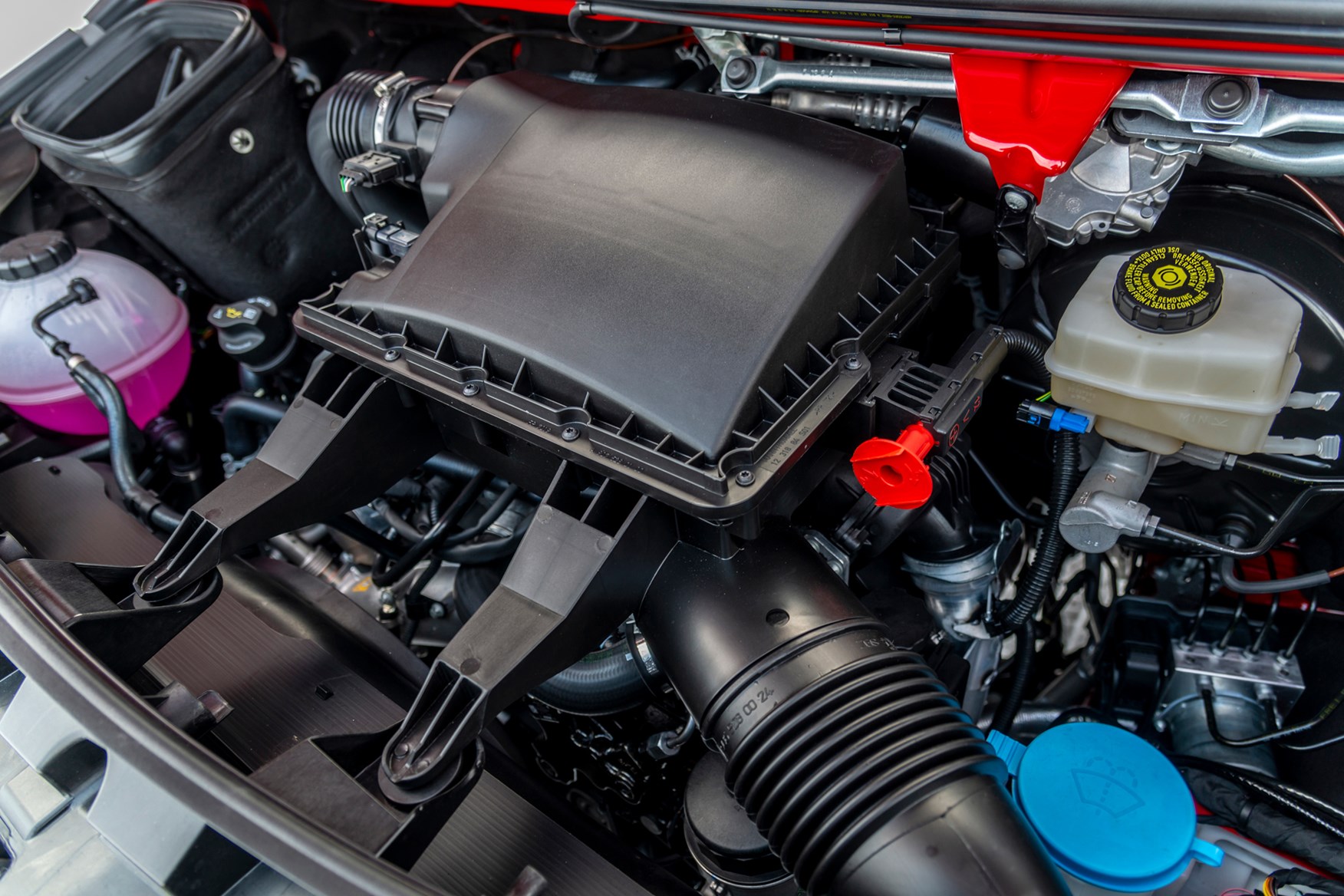 Despite not being the newest auto around, it is still a smooth and slick unit.
As with the RWD model, the 4x4 will only be offered as a 3.5-tonne version and above and there is a choice of three engines. There will be a choice between the 2.0-litre, four cylinder 143hp and 163hp diesels and the 190hp 3.0-litre V6 diesel.
Is the Mercedes Sprinter 4x4's payload affected?
Adding the necessary mechanicals to send power to the back wheels inevitably adds weight, which then impacts on payload. The 4x4's payload is approximately 200kg lower than that of the RWD model, which is in turn around 35kg lower than the FWD version.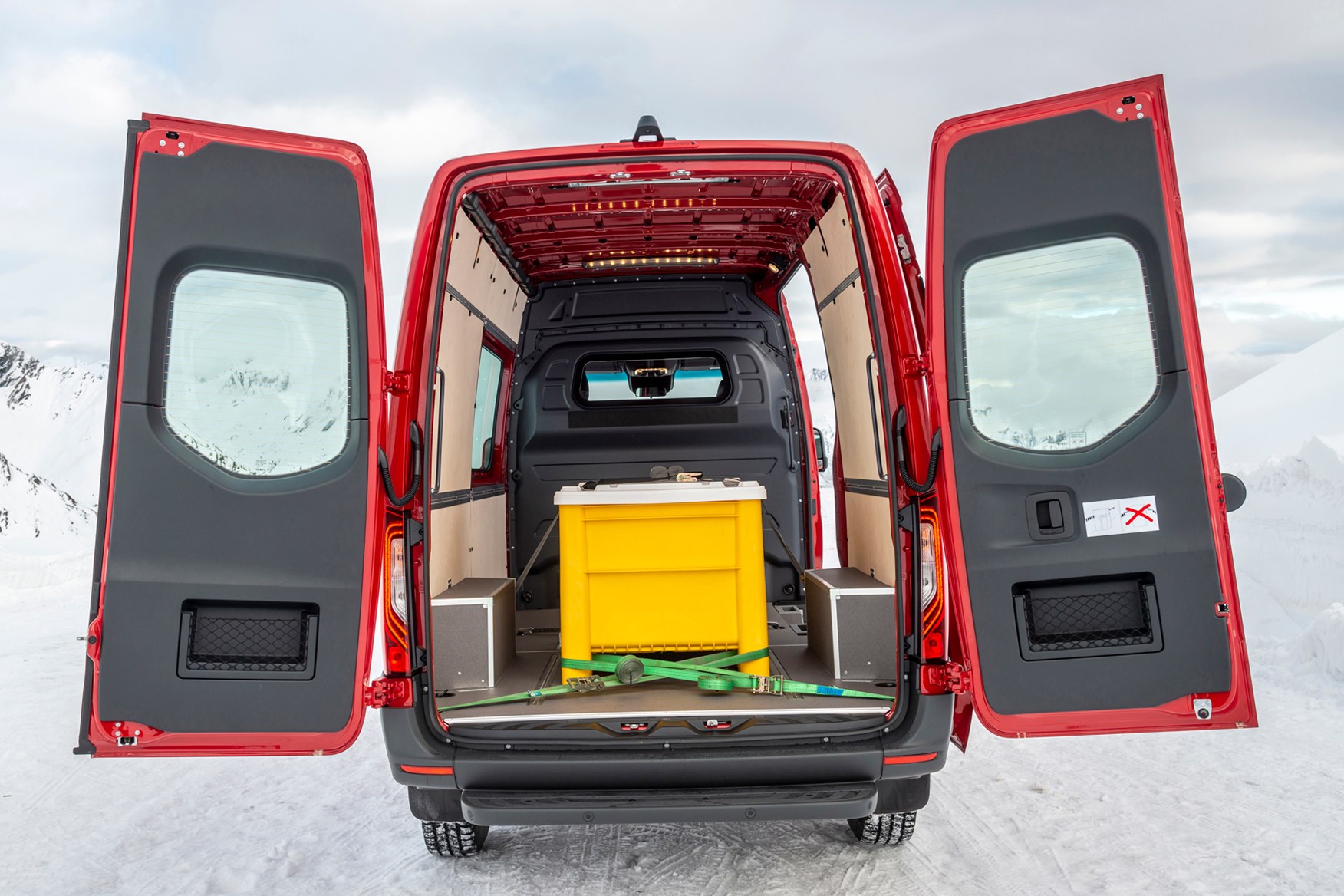 This would mean that the payload king – the 314 CDI – should still be capable of carrying around 1,220kg.
However, because the 4x4 version has been planned in from the start, the loading capacity isn't affected.
When does the Mercedes Sprinter 4x4 go on sale and how much will it cost?
The final date is still to be confirmed, but we expect it to be available from February. Expect to pay a premium for sending power to all four wheels, though, with the 4x4 model likely to add around £7,000 to the cost of a 2WD model, meaning prices will start at around £37,000 (not including VAT).
More information is set to be announced in January, and we will bring you all the latest when it is available.