Mercedes-Benz A-Class review
Current Model
Impressive optional in-car tech, but prioritises style over substance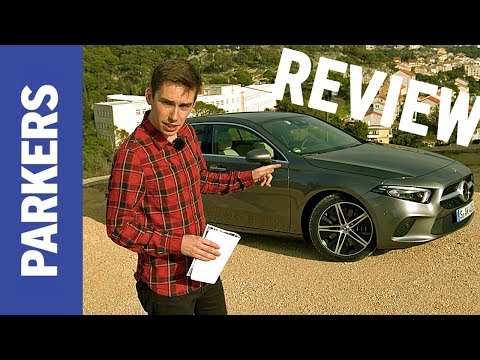 Enlarge
1

videos
Enlarge
93

photos
PROS
Striking interior design
Effective voice controls
Impressive petrol economy
Refined and punchy diesel engines
CONS
Some cabin quality concerns
Coarse A 200 petrol engine
AMG Line models could ride more smoothly
Some practicality and visibility issues
PROS
Striking interior design
Effective voice controls
Impressive petrol economy
Refined and punchy diesel engines
CONS
Some cabin quality concerns
Coarse A 200 petrol engine
AMG Line models could ride more smoothly
Some practicality and visibility issues
Mercedes-Benz A-Class Hatchback rivals
The Mercedes-Benz A-Class may be the smallest model in the German manufacturer's line-up, but it was one of the most popular in its previous generation form, so it's no wonder this fourth-gen model looks very similar. With stiff competition like the Audi A3 Sportback and BMW 1 Series, the A-Class has a tough job on its hands, but Mercedes has packed a vast array of advanced technology inside the latest A-Class - some you won't even find in the top-end S-Class luxury saloon.
It's not just BMW and Audi it needs to see off, as there's also the Volvo V40, Lexus CT and Volkswagen Golf to take care of when in higher-spec trims. While the A-Class is playing the baby Benz card more than ever, with a raft of high-tech equipment – much of it is optional and pricey – which makes the cabin generally feel more upmarket than you'd normally expect for a car of this size and a more eye-catching design. Is it enough to put the A-Class at the top of the premium hatchback pile? Read on to find out.
The interior: MBUX media system with Mercedes Me
The interior of the A-Class couldn't be more different from the previous car, as well as its rivals. The analogue dials and crowded centre console have been ditched in favour of a new infotainment system called MBUX, plus a slick, simple and modern design throughout. The new MBUX system impresses with bright screens for the dials and the media system, but it's worth noting that the standard set-up features two smaller 7.0-inch screens that look a little lost in the dashboard.
If you want the most advanced 10.25-inch screen configuration, you'll need to dip into the options list and pay extra. The interior itself is dominated by the dual screen set-up and these control almost all of the car's auxiliary functions, with a choice of touchpad, touchscreen or a new voice control system that's one of the best in the business. It's actually more advanced than the infotainment systems found in the E-Class and S-Class, signalling Merc's intention to make the A-Class the best option if you want a tech-heavy premium hatchback.

Mercedes-Benz A-Class interior space
A cramped cabin was a common complaint levelled at the previous generation A-Class, and Mercedes has addressed these issues by offering far more space front and rear. In the front, the slimline dashboard affords front seat occupants a great amount of space to stretch out in, while generous storage means there's a place for all your bits and bobs, while rear accommodation no longer feels claustrophobic, with enough room for two adults. The boot has also grown and the loading aperture widened, making it easier to load awkward, heavy items, however the rear seats still have integrated headrests. While these may look nice and sporty, the seriously impact rear visibility through the rear-view mirror, and are more difficult to fold down if you need extra load capacity. It's a safe car to travel in, too, evidenced by its full five-star safety rating from Euro NCAP in 2018.
Mercedes-Benz A-Class engines
The Mercedes A-Class engine range is a comprehensive one, made of a selection of petrol and diesel units, with a hybrid expected later on. For the diesels, the choices are a 116hp A 180 d, 150hp A 200 d and a 190hp A 220 d. All diesel engines are paired with an automatic gearbox. If you want petrol power, there's a 1.3-litre turbo in two outputs: the 136hp A 180 and 163hp A 200, available with a choice of manual or automatic transmissions. Moving up the range there's an A 220 with 190hp (available with front- or all-wheel drive 4Matic) and a 2.0-litre A 250 - both are automatic.
There's also a performance-focused Mercedes-AMG A 35 which is a 306hp all-wheel drive model taking aim at the likes of the Volkswagen Golf R and Audi S3. The automatic gearbox on most models is a smooth shifter and, once you've got used to the steering column-mounted selector, is a doddle to operate. Out on the road, the A-Class is focused more towards comfort than handling, though the lowered suspension and big wheels of AMG Line model detract from comfort on rough UK roads. It's not the last word in fun, but does provide a reasonable amount of cornering grip; there's decent promise on display for the AMG model. Find a smooth road and the A-Class's suspension provides a pretty comfortable ride. Rougher stretches and scarred tarmac – sadly a common occurrence in the UK – confound the Mercedes, though, with the car often failing to settle quickly.
Three trim levels
All A-Classes (the range kicks off with the SE) get a reasonably long list of standard equipment including sat-nav, cruise control, a reversing camera, 7.0-inch digital dials and media screen, a DAB radio and a suite of advanced safety systems. You have to pay more for dual-zone climate control, however, which only features as standard on Sport and AMG Line cars, along with automatic windscreen wipers. Meanwhile, parking sensors, heated seats and electric-folding door mirrors are all missing from even AMG Line models and you'll have to pay substantially more to add these to your car.
In fact, to get the best out of the A-Class, it's worth diving into the options list for a couple of select additions. The Premium equipment line increases the size of the dual displays to 10.25 inches, while the Smartphone Connect package enables Apple CarPlay/Android Auto connectivity. Add any of this equipment and the already pricey A-Class becomes an even more expensive prospect – whether you're financing through Mercedes' PCP scheme or paying cash.
Mercedes-AMG A 35 brings 306hp and all-wheel drive traction
Filling the gap until the full-fat Mercedes-AMG A 45 arrives, the A 35 represents the entry-level performance model in the manufacturer's range. Yet don't its lowly position in the hierarchy fool you. The A 35 is a 306hp, all-wheel drive hot-hatch every bit as quick as its rivals from BMW and Audi, with 0-62mph taking just 4.7 seconds and top speed rated at 155mph. Other highlights include a AMG Dynamic Select with five different drive modes (including the all-new Slippery setting), optional AMG Ride Control adaptive dampers and an eye-catching AMG Style package.
If you want maximum performance, look to the Mercedes-AMG A 45 S
Other Mercedes-Benz A-Class models: