Road test: 2014 Kia Sportage
Kia's popular 4x4 gets a facelift
New grille, tail-lights, equipment
Quieter and more comfortable
Kia's popular 4x4 gets a facelift
New grille, tail-lights, equipment
Quieter and more comfortable
What do you reckon is the best-selling Kia model in Europe? The Ceed hatchback, which once found fame as Top Gear's reasonably priced car? The Picanto runabout, which is one of the most affordable new cars you can buy today?
Actually, it's the Kia Sportage, which shows just how popular mid-sized off-roaders and 'crossovers' have become. It shifted a mammoth 90,000 units across Europe in 2013 and shows no sign of slowing down.
With the current-generation Sportage now four years into its life-cycle, it's been given a mild facelift and a few new bits and bobs of equipment for 2014 to keep it up to date.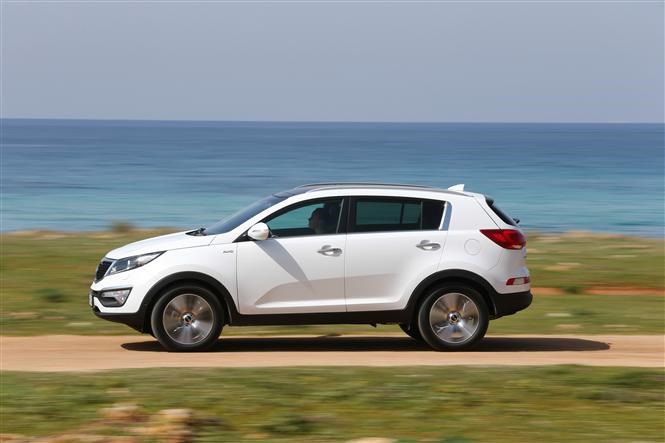 What's new?
Kia has timed it about right for a facelift – stylish lines are a real part of the current-gen Sportage's success but it was just starting to look ever so slightly dated.
It's not a huge change, but things have been sharpened up a bit with a new front grille design with a '3D' pattern, LED tail-lights and different alloy wheel designs in a choice of 16-, 17- or 18-inch diameters.
Inside, the dashboard's clad with higher-quality, soft-touch materials, as are the upper door panels and there's new upholstery for the seats – as before, it's still cloth for lower trim grades and leather for more expensive derivatives.
Behind the wheel you sit behind a new instrument cluster with an LCD screen between the dials displaying information such as trip data and sat-nav directions (when the navigation system is fitted).
A USB and iPod connection – something of an essential these days – is now fitted, too.
Those bits are standard – further new equipment for 2014 available on higher trim variants or as options at extra cost include a rear-view camera, heated steering wheel, electrically adjustable driver's seat and a high-end stereo upgrade.
To go with Kia's famous seven-year warranty there's now a seven-year map update for the sat-nav system, too.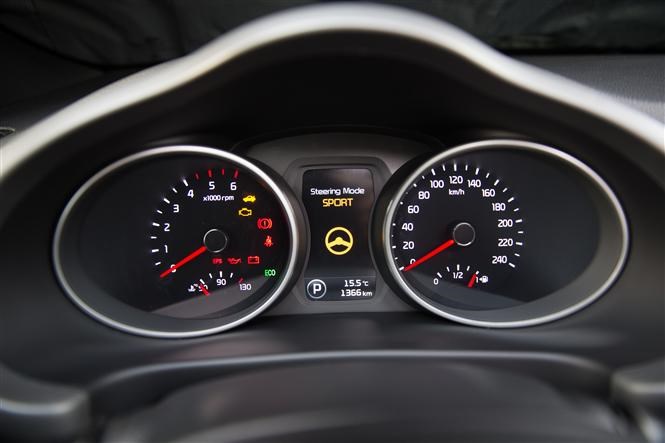 Any mechanical changes?
Nothing new on the engine front but Kia's engineers have been tinkering with the steering and suspension.
The steering's a bit quicker and more responsive, and now features the same 'FlexSteer' function as other Kia models, which allows the driver to choose how heavy or otherwise you'd like the power steering to be.
Of more use to most buyers will be the fact that the Sportage is now more quiet and comfortable than before. A new windscreen cuts wind noise and ride quality is more pliant than before thanks to revised mountings and settings for the suspension.
If you're likely to use your Sportage as a tow car, the standard ESC Electronic Stability Control) system can now help to stop trailers from swaying excessively by applying the brakes to certain wheels to counteract its movement.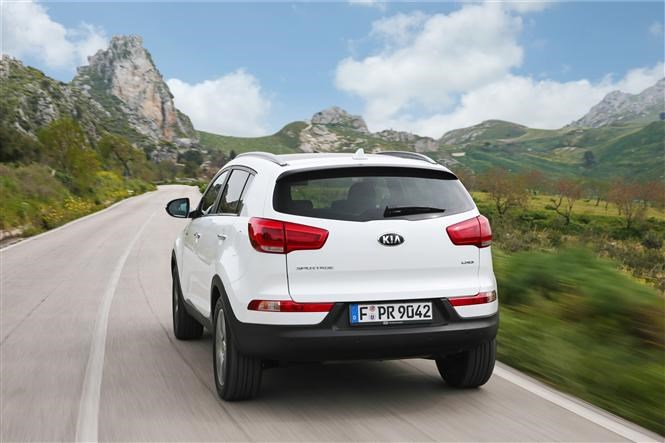 Should you buy one?
There's no reason why not. The Kia Sportage is comfortable, very easy to drive, rides well enough and equipment levels have now been brought up to date.
Access to the rear for child seats and the like is good, although rear headroom for tall passengers isn't as great as you might hope from what is one of bulkier crossovers on the market.
The main issue with the Sportage is that it's just a bit dull. This isn't a type of car that you buy for excitement, of course, but there's a definite lack of wow factor here.
There's no shortage of able rivals for the Sportage – Nissan's Qashqai is a great all-rounder and can boast lower fuel consumption and CO2 emissions, while the excellent-but-expensive Volkswagen Tiguan is no spring chicken but still well worth a look. There's also the less comfortable and refined but more practical, characterful and affordable Skoda Yeti.
The Kia Sportage puts up a worthy fight though, and if that new grille takes your fancy it's worth adding to your shortlist for a test drive.
Read our full Kia Sportage review here.