From 2035, the UK government intends to ban the sale of all new petrol and diesel cars, prompting many drivers to make the switch to an electric car (EV) ahead of time. Luckily for them, the EVs on sale now have never been better and there's a huge variety to choose from including everything from small city cars, to practical family estates, seven-seaters and big SUVs. 
EVs have entered mainstream acceptance with the proliferation of public charging stations and increasing pressure on car manufacturers to build cleaner and greener vehicles. Almost every mainstream brand offers at least one family EV now and many new brands are joining the fray. Early EVs were rather expensive and couldn't go very far but the latest crop offer usefully long range at an affordable price. As good as the cars have become, though, the UK charging infrastructure is still of a bit sticking point that puts many people off making the switch.
Short journeys are no issue at all, especially if you can charge at home, but long journeys need to be planned carefully around charging stops – especially if you have an electric city car with shorter range. And you can't take for granted that chargers will be available and working when you get there. They may be rather expensive to use, as well. Still, if you can work around these issues – as many people do – you'll find that driving and owning an electric car can be a real pleasure. That's because they're easy to drive, quiet and quick. So there's no need to give up the joy of driving when you switch from fossil fuels.
Keep reading to see our Top 10 best electric cars on sale in the UK in 2023. They've all been extensively tested by Parkers' experts and offer long range, a great driving experience and good value. 
Top 10 electric cars
Editor's choice: MG4 EV
Incredible value and rather good to drive, too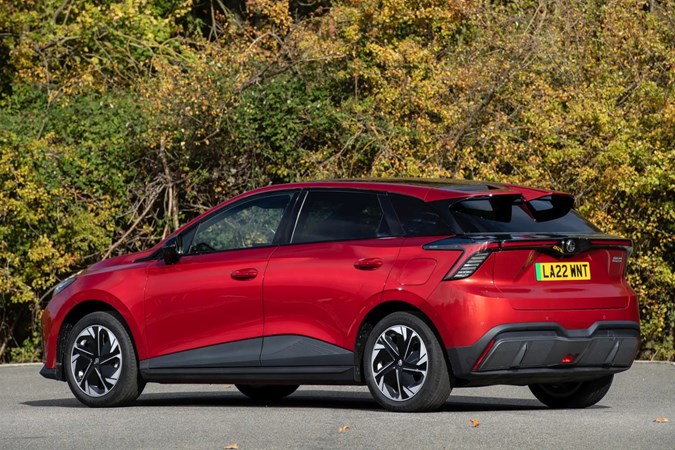 Pros:
✅ Long range
✅ Good to drive
✅ Undercuts all rivals on price
Cons:
❌ Touchscreen is fiddly
❌ Some cheap-feeling interior materials
The MG 4 has really shaken up the electric car market since it was launched in 2022. That's because it's so affordable. Its price undercuts every other midsize electric family car, and not just by a bit – it's £10,000 less than an equivalent Volkswagen ID.3. In the midst of a cost of living crisis, that's a very big chunk of money. 
But there's more to it than just the low price, the MG 4 is a genuinely good car. It has a spacious interior, comes well equipped, it's comfortable and great to drive. Every model has a usefully long WLTP range of well over 200 miles and you get the reassurance of a seven-year warranty. 
Read our full MG4 review
Kia EV6
Our favourite large electric car ticks all the boxes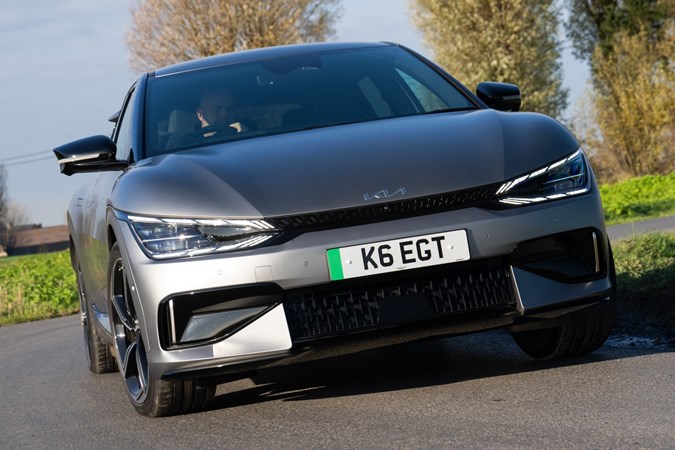 Pros:
✅ Long real-world range
✅ Eye-opening performance
✅ Great to drive
Cons: 
❌ Firm suspension
❌ Some ergonomic issues
The Kia EV6 is our reigning Best Large Electric Car and it's easy to see why. It looks fantastic for a start, it's a great family car with generous space for four and a big boot, there's loads of technology in the swooping dashboard and it's very well made. Perhaps more pertinently, the core models are capable of delivering around 300 miles of WLTP range in the real world and you can trust the indicated range shown on the dashboard. 
Kia calls the EV6 a crossover because it has quite a stance, though it's actually about the same height as the average big estate. That contributes to the car's great driving experience. All EV6s have a 77.4kWh battery, rear-wheel-drive models have 229hp, all-wheel-drive models have 325hp and the high-performance GT has a whopping 585hp.
Read our full Kia EV6 review
Kia EV6 lease deals | VIEW OFFER
Tesla Model 3
One of the easiest electric cars to own, usefully improved for 2024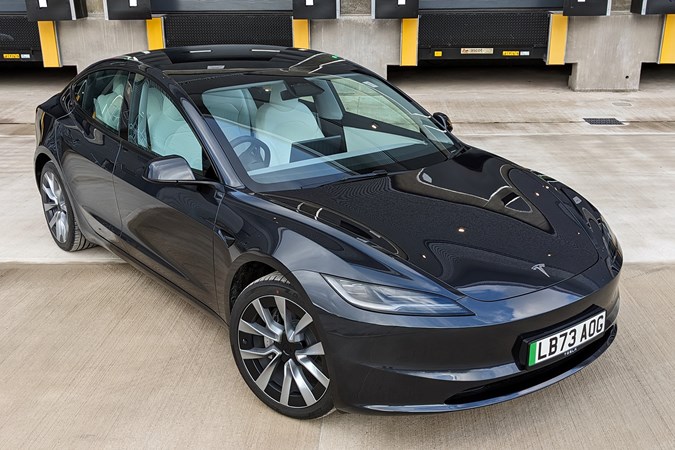 Pros:
✅ Very long real-world range
✅ Convenient charging network
✅ Great to drive
Cons:
❌ Some build quality issues
❌ Not a hatchback
There are many more electric cars available now than when the Tesla Model 3 was first launched, but it remains one of the very best-selling EVs in the world that's been usefully improved in terms of refinement and efficiency for 2024. That's partly because Tesla is now established as a firm that's easy to buy a car from, with online sales, but also because with the latest updates it's very well priced. 
But the Model 3 is also a really very good car. It's remarkably spacious for its size, with plenty of room for five adults. There's loads of features in the infotainment system, the voice-control system is brilliantly easy to use and the car is great to drive. You get at least 344 miles of claimed range, the Long Range model can manage 422 miles. Just a shame that, despite looking like a hatchback, the Model 3 is actually a saloon.
Read our full Tesla Model 3 review
Tesla Model 3 lease deals | VIEW OFFER
Renault Megane E-Tech
The best Renault in ages – premium and comfortable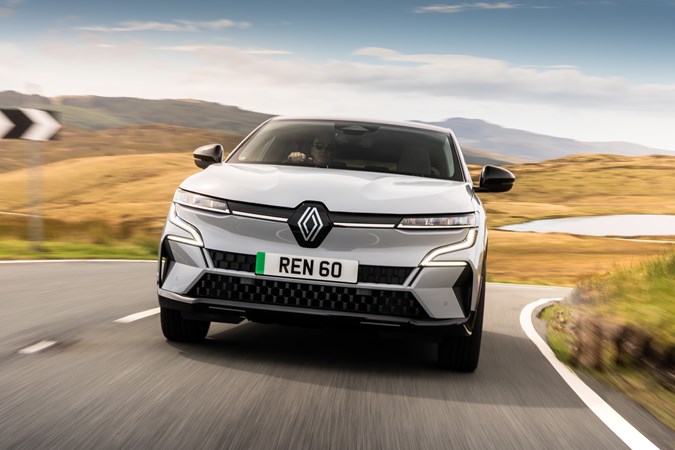 Pros:
✅ Bold, funky styling
✅ Excellent Google-based infotainment
✅ Spacious, high-quality interior
Cons:
❌ Ride quality spoiled by massive wheels
❌ No long-range battery option
The revitalisation of Renault's range for the electric era starts here, with the Megane E-Tech. It's such a good car that we named it Best Medium Electric Car in the 2023 Parkers New Car Awards, beating out stalwarts like the Volkswagen ID.3. 
What makes it so good? It looks great inside and out, there's family-friendly space and practicality, it feels light and easy to drive. The ride is better in models with smaller wheels. All models have a 60kWh battery pack, good for a claimed range of up to 280 miles – not the longest you can get in this type of car but more than enough for many motorists' needs. 
Read our full Renault Megane E-Tech review
Renault Megane E-Tech lease deals | VIEW OFFER
Fiat 500 Electric
The best electric city car is funky, stylish and has real character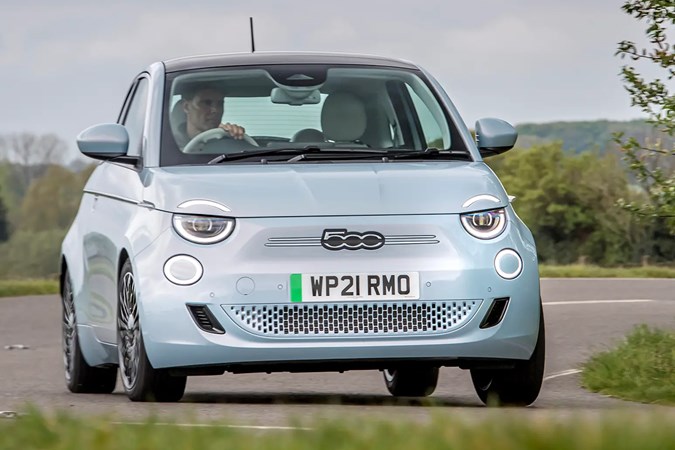 Pros:
✅ Fun to drive
✅ Excellent value for money
✅ Good range for a tiny car
Cons: 
❌ Hardly a family car
❌ Entry-level model no longer available
The band of electric city cars is admittedly quite small but the Fiat 500 Electric is our clear favourite – so much so we named it Best Small Electric Car for 2023. Its battery is on the small side, but the car still has a range of close to 200 miles, which will cover most regular journeys with ease. The battery won't cost all that much to recharge, either. 
We really like the 500 Electric's quirky, high-quality interior. There's plenty of space up front but the back seat and boot are pretty titchy. It's really good fun to drive, too – effortless to sling around town and there's enough muscle that motorways hold no fear. Note that the petrol-powered 500 and 500 Electric are completely unrelated. 
Read our full Fiat 500 Electric review
Fiat 500 Electric lease deals | VIEW OFFER
Porsche Taycan Sport Turismo
Proof that electric motoring doesn't have to be boring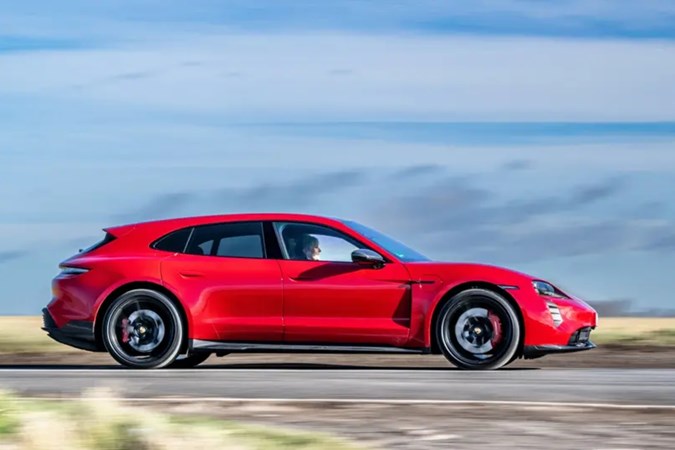 Pros:
✅ Bigger boot than the four-door Taycan
✅ Accurate range indicator
✅ Fantastic to drive
Cons: 
❌ Rear legroom is a little tight
❌ Options quickly inflate the price
The Porsche Taycan Sport Turismo is the electric car that truly ticks all the boxes… so long as you can afford it. Performance is on a level with many a supercar (the Turbo S model can dash from 0-62mph in just 2.8 seconds) and the handling is fantastic. 
It's pretty practical, too. There's space for four adults and the boot's a decent size – much easier to load than that of the Taycan saloon, too. The interior feels properly plush and it's loaded with technology. Each model is capable of delivering a long range, as well, unless you're minded to take advantage of the car's performance as often as possible. 
Read our full Porsche Taycan Sport Turismo review
KPorsche Taycan lease deals | VIEW OFFER
BMW iX
One of the best luxury EVs with long range and a great drive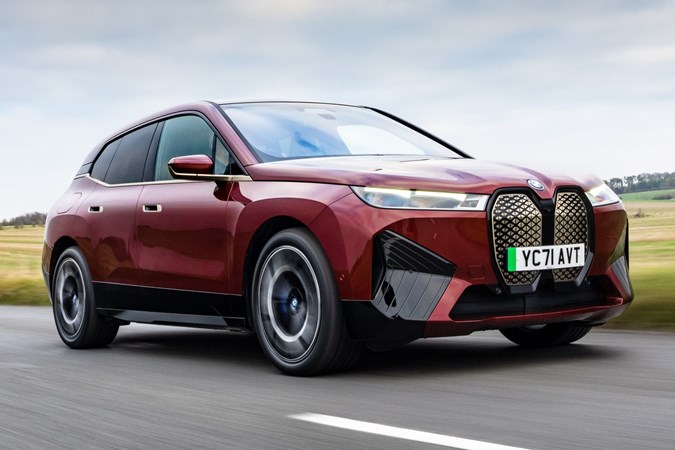 Pros:
✅ Gorgeous interior
✅ High-tech features
✅ Fantastic to drive
Cons: 
❌ It's not exactly easy on the eye
❌ Big battery means long charging time
The BMW iX is among the best large EVs currently on the market, indeed it was our runner-up in the contest for Best Luxury Car of 2023. Its interior is a fabulous place to spend time, the minimalist design rendered in very high-quality materials. There's loads of technology, too, housed in two massive screens controlled by touch, rotary controller, voice or even gestures. 
Space is generous for four, though the boot is a bit small for a car this size. It's not exactly light either, but the car's high-tech carbonfibre-reinforced construction does reduce weight. That contributes to great handling and properly quick acceleration. Some models are capable of going well over 300 miles on a full charge, but their massive batteries do take quite a long time to recharge. 
Read our full BMW iX review
BMW iX lease deals | VIEW OFFER
Kia Niro EV
Pragmatic and practical, if not very exciting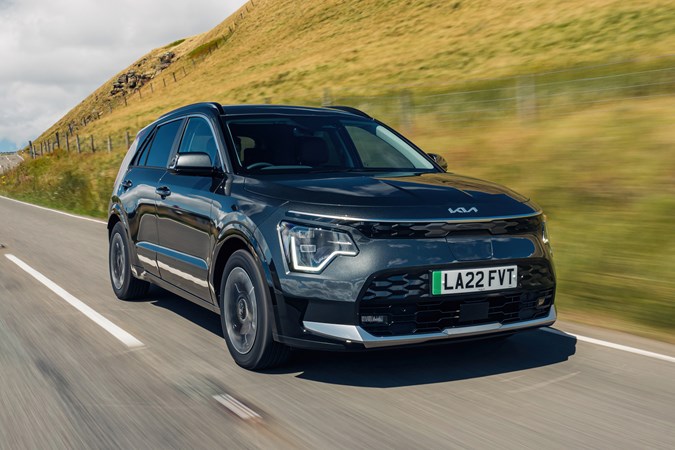 Pros:
✅ Seven-year warranty
✅ Excellent build quality
✅ Good range and efficiency
Cons: 
❌ Interior materials aren't particularly nice
❌ Stiff suspension
The second-generation Kia Niro EV has some pretty big shoes to fill as it follows on from the e-Niro, one of the most popular electric cars of recent years. And it very much succeeds. The car's styling may be quite radically different, but this is an evolution of a highly successful recipe. Already strong family car credentials are improved with a bit extra passenger and boot space, there's the latest technology in a very solid (if somewhat cheap-feeling) interior. 
Performance is perfectly adequate, it drives neatly and is generously equipped. 285 miles of WLTP range is long enough to suit most families' regular needs and you can trust the predicted range shown in the instrument cluster. 
Read our full Kia Niro EV review
Kia Niro EV lease deals | VIEW OFFER
BMW i4
Accessible and amazing to drive
Pros:
✅ Great range and performance
✅ Fabulous steering
✅ High-quality interior
Cons:
❌ Not very spacious
❌ Less efficient than a Tesla Model 3
At first glance, there's not much to tell the i4 apart from a regular 4 Series Gran Coupe. But that's the point. Not everyone wants an electric car that looks and feels like a spaceship. Some people just want an EV that's a straight swap with their old petrol or diesel car. And that's what the i4 does. If you're getting into it from a 3 Series, 4 Series it'll feel entirely familiar.  
The handling is precise and engaging, there's loads of technology packed into the massive dual-screen display, it's very comfy. There's not much back seat space, but the boot is a decent size. The only real difference between the i4 and a 4 Series is that it's much quieter. Range is huge, as well, up to 367 miles. We like it lot, enough to name it our Best Company Car for 2023. 
Read our full BMW i4 review
BMW i4 lease deals | VIEW OFFER
Skoda Enyaq iV
Former Car of the Year and still one of the best EVs around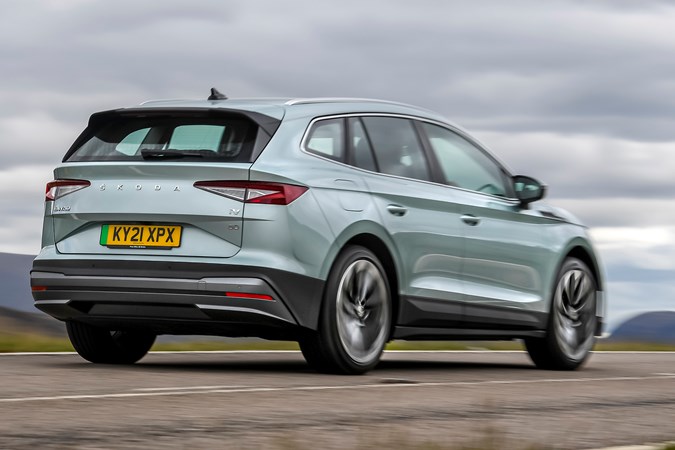 Pros:
✅ Long-range battery
✅ Easy to drive and live with
✅ Comfortable, practical interior
Cons:
❌ Not the most exciting to drive
❌ Fiddly infotainment
We think the Skoda Enyaq is one of the best cars you buy right now. And we're not just taking about electric cars, or SUVs, or electric SUVs – It's one of the best cars you can buy, full stop. Indeed, it's so good we named it our Car of the Year 2022. 
Why do we rate it so highly? It's a consummate family car, for a start. There's masses of passenger space – enough for a family of five – and a truly vast boot. It's full of thoughtful little details that make life on the road easier, as well. Add to that a pleasant and comfortable driving experience, useful on-board technology and a range of over 300 miles in 80 models, all at an affordable price. Also available in sleek Coupe form. 
Read our full Skoda Enyaq review
Skoda Enyaq lease deals | VIEW OFFER
---
What is an electric car (EV)?
An electric vehicle, also known as an EV, or sometimes BEV (battery electric vehicle), uses at least one electric motor as its only source of propulsion. That motor is powered by electricity contained in a battery pack mounted somewhere in the car, usually below the boot or the floor of the interior. 
The battery pack needs recharging periodically, as indicated by the gauge or read-out in the car's instrument display. You can use a regular three-pin socket to recharge but that can take a very long time. It's better to use a dedicated charge point. You can have one installed at home (usually referred to as a wallbox), though the wiring may need upgrading to cope. 
An increasing number of public and workplace charging stations are being rolled out across the country, as well. The network is continually growing, though coverage is still spotty in certain areas. Be aware that the various charging station operators have different payment methods, many of which require opening an app-based account. 
Electric Vehicles Frequently Asked Questions (FAQs)
How much money do you save now with your EV?
The cash and PCP prices you'll pay for a new electric vehicle are generally higher than you'd pay for an equivalent petrol or diesel car. For instance, an entry-level Volkswagen ID.3 costs about £9000 more than an entry-level Golf.  
That is starting to change, however, as more and more bargain-priced EVs enter the market. The MG 4 is a prime example. Its starting price undercuts plenty of other midsize hatchbacks with ICE power. 
Do EVs drive differently to conventional vehicles?
An EV is no different to a petrol or diesel car with an automatic gearbox in how you drive it. You just get in, press the start button, put the gear selector in Drive, then press the pedals and turn the steering wheel. There are two big differences you'll notice, though. 
First, and most obviously, is that an EV is very quiet – there's no engine, after all. You will notice plenty of other noises the car makes, but the vast majority of EVs are positively serene to travel in. Be aware that the quietness can cause car sickness in some people – it turns out sound is pretty crucial to our sense of motion. 
The second thing you'll notice is that the brakes feel a bit odd. That's because of the regenerative braking, a clever system that harvests energy that would otherwise be wasted when you brake or just lift off the accelerator and feeds it back into the battery. The system amplifies the braking force, which can take a bit of getting used to. Once you're accustomed to it, though, you might find you rarely need to use the brakes. Some EVs even have a 'one-pedal' driving mode. 
Can electric car batteries be recycled? 
Yes. All new EVs sold since the 1990s have been powered by lithium-ion (Li-On) batteries, which are relatively easily recycled. The days when the lead acid batteries that powered ancient EVs like milk floats were just chucked into landfill have long gone. Li-On batteries are also found in phones and laptops and a thriving recycling industry has grown up around them. 
EV batteries are being recycled in a number of different ways. For instance, some EV manufacturers, including Tesla, are taking batteries that have reached the end of their working life in a car to recycle and repackage them into storage batteries that can be hooked up to renewable energy sources like wind and solar and used to power buildings and infrastructure. 
How far can a typical EV travel on a single charge?     
EV range has improved dramatically in recent years – the days when you'd struggle to go more than 100 miles are far behind us. Indeed, every EV currently on sale in the UK has a range well into three figures, as measured on the WLTP cycle. Most can go somewhere between 200 and 300 miles between recharges, some can do a lot more than that, like the Mercedes EQS. 
Driving in the real world, the range you get from an EV is affected by many factors. Things like cold weather, using lots of the car's electrical features – particularly the aircon – what type of road you're on and your own driving style can vary the car's range from the advertised figure. 
How do I know an electric car is right for me?
It depends on how you use your car and where you live. Let's look at a few scenarios. If you rarely journey more than 100 miles from home and have a driveway, then an electric car could suit you pretty much perfectly. Just make sure you plan those occasional long-distance trips around charging stops. Don't have access to off-street parking? That makes charging while you're at home tricker, but there are solutions available. Many places now have roadside chargers in residential areas, you can even get portable EV chargers. 
If you regularly go on long-distance trips, driving an EV is trickier. They tend to chew through their charge pretty quickly on motorways so you find yourself at the mercy of the UK's less-than-perfect charging network more often. You may not have the time it takes to charge to spare, either. But the proliferation of long-range EVs means there are now options that work perfectly well for doing big mileages. 
How about if you need a big, chunky SUV that can tow a huge caravan around the country? Well, there are some that can pull the weight, but they need recharging so often that they become impractical for the job. 
How do I charge my EV? 
There are several ways of getting juice into your EV. If you're at home, you can use a regular three-pin wall socket, at least if you're not going anywhere for a day or so because it usually takes ages. Alternatively, you can get a home chargepoint (also known as a wallbox) installed. You ideally need off-street parking, your home's electrics may need upgrading to suit and you'll need to make sure you get a charger that's recommended for your car. Change car and you may need a new box. Some manufacturers include a wallbox with the purchase of their EVs. 
When you're out and about, you'll find charge points in all sorts of locations, most often in car parks. There are some well-documented issues with the UK's charging network and you need to carefully plan longer journeys around charging stop. If everything comes together, recharging an EV can be almost hassle-free. And as the charging infrastructure grows, it will only get easier. 
What happens if I run out of power?  
The best advice is not to let an EV run out of charge if it can at all be helped. If it does happen, the car essentially locks up, becoming a brick that can be very difficult to move. When the charge in the car's battery drops below a certain level, the motor's power will be cut back and non-essential electrical features will turn off.  
You'll be going some to reach that point, though, given the number of warnings that pop up in the instrument display. If you know that you'll reach a charging station before the situation becomes critical, there's no reason to worry. If not, the car's satnav should be able to point you in the right direction, or you can use a charger locator app like Zap Map. 
Do EVs cost more than petrol and diesel cars?
Generally speaking yes, they do, and often by quite a large margin, regardless of whether you buy outright or use financing via PCP or lease. However, the price gap is starting to come down and there are a number of brands bringing new EVs to market targeting buyers on a lower budget. 
What are resale values like for EVs?
The residual values for electric vehicles haven't been great for many years, due to a lack of demand and concerns about the long-term durability of EVs. However, the long-running issues many manufacturers are having in delivering new EVs means demand for used ones is increasing which means prices for them are steadily rising. 
Are EVs really better for the environment?
This is a very thorny issue. There are strong opinions on both sides of the question, but the simple fact of the matter is that electric cars haven't been around long enough in sufficient numbers for us to really know the long-term environmental impact they will have, for good or bad. 
But here are a few irrefutable facts. Because they don't produce any exhaust emissions, they do help to improve air quality where they are used, particularly in towns. They help reduce CO2 emissions, as well. There is the question of how the electricity that powers an EV is generated but, in the UK at least, zero-CO2 renewable energy makes up an ever-bigger proportion of electricity generation. 
How much CO2 is generated over the course of an EV's entire lifecycle is harder to pin down. The most comprehensive study so far was carried out by EV manufacturer Polestar. It found that building an EV produces vastly more CO2 than building a petrol or diesel car and that deficit takes around 70,000 miles of driving to pay back. However, over the rest of an EVs life, its CO2 footprint is much, much smaller than the petrol or diesel car's. 
That's just one study, though, and more work needs to be done to come up with a definitive verdict. Other potential issues with electric cars are also being investigated – the increased particulate emissions they generate from tyres and brakes, for instance. 
Overall, though, it has to be concluded that using electricity to power cars is better for the environment than petrol or diesel.    
Tom Wiltshire is a Senior Staff Writer working for the Bauer Digital Automotive Hub, specialising in new car reviews, news and advice. He writes for Parkers and CAR as well as other Bauer Automotive titles.