It's easy to see the appeal of the best SUVs with their practicality and raised seating position, not to mention the availability of seven seats and four-wheel-drive in a lot of models. So it's no surprise the SUV has become the default choice of vehicle for many people, replacing more traditional family cars in the process.
SUVs come in many different sizes, and with up to seven seats. Yes, there are still big, gas-guzzling luxury SUVs, but even the real whoppers can be remarkably efficient these days. At the other end of the scale, there are dozens of small SUVs that are the perfect size for most single people and couples, many even work pretty well as family cars.
In between the two poles there are a vast number of options to suit every need and budget, whether you just want something comfy to get from A to B in, or something you can load up with large quantities of people and stuff. Electric SUVs are increasingly popular, too. On this page we list the very best SUVs from every segment, so read on to discover what could be the perfect best SUV to buy for you.
Top 10 SUVs 2023
Editor's choice: Ford Puma
<strong>Brilliant small SUV is easily the best of the bunch for keen drivers</strong>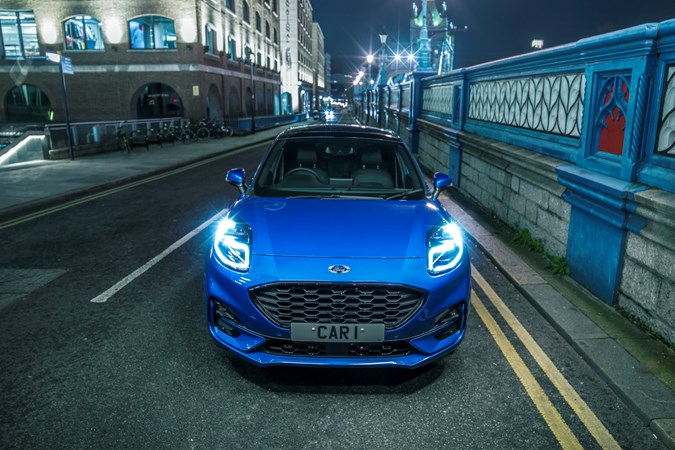 The Ford Puma has a very good claim to being the most practical small SUV – we named it Best Small Family Car for 2023. Key to that claim is the Megabox, a huge storage compartment found under the boot floor. It's plastic, so it can be filled with dirty shoes and whatnot. Plus, it comes with a drain plug, which means you simply hose it out.

The main boot is a useful size and there's decent space for a family of four. Interior quality could be better, but the dashboard is very user-friendly and stocked with all the tech you need. The Puma's great to drive, too, feeling almost as playful as the Fiesta it shares a platform with. The 1.0-litre EcoBoost mild-hybrid is a peach and very efficient with it.

Read our full Ford Puma review
Pros
Great to drive
Economical mild-hybrid engines
Ingenious Megabox boot
Cons
Disappointing interior
No plug-in or electric versions – yet
Family-friendly crossover is one of the best electric cars available right now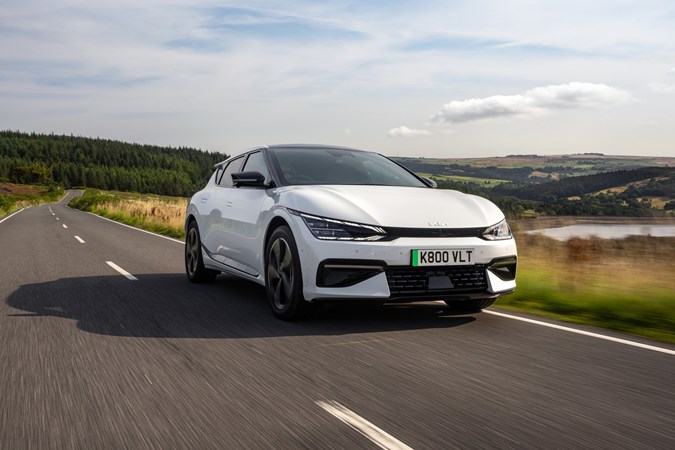 It's debateable whether the Kia EV6 belongs on a list of the best SUVs because it is, in many ways, a just slightly taller hatchback. But its relatively high ground clearance at least qualifies it as a crossover, and that's why it's here. However you define it, though, our reigning Best Large Electric Car is a very fine machine.

Key to its appeal is that every model has a range of well over 300 miles. Charging times are fast, too. It's a spacious and practical family car, it feels surprisingly athletic from behind the steering wheel, and it's a quiet and comfortable cruiser. Just a shame the dashboard layout doesn't entirely make sense.

Read our full Kia EV6 review
Pros
Very long range
Useful practicality
Great to drive
Cons
Not as high-riding as some SUVs
Dashboard could be more user-friendly
Still one of the best seven-seat SUVs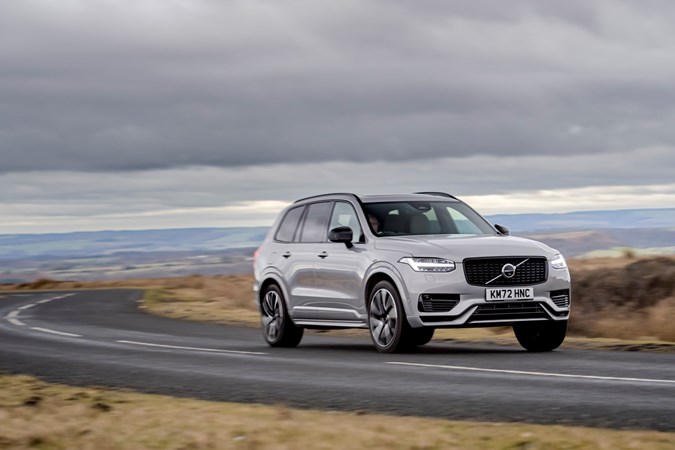 It may be getting on in years but the Volvo XC90 remains one of the very best SUVs if you need seven seats. It's one of few such cars that genuinely has space for seven six-foot tall adults and the seating layout is very flexible, so you can create a configuration with the ratio of passenger and boot space that best suits your needs. There's no real loss of space in plug-in hybrid models, either.

As you'd expect of a Volvo, it's very comfortable to travel in and the interior feels suitably premium. The screen-based dashboard controls won't work for everyone, but the system is actually quite easy to use. It's surprisingly efficient for a big SUV, as well.

Read our full Volvo XC90 review
Pros
Genuine seven-adult space
Huge boot
Long journey comfort
Cons
Soon to be replaced
Remote driving experience
A brilliantly thought-out family-size SUV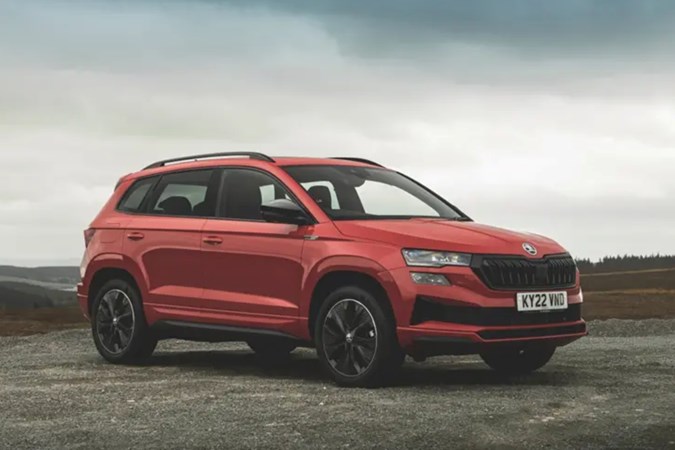 The Skoda Karoq earns its place on this list of the best SUVs by being a comfortable, practical car that's completely hassle-free to own. It may be a less obvious choice than a Nissan Qashqai but it truly is one of the great all-rounders. The Karoq is hugely spacious for a midsize SUV with class-leading boot space. Spec the Varioflex back seats and the layout's as flexible as an MPV's.

The dashboard is a masterclass in ergonomics and there are lots of Skoda's Simply Clever features including some ingenious storage compartments. The ride's very comfortable, it handles neatly and the 150hp engines combine useful performance with strong fuel economy. Four-wheel-drive diesels have an impressively high towing capacity of 2100kg.

Read our full Skoda Karoq review
Pros
Super comfortable
Rugged, no-nonsense interior
Great visibility
Cons
1.0-litre engine sluggish on motorways
No plug-in versions available
The best luxury car that can climb a mountain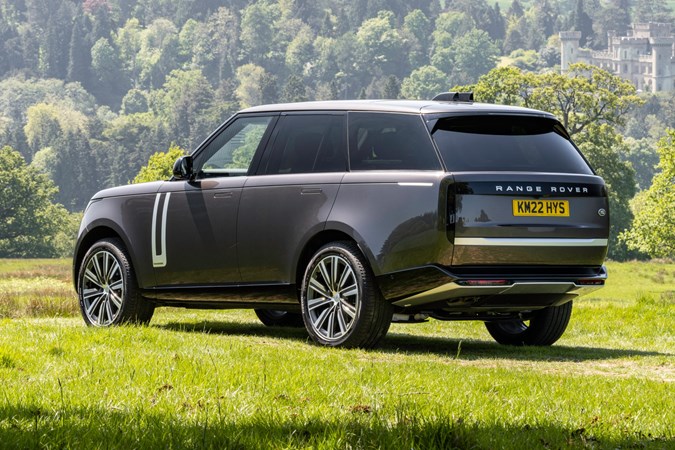 The Range Rover is the Swiss Army knife of the car world. It's always useful and fits in everywhere, whether it's working limousine service to a swanky shindig, or taking a couple of dogs to a mountaintop, or whisking a family away on a European roadtrip. And it does all of that while providing supreme comfort and keeping the passengers amused with cutting-edge tech. You can now get it with seven seats, as well.

The latest version has taken a jump up in price and quality issues persist but it remains one of the finest luxury cars in the world, indeed it's our reigning Luxury Car of the Year.

Read our full Range Rover review
Pros
Properly luxurious
Elegantly understated design
Still unstoppable off-road
Cons
Its image won't suit everyone
Some build quality issues
One of the most sensible cars on the market and all the better for it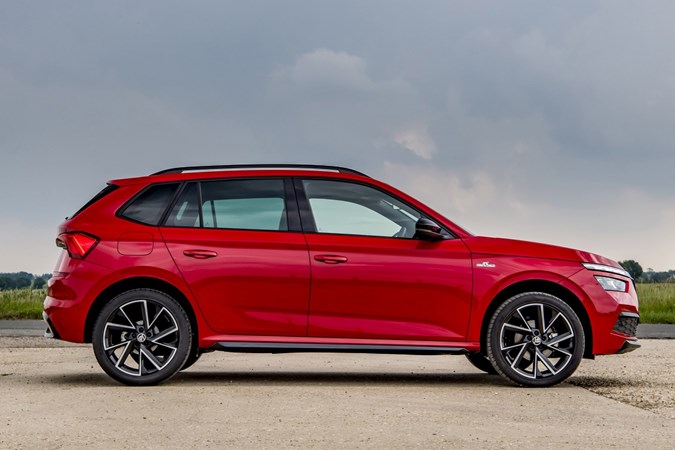 Think of the Skoda Kamiq as a scaled-down version of its bigger Karoq stablemate and you'll have a solid idea of what to expect: practicality and ease-of-use. Back seat space is class-leading among small SUVs, its 400-litre boot space was until the Ford Puma came along. Every trim level is well-equipped for the money, the dashboard is brilliantly user-friendly.

It's a doddle to drive, too – the steering's light and visibility is excellent. Get an engine with 110hp or more and the Kamiq has perfectly adequate performance and strong efficiency. The ride is smooth, the seats are comfortable. It's not a car that you'll get particularly excited about, but there's much to admire in its all-round competence.

Read our full Skoda Kamiq review
Pros
Generous spec with current tech
Practical interior
Comfy ride
Cons
Top models pricey next to rivals
Not the sharpest drive
Get past the styling and this is a very fine electric SUV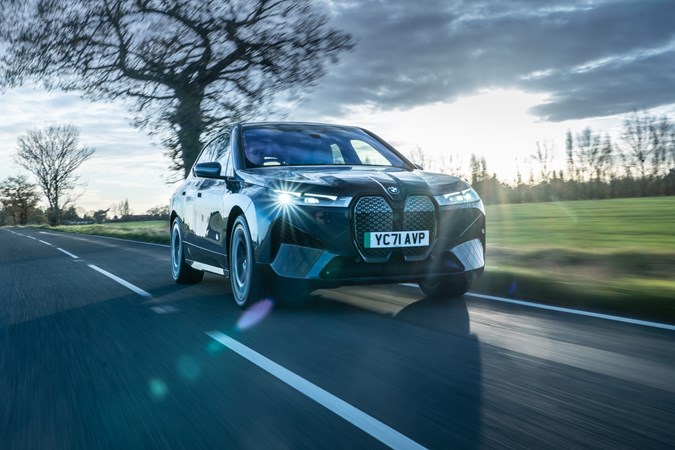 Whether or not you like the way it looks, there's no denying that the BMW iX is a deeply impressive bit of kit. It's one of the best SUVs to drive – electric or not – and the stylishly minimalist interior is a lesson in making cutting-edge infotainment tech as easy to use as possible. There's generous space for five adults, though the boot is quite small for a car this size.

xDrive40 models with the smaller, 76.6kWh battery have a range of 249 miles on the WLTP cycle, while the xDrive50 can manage 380 miles on its 100kWh battery. On the flip side, charging times are rather lengthy, even when using a fast charger.

Read our full BMW iX review
Pros
Long range from big battery
User-friendly tech
Lots of passenger space
Cons
Long charging times
Small boot
Brilliantly easy-to-live-with large SUV that happens to be electric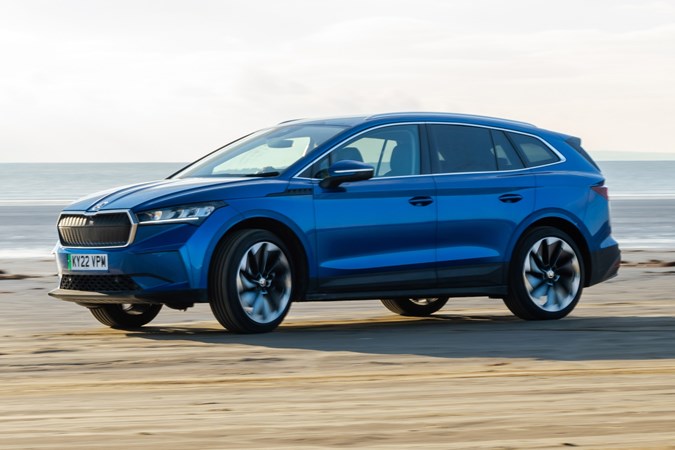 This being the third Skoda on this list of the best SUVs, you probably know what to expect from the Skoda Enyaq by now. Like the others, it's a car designed by people who really care about making motoring as easy as possible, especially when the family is in tow.

Inside the Enyaq there's space for five adults and a two-Labrador boot. The dashboard is another lesson in ease-of-use and there's all the tech you need. Though a lot of features you actually want are only on top trim levels or optional. The ride is smooth and quiet, and the handling is neat enough. Big battery 80 models have well over 300 miles of range. No wonder it was our Car of the Year for 2022.

Read our full Skoda Enyaq iV review
Pros
Spacious interior and big boot
Lots of trim and equipment options
300-plus miles of range with big battery
Cons
Not particularly brisk for an EV
A lot of kit isn't standard
Exquisite quality with excellent efficiency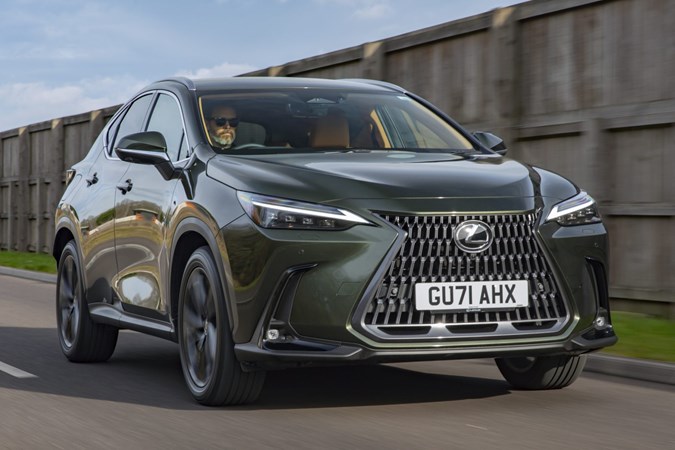 The old Lexus NX was a bit of an also-ran among its posh compact SUV peers, but this latest version – the second generation – goes straight to the top of the class. Why? It's wonderfully comfortable and very quiet on the move. There are self-charging and plug-in hybrid powertrains available, the latter has a usefully long EV range of 40 miles.

Then there's the interior, which looks fantastic and is exquisitely made from a palette of very high quality materials. Loads of tech, too, though some of the controls are a bit annoying. Space and practicality are perfectly adequate for a family car.

Read our full Lexus NX review
Pros
Comfortable and refined
Fabulous build quality
PHEV has good electric range
Cons
Only average practicality
Frustrating steering wheel controls
Very talented full-size SUV drives like a sports saloon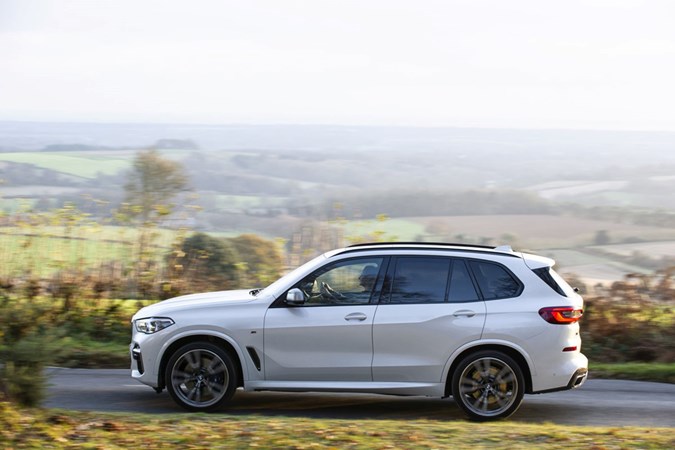 You expect a BMW to be great to drive, but even so it's remarkable how nimble and poised a car as big as the BMW X5 feels. Yet it doesn't trade comfort for that handling. The engines provide a considerable turn of speed, too. They include petrol, diesel and plug-in hybrid options, the latter has a WLTP range of 67 miles in EV mode. Let's not forget the ludicrously fast X5M, either.

Inside the X5, there's generous space for five adults and a massive boot. It's rather luxurious, too, and the infotainment system is packed full of tech. It's controlled by the classic iDrive click wheel, via the touchscreen, or voice commands, or gesture.

Read our full BMW X5 review
Pros
One of the best SUVs to drive
Great EV range from PHEV
Strong family car capability
Cons
Big and unwieldy in town
Divisive styling
---
FAQ: SUV questions answered
What does SUV stand for?
SUV stands for Sport Utility Vehicle. They come in many different sizes but they're all linked by their high ride height. The term SUV has been used for over 30 years. Originally coined in America, it was applied to four-wheel-drive cars with an emphasis on road-going comfort as well as off-roading ability. By contrast, many modern SUVs have no off-roading ability at all, indeed some are little more than tall hatchbacks and estates with the rugged look of a car that could go off-road. But that style is a big part of SUVs' appeal to so many buyers.
Are all SUVs 4×4?
No. There was a time when pretty much every SUV had four-wheel-drive and could take you quite a long way into the wilderness. While there are still some SUVs that can do that – exemplified by the Land Rover Defender and Toyota Land Cruiser – that's not really the point of such cars anymore. If an SUV is fitted with four-wheel-drive – and many are – it's there to improve traction on slippery roads and grip in corners. The vast majority of SUVs available to buy new at the moment are only two-wheel-drive.
Do SUVs flip easier than cars?
Not these days. Back in the 1980s, when the popularity of SUVs boomed, they earned a reputation for flipping over in emergency manoeuvres. Back then, though, SUVs tended to be top-heavy, had basic suspension, no electronic driver aids and very low handling limits. The safety of modern SUVs has taken a quantum leap forward.
Their suspension is much more sophisticated, they carry their weight lower down and they have an alphabet soup of acronymed stability aids to keep you on the straight and narrow. They do still have a relatively high centre of gravity which causes more body roll in corners, but something has to go drastically wrong to flip a modern SUV.
Is an SUV a good first car?
Absolutely. Small SUVs in particular are just as easy to drive as a hatchback of similar size. In fact, they're arguably easier because their higher seating position gives better visibility – a key factor in the appeal of SUVs generally. Some brand-name driving schools have recognised the growing popularity of SUVs, as well. You'll often see their instructors teaching learners in cars like the Ford Puma.
Which is better: an SUV or MPV?
Also known as people carriers, MPVs were the car of choice for many families until the SUV took over in the late 2000s. You can read about the best MPVS on Parkers, but they're now vastly outnumbered by SUVs. Which is better depends on your priorities.
If you need a car with maximum space for passengers and luggage, an MPV is still your best bet, van-based ones especially. There are plenty of SUVs with loads of space and big boots, but they ultimately can't match the sheer volume and flexibility of an MPV's interior. If, however, you need to tow or traverse rough roads, an SUV will be better for you.
What is a compact SUV/mini SUV?
Any SUV that's less than about 4.2 metres long can be called a compact SUV, which makes them roughly the same size as a supermini hatchback. Indeed, many compact SUVs share their platforms with superminis. Popular ones include the Ford Puma and Renault Captur. There is some flexibility to that definition, though. Add in the word 'premium' or 'luxury' and the size boundary stretches up to about 4.5 metres.
What is a crossover?
It's interesting how the language around SUVs is changing. For a brief period, the word 'crossover' was applied to SUVs that made no pretence of having off-road ability. We're talking about cars such as the original Nissan Qashqai, Renault Kadjar and Lexus RX. But 'crossover' has already largely fallen out of favour. Most manufacturers now just use the term SUV, so that's what we do at Parkers.
Why are SUVs so expensive?
It's no secret that an SUV costs more than an equivalent hatchback, saloon or estate. For instance, an entry-level Ford Kuga costs around £6,000 more than the equivalent Focus. That's partly because more material goes into building an SUV, but there's also a premium to pay for the desirability of SUVs.
Higher prices mean SUVs are more profitable for car manufacturers, and many of them are refreshingly up front about that fact. For instance, Ford cited the greater profitability of the Puma compact SUV as one of the reasons it has stopped production of the Fiesta supermini.