More than 45,000 owners have told us what's good and bad about their cars. Read what they say or submit your own review.
Review your car today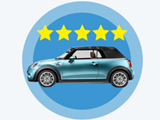 Owner's reviews are a key source of info for car buyers, providing first-hand knowledge of just how a car performs on a day to day basis.
Add your voice and help others by letting everyone know exactly how your car performs. From how the car handles to whether or not you think it's really value for money, we want to hear your opinions.
Click on the link below to get started.
Write an owner review
Find owner reviews
Find out what owners have to say about their cars by selecting a vehicle below:
View owner reviews by manufacturer
Other essential reading
Want an expert opinion on what it is like to own a car? See the Parkers team's cars and full low-down on what it's like to live with a car.

Our information packs tell you everything you need to know about a car before you buy.

You can now compare up to three cars at once. Compare spec, valuations and much more.
More in Car Reviews
Popular car reviews
Popular Car makes