Autoglym is probably the best-known purveyor of car cleaning products here in the UK. The iconic white bottles with the simple logo and Royal Warrant proudly emblazoned.
Rubber & Vinyl Care is the brand's interior dressing suitable for cleaning rubber, plastic and vinyl. It's one of the more affordable offerings for interior protection, which begs the question of whether it can cut it against more expensive options.
Autoglym Rubber & Vinyl Care proved itself to be a capable interior dressing that covered all the basics you'd expect from an interior dressing, it can even be used as a gentle cleaner for interior trim. The finish was long-lasting and helped deepen the look of older plastics which lifted the overall look of a car interior. For simple interior cleaning and protection at a reasonable price, Autoglym Rubber & Vinyl Care is certainly worth considering.
Verdict: Good value for money and effective. The Ronseal of interior dressings.
Score: 4/5
The best simple interior dressing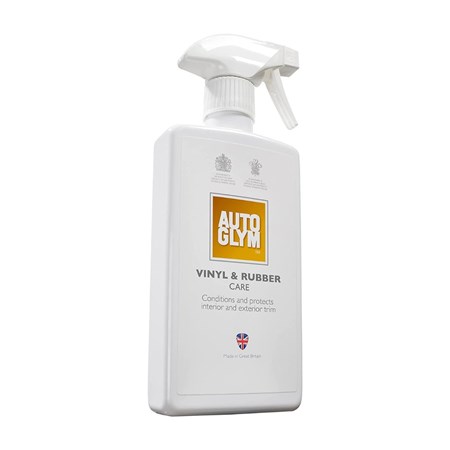 Pros
Offers good protection
Affordable
| | |
| --- | --- |
| Volume | 500ml |
| Finish | Low or high gloss |
| Scent | Lemon |
| Anti-static | Yes |
| UV protection | Yes |
| Materials | Plastic, vinyl, rubber |
| Extras | Prevents door shuts from freezing |
What's good?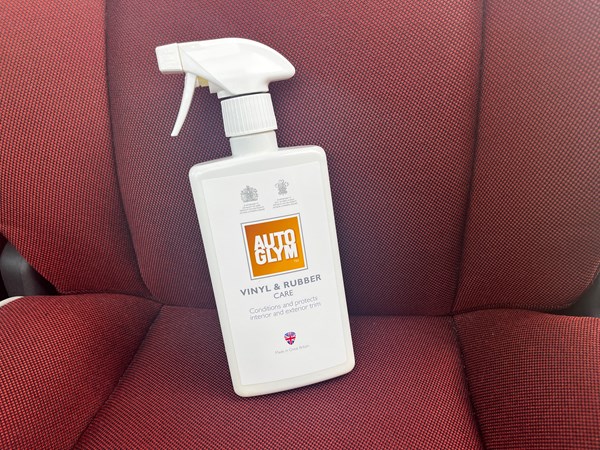 The first thing you'll notice with this dressing is the lemon scent it emits. It's not as chemically as some lemon cleaning products, instead managing to make the car interior smell fresh, almost Sicilian. This immediately makes the Autoglym lovely to use and leaves a nice scent that lasts a couple of hours.
Both finishes are visually pleasing, even if there's not much of a difference between high and low sheen. There is a slightly stronger sheen if you don't buff the spray, but buffing it still produces a moderately glossy finish. The fact you're given a choice is neat, even if they're not massively different.
Autoglym claim that it works as a gentle cleaner too, evident with its ability to clean spilt coffee and leave a glossy finish on the centre console. The cleaning ability may not be as strong as the option from Autobrite, but for small marks and stains, it is a competent option for keeping everything neat and tidy.
Autoglym also claim that it works as an engine bay dressing, as all interior dressings can. It's best to clean the engine with an APC (all purpose cleaner) and then treat it with this as the cleaning power of Rubber & Vinyl Care won't be enough to cut through any substantial grease or grime. Still, it did darken the plastics and help improve how the engine bay looked.
Something that's common to Autoglym products is the cuboid shape, a simple yet clever ergonomic choice. The shape means that Vinyl & Rubber Care could be easily stored in a door pocket or even loose in the boot without rattling about as a rounded bottle shape would. This alone makes Autoglym an excellent choice for keeping in the car for a mid-trip cleaning emergency.
What's okay?
There's nothing wrong with Vinyl & Rubber Care when it comes to the basics of interior dressing. It provides UV protection, anti-static properties and even works as a cleaner, all essential elements for an interior dressing. It's only when compared to other interior dressing options that the Autoglym shows itself to be a little threadbare. Most other interior dressings have useful extra functions (like antibacterial or water repellency properties) that the Autoglym option lacks.
Any negatives?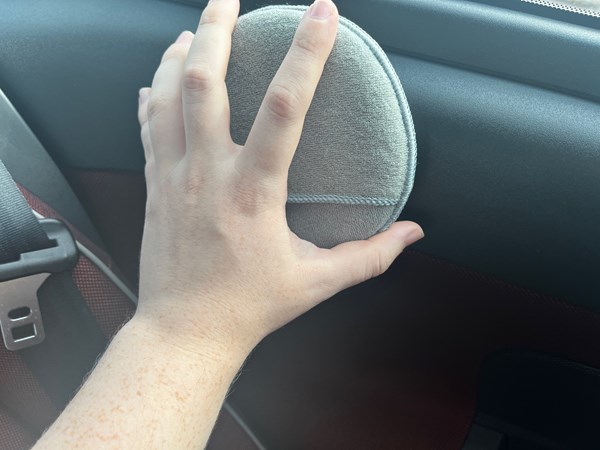 Autoglym Vinyl & Rubber Care did everything really well and it's difficult to quibble it as an interior dressing because it did everything expected of it without issue. The biggest issue I could find was that it lacked a complementary applicator, a little tool that made the application more uniform. Still, none of the interior dressings we tested featured one, showing the extent of just how good the Autoglym product was as an interior dressing.
Other items to consider:
Gtechniq C6 Matt Dash, RRP £7.25
Angelwax Enigma Interno, RRP £19.95
Autobrite Pink Sheen, RRP £12
How we tested it:
Autoglym Rubber and Vinyl Care was applied according to the printed instructions and sprayed onto the centre console directly and via a microfibre applicator pad. Both the high sheen and low sheen finish instructions were followed too. It was also applied to a sectioned-off portion of a dashboard to provide a direct comparison with other interior dressings.
Sign up to the Parkers Newsletter to keep up to date with more of the latest reviews, news, and recommendations from the Parkers team.
Just so you know, whilst we may receive a commission or other compensation from the links on this website, we never allow this to influence product selections – read why you should trust us