If you feel like modifying the look of your car but don't want to carry out a full respray, wrapping is a simple solution. Perhaps you want to advertise your small business brand on the side of your vehicle, or maybe you just feel like adding on a few decals to emulate some of your motorsport heroes. No matter the reason, a car wrap can tweak or transform the exterior of your car, all for a relatively small price.
Car wrapping has grown hugely popular over the last ten years, as application processes have simplified and results have improved. But since 2017, car wrapping has been considered a permanent vehicle modification in the eyes of the law, limiting the extent of its legality in some respects.
On this page, we'll explore the costs of car wrapping, and how you can stay on the right side of the law.
Is it worth wrapping my car?
If you're conscious of residual car values, you'll know that monotone colours, such as black, white and grey, are the most popular colours in the UK. This makes them easier to sell on, since their appeal is broader.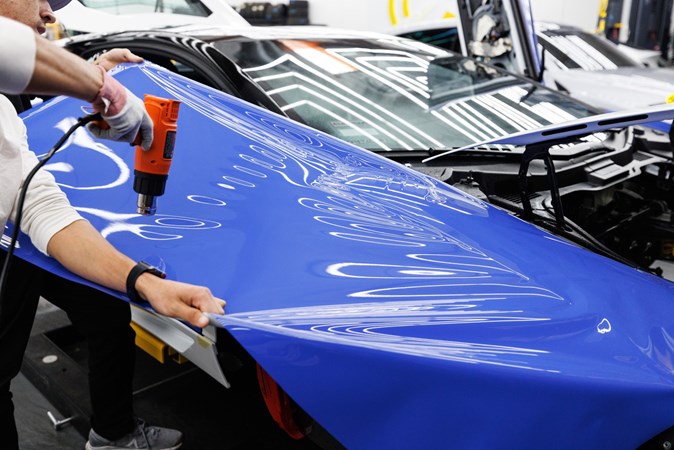 But say you fancy driving a green car. Well, car wrapping enables drivers to choose the colour of their vehicle while keeping the original paint on in case they will to sell. Wrapping a new car can protect the paintwork from minor scratches, much like paint protection film or a ceramic coat.
How much does a car wrap cost in the UK?
You'll be paying anything north of £1,500 to get your entire car wrapped, though you can save on this, if you're willing to forgo door handles, mirrors, bumpers and sills being part of the deal. 
According to 3M, manufacturers of the vinyl coating used to make the wrap, quality levels can differ considerably, affecting the durability of the film. For a top-level job, you'll be needing to spend no less than £3,000, though prices could go as high as £5,000. 
With a good quality wrap, paying between £1,800-2,300 will achieve a decent finish. As with everything, we'd always advise getting quotes from multiple companies, with a minimum of three. 
Is it cheaper to wrap or paint a car in the UK?
Not only is it cheaper to wrap a car than respraying all the paintwork, but it takes less time. Technicians only need a few days to fully wrap a car, while a full respray could take weeks. If the need for a colour change on your car is time sensitive, go for a wrap to save time.
Are there any drawbacks to car wrapping?
Yes. Like regular paint, car wraps won't fill any dents or minor scratches on the bodywork. To avoid visible defects after the wrap has been applied, fix any scratches first with a scratch repair kit.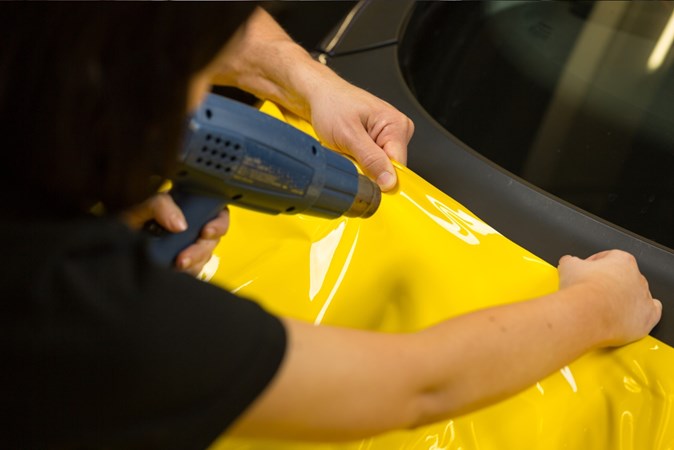 Unlike paint, however, car wraps are only temporary. Depending on the quality of the original job, a car wrap will last anywhere from five to seven years before starting to crack or peel off. While modern application techniques offer more durability, car wraps simply don't have the longevity of a paint respray.
Do I need to notify DVLA if I wrap my car?
Yes. Once upon a time, car-wrapping was considered a trivial modification. Since 2017, however, any matte, gloss, metallic or even glitter vinyl surface applied to a car has been considered a permanent vehicle modification.
Since the police use DVLA data to assist them in their operations, it's vital that the information provided by vehicle owners is accurate and up to date. Vehicle colours are heavily relied upon by the police during investigations, particularly when tracking down stolen vehicles. Failure to declare a vinyl wrap colour change could impede their work, potentially landing you in trouble with the DVLA. Be clear and honest to avoid any repercussions.
It's also worth nothing that while it's perfectly legal to alter the appearance of your car, to do so in a way that imitates that of a police car is not.
Do I need to tell my insurer?
Yes. If you wrap your car in a different colour, you must tell your insurer as you have modified your car. It's unlikely that your premium will change by much – if at all – but you should tell your insurer to avoid any complications in the event of a claim.
Can I remove vinyl wrap myself?
If you wish to remove the vinyl wrap on your car, you can do it yourself. Be aware, though, vinyl wrap removal requires a heat source to weaken the adhesive. Professionals use purpose-built tools to do the job, while at home you may have nothing but a blow torch that could work (if you even have one of those).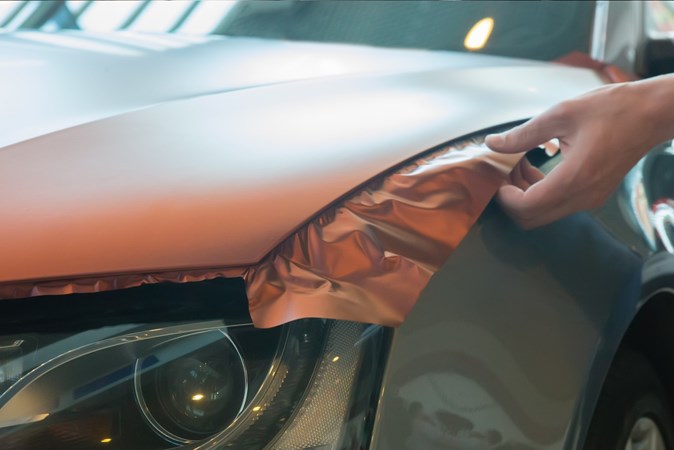 You might be able to simply peel the vinyl wrap back, but without a proper heat source to slacken the glue, a considerable amount of residue may be left on the car. To avoid ruining the paint, we recommend leaving it to the professionals.