If you've ever owned a portable tyre inflator, you may not have known what brand it was but there's a fair chance it was a model from Ring Automotive. The brand has a well-cemented reputation as a reliable automotive aftermarket choice for car tyre car, battery care, and lighting.
In regard to tyre inflators, Ring Automotive offers what is probably the widest range of models available in the UK. We've three quite different models and had three members of our team test them to see how they perform in the real world.
These were our findings.
Ring Automotive RTC1000 Rapid Digital Tyre Inflator
Reviewed by Seth Walton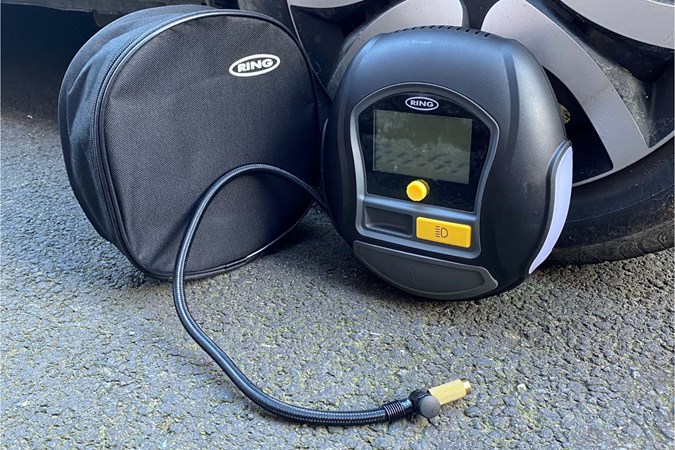 Pros:
• Very easy to use
• Solid build
• Good value
Cons:
• A bit bulky
The RTC1000 arrives encased in its protective carry bag with a set of latex gloves for handling messy wheels and a spare set of tyre valve caps included. This digital tyre inflator has a carry bag case with flat edges for the purpose of unobtrusive stowing. That's a nice touch because the RTC1000 is likely to reside inconspicuously in the boot of a car for most of its lifetime.
The RTC1000 is wider than many handheld products on the market. Although sizeable, the unit feels sturdy and above adequate in build.
The high-grade feel of the unit's main body extends to the 12V power cable and 70cm valve hose, finished in a sleek, black weave with a brass nozzle. The three-way valve adapter secured to the RTC1000's underside is also a nice touch. It expands its utility to other inflatables such as balls, blow-up beds and bike tyres.
Once plugged into a car's 12V socket, the LCD screen indicates the immediate level of PSI as zero and the intended target. The connecting process was incredibly simple as I only needed to screw the brass head on. To keep your tyre valve safe, there is a designated cup on the unit's upper side.
Once connected, the LCD screen indicated the PSI on my Citroen C1's front right tyre in a matter of seconds. Target adjustment was another painless process as only the middle dial needed to be turned for me to reach my desired PSI target.
Ring Automotive says the RTC1000 can inflate a 13-inch tyre from 0PSI to 35PSI in just under two minutes. During my test, I inflated my 14-inch tyre from 28 to 32 PSI in roughly 17 seconds. Once finished, I unscrewed the nozzle head which let out only a small amount of air (somewhat unavoidable), reattached my valve cap and wound the power cable back into its initial position.
Overall, I was thoroughly impressed with the RTC1000. Its build quality and inflation time were exemplary, with the only downfall perhaps being the unit's size. This is certainly an automotive gadget worth having in the back of your car for the day you need it.
Specs:
Dimensions: 21.9 x 20 x 8.8cm 
Weight: 1.5kg 
Cable length: 3.5m 
Hose Length: 0.7m 
Auto stop: Yes 
LCD Display: Yes 
LED light: Yes 
Extra adaptors: 3
Ring Automotive RAC830 Caravan Digital Tyre Inflator
Reviewed by Ryan Gilmore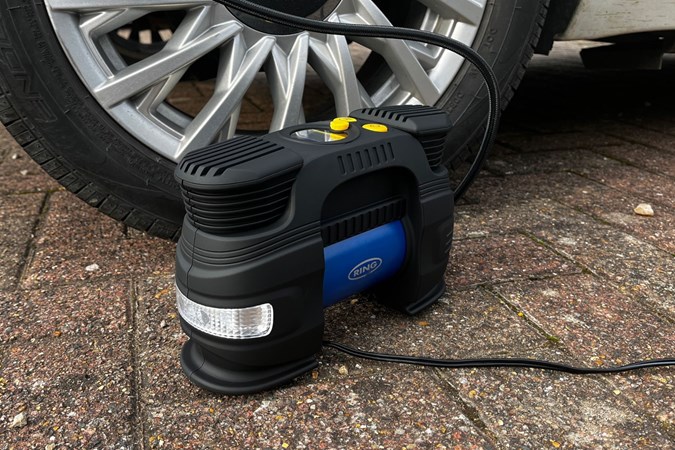 Pros:
• Fast inflation
• Tidy cable management system
• Simple to operate
Cons:
• Higher price could be hard to justify
• Relatively bulky
Diving straight in, the RAC830 was straightforward to use straight out of the box. I had the pressure readout adjusted (PSI, KPA and BAR are offered) and the correct pressure selected in a couple of seconds and without any swearing. The sturdy but limited controls play favourably with this tyre inflator. An on/off button, a dial, and the light button.
The speed at which it filled a tyre was impressive, taking a couple of seconds to top up a set of 205/55 R16 tyres in a matter of seconds. The RAC830 made a fair bit of noise, but it wasn't unbearable. Although, the valve did allow for a few seconds of depressurisation whenever the Ring was uncoupled.
The cable management system is another big plus point. The airline wraps neatly around the top while the 3.5-metre power cable neatly slips around the base of the unit. It allows the device can be neatly stored away in the storage bag. This is something that is nigh-on impossible for lesser tyre inflators once the airline has been unfurled.
The chief downside to the device is the price, and it is rather large in a world of glovebox-sized options. Still, if you have the space in your boot, and want a well-made, high-performance tyre inflator, it'll certainly suit you.
Specs:
Dimensions: 17.2 x 26 x 12.8cm 
Weight: 2.7kg 
Cable length: 3.5m
Hose Length: 0.85m 
Auto stop: Yes 
LCD Display: Yes 
LED light: Yes 
Extra adaptors: 3
Ring Automotive RAC900 Professional High Power Air Compressor
Reviewed by Adam Binnie
Pros:
• Very powerful
• 7-metre-long air hose
• Great for bigger jobs
Cons:
• No digital screen
Portable, rechargeable tyre inflators lack oomph. Meanwhile, a sturdier mains-powered compressor can't be used on the go and takes up space in your garage.
That's why recovery services use something like the Ring RAC900. It draws power from a 12V car or leisure battery, so it can pump your tyres up in a much shorter time. Ring Automotive claims 90 seconds is all the RAC900 needs to inflate a flat car tyre (13-inch to 35psi), which is impressive.
I've used it to top up car and motorbike pressures and once to seat a stubborn tubeless tyre on a mountain bike. I like the screw-on fittings and long hose but generally think a digital gauge is easier to use than an analogue one. It's a hefty bit of kit, but super speedy and surprisingly quiet.
Other than road rescuers, this would suit camping and caravanning supremely well, where you've got a bit of extra space to carry it and perhaps a leisure battery to hook it up to. Ring could extend its usefulness by offering this pump with a couple of different power leads though. If it was easy enough to fit a three-pin plug for example, I'd happily leave this handy unit set up in my garage.
As it stands though I'm more likely to reach for my more convenient battery-powered pump when it comes to squeezing a few extra PSI into my tyres.
Specs:
Dimensions: 18.6 x 33.7 x 23.5cm 
Weight: 3.5kg 
Cable length: 2.5m
Hose Length: 7m 
Auto stop: No
LCD Display: No
LED light: No
Extra adaptors: 3
RTC1000, RAC830, RAC900: which is best?
Of the three, we can conclude that Seth's RTC1000 would the most suitable for most people. It's powerful enough to full inflation when occasionally needed but does top-ups in a jiffy. It's also quite a bit cheaper but without losing the Ring Automotive quality trademark.
The RAC830 and RAC900 are powerful and still easy to use. They're just overkill for many. That said, they'd be very welcome companions of campervanners and owners of other large vehicles.
Sign up to the Parkers Newsletter to keep up to date with more of the latest reviews, news, and recommendations from the Parkers team.
Just so you know, whilst we may receive a commission or other compensation from the links on this website, we never allow this to influence product selections – read why you should trust us