Movie garage scenes are all the same. As mise en scènes go, they're some of the most richly embellished backdrops Hollywood has to offer, and near invariably begin with a bloke rolling out from under a 1970 Chevy Chevelle on what looks to be an oversized skateboard, bearing a grossly unrealistic tan for someone who works beneath cars all day. Anyone who's ever spent much time in a proper working garage knows that most of it is just Hollywood showbiz baloney, with the exception of that oversized skateboard – that's very real. It's called a crawler – or a creeper – and your garage needs one.
Want to kit out the rest of your garage? Check out some of our other articles on garage fans, heaters and security products.
Why use a crawler?
If you enjoy spending as much time tinkering away in your garage as you possibly can, then a garage creeper should be on your wish list. Crawlers are used by mechanics to manoeuvre themselves smoothly, efficiently, and comfortably beneath a car's underside during maintenance and inspection. By relieving the strains of carrying out such tasks, mechanics can work for longer and with greater efficiency.
Things to consider
All crawlers adhere to a general design concept, but some are fitted with more bells and whistles. Here are a few key points that you can look out for:

Comfort – crawlers are designed to relieve the aches of lying face up by elevating mechanics from the floor in a more ergonomic position. Some crawlers take comfort value to the next level with additional padding, body contouring or a headrest. Of course, the extra features usually come at a premium, but if you're nearing the early stages of seniority, opting for a more comfortable crawler could benefit you further down the line.    
Size and weight – Additional padding may improve comfort but increasing a crawler's weight could impede its manoeuvrability when in use. Opting for a slimmer, lighter one-piece board will keep the unit's weight down, so the less physically able can glide around with ease.
Wheels – Adding extra castors to a crawler will improve its manoeuvrability as they facilitate pivoting movements. They're often added to metal-framed crawlers for extra support, but these are usually higher ticket items.
We've picked our favourite garage crawlers for you to check out below
SGS Garage Crawler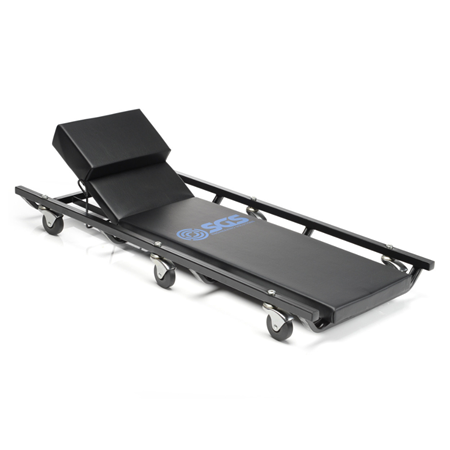 Simple, comfortable, and effective – this crawler from SGS would make a great choice. Sporting high-density cushions and a three-height adjustable headrest, this SGS will keep you sharp on your back all day, warding off fatigue so you can focus on the stuff that matters. Despite its metal frame, this crawler has an ultra-low profile so it can slip in and out from under any car with ease thanks to its low ground clearance.  
Pros:
• Comfortable with adjustable foam headrest
Cons:
• Impractical to store
Senator Garage Crawler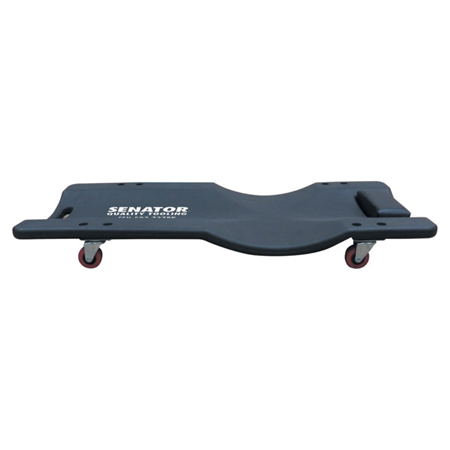 Suppose you'd rather something a bit simpler – this crawler is the one for you. Manufactured by Senator using bonded pieces of strong yet lightweight plastic, the model has an ergonomic design that contours to the general shape of your body. While it may be lacking the support of cushioned padding (excluding the headrest), it is still sure to keep you comfortable and clean throughout the day.  
We also like this crawler for its durability, achieved through a molding process that bonds the top and bottom permanently together.
Pros:
• Strong and light
Cons:
• Lacking in cushioned padding
Clark Garage Crawler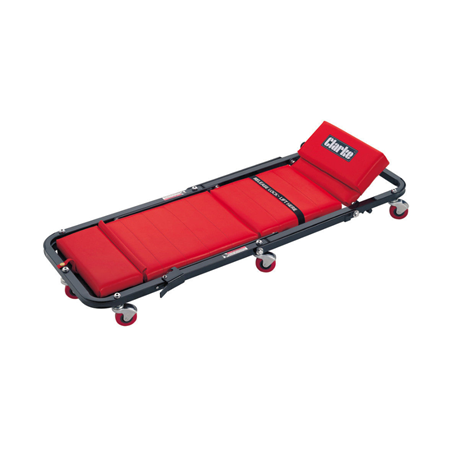 Like the SGS example, this crawler from Clarke also features a padded oil-resistant back and headrest, only this model takes practicality to the next level. The CMC50 features a split back design, doubling the crawler up as a mechanic's seat once the framing has been rearranged and the shape converted. The process only takes a matter of seconds and requires no tools.
The steel framework of the CMC50 is finished in a tough powder coat and features seven swivel castors below for fantastic manoeuvrability.
Pros:
• Very comfortable
• 2-in-1 design
Cons:
• The price
SGS Contoured Garage Crawler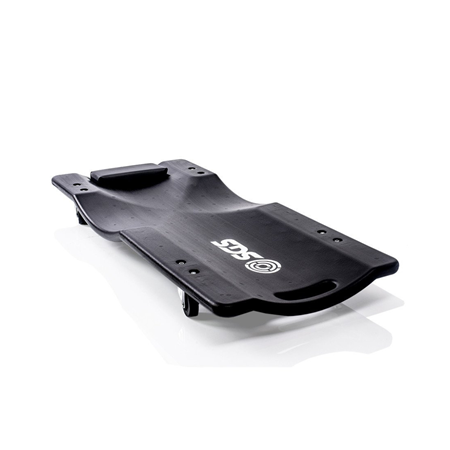 Another example from SGS engineering, this model follows much of the same design language as the Senator only at a discounted rate. Available for under £20, this is the best budget option, sporting a slimmed-down, no-nonsense design. That being said, this crawler still features a padded headrest and is ultra-durable thanks to its high-impact, one-piece polymer mould. Given its light weight and 120mm high profile, this is one of the most manoeuvrable boards out there.
Pros:
• Affordable
• Light and manoeuvrable
Cons:
• Lacking in support
Master Pro Garage Crawler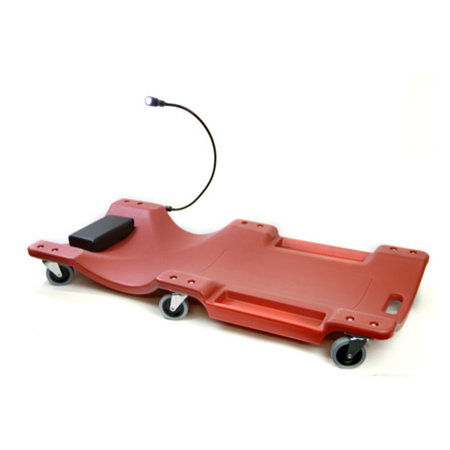 If you're looking for manoeuvrability but fancy a few mod cons on the side, this crawler from MasterPro is manufactured from one piece of durable lightweight plastic with extra storage cups and even a working light. The underside of cars can be especially dark places, so having a malleable light built into the frame of your crawler will bypass the need for a handheld torch, meaning both hands can be applied to the stuff that really matters.
Pros:
• Light with handy torch
Cons:
• Expensive given lack of support
Sign up to the Parkers Newsletter to keep up to date with more of the latest reviews, news, and recommendations from the Parkers team.
Just so you know, whilst we may receive a commission or other compensation from the links on this page, we never allow this to influence product selections – read why you should trust us.