If you've seen traffic police programmes on Channel 5, you'll know that officers use breathalysers to test a person's alcohol level. First things first – the only safe amount of alcohol to consume before driving is no alcohol at all. Get a taxi instead for total peace of mind.
However, while a visit to your favourite local pub for a pint, glass of wine, scotch egg or simply a good chat with friends is great fun. It's more important than ever to remember the dangers of drinking and driving.
Driving with alcohol in your system can easily end in a crash. This can obviously result in death or injury to you, your passengers or pedestrians. A drink driving conviction can cause issues with travel visas, cost you your job. Or at the very least result in a ban and your insurance skyrocketing.
The best breathalysers at a glance:
Editor's pick: AlcoSense Pro Fuel Cell Breathalyser – buy from Amazon
Best mid-range digital breathalyser: AlcoSense Lite 2 – buy from Amazon
Best value breathalyser: Blo Executive Portable Breathalyser – buy from Amazon
A domestic breathalyser is a clever solution. Keep in in your car's glovebox and you'll be able to check whether you're fit and legal to drive. Even if you're in the slightest doubt. In short, if you like to drive to friends' gatherings for nights out, buy one of these gadgets and keep it in your car.
Editor's pick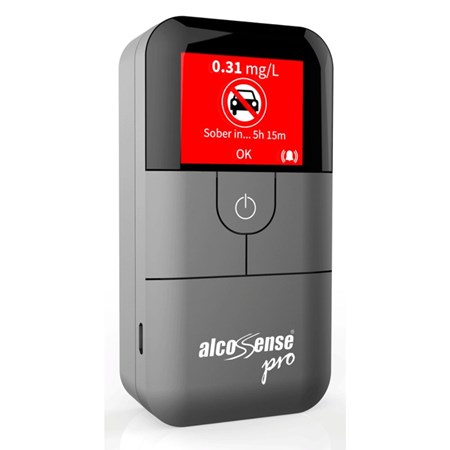 Our top pick for breathalysers is this one from Alcosense. It thoroughly impressed us with its design and quality, making it the perfect tool to use after enjoying a drink. It features a Blowcoach to ensure you get accurate results, has a temperature sensor and will warn you when the sensor needs recalibrating. 

We've tested this model in a lab and the accuracy is excellent. It is also country configurable and even gives you a timer until you're sober.
Pros
Gives accurate reading
Useful timer until you're sober
Cons
Re-calibration is required from time to time
Best compact breathalyser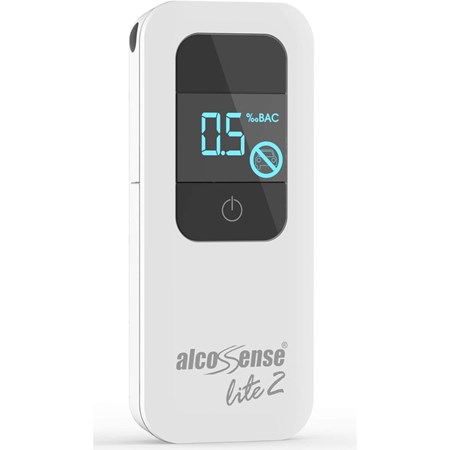 A budget-friendly option for a digital breathalyser, the Alcosense Lite 2 uses a more basic sensor than other Alcosense models, but it will still give accurate results. While it may lack the same features as more expensive options, it will still give accurate results for English, Irish and Scottish testing. It is also fantastically made and very easy to use.
Pros
Good value for a digital breathalyser
Pocket sized and convenient
Cons
Doesn't comply with French law
The best value breathalyser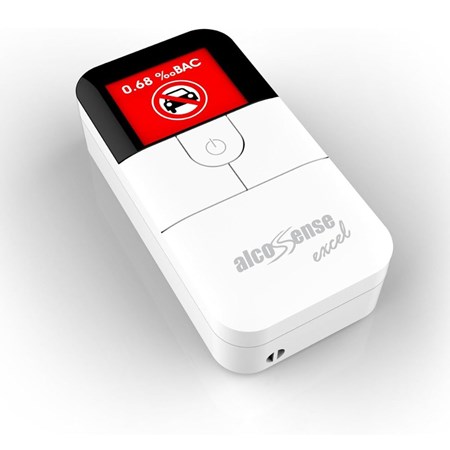 AlcoSense claim the Excel Fuel Cell uses the same 200mm² fuel cell sensor used in proper police grade breathalysers, but it's made to be more compact to suit its price point.

While the terminology can become hazy with police spec breathalysers, it does use the same (albeit smaller) sensor as the Pro Fuel Cell, and these are generally the best in the business. It represents slightly better value than the Pro Fuel Cell too.
Pros
Great value for what you get
Accurate sensor
Cons
Limited number of languages available
Best compact digital breathalyser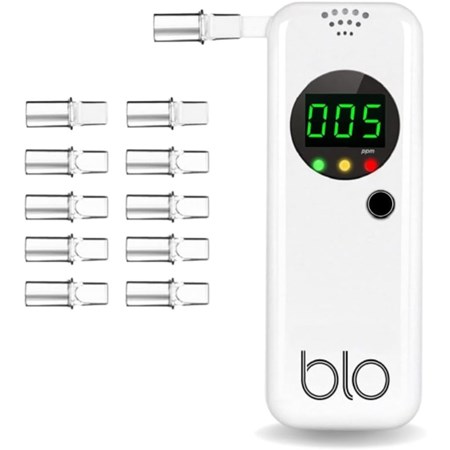 On the lower end of the digital breathalyser spectrum is Blo's portable unit. It comes with ten mouth pieces and measures your Blood Alcohol Content (BAC) after a few seconds of blowing. This is measured in

It's powered by two AA batteries to make life convenient. But unfortunately, doesn't take readings in Micrograms per 100ml of blood - which is the standard in which UK police forces use when taking a sample of breath. So you'll have to convert the readings from grams of alcohol in 100ml of blood to micrograms of 100ml of blood.
Cons
Measured in BAC rather than mg/100ml
Best value breathalyser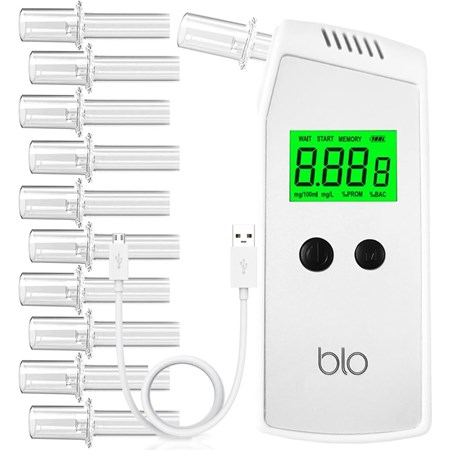 This model sits above the other Blo portable breathalyser. The main difference being is that instead of you converting the readings yourself, this device can display a mg/100ml reading for you.

This is incredibly convenient if you're testing yourself while living in the UK, and you can also opt for mg/L, BAC, and PROM (Promile - grams of alcohol in 1 litre of blood).

Pros
Good value
Gives multiple measurements
Cons
Some users have reported a lack of accuracy sometimes
Best simple breathalysers for UK use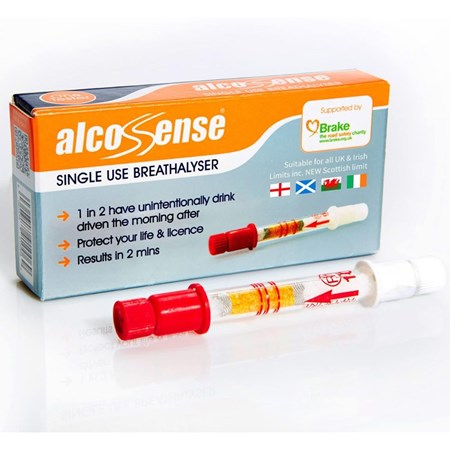 For UK use, it doesn't get much simpler than this 12-pack of single-use breathalysers.
Pros
Easy to use
Useful before driving home the next day
Cons
Compromised quality compared to digital devices
Best disposable breathalysers
These disposable breathalysers are NF approved meaning they can be used when driving in France (a legal requirement). While they don't offer the same features as other brands, for single-use testing they can't be beaten.
Pros
Easy to use
Very affordable
Cons
Not as great quality as the digital devices
What you need to know about breathalysers:
Does quality matter?
When it comes to breathalysers, cheap ones will simply be rubbish. We did an investigation into cheap breathalysers more than 10 years ago and sadly nothing has changed. Websites are littered with cheap breathalysers that claim to be industry-leading but offer the accuracy of a drunkard trying to get their key in the front door. Not only is this annoying, but if you incorrectly blew legal into your breathalyser and then get pulled over by the police, you could get done for drink-driving even if you thought you were fine.
There are good disposable examples that are cheap but these are one-time use products. With anything you want to use more than once it's better to spend a bit more and look for one that will be accurate and reliable over time. A timer is a helpful option that some of the more premium examples offer. It will set an alarm that will notify you when you're (in theory) sober. Perfect if you enjoy one too many the night before. Alcohol readings are also dependant on different factors including temperature, how deeply you breathe and how different countries process the data to get results. The best (and more expensive) breathalysers will factor these all in to get a more accurate result.
Is there any way of knowing a good quality breathalyser?
There is no standard body in the UK that can make finding a quality example a real pain unless you own a professional laboratory. The only EU country that has a standardised testing facility is France so look for breathalysers that come with NF approval (French Standard). These will be accurate. Also, be careful of models that claim they are police-grade and other such buzzwords, they are literally meaningless. Extreme examples include one cheap breathalyser that claimed to use police-grade equipment. This simply means it uses the same screws to hold it all together.
Ryan Gilmore is the Deputy Autos and Tools Editor for Parkers, specialising in car cleaning and hand tools. A veteran car cleaner; if it details, waxes or washes he'll be on hand to make sure it's worth your money.
Sign up to the Parkers Newsletter to keep up to date with more of the latest reviews, news, and recommendations from the Parkers team.
Just so you know, whilst we may receive a commission or other compensation from the links on this page, we never allow this to influence product selections – read why you should trust us.