Using a mobile phone while driving has been illegal in the UK for 20 years, though since 2003, the law has tightened considerably. Legislation recently changed again to broaden the scope of what would be considered a mobile-phone offence, just to keep up with the ever-improving capabilities of smartphones.
The current penalty for using a mobile phone while driving is £200 and six penalty points on your licence – double the penalty one would have received in 2013. But if the laws are tightening, why are car manufacturers improving mobile phone support on the go?
With the rise of in car mobile-phone synchronisation software like Apple's CarPlay and Bluetooth, exploiting your phone's capabilities on the road has never been easier, but that doesn't mean you're free from mobile-phone laws altogether. On this page, we'll outline exactly what the law says and how you can stay on the right side of it.
Is it legal to use a mobile phone in your car? 
In 2022, the government amended regulations pertaining to the use of mobile phones while driving. Before the law was revised, it was only an offence to use a mobile phone for interactive communication while at the wheel.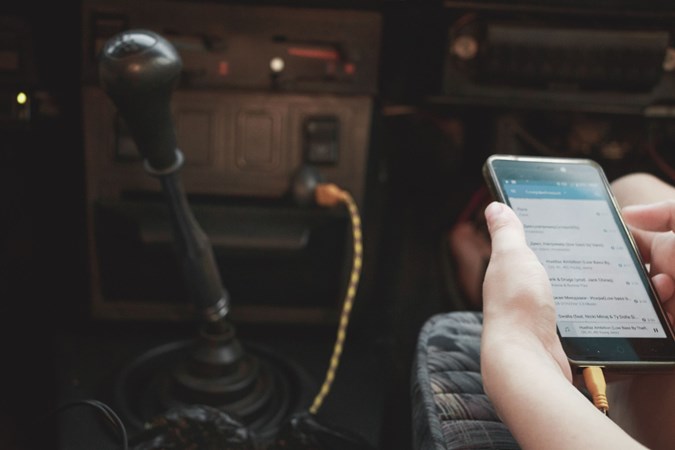 Since modern smartphones have many capabilities that don't involve interactive communication – camera functions, playing music or games etc – the law was amended to accommodate every other feature.
It's now an offence to use a device while driving, regardless of why you are holding it. If you would like to understand more about what the government considers to be 'using' a device, be sure to check out The Road Vehicles Regulations Amendment 2022.
Can I use my phone as a sat nav?
Thanks to navigation apps like Apple and Google Maps, smartphones have become popular navigation devices, but is it legal to use your smartphone as a satnav while driving?
Yes, so long as it has been correctly and safely set up. To legally use your smartphone for navigation purposes while driving, it must first be placed in a cradle that's securely fastened.
Make sure your phone holder is placed out of your field of view so as not to obstruct your vision while on the road and don't place your phone on or in front of any airbag zone as it may impede their efficacy.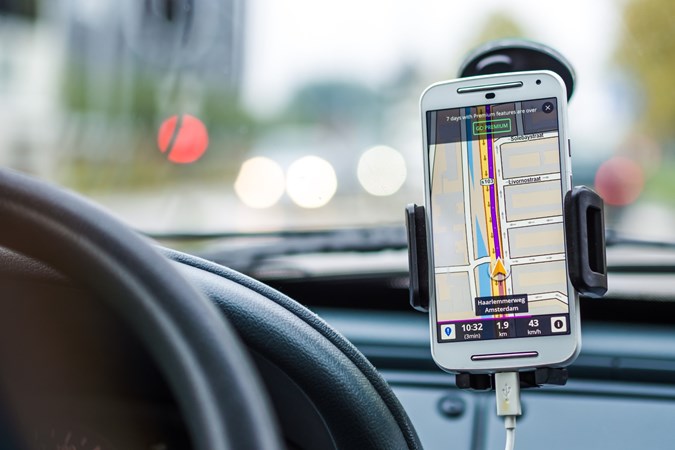 As touching your phone is an illegal act while driving, make sure you confirm your navigation input before setting off.
Want to use your mobile phone to keep an eye on the road? Check out our guide on how to use your phone as a dash cam.
Are phones ever legal to use in a car?
While using or even just holding a phone while driving is illegal, there are some exceptions to the law. These are as follows:

• When you're parked up – So long as your car is parked up in a safe spot, out of the way of traffic, a driver can legally use a phone.
• You need to make an emergency call – if you need to dial 999 or 112 in an emergency, you can legally do so at the wheel. If you're spotted by a police officer on the phone in such a case, you may need to explain what your emergency is.
• Making a payment – If you need to make a contactless payment from your phone in your car, you can legally do so, so long as the car is not moving.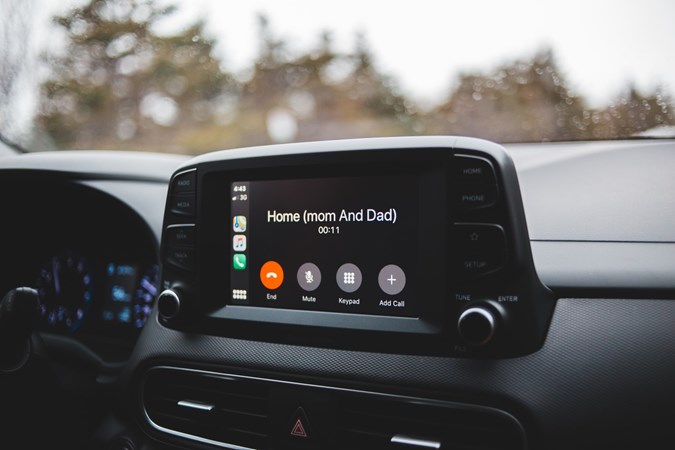 If you would like to read more on exceptions to mobile phone driving laws, be sure to check out the government advice page.
How to use your phone safely while driving
If you're using your phone as a sat-nav, take your phone out of your lap with a magnetic phone holder. If your phone is in clear sight, you won't need to touch it. What's more, you'll be able to make use of Alexa, Hey Google or Siri digital assistants if your phone is nearer to your face. 
Try connecting to Apple CarPlay or syncing up your phone via Bluetooth to negate the need to hold or even touch your phone. To legally receive calls while behind the wheel, in a Bluetooth headset to keep your eyes and mind on the road.
These systems have been designed to improve road safety by keeping your eyes up with clear information. If your car supports either of these functions, then make the most of them to keep your eyes on the road. Stow your phone away once connected to reduce the temptation to check it.
If you want to stream music in an old car, look at ways of bringing your car up to date. Alternatively, consider investing in a DAB radio adaptor. Not only can they provide a clearer radio signal but some, like the Pure Highway 600, can also connect for hands-free calling and audio streaming from your phone. There are even some that offer voice control, too. 
What are the best driving apps?
Navigation
Google maps is still one of the most popular navigation apps on the market. Its clear instructions and sharp graphic make directions easy to follow, allowing drivers to keep their attention on the road rather than on their phones.
Waze is another hugely popular navigation app. It may not have access to the same wealth of data as Google Maps but it's great for real-time journey updates from a user-oriented community.
Be sure to check out the rest of our favourite sat nav apps to keep you moving in the right direction.
Dash cam
Ultimate Dash cam is regarded as one of the best dash cam apps to use on the go. It's clear, simple function is great for keeping an eye on your surroundings, sparing you the expense of a dashcam by using the camera on your phone. For more advice, be sure to check out our guide on how to use a mobile phone as a dashcam.