Potholes are a huge problem in the UK. Motorist surveys have repeatedly concluded that nine out of 10 drivers have been affected by pothole damage in some way, and according to the Institute of Advanced Motorists, it remains the biggest issue facing UK drivers.
So how do you claim for pothole damage? Keep reading this page to find out.
How bad is the pothole problem in the UK?
Potholes impact everybody. For instance, in March 2022, singer Rod Stewart was filmed fixing the potholes in his street. The following month, a woman of pension-age who doesn't even drive stumped up the money to repair her cratered road, after seeing motorists mounting the pavement to avoid potholes and no joy from the property company responsible.
In 2020, research by KwikFit estimated the annual total cost to British motorists to repair pothole damage at £1.25 billion. And while the 2022 Asphalt Industry Alliance ALARM report suggest that 1.7 million potholes were filled in 2020/2021 – that's one every 19 seconds – it also says that 83% of the claims made against local authorities for damage caused to cars by roads in England are related to potholes. A figure that rises to 86% in Wales.
It doesn't help that cars today sit on such low-profile tyres and buyers like to specify sports suspension when given the choice. But with so much damage, what can be done to improve the situation? And what is the advice should the worst happen?
If a pothole damages your car, who is to blame?
Read on to learn more about how to handle pothole damage to your car.
1. Find out who is responsible for the road's maintenance
As you can imagine, it's not always a straightforward process, but it is possible to claim for pothole damage if you're patient and methodical.
The first thing to consider is whether you need to claim against the council or National Highways.
As a guide, if it's a local B-road or smaller A-road, it's probably the former, whereas larger inter-city routes – such as motorways – are the responsibility of the latter.
2. Gather as much information as you can
If you think your car has been damaged by a pothole, the first thing to do is stop. Don't think that you'll do it later, because the memory has a nasty habit of playing tricks on you. So, stop, take notes, and also take photos of the pothole.
You need to capture what you see at the scene of the incident, but also record any damage done to your car. If someone saw it happen, get their details and record them as a potential witness.
3. Work out the cost of the repair
If the damage is bad, then make sure you get a number of quotes in writing before committing to a repair.
This serves two purposes – you get the best price, but you also have a written record of the costs when it comes to making a claim.
You should also notify the authorities about the pothole via the gov.uk Report a pothole webpage.
4. Notify the authorities
Then write a letter to the council or Highways England outlining where the damage was caused, how bad the damage is, and what it's going to cost (or has already cost) to get it repaired.
5. What happens next?
The authorities are obliged to reply within 14 days. This will generally be a refusal to pay under Section 58 of the Highways Act 1980.
Don't worry, this is a default response that says that the authorities took reasonable steps to maintain the road to the best of their ability. And this is the legal point that you can appeal against.
Now you have to determine whether the authority has fulfilled the Section 58 obligations by asking them to prove when the last inspection took place, and whether it was up to standard or not.
6. Do you have a case?
If the answers provided by the authorities aren't up to scratch and you really do think you have a case, then write back with your points, and outline once again your costs.
When it gets to this point, the authority will either pay up, make an offer or leave you with the choice of taking it to small claims court.
The good news is that taking things to court is relatively inexpensive and easy – and many local authorities would prefer to avoid this preferring to settle any claim beforehand.
How to avoid pothole damage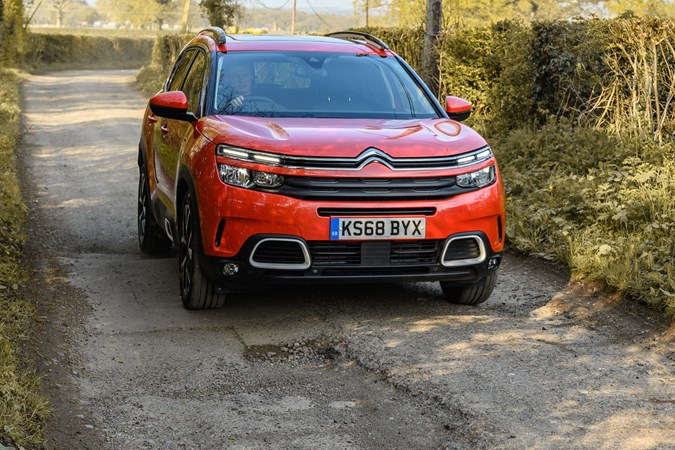 Sometimes you've no choice but to go crashing through a pothole, risking damage to your car in the process. But there are steps you can take to minimise the risks, which can be summarised in these three steps:
Always be alert
Read the road ahead
Be particularly vigilant in times of extreme weather
The biggest time of risk is during a thaw following a period of frozen weather, as this is when the road surface is most likely to break up. However, really hot weather can also cause road damage that might form an unexpected pothole that wasn't there the last time you drove along that particular stretch of highway.
It's always a good idea to look out for any darker patches or puddles that could be concealing hidden dangers.
Has your car been damaged by potholes? Get in touch with us to let us know if you were successful at making a claim.