If you own or have recently purchased a car of a certain age, you may be looking at upgrading the in-car entertainment in the form of a new car stereo. One that you will be capable of plugging your Android or iPhone into to use as a sat-nav, music streaming service and for hands-free calls, as well as operating a standard radio.
There are some very good aftermarket products out there that will help you do this, and there is a price and functionality to suit most budgets. As ever, the buying advice on these would be: go for a product you can afford, one which suits your vehicle and gives you what you want from it, functionally.
Before buying a new stereo…
You'll see the abbreviation DIN in your search for a new stereo. This refers to the stereo's chassis, as car stereos come in two standard sizes:
• Single DIN refers to stereos that are two inches tall and seven inches wide.
• Double DIN refers to stereos that are four inches tall and seven inches wide.
Your car may be able to accept both sizes, but you can't tell just by looking at the front of the vehicle. Double DIN units are double the size, so generally speaking, they have more room for controls and are easier to use.
The best care stereos at a glance:
Editor's choice: Kenwood DPX-5200BT – Buy now from Amazon UK
Best for universal fit: Pioneer SPH-20DAB – Buy now from Amazon UK
Best for touchscreen: Pioneer DMH-A240BT – Buy now from Amazon UK
The best car stereos
Editor's choice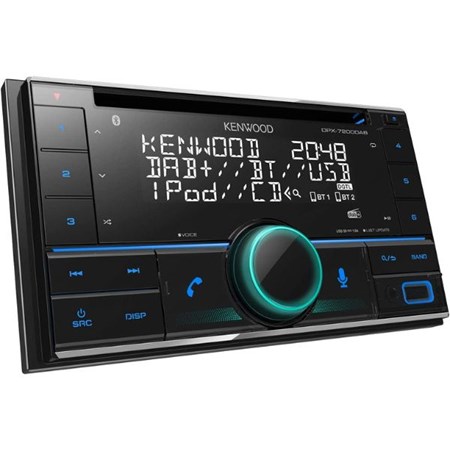 Kenwood has been making classical-looking audio devices since its inception. The DPX-5200BT brings modern capabilities to your vehicle. With a Double DIN chassis, there are tangible buttons that you can press if you're not a fan of a touchscreen design.

If you don't have streaming services like Spotify and Apple Music, but you do have plenty of CDs, then the DPC-5200BT might be for you as it offers CD playback. Connecting your phone via Bluetooth is also a possibility, offering hands-free capabilities as well as a USB Port to hardwire your phone or device.
Pros
Actual buttons to press
Modern technology included
Best for universal fit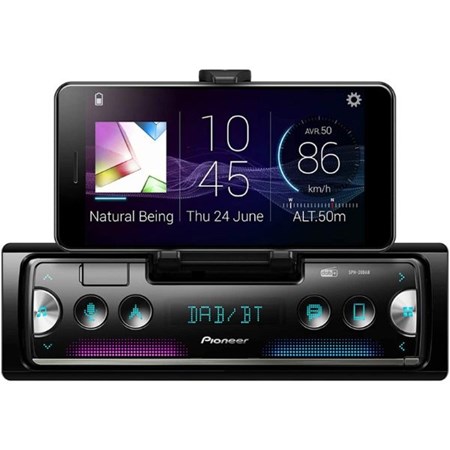 Built on a Single-DIN Chassis, this receiver gives you somewhere to store your phone with a built-in cradle that will hold your smartphone.

The sleek-looking design would fit into most classic cars, while the hard key buttons offer easy access to sat-nav, voice recognition, messages and calls.

The Pioneer SPH-20DAB offers DAB+, Bluetooth connectivity, USB and Spotify and connects to iPhone and Android devices.
Pros
Should fit most cars
Includes an integrated phone mount
Cons
Not the most understated-looking device
Best for touchscreen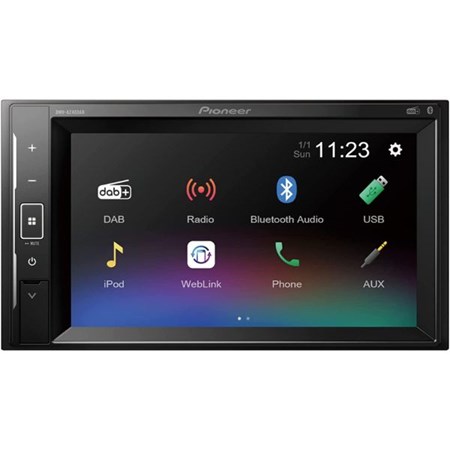 This 6.2" Clear Type Resistive Touchscreen is crisp and clear. The tech used is the most common type of touchscreen due to cost and ease of use, relying on resistance – meaning the pressure applied to the screen itself.

The DMH-A240BT will mirror your smartphone's screen when you hardwire it using USB, Alexa compatible and with a 13-band Graphical EQ, meaning you can adjust your audio output, browse Spotify and play your favourite songs with ease.

The Chassis is Double DIN but short, making it easier to fit into most cars.

Pros
Slick touchscreen
Adjustable music quality
Cons
Won't look right in older cars
Best for functionality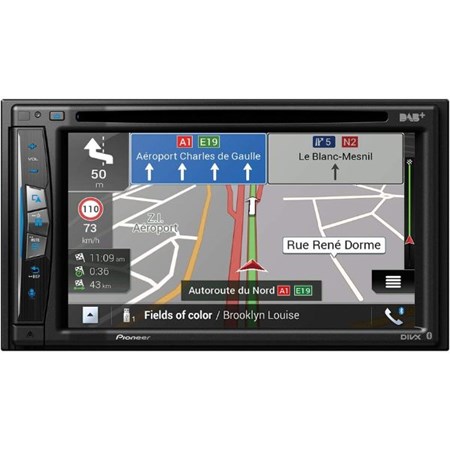 This car stereo can do it all – but it comes at a cost. The Pioneer AVIC-Z730DAB-C has many features, one of which being built-in Wi-Fi, which sits alongside Bluetooth connectivity, Apple CarPlay, Android Auto and DAB+.

The screen is an anti-glare 6.2" Wide Video Graphics Array (WVGA) Touchscreen with a 24-bit real colour display, which has a multi-touch interface for safe and smooth operation while driving. If you're considering updating the stereo system in your motorhome or vehicle, which would be towing your caravan, this could be it. While it's very pricey, it has detailed integrated European HERE navigation maps.
Pros
Built-in Wi-Fi
Doubles as a sat nav
Cons
Won't look right in older cars
Best for classic look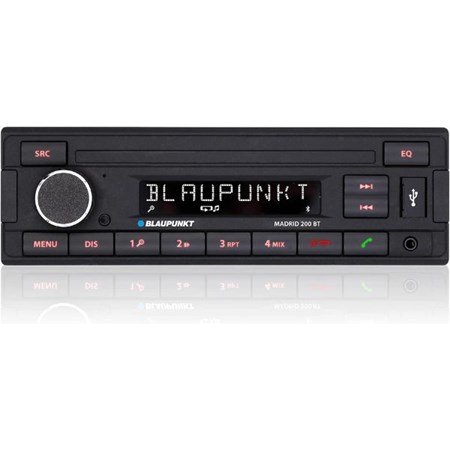 No flashing lights, no touchscreen, no faff! This is pretty basic, as there's no DAB (although DAB adapters are available) or CD, but you do get FM, Bluetooth connection for streaming and handsfree calls, and an input for a USB music stick, all controlled from the well-laid-out front panel - very reminiscent of car stereos from twenty or even thirty years ago, therefore it will look right at home if you are running a classic car (or even if you just prefer a retro look). Easy to operate by touch rather than having to take your eyes off the road.
Pros
Will look great in older cars
Intuitive operation
Some things to consider:
If you are thinking about replacing or upgrading your car stereo, there are a few things you should consider before you make your purchase.
Compatibility: Make sure the new car stereo is compatible with your vehicle's make and model to ensure it will fit and work seamlessly with your vehicle's existing wiring and dash.
Size: Car stereos come in various sizes. Measure the available space in your car's dashboard to ensure the new stereo will fit without any modifications. As we mentioned in the introduction, the two most common sizes are Single DIN and Double DIN, with Double DIN units typically offering more features and a larger display.
Features and Functionality: Common features include Bluetooth connectivity, USB ports, auxiliary inputs, CD/DVD playback, smartphone integration (Apple CarPlay or Android Auto), navigation, touchscreen displays, and more.

Operation: The ease of use and user interface can affect how you use your new system. Choose a car stereo with a user-friendly interface and intuitive controls, especially if you plan to use it while driving.

Smartphone Integration: If you rely on your smartphone for navigation, music streaming, and other functions, consider a car stereo that supports Apple CarPlay or Android Auto for seamless integration.

Installation: It's worth considering whether you can install the car stereo yourself or if you need professional installation. Some units are designed for DIY installation, while others may require expert help.

Aesthetics: Consider the design and appearance of the car stereo to ensure it matches your vehicle's interior and your personal style.
It's worth taking a few moments to consider these options to make sure you get the best replacement car stereo that meets your needs and will give you the best performance. Rock on!
Myles Warwood is an Autos Products Writer for both Parkers and CAR, specialising in child seats and e-bikes. In his spare time, he's a freelance cycling journalist and dog owner.
Sign up to the Parkers Newsletter to keep up to date with more of the latest reviews, news, and recommendations from the Parkers team.
Just so you know, whilst we may receive a commission or other compensation from the links on this page, we never allow this to influence product selections – read why you should trust us.