The requirements of ice scrapers are simple: easily remove ice and snow from a car's glass without leaving damage. An old debit card may be able to lift the ice from a car's windscreen in a pinch. But try and clear a full windscreen, and it quickly becomes an exhausting task. Very quickly, you'll realise why one of the best winter products is an ice scraper.
A proper ice scraper will make lifting ice from a car's windscreen far easier and quicker. We won't go as far as to say it's enjoyable, but a good ice scraper should have the task done before your fingers become numb, an invaluable benefit.
Out of a wide array of winter products for your car, ice scrapers are probably the most essential. We recommend carrying a good quality torch in your glovebox, but even those don't come close.
The best ice scrapers at a glance:
Editor's pick: Swedish Ice Scraper – Buy from Amazon.
Best budget ice scraper: CarPlan Ice Scraper – Buy from Amazon.
Best branded ice scraper: Audi Ice Scraper with Glove Mitt – Buy from Amazon.
We've found the best ice scrapers on the market. Think of them really, as icy versions of glass squeegees – only more durable.
The best ice scrapers
Editor's pick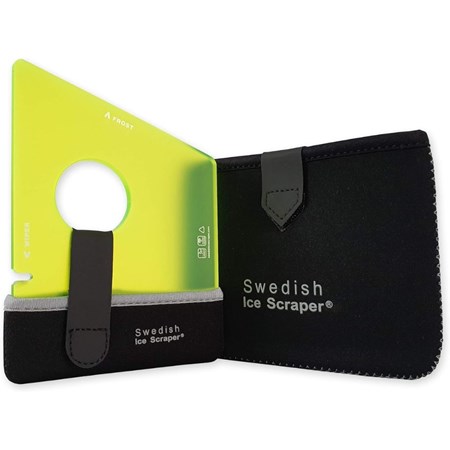 If you thought Scotland had bad winters, take a moment to imagine what a Swedish winter is like. This Nordic country sometimes sees temperatures below -40°C, which means any ice scraper designed to work there must be pretty robust. Made from laser-cut, 6mm recycled acrylic glass, the Swedish Ice Scraper uses thicker materials for extra strength, partnered with sharper edges for lifting ice.

Everything about the Swedish Ice Scraper is exceptional, the device is plough-shaped with rounded corners to help clear ice efficiently without posing a threat to rubber seals in the corners of windows. A small slot for clearing wiper blades is included, as is a handy neoprene holder to keep your hands comfortable, which makes this the best way to clear your windscreen in the morning. There's also an undeniable charm to the utility-led design that blends both function and style.
Pros
Outstanding build quality
Excellent performance on ice
Cons
Doesn't come with extra features
| | |
| --- | --- |
| Dimensions | 15.5cm x 11.5cm x 0.6cm |
| Extras | Wiper blade slot, Neoprene holder |
Best simple ice scraper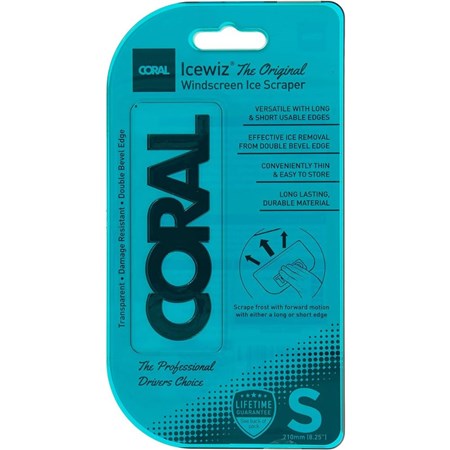 A similar concept to the Swedish Ice Scraper, just more basic and a fair bit cheaper. You'll still get outstanding build quality and a product designed to scrape away ice effortlessly, it's just not as complete as the Swedish option.

There's no wiper blade slot or nice soft handle, just a bevelled plastic sheet of plastic that efficiently lifts away ice from a windscreen. If you're after excellent value with top-notch results, the Coral is our choice.
Pros
Great build quality
Good value
Cons
Best used when wearing gloves
| | |
| --- | --- |
| Dimensions | 11.2cm x 20.9cm x 0.3cm |
| Extras | N/A |
Best ice scraper for grip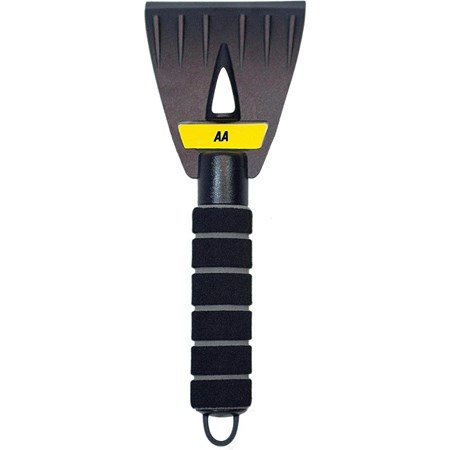 This is a more traditional-looking ice scraper, like the types you'd find in a petrol station for a quid. This option from the AA does at least feature a few little extras to make it a cut above with a foam handle, storage hook and six fins built into the blade for penetrating and gripping really stubborn ice. It's not the most precise piece of engineering, but for the price, it's a solid bet.
Pros
Good value
Comes with useful foam grip
Cons
Not the best build quality
| | |
| --- | --- |
| Dimensions | 11.2cm x 20.9cm x 0.3cm |
| Extras | Foam handle, storage hook |
Best 2-in-1 ice scraper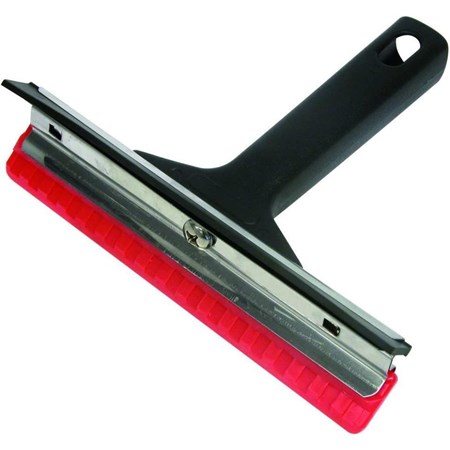 When it comes to an ice scraper that can do two things in one package, the Carpoint ice scraper is a great shout. Not only does it come with an ice scraper, but also a rubber wiper on the other side to tackle condensation across your car's windows.

It's very well made and great value, and if you're looking for bang for your buck, this is it.
Pros
Good quality construction
Affordable
| | |
| --- | --- |
| Dimensions | 17cm x 10cm x 15cm |
| Extras | Handle hook, rubber blade |
Best budget ice scraper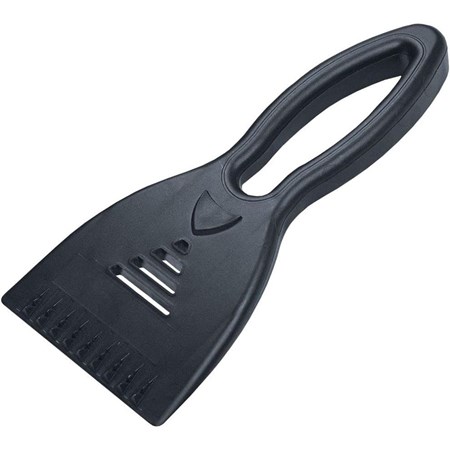 At just a few of your pounds, it's hard to ignore CarPlan's ultra-simple, ultra-useful compact ice scraper. It's an almost pocket-sized scraper that can be stored anywhere from the door pocket of your car to the bottom of a small bag.

Because CarPlan's ice scraper is built with value in mind, it is one moulded piece of plastic. You don't get a grip, nor anything to deal with condensation. But it does what it sets out to do and doesn't require further explanation.
Pros
Incredible value
Undeniably simple
Cons
It's only a block of plastic
| | |
| --- | --- |
| Dimensions | 17cm x 10cm x 15cm |
| Extras | Handle hook |
Best snow brush and scraper tool
If you live somewhere very cold and discover that after waking up, your car is not only iced but under a thick blanket of snow, you'll need the right bit of kit to get going again.

Ice scrapers aren't the answer to a snowed-in windscreen - which is where the Vikan snow brush comes in. Use the brush end to break down the top layer of snow, and then once you have a layer of ice left, that's where the ice scraper end will shine. Made from durable bristles with a longer handle, it's an ideal tool for the job. It's a slight shame that the scraper itself isn't one of the best, but it provides ample power of clearing your windscreen.
Pros
Useful 2-in-1 tool if your car is buried in snow
Great value
Cons
Ice scraper end is quite cheap
Best branded ice scraper
Admittedly, this isn't the best ice scraper on the market. However, it has great potential to serve as a great gift for somebody who either loves or owns an Audi. The marque is renowned for its Quattro four-wheel-drive system and built up a pedigree in rallying throughout the 1980s. So, perhaps it's fitting for a winter product to have the four rings on it. Not only do you get a scraper at the bottom with the embossed logo, but you also get a handy glove mitt.

This is especially nice to have as exposing your hand to the cold air, and frost isn't the nicest of experiences, so you can keep yourself warm while tackling the tiring job. We also love the fact the mitt is in the same style as a sporty, quilted seat cover - usually that found in an Audi RS product.
Pros
Makes for a great gift to an Audi person
Glove mitt is useful to have
Cons
The scraper itself isn't one of the best out there
Frequently asked questions when considering ice scrapers
What about de-icer?
Quicker and less effort to use, de-icer products certainly have their place during the cold. The major downside, however, is that the chemicals used to make it work are incredibly toxic. We say use an ice scraper for the big bits (like the windscreen) and leave the de-icer to tackle smaller, localised areas where a scraper wouldn't work (like a frozen door lock).
Can I use boiling water on my windscreen?
In actuality, a lot of modern windscreens can withstand boiling water being poured onto them. However, this is not something you should test out. While it's possible to pour piping-hot water onto a frozen windscreen and have nothing break, the rapid change in temperature does significantly raise the chances of cracking the glass and creating a hefty repair fee.
What about snow on my car's roof?
Drivers in places where snow chains are useful are used to taking such precautions. They ensure that all snow is cleared from the roof of a car prior to setting off. Failing to do so may see a giant sheet of powdery snow flung off at high speed into the car behind you, a safety hazard that may see you charged with driving without due care and attention. If there is settled snow on your car, an ice scraper with a built-in snow brush will make quick work of the snow. Be warned though, the bristles on most snow brushes will scratch paintwork and so aren't a top purchase recommendation from us. Our advice would be to brace yourself and use your arm, if possible, to sweep the snow off the roof, resorting to a brush if you can't reach it.
Aaron Hussain is a commercial content writer at Bauer Media for Parkers and CAR. He is obsessed with classic cars and anything with a fascinating story to tell.
Sign up to the Parkers Newsletter to keep up to date with more of the latest reviews, news, and recommendations from the Parkers team.
Just so you know, whilst we may receive a commission or other compensation from the links on this page, we never allow this to influence product selections – read why you should trust us