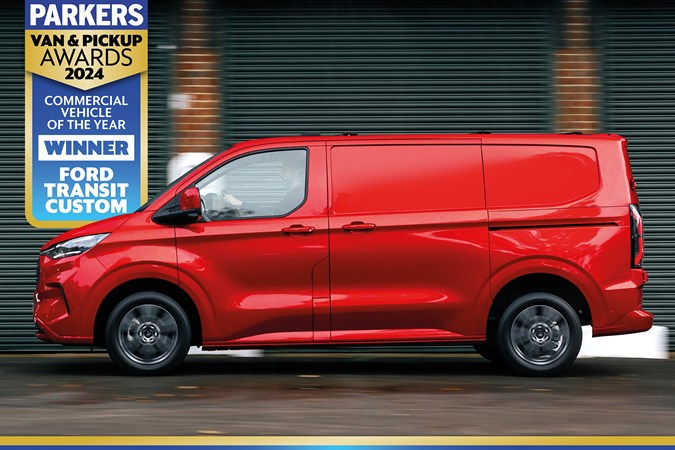 The biggest van in the UK in terms of importance, sales and influence is back. The previous version of the Ford Transit Custom is a former Parkers Van of the Year, so our hopes were high for our 2024 Commercial Vehicle of The Year award when the next-generation one came along. They weren't just met – they were exceeded. 
It was far from a foregone conclusion, as the new Transit Custom brought in some notable changes that might have not worked. The move towards a more car-like interior and approach is also a definitive step that might not have appealed to everyone. 
However, the result is a van from a company that has clearly and positively listened to its customers, enacting some genuinely useful new features in the process. A van offers far less in the way of potential for innovation than a car, but some of the things Ford has brought in are just that. The flat cabin floor and the forthcoming L-shaped bulkhead are the kind of things that will have designers at rival brands rushing off to formulate their own alternatives. 
The future is bright for the Transit Custom, too. The van powered by an existing diesel engine is our Commercial Vehicle of The Year, but there are some exciting versions on the horizon, with the plug-in hybrid and all-electric versions soon to come. If our Best Electric Van, the Ford E-Transit, is anything to go by then there is every reason to be excited. 
Read our full Ford Transit Custom review
To celebrate the 2024 Parkers New Car Awards, we've partnered up with Smart Home Chargers to give one of you the chance to WIN £1,000 cash. Simply follow this link for your chance to win!
Based on a 43-year-old male the Ford Transit Custom would cost TBC to insure.
*Insurance quotes are from mustard.co.uk and are based on a 43-year-old, employed married male living in Stowmarket with nine-years' NCD and no claims or convictions. Insurance quotes will vary depending on individual circumstances.