Twin test: MINI Convertible vs VW Beetle Convertible
Is it time to have your first open-top car?
Our test features two iconic models
Both offer plenty of charm and sunshine opportunities
Is it time to have your first open-top car?
Our test features two iconic models
Both offer plenty of charm and sunshine opportunities
Few things beat the wind-in-the-hair sensation of driving a convertible but which should you go for if it's your first time as a soft-top owner?
Here we've pit two stylish, four-seater cabriolets against each other that offer a degree of practicality as well as letting in summer's sunshine.
Have a look in our Cars for Sale section afterwards for the latest deals on these cars. And when you decide to sell your current car, make sure you get a free car valuation to ensure you get the right price.
Driving
Mini Convertible: Down on power compared with the Beetle, the MINI Cooper Convertible's 1.6-litre petrol engine produces 122hp and 160Nm of pulling power, enough to propel it to a top speed of 120mph and from 0-62mph in 9.5 seconds. But where the MINI excels is in its darty handling that encourages you to press on.
Volkswagen Beetle Cabriolet: With a bigger, turbocharged engine you'd expect the Beetle Cabriolet 1.8 T to be faster than the MINI – and it is, but only just. Top speed's 125mph thanks to 150hp, but even with 220Nm of torque the 0-60 dash is only down to nine seconds.
The culprit is the Beetle's extra weight, blunting handling and performance.
Practicality
Mini Convertible: You don't buy a small, four-seater cabriolet if outright practicality's your primary aim but in the flexibility stakes the MINI loses out to the VW. Up front there's a decent amount of space for two but it's tight in the back, even for kids.
The bootlid folds downwards but the space within is restricted at 170 litres, or 125 litres with roof stowed.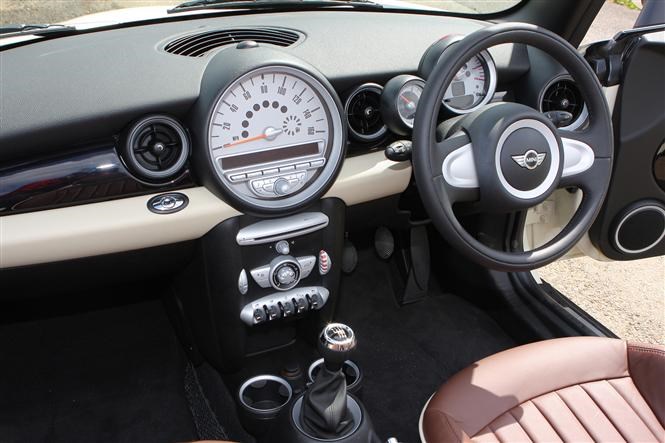 Volkswagen Beetle Cabriolet: There isn't significantly more room in the back of the Beetle Cabriolet, in part because the front seats are set so far back in the body; headroom in particular is compromised with the roof up but overall visibility's better in the VW.
At 201 litres the boot's usefully larger, and the bootlid itself opens more conventionally. There are lots of storage cubbies too.
Costs
Mini Convertible: The MINI's diminutive dimensions and lighter weight combine with its engine's greater effciency making it the cheaper of the two to run. Offcially it manages 49mpg and CO2 emissions are pegged at 133g/km, placing the 1.6-litre Cooper in VED car tax band E. MINI resale values beat the VW's too.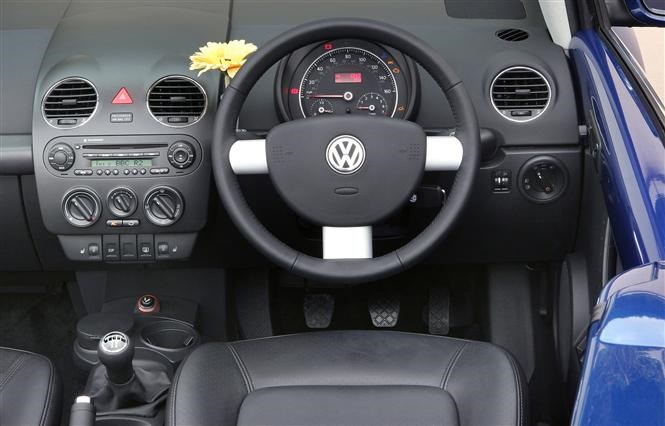 Volkswagen Beetle Cabriolet: Turbocharging helps give the Beetle Cabriolet a bit more oomph than the MINI but you'll pay for it with inferior effciency.
VW only claims an average of 34mpg for the 1.8 T-engined model and emissions stand at 196g/km – that's VED car tax band J. While not exactly cheap, commonly shared VW parts cut servicing bills.
Stats
Engine

1598cc/4-cylinder

petrol,

manual

1781cc/4-cylinder

turbo petrol,

manual

Fuel capacity

40 litres

55 litres

Road Tax

Band E -

£130 p/a

Band J -

£265 p/a

Power

122hp

150hp

Insurance Group

18

22

0-60mph

9.5 seconds

9.0 seconds

Boot space

170 litres

201 litres

Economy

49mpg

34mpg

CO2 emissions

133g/km

196g/km
And the winner is...
Mini Convertible 1.6 Cooper (2009-2015): Both of these desirable soft-tops offer oodles of charm, but for us it's the MINI that comes out victorious.
It might be down on performance compared with the VW – and its practicality's seriously compromised – but as a fun-to-drive, smile-inducing cabrio, the MINI wins.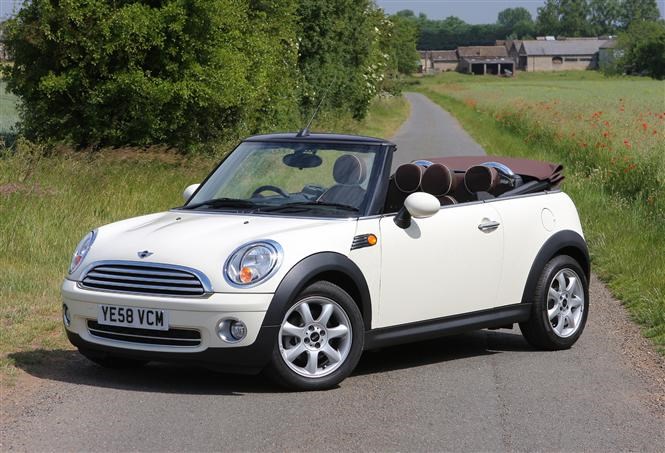 Volkswagen Beetle Cabriolet 1.8T (2003-2010): That's not to say you should avoid the VW. There are fewer Bugs around, so they'll feel more exclusive and they're far better at carrying a couple of kids in the back than the MINI.
Build quality is good, as is the standard of fit and finish for the interior – just be prepared that this car is the duller of the two to drive.
Still need help deciding what to go for?