Twin test: Audi Q7 vs Volvo XC90
We size-up two large SUVs with seven seats
Practicality, running costs and driveability explored
Find out which combines all three into the best package
We size-up two large SUVs with seven seats
Practicality, running costs and driveability explored
Find out which combines all three into the best package
These premium SUVs offering seven-seat practicality need not come at the expense of quality and desirability.
Big, expensive and as happy on the school run as they are cruising through the streets of Kensington, the Audi Q7 and Volvo XC90 are highly accomplished vehicles at the top of their class.
Visit our Cars for Sale section for the latest deals on these cars and when you decide to sell your current vehicle, make sure you get a free car valuation to ensure you get the right price.
Audi Q7 3.0 TDI 218hp (2015-) vs Volvo XC90 D5 (2015-)
Driving
Audi Q7: Powered by a turbocharged 3.0-litre diesel engine, the Q7 makes a hefty 500Nm of torque – all of it available from just 1,250rpm. However, when a car weighs 2,060kg, such impressive performance is significantly blunted. Although not slow – the Q7 goes from 0-62mph in 7.3 seconds – the engine often feels overawed by the mass of the car.
Volvo XC90: Producing similar power and torque figures to the Q7 and weighing 50kg less, the XC90 should – if anything – feel a little faster than its rival. It doesn't.
Again, it's not slow, but the Volvo's performance never feels anything more than adequate. As for ride and handling, the two cars are incredibly similar – both prioritising comfort over sharpness – but the XC90 has the edge.
Practicality
Audi Q7: Unlike a lot of seven-seaters, the Audi's third row of seats are genuinely usable. Though not quite as suitable for long journeys, they will fit a couple of average-sized adults with relative ease, while small children should have ample legroom. Speaking of small kids, the Q7 also carries ISOFIX mounting points across all six passenger seats – a feat few cars can match.
Volvo XC90: Like the Audi, Volvo's XC90 can take seven adults without too much trouble – though the rearmost row of seats is predominantly designed for children. Unlike the Q7 however, Volvo only provides three ISOFIX points in the XC90. The big Swede has the edge on boot space though, claiming an extra 300 litres on the Q7 when both have their third row of seats folded down.
Costs
Audi Q7: Priced at £48,455, the base Audi Q7 comes in at £1,605 more expensive than the cheapest Volvo, with both featuring a generous standard spec including sat-nav, climate control, power tailgate and cruise control. Four-zone climate control is only standard on the Q7, however.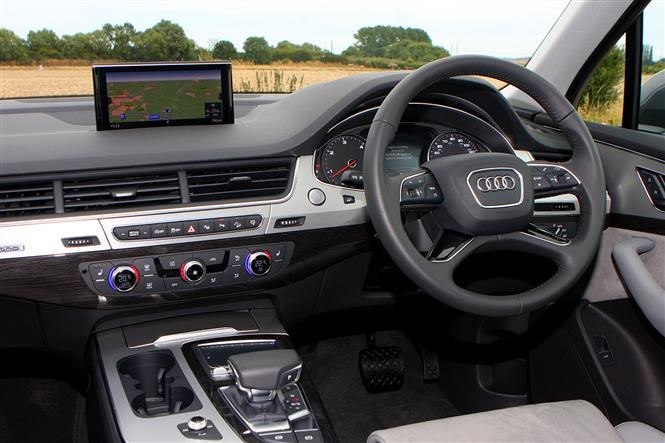 Volvo XC90: Both cars claim similarly ambitious fuel consumption – 48mpg and 49mpg for the Audi and Volvo respectively – though neither comes close to matching these figures. Despite this, Volvo's engine downsizing efforts mean the XC90 is, in the real world, the more frugal car to run. As in the Audi, should the Volvo go wrong within three years or 60,000 miles, the manufacturer warranty will cover the bill.
Stats
3.0 TDI


D5

Engine

2,967cc/6-cylinder

diesel,

Auto

1,969cc/4-cylinder

diesel,

Auto

Fuel capacity

75 litres

71 litres

Road Tax

Band F -

£145 p/a

Band F -

£145 p/a





Power

218hp

224hp

Insurance Group

35

34

0-62mph

7.1 seconds

7.6 seconds

Boot space


295 litres

(Rear seats up)

316 litres

(Rear seats up)

Economy

48.7mpg

48mpg

CO2 emissions

150g/km

152g/km
Verdict:
Volvo XC90: In one of the closest twin tests we've ever had, it's the Volvo that comes out victorious. The XC90 is fractionally cheaper to buy, has a more economical engine and, crucially, boasts a much larger boot capacity with the third row of seats folded down.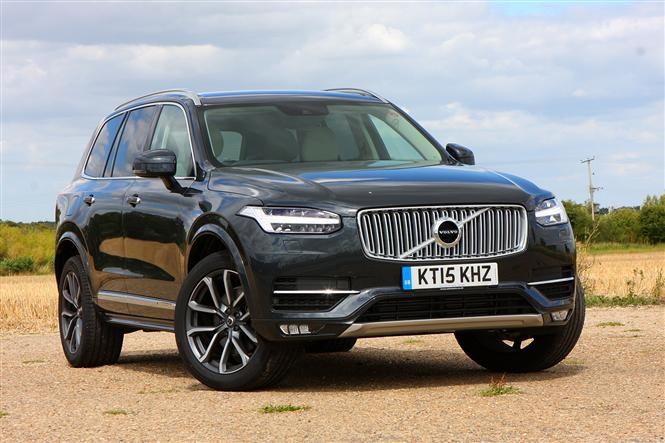 Audi Q7: A class-leading cabin, refined drive and six ISOFIX points are the primary draws to the Q7. It's undoubtedly a massive improvement over the previous generation car and potential owners will not be dissapointed.
Put the two cars side by side however and the Volvo edges it on fuel economy and practicality... just.
Still need help deciding what to go for?
Top family-friendly people carriers
10 safest seven-seaters for kids
Twin test: rugged diesel load-luggers