Though specific details are still rather light on the ground Kia has revealed the interior and exterior design of its all-new Sportage SUV.
The mid-sized crossover will launch fully later in 2021, but early images show a startling transformation from the current model's tidy if rather dull styling. Kia describes the new Sportage in many ways – everything from 'youthful' and 'dramatic' to 'sleek yet muscular' – and says it's all a part of the firm's new core design principle, which it calls Opposites United.
Striking exterior design
Kia's sister brand Hyundai recently underwent a huge transformation with its own mid-sized SUV. The Tucson went from dour and dowdy to a relative supermodel rocking an impressively concept car-like design, and it appears the closely-related Sportage is set to do the same.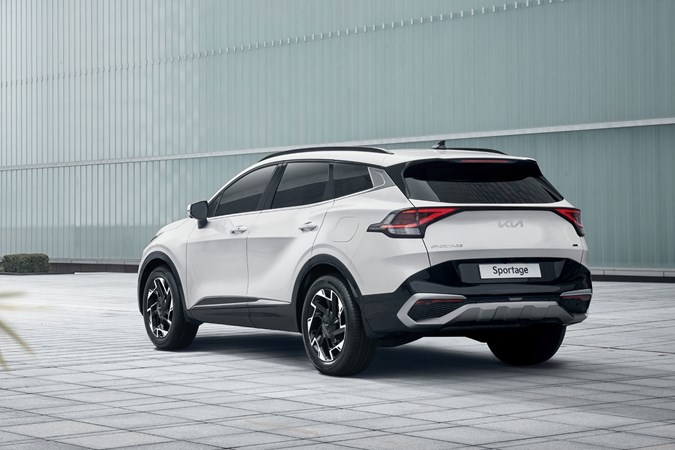 The front of the car features a new version of Kia's 'Tiger Nose' grille, which now stretches the full width of the front end and melds seamlessly into the headlights. Most striking during the day will be the enormous, boomerang-shaped LED daytime running lights, which run along the edge before dipping down to frame the grille and headlights.
Round the back things are just as striking, with huge triangular taillights linked by a full-width styling element – rather similar to those of the Cupra Formentor. The sides see sharp-edged detailing and chunky chrome highlights on the C-pillar.
We'd struggle to call it pretty, but certainly from the front there's nothing on the road that looks quite like the new Sportage – we'll be interested to see how it translates into the metal, and how it looks on more workaday, mid- and low-tier trim levels.
Wraparound interior with two large screens
Unlike the divisively insectoid interior, first impressions of the Sportage's new cabin are overwhelmingly positive. It's dominated by a pair of displays set into a curving panel, that wrap around the driver and provide both gauges/driving information and infotainment.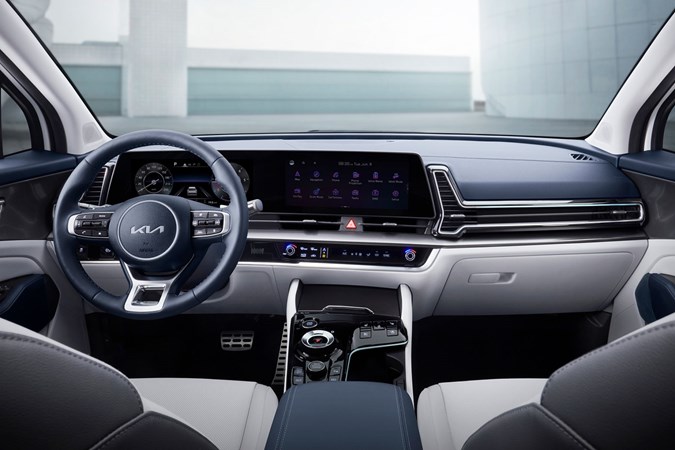 Thankfully, despite the vast screens, Kia's found room for plenty of physical controls including a slim climate control panel and actual buttons on the steering wheel. In an age where brands such as VW are eliminating as many buttons as they can in favour of touch-sensitive panels, this makes a refreshing change.
X-Line available, plus 'European-specific' model on the way
Kia will offer the new Sportage as an X-Line model. Consider this similarly to Skoda's 'Scout' trim for the Karoq – it's a grade offered on smaller Kias, and gives an air of off-road ruggedness albeit without any particular increase in ability.
Kia says the X-Line Sportage will have a 'more confident, vigorous and versatile character' with a unique bumper and curved roof rack, plus the option of a sage-green interior.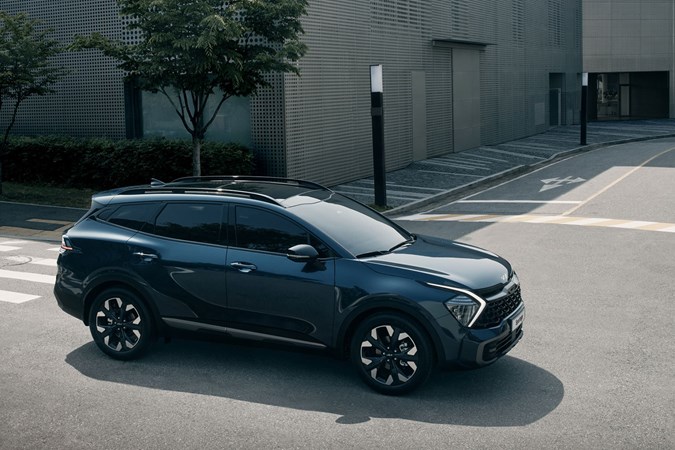 The brand also promises that in September we'll be treated to Kia Europe's vision of the Sportage – a dedicated European model for the first time in the model's 28-year history. Expect this to be closely visually-related to the car we're seeing here, but with its own chassis tune for European roads and perhaps a few additional tweaks to mark it out.
Expect a wide range of engines
If the Sportage follows its sister car, the Hyundai Tucson – and there's no reason to imagine why it shouldn't, as the two models have shared engine lineups for quite a while now – we can expect the Sportage to be offered with a range of petrol and petrol hybrid engines.
The Tucson's range kicks off with a 150hp pure petrol model, and can also be had with mild hybrid or full hybrid offerings, both with two- or four-wheel drive. Most models make use of Hyundai/Kia's seven-speed dual-clutch automatic transmission. There's also a plug-in hybrid range-topper.
It'd be fair to assume the Sportage would get most, if not all of these drivetrains.
What this means for you
It's just another step in Kia's transformation – now, the Sportage looks set to change from an eminently sensible but rather undesirable compact SUV into something that can be coveted, at least for its looks.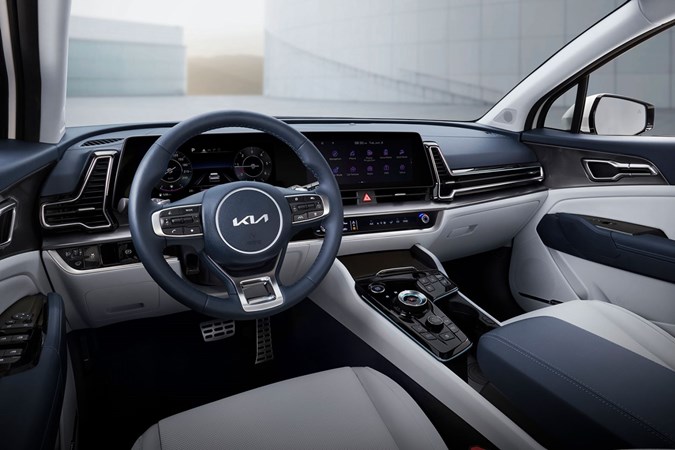 We were impressed with the Hyundai Tucson though we weren't blown away by any particular feature bar the styling. We'll find out if the Sportage gives a similar performance when we're able to drive it later on in the year.
Further reading: