The DS 7 has been given a substantial overhaul, losing the Crossback moniker in the process. The new DS 7 is sleeker and chic-er, but also comes with a choice of no less than three plug-in hybrid options, offering up to 360hp. 
We've no pricing yet, but order books are set to open in August 2022, ahead of first deliveries in September.
Other upgrades include some clever seamless leather upholstery and an all-new infotainment system.
What's new?
A couple of things. Firstly, there's a new set of 'DS Pixel LED Vision 3.0' headlights. These narrow the DS 7's gaze while enabling up to 380m of main beam illumination and an in-town dipped-beam width of up to 65m, thanks to multiple rows and types of LED lighting units (84 in three rows for the main beam module alone).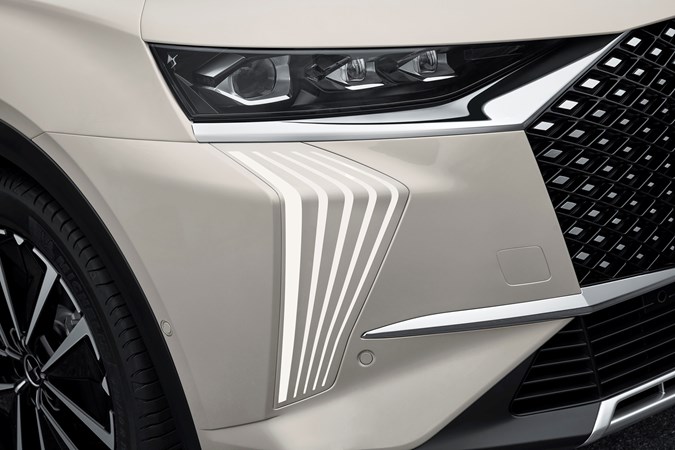 There's also the 'DS Light Veil'. This new daytime running light setup was created using a laser-etched polycarbonate surface that's then painted, the idea is to give the impression that the light is travelling through the bodywork.
What engine options will there be?
There's the E-Tense 225, E-Tense 4×4 300 and E-Tense 4×4 360. 
The 225 uses the PureTech 180 petrol engine and a 110hp electric motor to deliver a maximum combined output of 225hp. You get an eight-speed automatic as standard, and front-wheel drive. 
The 4×4 300 and 4×4 360 both use the PureTech 200 petrol engine and gain an additional 100bhp electric motor for the back axle, bestowing them with four-wheel drive. Max output is 300hp and 360hp respectively, but only the 360 model gets to say it's tuned by DS Performance.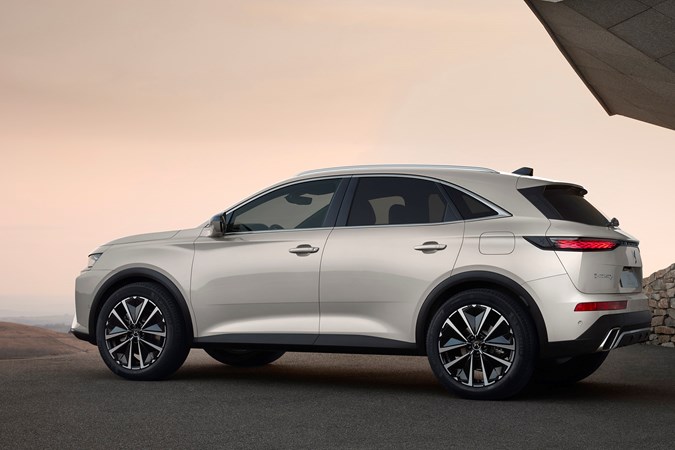 All feature a new 14.4kWh battery pack, offering 'up to' 40 miles of electric only combined WLTP driving range per charge – which takes 'about' two hours on a 7.4kW wall box charger. 
A DS 7 130 BlueHDI diesel will also be offered. 
Any other cool tech?
The DS 7 is available with DS Active Scan Suspension – which is a 'unique in class' camera system that actively adapts the suspension at each corner of the car independently, based on its interpretation of the surface ahead. 
You can have night vision, if you want, as well as a host of active driver assistance including adaptive cruise control with start-stop capability and lane positioning.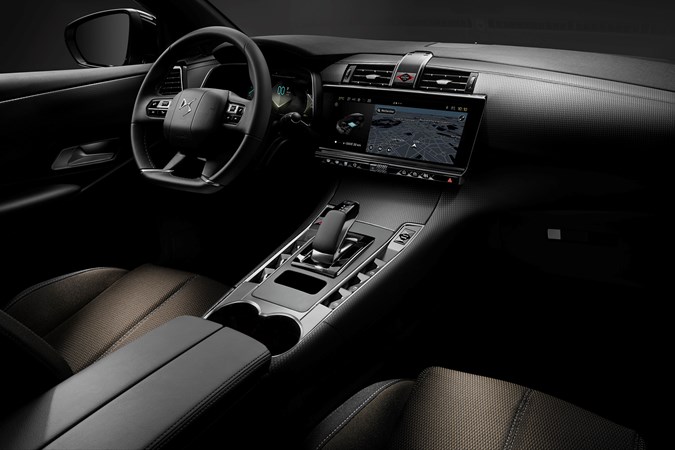 The DS Driver Attention Monitoring includes a camera to check the car's surroundings and a camera to check the driver's face and eyelid movements in order to more accurately predict a critical snoozing event. This is 'unprecedented in the segment', reputedly. 
The DS 7 also benefits from the completely new DS Iris System infotainment. This uses a high-resolution 12.0-inch screen, configurable layout and 'natural' voice recognition – and can display front and rear camera views as well as mirror your smartphone wirelessly. It also still features the ventilation controls. 
There's a new 12.0-inch digital instrument display as well, complete with refreshed graphics.
For all the latest advice, news and finance deals, sign up to the Parkers newsletter here.