View all Chevrolet Camaro reviews


Chevrolet Camaro Convertible (2012 - 2015) review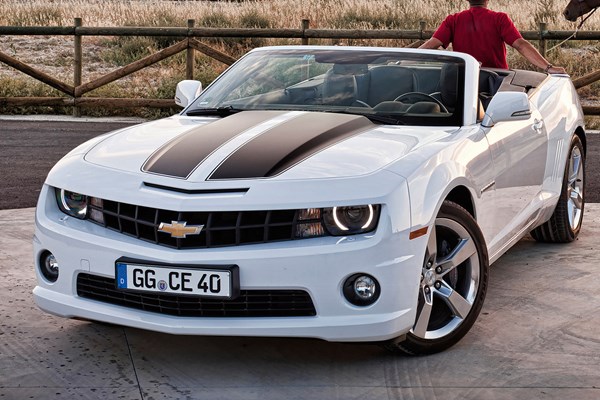 PROS
Show-stopping looks, exclusivity, fun to drive, comfortable
CONS
Poor emissions, hefty manual gearbox, limited rear space
PROS
Show-stopping looks, exclusivity, fun to drive, comfortable
CONS
Poor emissions, hefty manual gearbox, limited rear space
Chevrolet Camaro Convertible rivals
The fifth-generation Chevrolet Camaro is claimed to be better suited to European customers than previous efforts. With a punchy 6.2-litre V8, rear-wheel drive and spades of classic muscle car styling, the Camaro certainly ticks some important boxes. It isn't, however, just another stereotypical muscle car that can't do anything else but go quickly in a straight line. Although it's heavy, it's capable on the road and rides well. The Camaro's also comfortable, well-equipped and sure to get admiring looks. You're probably thinking that it isn't too dissimilar to the coupe, which is covered in a separate review. Unsurprisingly, you'd be right. There are, however, a few differences that are worth bearing in mind. Besides a smaller boot, with space taken up by the roof mechanism, the Camaro convertible is actually more fun to drive. That's because, as well as the added sensation of speed, you hear more of that aggressive V8 exhaust note that's muted in the coupe version. Visibility is also improved, with the roof down, which makes it less stressful to drive in traffic. So, has the Camaro been compromised elsewhere by removing its roof, or is it a genuinely competent convertible? Read on to find out...
In November 2013 the Camero will get some minor design enhancements on the front grille and at the rear of the car aimed at giving the performance car a more contemporary look and enhanced aerodynamics.
Keyless entry will become standard as well as Chevrolet's MyLink technology, launched in the Trax earlier in the year. Prices in the UK will start from £35,320 for the coupe and £40,320 for the convertible.
Other Chevrolet Camaro (2012 - 2015) models: