400 miles down by Metz, 400 miles to go to Marlow
M25 traffic could scupper remaining fuel range
Average fuel economy deteriorates by 4mpg
We made it to Metz by 8pm with more than half a tank of diesel left, but the tricky bit would be in day two. Should we risk heavier fuel consumption by trying to beat late afternoon traffic on the M25 or gamble on all being well? We gamble on the light right foot approach. A mistake? We are talking about the M25.
8.55 am CET - Depart Metz with more than half a tank of diesel left confident of reaching our target. French toll roads would pose no problems for us. The only snag could be trying to clear the M25 before the late afternoon traffic.
12.30pm CET - 200 miles have passed since Metz and the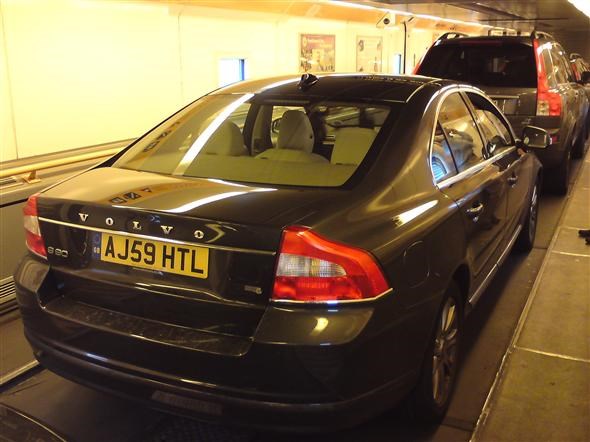 fuel consumption has got slightly worse. Not quite sure how. One explanation could be that the shallow gradients are knocking us back without much of a downhill afterwards to recoup it. Anyway, change drivers putting me back behind the wheel until our destination in Marlow.
2.00pm CET - Arrive at La Tunnel Sous La Manche, according to the signs. Boring passport control and bureaucracy to get through before getting 20 miles back from our sat-nav and a free hour from GMT! Shuttle scheduled to depart at 2.50pm CET.
2.30pm GMT - Drive out of the terminal at Folkestone and on to the M20, hoping to arrive at Volvo HQ in Marlow by 4.30pm. Road is much busier than the ones we've been used to!
3.35pm GMT - We're doing our best to preserve a predicted range of 220 miles and average fuel consumption of 61.3mpg but there's a radio report of congestion on the M25 north of the M4. Is that going to affect us? We're within 15 miles or so of the M4. There's a chance a queue will have built up by then. Do we try to leave the M25 early and risk getting caught in school-run traffic on urban roads? We'll stick with the plan. We've surely built up enough to carry 15 minutes of traffic in first and second gears.
4.10pm GMT - Traffic has built up to the A30 Staines junction. Last chance to risk leaving the M25 and adding miles to our trip as a gamble against congestion on the motorways posing a larger threat to our fuel range. We stay on the M25.
4.25pm GMT - Finally sneak off along the M4 westbound. Daren't look at our fuel range, although average consumption is still showing as 61.3mpg. As it begins to get dark the weather looks more gloomy.
4.40pm GMT - Before we realise what's happening, our navigation has sent us into the centre of Slough for no good reason other than to send us back out on to the M4 at the other side. Might have been a result of accepting a modified route from the sat-nav much earlier in the day, perhaps a result of a problem on the M4 that no longer exists. Very frustrating and has cost us minutes as well as miles.
4.55pm GMT - On the A404 heading towards Marlow. Heavily congested and destroying our remaining range. Only five miles to go, but enough diesel left in reserve.
5.16pm GMT - Arrive at our destination about a minute after our low fuel warning light came on, and a few spots of rain in the air. Total distance driven - 794.2 miles. Average fuel consumption - 61.3mpg. Remaining range - 85 miles.