Mercedes C220 Sport Estate
Can Merc's 3-Series rival work as a company car?
Excellent twin-clutch gearbox costs £1,500 extra
Firm ride but effortlessly capable through corners
The C-Class Estate is Mercedes-Benz's answer to the BMW 3-Series Touring and the Audi A4 Avant. We've been testing it with the mid-range diesel engine to find out if it makes sense as a company car.
Power comes from a 2.1-litre twin-turbocharged diesel engine that makes 170bhp, with a torque figure of 400Nm. This is enough to get to 62mph in 8.3 seconds and on to a top speed 136mph. In the real world this is more than enough to encourage easy overtaking manoeuvres, and the effortless thrust of torque means motorway speeds are dispatched with very little fuss. There's a bit of a growl from the engine when you start to open it up, but the noise isn't what you'd call intrusive.
The seven-speed automatic gearbox with paddle shifts really is excellent. It changes gears seamlessly at exactly the right time and helps the car to be 0.2 seconds quicker to 62mph than the manual version. However, it does cost quite a lot of money. It is £1,500 and pushes CO2 emissions up by 3g/km to 138g/km, while dropping fuel economy from 60.1mpg to 55.4mpg.
Out on the open road the ride is fairly firm. This car is the 'Sport' model and so gets some sophisticated suspension with a lower ride-height than normal. This translates to a jarring journey when hitting bumps in the road, but you can forgive it that because of the way this car will go around a corner. It's incredibly well balanced and inspires confidence through high speed bends, the subtle yet direct weighting of the steering further adding to the impression that you're driving a very well-heeled machine.
As you'd expect from an estate, practicality is this car's strong point. The boot will hold 485 litres with the seats up - slightly less than the A4 Avant (490 litres) and slightly more than the BMW 3-Series (460 litres). When you fold the seats down the luggage area extends to 1,500 litres. As an extra bonus to make life that little bit easier the tailgate can be operated electronically. This means you don't have to bend down to open it or reach up to close it, meaning it's easier to load the car up if you're in a hurry. You can open it on the keyring too, which saves time as you can do it when walking towards the car.
Company car tax is payable at 20%, meaning a 40% taxpayer will pay around £250 each month for a car in this spec. As well as 'Sport' specification, which includes AMG styling and wheels, an eight speaker stereo, Bluetooth connectivity, climate control, powered tailgate and heated door mirrors, our car has the following optional extras: heated front seats (£330), Becker Map Pilot sat nav (495), telephone pre-wiring (£290), privacy glass (£330), a media interface and six disc CD changer (£450), DAB digital radio (£335), metallic paint (£645) and leather upholstery (£1,350). This pushes the on-the-road price up to £37,905, with the P11d value £37,735.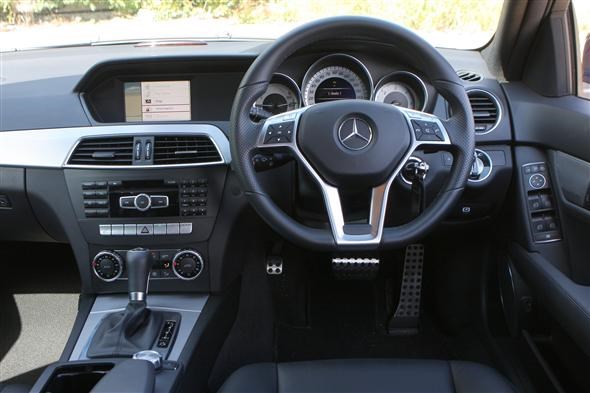 Also consider:
Great drive, good levels of standard equipment and an excellent range of economical engines.
Comfortable and refined, the A4 is a popular car thanks to its understated looks and strong choice of engines.
The distinctive 159 Sportwagon is a car for those who want to stand out. It also boasts excellent handling and a stylish cabin.