Low company car tax for Audi A1
Latest Audi A1 1.2 TFSi SE qualifies for 10% BIK band
1.2-litre engine is big on performance and small on costs
Company car tax of less than £23 per month for 20% tax payer
The new entry-level A1 1.2 TFSi SE is the most affordable route into Audi ownership for company car drivers.
The company car tax calculator reveals a tax bill of less than £23 per month for the 2011/12 tax year for a 20% tax payer, thanks to a P11D value of £13,365.
While it may be the entry-level A1 model, it's not found wanting in delivering a driving experience worthy of an Audi.
The engine capacity is small - just 1.2-litres but thanks to its modern technology and turbocharger it delivers a punch that fools you into thinking there is a bigger motor under the bonnet.
There are no startling facts on paper. Claimed figures for 0-62mph is 11.3 seconds with a top speed of 112mph. While this is hardly sports car worthy, its pretty competitive with its rivals and the experience behind the wheel isn't bland either. The engine feels willing and holding onto gears and revving the engine means overtaking is easy and enjoyable. Yes, you need to plan the overtake but the car is more than capable thanks to the power building as the revs increase (due to the turbocharger kicking in at higher revs).
The five-speed box is typically Audi - finding the right gear is easy and changing gears feels positive and secure. The only downside is no sixth gear, which would be useful for motorway cruising to help keep revs down and further improve fuel consumption.
The official figures state a claimed average of 55mpg which translates to a real world average of about 47mpg, though some careful driving consisting of mostly motorway saw this soar to an average of 61mpg. Admittedly, it does involve driving at a consistent 56mph and occasionally being a rolling road block in the slow lane. However, it does show the petrol engine can be very frugal so long as the throttle gets the gentle treatment.
The base SE trim means you get air con, rake and reach adjustable steering wheel and electric front windows. You need to pay extra for rear floor mats, leather steering wheel and front fog lights.
Safety kit gets a good look in too with kit such as front, side and head airbags, plus several electronic devices to help prevent you locking up, skidding and/or generally piling into an accident.
Those looking for greater economy can opt for the pricier diesel. The 1.6 TDi SE has a P11D value of £14,425 and qualifies for the 13% BIK band. It's claimed to return 74mpg on average and the company car tax bill is more expensive than the petrol at £31.25 per month for a 20% tax payer in the current tax year.
So, while the 1.2-litre model might not be the quickest or most frugal option, it is the cheapest way in to the premium German brand. Plus with a little bit of control those economy figures can soon reach diesel car levels.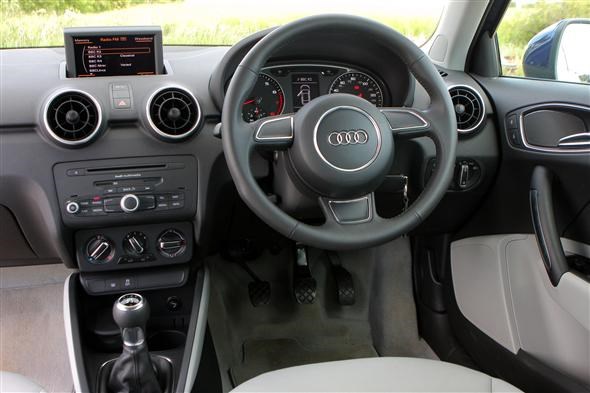 SE trim has the basics and a good level of safety kit as standard