A mid-term refresh for the Avensis aims to make the car feel less utilitarian and more attractive to company car drivers.
However, it has to fight it out with the might of Ford, BMW and Vauxhall, so can the British-built Toyota hold its own against the fleet favourites? We've driven the refreshed saloon to find out.
The big news for this model is the introduction of a new diesel engine which in the saloon emits 119g/km of CO2, dipping under the 120g/km ceiling many fleet managers enforce on their drivers. That should ensure the Avensis appears on many fleet drivers' lists. In fact, Toyota expects 80% of sales to be fleet.
On the road the new engine is a refined and modern unit which delivers more of a linear power band than many diesel engines. This makes it versatile enough to avoid using the gearbox too much, which is certainly a bonus if you're doing a lot of miles on A or B roads.
So what does the new engine mean financially for the company car driver? Well, the facelifted Avensis with the 2.0-litre D4-D diesel engine in 'TR' trim and no optional extras has a P11d value of £21,470. Taking the current Benefit-in-Kind rates you'll have to pay 13%, which equates to around £46 per month on the 20% pay scale, and £93 per month on the 40% pay scale. Next tax year, however, the Avensis – along with all other cars of similar CO2 emissions – suffers from a jump to 17%, meaning monthly costs rise to £61 and £122 per month respectively.
The steering and handling have been tweaked in an effort to make the car slightly more engaging. The changes have gone some way towards giving the Avensis a little more fizz, but it still can't hold a flame to the BMWs of this world. That said, it does its job extremely well if you're after a comfortable cruiser with a lot of standard kit.
As well as the new engine, Toyota has made changes to the interior of the car too. Some are immediately obvious when comparing with the old car; there are new materials used on the gearknob, steering wheel, door grips and switches, which are made of higher quality leathers and plastics. Other changes are less obvious until you get out on the road. For instance there's a pronounced drop in road noise compared to the old car thanks to a clever use of sound insulation to shield noise from the cabin.
Toyota's 'Touch and Go' multimedia system is standard on all Avensis models except the bottom-spec T2. The most popular trim level for company car drivers – with an expected 66% of total UK sales – will be the TR spec car that we drove. This model gets Bluetooth handsfree connectivity, daytime running lights, leather steering wheel trim, rear-view camera, 17-inch alloys, automatic headlights and an auto-dimming rear-view mirror as standard.
Eagle-eyed readers may notice there's been a slight change to the exterior of the Avensis too. A new Toyota design language is employed for the first time, with both front and rear cosmetic enhancements the firm hopes will make the car more emotionally desirable. The net effect is a longer car; 15mm on both saloon and tourer body styles. There's a new selection of alloy wheels ranging from 16- to 18-inches on the higher spec models.
The Avensis is built in the UK, and this has some interesting attractions for the user-chooser company car driver. The firm promises that no order will take longer than 10 weeks, and because of the manufacturing processes it uses and the lack of long-range shipping involved you'll be able to tweak your order to your satisfaction up to four weeks before delivery. Be it your engine choice, the upholstery or just the colour, absolutely nothing is cast in stone until a month before delivery.
So, although the Avensis might not have the outright performance prowess or desirability of some of the more premium brands, it is certainly a good choice for the fleet driver who doesn't want to wait an age for delivery, values safety and reliability and appreciates a relatively low BIK bill.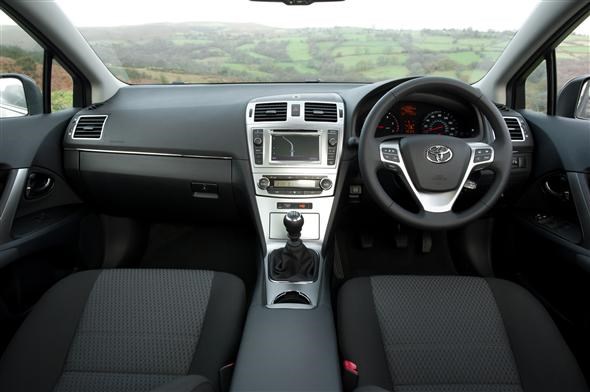 Also consider:
Vauxhall Insignia
A stalwart fleet favourite thanks to its clever mix of efficient engines and large, practical loadspaces and interiors.
Ford Mondeo
A firm fleet favourite, the Mondeo is a comfortable cruiser which is very easy to drive and simple to live with. A specific Business Edition caters for company car drivers.
BMW 3-Series
The undisputed driver's car of the fleet sector, you pay a premium for the excellent reputation of German engineering but low CO2 thanks to 'Efficient Dynamics' technology means tax bills might not be as high as you think.