Lamborghini Huracan Spyder review
Current Model
an open-top supercar is about going fast and looking good, and this simply excels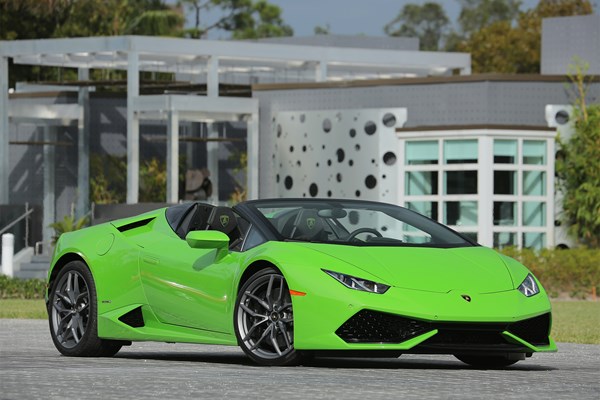 PROS
Charismatic naturally aspirated V10
True supercar looks and performance
Surprisingly easy to drive
Roof opens/closes in 17 seconds
Very stiff structure helps handling
CONS
Firm seats, cramped cabin
Limited rear visibility
Rivals more efficient (on paper)
Rivals sharper to drive
Driving modes cannot be customised
PROS
Charismatic naturally aspirated V10
True supercar looks and performance
Surprisingly easy to drive
Roof opens/closes in 17 seconds
Very stiff structure helps handling
CONS
Firm seats, cramped cabin
Limited rear visibility
Rivals more efficient (on paper)
Rivals sharper to drive
Driving modes cannot be customised
Lamborghini Huracan Spyder rivals
The Lamborghini Huracan LP610-4 Spyder is the open-top roadster version of the Lamborghini Huracan coupe. The Spyder features a fabric folding roof and bespoke bodywork aft of the windscreen, but the same high-tech carbon fibre and aluminium chassis, traction-enhancing four-wheel drive, and – crucially – an identical 5.2-litre V10 petrol mounted behind the two-seater cabin, producing 602bhp and 560Nm of torque without using any form of turbocharging.
Unique V10 engine and four-wheel drive combo
Discounting the considerably less expensive Audi R8, which is built on the same platform as the Lamborghini but isn't yet available as a convertible and generally doesn't attract the same customers, the engine and four-wheel drive system are unique highlights for the Huracan Spyder in the true junior supercar class.
Both the rival Ferrari 488 Spider and McLaren 650S Spyder are rear-wheel drive only and powered by turbocharged V8 engines. Some will argue that directing all of their power to the rear wheels makes the Ferrari and McLaren more exciting to drive, but the Lamborghini's engine, while less flexible and certainly less efficient (on paper), offers a far more charismatic experience, revving to a high 8,500rpm with an exceptionally exciting soundtrack.
Besides, having four driven wheels in many respects makes the Huracan's performance more accessible, especially in inclement weather. Buyers might also consider the Porsche 911 Turbo S, but as with the R8 this isn't really in the Lamborghini's class.
Stunning convertible body
Buying an open-top supercar isn't just about going fast – it's also about looking good, and at this the Huracan Spyder simply excels. The transformation from coupe to convertible has turned an aggressive shape into something more sensual, and with a roof mechanism that takes just 17 seconds to operate you can make the most of any break in the weather.
The mechanism works while driving up to 31mph, rather than demanding that you stay at a standstill. And if you're wondering why the Huracan only has a fabric roof when rival Ferrari and McLaren feature a folding metal hardtop, Lamborghini says it's so the difference between the coupe and convertible models is obvious roof up or down – something that's important as a status symbol in some markets.
There is only a single trim level at launch, though a less powerful rear-wheel drive only version may follow if the Huracan coupe is any guide, and at some stage Lamborghini is likely to build an even more powerful variant – though to be frank performance certainly isn't something the standard Huracan Spyder is lacking.
Other Lamborghini Huracan models: