View all Nissan Pathfinder reviews


Nissan Pathfinder Station Wagon (2005 - 2014) review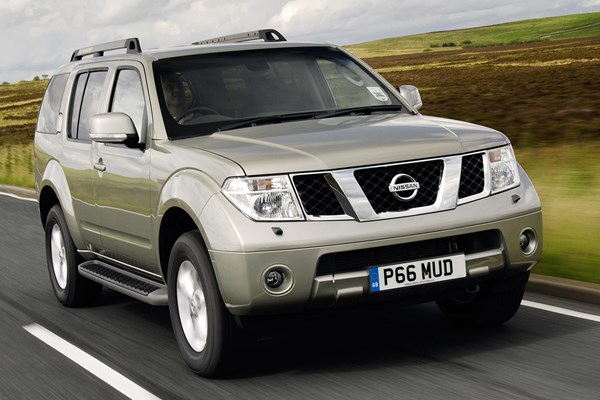 PROS
Tough 4x4 offers seven seats, decent off-road capability, serious towing might and generous levels of equipment
CONS
Revised 2.5-litre dCi still harsh when revved, poor manual gearchange, compromised to drive on road, poor ride
PROS
Tough 4x4 offers seven seats, decent off-road capability, serious towing might and generous levels of equipment
CONS
Revised 2.5-litre dCi still harsh when revved, poor manual gearchange, compromised to drive on road, poor ride
Believe it or not, not everyone buys a big 4x4 to climb kerbs at Tesco. Some people actually need a big strong 4x4. The Nissan Pathfinder is made especially for those people.
Built on tough unsophisticated 'ladderframe' underpinnings the Pathfinder has been designed, developed and built to effortlessly shrug off mighty tow weights and cope well with the slipperiest, stickiest, harshest conditions nature can throw at it.
It used to go head-to-head with the likes of Land Rover's Discovery, but that car is now priced in a class above. Now the Nissan compete with cars like the equally strong Mitsubishi Shogun and brutish Toyota Land Cruiser.
In 2010 the big Nissan received a more powerful 190bhp 2.5 dCi diesel to help it compete. Despite being 11% more powerful, emissions dropped by 15%. Later on in 2010 a range–topping 231bhp 3.0-litre V6 diesel will be added to the range. Find out if this is enough to give it the Pathfinder an edge over its competition.
Rugged 4x4
When it comes to getting the job done in the rough stuff, the Nissan Pathfinder is one of the best. It has full-time four-wheel drive that lets it tackle any type of terrain with confident ease.
While it started out in life as a rival to the Land Rover Discovery, the Pathfinder has now found its own niche as a hugely capable car for those who do venture beyond the occasional grassy car park. It also offers seven seats and plenty of load space when you want to head to the DIY store.
The punchy 2.5-litre turbodiesel engine is willing and offers lots of low-rev pull to help with off-road work or towing a trailer, which is another talent in the Pathfinder's armoury.
Poor to drive
It may be able to traverse countryside most of its rivals would shudder at, the Nissan Pathfinder is more likely to make its occupants shudder at the thought of a long distance drive in this 4x4.
Where the Land Rover Discovery can tackle mud and motorways with equal aplomb, the Nissan offers little in the way of refinement when it comes to suppressing noise or dealing with bumpy surfaces.
The chassis that is based on a pick-up's becomes all too obvious on most British roads, while the engine is not keen to rev hard or smoothly.
Throw in lots of body roll and the Pathfinder is easily bested by a Toyota Land Cruiser or Mitsubishi Shogun for driving dynamics. To find out more read the full Parkers Nissan Pathfinder review.