View all Peugeot 4007 reviews


Peugeot 4007 Hatchback (2007 - 2012) review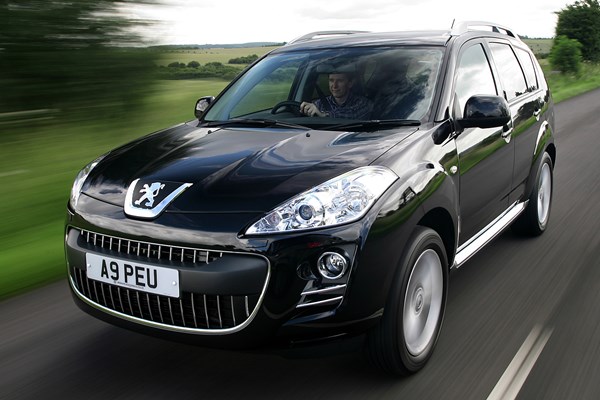 PROS
Smooth and strong diesel engine, seven seats as standard, good motorway cruiser
CONS
Awkward front-end styling, narrow boot, limited range
PROS
Smooth and strong diesel engine, seven seats as standard, good motorway cruiser
CONS
Awkward front-end styling, narrow boot, limited range
Peugeot (and sister company Citroen) teamed up with Mitsubishi to provide customers with a 4x4 model for the first time. The Peugeot 4007 is built by Mitsubishi and is based on the 2007 Outlander but the French firm has added some unique styling details, and a strong 2.2-litre diesel engine. The 4007 comes as an occasional seven-seater with a small third row bench that folds completely flat and there's good cabin space up front too. Not many owners take their cars off road, but there are two four-wheel drive modes for trickier terrain. Only high specification versions are available, which means new prices are rather high compared with many 4x4 alternatives, but by the same token, all models are well equipped.
Strong diesel engine
The 2.2-litre turbodiesel engine in the Peugeot 4007 is a big attraction as it's a strong all-round performer. It pulls strongly from low revs and is smooth at all times, which makes it an ideal car for cruising in town and on the motorway. The choice of manual or dual-clutch automatic offers drivers a wider choice than some SUV rivals, while the diesel engine was refined in 2010 to lower carbon dioxide emissions from 191g/km to 185g/km, with the obvious benefit for company car tax. Not so good for the 4007 is its handling, which is only average for this class and is easily bettered by a BMW X3 or Honda Civic. Also, the 4007 is no great shakes when it comes to off-road ability, where a Land Rover Freelander is far superior.
Expensive
Because Peugeot has stuck with offering the 4007 only in high specification trims, it makes the car quite expensive to buy. This plan also means the 4007 runs into some very serious and capable opposition in the shape of the Land Rover Freelander, Nissan X-Trail and Honda CR-V, not to mention the Audi Q5 and BMW X3. All of these cars are more capable and have badges with more appeal and SUV pedigree. Fuel economy is not a strong suit for the Peugeot either, and nor is its carbon dioxide emissions, which makes the 4007 expensive to fuel and pay for.
To find out if this is the car for you, read on for our Peugeot 4007 review.