View all Peugeot Traveller reviews


Peugeot Traveller review
Current Model
Obviously van based and none the worse for it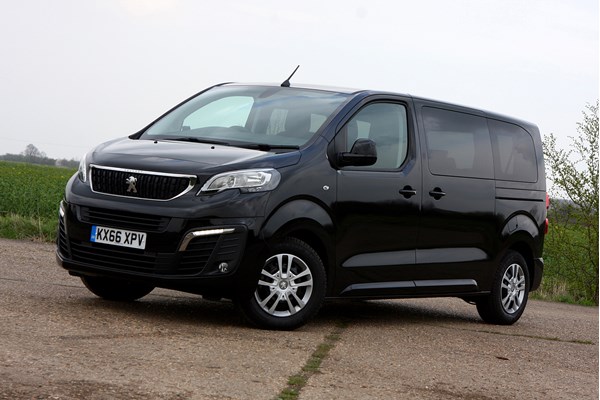 PROS
High driving position, nicely appointed dashboard and interior
Efficient and punchy engine range – even at entry-level
It takes eight people – rare at any price
CONS
Not exciting to drive – but should you expect it to be?
With all the seats in place, the boot is cramped in standard version
Lower-spec version's front seats are rather unsupportive
PROS
High driving position, nicely appointed dashboard and interior
Efficient and punchy engine range – even at entry-level
It takes eight people – rare at any price
CONS
Not exciting to drive – but should you expect it to be?
With all the seats in place, the boot is cramped in standard version
Lower-spec version's front seats are rather unsupportive

The Peugeot Traveller is an eight-seater van-based MPV that will appeal to taxi operators and large families. It's one of a select group of vehicles that can carry eight people – its principal rivals are the Ford Tourneo Custom, Volkswagen Caravelle and Mercedes-Benz V Class.
Like its rivals, it will accommodate the driver, plus seven passengers, except that in terms of manufacturer list price and monthly repayments, the Peugeot is cheaper than its Ford and Volkswagen rivals.
Peugeot also promises that its Expert van-based MPV will cost less to run, too thank to its efficient BlueHDi diesels. The most efficient Euro6 1.6-litre models average 55.4mpg on official fuel test, and emit 133g/km of CO2.
Active and Allure trim levels, plus three engines
The model range is simple in terms of trim levels – you get the entry-level Active version, or its plusher Allure sister. Even the starter Traveller is well equipped considering its van origins, so you get climate control, parking sensors and cruise control.

There are five diesel engine options to choose from, ranging in power between 95-180hp. The full-line-up looks like this:
1.6-litre BlueHDi 95hp, five-speed manual, 144g/km
1.6-litre BlueHDi 95hp S&S, ETG6 auto, 135g/km
1.6-litre BlueHDi 115hp S&S, six-speed manual, 133g/km (above)
2.0-litre BlueHDi 150hp S&S, six-speed manual, 139g/km
2.0-litre BlueHDi 180hp S&S, EAT6 auto, 151g/km
Peugeot Traveller 1.6-litre BlueHDI driving
The smaller of the two diesel engines comes in two states of tune – both push out competitive levels of torque (210Nm), but it's 115hp version is the one you'll need if you're doing lots of miles and regularly carrying passengers.
Although the 0-62mph time of 13.4 seconds and 98mph maximum speed wouldn't appear to set the world alight, on the road, the Traveller is not lacking in performance. It accelerates smartly, and is refined throughout the rev range – never does it feel stressed, even when climbing steep hills.
You need change gear a lot to keep it flowing swiftly. But the six-speed manual gearbox is light and reasonably slick in use, and you'll not find changing between gears a chore.
Peugeot Traveller 2.0-litre BlueHDI driving
Just like its smaller sibling, the 2.0-litre comes with two power outputs – 150 and 180hp. There's plenty of pulling power on offer, with 370 and 400Nm, respectively, to play with – and unless you're living in the Alps and fully laden, neither will struggle.
If you want an automatic with the larger engine, you will have to choose the six-speed automatic version. In reality, few drivers will benefit from going for the 180hp derivative. Like the 1.6-litre version, Performance isn't a priority, but neither does it feel lacking. The claimed 0-62mph times for both the 150hp and 180hp versions are 11.0 seconds, while the maximum speed it also identical at 106mph.
It doesn't drive that much like a van
Let's be honest here, it's highly unlikely that handling will be high on the list of your priorities when considering buying a Traveller. But equally, drivers now demand all vehicles to be easy to drive, and capable of going around corners without being scary. And on that score, the Traveller passes muster.
It is easy to drive, though, with great all-round visibility courtesy of that high-set driving position, slim pillars and acres of glass. The steering is light, albeit low geared and lacking in feel, so you will have to twirl your arms a fair bit in tighter turns.
But it's easy to place on the road, feels solid and secure, and despite being almost five metres in length it feels nice and manoeuvrable in tighter spaces. Even the turning circle is tight although, at four turns from lock-to-lock, you'll find it a cumbersome process finding out.
Inside the Traveller
Again, it's all about expectations. If you're expecting the Traveller to be more like a more car-based MPV, behind the wheel, then you're going to be disappointed.

The driving position is very upright, and if you're in one of the cheaper models, your front-seat passenger will be treated to the joys of a two-seat bench. In short, it does little to hide its commercial vehicle origins.
But having said that, it's a million miles away from vans of old. It might not be overburdened with soft-touch plastics to speak of, but the dash design echoes those of other previous-generation cars.
The design looks cohesive, the dashboard easy to read, and the controls logically arranged if you're familiar with the PSA way of laying things out – the column-mounted cruise control being a good example.
Creature comforts and generous equipment
The touchscreen infotainment system is an older system, but works reasonably well once you've worked your way around it. Apple CarPlay, Android Auto and MirrorLink are all there, and pretty much render the standard sat-nav you get in the more luxurious models obsolete.

The Traveller is a people carrier, so it's unsurprising that it's been set-up for comfort. The ride quality is excellent, and it's particularly good at ironing out irregularities on rougher roads. Engine and wind noise in both 1.6- and 2.0-litre forms are kept well in check, while road noise is minimal, even on larger 17-inch wheels.