View all SsangYong Rexton reviews


SsangYong Rexton Estate (2003 - 2013) review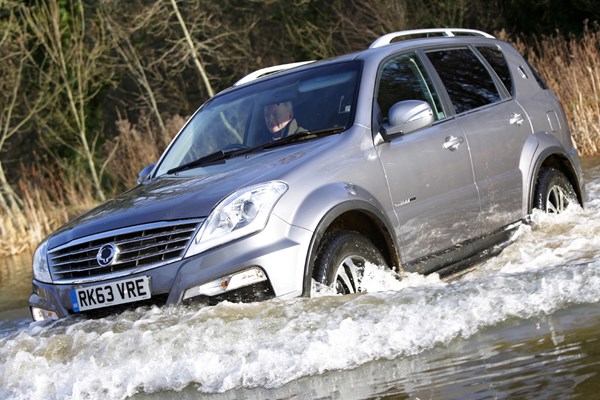 PROS
Affordable for a large 4x4, powerful diesel engine, impressive off road ability, good workhorse
CONS
Uninspiring on road, dated interior design, lacks refinement, cumbersome handling on pre-2006 models
PROS
Affordable for a large 4x4, powerful diesel engine, impressive off road ability, good workhorse
CONS
Uninspiring on road, dated interior design, lacks refinement, cumbersome handling on pre-2006 models
SsangYong may not be a familiar name, but it's growing in reputation for building robust yet good value for money vehicles. The Rexton is its most popular model - a large 4x4 that is available with seven seats and a strong diesel engine but costs around the same as smaller offroaders such as the Nissan X-Trail. It's an impressive machine off road and can tackle tough terrain, but unfortunately this comes at the expense of on road handling. It's cumbersome, heavy and feels dated. The drab and old-fashioned cabin do it few favours either, but as a workhorse-type vehicle, the Rexton can make an affordable choice. It was facelifted in 2006 and changes to the suspension improved the handling considerably.
Affordable 4x4
The SsangYong Rexton is a full-size SUV yet it comes with a price tag that undercuts most cars from the mid-size sector. This makes the Rexton a very affordable car and thee are plenty of people who tow trailers and caravans who appreciate the car's low cost and 3200kg maximum towing capacity. However, the Rexton provides further value with a five-year, unlimited mileage warranty and fairly generous standard equipment count. The low cost does need to be balanced against quite poor economy for a turbodiesel-engined SUV, high carbon dioxide emissions and mediocre residual values when you come to sell.
Uninspiring drive
The SsangYong Rexton comes with a 2.7-litre five-cylinder turbodiesel that produces 163bhp. This is about the same as most 2.0-litre, four-cylinder turbodiesel engines in rival machinery now offer, so the Rexton trails the class average now. It also lags behind for refinement and performance, turning in 0-62mph in 12.9 seconds for the five-speed manual model or a slightly better 11.6 seconds for the five-speed auto version. The auto is the one to choose as it has reasonably smooth shifts and avoids the slightly slow-witted shift of the manual. In corners, the Rexton feels its size and weight, though it corners with some nimbleness. However, the steering is too light and over-assisted.
So although definitely an up-and-coming brand, should you shell out for this particular 4x4? Read on for our Ssangyong Rexton review to find out.