View all Suzuki Grand Vitara reviews


Suzuki Grand Vitara Estate (2005 - 2014) review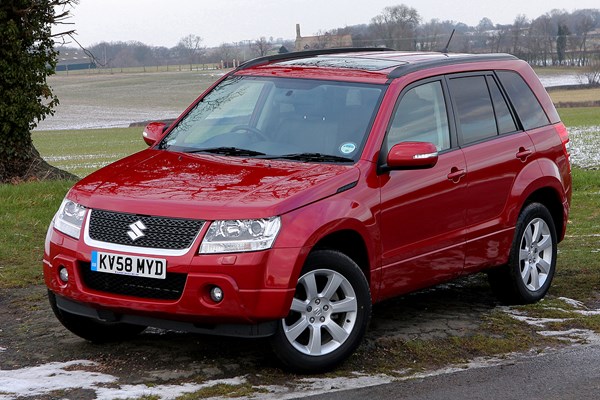 PROS
Stylish interior
Modern looks
Great value for money
Genuinely capable off road
Robust build quality
CONS
1.6 VVT engine lacks punch
High insurance groups
Firm ride
PROS
Stylish interior
Modern looks
Great value for money
Genuinely capable off road
Robust build quality
CONS
1.6 VVT engine lacks punch
High insurance groups
Firm ride
Whether you love them or loathe them, 'soft-roaders' are here to stay and it's Suzuki who's partly responsible for them. It launched one of the first - the Suzuki Grand Vitara - back in 1988 and set the soft-roader trend that other manufacturers followed.
This third generation model is major step up from the model it replaces. It's stylish, better to drive, and is great value for money, comparing well on price and specification to models offered by Kia, Hyundai and Nissan.
It's available as a shortened three-door or the more popular five-door, but both offer impressive off road ability, as well as safe and reassuring handling on road. Between 2008 and 2009 the model was revised with subtle changes to the exterior and a more upmarket cabin. ESP stability control was also made standard on all models.
Proper off-road ability
While it may compete against soft-roaders and have sharp looks, there's a serious off-roader lurking under the skin of the Suzuki Grand Vitara. It doesn't have quite the mountain goat abilities of its Jimny little brother, but the Vitara can cope easily with some serious dirt dusting. Four-wheel drive and a low-ratio gearbox mean it can tackle steep slopes and descents with confidence, while good ground clearance makes light work of heavy going terrain. The Vitara is also a good tow car thanks to its stability and reasonable towing limits.
Firm ride
The Suzuki Grand Vitara is much better to drive on-road than it predecessor, but that doesn't mean it's going to worry the class leaders when it comes to comfort and quiet. The ride is quite firm and it makes the car choppy over bumpy surfaces.
It's a pay-off for the Suzuki's fine off-road ability and a compromise that some owners will be happy to make should they need the car's rugged go-anywhere ability. However, for most SUV buyers, the Grand Vitara is too unrefined and noisy for long distance drives.
It also suffers from steering that has little in the way of feel, which makes country road driving much less of an enjoyable pastime than it is in the likes of the Skoda Yeti or Nissan Qashqai. Does it have the credential to keep these rivals at bay? Read the full Suzuki Grand Vitara review to find out.