View all Volvo S60 reviews


Volvo S60 Cross Country (2015 - 2016)
Review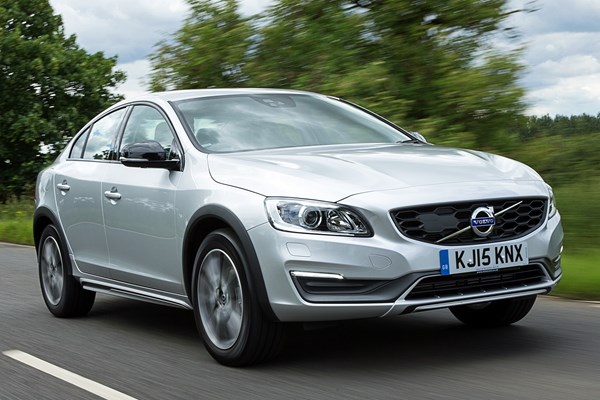 PROS
Distinctive
Comfortable
Well-equipped
CONS
Limited engine range
V60 looks better and more practical
Just one trim
PROS
Distinctive
Comfortable
Well-equipped
CONS
Limited engine range
V60 looks better and more practical
Just one trim
Verdict
This slightly ungainly looking contraption is the Volvo S60 Cross Country – a jacked-up version of the firm's popular mid-sized saloon.
It shares much of its architecture with the Volvo V60 Cross Country, which in turn shares many parts with the conventional Volvo S60 and Volvo V60. Read on for the full Volvo S60 Cross Country review to see how it differs from the standard Volvo S60
Volvo S60 with off road capability
The idea is to take a standard car and give it the ability to stray from the tarmac road. Volvo has history of doing this sort of thing and the idea harks right back to the V70 in '97.
That's when the company gave its large estate the first ever Cross Country makeover. That model continues today in the shape of the Volvo XC70
Two engines on offer
Effectively, this is an S60 saloon with a 65mm higher ride height and the choice of either front- or four-wheel drive. The former comes with Volvo's D4 diesel engine, which makes 188bhp and the latter from the firm's 2.4-litre, five-cylinder diesel. In this case it's also badged 'D4'.
As standard it comes with 18-inch wheels and rides on slightly firmer, but still perfectly comfortable, suspension.
Economy ranges from 49.6mpg for the five-cylinder automatic with four-wheel drive to 67.3mpg for the front-wheel drive manual car with the four-cylinder diesel engine, with emissions ranging from 111-149g/km
Packed with safety features
The Volvo brand is synonymous with safety so the Volvo S60 Cross Country is packed with safety features. Some are available either as standard or optional extras including lane-keeping assist, blind spot monitoring, low-speed automatic braking and adaptive cruise control.
There's just one trim level – Lux – which means it's comprehensively equipped. As standard it comes with leather seats - the driver's electrically adjustable – along with 18-inch alloy wheels, Active Bending Xenon headlights and is available in two new colours – Twilight Bronze and Rich Java.
Available now, read the rest of the Parkers Volvo S60 Cross Country review to find out how it stacks up against its rivals.