You might not have heard of Intelligent Speed Assistance (ISA) but if you buy a new car from July 2022 onwards then there is a high chance that your car will come with it fitted. This is because the European Parliament decided on 16 April 2021 that Intelligent Speed Assistance will be mandatory for new cars from this date onwards.
This only applies to new models launched after this date though, so existing models will not have to be fitted with the tech until they are replaced. However, all new cars will have to come with ISA from July 2024 onwards, so it won't be long until all new-car buyers will be familiar with the technology.
What is intelligent speed assistance?
An Intelligent Speed Assistance system is one that will use various different inputs from outside a vehicle to determine the current speed limit for the road you are driving on at the time.
It can then display the speed limit, normally on the instrument cluster alongside the speedometer or on a head-up display on the driver's line of sight. It is also capable of preventing the car from exceeding the legal limit, usually by restricting the power supplied by the engine when the car reaches the permitted speed. It doesn't totally cut out the engine power, though, as the driver can override it by pressing harder on the accelerator pedal – much the same as with cruise control or a manually set speed limiter in a car.
According to the European Transport Safety Council (ETSC) systems that restrict speed like this could reduce road deaths by 20%.
How does it work?
Intelligent Speed Assistance uses GPS and advanced digital map data and forward-facing cameras to detect the current speed limit. It then alerts the driver either by using a sound or a vibration and then ultimately controls the speed.
The cameras work by scanning for speed limit signs when they appear at the side of the road, using technology that can read the number on there.
Some map providers, like HERE and TomTom, have created maps specifically for detecting the speed limits in a particular area. This means that the car is able to use the satellite location technology to display the limit regardless of the status of the sign. This means that the car should be able to display the limit even if it hasn't driven past a sign – if it has started its journey before a sign for example, or if the limit is obscured by a hedge or similar.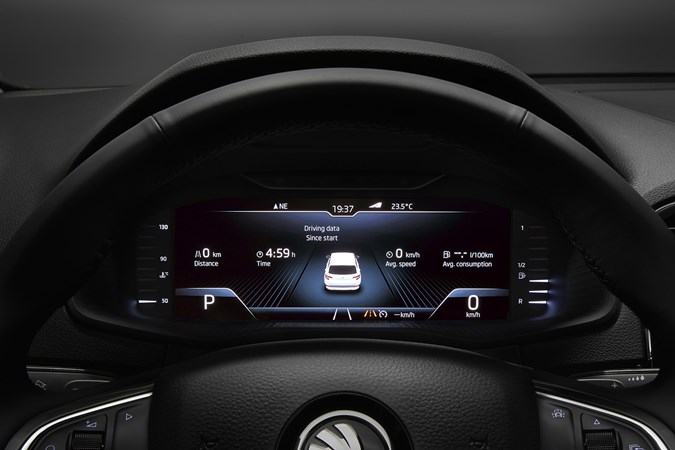 How does the car tell you that you are going too fast?
The lawmakers behind the ISA implementation have then said there are four options open to vehicle makers when it comes to alerting drivers. The car can first sound a warning or issue a vibrating warning – most likely through the steering wheel. The car could also use the accelerator pedal to push back gently against the driver's foot. Finally, the car can limit its speed, most likely by reducing the engine power.
The system need not do all of these things, or even more than one, as manufacturers can choose between the different options. This means that smaller, cheaper cars could simply sound a warning whereas the more expensive luxury models are more likely to come with the more sophisticated features.
Can you override the system or turn it off?
In all cases, the system is designed to be advisory and it can be manually overridden either by the driver simply pushing harder on the accelerator or by turning it off, so it should still permit more speed in an emergency. You shouldn't need to hit the accelerator hard to do this – a firm and gradual increase on the pedal should do the job.
What happens when you drive to a lower speed limit?
Will it brake for me?
The idea isn't that an ISA will do all the braking for a driver, nor is it that it will slam the brakes on if you enter a different speed limit area. According to the ETSC it should sound an audible warning and shouldn't apply the brakes. Instead it should slowly reduce the engine power available
How well does Intelligent Speed Assistance work?
There are no hard figures on how accurate Intelligent Speed Assistance is, and as it is developing and improving all the time it is hard to compare earlier systems with more recent, more sophisticated versions.
What can be said is that there are plenty of challenges that ISA will face, such as temporary speed restrictions that are not marked, poor visibility and signs that are partially obscured. Challenges could also come from road signs that are indicating a speed limit for a side road. For these reasons it is hard to see how ISA will be able to rely on cameras alone, and cars will increasingly have to use GPS data and maps that are kept updated with the latest speed restrictions.
What the ETSC does underline is that it is the driver that is ultimately responsible – if the tech gets it wrong then you aren't going to be able to blame the system and expect to get off a speeding ticket that way.
What this means for you
Intelligent Speed Assistance could well prove valuable and unobtrusive once drivers are used to it. If it takes a gentle approach to advising and correcting then it could be a handy aid to driving through unfamiliar urban areas where speed limits change on a regular basis.
Some will feel that more intrusion on their driving is unwelcome, but as things stand you will be able to override or simply turn off the system if you don't want its input.
Similar to
Radar-guided cruise control
Adaptive cruise control
Traffic jam assistant
Looking for more jargon-busting motoring meanings? Head over to our Parkers Car Glossary page and take a look at our other definitions