View all Alfa Romeo Giulietta reviews


Alfa Romeo Giulietta review
Current Model
Stylish entrance in the medium sector for non-conformists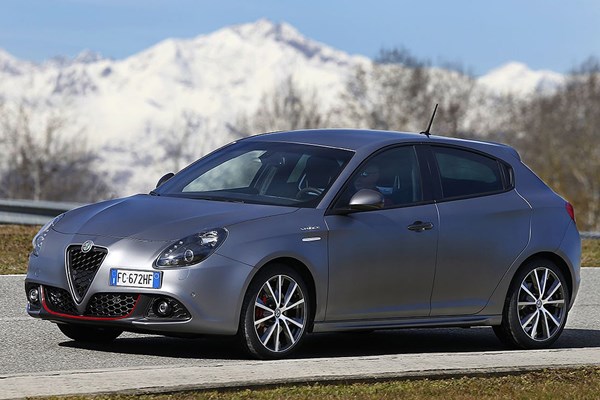 PROS
Lively 1.4 engine
Unique looks
Plenty of grip
1.6-litre's fuel economy
CONS
Busy ride
Noisy running gear
Poor visibility
Weak residuals
PROS
Lively 1.4 engine
Unique looks
Plenty of grip
1.6-litre's fuel economy
CONS
Busy ride
Noisy running gear
Poor visibility
Weak residuals
Alfa Romeo Giulietta rivals
This is the Alfa Romeo Giulietta – a hatchback with designs on tempting buyers from the usual suspects in this segment, namely the Volkswagen Golf, Audi A3 and the BMW 1 Series.
The name Giulietta is a blast from the past – perhaps a sign Alfa Romeo is desperate to cash in on its beautiful 1970s namesake, but this latest offering simply does not have anything remotely resembling the Giuliettas from the Italian firm's glory days.
This car, a stylish hatchback replacing the 147, is entirely predictable. Looks-wise, it has the trademark upside-down triangular grille and the sculpted bonnet of the Mito and the 8C Competizione – it's the new Alfa face.
At the rear, it looks much like an Audi A3 and in profile the rather unorthodox crease that rises up the rear side doors is the most notable feature. Alfa dines out on style, but although it is unique, it's not a real beauty.
Broad range of engines
Petrol engine choices include a 1.4-litre unit with 120bhp or 170bhp and a 1.8-litre with 235bhp that powers the flagship Cloverleaf version.
Diesel choices include a 1.6-litre unit with 105bhp and a 2.0-litre with 170bhp. This was expanded as part of a series of 2014 model year updates to include a 150bhp version of the 2.0-litre engine.
An automatic gearbox is available with the 170bhp 1.4-litre petrol and the 170bhp 2.0-litre diesel engines.
All cars feature stop/start technology and have been developed to be as efficient as possible. The 1.6-litre is the saintliest, emitting just 114g/km of CO2 while returning a claimed 64.2mpg on average.
2014 model year updates
As well as the addition of the 150bhp 2.0-litre diesel engine, the Giulietta has received a few other minor updates for 2014. These include an ever-so-slightly different front grille, new alloy wheel designs and new seats with deeper cushioning.
Noise proofing has been improved slightly and DAB digital radio is made standard across the range. A touchscreen multimedia system incorporating Bluetooth, voice commands and satellite navigation is now available too.
Revisions in 2016
The Giulietta received its next wave of updates in 2016. Design tweaks were very subtle indeed with a new honeycomb-style grille, revised headlamps, new alloy wheel designs and a redesigned badge among the big changes.
Interior upgrades improve cabin refinement, plus standard equipment was revised to include an upgraded version of the UConnect Infotainment system which enables access to apps like Twitter and Facebook plus streaming music on the move.
The only other big news from this facelift is that the 2015 118bhp 1.6-litre diesel engine is now available with the firms TCT automatic gearbox for the first time.