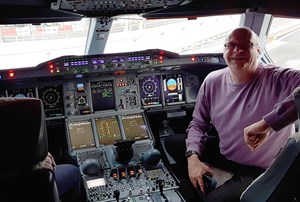 Senior Product Content Manager, Parkers
Percy is the longest serving team member on Parkers, racking up 42 years in print and media with what was then EMAP and now Bauer Media. When not playing around on the flightdeck of a Qantas Airbus A380-842, he's involved with many of the back-end and support systems on Parkers.co.uk
A petrol head, aviation enthusiast, ex hospital radio DJ and techno freak from the start, he spent 20 years from late 1979 until 2000 working as Production Controller (in the days of hot-metal printing) and then Production Manager on MCN (Motorcycle News). He was part of the working group within EMAP that worked with Adobe on early PDF formats in the transition from old-skool 'Paste-Up' production methods to digital formats.
In 1998 he was seconded to be part of EMAP's 'Y2K' team preventing a New Year 2000 meltdown on EMAP's IT Network. He survived this (as did the rest of world) and worked with EMAP's IT division for 3 years heading the helpdesk as a Senior Analyst and later using his print production knowledge working with EMAP Publishing Systems.
In 2001 the petrol fumes again ignited his passion in cars and he joined the production team on 'Maxpower' and 'Revs' where he frequently appeared in some particularly dodgy editorial content.
Looking for something rather more sensible, he was approached in 2003 by the EMAP Production honchos to put some straight positive thinking into the production of 'Parkers Car Price Guide' when the publication relocated to Peterborough from London. Here he ran the print production, data, pricing and technical admin of the guide until the print product finally closed in Jan 2020. Now, with all the pricing online, Percy continues to administer the Parkers 'Used Pricing' data with our trade and B2B partners at CAP/HPi.
Percy has owned a vast array of motorcycles and cars over the years and is a Ford RS enthusiast.
In 1979 he put an ex-works Suzuki RG500 race bike on-the-road; something which he later said was '"Purely insane".
In the '80s the focus moved over to four wheels and he owned several RS's including a first generation Ford Escort 'Burton' RS2000, a Sierra RS Cosworth, Mk1 and Mk2 Escort RS Turbos and a Sierra Sapphire RS Cosworth.
Commenting on the Ford RS era, Percy says "I loved the Fast Ford era – it was pretty special. In 1993 I nearly bought an RS500 which would have been worth a packet today!"
On a total 180 degree flip to the 'Fast Fords', Percy owned a 'Mazda Bongo' imported camper van for 5 years until 2018 – knowledge that proves very useful with our readers from time to time.
Outside of Parkers, Percy has had a keen interest in Radio and Electronics and is a Amateur Radio Operator holding licenses both in the UK and Australia. He thrives on building his own antenna systems and constructing his own homebrew 'Ham' related projects.
He also participates in the Radio Society of Great Britain's IOTA (Islands on the Air) program which has taken him to many islands across the world since the early 1980's including remote outposts such as Lord Howe Island, Fiji, Tonga and Western Samoa - to name a few.
Claim to fame: Drove a Suzuki Ignis from Land's End to John O'Groats on £60 worth of fuel (and got the certificate to prove it!)
Now, with all the pricing online, Percy continues to administer the Parkers 'Used Pricing' data with our trade and B2B partners at CAP/HPi