BMW 1-Series Convertible (2008 - 2013) review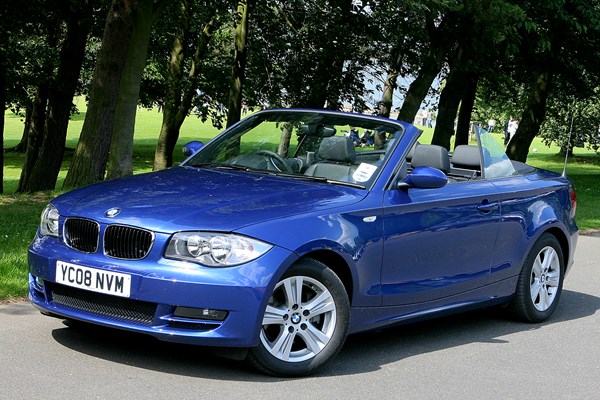 PROS
Great to drive, neat styling, wonderful cabin, feels as solid as the Coupe
CONS
Limited room in the back, fabric roof operation is slow
PROS
Great to drive, neat styling, wonderful cabin, feels as solid as the Coupe
CONS
Limited room in the back, fabric roof operation is slow
BMW 1-Series Convertible rivals
If you're after a stylish and small convertible, BMW's 1 Series Convertible fits the bill perfectly. You get all the build quality and sophistication you expect from the German make, but in a neat soft-top package.
Unlike many cabriolets, including the 3 Series Convertible, this model sticks with a fabric hood which takes up less boot space when it's folded down.
It may not be as quiet or secure as a metal-folding roof, but this 1 Series Convertible is still a great all-rounder.
Good to drive, refined and classy - an added bonus for owners is that it even ticks a few boxes when it comes to being green and cost effective to run.
Stalling recall in 2018: which BMW 1 Series Convertible models are affected?
BMW 1 Series Convertibles built between March 2007 and August 2011 were subjected to a recall in May 2018 following a BBC Watchdog investigation.
Petrol and diesel versions were subjected to the recall that could cause some cars to cut out and stall while they were being driven.
Ensure any necessary remedial work has been undertaken before buying a used 1 Series Convertible – any BMW dealer will be able to determine whether or not it's been completed.
Other BMW 1-Series (2004 - 2013) models: